Looking for the perfect Great Ocean Road itinerary? I've got you covered with options for 1, 2 and 3 days on this incredible coastal drive.
One of Australia's most celebrated road trips, the Great Ocean Road in Victoria is a must-do when you visit Melbourne.
Spend sunset at the famous 12 Apostles, hang out in charming seaside towns, hike through ancient rainforests, taste delicious local produce, learn about Indigenous history, and spot shipwrecks and wildlife.
This 243-kilometre coastal road trip is one of the best road trips in Australia, and in this article I'll show you how you can see it in 1, 2 or 3 days, depending on how much time you have. As well as itinerary ideas, I've listed the best stops along the Great Ocean Road, accommodation options and where to eat. This is a super detailed post that'll cover all your planning!
So, let's hit the road and discover the best of a Great Ocean Road drive!
This blog post may contain affiliate links, meaning if you book or buy something through one of these links, I may earn a small commission (at no extra cost to you).
Where is the Great Ocean Road?
First up, where exactly is this road trip going to take you?
The Great Ocean Road winds along the Victorian coast, 100 kilometres southwest of Melbourne. The 243-kilometre-long Great Ocean Road officially starts in Torquay and ends in Allansford, near the town of Warrnambool.
Melbourne is the best jumping-off point to discover the Great Ocean Road, and most likely where you'll be when you begin this road trip. Extend your Melbourne itinerary and add the Great Ocean Road to your visit.
How long do you need to drive the Great Ocean Road?
You can do the Great Ocean Road road trip in one or two days, but I think three days is the minimum you should plan for.
But because I know not everyone has three days to do this trip, I've got multiple itinerary options:
Use the links above to jump to the itinerary that fits your schedule. My 3-day itinerary is the most detailed and lists out all the key stops along the Great Ocean Road.
Either way, if you've got 2 weeks in Australia and Melbourne is on your itinerary, you should definitely visit the Great Ocean Road.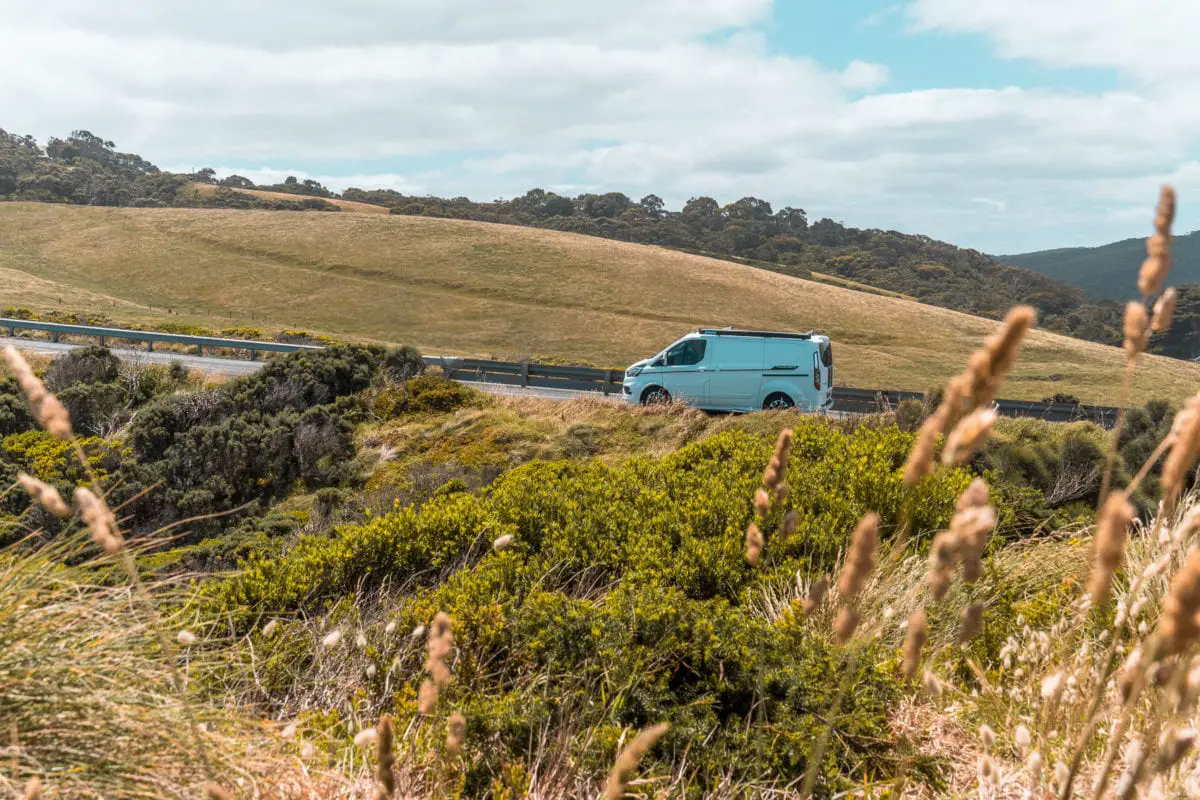 How to travel the Great Ocean Road
This is a road trip, so you're going to need a car. The best way to experience all the amazing things to do on the Great Ocean Road is to drive yourself. You can go at your own pace, stopping whenever you want.
If you're visiting Melbourne and don't have your own wheels, you can rent a car at the airport or in the city. Check out Discover Cars to compare the different car companies' pricing and vehicles. The Great Ocean Road is a good, smooth road, with plenty of signage and no potholes. No need for a 4WD – a small, compact car will be just fine.
If you're up for camping along the Great Ocean Road, then rent a campervan. We did this on our most recent trip, in our Ford Transit van and I highly recommend it. You can rent a Jucy campervan in Melbourne or find a campervan or motorhome on Camplify.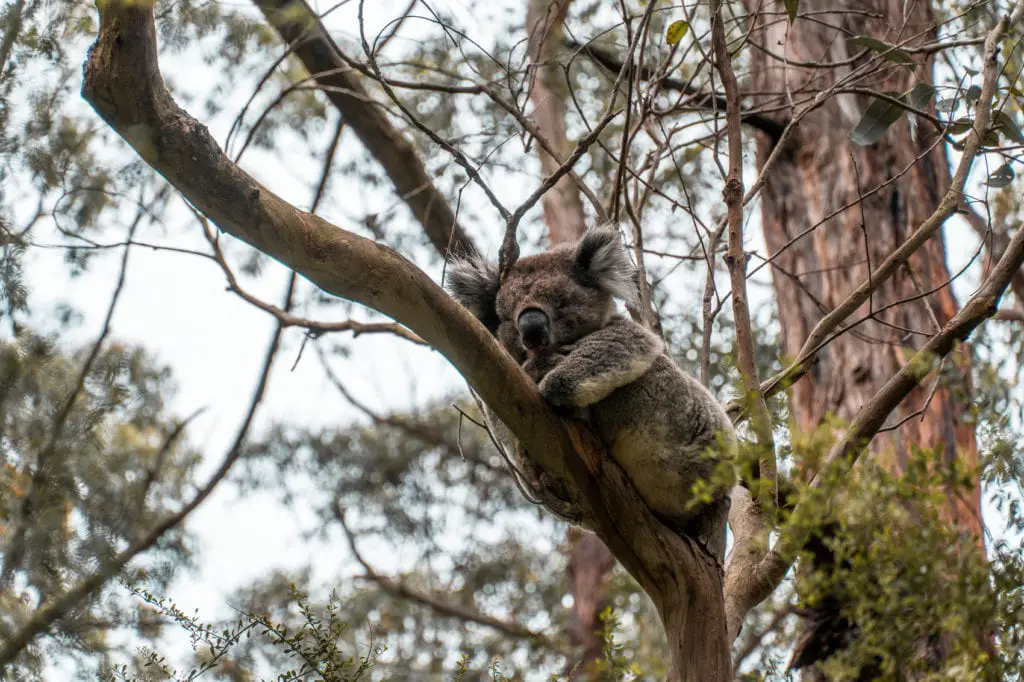 Great Ocean Road driving and travel tips
If this is your first time visiting the Great Ocean Road, here are a few travel tips to keep in mind:
The best way to do this Great Ocean Road route is to keep the ocean on your left-hand side. This is how I've designed this itinerary, so that you're driving from Melbourne to Allansford. It means the best views and avoiding having to cross the road to turn into viewpoints/the stops I've outlined.
Don't forget that we drive on the left-hand side of the road in Australia! There are plenty of signs along the Great Ocean Road to remind you.
Avoid driving at nighttime. Kangaroos, wallabies and wombats tend to come out at dawn and dusk and you'll sadly see quite a bit of roadkill along the side of the road.
Book accommodation well in advance during peak holiday periods, especially summer (December and January) when school's out and hotels and caravan parks fill up quickly. Campsites on the Great Ocean Road also book up in advance.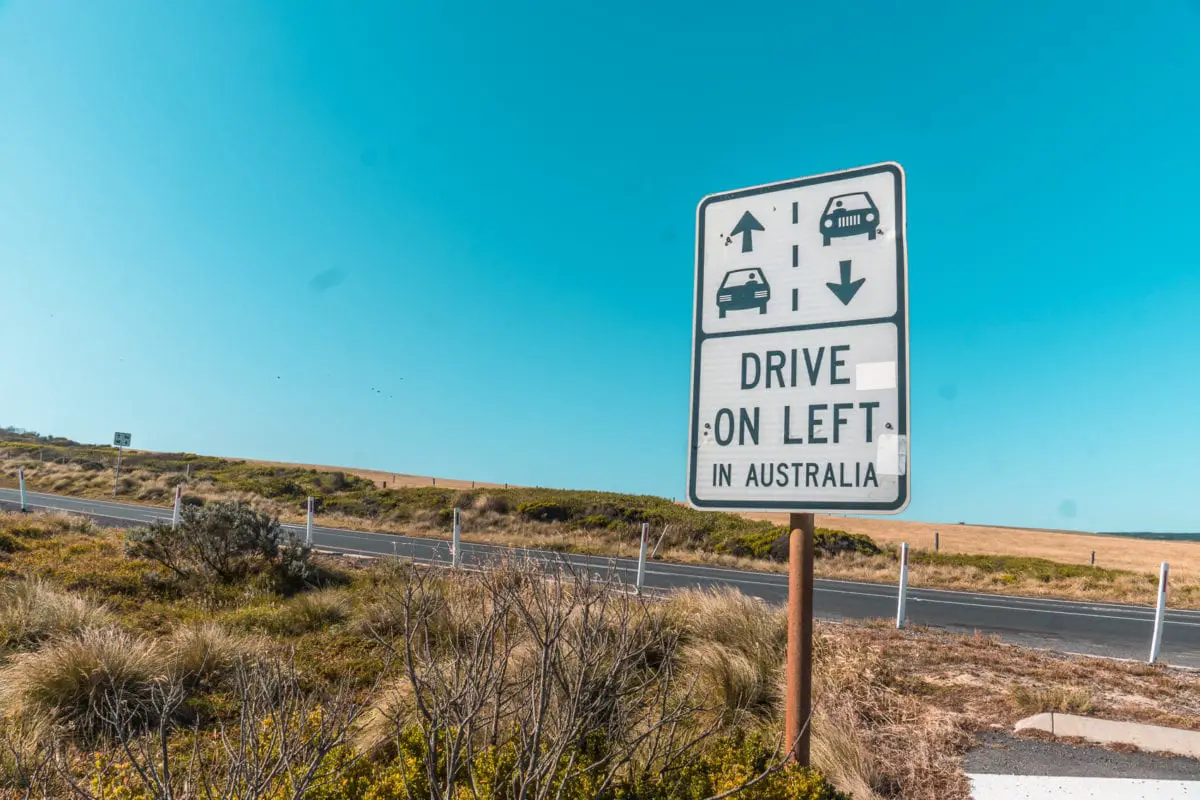 Great Ocean Road map
This map lists out each of the Great Ocean Road recommended stops I suggest you visit on this itinerary. It's colour coded to show what to see and do on each day.
You can also pick up a physical may at any of the visitor centres along the Great Ocean Road, the first one being the Torquay Visitor Information Centre.
Great Ocean Road 3-day itinerary
Here's my ideal three-day itinerary for the Great Ocean Road, hitting up the highlights and most beautiful spots.
Day 1: Melbourne to Apollo Bay
Distance: 197 kilometres
Let's get on the road! Today you'll be leaving the city behind and heading through some of Victoria's most famous coastal towns. Start early so you can spend plenty of time at the recommended stops.
Today's highlights: 
Bells Beach – a Great Ocean Road must see
Koala spotting
Exploring Torquay and Lorne
Stop 1: Torquay
Distance: Melbourne to Torquay: 105 kilometres / 1.5 hours
Torquay is the official starting point of the Great Ocean Road, and this lovely seaside town is a mecca for surfers and lovers of the outdoors.
I recommend stopping by the friendly visitor centre and picking up a few brochures, including a map of the Great Ocean Road.
The visitor centre is also home to the Australian National Surfing Museum, a treasure trove of all things surfing. Here, you can marvel at a huge collection of surfboards – some dating back a century – and even have a try on a (mechanical) surfboard yourself.
Want to hit the waves? Try a surf lesson. It was too cold for us to get in the water when we were last doing this trip!
Take a wander along the beach. In summer, there are plenty of sunbathers and swimmers hanging out here.
If it's Saturday, check out the Torquay Farmers Market, held from 8.30am to 1pm.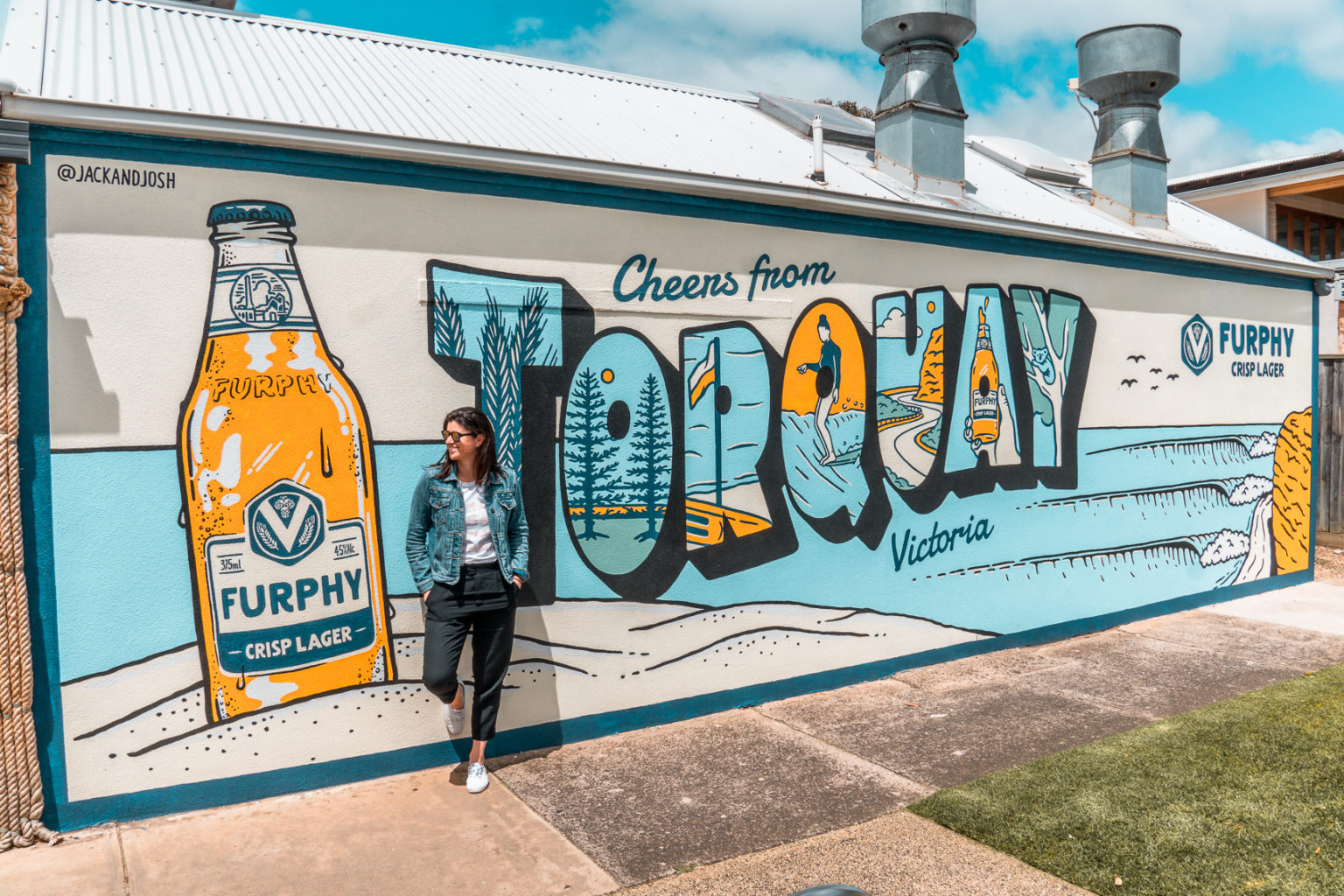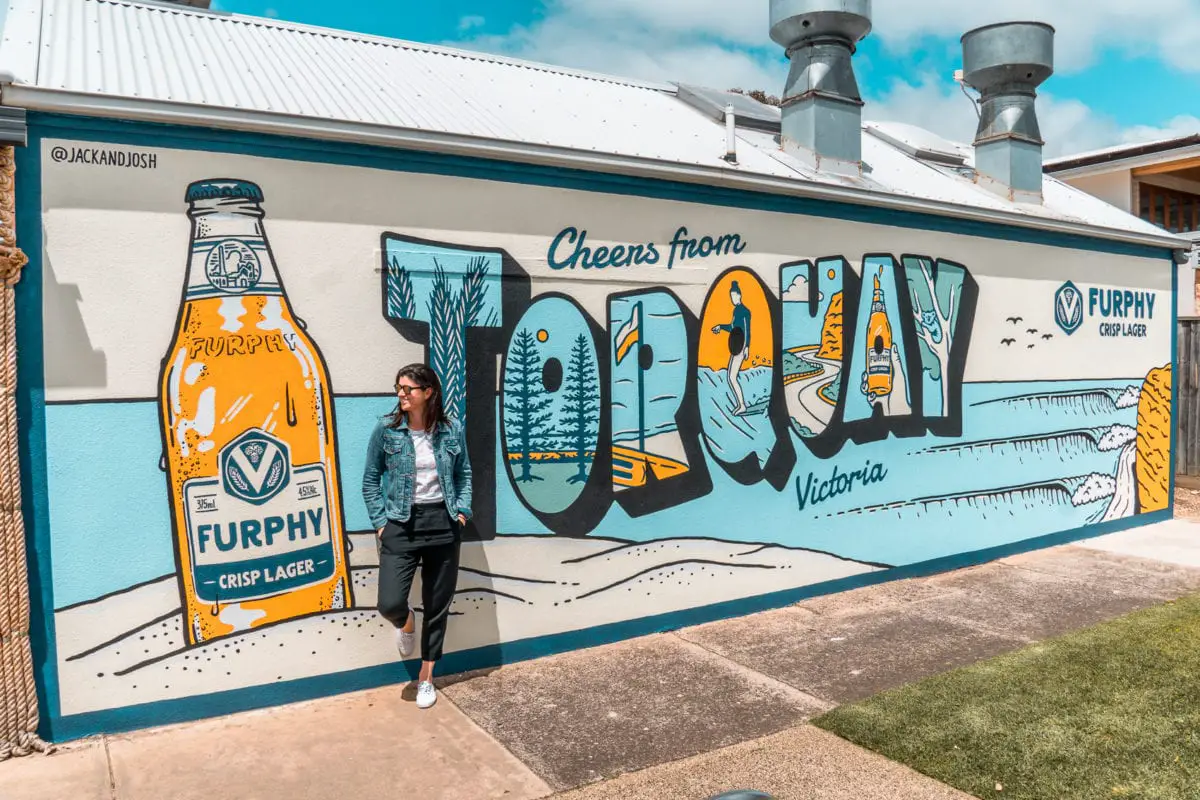 Stop 2: Bells Beach
Distance: Torquay to Bells Beach: 7 kilometres / 8 mins
Home to the world-famous Rip Curl Pro, Bells Beach is legendary among surfers. It's best for experienced surfers – many people have to be rescued from here each year.
Park the car here and head to the viewpoint from where you can see surfers bobbing in the water waiting for the next right-hander. Did I just sound like I know something about surfing? The truth is I have no idea! But it's really cool to watch a few surfers catch a wave.
After the drive from Melbourne, stretch your legs and take the steps down to wander along the beach.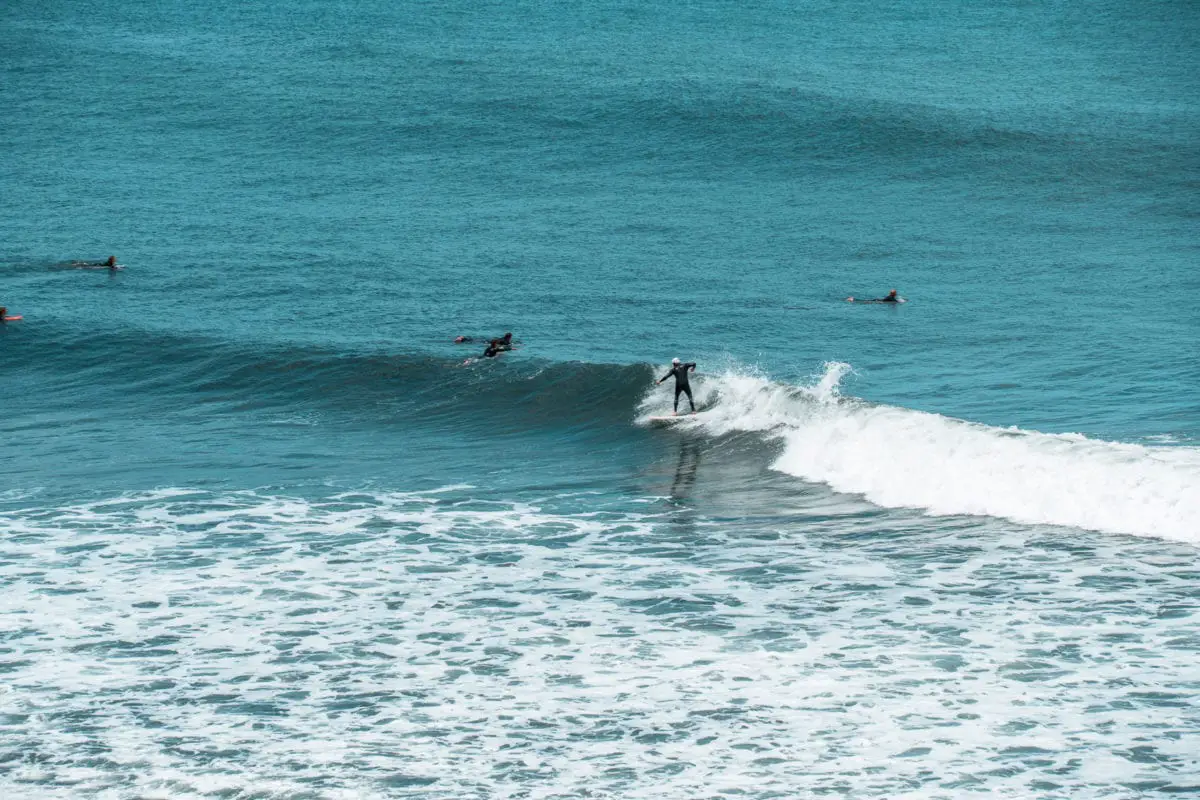 Stop 3: Point Addis
Distance: Bells Beach to Point Addis: 7 kilometres / 9 mins
A short drive off the Great Ocean Road is the Point Addis National Marine Park. It's much quieter here, so you may even have the beach to yourself. There are some great viewpoints from the car park.
If you have the time, take the 2-kilometre Koorie Cultural Walk. There's a sign along Point Addis Road and you can park by the side of the road. The walk includes a few signs that explain how the Indigenous Wathaurong people lived in the area, including about shelter, food and medicines.
At the end of the walk is a lookout with amazing views over the beach and of the nearby cliffs.
Watch out for snakes along this track in the warmer months!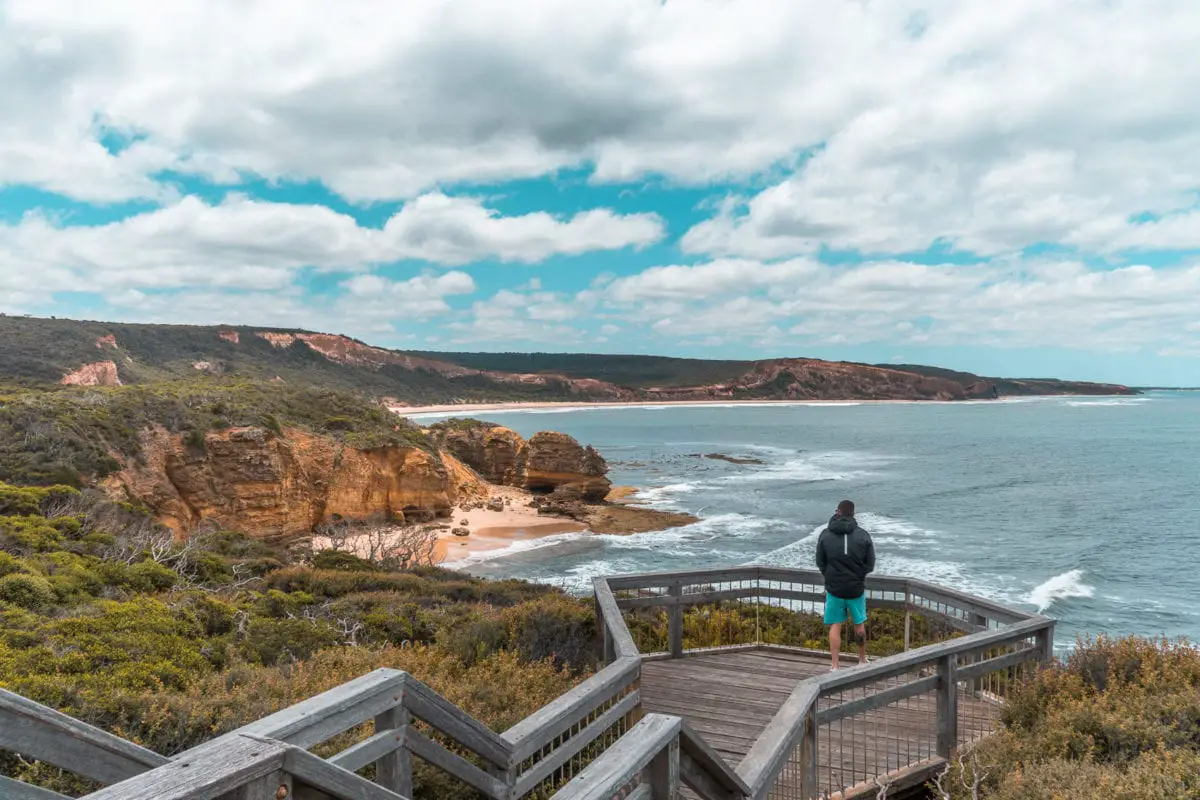 Stop 4: Great Ocean Road Chocolaterie & Ice Creamery
Distance: Point Addis to Great Ocean Road Chocolaterie: 6 kilometres / 7 mins
Time for a treat! You can't miss the signs to this huge chocolate and ice cream shop. Watch the chocolatiers coating strawberries in a river of chocolate, grab a scoop of ice cream or pick up some sweet souvenirs.
The Great Ocean Road Chocolaterie & Ice Creamery is open 7 days a week, from 9am to 5pm.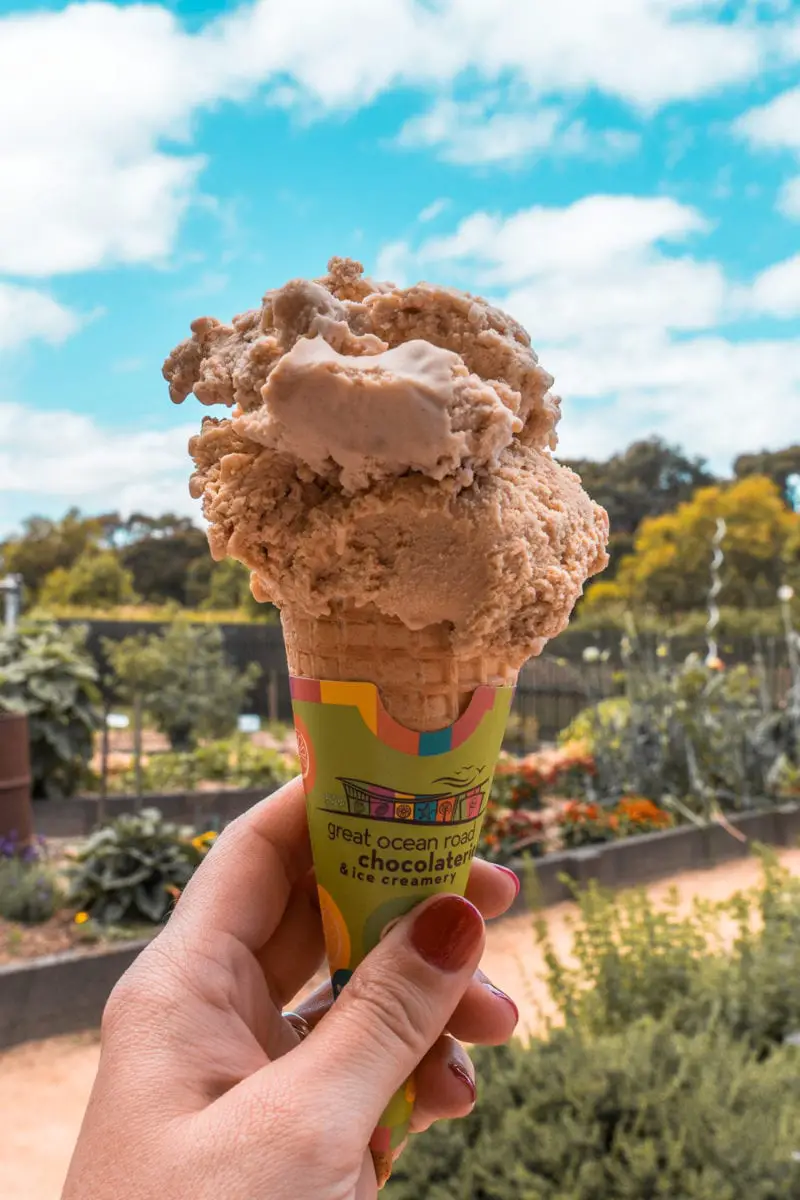 Stop 5: Aireys Inlet
Distance: Great Ocean Road Chocolaterie & Ice Creamery to Aireys Inlet: 15 kilometres / 17 mins
If you're feeling peckish (even after that ice cream!), grab some lunch in Aireys Inlet. Try A la Grecque for Greek food, grab pizza from The Captain of Aireys or have lunch at the Aireys Pub.
The Split Point Lighthouse is a great photo location, and will be familiar to anyone who grew up watching the 90s kids show 'Round the Twist. Built in 1891, the lighthouse still has its original construction. You can book a self-guided tour and climb to the top for the great views.
Grab a coffee at the nearby Lighthouse Tea Rooms before you get back on the road.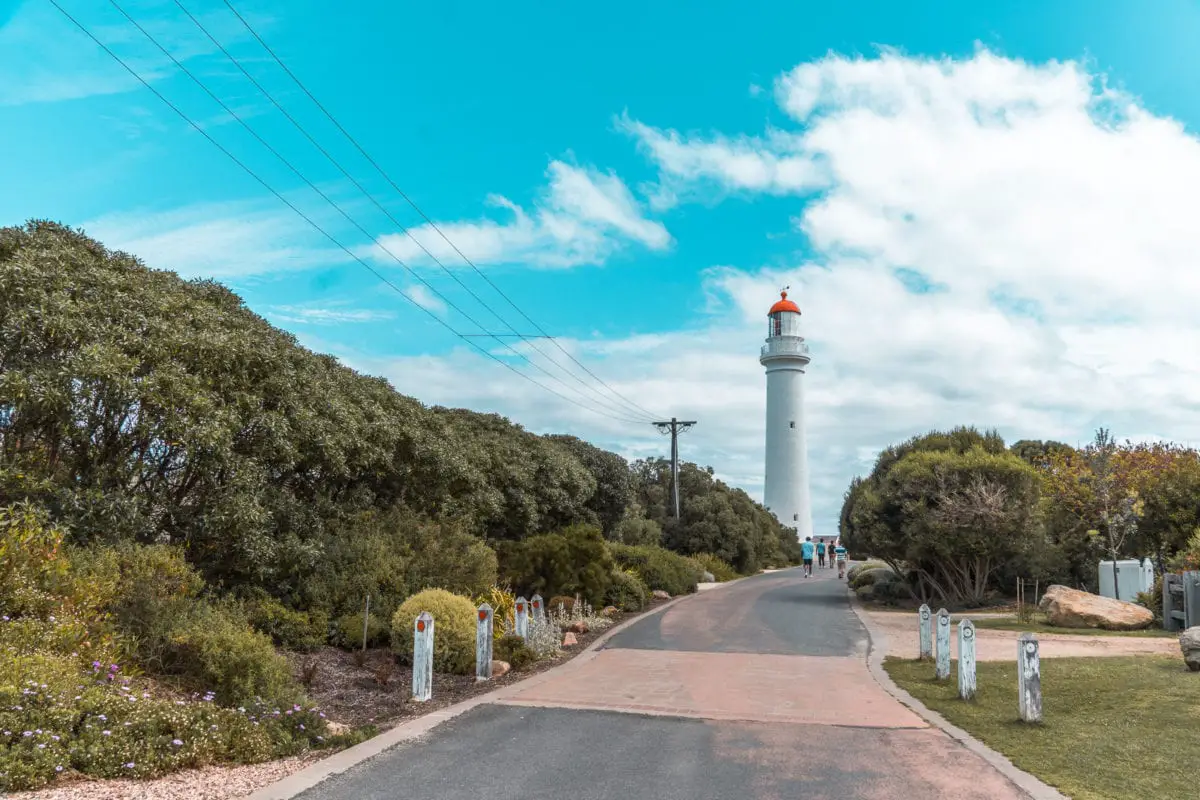 Stop 6: Great Ocean Road Memorial Arch
Distance: Airey's Inlet to Memorial Arch: 6 kilometres / 6 mins
Just outside Aireys Inlet is the Great Ocean Road Memorial Arch – a must-take photo for your trip to the Great Ocean Road.
There's parking on both sides of the road so that you can pull over safely. The car park also has some great historical information and statues that commemorate the men lost during World War I. It's one of the most popular things to see on the Great Ocean Road, so make sure you pull over for a photo opp.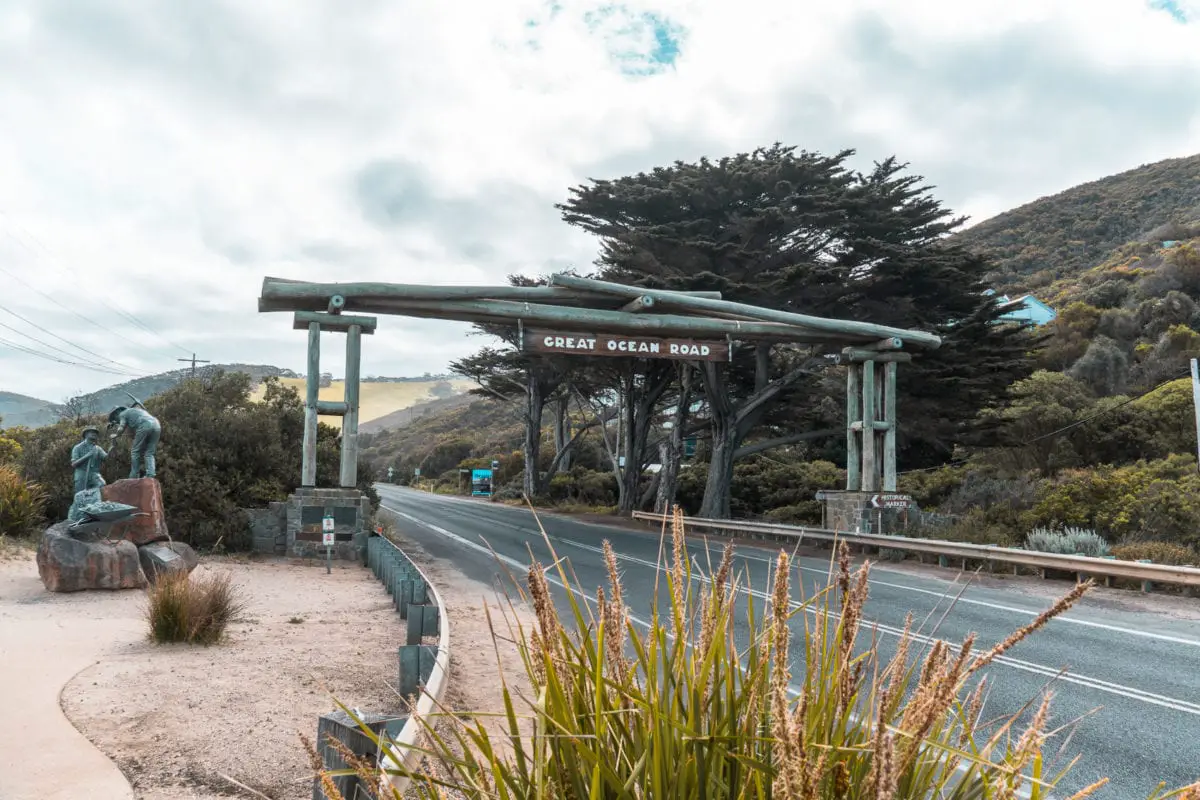 Stop 7: Lorne
Distance: Memorial Arch to Lorne: 13 kilometres / 16 mins
The road starts to wind after Memorial Arch, so make sure you're paying close attention as you drive – even though there's so much to see out the left-hand side!
If you haven't already eaten, pull into Lorne here for a late lunch. The Bottle of Milk is known for its burgers, or get some fish and chips for lunch on the beach.
After eating, check out the Great Ocean Road Story exhibit at the Lorne Visitor Information Centre to learn more about the history of the road. The Great Ocean Road is the longest war memorial in the world, built to honour those who lost their lives fighting in World War I.
It was an employment opportunity for returned serviceman, who carved much of the road out of the rockface by hand, using shovels and picks. Construction began in 1918. Various sections of the road were completed over the years, but the road wasn't officially opened until the end of 1932.
If you've managed to get to Lorne at a decent time, head up to see the 30-metre Erskine Falls, a 15-minute drive from Lorne.
Stop 8: Kennett River
Distance: Lorne to Kennett River: 23 kilometres / 30 mins
Pull into Kennett River for a quick pitstop to see if you can spot koalas. They're usually located in the gumtrees behind the caravan park (park your car at Kafe Koala). If you walk a bit further down Grey River Road you'll get away from the tourists. We unfortunately didn't see any when we stopped by (we did see lots of birdlife), but most people do get lucky here!
Don't worry if you don't see koalas here – there are other spots to peek at them later in the itinerary.
Stop 9: Apollo Bay
Distance: Kennett River to Apollo Bay: 23 kilometres / 30 mins
Apollo Bay is home for tonight. It's been a long but hopefully magical day, so end the day with some fish and chips at the Apollo Bay Fishermen's Co-Op or dinner at the Great Ocean Road Brewhouse before a stroll along the beach.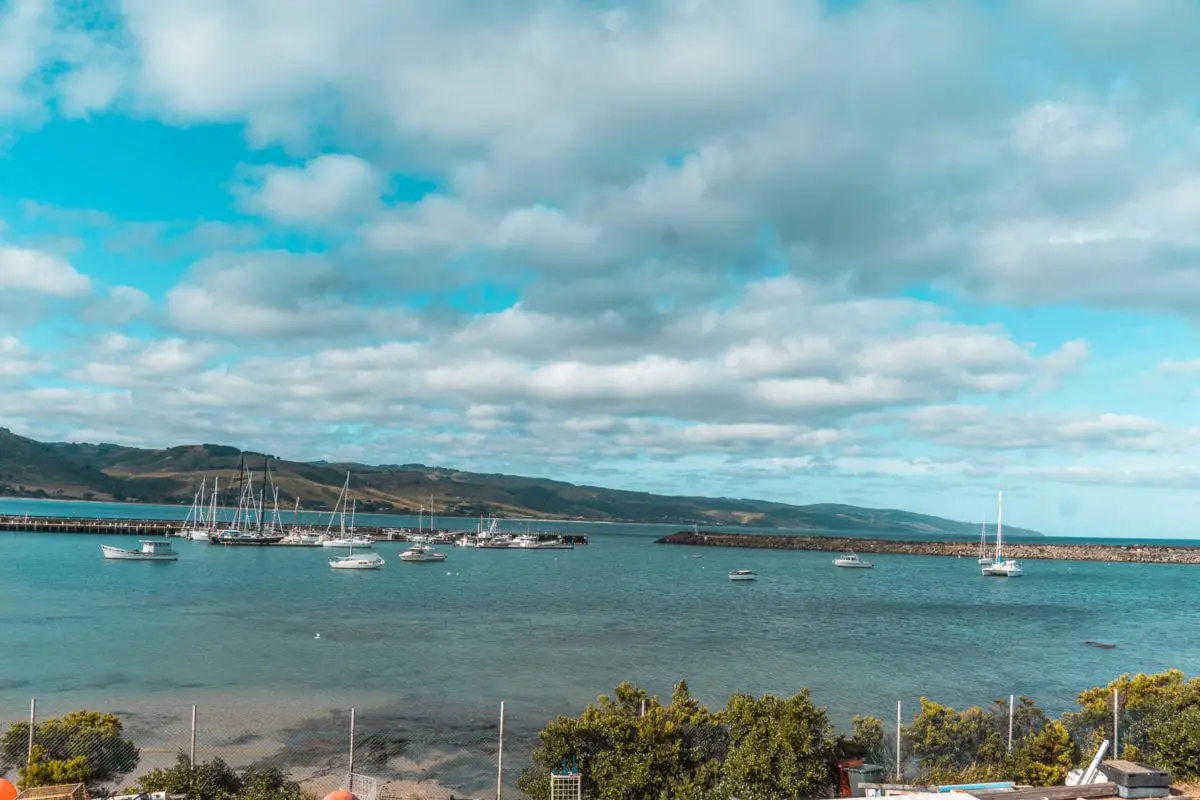 Where to stay in Apollo Bay
Hotel: Beachside at Apollo Bay Guest House, a villa at Point of View, or Beachcomber Motel & Apartments
Airbnb: Stay at Casa de Apollo Bay
Caravan park: We stayed in our campervan at the Big4 Apollo Bay Pisces Holiday Park
Camping: Marengo Family Caravan Park has powered and unpowered tent sites as well as cabins
Day 2: Apollo Bay to Port Campbell
Distance: 97 kilometres (direct – longer if you follow this itinerary exactly)
Today's journey takes you through ancient rainforests and along a coastline that's been carved over millions of years. Depending on what time of year you're travelling, plan today's itinerary according to the sunset – you'll want to be at the 12 Apostles as the sun is sinking.
This is a long day, so you can cut out some of these stops depending on your interests and what time you head off for the day.
Today's highlights:
Great Otway National Park – walking through here is one of the most beautiful things to do along the Great Ocean Road
Exploring waterfalls
The 12 Apostles
Stop 1: Maits Rest Rainforest Walk
Distance: Apollo Bay to Maits Rest Rainforest Walk: 17 kilometres / 17 mins
Grab some lunch to go if you're planning to explore the Great Otway National Park; there aren't many options for food along the way. Pick up one of the famous scallop pies from the Apollo Bay Bakery or have a fresh sandwich made.
Leaving Apollo Bay, it isn't long before you transition from ocean views to the rainforest interior. The Great Otway National Park extends from Torquay in the east to Princetown in the west and is filled with forests, ancient trees, waterfalls and waterways, and an array of wildlife and plants.
Start at Maits Rest Rainforest Walk, a short 1-kilometre stroll through a rainforest track. This easy walk follows boardwalks through fern gullies and past trees that are hundreds of years old.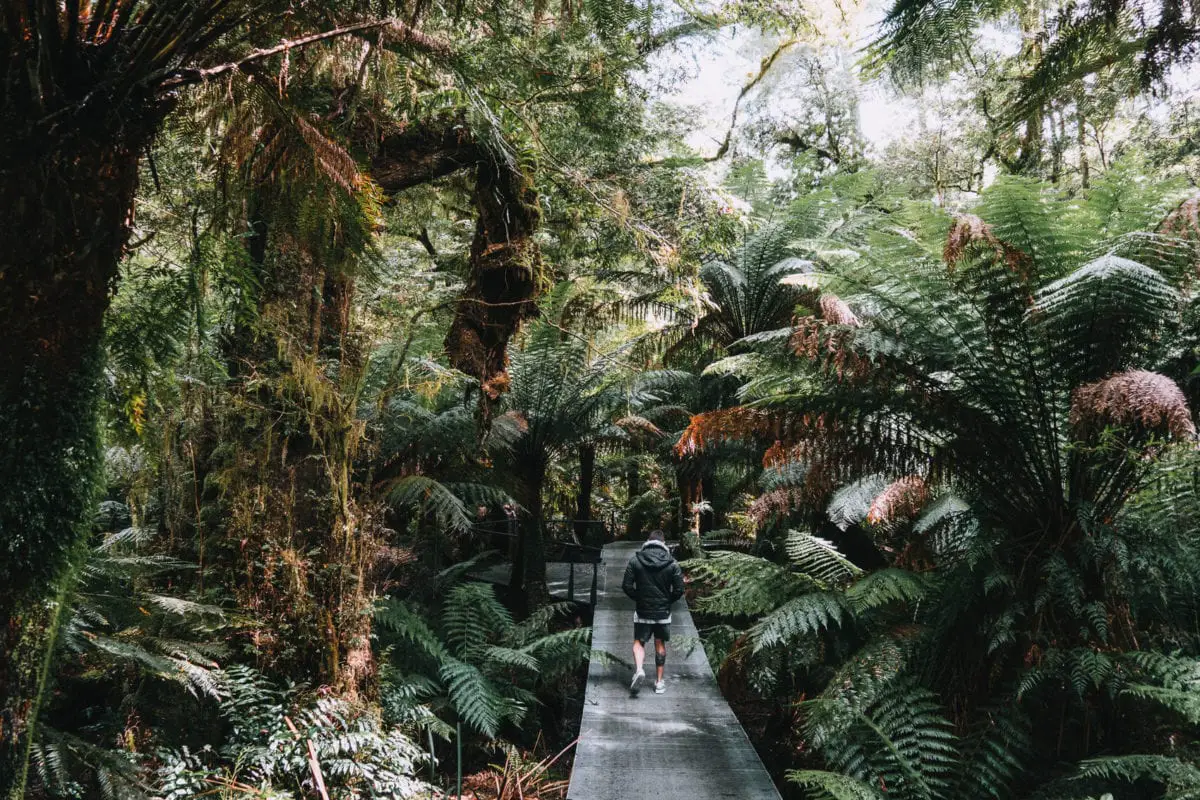 Stop 2: Cape Otway Lightstation
Distance: Maits Rest to Cape Otway Lightstation: 16 kilometres / 18 mins
A little after leaving the Maits Rest Rainforest Walk, veer off the Great Ocean Road for a visit to the Cape Otway Lightstation.
This Great Ocean Road lighthouse is Australia's oldest surviving lightstation and has been in operation since 1848.
You'll need around an hour to explore the area here. Along with the lighthouse there's a telegraph station that housed Australia's first submarine telegraph cable, relics from shipwrecks, dinosaur fossils and even a spooky UFO mystery… There are daily history and native food talks as well. (Note that these daily talks seem to be on pause – check the website for updates.)
If you're peckish, now's a good time to grab something to eat. There's a café at the lighthouse that serves snacks and light lunches – and fresh scones with jam and cream.
Keep an eye out for koalas along Lighthouse Road. We got lucky and saw two adult and one teeny-tiny cute baby koala. Cars pulled up alongside the road will alert you to koalas – otherwise they're pretty hard to see from a moving car.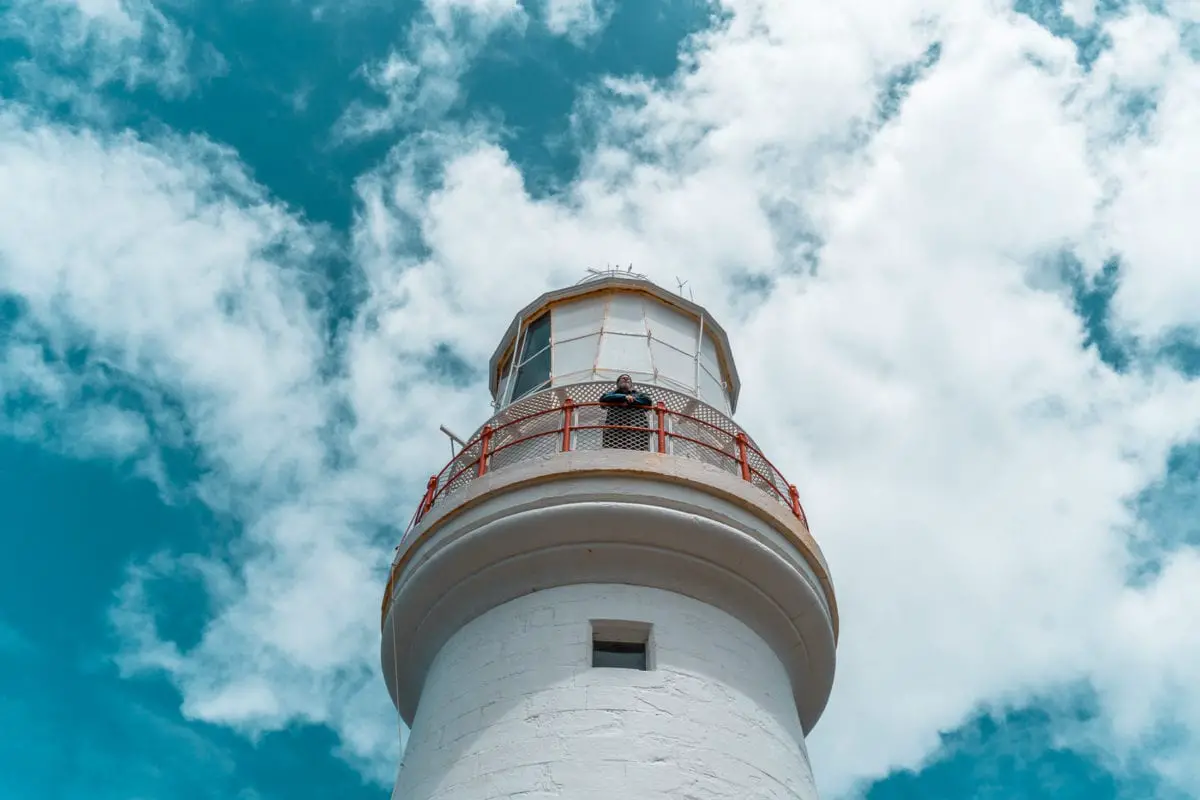 Stop 3: Triplet Falls
Distance: Cape Otway Lightstation to Triplet Falls: 61 kilometres / 1 hour
Great Otway National Park is home to several stunning waterfalls. Triplet Falls is made up of three cascades. The 2-kilometre loop trail leads to the falls, and is mostly on raised boardwalks.
There are toilets at the carpark.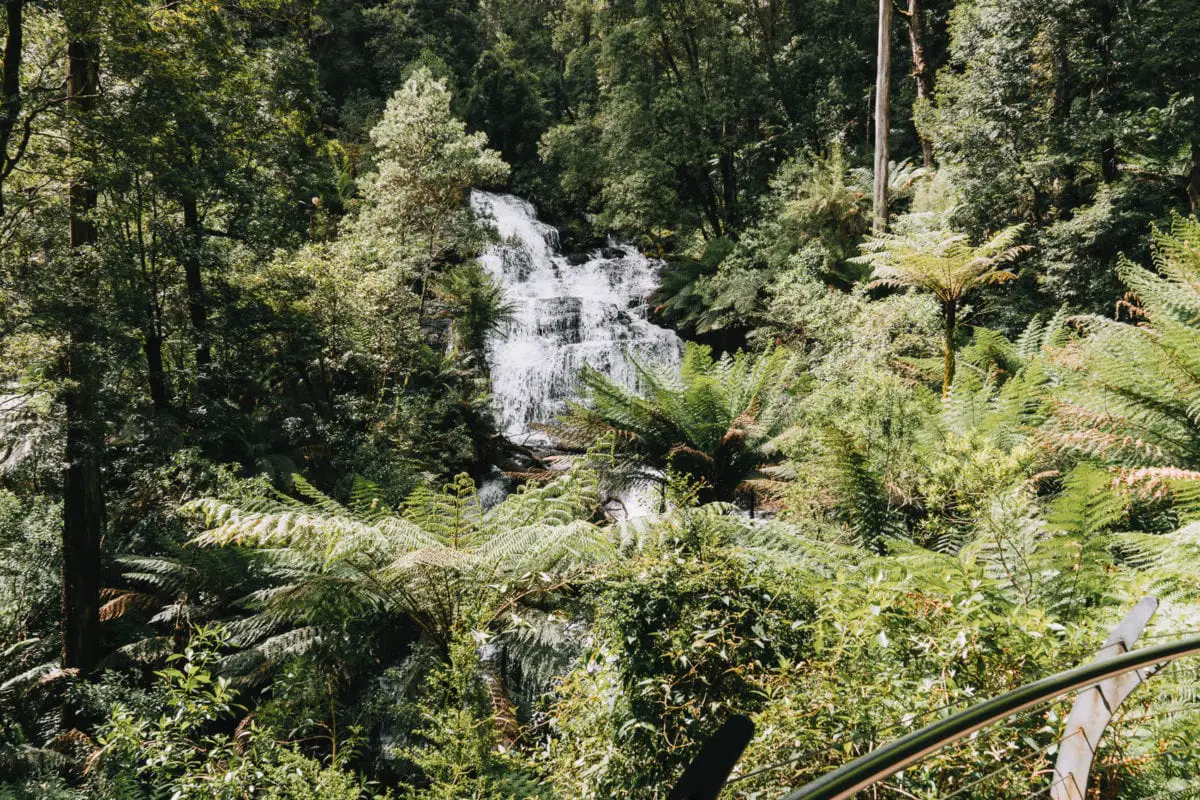 Stop 4: Hopetoun Falls
Distance: Triplet Falls to Hopetoun Falls: 17 kilometres / 24 mins
My favourite waterfall along the Great Ocean Road is Hopetoun Falls. Water cascades 30 metres down to rocky pools, surrounded by lush ferns.
There's a viewing platform about 20 metres from the carpark, but to be honest you won't see much from here. You'll need to walk down (many) steps to reach the bottom of the falls for the best sighting. It's only a 30-minute round trip, but the steps are steep, so prepare for some burning thighs on the way back up.
Platypuses have been seen here but we weren't so lucky!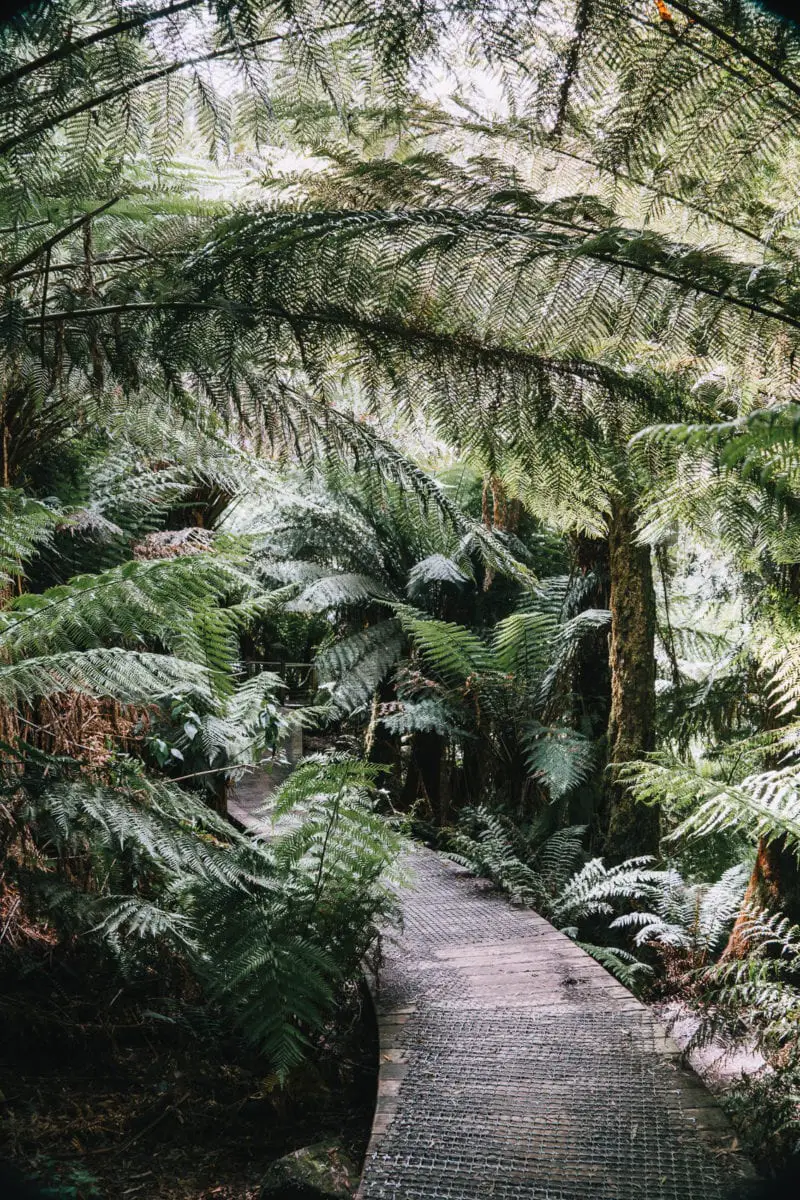 Stop 5: California Redwoods Forest
Distance: Hopetoun Falls to Redwood Forest: 1.3 kilometres / 3 minutes
In the 1930s, foresters planted Californian Redwood trees (sequoia trees) as a bit of an experiment. The trees now stand tall, an awesome sight that reminds you just how small you are.
Spend 20-30 minutes here, wandering through the trees and imagining how old they are. This is the perfect spot for a moment of calm reflection.
There are toilets here.
Stop 6: Beauchamp Falls
Distance: Redwood Forest to Beauchamp Falls: 8 kilometres / 15 minutes
The final waterfalls to see today are Beauchamp Falls, a 20-metre waterfall crashing over a pool that you can swim in.
Getting to these falls requires a little more effort than the others. While it's only a 3-kilometre trail (about an hour's return walk), the path is steep, so keep that in mind when returning.
There are toilets and campsite facilities here.
Alternative itinerary for day 2
The Great Ocean Road route for day 2 that I've outlined above is a loop that goes back through Apollo Bay. If you don't want to do it this way or don't have the time, you can do either of the following this day:
Option 1: Apollo Bay – Maits Rest Rainforest Walk – Cape Otway Lightstation – Gibson Steps
Option 2: Apollo Bay – Beauchamp Falls – Redwood Forest – Hopetoun Falls – Triplet Falls – Gibsons Steps
Stop 7: Gibson Steps
Distance: Beauchamp Falls to Gibson Steps: 124 kilometres / 2 hours
Leaving Beauchamp Falls, you'll now need to loop back through Apollo Bay. It adds a bit of extra time to your driving but I think doing the loop through the Great Otway National Park is totally worth it.
From Beauchamp Falls, it's not far until the road turns into Turtons Track, which is a winding, narrow road that you'll often need to share with logging trucks. There are plenty of blind corners so pay attention and tap your horn as you're approaching bends to alert oncoming cars.
Once you're back in Apollo Bay, hit the tarmac and head for Gibson Steps.
Take the 86 steps down to the beach (check the tide first!) for awesome views of the Gog and Magog sea stacks. Later on, you'll see these two spires from above, so seeing them from the beach offers a completely different perspective.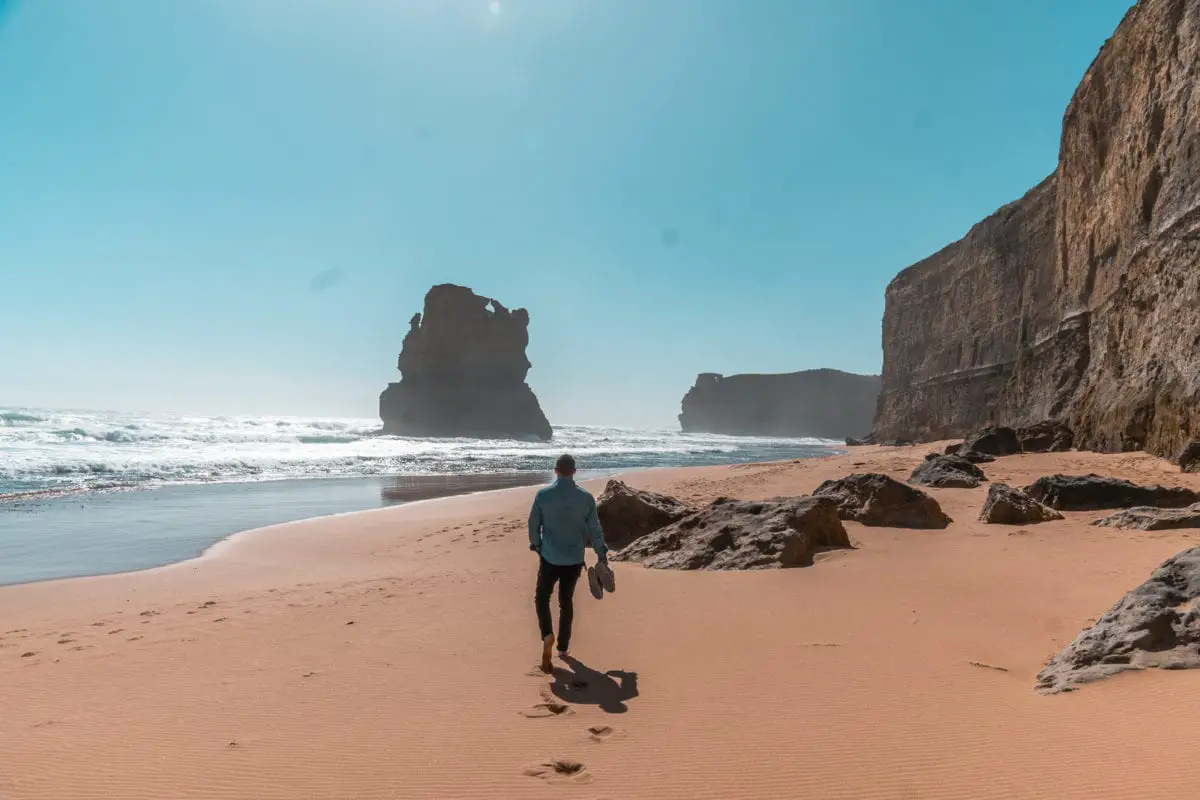 Stop 8: The Twelve Apostles
Distance: Gibson Steps to 12 Apostles: 1 kilometre / 2 minutes
Now it's time to visit what's considered most people's highlight of the Great Ocean Road and the reason many people make this trip: the 12 Apostles.
Located in Port Campbell National Park, it's undoubtedly one of the most famous Great Ocean Road attractions – if not one of the most recognisable sights in Victoria.
Following today's itinerary, you've hopefully arrived here just before sunset to enjoy the magical hour as the sun begins to sink into the horizon.
Pull into the carpark (on the right-hand side of the road) and then take the tunnel under the road over to the boardwalks. To the east you'll see Gog and Magog, and to the west the remaining sea stacks.
The name Twelve Apostles is actually a misnomer: there aren't and never were 12 spires. There were only ever nine stacks, with just seven remaining today.
These rock stacks were originally called the Sow and Piglets (the "sow" was what's now called Mutton Island with the "piglets" the apostles), but in a bid to attract more visitors, the name was changed to the 12 Apostles. Definitely a better name change!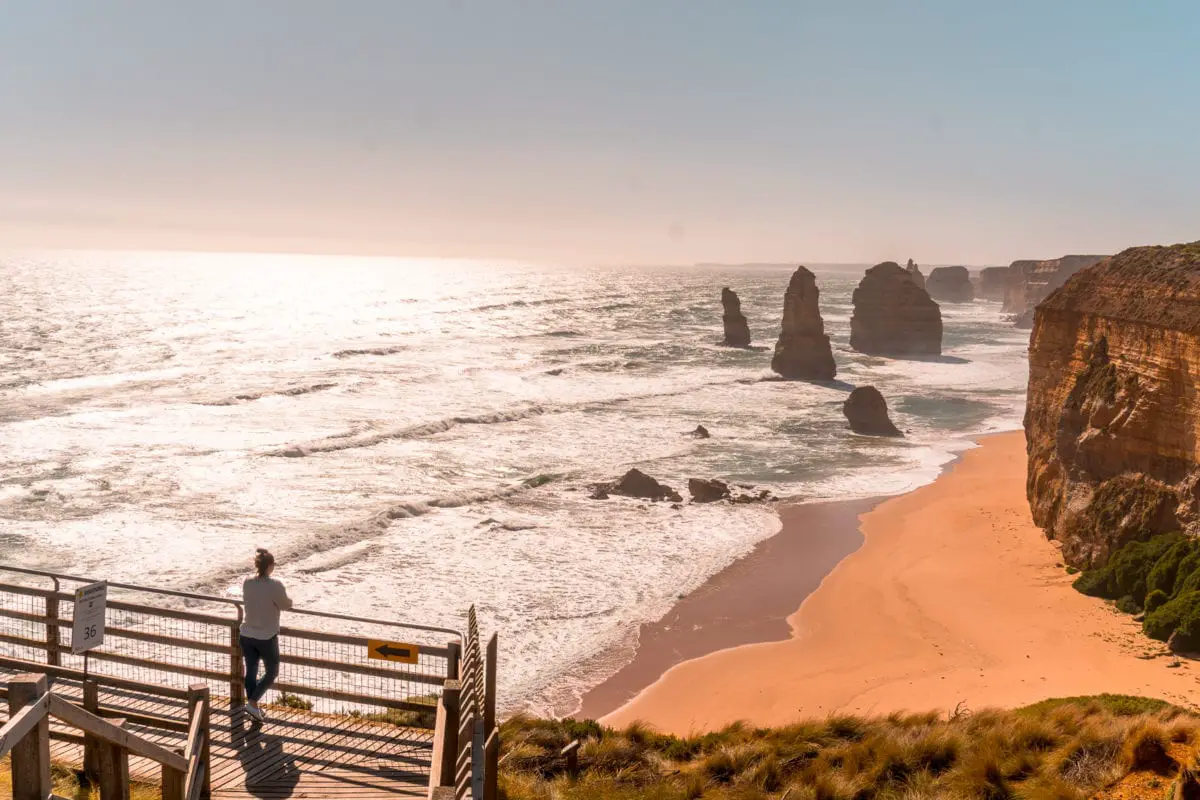 Stop 9: Port Campbell
Distance: 12 Apostles to Port Campbell: 11 kilometres / 9 mins
I absolutely adore Port Campbell. It's a small town of about 500 people on a calm bay. Port Campbell is walkable and super friendly and is one of the best places to stay on the Great Ocean Road.
It's been a long day, so grab dinner and a drink and get to bed. Options for dinner are 12 Rocks Beach Bar Café, the Port Campbell Hotel or the Sow and Piglets brewpub.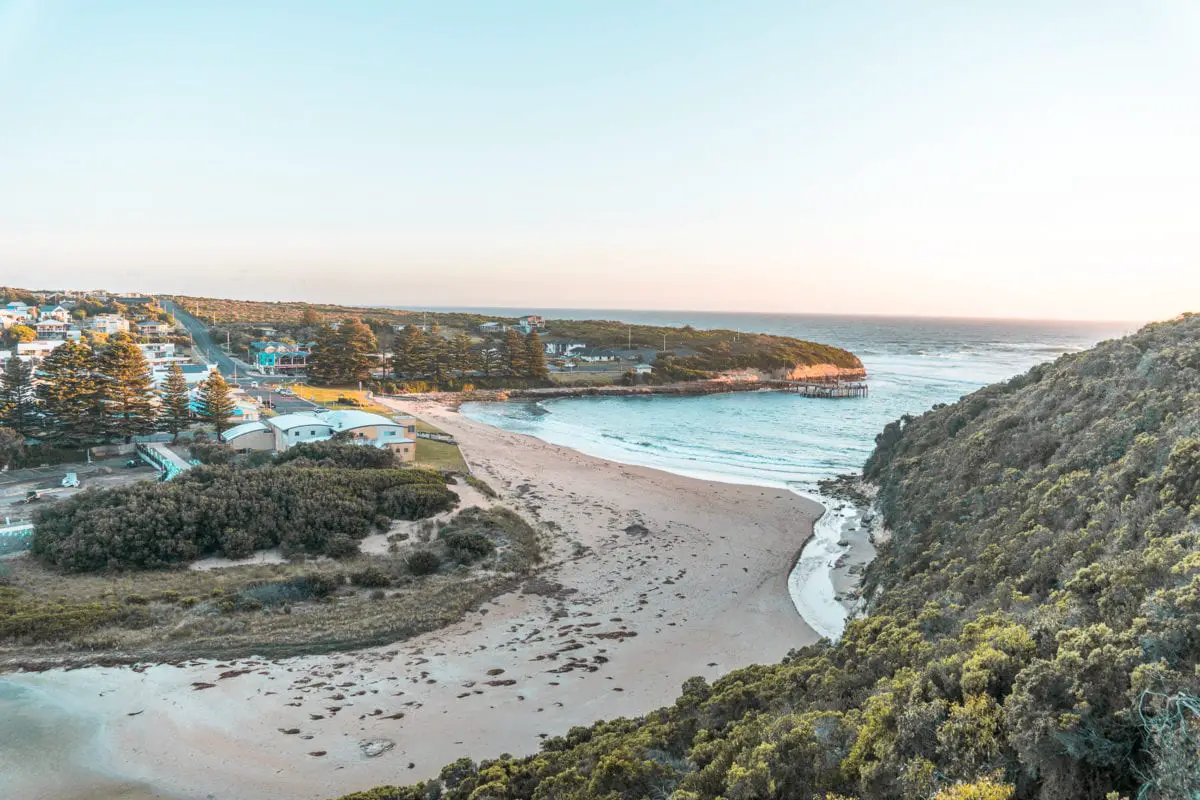 Where to stay in Port Campbell
Hotel: The Port O'Call Motel (super stylish) or Sea Foam Villas (popular accommodation on the beach)
Airbnb: Try this colourful cottage or this cosy cottage with bay views
Caravan park: We stayed at the NRMA Port Campbell Holiday Park which was really close to everything
Camping: Port Campbell Recreation Reserve has powered and unpowered campsites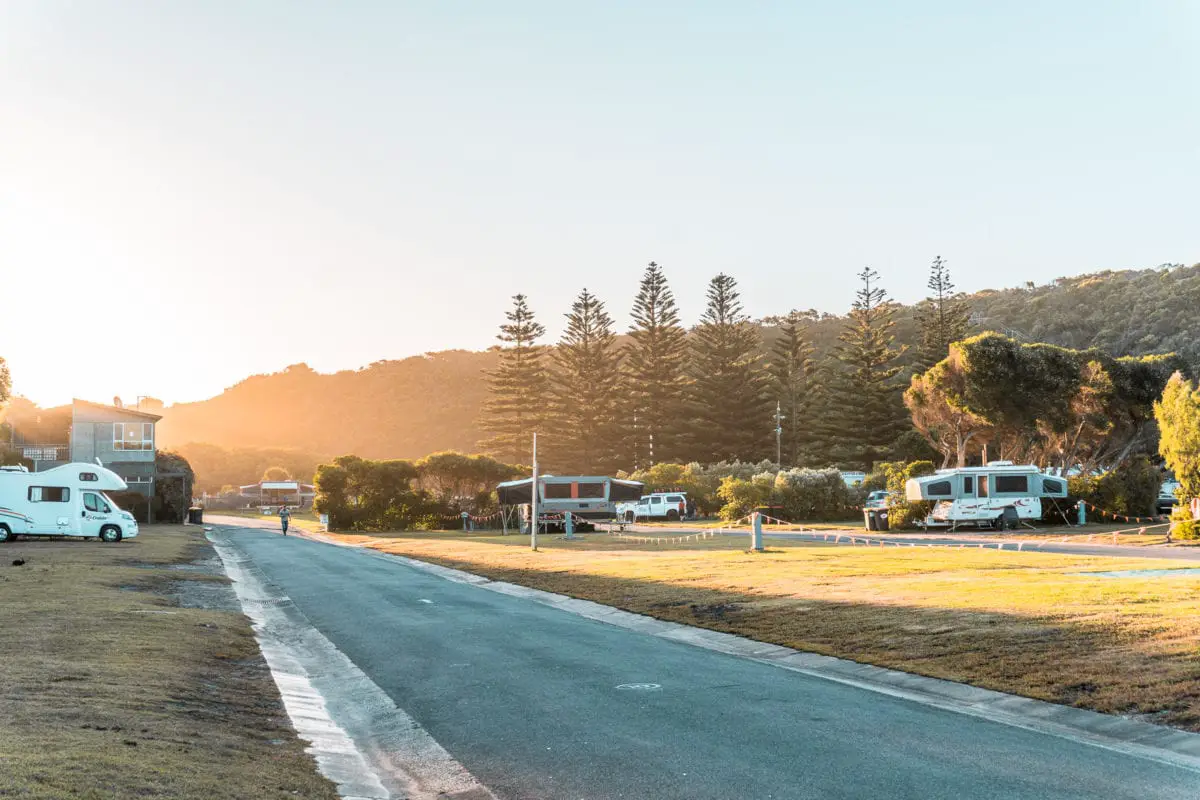 Day 3: Port Campbell to Allansford (and return to Melbourne)
Distance: 299 kilometres (to Allansford and then to Melbourne)
The last day of this Great Ocean Road 3 days itinerary takes you along the coast and shows you that this journey isn't just about the 12 Apostles. Hopping along the shoreline, you'll discover that there are many other amazing coastal sights to feast your eyes on before heading back to the city.
Today's highlights:
Loch Ard Gorge
Childers Cove
Stop 1: Breakfast at Grassroots Deli Cafe
The last two days have been pretty full, so enjoy a sleep in and then grab breakfast at Grassroots Deli Cafe before you head out for more Great Ocean Road sightseeing. It's open daily from 8am.
Stop 2: Loch Ard Gorge
Distance: Port Campbell to Loch Ard Gorge: 8 kilometres / 8 mins
Just an 8-minute drive from Port Campbell, Loch Ard Gorge is named after one of the many ships that crashed onto the rocky shores of the Victorian coast. There were only two survivors, Eva Carmichael and Thomas Pierce, and the two limestone stacks here are named after them.
There are three different short, easy hikes you can do around here to walk off your breakfast (see the signs at the car park). You'll need 2-3 hours if you want to do them all.
Plan to arrive here early in the morning to avoid the crowds.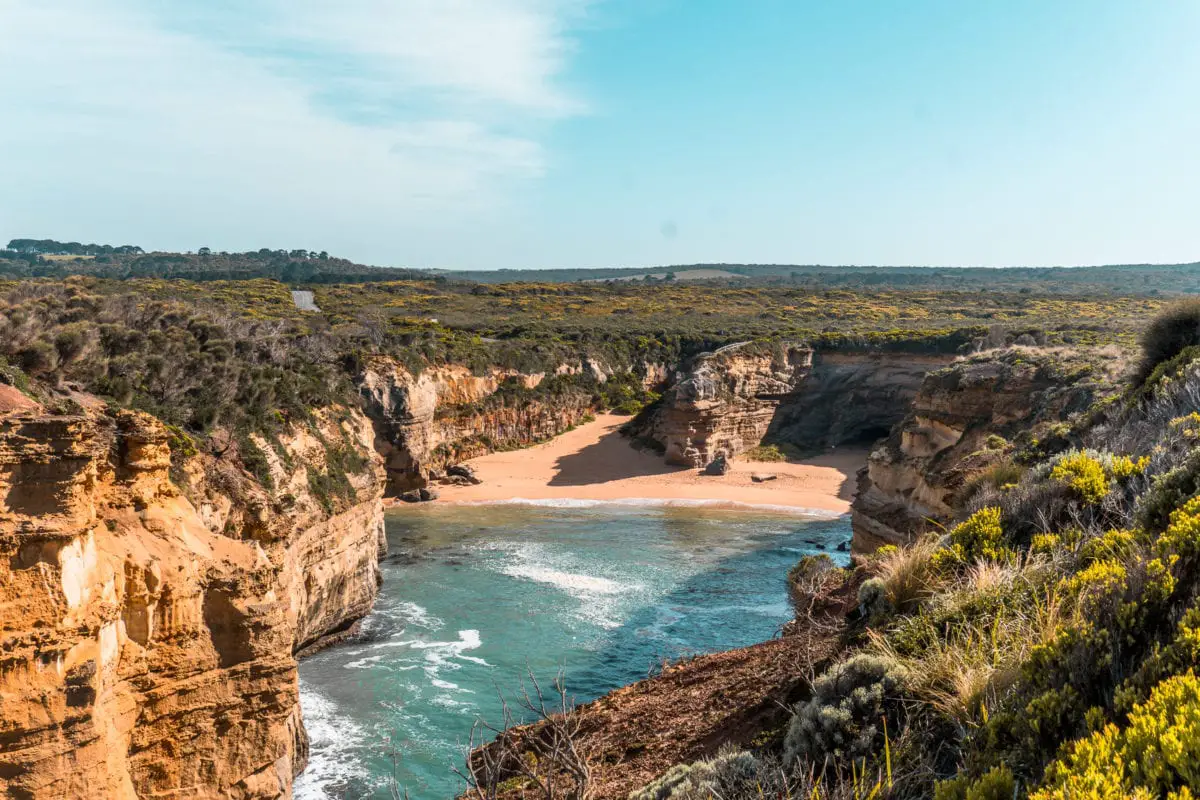 Stop 3: The Arch
Distance: Loch Ard Gorge to The Arch: 14 kilometres / 14 mins
Leaving Loch Ard Gorge, you'll stop at The Arch. Over millions of year, the crashing waves have slowly eroded this rock stack, boring a hole in the middle and creating an archway.
There's an easy, sealed pathway to the viewing platforms.
Stop 4: London Bridge
Distance: The Arch to London Bridge: 1.2 kilometres / 2 mins
Next up it's London Bridge. This rock formation is now marooned, having once been connected to the mainland. A section collapsed unexpectedly in January 1990 – leaving two visitors stranded (they were rescued by helicopter!).
There are two viewing platforms here, the furthest only a 350-metre return walk from the carpark.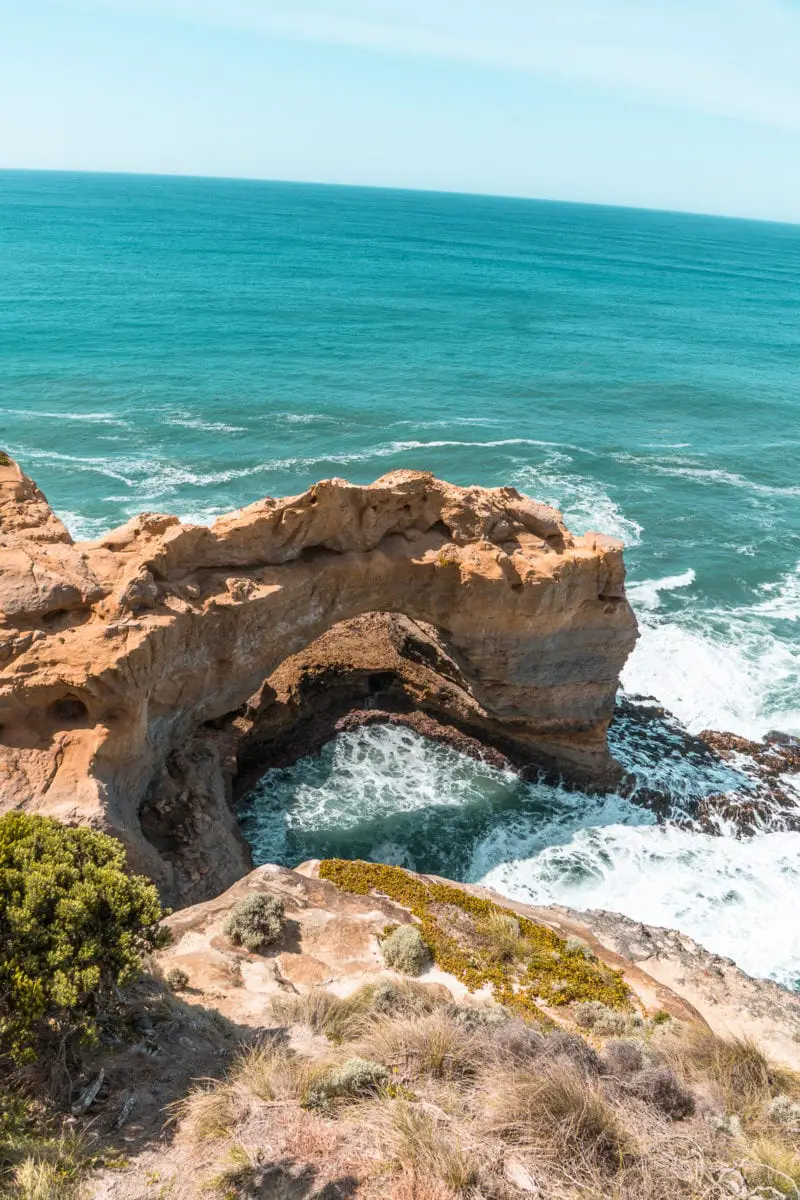 Stop 5: The Grotto
Distance: London Bridge to The Grotto: 2.1 kilometres / 5 mins
The next stop along is the Grotto. A 700-metre return walk leads to a viewing platform that overlooks the Grotto. However, make sure you continue down the steps to the Grotto, a peaceful open cave.
Stop 6: Bay of Martyrs
Distance: The Grotto to Bay of Martyrs: 8 kilometres / 9 mins
The Bay of Martyrs is part of the 33-kilometre-long Bay of Islands Coastal Park. Here you can take two short, easy walks: the Halladale Point Track to discover local birdlife, shipwreck stories and Indigenous history, or the Beach Walk down to the beach.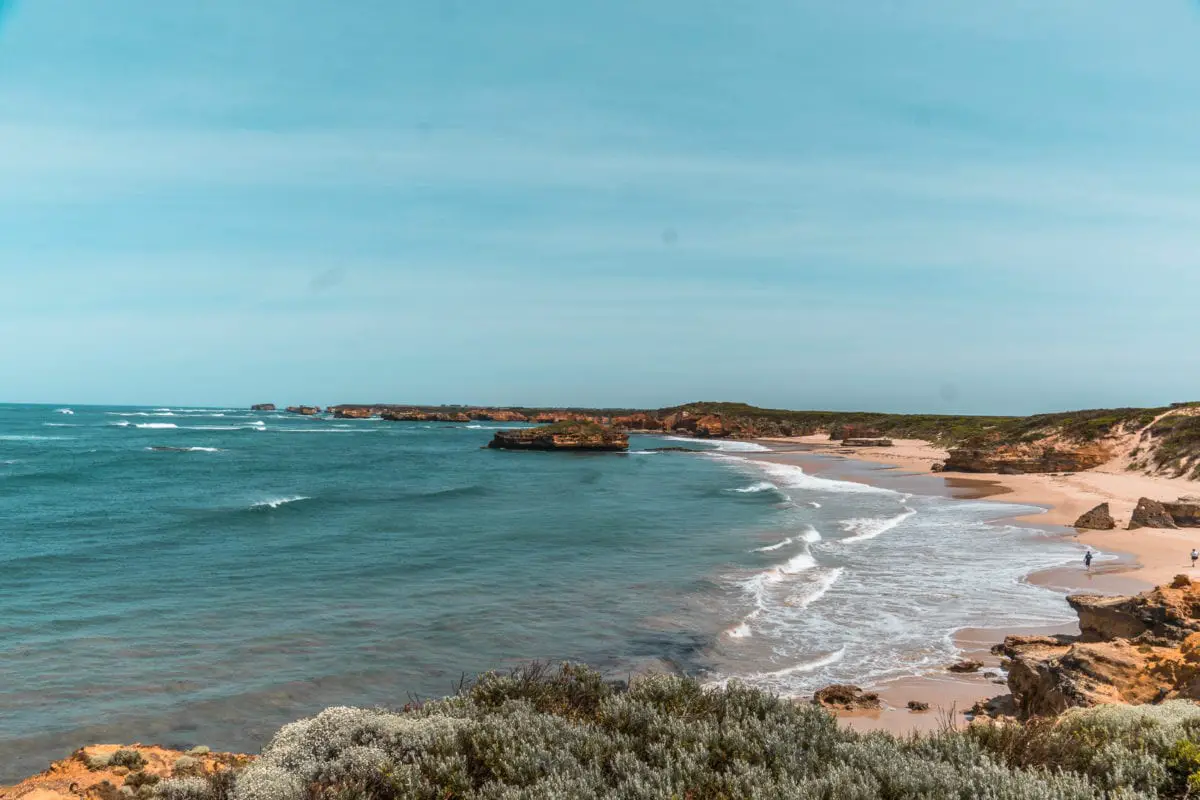 Stop 7: Bay of Islands
Distance: Bay of Martyrs to Bay of Islands: 2 kilometres / 3 mins
There's still one more sight to see along the Great Ocean Road and that's the Bay of Islands. Here you might spot hooded plovers, pied oyster catchers or fur seals.
There's a short, 280-metre walk to the viewing platforms.
Stop 8: Childers Cove
Distance: Bay of Islands to Childers Cove: 27 kilometres / 23 mins
A secret(ish) beach just off the Great Ocean Road, Childers Cove is a great spot for a picnic if it's time for lunch. This lovely bay is often not busy – even during the peak summer period.
Stop here to recuperate before the long drive back to Melbourne that's ahead of you.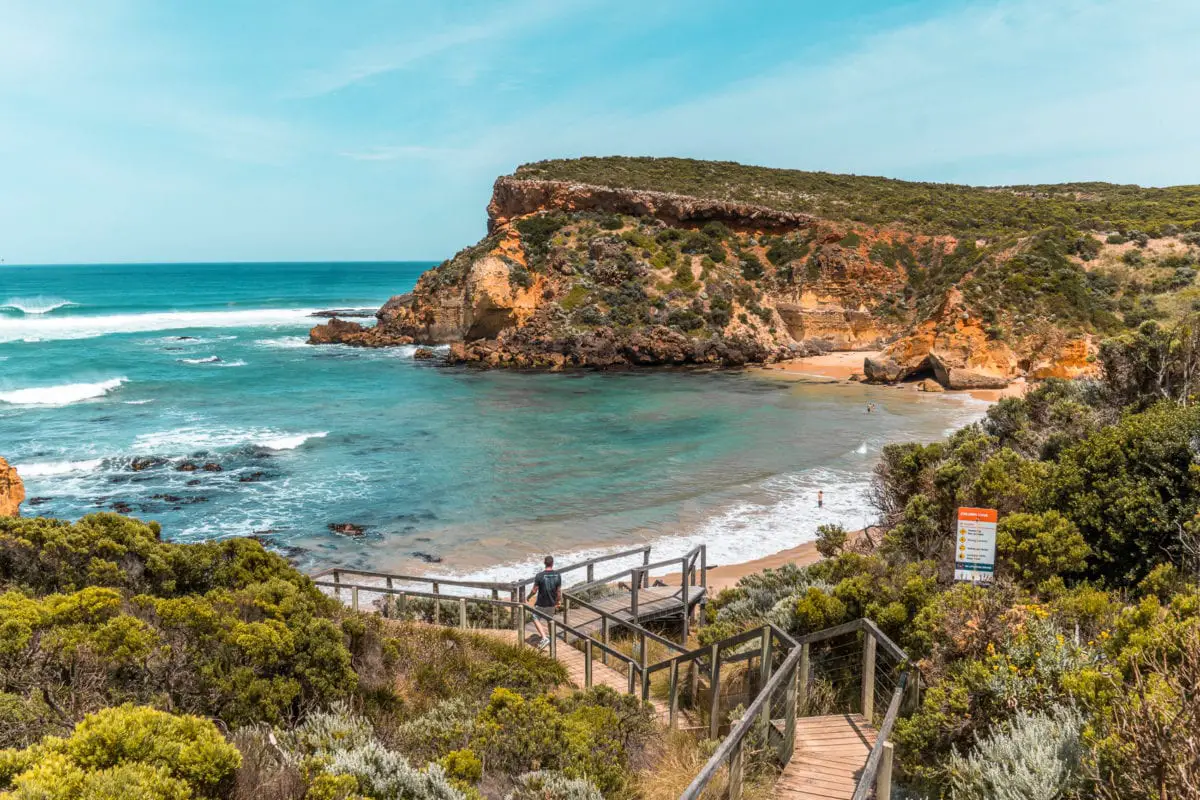 Stop 9: Allansford
Distance: Childers Cove to Allansford: 18 kilometres / 16 mins
The Great Ocean Road officially ends at Allansford, a town of 1,500 people that's known for its Cheese World cheese museum. The cafe serves up gooey toasties and cheeseboards.
There's not a lot to do here, so, sadly, the journey along the Great Ocean Road has come to an end. It's time to head back to Melbourne to enjoy more of the city. Jump on the Princess Highway for the 3-hour trip back to the city.
When you get back, start planning another day trip from Melbourne!
Want even more tips on how to plan a trip like this Great Ocean Road trip? Check out my 15 easy steps on how to plan a trip from start to finish!
Great Ocean Road day trip
While I think that 3 days is the minimum to plan for this road trip, if you're short on time you can do the Great Ocean Road in a day. Prepare for a long and tiring day.
You definitely won't be able to hit all the highlights I've listed in this itinerary, but your Great Ocean Road 1 day itinerary should include a stop at Torquay or Lorne, driving through the Great Otway National Park and, of course, stopping to see the 12 Apostles.
If you don't want to self-drive in a day, leave it up to someone else with these recommended tours:
The best time to see the 12 Apostles is at sunset and this Great Ocean Road day trip times it perfectly. It includes a stop at the Memorial Arch and Kennett River (for koala spotting). Check availability here.
This Great Ocean Road and Wildlife Tour stops at all the key places along the route: Torquay, Bells Beach, the Great Ocean Road sign, Apollo Bay, Gibson Steps and the 12 Apostles. It even includes a guided forest walk through the Otways National Park. Check availability here.
Another highly rated day trip is this small-group, Full-Day Great Ocean Road Trip, which includes the key stops at Torquay, 12 Apostles, Kennett River and Loch Ard Gorge. It also includes a traipse through the Otways with a visit to Maits Rest Rainforest Walk. Check availability online here.
2 day Great Ocean Road itinerary
If you've only got two days, here's my idea for planning a Great Ocean Road itinerary 2 days:
Day 1 – Head from Melbourne to Apollo Bay. Follow the day 1 itinerary I've outlined earlier, stopping at Torquay and Lorne and overnighting in Apollo Bay.
Day 2 – On the second day, start early and leave Apollo Bay. You've got two options here: head inland to explore the waterfalls of the Great Otway National Park, or stick to the Great Ocean Road and visit the Cape Otway Lightstation before heading to the 12 Apostles and Loch Ard Gorge. Head inland to return to Melbourne.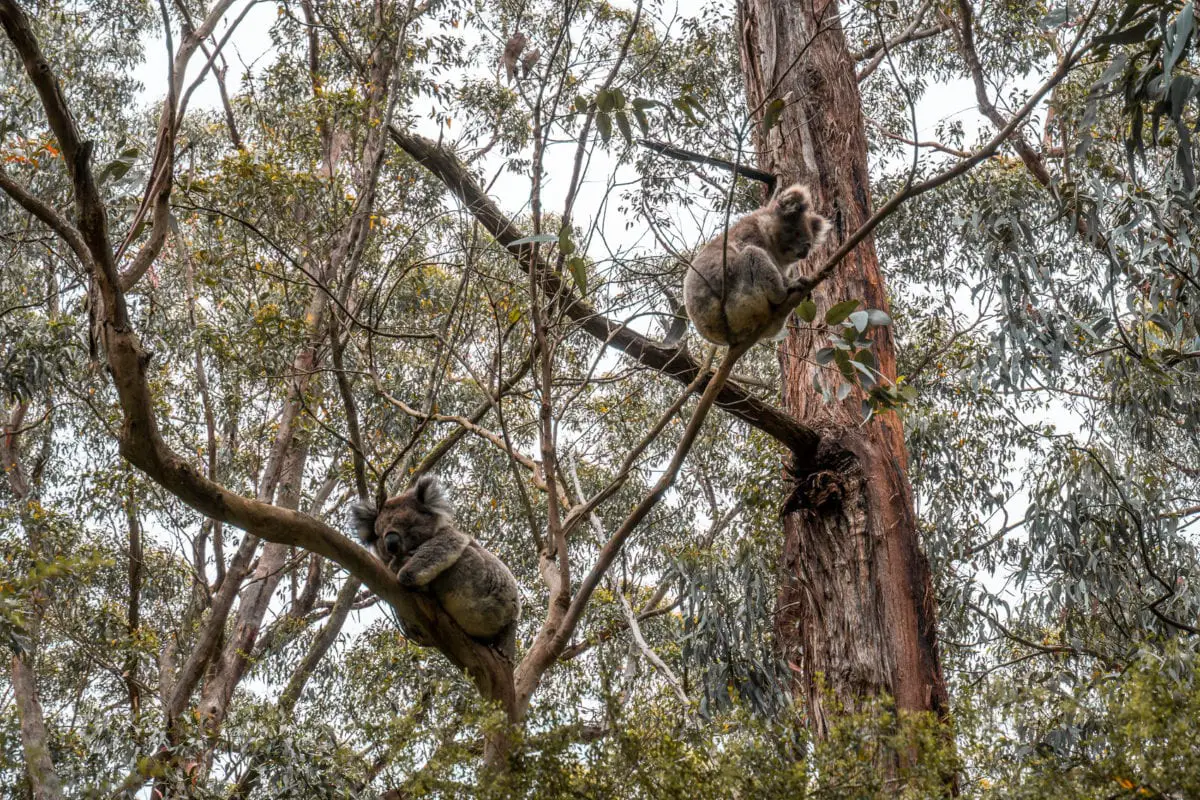 Great Ocean Road itinerary 4 days or longer
With more days, the world is your oyster! We actually had 4 days for our trip and spent two nights in Apollo Bay. This meant we spent our second day doing the Great Otway National Park loop at our leisure, and then on the third day headed to Port Campbell with a side trip to Timboon and the 12 Apostles Gourmet Trail.
With four or more days, you can add on some of the many places to visit near the Great Ocean Road. Visit the charming town of Timboon (a great town for foodies), go mountain biking in Forrest, take a side trip to Koroit and the strangely named (but awesome) Noodledoof Brewing and Distillery Co, or keep driving up to Port Fairy to stay a day or two in this pleasant seaside village.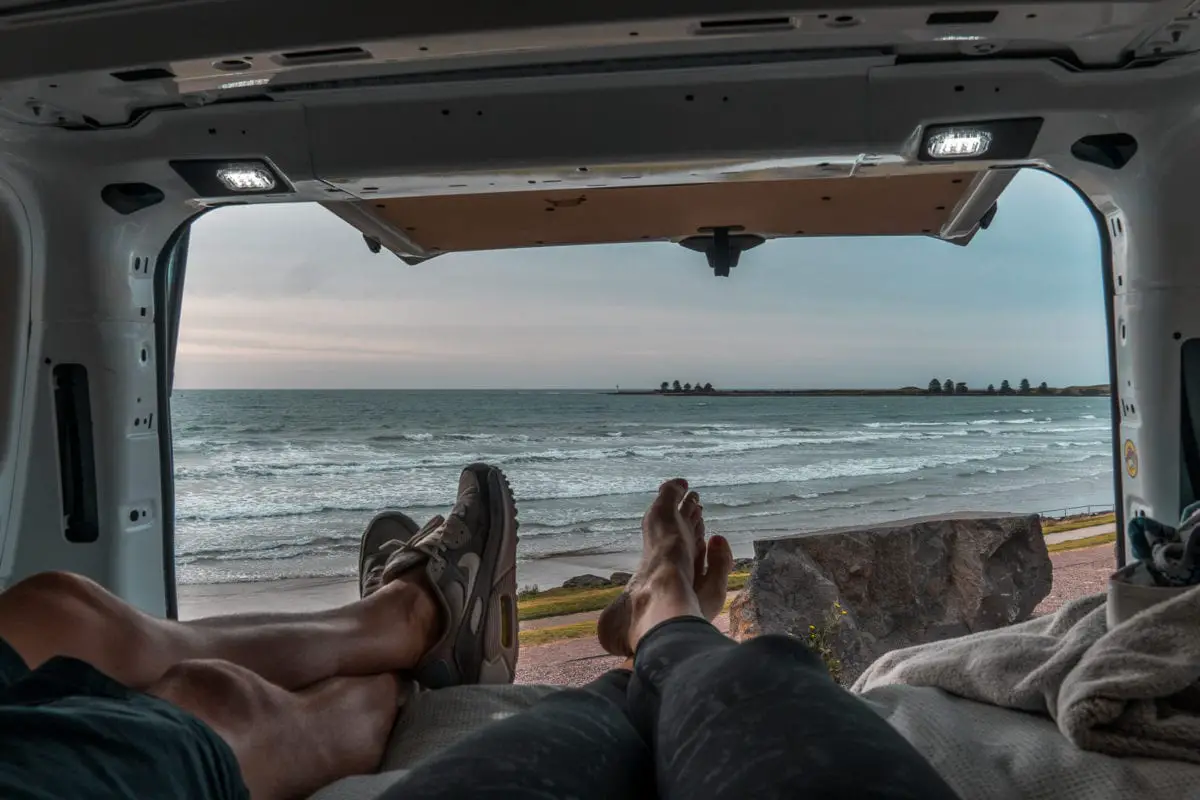 What to pack for a Great Ocean Road trip
Don't forget to pack these road trip essentials:
Smartphone for snapping pics and accessing Google Maps
Shoes appropriate for hiking/walks, as well as some flip flops for the beach
Refillable water bottle to save on plastic
Plenty of sunscreen plus a hat and sunglasses
Snacks for the road
Final thoughts: Great Ocean Road Australia
The Great Ocean Road is one of Australia's most spectacular drives and you won't be disappointed. This Great Ocean Road trip itinerary guide will help you plan an epic trip filled with lasting memories, regardless of how much time you have to explore the route.
Great Ocean Road self-drive itinerary: FAQs
Where does the Great Ocean Road start and finish?
The Great Ocean Road in Australia starts at Torquay and ends at Allansford, travelling along the southeastern coast of the continent. It's a 243-kilometre stretch of road with views of the coast. Along the way, you can explore beaches, parks, lighthouses and other coastal attractions.
When is the best time to visit the Great Ocean Road?
You can visit the Great Ocean Road year-round. The weather is of course nicer in summer – but means more crowds. Winters are chilly and can be quite windy along the coast. If you visit between May and October you may be lucky enough to spot Southern Right Whales off the coast when they come in to calve.
Can I do the Great Ocean Road on public transport?
The short answer is no, you can't drive the entire Great Ocean Road on public transport. Public transport can take you to the start of the route, but driving will be necessary to explore all of its wonders. If you don't want to drive, arrange a day tour with a local operator.
Have you driven the Great Ocean Road? What are your favourite stops?
---
Related posts
Before you go… you might like these other Australia travel blogs:
AUSTRALIA TRIP ESSENTIALS
Book your flight to Australia online with Skyscanner or Kayak. I usually compare flights on the two sites to find the best deals.
Find a great hotel in Australia. Check prices on Booking.com and HotelsCombined online.
Check out the huge range of day tours throughout Australia on GetYourGuide or Viator. There's something for everyone.
A copy of the Lonely Planet guide to Australia will be handy.
One thing I always purchase is travel insurance! World Nomads offers simple and flexible travel insurance. Buy at home or while traveling and claim online from anywhere in the world.
Great Ocean Road itinerary: Pin it for later
Save this Great Ocean Road self drive itinerary so that you can plan your trip later by clicking "Save" on any of the images below to save this article to Pinterest.