Looking for things to do on the Great Ocean Road? You've come to the right place!
The Great Ocean Road is one of the best road trips in Australia and a must-visit when in Melbourne.
Not only is this one of the most beautiful drives in Australia, but there are so many things to do on the Great Ocean Road that take you off the road and into rainforests, beaches and charming seaside towns. You'll be wishing you had weeks to explore the region.
To help you plan your Great Ocean Road itinerary, here are some of the highlights across the 243 magnificent kilometres that make up this historic drive. Having done this trip multiple times, I keep finding new things to add to this list, because it's such a great region that's constantly evolving.
So, grab your car and a sense of adventure, and let's get into it!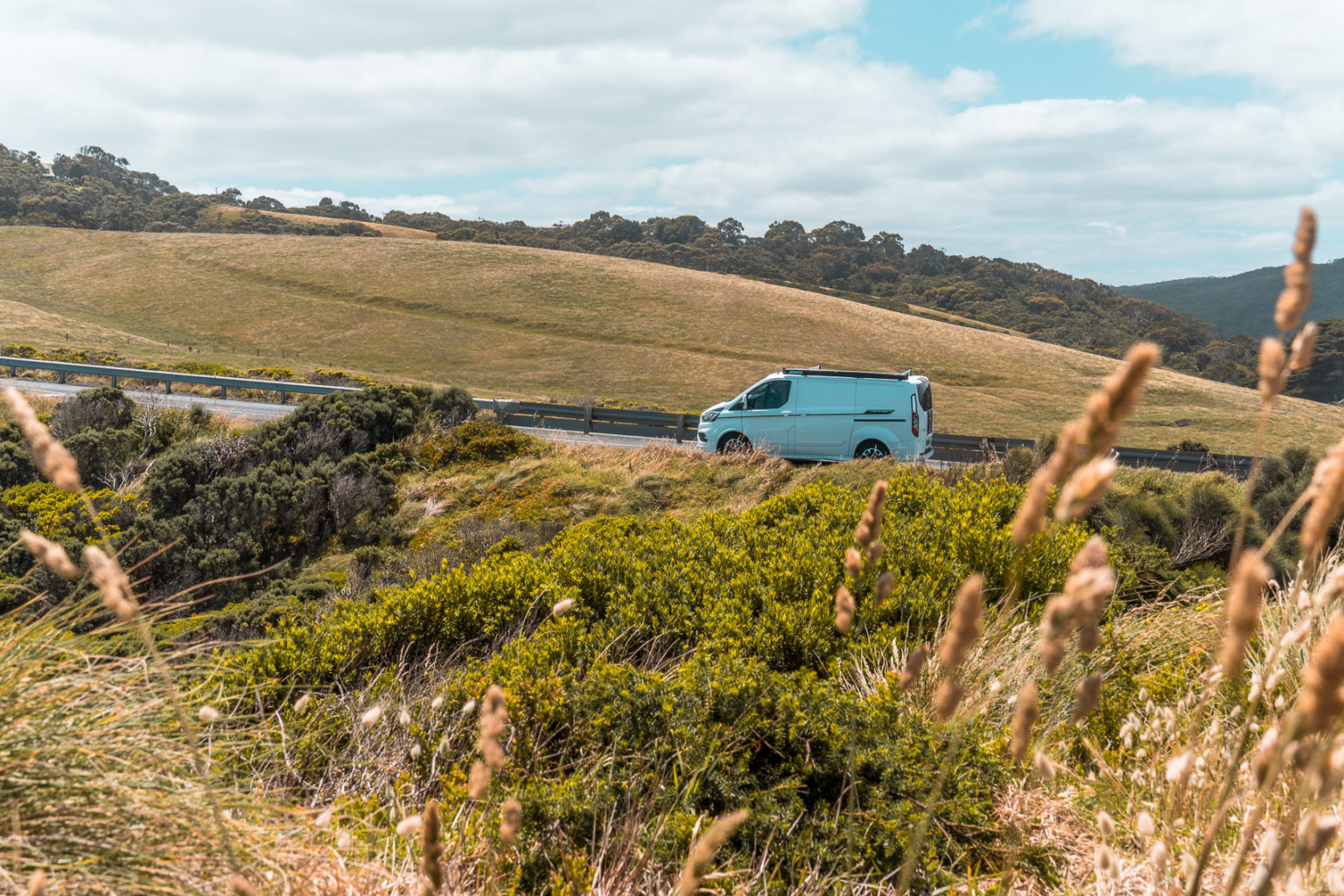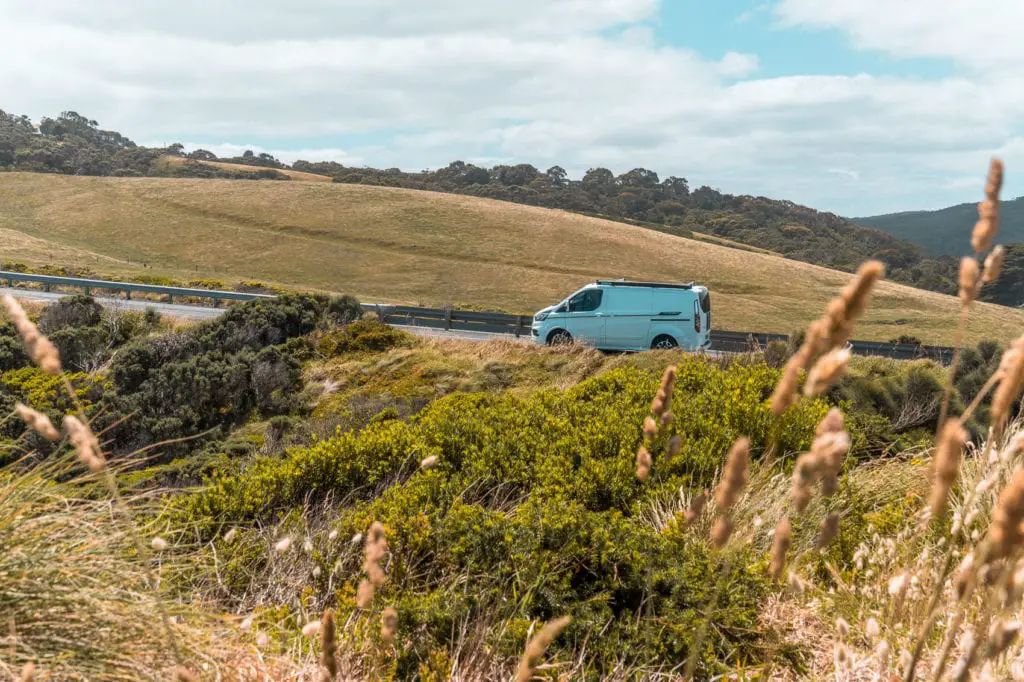 This blog post may contain affiliate links, meaning if you book or buy something through one of these links, I may earn a small commission (at no extra cost to you).
Map of things to do on the Great Ocean Road
This article will give you plenty of ideas of what to do on the Great Ocean Road. But if you want to put these activities into an awesome road trip itinerary, check out my blog post with a variety of Great Ocean Road itineraries to help you plan in more detail.
1. Gaze at the 12 Apostles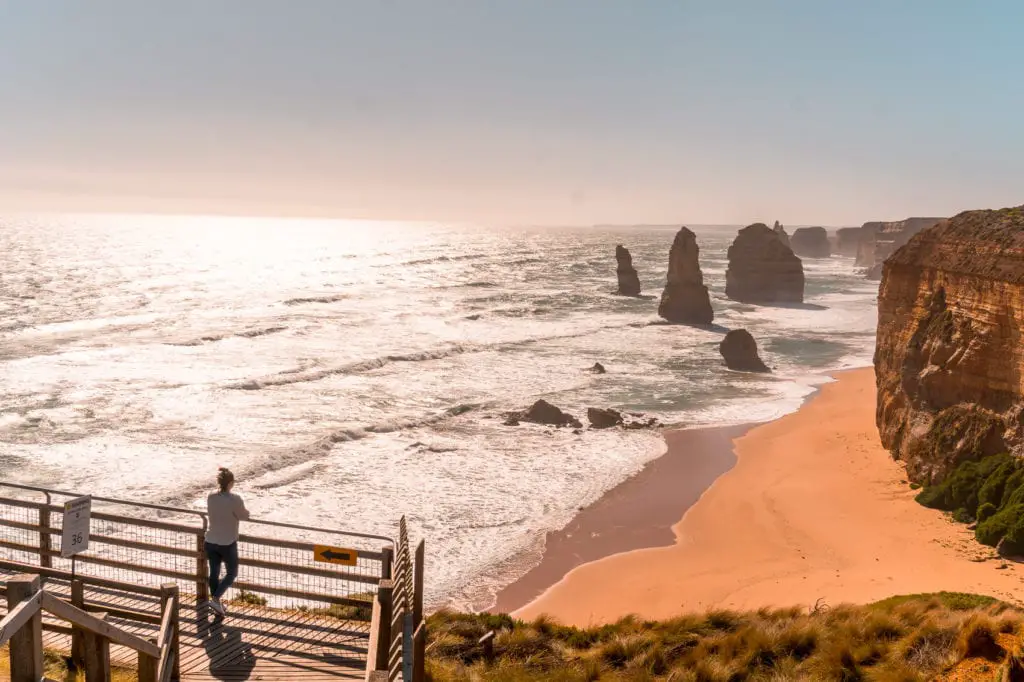 I had to start this list with the obvious Great Ocean Road tourist attractions: the 12 Apostles. This iconic sight is what draws many visitors to the region and is one for any Australia bucket list. 
These limestone stacks have been carved over millions of years and now stand like stranded soldiers in Port Campbell National Park in the Southern Ocean.
The name is a misnomer: there aren't and never were 12 "apostles". The rock stacks were actually originally called the Sow and Piglets (the "sow" was Mutton Island with the "piglets" the apostles), but in a bid to attract more visitors, the name was changed to the 12 Apostles. Definitely a better marketing decision!
Come at sunset or sunrise for the best viewing and light for photos. 
The details
Parking for the Twelve Apostles is across the Great Ocean Road, with a large car park (open 24 hours)
There's a visitor kiosk with toilets. The kiosk is open from 9am to 5pm daily (sometimes open until later during the busier holiday periods)
From the car park, visitors walk through a tunnel under the Great Ocean Road to access a series of walkways with views of the 12 Apostles and Gog and Magog, two rock stacks to the east
Entry to the 12 Apostles is free
The 12 Apostles can be really busy during peak season (December to February); time your visit for early morning or later in the day
2. Learn about the history of the Loch Ard Gorge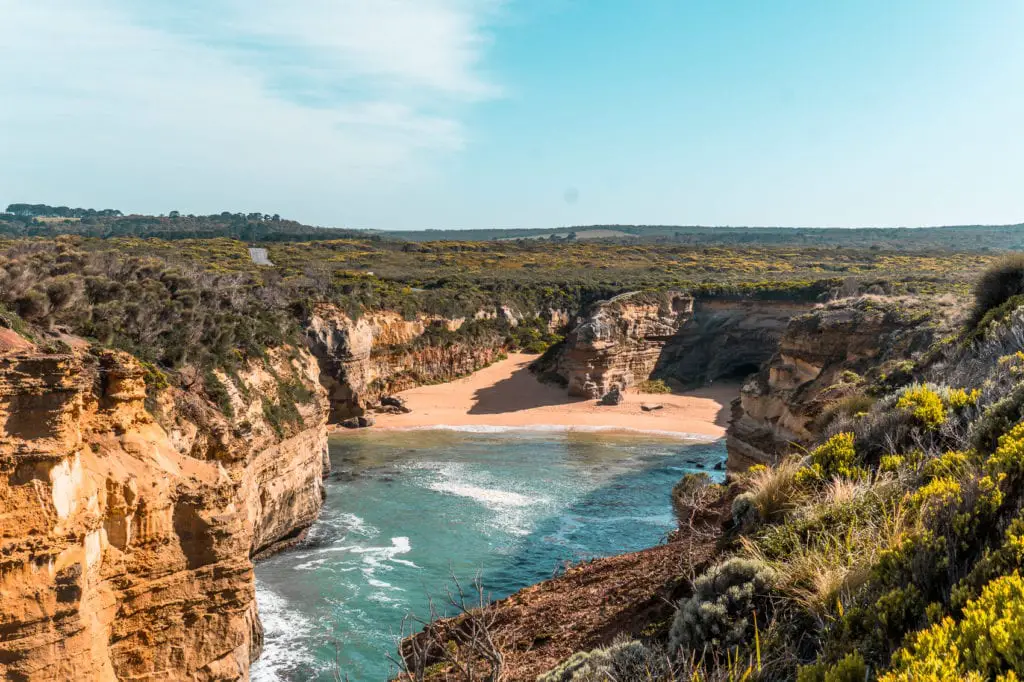 A little further down the road from the 12 Apostles is Loch Ard Gorge, one of the most popular Great Ocean Road sightseeing stops. 
This formation is named for the Loch Ard shipwreck which ran aground in 1878. Only two people survived – Tom Pearce and Eva Carmichael – and the two limestone monoliths that you see here are named after them.
You can spend a couple of hours here, walking along the various trails here, each of which is signed.
Or, just head down to the beach for some great photo opps.
The details
Loch Ard Gorge is probably the second-most visited attraction along the coast after the 12 Apostles. There's a decent sized car park here, and the walks are well signed. There are also secondary, smaller car parks closer to some of the other walks
There are no toilets here
3. Explore more stunning coastal stacks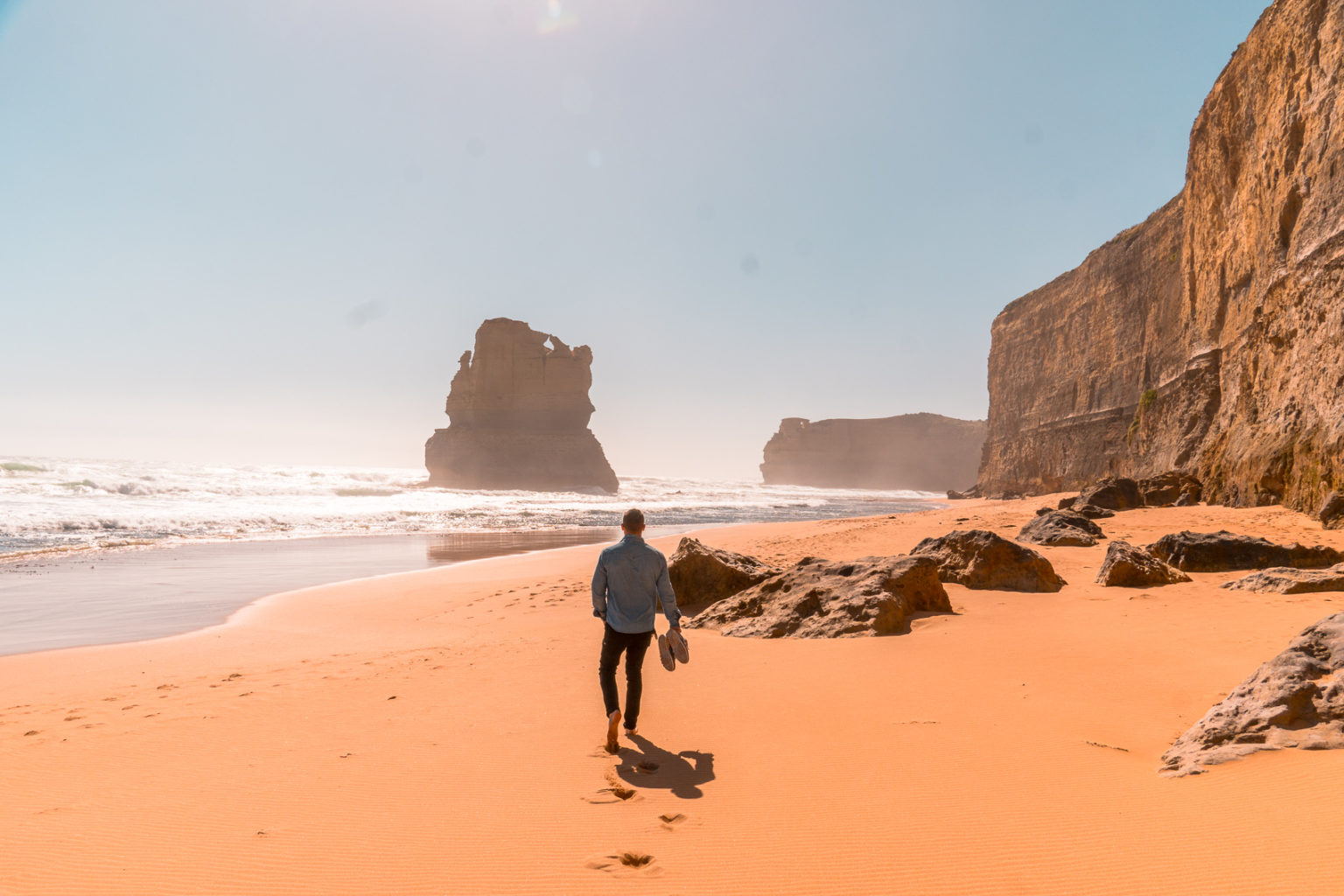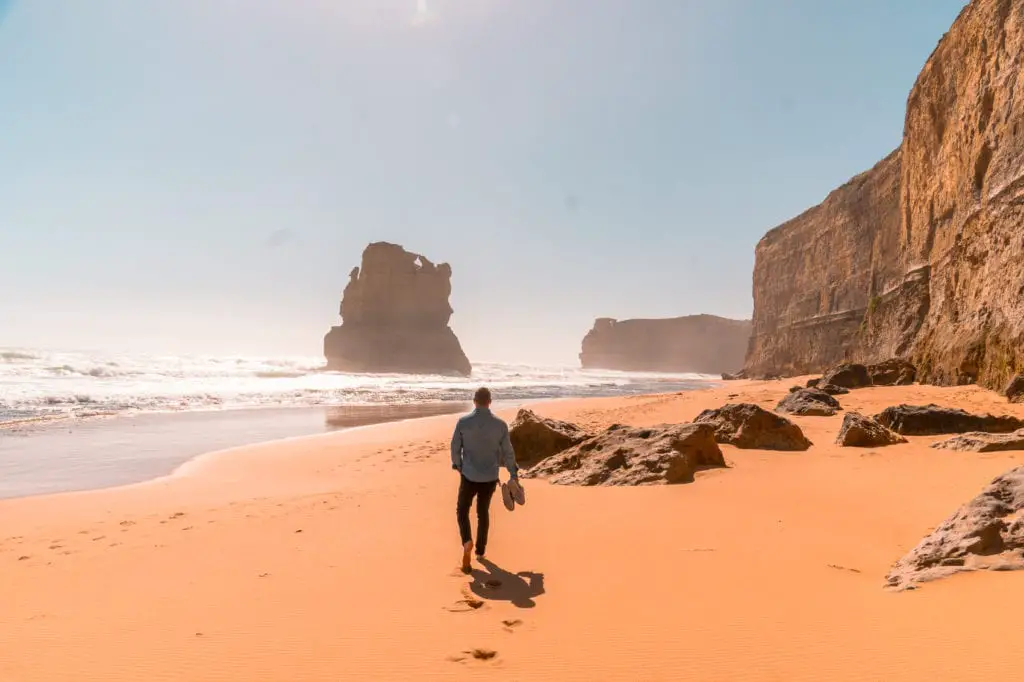 The 12 Apostles and Loch Ard Gorge are the most popular and well-known things to see on the Great Ocean Road, but there are other smaller, lesser-known but no less impressive sights to add to your Great Ocean Road itinerary.
Wreck Beach – head down the (many – my legs were burning on the return back up!) steps to reach Wreck Beach, where you can spot anchors and other detritus from long-ago shipwrecks
Gibson Steps – take the 86 steps down to the beach where you can spot the Gog and Magog sea stacks (these are the stacks you can see to the left when you're at the 12 Apostles) – check the tide before going down to the beach to make sure it's safe
The Arch – over millions of years, the crashing waves have slowly eroded this rock stack, boring a hole in the middle and creating an archway
London Bridge – once connected to the mainland, this rock formation is now completely marooned
The Grotto – a peaceful, open cave
Bay of Martyrs – part of the 33-kilometre-long Bay of Islands Coastal Park, there are two short walks here
Bay of Islands – check out the gorgeous views from the boardwalks and spot hooded plovers, pied oyster catchers or fur seals
Each of these Great Ocean Road highlights is signed from both sides of the road, and many are only 2-3 minutes apart.
4. Learn about surfing at the Australian National Surfing Museum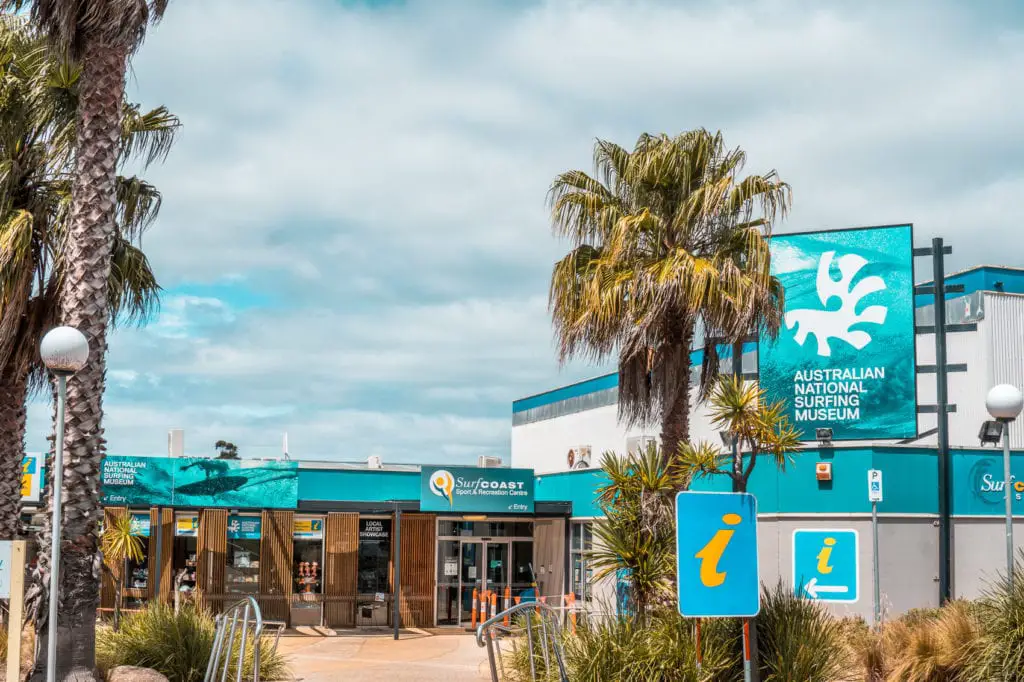 The Great Ocean Road has some of the best surfing locations Australia has to offer, so it makes sense that you'll find a national museum dedicated to surfing here. 
Located at the Torquay Visitor Centre, the Australian National Surfing Museum has a huge collection of more than 150 surfboards. You can even have a go at surfing yourself (well, sorta, it's on a mechanical surfboard).
The details
Address: 77 Beach Road, Torquay
Opening hours: Daily, 9am to 5pm, closed Christmas Day
Entrance fees: Adult $12, Student/Pensioner Concession $8, Child (aged 16 and under) $8, Family $25
5. Chase waterfalls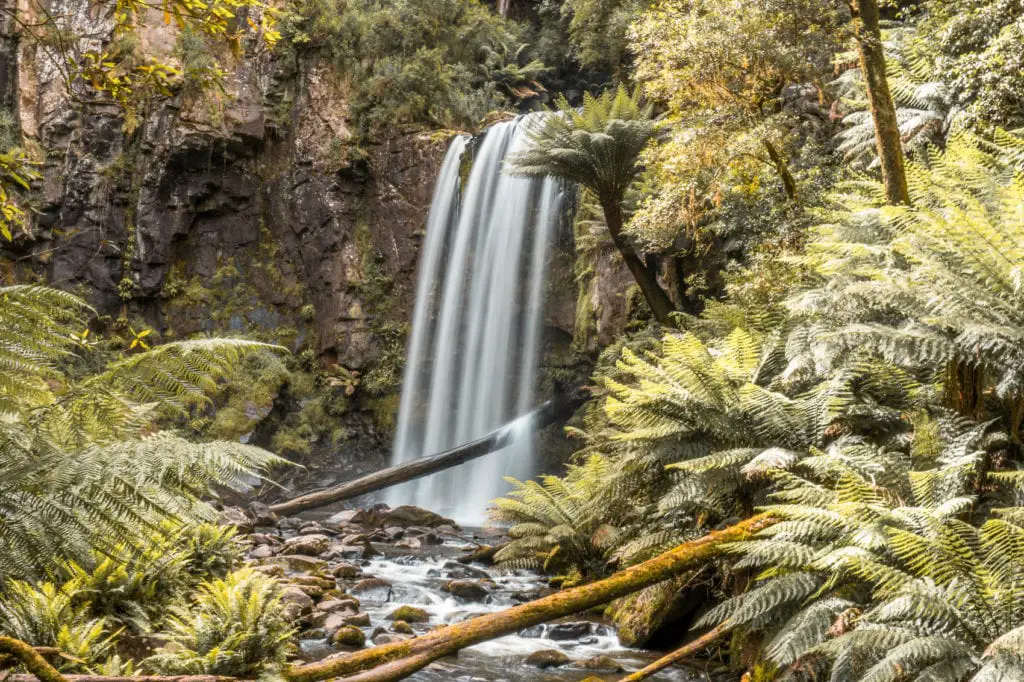 Tucked away off the Great Ocean Road main road are some of Victoria's prettiest waterfalls, and each is definitely worth the detour. All these falls are within the Great Otway National Park.
From Lorne, you can easily access some stunning waterfalls:
Erskine Falls – just a 15-minute drive from Lorne are the 30-metre Erskine Falls
Upper and Lower Kalimna Falls – hiking to both these falls is a 9.5-km return trip (around 3 hours), but you can visit each separately (you can even go behind the waterfalls at Lower Kalimna)
Further along, near Apollo Bay, you'll find:
Hopetoun Falls – these are my favourite falls: 30-metre-high waterfalls surrounded by rocky pools and lush ferns. There's a viewing platform a short walk from the car park, but you won't see much; do the 30-minute round trip for the best sighting (it's a steep walk back)
Beauchamp Falls – getting to these 20-metre waterfalls involves taking a fairly steep 3-kilometre trail
Triplet Falls – these three cascading waterfalls are reached via a 2-kilometre loop trail, mostly on boardwalks
No Great Ocean Road trip is complete without a waterfall stop, so pick one or two to explore.
6. Explore Great Otway National Park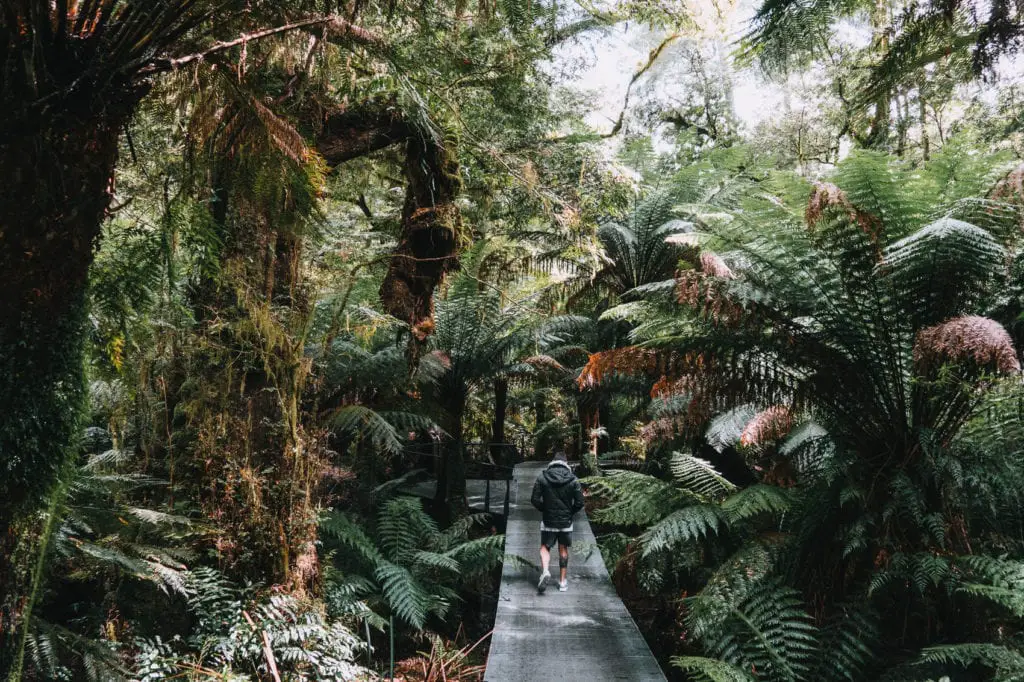 Great Otway National Park is the sixth largest national park in Victoria, at 250,000 acres. It's one of the most naturally beautiful places to visit on the Great Ocean Road.
You can easily spend a whole day exploring the national park. Here's a suggested route to take:
From Apollo Bay, heat to Maits Rest for the gorgeous rainforest walk. This short, 1-kilometre stroll follows boardwalks through fern gullies and past trees that are hundreds of years old.
Next, head west. Take a left turn off the Great Ocean Road to visit the Cape Otway Lightstation (see later in this article for more about this historic Great Ocean Road lighthouse).
Keep going around the loop on C155 to stop at Triplet Falls and Hopetoun Falls. 
If you've got kids (or big kids!) with you, check out Otway Fly Treetop Adventures. Ziplining and elevated boardwalks through the trees will occupy a few hours.
Visit the California Redwoods Forest to gaze up in awe at these enormous sequoia trees, planted here in the 1930s.
Finally, stop at Beauchamp Falls before continuing around the loop and back to Apollo Bay.
Keep an eye out when you hit Turtons Track. This road is very windy and you'll be sharing it with logging trucks. So, take it slow and easy and tap your horn as you approach corners to warn oncoming vehicles. 
Take lunch and snacks with you for the day, as there aren't many places to stop for food along the way. 
The details
Like all national parks in Australia, dogs aren't allowed in Great Otway National Park (except for assistance dogs)
You can camp inside the park – see campsites and availability online here
7. Take a helicopter ride over the 12 Apostles
While the 12 Apostles are certainly stunning from eye and beach level, there's another way to see them: from the air.
12 Apostles Helicopters run daily sightseeing flights over the coastline. Flights last 15 minutes and cost from $165 per person. There are longer scenic flights to the Bay of Islands and Cape Otway.
I haven't done this myself, but a helicopter flight would be an amazing way to see the 12 Apostles and the coastline from above.
Feeling braver? Try a tandem skydive over the Great Ocean Road!
8. Go camping
Aussie summers mean camping trips, and there are plenty of great campsites along the Great Ocean Road to pitch your tent. Some of these are within the Great Otway National Park. While some campsites have facilities like toilet blocks, others have no amenities.
If you'd prefer some amenities like showers, kids' playgrounds and pools, then there are also some great caravan parks on the Great Ocean Road: 
9. Gorge along the 12 Apostles Gourmet Trail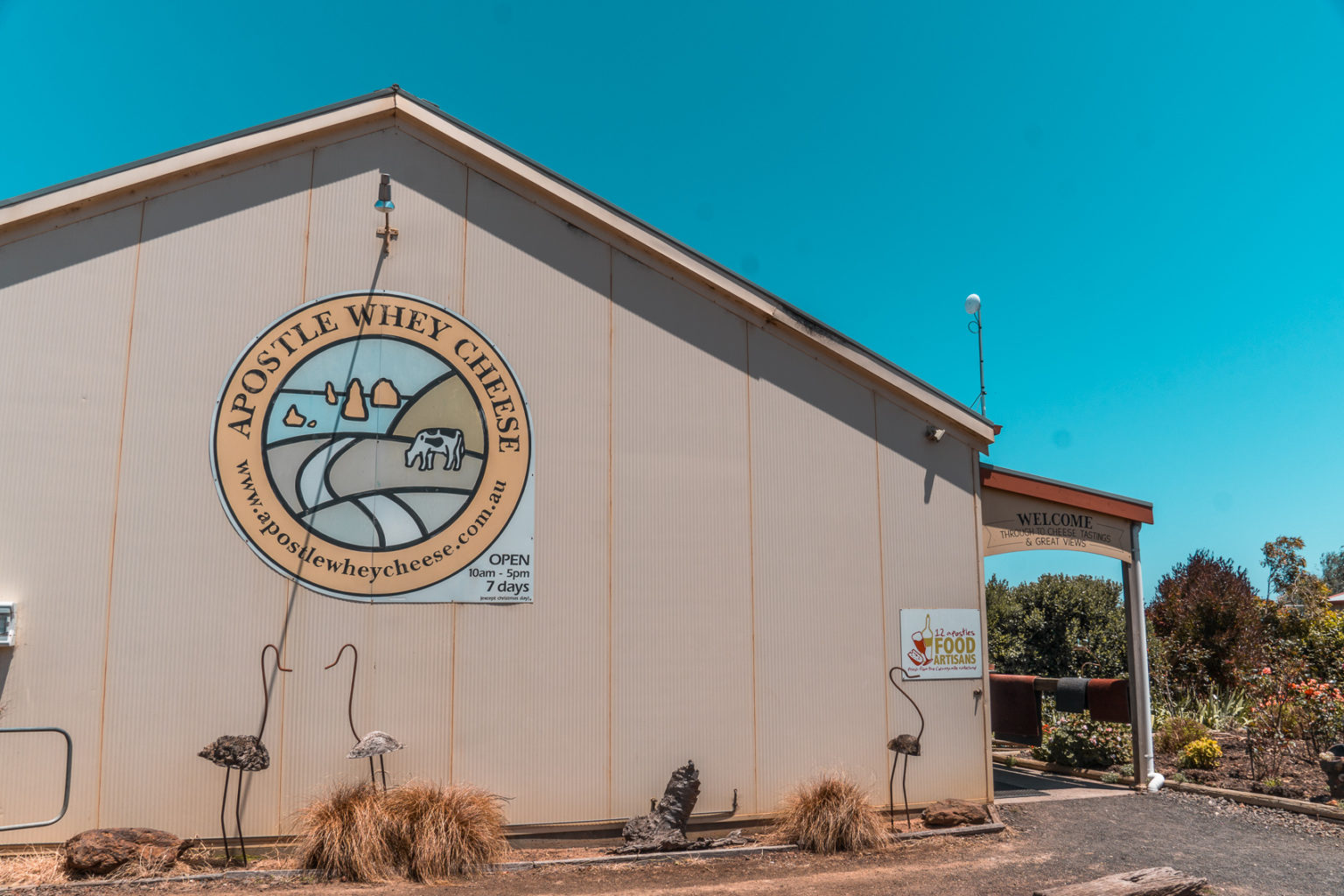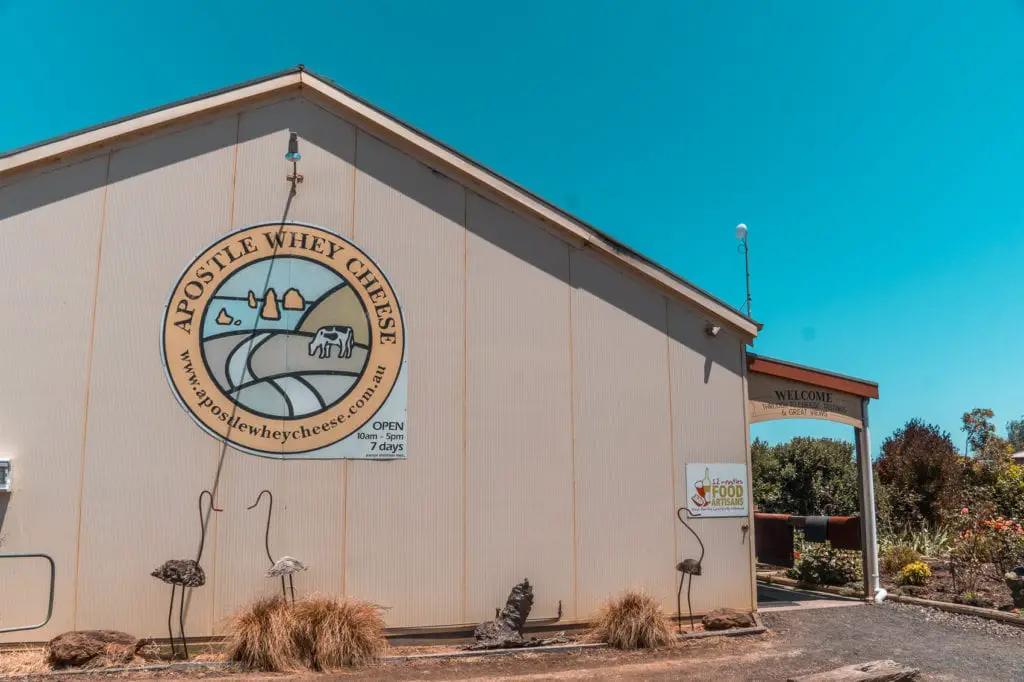 The Great Ocean Road meanders through lush farmland, which means there's so much fresh produce grown and manufactured throughout the region.
The 12 Apostles Gourmet Trail is the perfect place to get a taste of it all. This trail loops off the Great Ocean Road.
Download a map from the website (or pick up a copy from any visitor centre along the Great Ocean Road), jump in your car and plan a leisurely few hours exploring the trail:
GORGE Chocolates – Belgian-style chocolates are the specialty here (the hot chocolate is delish!), and there are also llamas to have a look at
Dairylicious Farm Fudge – free tastings of delicious, homemade fudge
Timboon Railway Shed Distillery – have a whisky tasting or lunch at this fabulous spot
Timboon Fine Ice Cream – I highly recommend finishing up lunch at the Timboon Railway Shed Distillery by wandering over to get an ice cream from here
Berry World – pick your own berries (when in season)
Sow & Piglets Brewery – drop by the brewery in Cooriemungle or do a tasting at the microbrewery in Port Campbell
The details
Tip: Some locations are only open seasonally, so check online or call ahead
10. Taste whisky and gin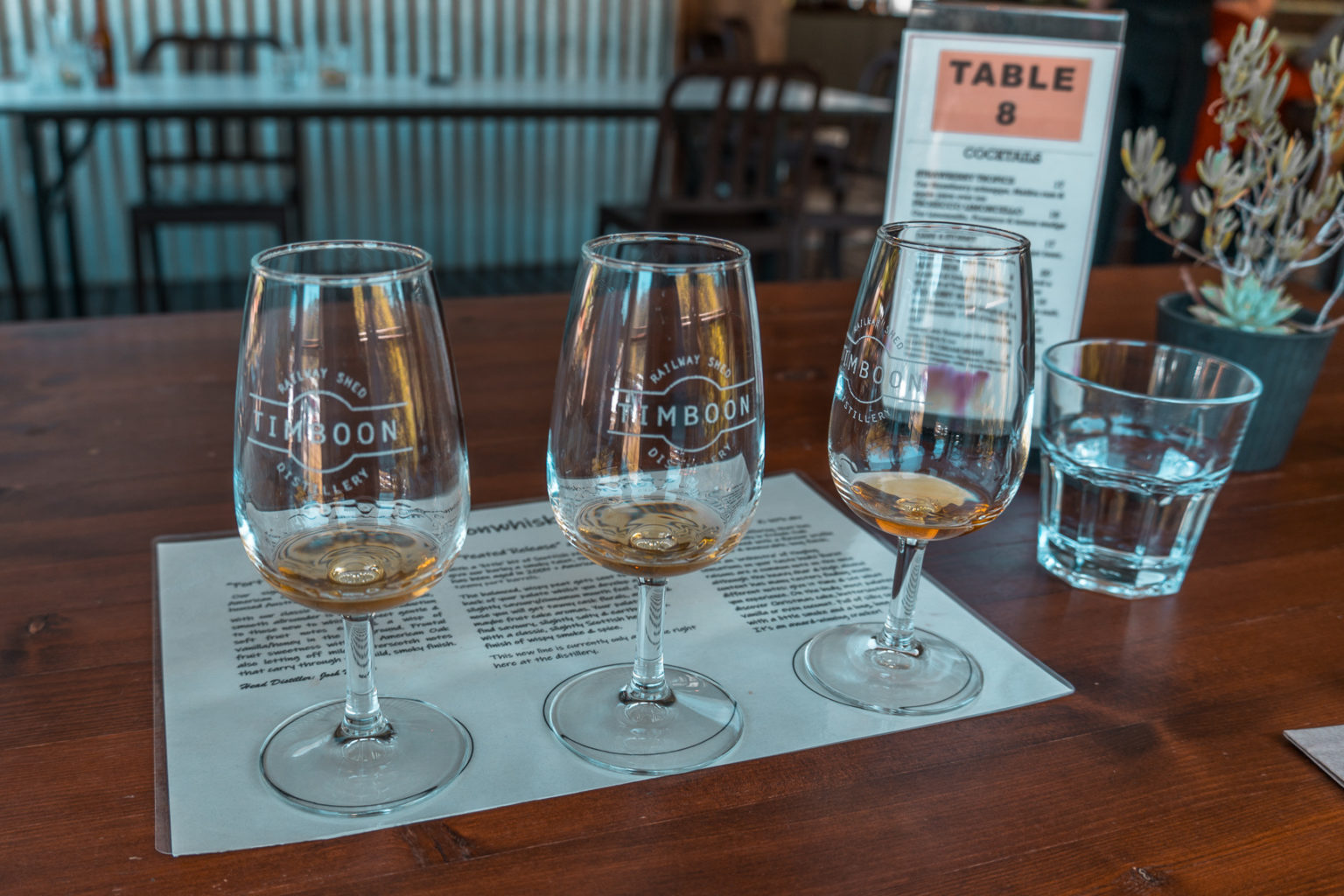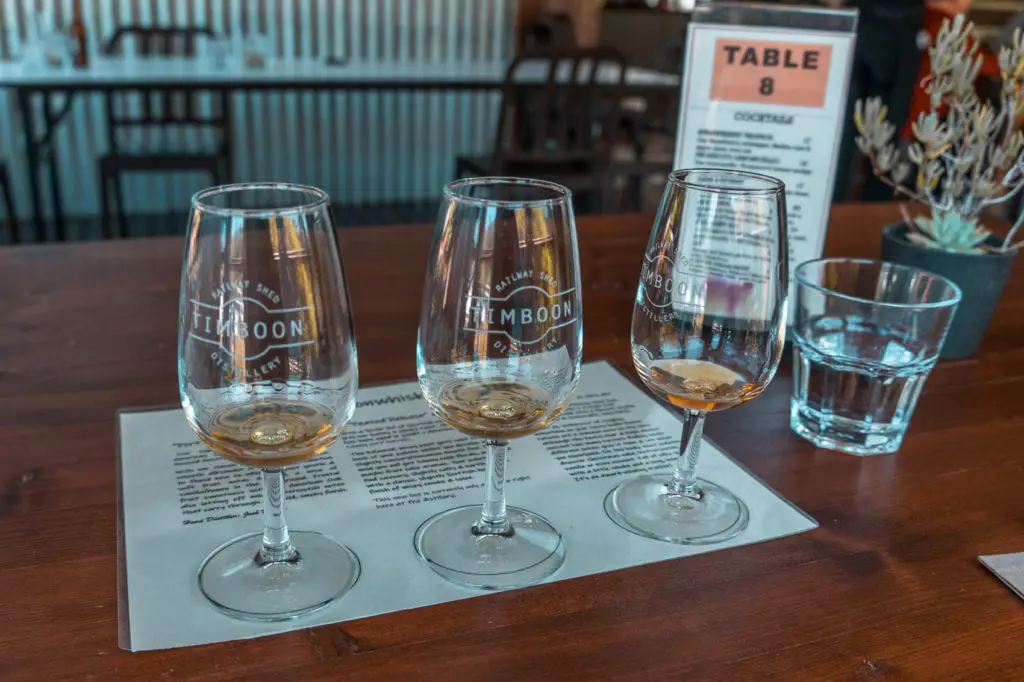 Victoria is really starting to come into its own as a state known for the quality of its distillers. 
Stop by these places to try the quality for yourself:
11. Watch surfers at Bells Beach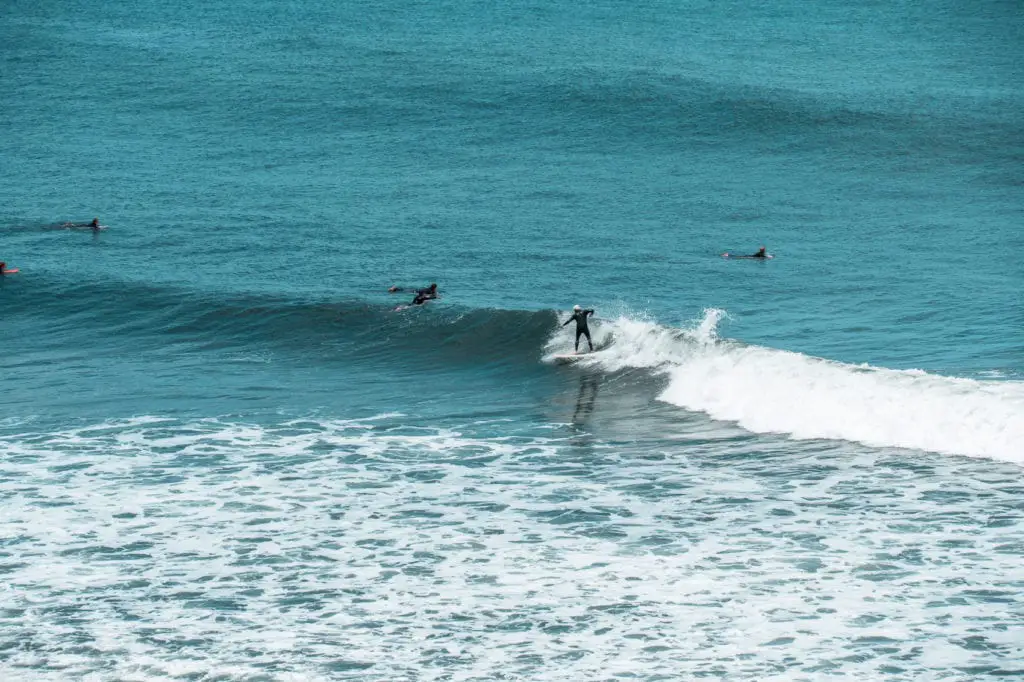 One of the most famous surfing beaches in Australia – and the world – Bells Beach hosts the Rip Curl Pro each year. 
Every day, you can spot surfers on their boards waiting for a good break. Watch them from the viewing platform a short walk from the carpark, or head down to the beach. 
This area is for professional surfers only – if you're a novice, this is a dangerous area to practice.
12. Learn to surf
If you dream of joining those surfers one day, then take a surf lesson in Torquay.
Two-hour, small group lessons are held throughout the year – in winter you'll get a thick wetsuit and hot showers afterwards!
13. Hunt for shipwrecks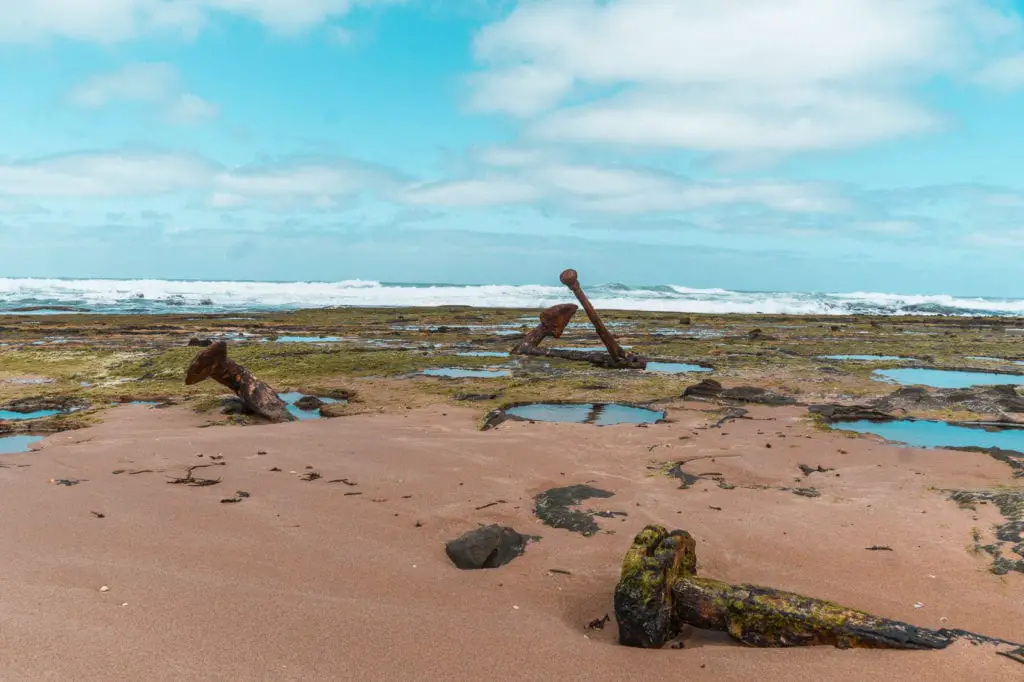 A large stretch of the coastline along the Great Ocean Road is known as the Shipwreck Coast. It's estimated that more than 700 ships have met their demise here, smashed on the rocky coast. 
On Wreck Beach, you'll find the anchors and debris from two ships, the Marie Gabrielle and Fiji. The Marie Gabrielle crashed in 1869 and the Fiji in 1890. You'll only be able to spot these at low tide, so plan your walk along the beach.
Getting down to Wreck Beach is a bit of a trek – there are many steep steps (save your energy for the walk back up!). The anchors are about 500 metres to the right when you get down to the beach.
14. Find a secret beach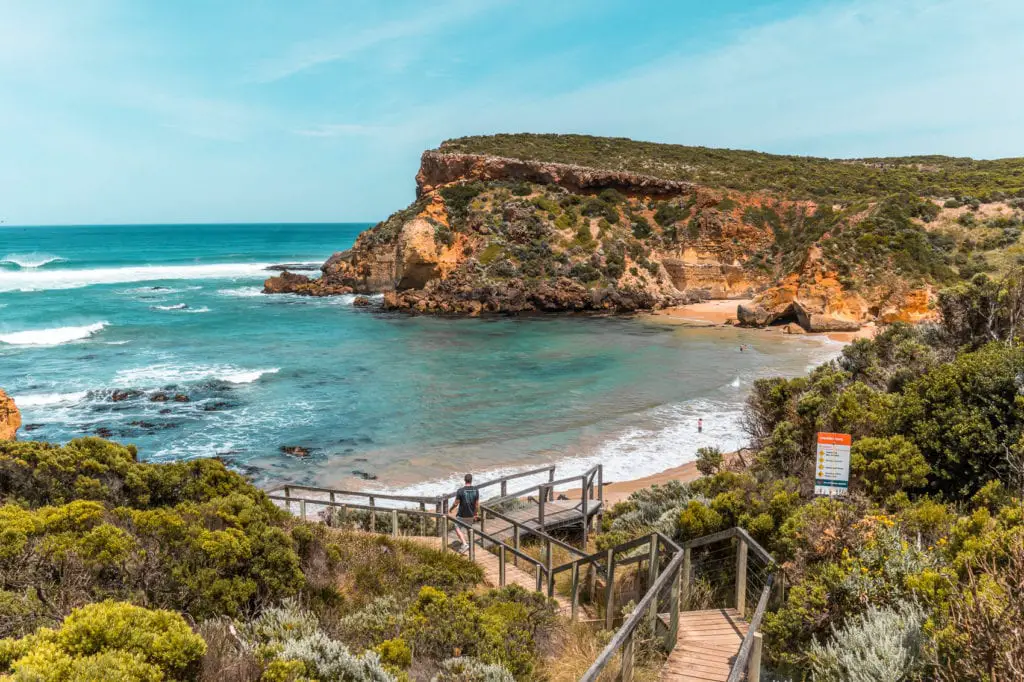 Childers Cove is one of those beaches that the locals love to keep to themselves, and I'm sure they won't be happy with me sharing it here. 
We only found out about this beach after overhearing a girl telling some tourists about it. This lovely cove has a golden crescent of sand for sunbathing, and the calm (although chilly!) waters are ideal for a quick dip.
The details
It's not that hard to find the "secret beach" of Childers Cove, so I'll leave this one to you to figure out ☺
15. Visit some breweries
After all this driving and exploring, you deserve a beer. Luckily, there are plenty of breweries brewing some great local drops. Add one or two of these to your list of Great Ocean Road stops (if you've got a designated driver, of course!). 
Blackmans Brewery, 26 Bell St, Torquay
Bells Beach Brewing, Shed 2/22 Baines Cres, Torquay 
Forrest Brewing Co, 26 Grant St, Forrest
Prickly Moses Brewery, 10 Hoveys Rd, Barongarook
Salt Brewing Co, 45 Great Ocean Road, Aireys Inlet
Sow & Piglets Microbrewery, 18 Tregea Street, Port Campbell
16. Head up the Cape Otway Lightstation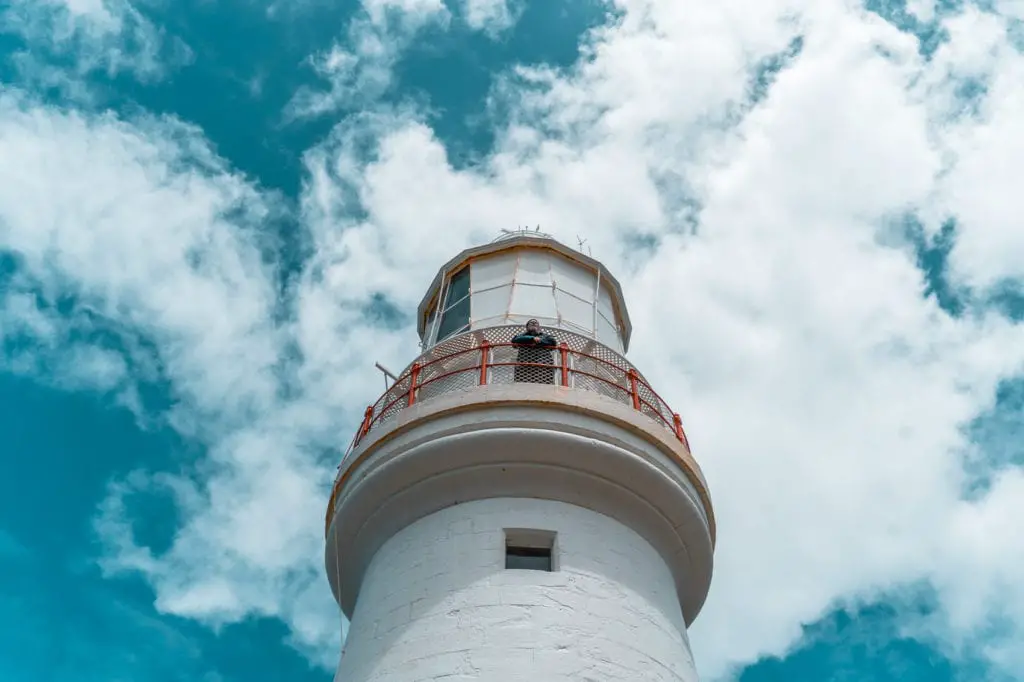 On the tip of Cape Otway sits Australia's oldest surviving lighthouse. The Cape Otway Lightstation has been in operation since 1848, protecting ships from crashing into the treacherous shore below. 
It's possible to climb the 78 steps to the top of the lighthouse. The views from the top are spectacular but not great for those with a fear of heights!
As well as the actual lighthouse, you can also check out the telegraph station that housed Australia's first submarine telegraph cable, see relics from shipwrecks, view dinosaur fossils and even learn about a spooky UFO mystery. If you're here at the right time of year (between May and October), you may even be able to spot whales off the coast.
You can even stay overnight here in what was once the accommodation quarters for the head and assistant lightkeepers. There are only a few rooms, however, so you'll need to book well in advance.
The details
Opening hours: Open daily 9.30am to 5pm (last entry 4.30pm)
Entry fees: Adult: $19.50 / Child: $7.50 / Family: (2 adults and 4 children) $49.50 / Concession: $17.50, Pre-school children: free
17. Learn about First Nations cultures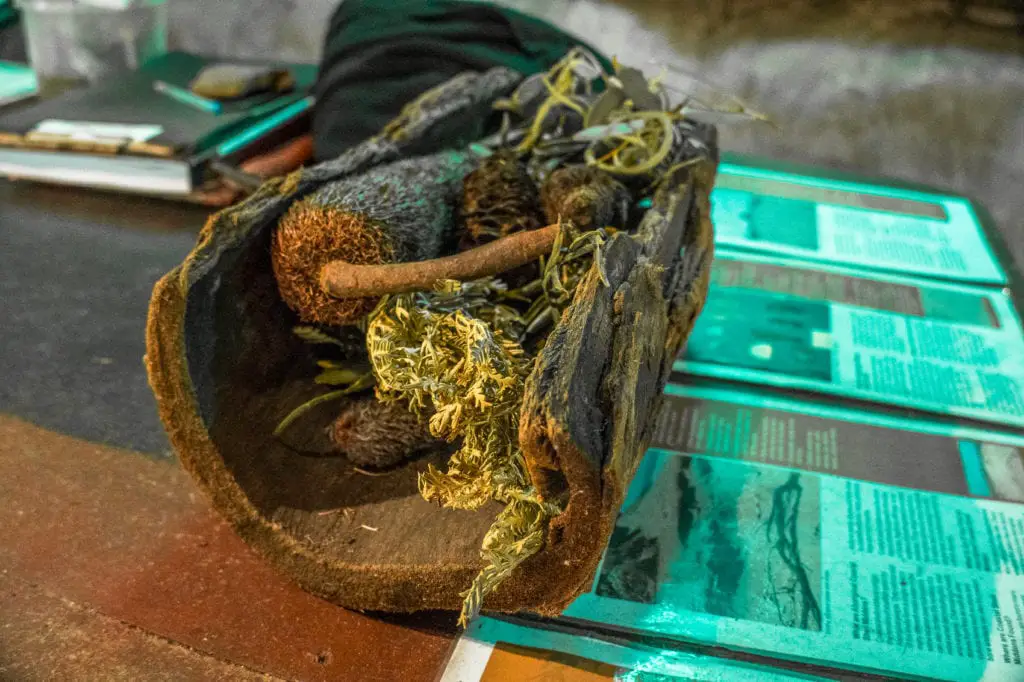 The Cape Otway Lightstation sits on Gadubanud Country. Recent investigations have discovered several middens and tool-making sites around Cape Otway.
Daily native plant talks at the Talking Hut provide an insight into how First Nations people used (and still use) the native plants that grow through the area. 
Under the guidance of an Indigenous Australia guide, visitors can taste and smell the plants around the hut as they learn how they were used in cooking and medicine. The guide we had – Dale – was highly entertaining and generous with his time and answers to our questions.
Note that these talks are temporarily on hold until further notice.
The details
Native plant talks are held daily at 12pm and 3pm at the Talking Hut. Talks are included in the lighthouse admission price and last for around 30 minutes.
18. Treat yourself to ice cream and chocolate
Driving along the Great Ocean Road, you can't miss the signs pointing you to the Great Ocean Road Chocolaterie & Ice Creamery. Housed in a huge and fancy new building, you can taste a variety of chocolates and ice creams and purchase your favourites. 
A huge glass wall into the production area means you can watch the chocolatiers at work and drool over the rivers of chocolate pouring everywhere. 
The details
Address: 1200 Great Ocean Road, Bellbrae
Opening hours: Daily, 9am to 5pm, closed Christmas Day
19. Snap a pic at Split Point Lighthouse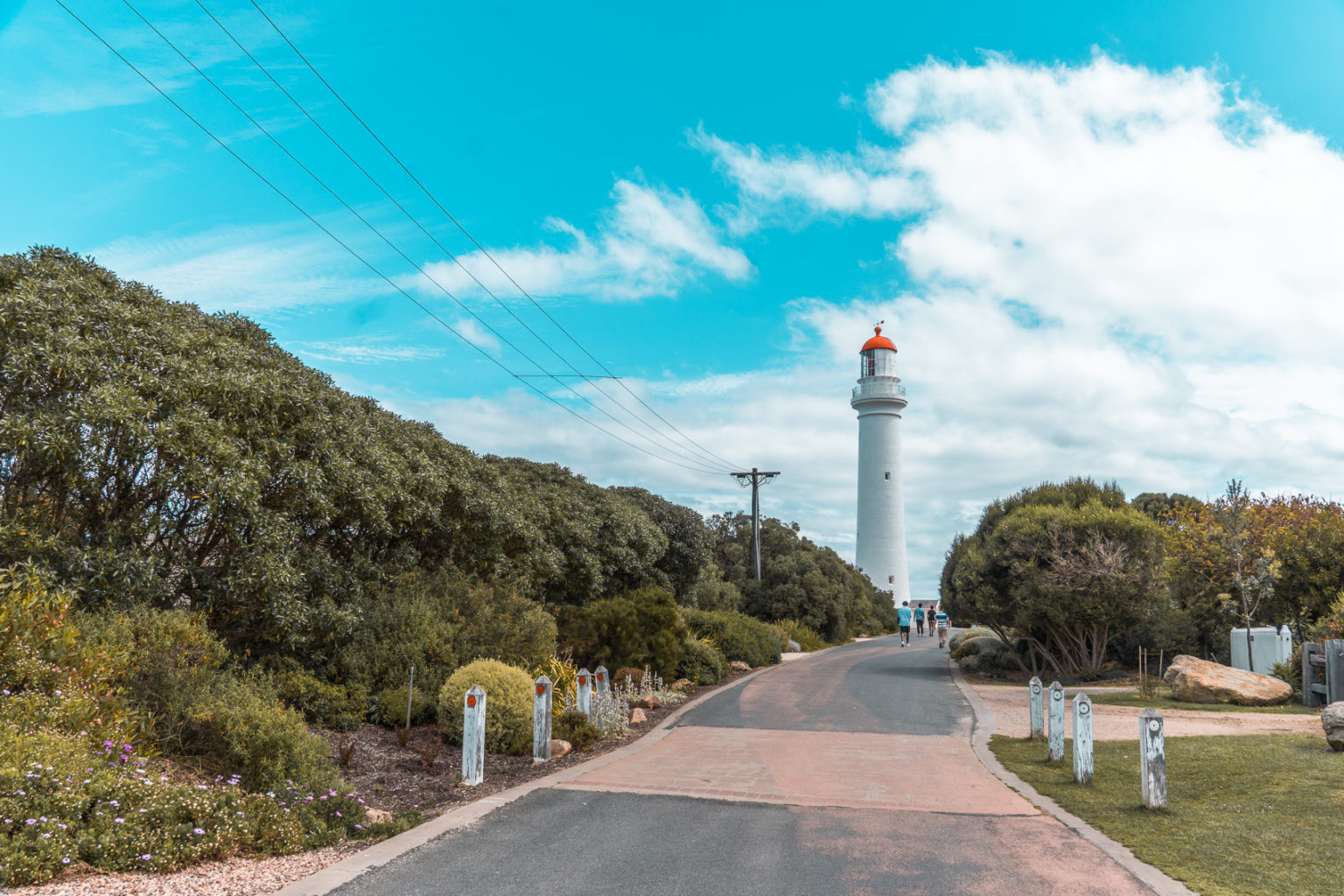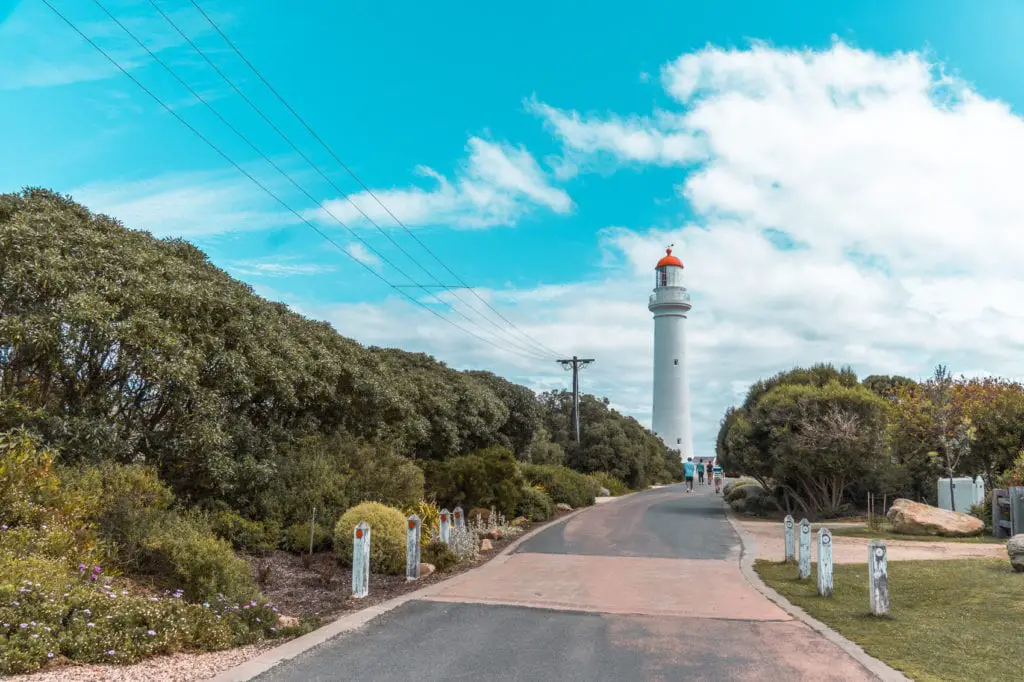 "Have you ever, ever felt like this? When strange things happen, are you going 'round the twist?"
If you know those words – the opening song to Round the Twist, a popular kids' show when I grew up – then the Split Point Lighthouse will be very familiar to you. 
But the lighthouse of course has a longer history than just being a feature of this 90s show. It's been around since 1891 and still operates to this day to help keep passing ships safe. This is one of the iconic Great Ocean Road stops, so make sure you pull into Aireys Inlet to see it.
You can even take a tour of the lighthouse.
There's a cute little teahouse nearby to stop for a coffee.
The details
Location: 13 Federal St, Aireys Inlet
Entry fees: Tours are $10 per person
Tip: The lighthouse is located at the end of a residential street, so be respectful of the homes that line the road to the lighthouse
20. Eat fish and chips on the beach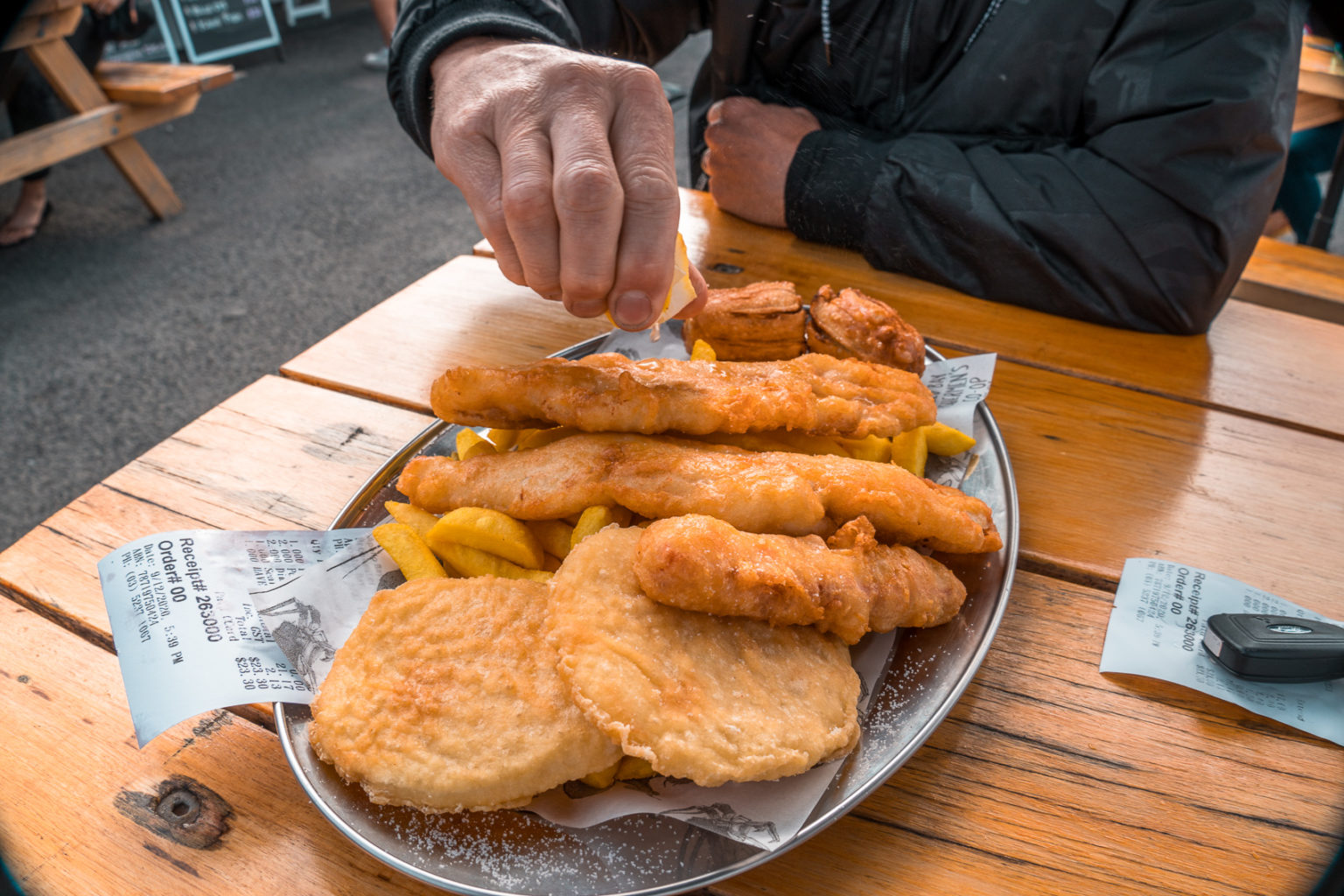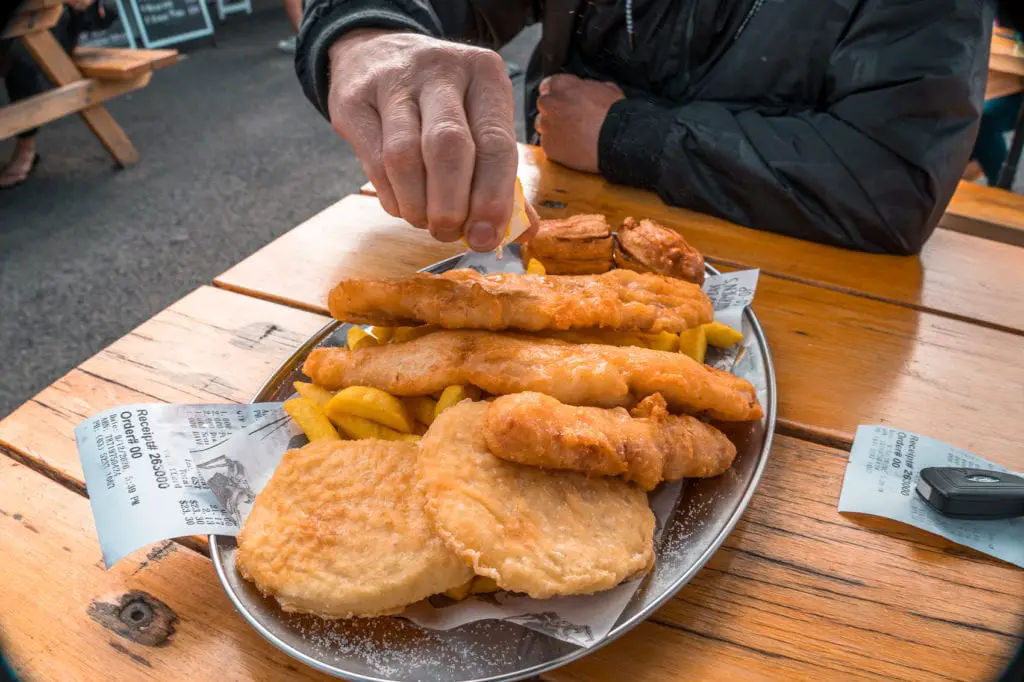 Fish and chips and the beach are the perfect combination, so make sure you stop for some greasy, newspaper-wrapped, fried goodness on your trip along the Great Ocean Road.
A few local faves:
Torquay – Fishos Torquay
Anglesea – Anglesea Fish Shop
Aireys Inlet – Aireys Inlet Fish & Chips or the Aireys Pub
Lorne – The Salty Dog Fish and Chippery
Apollo Bay – Apollo Bay Fishermen's Co-op
Port Campbell – Frying Nemo Fish & Chips
21. Take a photo at the memorial arch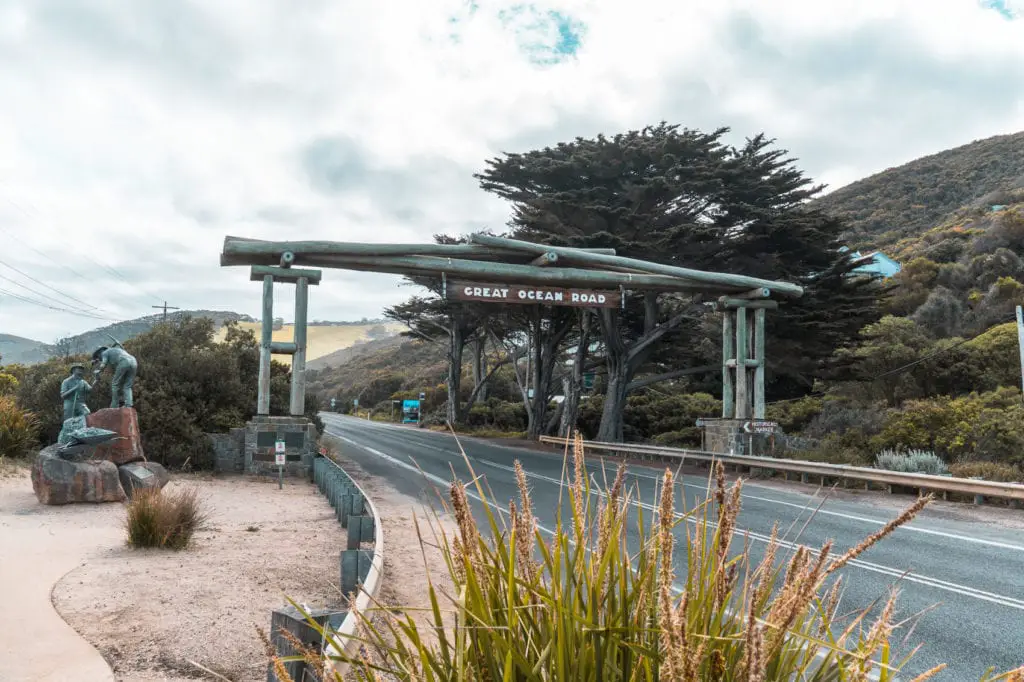 Snapping a photo at the Great Ocean Road memorial arch is a must when driving the Great Ocean Road. The arch isn't actually at the start of the Great Ocean Road – rather, you'll find it just before Lorne. 
There's parking on both sides of the road so that you can pull over safely.
Don't forget to look up at the expensive homes on the cliff above the arch!
22. Learn the history of the Great Ocean Road
Considered the longest war memorial in the world, the Great Ocean Road was built as a memorial to those who lost their lives fighting in World War I. It was also an employment opportunity for returned servicemen. These people carved much of the road out of the rockface by hand, using shovels and picks.
Before you drive this iconic road, one of the best things to do on the Great Ocean Road is to learn more about this history. Visit the Great Ocean Road Story at the Lorne Visitor Centre, where there are plenty of photos of construction as well as information about funding for the road. 
The details
Address: Lorne Visitor Information Centre, 15 Mountjoy Parade, Lorne
Opening hours: Open daily, 9am to 5pm
Fees: Entry is free, and you'll only need about 15-20 minutes depending on how interested you are in each exhibit
23. Spot koalas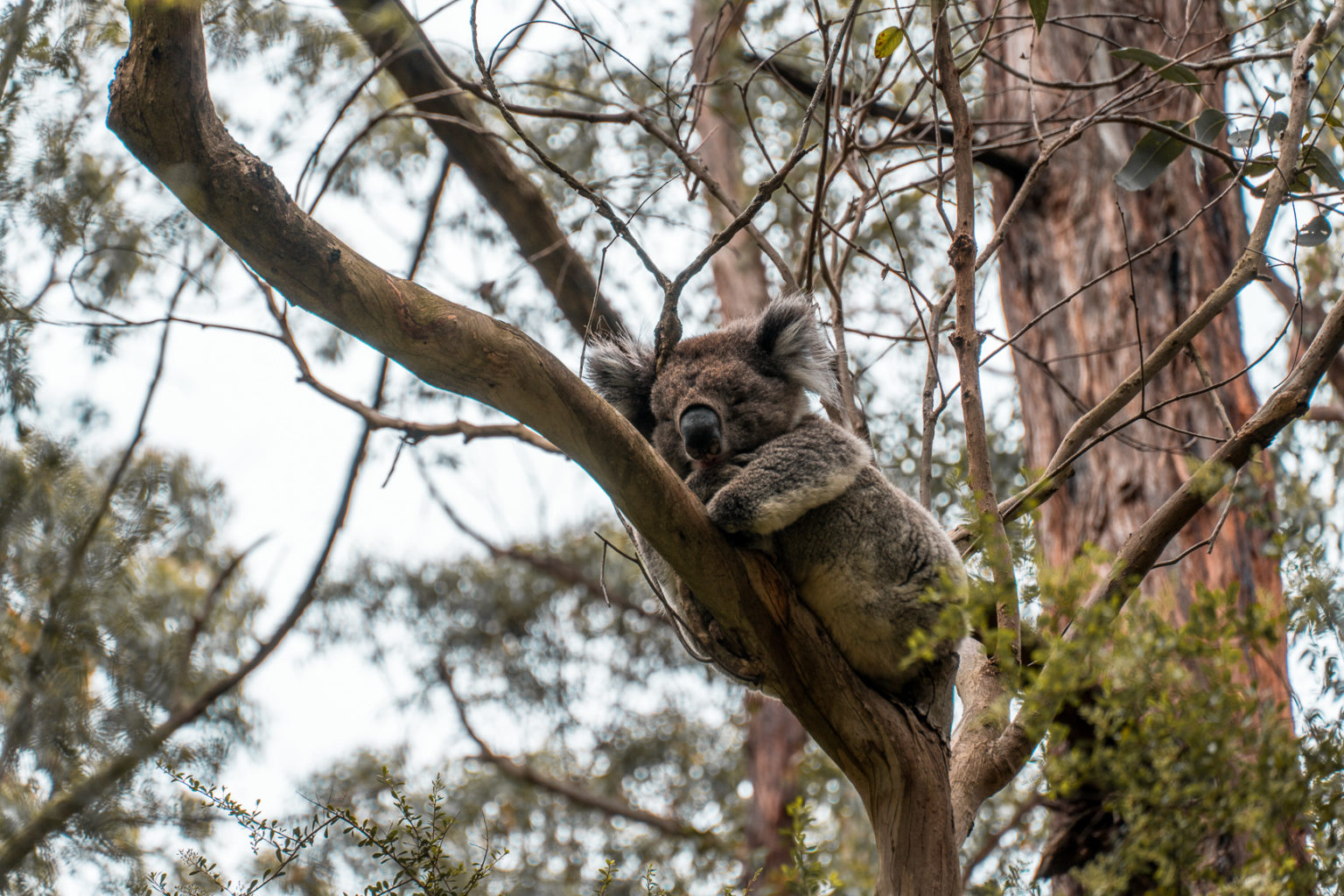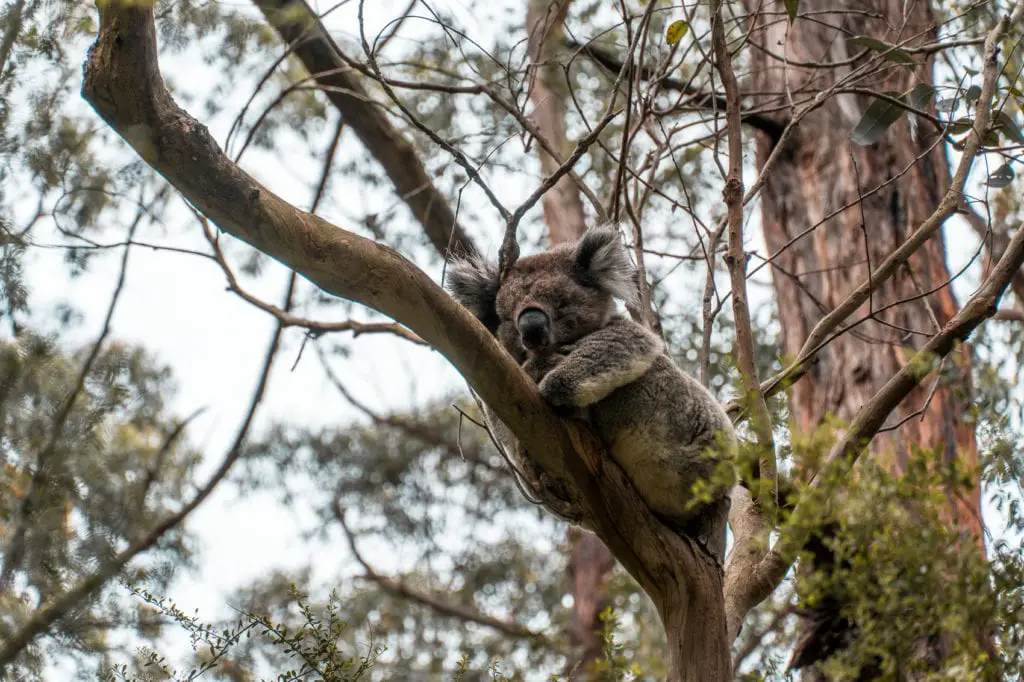 You can't come to Australia without seeing a koala! Luckily, they're quite easy to spot around the Great Ocean Road, you just have to keep your eyes peeled.
One of the most popular spots to see koalas on the Great Ocean Road snoozing in the gumtrees is at Kennett River, behind the Kennett River Holiday Park. We, however, weren't lucky here – although we did see plenty of native birds.
We got lucky along the road to the Cape Otway Lightstation. Here, we saw two koalas munching on gum leaves plus a tiny baby koala perched precariously on the edge of some very thin branches.
Keep an eye out for cars pulled to the side of the road, a good sign that someone's spotted a koala. 
Tip: Seeing a koala in the wild can be one of the most exciting things to see on the Great Ocean Road, but remember to never, ever feed or touch koalas
24. Visit Timboon
Just a 16-minute drive from Port Campbell is this charming town of 1,200 people. For a small town, it packs a punch when it comes to culinary delights. 
Make a booking for lunch at the Timboon Railway Shed Distillery or just stop by for a whisky tasting. The small-batch, single malt whisky is distilled on site and has won multiple awards.
Next door is the delicious Timboon Fine Ice Cream. Locally produced milk and cream go into these creamy delights.
If you have a bit more time in Timboon, you can bike the Timboon to Camperdown Rail Trail. The 40-kilometre bike route follows an old railway track, which dates back to 1892.
25. Take a side trip to Koroit town
If you've got some time, plan a short detour to Koroit, a town of around 2,000 people just an 18-minute drive from Warrnambool.
Stop by Noodledoof Brewing and Distilling Co for lunch or a beer. Or, for a classic Aussie pub, Mickey Bourkes Koroit Hotel is great for a beer with the locals. It's been around since 1853.
There's also a great second-hand bookshop, The Bookworm Gallery. I may have walked away with a handful of very nicely priced reads!
26. Hike the Koorie Cultural Walk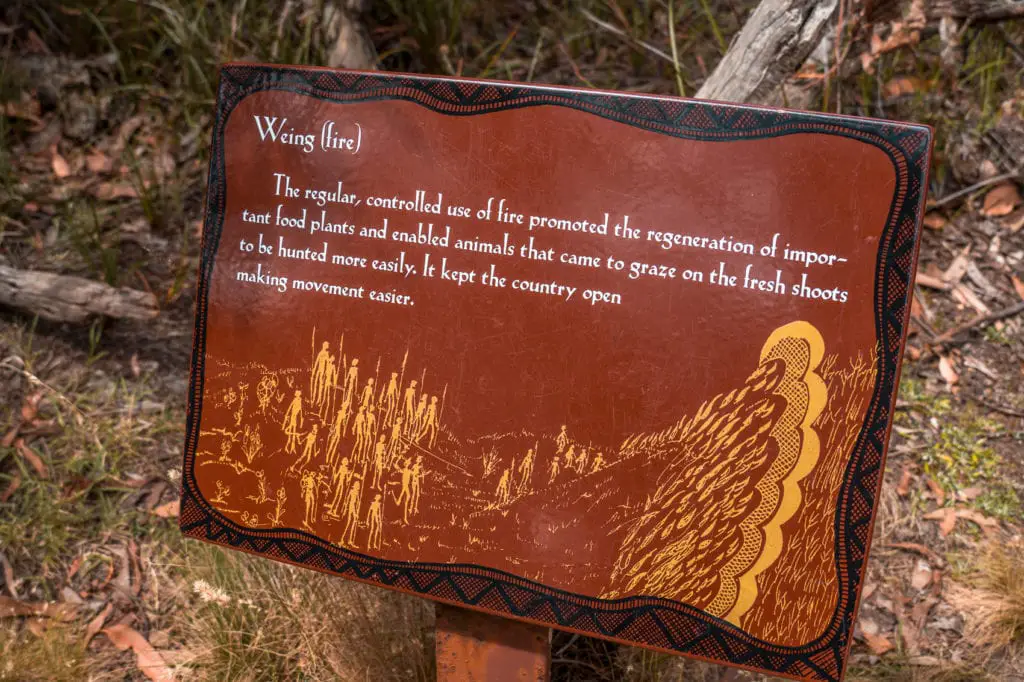 The 2-kilometre Koorie Cultural Walk includes a few signs that explain how the Indigenous Wathaurong people lived in the area, including about shelter, food and medicines.
At the end of the walk is a lookout with amazing views over the beach and of the nearby cliffs.
There's a sign along Point Addis Road that indicates the start of the trail, and you can park by the side of the road. This is one of the lesser-known Great Ocean Road attractions, but it's definitely worth a stop.
27. Spend a few days on the Great Ocean Road Walk
If driving along the Great Ocean Road doesn't get you as close as you'd like, then walk it. 
The 8-day Great Ocean Road Walk is a 100-kilometre hike from Apollo Bay to the 12 Apostles. Along the way, you'll walk across traditional land and learn about Indigenous culture, walk along beaches, meet some wildlife and explore the shipwreck history of the area.
Accommodation along the way is camping – book your campsites well ahead. 
You can carry all your own gear or there are a few local companies that will transport everything for you and even cater your food. There's also a shorter, luxury option.
I haven't done this yet but I think it'd be a pretty spectacular way to see the Great Ocean Road up close!
The details
Purchase the Great Ocean Walk Information Guide and Official Map from the Lorne, Apollo Bay or Port Campbell Visitor Centres
The best time to do the walk is from late September to late November and from early March to mid-May
28. Visit Port Fairy
While technically not part of the Great Ocean Road (the road ends at Allansford, 37 kilometres before Port Fairy), it's worth your while to keep going a little further and spend a night or two in Port Fairy.
A former whaling and sealing town, Port Fairy is now a charming town of a little over 3,000 people with great options for dining and drinking. Stop by Coffin Sally's for great pizza or the Merrijig Inn inside Victoria's oldest inn.
There are some great beaches to explore and walking trails around town, including out to the lighthouse at Griffiths Island.
How to visit the Great Ocean Road
The best way to experience the Great Ocean Road is to drive yourself. You can go at your own pace, stopping whenever you want.
If you don't have your own wheels, rent a car at the airport or in Melbourne city. Check out Discover Cars to compare the different car companies' pricing and vehicles. The Great Ocean Road is a good, smooth road, with plenty of signage and no potholes. No need for a 4WD – a small, compact car will be just fine.
We love camping along the Great Ocean Road, and you can rent a campervan if you want to do the same. Rent a Jucy campervan in Melbourne or find a campervan or motorhome on Camplify.
If you don't want to self-drive, leave it up to someone else with these recommended Great Ocean Road tours:
Where to stay on the Great Ocean Road Victoria
There's plenty of accommodation on the Great Ocean Road. Just make sure to book ahead if you're travelling during the summer school holidays.
Where to stay in Apollo Bay
Hotel: Beachside at Apollo Bay Guest House, a villa at Point of View, or Beachcomber Motel & Apartments
Airbnb: Stay at Casa de Apollo Bay
Caravan park: We stayed in our campervan at the Big4 Apollo Bay Pisces Holiday Park
Camping: Marengo Family Caravan Park has powered and unpowered tent sites as well as cabins
Where to stay in Port Campbell
Hotel: The Port O'Call Motel (super stylish) or Sea Foam Villas (popular accommodation on the beach)
Airbnb: Try this colourful cottage or this cosy cottage with bay views
Caravan park: We stayed at the NRMA Port Campbell Holiday Park which was really close to everything
Camping: Port Campbell Recreation Reserve has powered and unpowered campsites
Final thoughts: Great Ocean Road things to do
As you can see, there are a tonne of incredible things to do on the Great Ocean Road. Ideally, you'd have at least two or three days to see everything on this list, but more time will allow you to really explore the region.
I hope you found this guide to the best things to do on the Great Ocean Road helpful for planning your own trip along this must-do road trip!
Visit the Great Ocean Road: FAQs
When is the best time to visit the Great Ocean Road?
The best time to visit the Great Ocean Road is between March and April and October and November. During this period, the temperatures are mild and there are fewer crowds. If you visit between May and October you may be lucky enough to spot Southern Right Whales off the coast when they come in to calve.
Where does the Great Ocean Road start and finish?
The Great Ocean Road in Australia starts at Torquay and ends at Allansford, travelling along the southeastern coast of the continent. It's a 243-kilometre stretch of road with views of the coast.
What are your favourite things to do in the Great Ocean Road?
---
Related posts
Before you go… you might like these other Australia travel blogs:
AUSTRALIA TRIP ESSENTIALS
Book your flight to Australia online with Skyscanner or Kayak. I usually compare flights on the two sites to find the best deals.
Find a great hotel in Australia. Check prices on Booking.com and HotelsCombined online.
Check out the huge range of day tours throughout Australia on GetYourGuide or Viator. There's something for everyone.
A copy of the Lonely Planet guide to Australia will be handy.
One thing I always purchase is travel insurance! World Nomads offers simple and flexible travel insurance. Buy at home or while traveling and claim online from anywhere in the world.
PIN IT FOR LATER:
Don't forget to save this guide to the best things to do on the Great Ocean Road so you can plan your epic road trip later!