Visiting a new city can be overwhelming. You can spend hours preparing for your visit, poring over lists of things to do and collections of the best restaurants, and crafting the perfect itinerary that crams everything in. You can do all of this yourself, relying on recommendations from others. But most of the time I like an expert's advice. Which is why I've really started to enjoy taking city food tours with a local. And one of the more memorable has to be a Boston food tour I took that explored the city's famous North End.
Home to incredible Italian food and a tonne of history, Boston's North End is a neighbourhood that every visitor will usually have on their itinerary. You can do it alone, or you can have someone lead you through the narrow, noisy streets and share their stories and introduce you to the food that this area is known for. I'd encourage you to consider the latter, and I have just the tour for you. Read on!
P.S. I know it's hard to tell these days if a blogger has a received something for free and is only writing about it because of that. So you know, I paid for this Boston food tour myself. If I've ever received something for free or at a discount, I'll always make it clear.
This blog post may contain affiliate links, meaning if you book or buy something through one of these links, I may earn a small commission (at no extra cost to you).
A "politically incorrect" Boston food tour
When our guide rocked up 10 minutes late, cigarette clenched between two fingers and mumbling about a hangover, I knew we were in for an interesting experience.
Which wasn't entirely surprising. I had, after all, booked a food tour called Boston's Politically Incorrect North End Food Tour. Reading about it online, it seemed like a Boston food tour that was different to all the others I'd found.
Run by a local Italian guy, Anthony Gesualdi, this tour takes you to the places the other food tours in Boston aren't going – and does it in a very different style. It's focused on Boston's North End, the Little Italy of the city. We'd already been testing out a lot of the best Boston food, but a tour gives a more intimate insight into the local food culture and stories.
Anthony (who's not afraid to call BS on anything) grew up in Boston's North End, an area that swelled following the wave of Italian immigration in the 19th century. He got tired of seeing tour groups traipsing around the North End, led by people who weren't from the neighbourhood and who (in his words) "learned everything they know from a book". He felt that he – as a local – could provide a better experience, so for the last 5 years he's been leading cuss-laden, no-BS tours, taking visitors to what he considers to be the best restaurants – some of which aren't in any guidebook.
Anthony bills himself as the only local leading food tours through the area. Because he worked in the restaurant industry for 30 years, he's been through many of the kitchens and dining rooms in the North End, so knows the who's who of the industry.
Let the eating begin
We met Anthony out the front of the North End public library. In amongst the crashes, clangs and dings of the street cleaners cleaning up after a wild weekend-long street festival (in which he'd participated, hence the hangover), he explained the history of the North End.
Our tour officially started in Polcari's, a coffee shop that dates back more than 80 years. Here, we met Bobby who gave an entertaining (and well-rehearsed) speech about Anthony's alleged past misdemeanours (Anthony insisted it was all untrue).
Anthony also talked about the original owner of the store, Anthony Polcari, who passed it down to the boys who had worked for him since they were 16 or 17 (Bobby included) with one proviso: they could never sell it. So when they all pass away, that's the end of the store. It can't even be handed down to their children.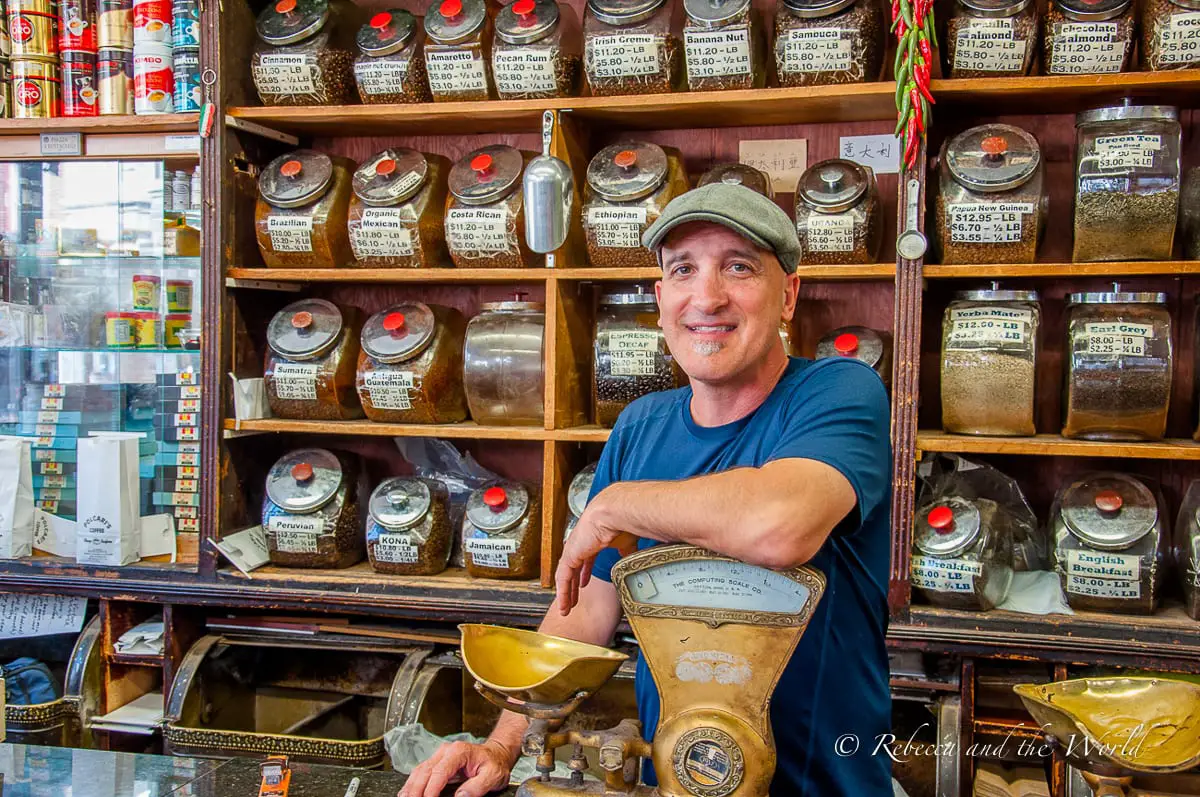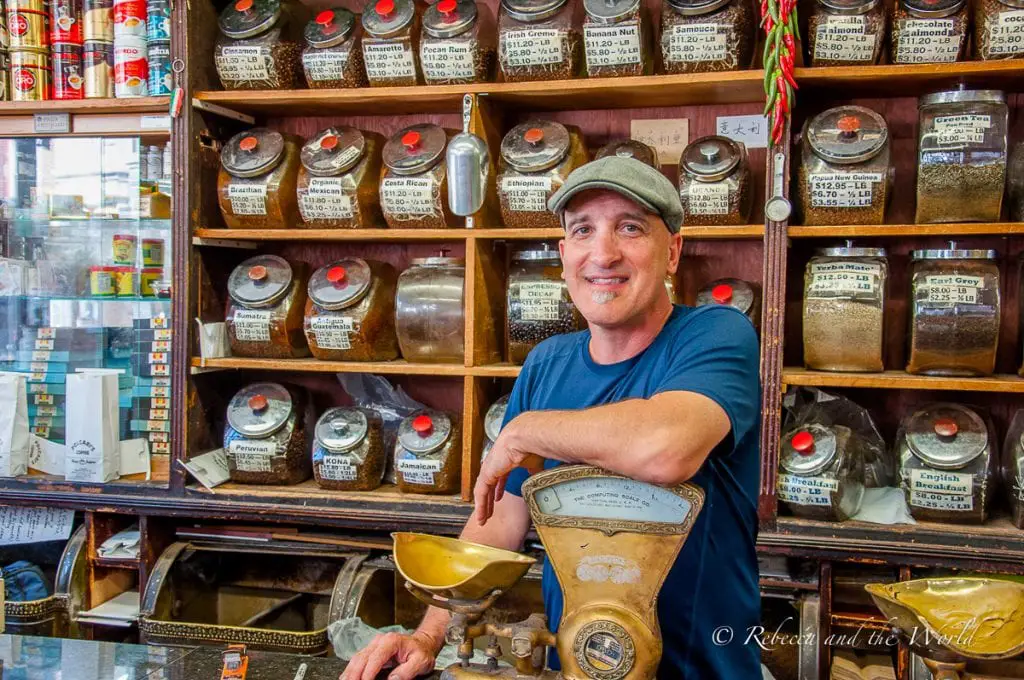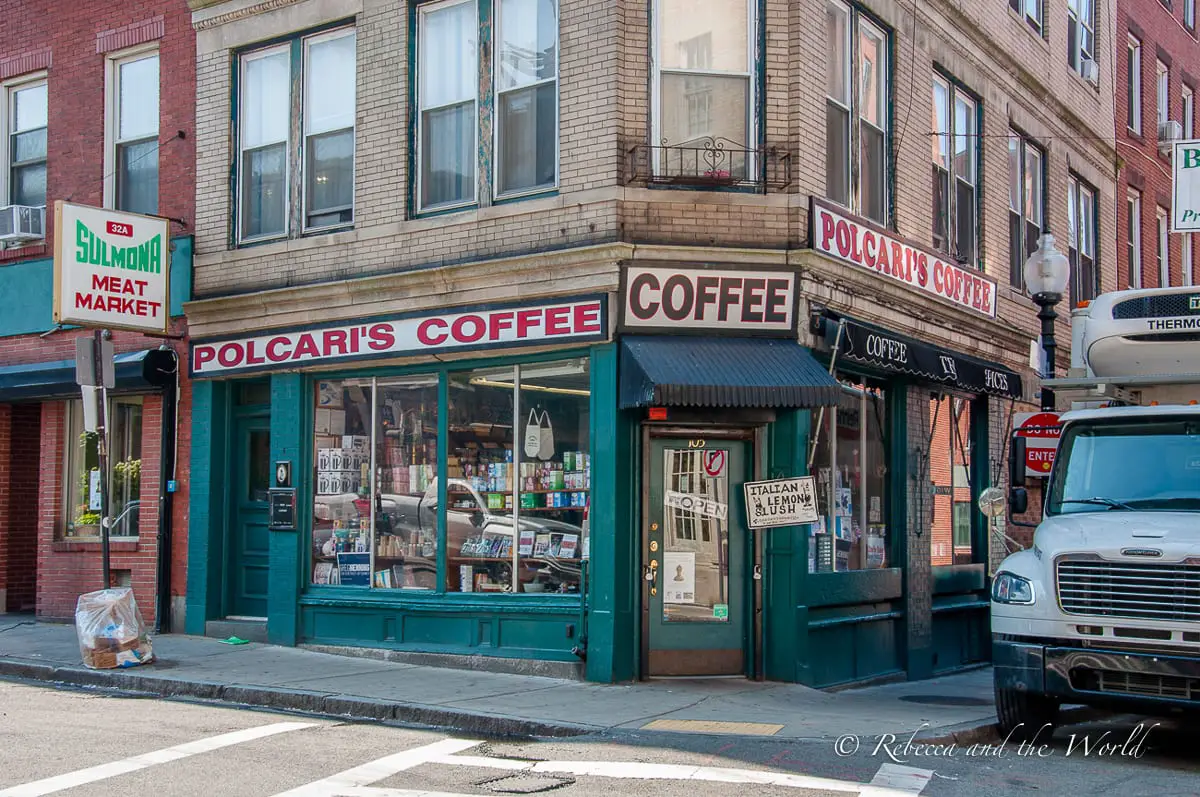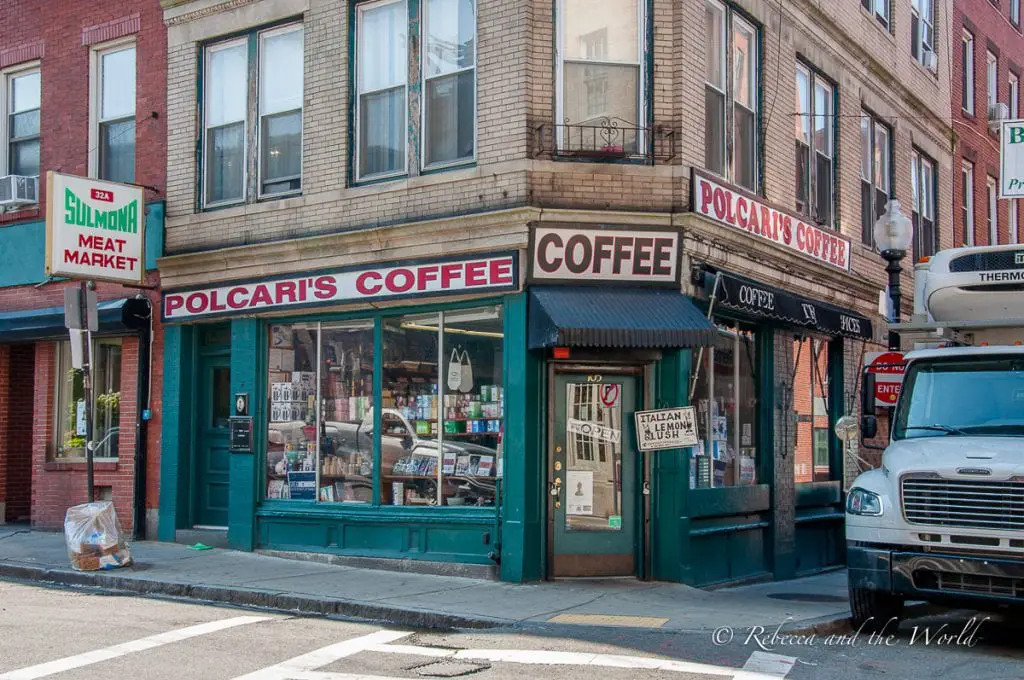 We moved on to Monica's, a salumeria owned by an Argentine immigrant (that's Monica) who has raised her sons and daughters here in the North End. In addition to the salumeria, they now own a restaurant and are in the process of opening a pasta shop.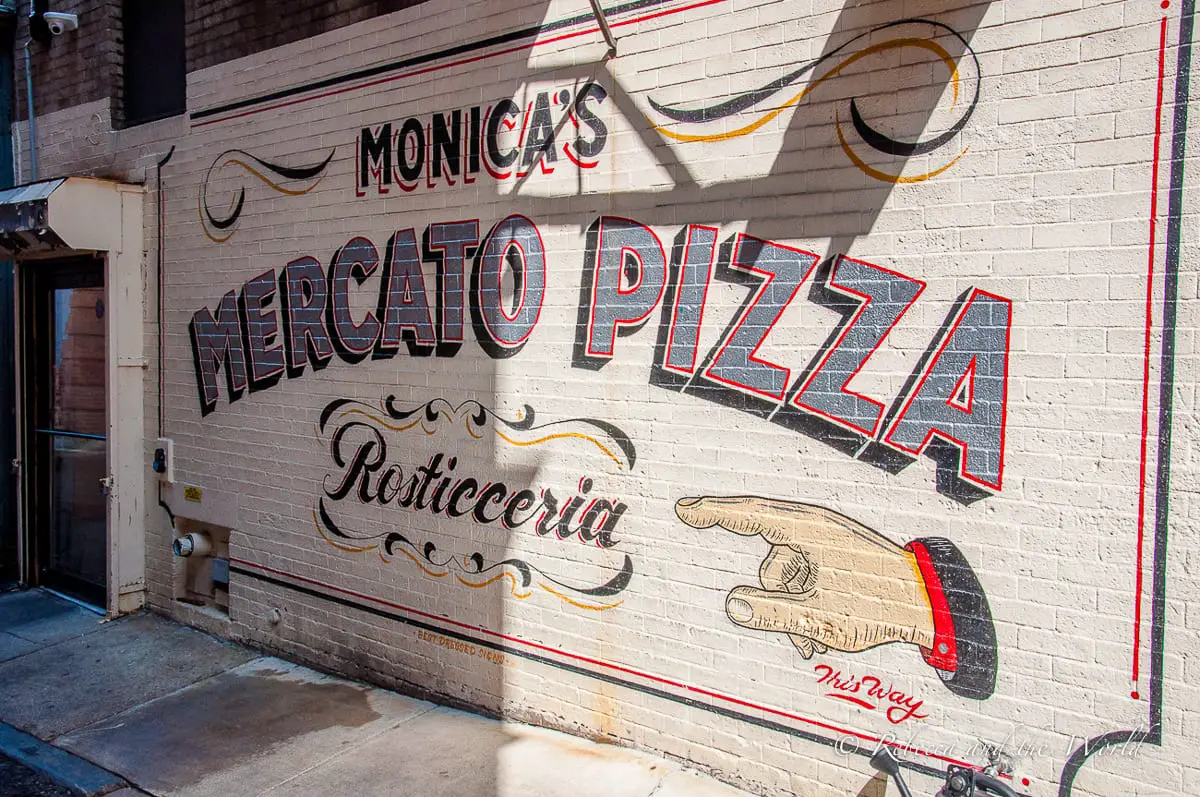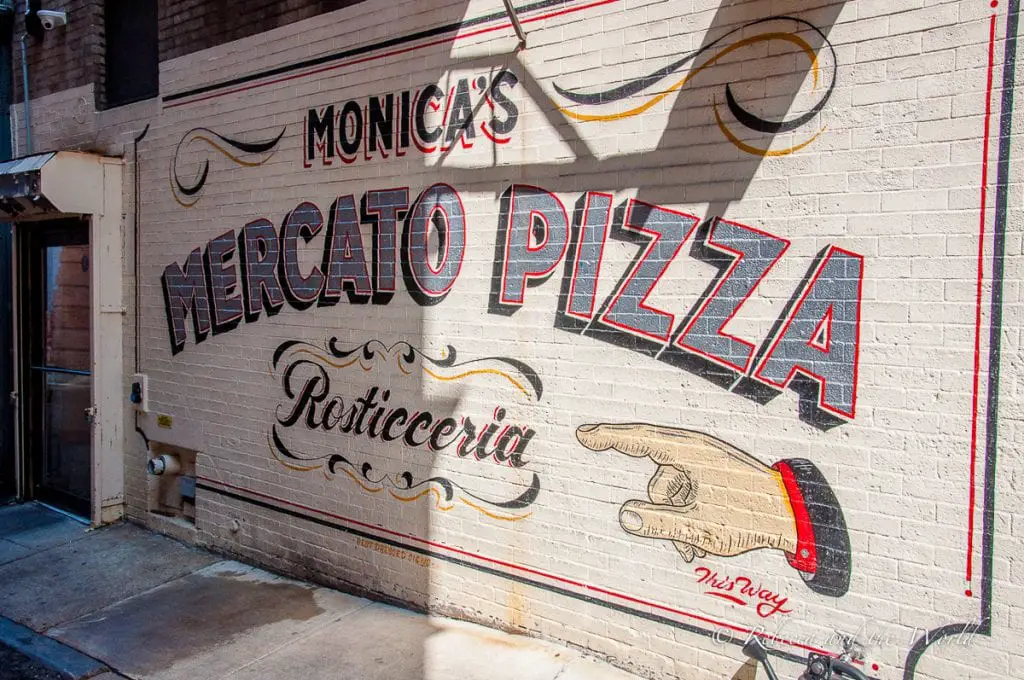 At Monica's, our food tasting began: the staff passed around trays filled with sandwiches stuffed with ham, salami, mortadella, tomato, cheese and – the part that made this sandwich shine – a balsamic reduction. Hand on heart, it was the best sandwich I've ever eaten.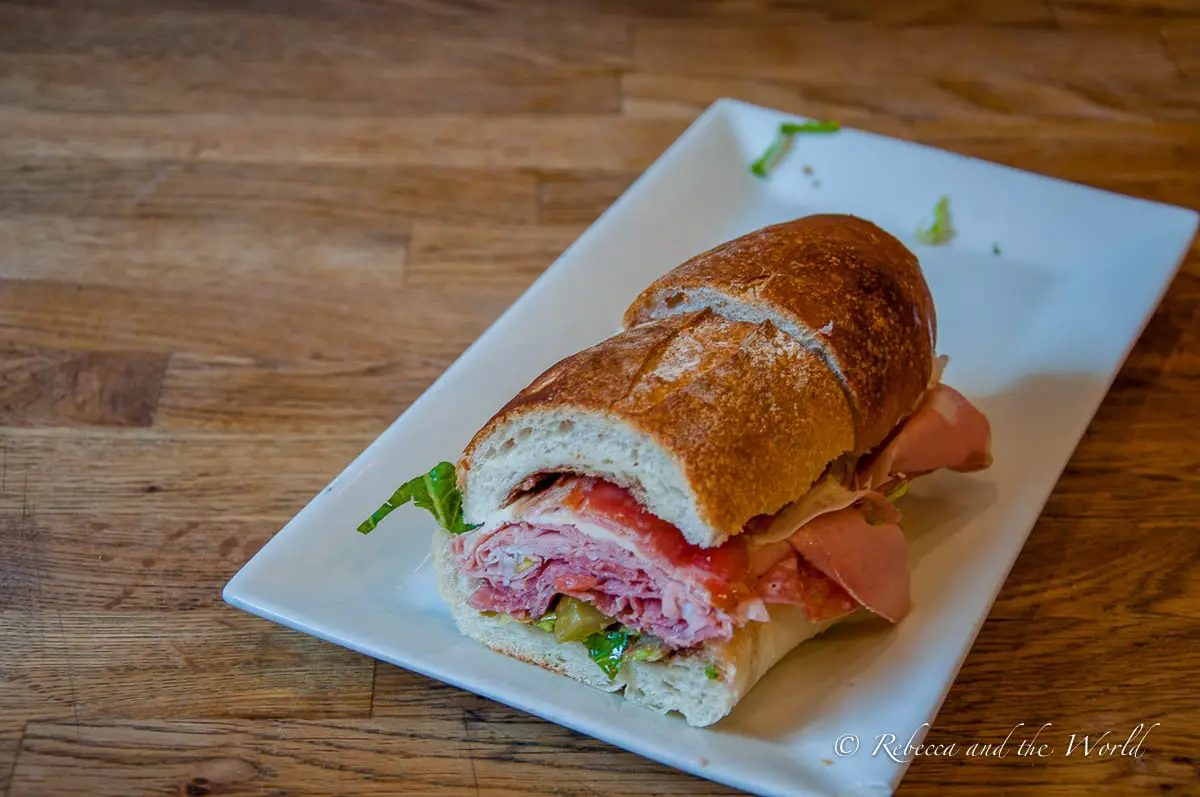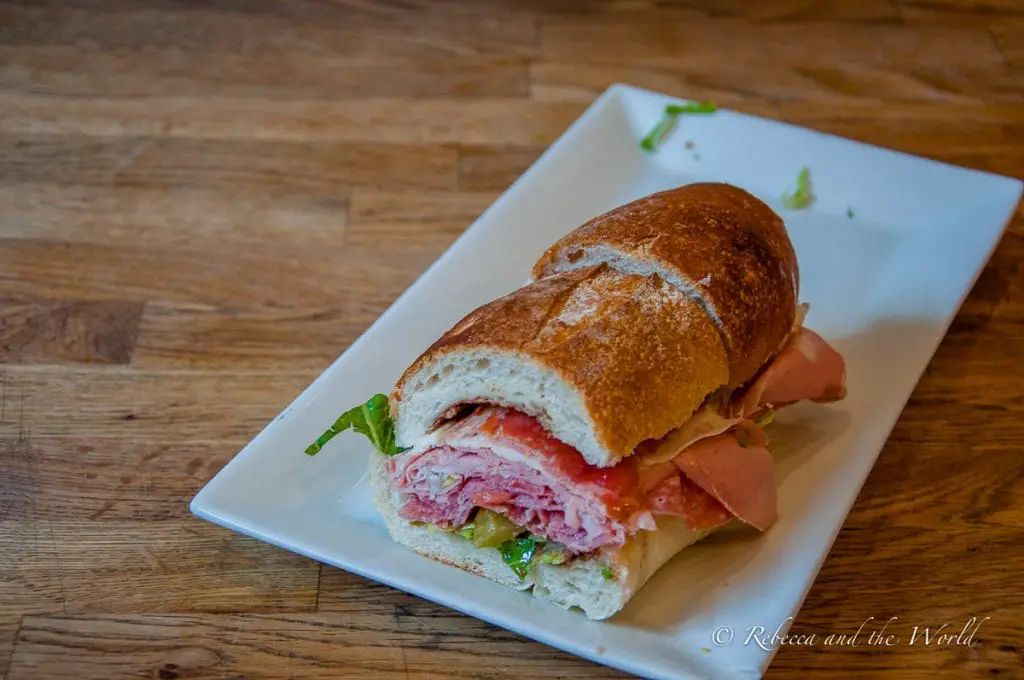 Stomachs now satiated by a little food, we headed on to the historical part of the food tour.
Passing by Paul Revere's house, we walked to the Old North Church, one of the stops on Boston's Freedom Trail, a 2.5 mile trail through Boston's downtown that links sites that are significant to the history of the United States.
After sitting down in the boxed pews, a young woman provided an interesting commentary about the history of the church. For those not familiar (as an Australian, I certainly was not), the Old North Church is Boston's oldest standing church building. It's said to be from where the famous "One if by land, two if by sea" signal was sent, launching several key battles during the American Revolution.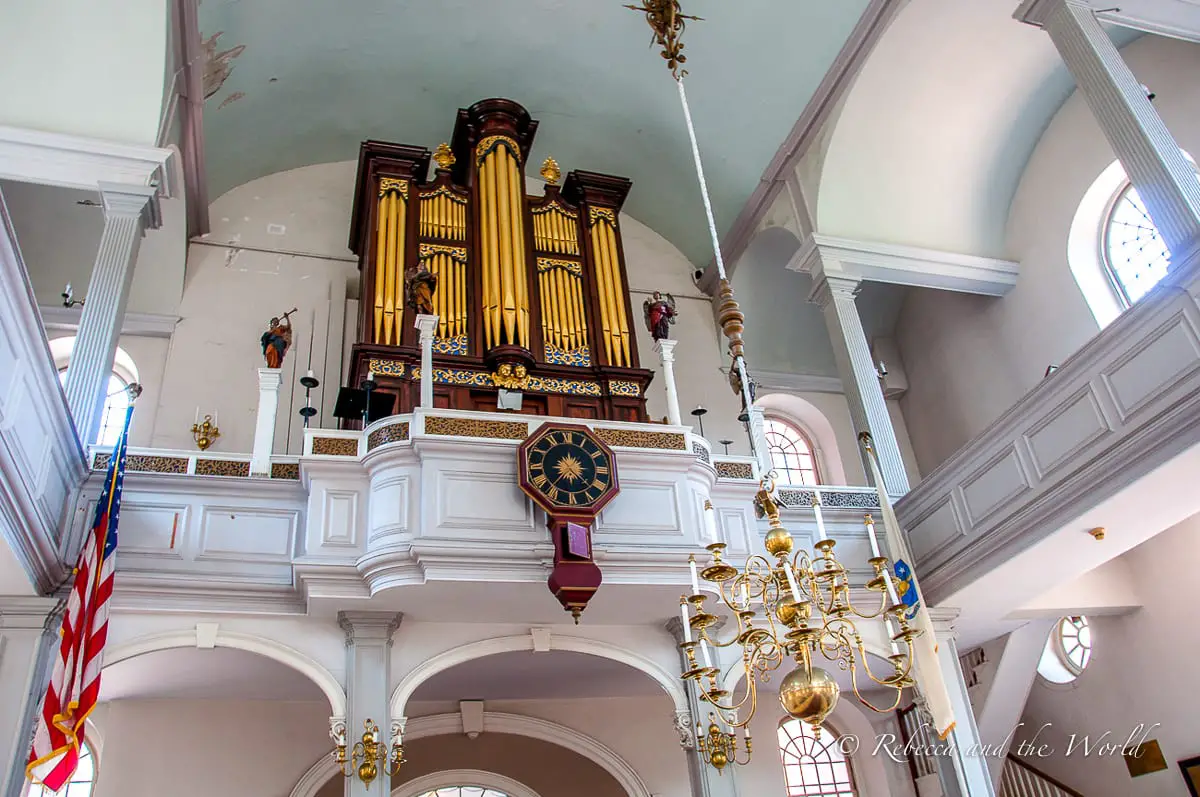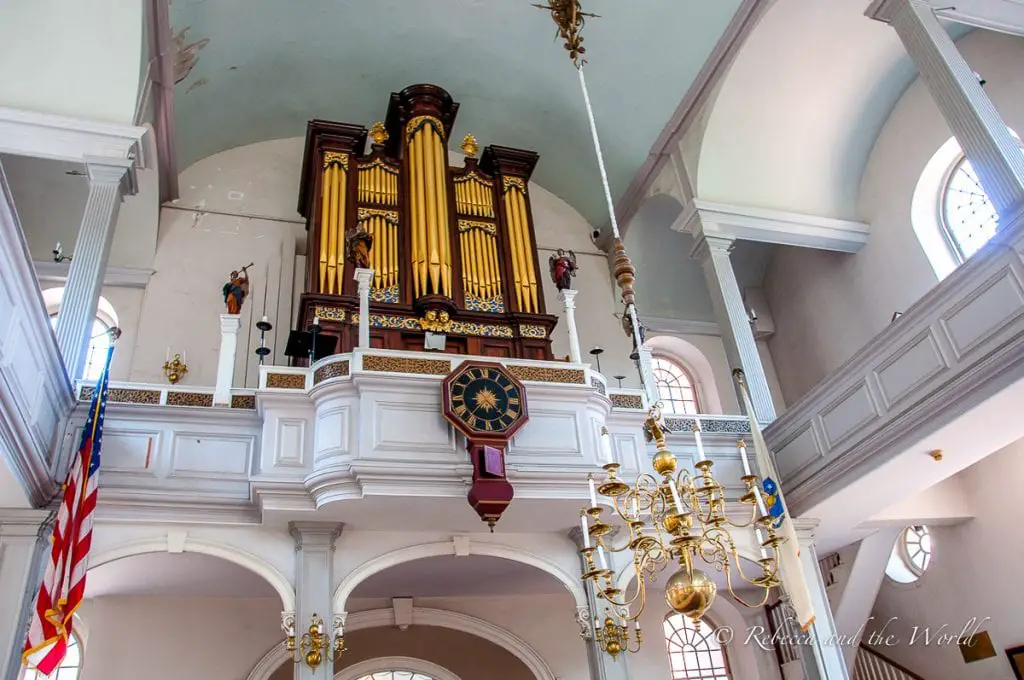 The Old North Church is also home to a chocolate shop where we watched a chocolate-making demonstration, led by a young woman dressed in 18th century clothing.
We'd walked the Freedom Trail a few days beforehand, so we had already seen some of these sites. For that reason, I'd recommend doing the Politically Incorrect North End Tour before you walk the Freedom Trail. That way, you won't double up on some of the historical sites.
Back to the food
It wasn't long before we were back to the reason why I'd booked this Boston food tour: the food, of course.
Anthony led us down famous Hanover Street, one of Boston's oldest streets. He pointed out several recommendations for where to eat – but most importantly, where not to eat.
We slipped into Modern Pastry. Late on a Monday morning, it was blissfully free of the crowds that are usually snaking out the door. Anthony let us in on a secret: when the lines are long they open up a smaller store next door that sells exactly what they have in the larger bakery. Only the locals know to go here.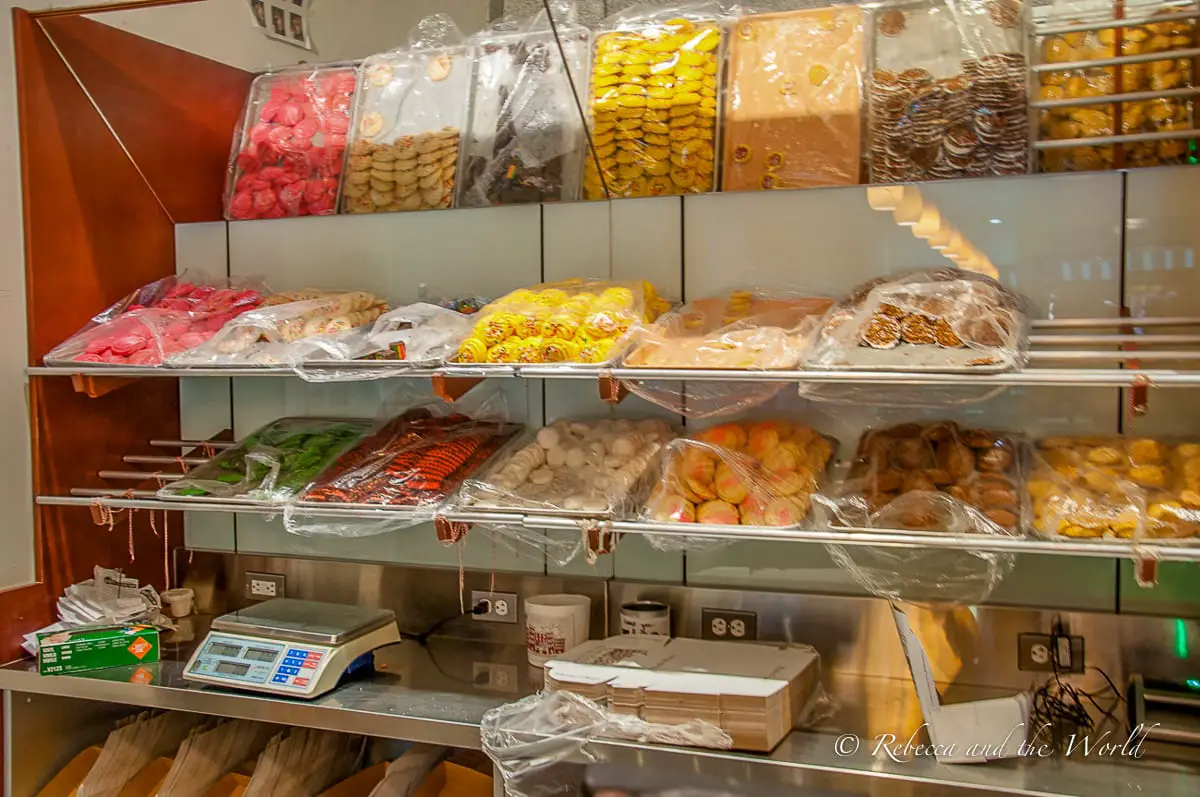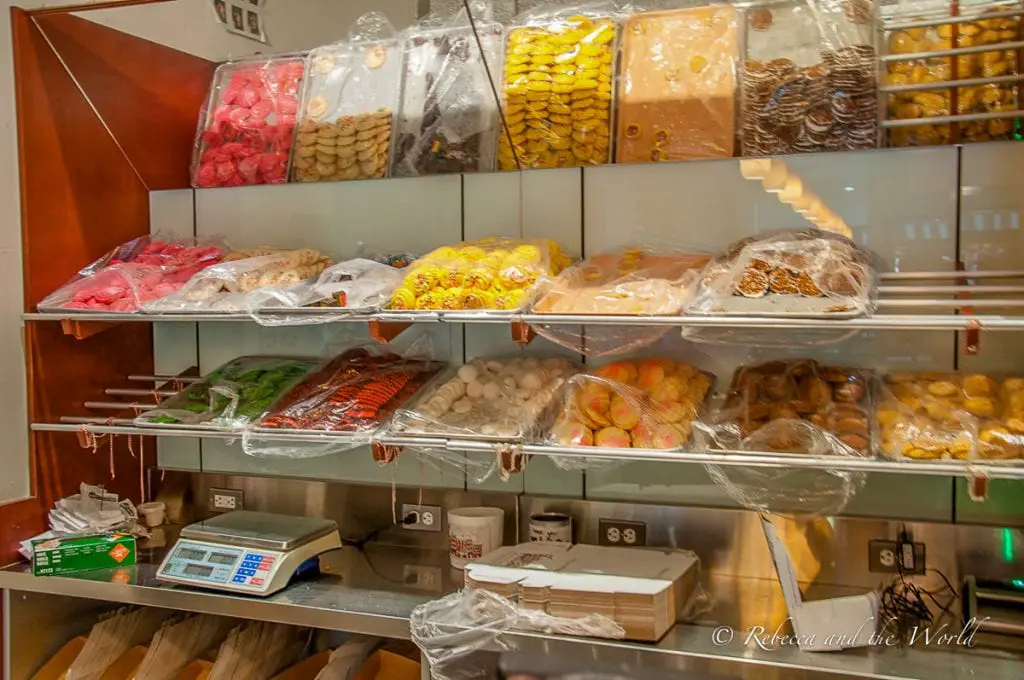 Known for its cannoli, it's famously in competition with Mike's Pastry. Everyone has their favourite spot. The only thing I could work out is that tourists seem to like Mike's, while locals prefer Modern. My advice is to go and try both for yourself!
This time we weren't eating cannoli, though; instead we tasted sfogliatella, a pastry filled with orange-flavoured ricotta. This was another reason why I loved this particular Boston food tour: we ate things I would never have known to order.
We tasted pastries at Bricco Panetteria, a teeny-tiny bakery down an alleyway and down a flight of stairs.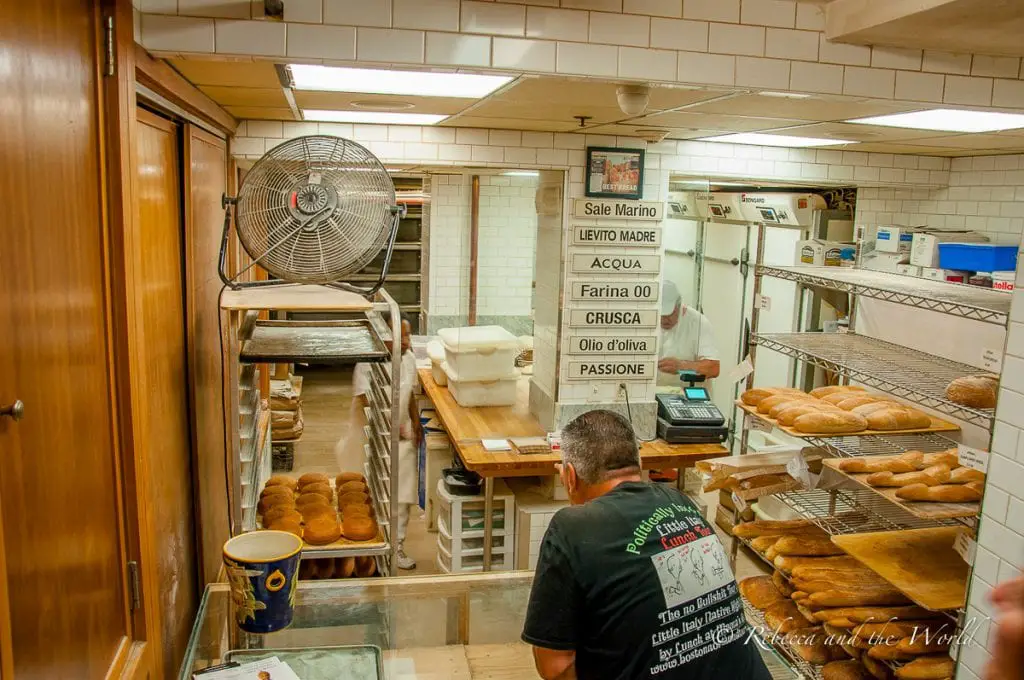 A really local food tour
And then it was on to the best part of Anthony's food tour: lunch at his mother's house. We entered a nondescript house where Mama Maria and the smells of a rich Bolognese cooking greeted us.
Our group sat down at the table in her dining room. We started with thin-crust pizza from Regina's, the North End's (and possibly Boston's) most famous pizza place.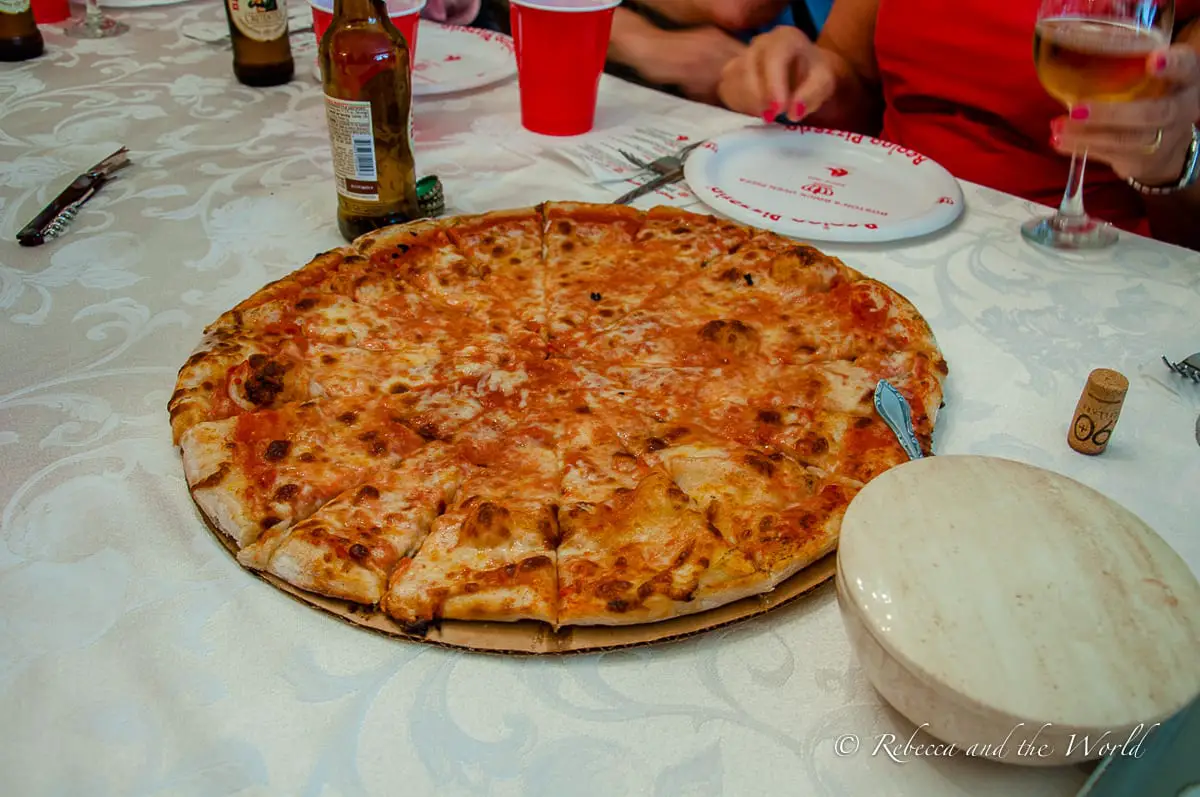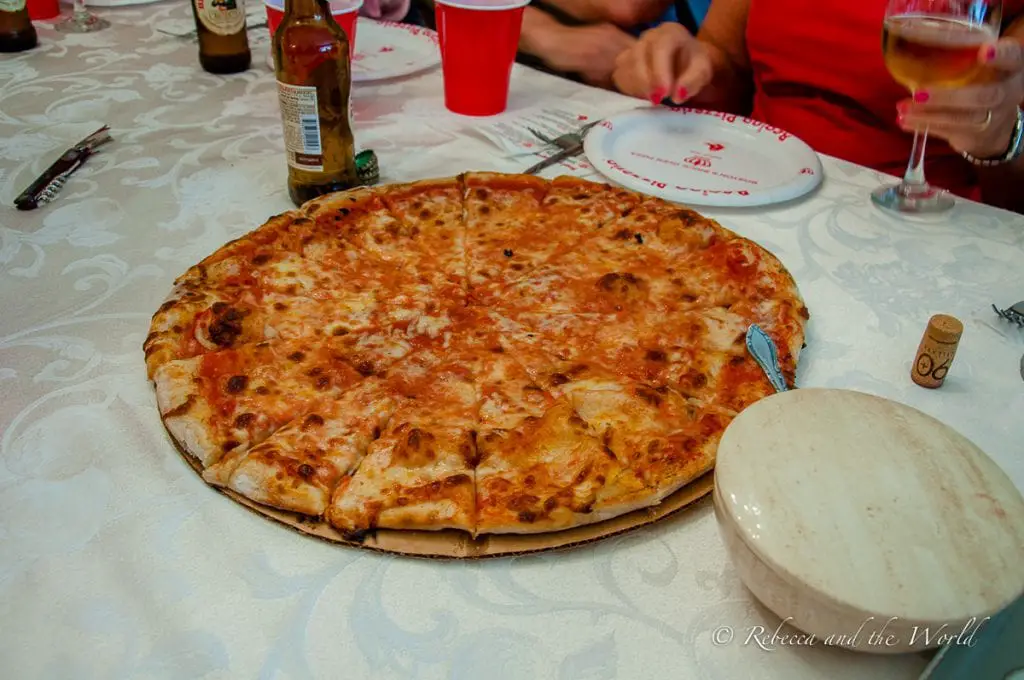 This was followed by a bowl of rigatoni with a generous serving of Mama Maria's homemade Bolognese sauce ladled over. To finish, we ate homemade cannoli.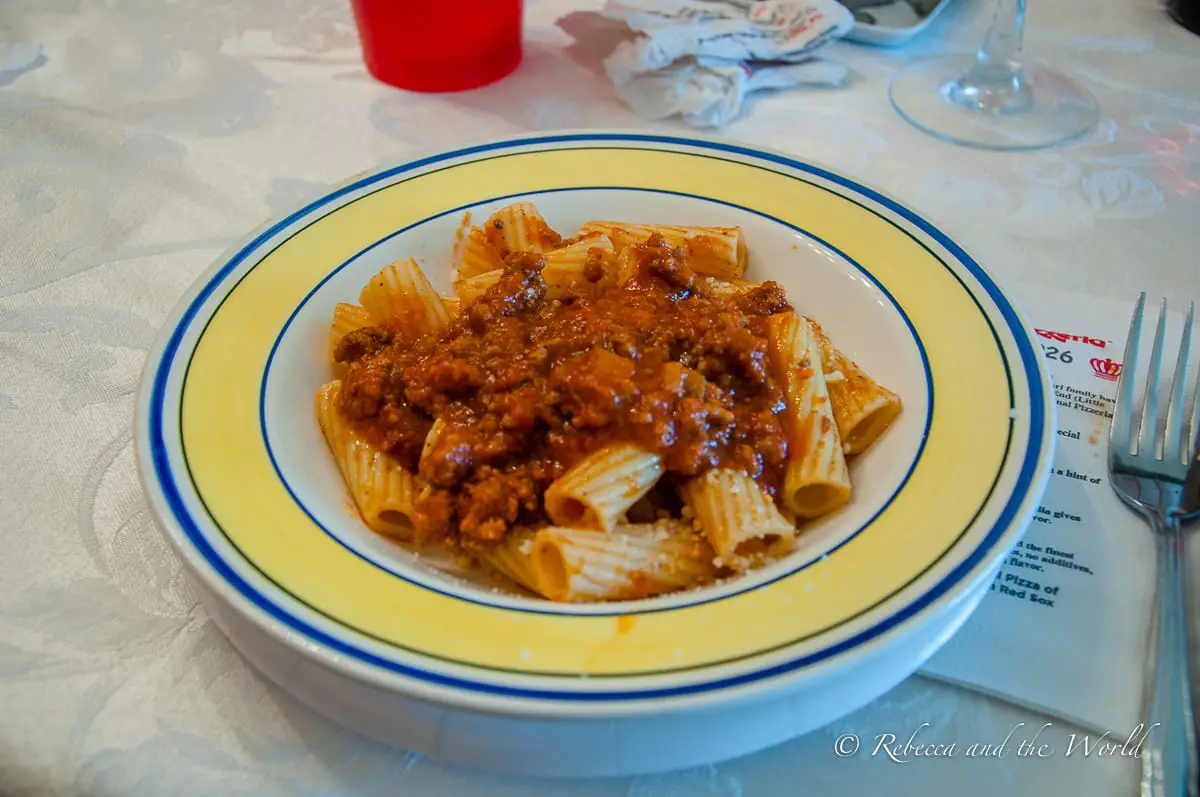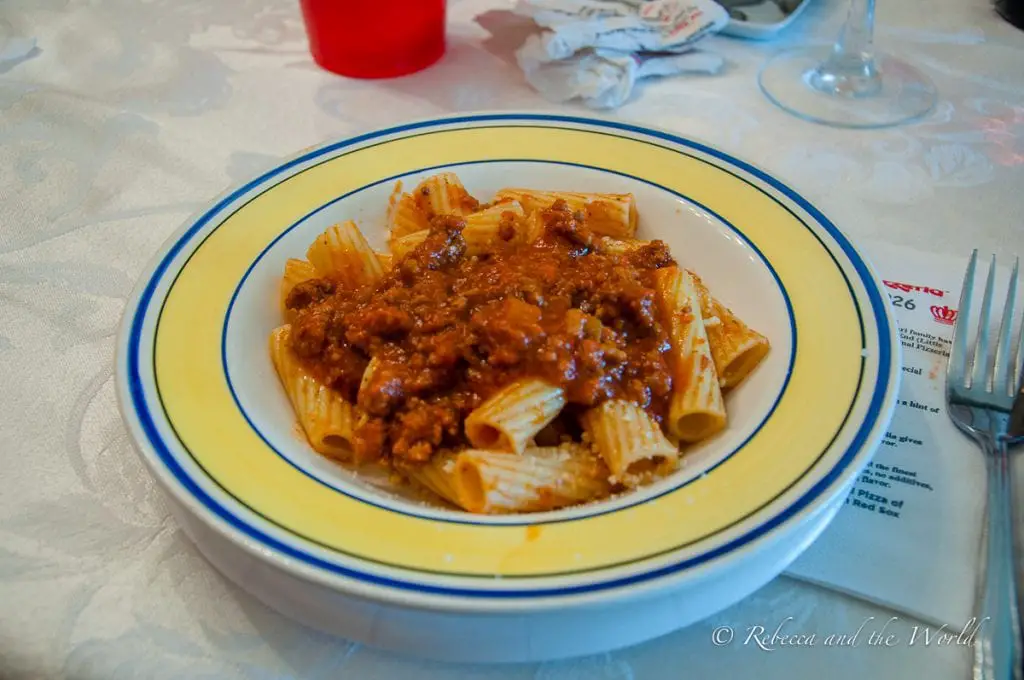 This was the reason I'd booked this food tour – because of the intimate, home-cooked meal. This is what made it stand out from all the other Boston food tours I'd seen in my research.
I'm not sure how Mama Maria feels about having dozens of strangers in her house each week, but I do know that the homestyle cooking we ate in her dining room was a recipe that was decades in the making.
Update: Due to COVID, the stop at Mama Maria's house is no longer on the itinerary. Anthony has safety measures in place to keep guests safe, and most of the visits will be outside. He promises to make up for these changes with extra food along the way and plenty of laughs.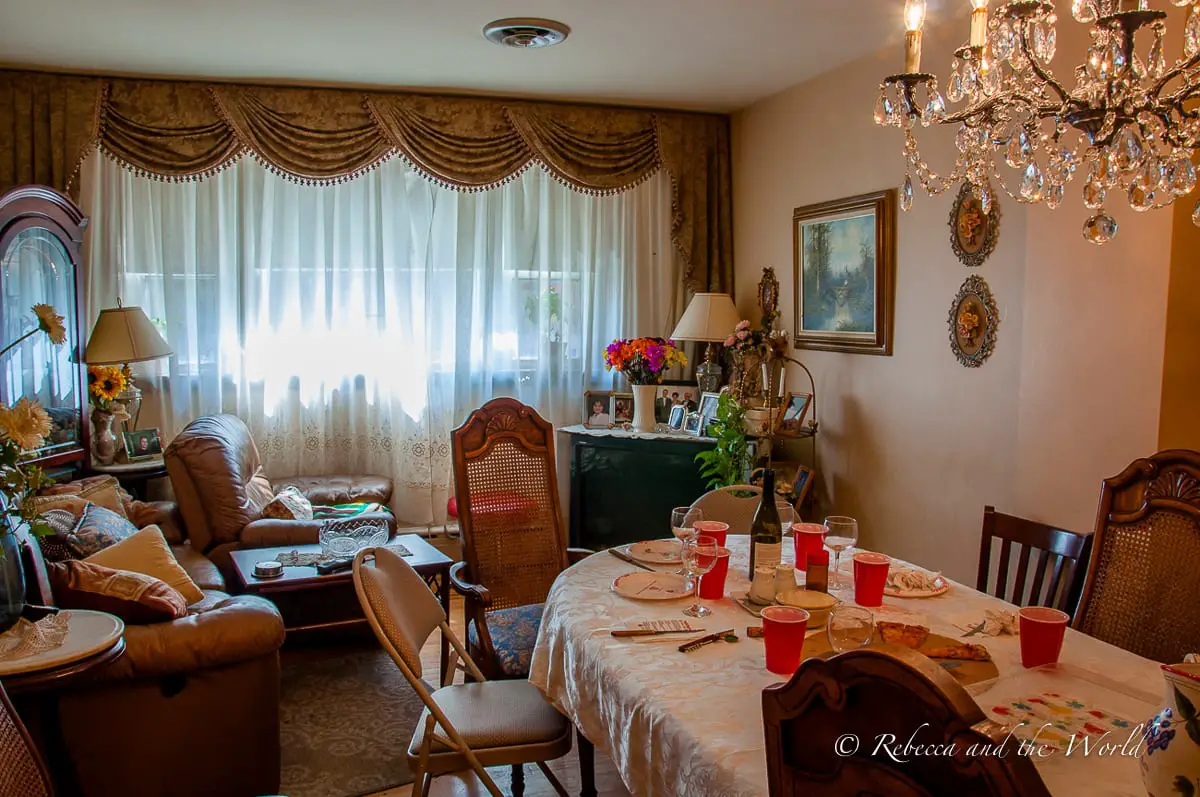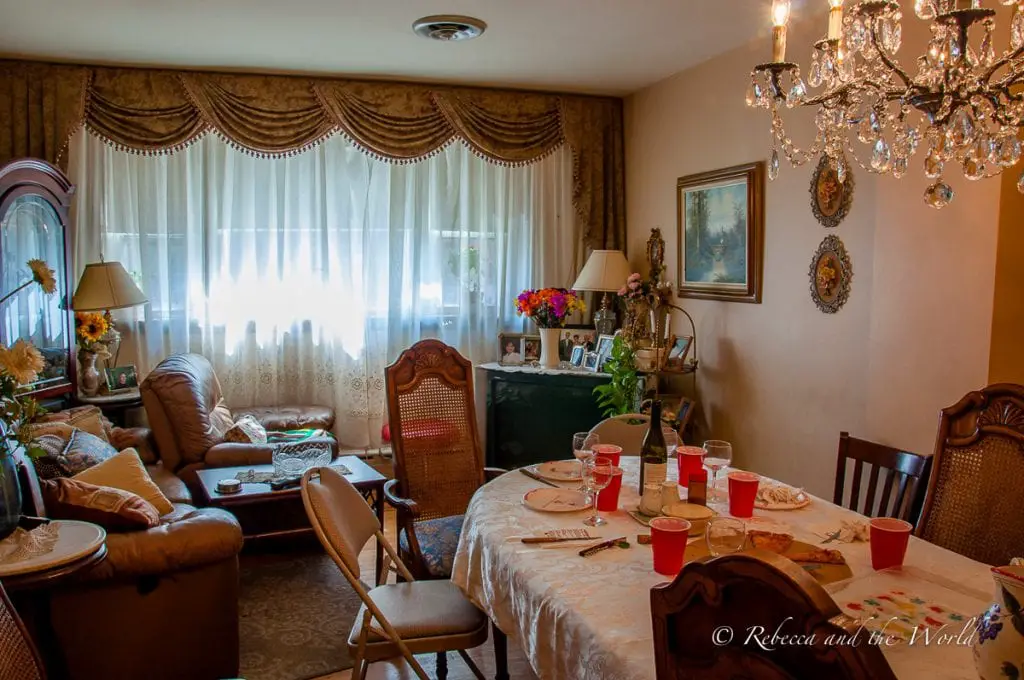 And that's definitely not something you get on just any old North End food tour.
Boston food tour details
I highly recommend this tour. Anthony's Politically Incorrect North End Food Tours run daily and last for 3 hours (well, online it says they last 3 hours but you should count on it going longer as Anthony regales you with his entertaining tales). It's a small group walking tour, with only 10 people per tour. Come with an appetite to sample all the delicious Italian food.
And I know you've been wondering… here are the other Boston North End restaurants at which Anthony recommends you should eat:
The Daily Catch, 323 Hanover St
Neptune, 63 Salem St
Galleria Umberto, 289 Hanover St
Mare, 223 Hanover St/3 Mechanic St
Where to stay in Boston's North End
If you want to be close to the historical area of Boston, stay in Boston's North End. Some recommended hotels in the North End are:
Have you taken a Boston food tour? What did you think? Leave your comments below!
USA TRIP ESSENTIALS
Book flights to and around the USA online with Skyscanner or Kayak. I usually compare flights on the two sites to find the best deals.
Find a great hotel in the USA. Check prices on Booking.com and HotelsCombined online.
Check out the huge range of day tours throughout the USA on GetYourGuide or Viator. There's something for everyone.
A copy of the Lonely Planet guide to the USA will be handy.
One thing I always purchase is travel insurance. World Nomads offers simple and flexible travel insurance. Buy at home or while traveling and claim online from anywhere in the world.
NORTH END BOSTON FOOD TOUR: PIN IT FOR LATER
Like the idea of taking this Boston food tour? Save this post to Pinterest so you can add it to your Boston itinerary!