"Dogs are not our whole life, but they make our lives whole." – Roger Caras
One of the great things about living in Dallas is that it's so dog friendly. There's a number of dog parks across the city, and so many restaurants – and even shops – that don't mind canines dropping in. If you've got a furry friend, here are a few dog friendly restaurants in Dallas, as well as a few other places, so he or she can always be part of the action.
If you want to save this guide to dog friendly restaurants in Dallas for later, simply click on one of the images below to save it to Pinterest.
This blog post may contain affiliate links, meaning if you book or buy something through one of these links, I may earn a small commission (at no extra cost to you).
Meet Diego, our pup reviewer
But before I get into that, I'd like to introduce you to our fur baby, Diego. I can't believe I haven't featured him more prominently here! He's so freaking cute he deserves his own blog. In any case, he's provided his opinions on these dog friendly restaurants.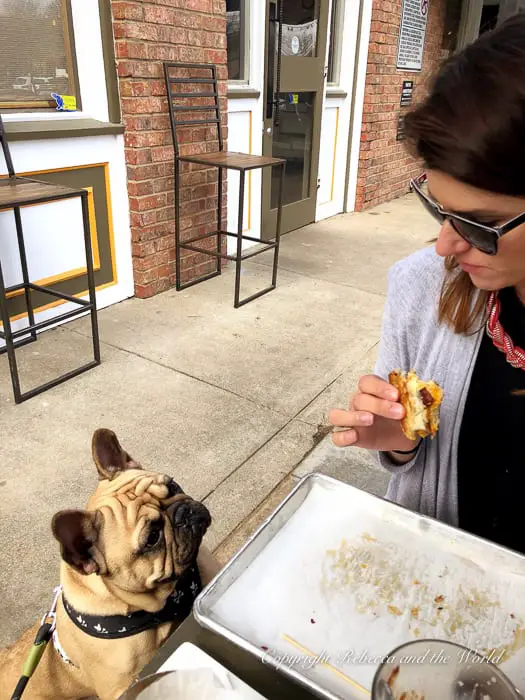 When Diego came home for the first time, we had no idea how much our lives would change. We got him at eight weeks old when we lived in Argentina, and he's now 4 1/2. He's so sweet, well-behaved (thanks to my husband for all the training) and cuddly. People see him coming down the street, and smiles immediately light up their faces.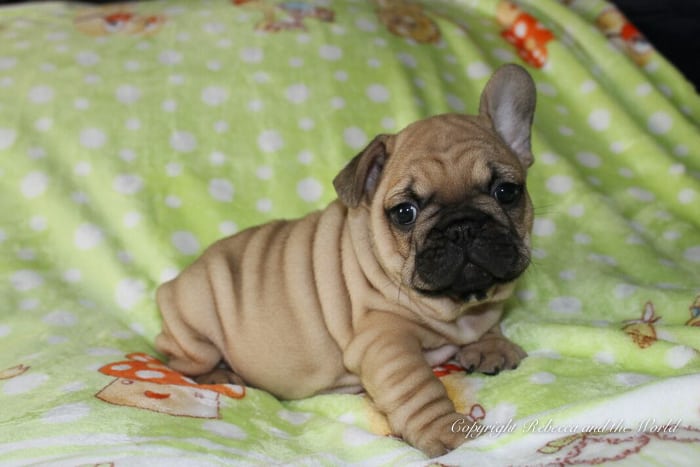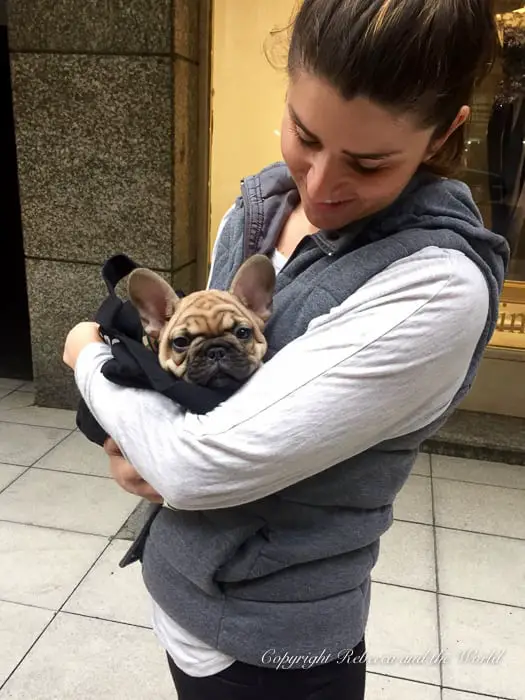 Diego loooovvvveeeessss being around people, so when we moved to Dallas we were pleasantly surprised that he could still be part of so many of our social outings. Here are our favourite dog friendly restaurants in Dallas, along with a few other dog friendly places.
Mutt's Canine Cantina
No list of dog friendly places in Dallas would be complete without including Mutt's Cantina. Located in Uptown, it's the coolest dog park ever. Bring your best friend and let them loose in the park (there are separate areas for big and small dogs) while you dog owners sip a margarita. Fido can come for a one-off visit, or sign up for a annual membership if you plan to be here regularly.
2889 Cityplace W Blvd, Open daily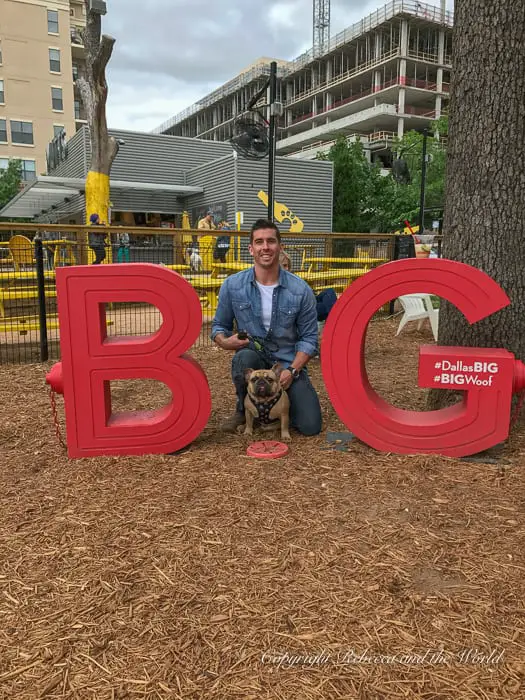 Katy Trail Ice House
Located right off a dog friendly walking trail, bring your dog to the Katy Trail Ice House to relax after taking a walk… or just pretend you've walked the trail and stop off for a drink. The huge outdoor area is always packed with people, even on a cold day.
3127 Routh St, Open daily until 2 a.m.
Truck Yard Dallas
The witty words on the bright yellow signboard outside will make you stop and giggle. Head on in to the Truck Yard to find an eclectic outdoor space surrounded by food trucks. On weekends there's usually live music on the stage. Dogs are always more than welcome and, we find, a great way to make new friends.
5624 Sears St, Open daily until midnight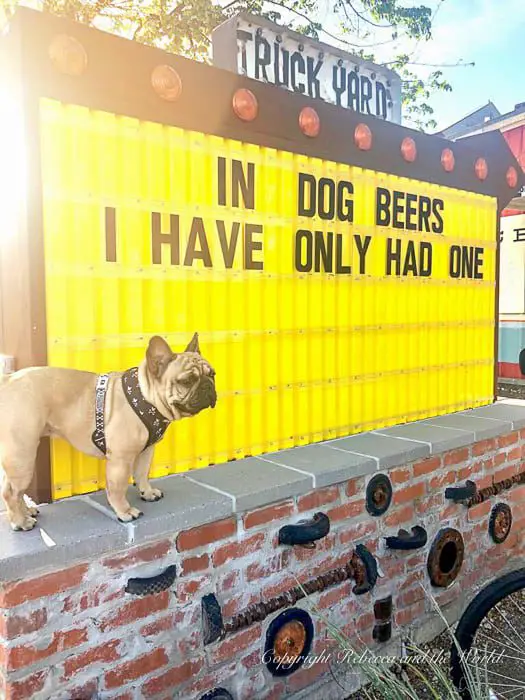 HG Sply Co
When we first visited Dallas, years ago before we moved here, HG Sply Co was the first place we ate at. We loved the healthy meal options, great vibe and the huge rooftop area, and we now live within walking distance. Dogs are welcome on the sidewalk patio and on the rooftop.
2008 Greenville Ave, Open daily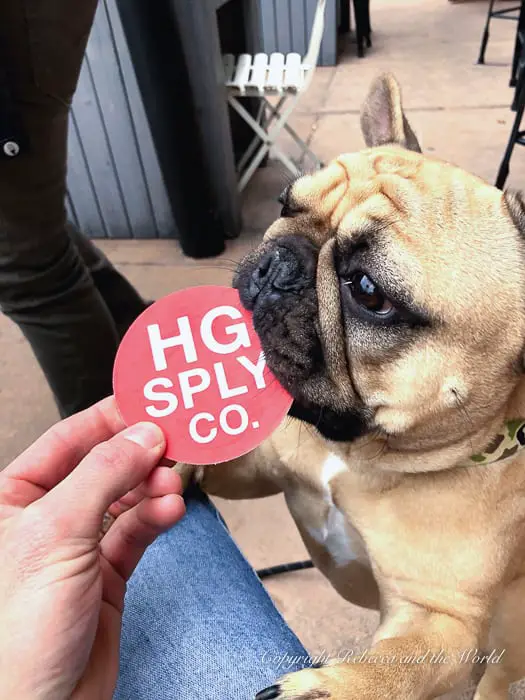 Cane Rosso
Any place with the name of Cane Rosso ("red dog" in Italian) is certain to welcome dogs. Grab a pizza and try really hard to ignore those puppy eyes begging for a slice. There are five locations across Dallas. Cane Rosso often hosts events to raise funds for its very own dog rescue foundation.
7328 Gaston Ave #100, Open daily
The Grove at Harwood
Harwood Grove is a cool outdoor space with a huge lawn and games such as volleyball and bocce. Their cocktail menu features fruity, summery concoctions, alongside burgers and barbecue. Dogs are welcome.
3019 McKinnon St, Open daily
Saint Ann's
A fancier option, Saint Ann's is a gorgeous wine bar with a garden patio. It's a great spot on a spring or summer evening for a wine flight. It has plenty of shade to keep your dog cool on a hot day or night.
2550 Harry Hines Blvd, Open daily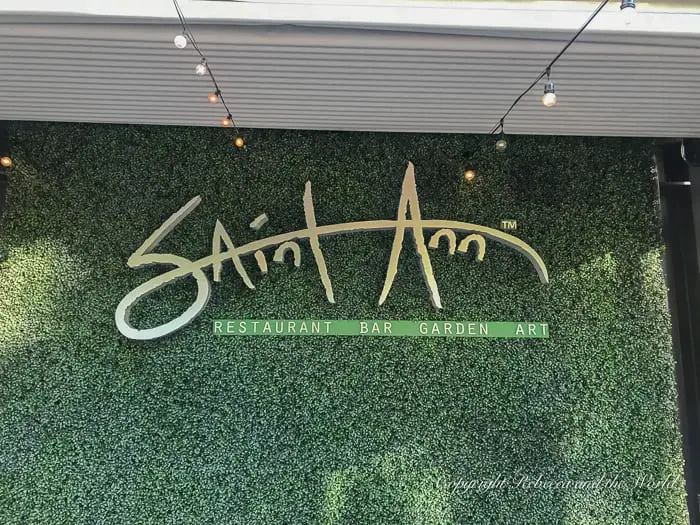 Other dog friendly places in Dallas
It's not just restaurants in Dallas that allow dogs, there are plenty of parks, shops and hotels that welcome pups.
White Rock Lake
White Rock Lake is a beautiful spot in its own right, but your dogs will especially love its dog park. There are three sections: one for small dogs, one for larger dogs and another area that has a fenced-in swimming pool. We haven't been game to take Diego to that part of the park (swimming isn't the little guy's strongest skill), but he does love to run around in the small dog area.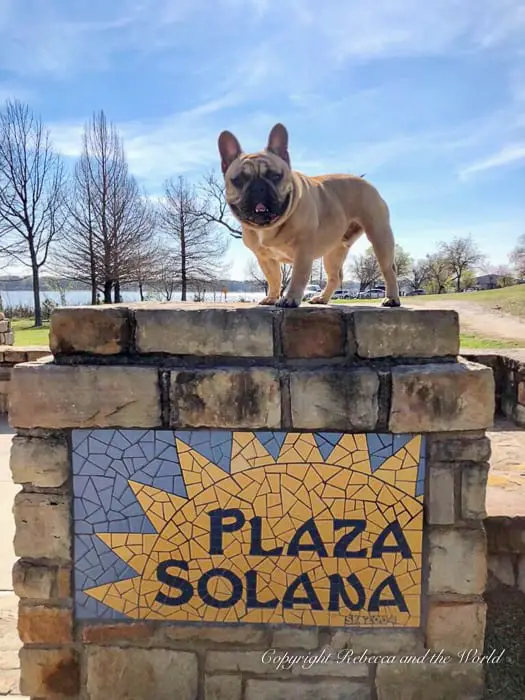 Klyde Warren Park
Klyde Warren Park is a great place to visit on the weekend, when food trucks line the park. There's plenty of open space for dogs to frolic and even some fun water fountains for cooling down in the Texas heat.
2012 Woodall Rodgers Fwy, Open daily until 11 p.m.
Sprinkles Cupcakes
If you're looking for a treat for your dog's birthday, head to Sprinkles Cupcakes. They sell "pupcakes" which are available daily in store or at the 24 hour cupcake ATM.
4020 Villanova Dr, Open daily
Shops
There are no hard and fast rules about pet friendly shops in Dallas, but I have seen people with dogs in West Elm, Home Goods and most small boutique stores. When we do our regular booze run, Sigel's always has a dog treat ready for Diego (and he now even has his picture on the dog wall!).
Dog-friendly hotels in Dallas
If you're visiting Dallas and want to bring your dog, no problem! There are many hotels in Dallas that allow dogs to stay for free or a small fee:
Where are your favourite dog friendly restaurants in Dallas? Where else do you take your dog? Leave your tips in the comments below!
This post was written in May 2018, and was updated in June 2020.
PIN IT FOR LATER: