San Sebastián is captivating. An incredible food scene that's put the city firmly on the foodie map. A golden-sand beach that curves around glistening turquoise water. An Old Town with a history that stretches back hundreds of years. A bar scene that highlights regional gins, wines, ciders and beers. This list of the best things to do in San Sebastián showcases everything there is to love about this gorgeous city in northern Spain.
Want to save this guide to the best things to do in San Sebastian? Just click the "Save" button on any of the images below to save this post to Pinterest.
This blog post may contain affiliate links, meaning if you book or buy something through one of these links, I may earn a small commission (at no extra cost to you).
Explore Parte Vieja (the Old Town)
You can't visit San Sebastián without exploring the Old Town, known as the Parte Vieja. Plan to get lost here, strolling the cobblestone streets and ducking into bars to try the local food. Explore local museums and the stunning churches squeezed between shops and restaurants.
If getting lost isn't your thing, then join a guided walking tour to learn more about the Old Town's history.
At nighttime, the Old Town becomes even more lively, as people spill out of the pintxos bars (more on these later) in search of delicious food washed down with a glass of beer or local wine.
Gaze down at San Sebastián from Monte Urgull
To get an amazing overview of San Sebastián, slip on some sturdy shoes and head up Monte Urgull.
Rising from the sea, it's the eastern arm that wraps around La Concha beach. It makes for a dramatic view as you gaze at it from across the bay, but the views from the hill itself are what it's all about.
Ascending Monte Urgull can be taken at a nice leisurely pace, as there are many paths that slowly crisscross upwards through the greenery that cloaks the hill.
As you stroll upwards, you'll encounter the hill's three main attractions. The first is the remains of the old city wall. These crumbling relics make great lookout spots. Take a seat and watch the waves crash in from the Bay of Biscay. The turbulent water collides against the rocks with fury on this side of the hill, but circumnavigate to the land-facing side and you'll see the water is calm and family friendly by the time it reaches the beach.
Towards the apex of the hill you can explore the ramparts and cannons of the Castillo De La Mota (Mota Castle). Hidden within its walls is a small museum. This interesting little collection document the lives of the locals over the last 800 years.
Finally, track down the Sagrado Corazón (Sacred Heart) statue. With its hand pointed at the blue sky above, this statue of Jesus Christ is the baby brother of Rio de Janeiro's Cristo Redentor. It may look classical but it only dates from the 1950s. It quickly became an icon, being visible from a large proportion of the city.
Recommended by Rosie Fluskey of Flying Fluskey
Chill out on La Concha Beach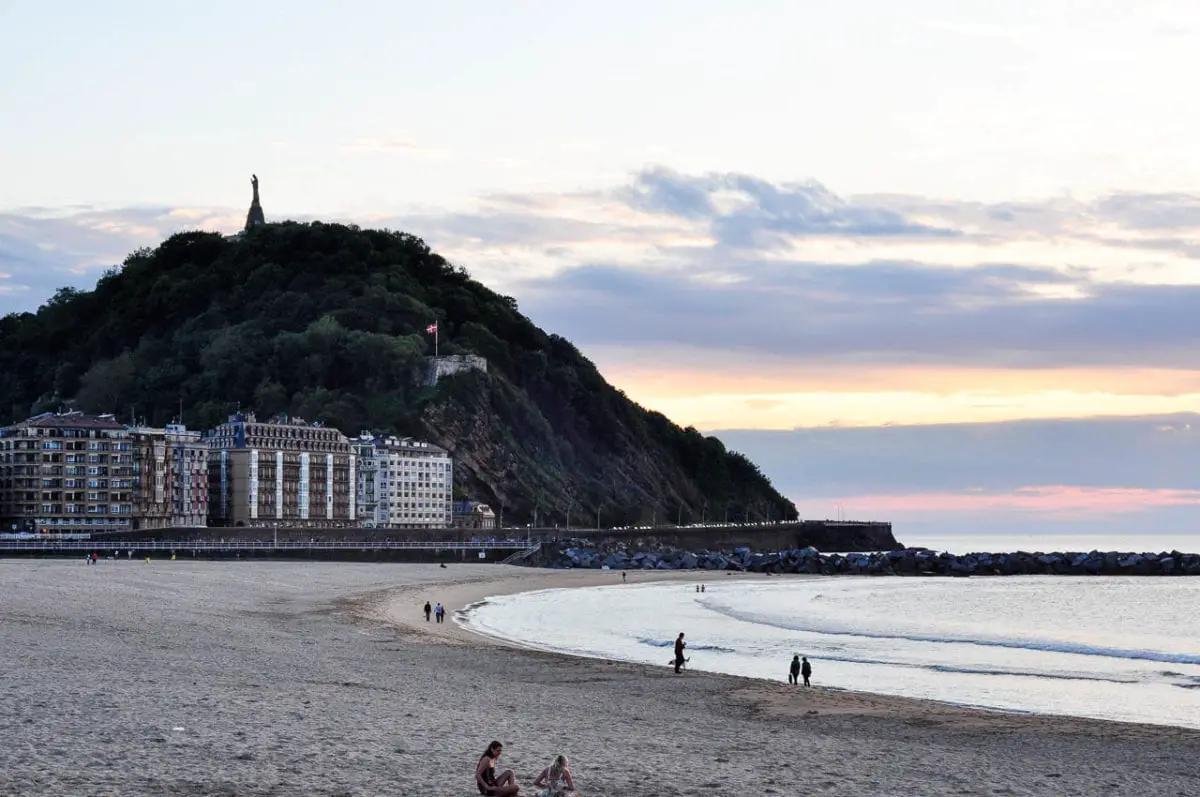 While there are plenty of beaches to explore in and around San Sebastián, the most emblematic is Playa de la Concha, or Shell Beach.
This crescent-shaped, sandy beach is a regular feature on the list of the best city beaches around the world. It's also regularly on the list of the best things to do in San Sebastián. It's the perfect place to sunbathe, relax with a book or take a dip in the water. Running alongside the beach is a promenade that's always filled with people strolling or biking when the weather's nice.
Get outdoors and go hiking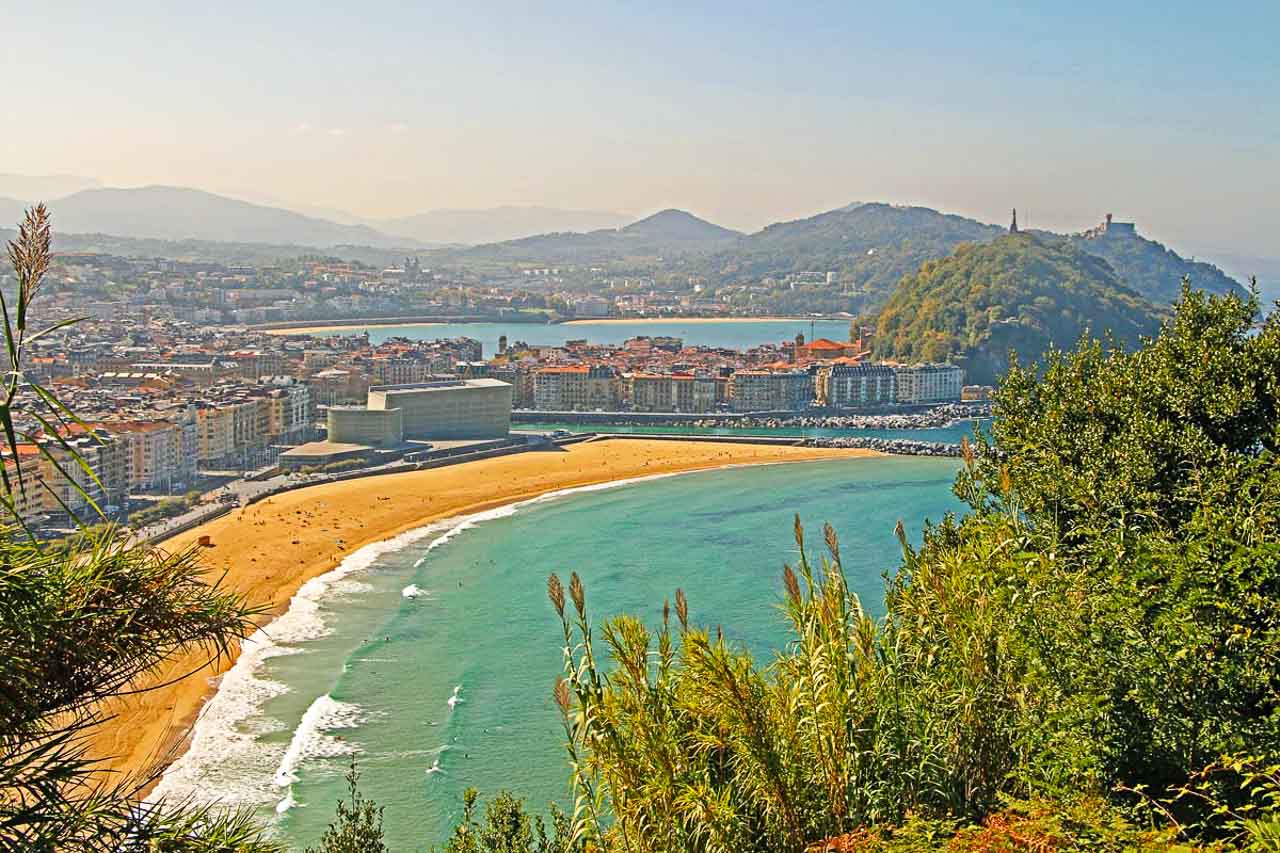 San Sebastián is an amazing city for nature and outdoor lovers. There are several hiking routes that start in San Sebastián and follow the coast out of the city.
One of the most scenic trails is the Donostia to Ulía route. Starting at Zurriola Beach, it hugs along the coastline, then climbs up Monte Ulía to Pasaia, a cozy small town just 5 kilometres from Donostia. This trail is part of the Camino del Norte, one of the Camino de Santiago routes.
The route offers incredible scenery: rugged coastline, small sandy beaches and lush green forest. Don't forget to look back after climbing Ulía hill as there are a couple of lookouts that offer a breathtaking view of San Sebastián, La Concha beach and Monte Urgull.
It's said that Victor Hugo used this route to walk from San Sebastián to his house in Pasaia and back. Nowadays the writer's house is the tourist information office and a museum.
When you reach Pasaia, you'll find many open-air bars where you can relax after the hike with some tapas and a glass of local wine.
The Donostia to Ulía trail is 8 kilometres long, but it's possible to walk one way and take a bus back to avoid a 16-kilometre round trip. There are a couple of small streams on the way but take water with you, along with comfortable walking shoes.
Recommended by Campbell and Alya of Stingy Nomads
Eat all the pintxos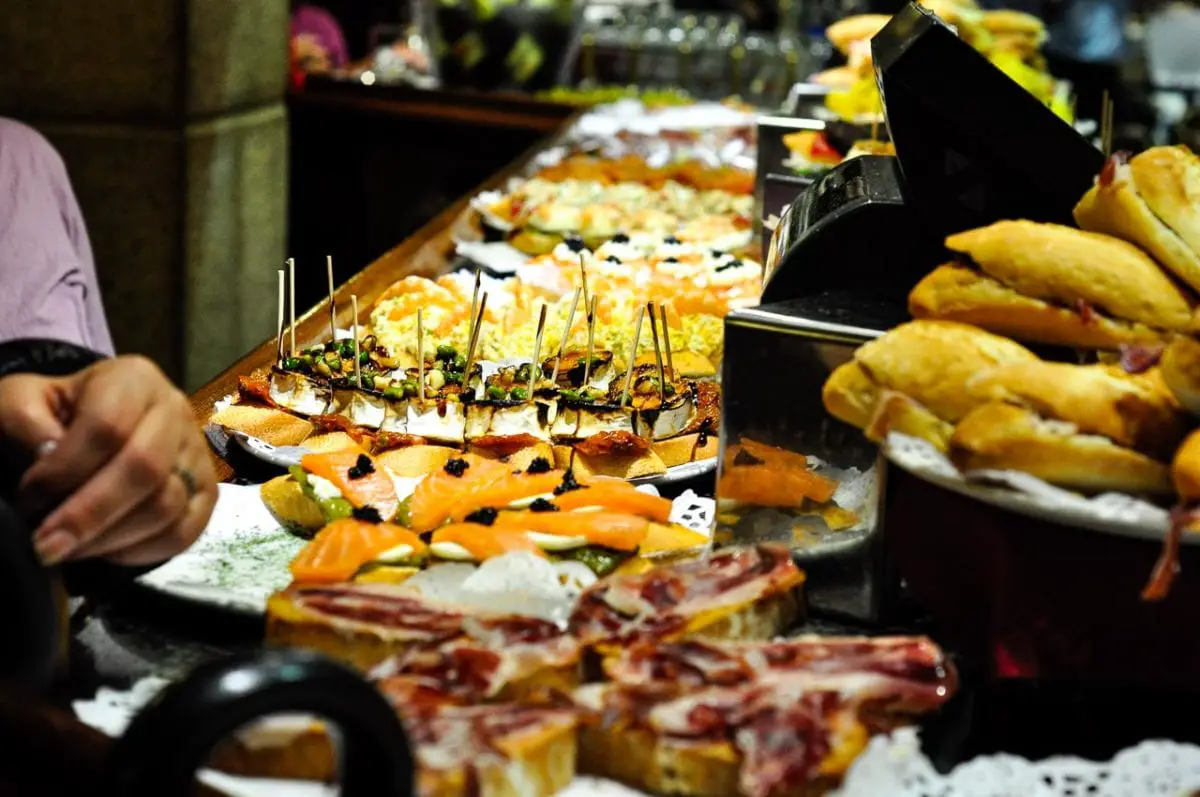 For its small size, San Sebastián is crammed with Michelin-star restaurants – in fact, it's in the top 10 cities in the entire world in terms of Michelin stars per capita. People flock here just for the food, in particular, the city's famous pintxos, the Basque version of tapas.
But it can be overwhelming to know where to start. You could try your luck by simply exploring the Old Town (where most of the pintxos bars are located), stopping in at the bars that grab your attention.
Or, you could join a pintxos tour to learn more about Basque food and nibble at the best pintxos on offer in San Sebastián.
We did both when we visited San Sebastián, and I have to say the latter was far better. Our tour guide took us into the best pintxos bars in San Sebastián to feast on the bar's specialty dish (most pintxos bars are known for a particular type of pintxo). Despite the fact that pintxos are small bites, we were absolutely stuffed by the end of the night.
There are plenty of companies offering pintxos tours in San Sebastián, but I highly recommend the team at Mimo Food for a delicious night out. Trying pintxos is definitely one of the best things to do in San Sebastián – in fact, I bet you'll be trying them every night of your visit!
Learn how to make pintxos yourself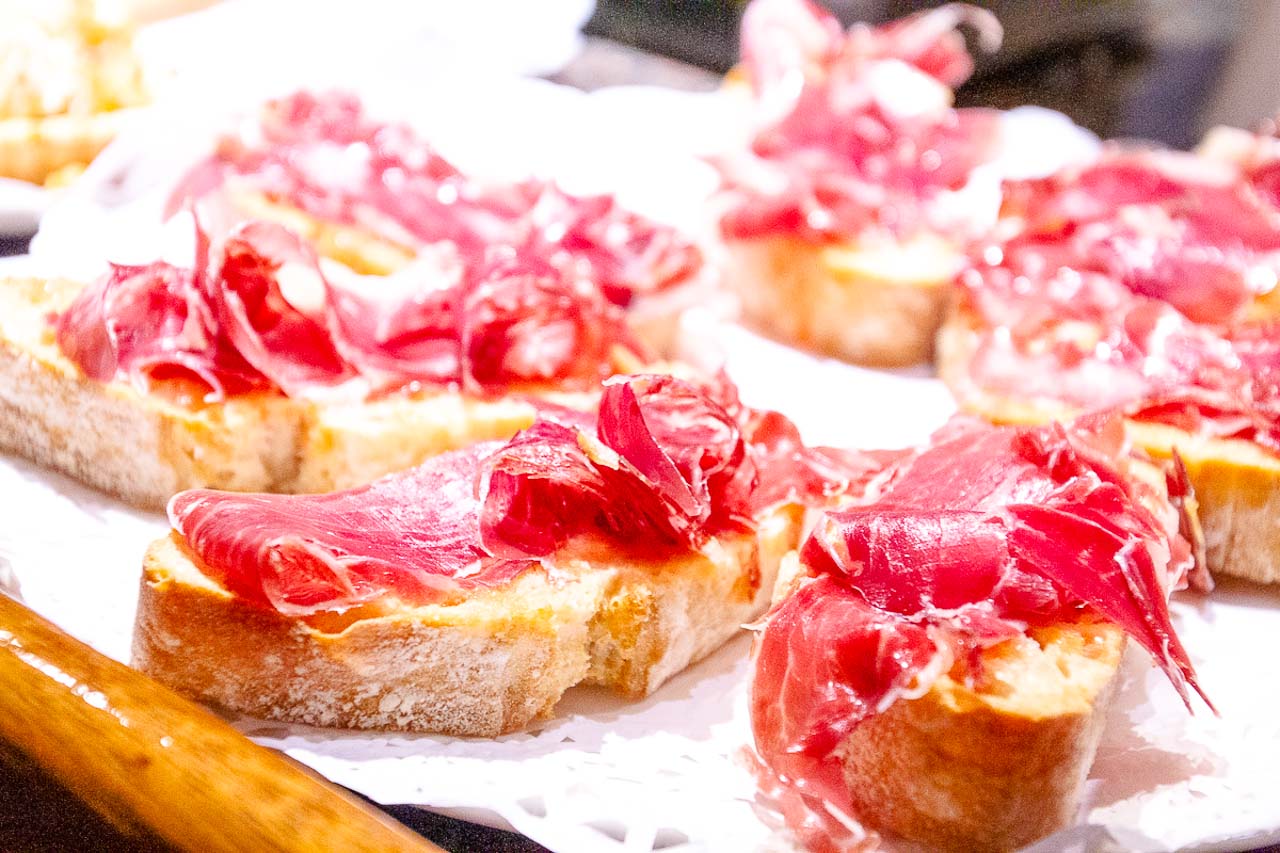 Eating pintxos stands out as one of the best things to do in San Sebastián. But you can take it further than simply strolling through the Old Town and ordering at the bar: join a cooking class and learn how to make pintxos yourself.
Tenedor Tours operates out of a picturesque culinary studio in the Old Town. On the first floor, a breeze drifts through the lace curtains into the kitchen adapted especially for the matter in hand.
It's a hands-on class, beginning with a visit to the local food market to pick up supplies. The food is Basque-themed and the staff frequently refill glasses with local txakoli wine.
Perhaps the most famous dish in San Sebastián is the Gilda, named after Rita Hayworth's character in the hit film of the same name. It's a salty, spicy treat for the tongue, combining an olive, anchovy and a guindilla pepper. But why so famous here? The film came out during the Franco dictatorship years, when Gilda was censored and people had to slip out over the border to catch it. The eponymous pintxo captures that spirit of rebellion and salty risks.
Not that the whole class is about pintxos. Students eat a full meal as well – and can then head home armed with the recipes required to make it again.
Recommended by Abigail King of Inside the Travel Lab
Head up Monte Igueldo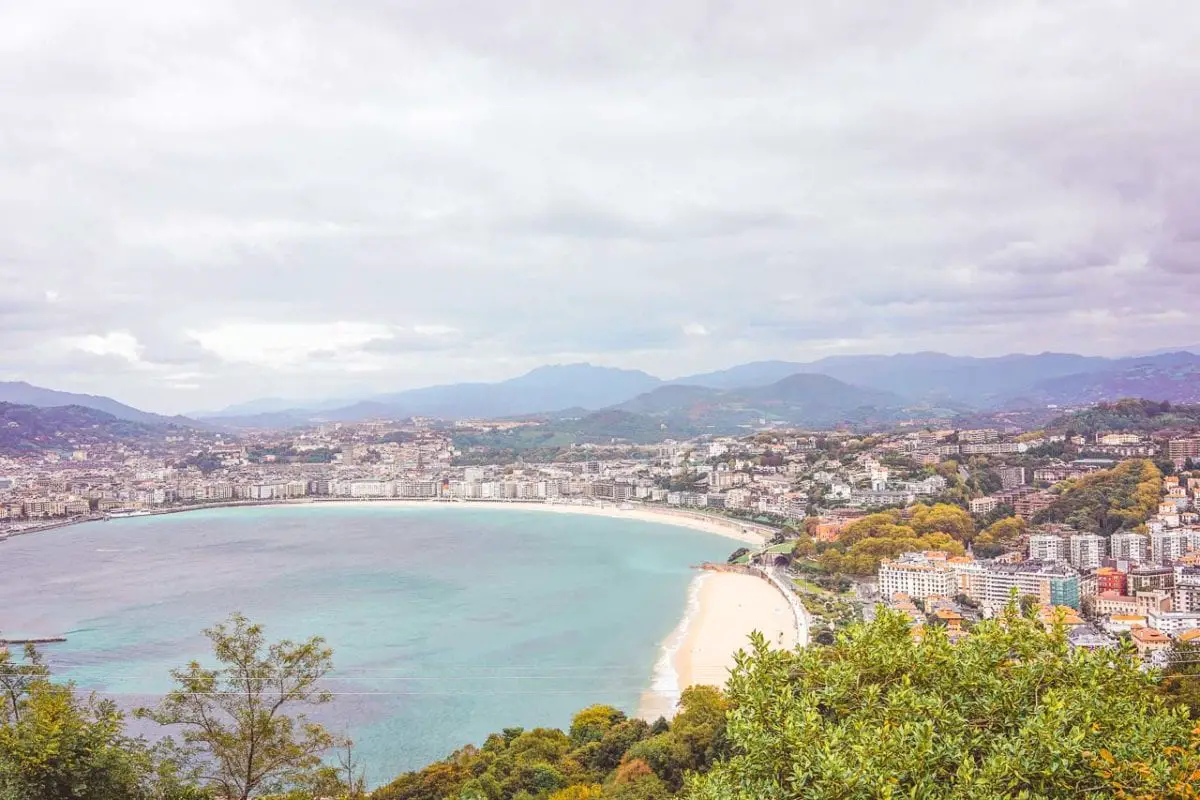 If you like gorgeous views, then San Sebastián is a city that delivers in spades. One of the essential things to do in San Sebastian to get the best views is to visit Monte Igueldo.
Located within the city borders of San Sebastián, from the top of this mountain you can see the entire city. Visit on a sunny day (or at least not a rainy day), for a beautiful and clear panorama of the city.
You can go to Monte Igueldo by car, bus, funicular or bike, or you can simply walk to the top. Entry is around €2.30.
If you decide to take the historical funicular that is over 100 years old, the return ticket will cost you around €3.75 and it goes every 15 minutes from about 10 a.m. until 9 p.m.
There's also an amusement park on top of Monte Igueldo with about 20 attractions. Avoid siesta (from 2 pm until 3:30 pm), when the attractions close.
Recommended by Liza Skripka of Tripsget
Explore Basque cider houses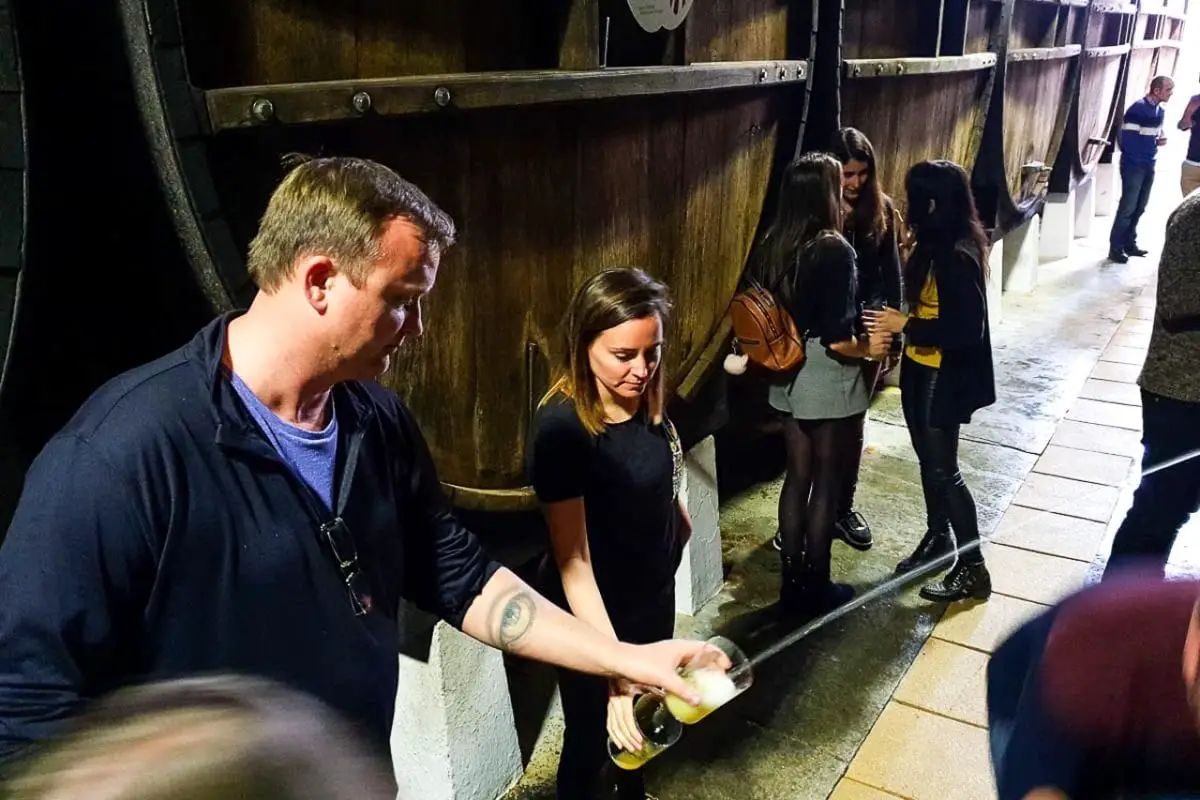 While you can snack on pintxos, eat incredible seafood and dine at several Michelin-starred restaurants at any time of the year in San Sebastián, there's one seasonal experience not to be missed: dining at a cider house.
Dating back to the 12th century, cider production has been an integral part of Basque culture. Today, drinking cider is woven into the fabric of daily life in San Sebastián and throughout the Basque Country.
Beginning in late January and lasting until May, cider houses around San Sebastián open their doors to the public to experience first-hand this most important Basque beverage.
There's one important rule to remember when visiting any cider house: go hungry. Visitors to the cider houses experience a multi-course feast unlike any other. Ranging from four to five courses, the feast typically begins with locally produced charcuterie, followed by a tortilla of bacalao (salted cod). The centerpiece is a large, aged local beef, grilled to a perfect rare that melts in the mouth. Local cheeses, honey and nuts round off the feast.
Of course, accompanying the delicious food is the cider. Lots of cider. Stored in vats capable of holding 15,000 litres or more, the cider is dispensed at will to guests. Whenever guests want to take a cider break, they head to the barrel room to fill up. With local music and singing filling the air, dining in a cider house outside of San Sebastián is a can't-miss culinary experience.
Recommended by Amber of Food And Drink Destinations
Head out of town on a wine tour of La Rioja
Another of the region's famous beverages is of course wine. Just a few hours' drive from San Sebastián is the La Rioja wine region, well-known for its Tempranillo grapes which grow abundantly in the dry climate.
Plenty of companies offer full-day tours to sample the region's wines. Once again, I recommend Mimo Food. We joined their La Rioja wine tour and spent the day exploring three wineries – each very different – and gorging on a decadent five-course lunch.
When you're not drinking wine or eating gourmet food, you'll be surrounding by stunning landscapes, vineyards that stretch for miles and gorgeous architecture in the small villages that would be a complete Spanish stereotype if they weren't real.
When to visit San Sebastián
As you're planning what to do in San Sebastián, consider when to visit. The best time to visit San Sebastián is from May to July when temperatures are at their best. But this isn't always the case! We visited in June and it rained a lot, so come prepared. Of course, May to July are also the busiest months as it's peak tourist season.
Check out which local festivals are on, too, as you may want to plan a trip to coincide with one. As you know, Spaniards like to party, and it seems like every month there's something going on, including cultural festivals, txakoli wine festivals and film festivals.
Where to stay in San Sebastián
We stayed in an Airbnb when we visited San Sebastián. It was right on Playa Zurriola with windows that opened up fully so we could smell the fresh sea air. Unfortunately that property is no longer listed, but this one looks very similar – can't you just imagine yourself waking up to that view every morning?
If you'd prefer a hotel in San Sebastián, check out the many San Sebastián hotels available on HotelsCombined.
How to get to San Sebastián and how to get around
Getting to San Sebastián is pretty straightforward. If you're coming from Bilbao to San Sebastián, you can take the train. The journey is a little under three hours. It's a really beautiful trip, winding through small villages and lovely landscapes. Book a ticket online with Euskotren.
The bus is quicker (around 75 minutes), and you can book tickets online with ALSA.
During peak season, book your train or bus ticket in advance. If you have some time, don't forget to check out the best things to do in Bilbao, as well
When you're in San Sebastián, you'll find that it's is a very walkable city. We walked everywhere!
If you do want to venture further out, the DBus is the public bus network. You can buy tickets from the driver when you board. Alternatively, taxis are available. Go to a taxi rank or phone a taxi for a pick up.
VISITING SAN SEBASTIÁN – YOUR TRIP ESSENTIALS
What else would you add to this list of the best things to do in San Sebastián? Drop your tips in the comments below.
This post was written in August 2013, and updated in July 2019.
PIN IT FOR LATER: