Wondering what to do in Bilbao, Spain? If you've heard that Bilbao is an industrial city, best avoided except for a visit to the Guggenheim Museum, then prepare to be surprised. I certainly was.
We passed through Bilbao on our way from London to San Sebastián, deciding to spend just one night after we'd read that the city wasn't worth much time. It didn't take long to realise that these reviews were clearly outdated.
Driving from the airport to our hotel, we passed through beautiful green countryside. Bilbao seemed to be surrounded on all sides by sloping hills covered in lush green, courtesy of recent rains.
Our taxi took us over a modern bridge, all red and green archways, and it was from here that we got our first glimpse of the city's most famous landmark, the Guggenheim Bilbao Museum. With the sun slowly sinking into the hills, golden light bounced off the museum's crinkled metal walls.
The next morning we wandered through the centre of town, passing beautiful buildings of all tones of pastels, their flower-bedecked balconies begging to be photographed. I kicked myself for not planning more time to visit Bilbao.
To convince you to stay a little longer than just a day, here are some of the coolest things to do in Bilbao, from architecture to delectable eats!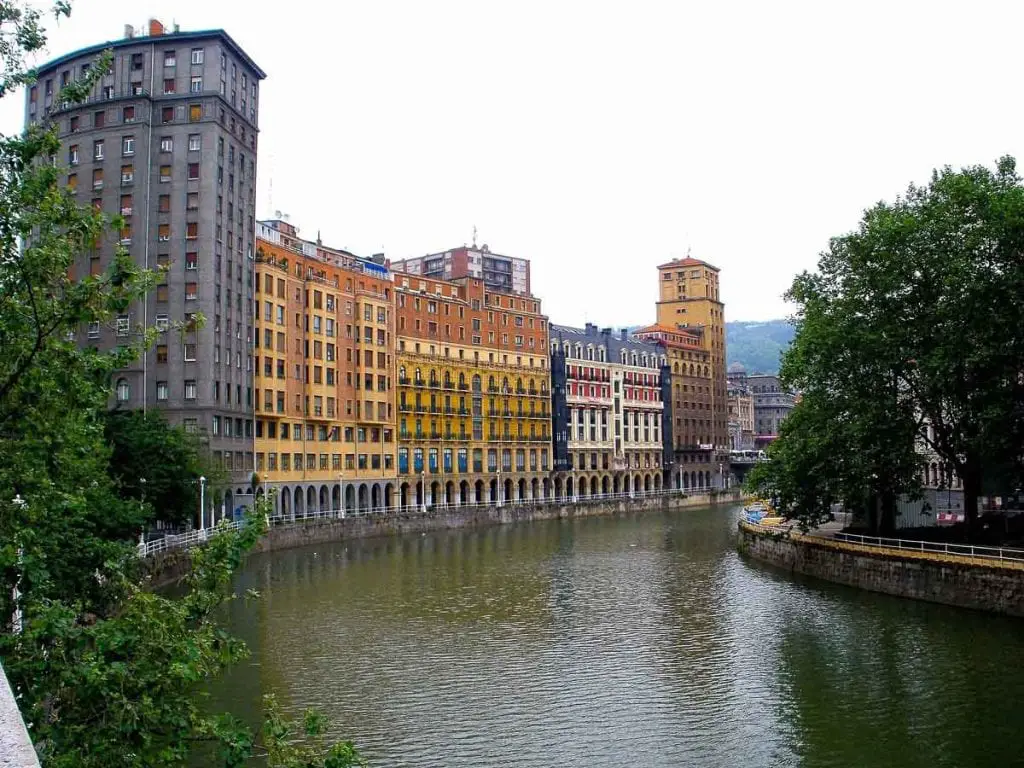 This blog post may contain affiliate links, meaning if you book or buy something through one of these links, I may earn a small commission (at no extra cost to you).
Bilbao logistics
But first, here's some must-know information before you visit Bilbao.
Is Bilbao worth visiting?
My answer to this question (one that I've been asked a few times by people planning a trip to Spain) is a resounding yes!
Yes, Bilbao is worth visiting. If you're in the north of Spain and you have a few days spare in your itinerary, you can easily fill them with the many things to do in Bilbao. The Guggenheim Bilbao Museum alone is enough to pass half a day – but there are many more reasons to visit Bilbao, and hopefully this article will help you to see that.
Where is Bilbao?
Bilbao is in northern Spain, in the Basque Country province. It's about 400 kilometres north of Madrid. The Nervión river runs through the city, eventually emptying into the Cantabrian Sea (the Bay of Biscay). The city has a population of just over 350,000 people.
How to get to Bilbao
Bilbao is well-serviced with public transport. The Bilbao Airport is just 9 kilometres from the city and receives direct flights from cities around Spain and Europe every day.
From San Sebastián you can take a bus or train. The bus is quicker (just over an hour) but the train is a lovely journey, winding slowly through the Basque countryside (this is how I got to Bilbao from San Sebastián).
To get to Bilbao from Madrid, you can take a bus (4 hours and 15 minutes), train (6.5 hours) or fly (just under 3 hours). Alternatively, rent a car for the trip, which takes around 4 hours).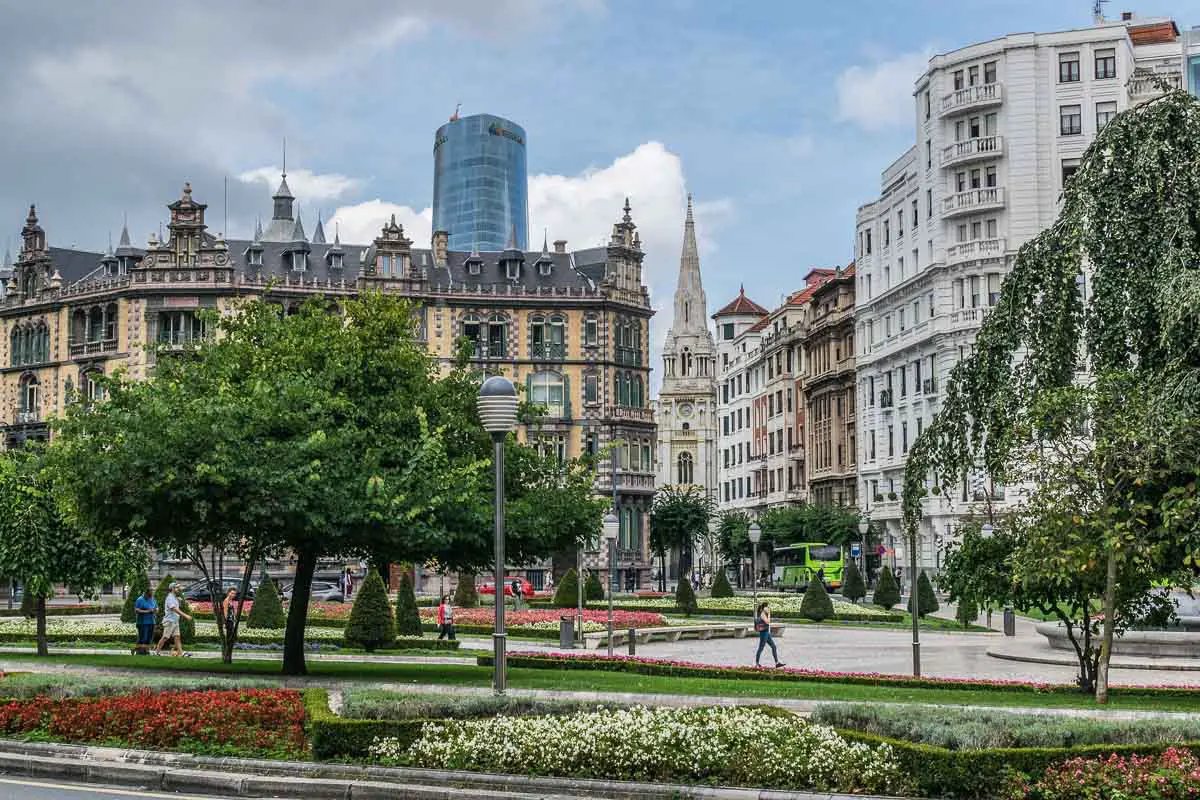 Where to stay in Bilbao
As the city's tourism industry grows, there are plenty of hotels in Bilbao popping up. Here are two recommended Bilbao hotels, along with some Airbnb properties.
We stayed in the Sercotel Coliseo, right in the heart of Bilbao. The hotel is in a former opera house and it's a gorgeous building – it's kept its old façade but been done up inside. We loved this place – it was in a great location and the staff were fantastic. They even helped me when the ATM at the bank next door ate my debit card! I highly recommend this hotel.
Book a stay at Sercotel Coliseo | Read reviews of the hotel here
Another highly recommended hotel is Hotel Tayko Bilbao. This modern hotel has exposed brickwork throughout and the rooms are spacious. Some rooms even have a tub inside the bedroom area, so you can soak while looking out the large windows – very romantic!
Check Hotel Tayko Bilbao availability on Booking.com | Read reviews online
If you'd prefer to do some of your own cooking and washing while you're in Bilbao, then check out the Airbnb properties in Bilbao. This Airbnb in Casco Viejo gets great reviews for its homely feel, comfy beds and ample space, while this apartment is modern and close to the Guggenheim Bilbao.
Basque language
When we arrived in the north of Spain I have to admit that I was a bit surprised about the language. All the signs I saw in shop windows and in the streets were in a strange language, and I thought that all my hard work practicing my Spanish was for nothing.
In Bilbao, Basque is most people's first language. Basque – or Euskara as the language is known as in Basque – has no connection to Spanish or to any other languages in Europe. But, don't worry – everyone speaks Spanish as well, and many people speak English so you'll be able to get around easily. However, if you want to impress people, here are a few Basque/Euskara phrases to start you off:
Kaixo – Hello
Agur – Goodbye
Eskerrik asko – Thank you
Egun on – Good morning
Arratsalde on – Good afternoon
Ez dut ulertzen – I don't understand
Gaztelaniaz hitz egiten duzu? – Do you speak Spanish?
Ingelesez hitz egiten duzu? – Do you speak English?
Bai – Yes
Ez – No
Zenbat balio du? – How much is this?
Komunak non daude? – Where are the toilets?
What to do in Bilbao, Spain
Without further ado, here are recommendations for the best things do in Bilbao – as you'll see, there's plenty to keep you busy for a few days!
Map of the best things to do in Bilbao
Explore the Guggenheim Bilbao Museum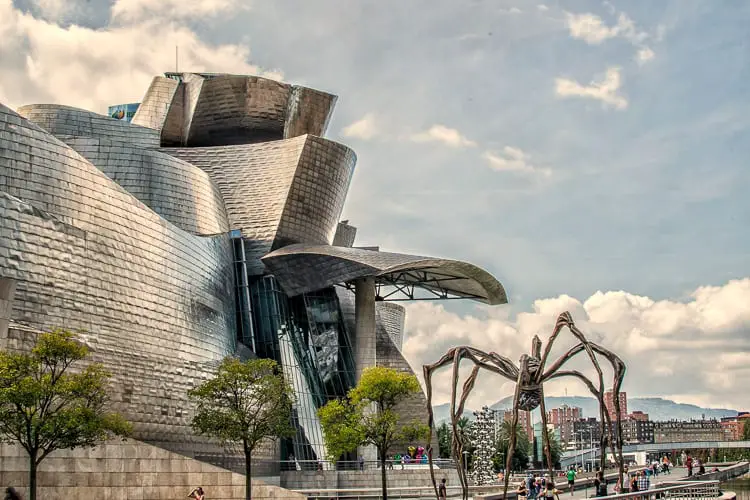 Visiting the Guggenheim Bilbao Museum is a must for tourists visiting the city – it's definitely one of the top Bilbao attractions, drawing around a million people to the city each year. The contemporary art museum is one of Frank Gehry's world renowned architectural masterpieces. As you walk toward the enormous museum sitting on the Nervión River in Bilbao, you can't help but be inspired by this magnificent landmark, from outside as well as in.
The Guggenheim represents a new era for the residents of the city and the former northern stronghold of the separatist group, the ETA. Bilbao was a central point for the organisation's activities, but when the Guggenheim plans were showcased and the museum was constructed, tourists began to pour into the city, propping up a once stumbling economy. Over 20 million tourists have now visited this architectural wonder, and many more are inspired by the great works of modern and contemporary art found inside. The outside promenades and playgrounds serve every tourist and family alike with lovely riverside views.
If there is one thing the Guggenheim Bilbao Museum does well, it's showcasing contemporary and eccentric art. From a huge spiral maze in its main area to a completely black canvas found in one of the major galleries, the museum will give even the most critical art enthusiast a pause. A seemingly endless museum, there is no direct or even correct way of visiting the museum, which provides for some fun when enjoying your visit.
Address: Avenida Abandoibarra, 2
Guggenheim Bilbao opening hours:
Tuesday to Sunday, 10 a.m. to 8 p.m.
Closed every Monday, except for special dates (check their website for details)
Closed on Christmas Day and New Year's Day, with earlier closing times on December 24 and 31
Guggenheim admission price: €13 for adults
Submitted by Diana of The Elusive Family
See works of art at the Bilbao Fine Arts Museum
The Guggenheim Bilbao isn't the city's only museum deserving of your time. The Museo de Bellas Artes (Fine Arts Museum) in Bilbao is also impressive, with more than 10,000 works of Basque, Spanish and European art. The museum is more than 100 years old. It's located inside the Doña Casilda Iturrizar park, a public park that's also lovely to stroll through.
Address: Museo Plaza 2
Opening Hours:
The museum is open every day of the week except Tuesday, from 10 a.m. to 8 p.m. The museum closes early on 24 and 31 December, and is closed entirely on 25 December and 1 and 6 January.
Entrance fee: €10 for adults
Pig out on pintxos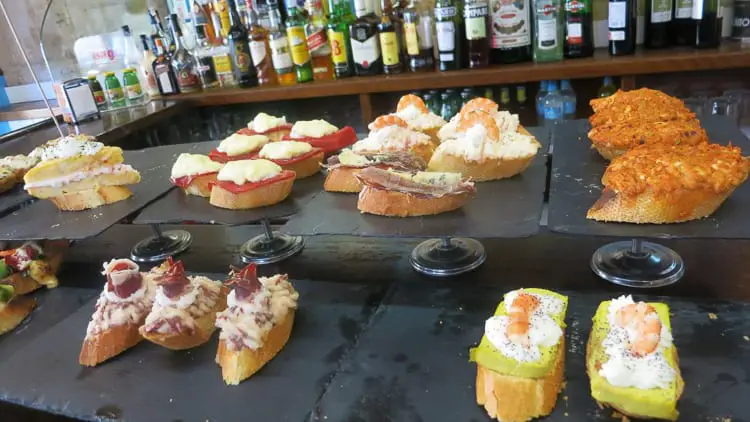 The Basque Country is famous for its exquisite cuisine, delicious seafood and good wines. As the largest city in the region, Bilbao has some of the best restaurant and bars where tourists can try typical local dishes and enjoy local wine.
We got to Bilbao after a long day of walking during our Camino del Norte pilgrimage and were quite happy to stay in the city for an extra day and explore its local bars and restaurants. The best pintxos in Bilbao can be found in Casco Viejo (the Old Town). Its narrow cobblestone streets are full of bars, restaurants, bakeries and coffee shops.
A pintxo (or pincho) is a small portion of food, usually a bread-based bite-sized snack topped with meat, cheese, seafood or vegetables that's served in bars and taverns with wine or beer. The name pintxo comes from the Spanish verb pinchar which means to puncture, referring to the toothpick that is usually used to keep pintxos ingredients together.
The best way to taste pintxos in Bilbao is to go out and visit several bars like the locals usually do. Go from bar to bar, and try a pintxo and a drink in each. By the end of the night you'll have visited 5 to 10 bars and tried many different pintxos.
Our recommendations for what to eat and drink in Bilbao are txakoli (a local, very dry white wine), gildas (chilli, olive and anchovy pintxo), txampis (champignons filled with ham and cheese), bacalao (cod fish, either on pintxos or served as a separate dish).
Those with a sweet tooth will find Casco Viejo a real challenge: there are so many bakeries and coffee shops that it's difficult to stop! Try Carolinas, a typical dessert of meringue with chocolate.
Submitted by Campbell and Alya of Stingy Nomads
Check out the local market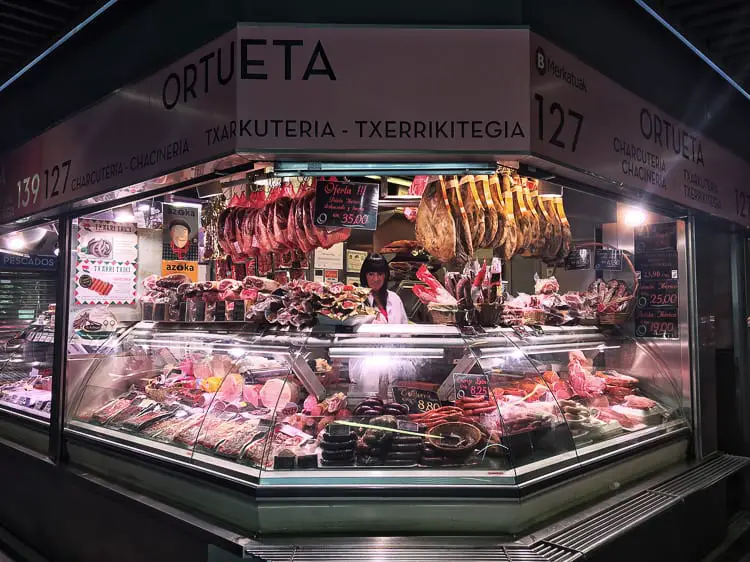 If food is one of the many reasons to visit the Basque Country, then one of the best foodie things to do in Bilbao is visiting La Ribera market.
This is a great place to get acquainted with the local customs, and to try all the local specialties, like Spanish salt cod stew. There are several food stalls that sell fresh produce: seasonal fruits and vegetables, meat, cold meats and fish, as well as bakeries and other specialties. It's a fantastic place to try the famous Spanish pinxtos: the idea is the same as tapas, where you order a selection of (literally) bites with the best ingredients and get to try many of them for a full meal.
Pinxtos can be accompanied by beer, though the wine in the Basque Country is fantastic. You may want to pick the local txakoli, which is poured from high above the glass to oxygenate it, giving it almost a sparkling texture. Alternatively, pick a wine from La Rioja, a region of the Basque Country that makes excellent reds.
Make sure to go to La Ribera in the morning and to hang around long enough to get lunch.
Address: Erribera Kalea, 20
Submitted by Claudia of My Adventures Across The World
Wander around Casco Viejo (the Old Town)
The Casco Viejo is a great area to stroll around, ducking into bars and restaurants to sample a few pintxos. This is the historic heart of Bilbao, and it's easily accessible from other parts of the city.
Here, you'll find plenty of churches, old buildings and hidden streets and alleys. Casco Viejo is where you'll find the most important buildings and areas in Bilbao: Plaza Nueva, Teatro Arriaga and the La Ribera market. You could easily get lost for half a day.
If you'd like to learn more about the history of the Old Quarter, then book this tour which looks like a great way to spend a few hours.
Go wine tasting in La Rioja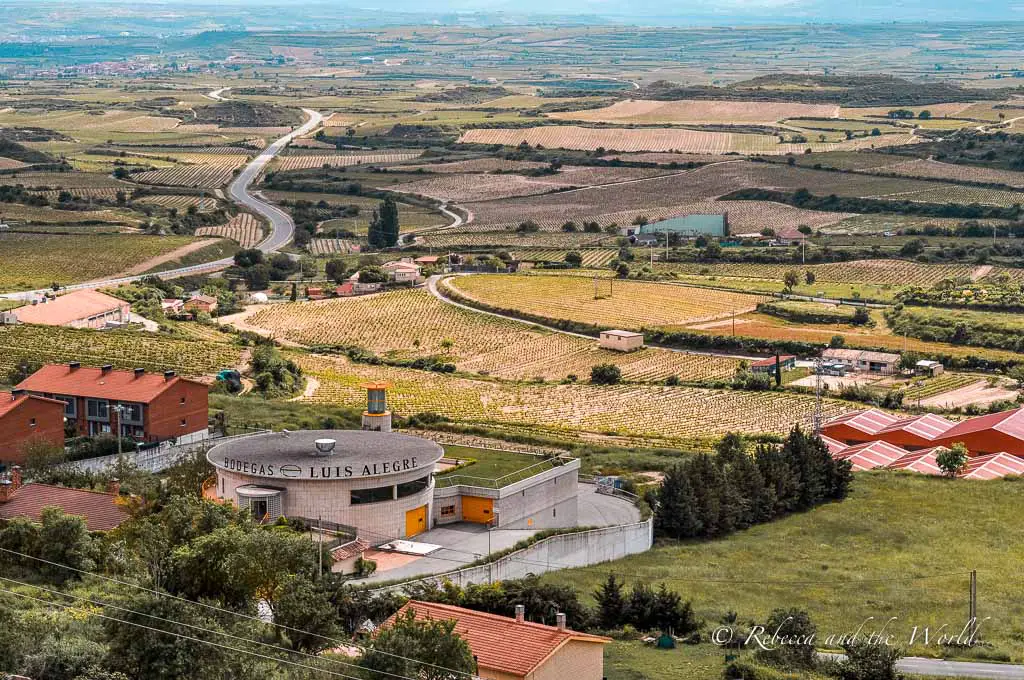 One of Spain's most famous wine regions – indeed, where most of Spain's wine production comes from – lies just a short drive south of Bilbao. Rioja wines have been produced since the times of the Phoenicians and the Celtiberians, and you'll still find family-run wineries in La Rioja that have been around for centuries.
You can take a self-guided tour of the La Rioja wine region, stopping in at a few of the more than 500 bodegas (wineries) that are sprinkled through the province. If you visit La Rioja this way, you'll need to plan ahead, as tastings at most bodegas must be reserved in advance.
What I recommend, though, is joining a tour and taking a day trip, which can be easily done from Bilbao. This way, you can relax and focus on tasting wine rather than working out an itinerary and making sure everything lines up.
Cross the Vizcaya Bridge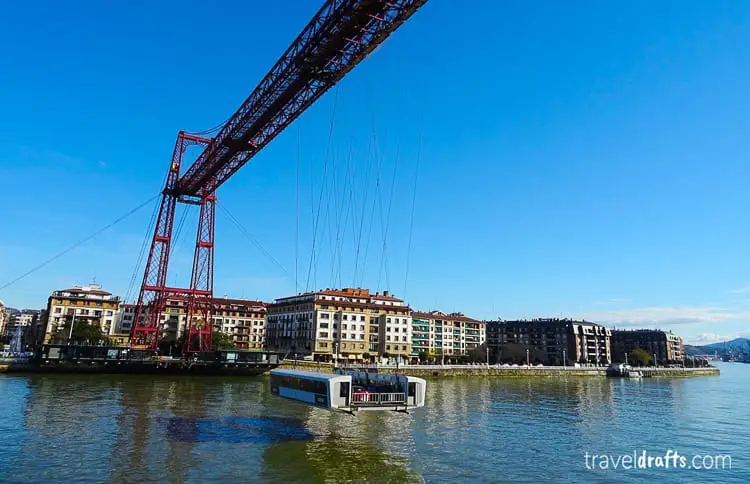 The Vizcaya bridge, connecting Portugalete and Getxo, is one of the coolest things to see in Bilbao, particularly if you're doing a road trip through the Basque Country.
But this is no ordinary bridge; it is a suspended or hanging bridge and it was an engineering wonder when it was built, way back in 1893 by Alberto Palacio.
In 2006 the Vizcaya bridge was classified a UNESCO World Heritage Site for its architectural characteristics and its functionality. The bridge is built over the Nervión River, an important river for cargo. It was constructed as a suspension bridge as a way to avoid muddling the maritime traffic, making it easy for boats to pass whenever they needed.
The iron bridge is 160 metres long, 45 metres high and transports people and cars across the river in the Biscay province.
It's a pretty cool experience to travel on the bridge; you drive your car into a suspended gondola and in just under two minutes it arrives at the other side of the river. The gondola has the capacity for six cars and plenty of people and runs every 30 minutes. The best part is that it is a cheap activity. For only €1,60 per car and €0,40 per person you can ride on a UNESCO World site.
If you don't have a car yourself, it's interesting to just watch the cars cross over the river.
Submitted by Jorge and Cláudia of Travel Drafts
Get festive at Bilbao BBK Live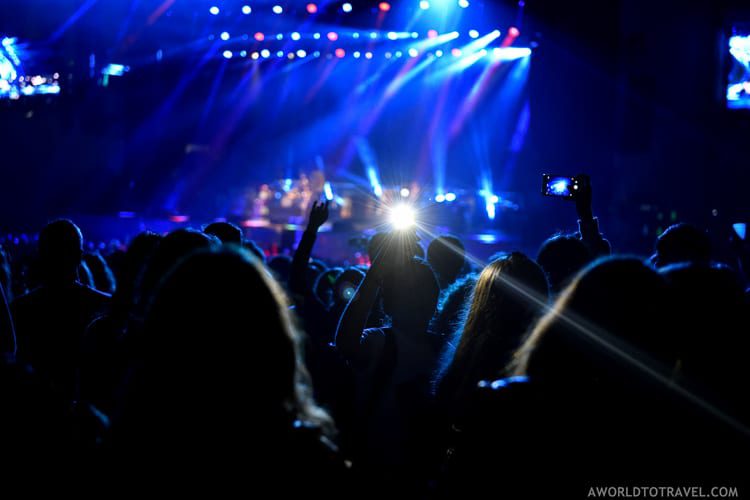 If there is a festival that reigns in the north of Spain it's Bilbao BBK Live, which has been around for more than a decade. Its usual stage, in the Kobetamendi park, is a natural mountainside venue that provides some of the best panoramic views of the city.
Thousands of people flock to this mountain in the middle of July to celebrate a music festival that has become essential on the European festival circuit.
The festival has drawn great artists like Florence + The Machine, Noel Gallagher, My Bloody Valentine, The Chemical Brothers, Gorillaz, The xx, Benjamin Clementine, Fischerspooner, James, Young Fathers and Jungle.
Bilbao BBK Live's electronic counterpart, Basoa, boasts a line up that has included Laurent Garnier, Midland, John Talabot, Todd Terje and many more.
Three-day passes start at €145 (€160 with camping) and can be bought at the festival's official website. The festival campsite is located on the adjacent mountain, the Arraiz.
See you there?
Submitted by Inma of A World to Travel
VISITING BILBAO – YOUR TRIP ESSENTIALS
So, no longer do you need to worry about what to do in Bilbao, Spain – this list should have you covered! Got any more suggestions? Let me know in the comments below!
This post was published in July 2013, and updated in February 2019 and October 2019.
PIN IT FOR LATER: