One of the highlights of a trip to northern Spain is visiting the La Rioja wine region. The small province of La Rioja is absolutely packed with gorgeous bodegas (wineries) that have been producing the best Spanish wines for decades – some for centuries. Read on for the best way to enjoy the area (spoiler: I recommend a La Rioja wine tour) and why I think everyone should visit La Rioja!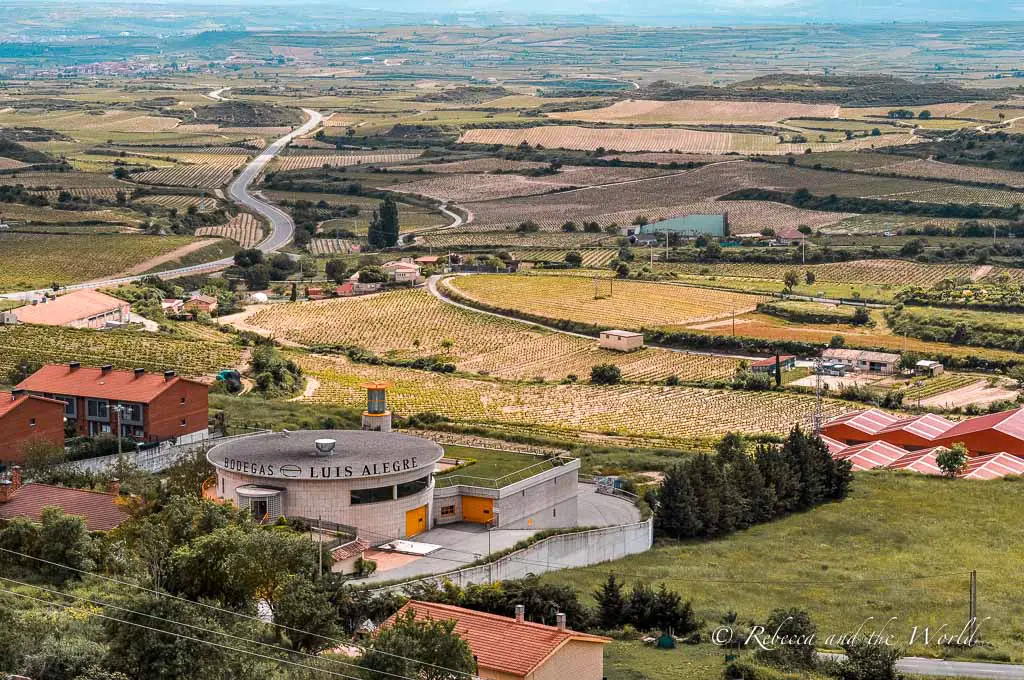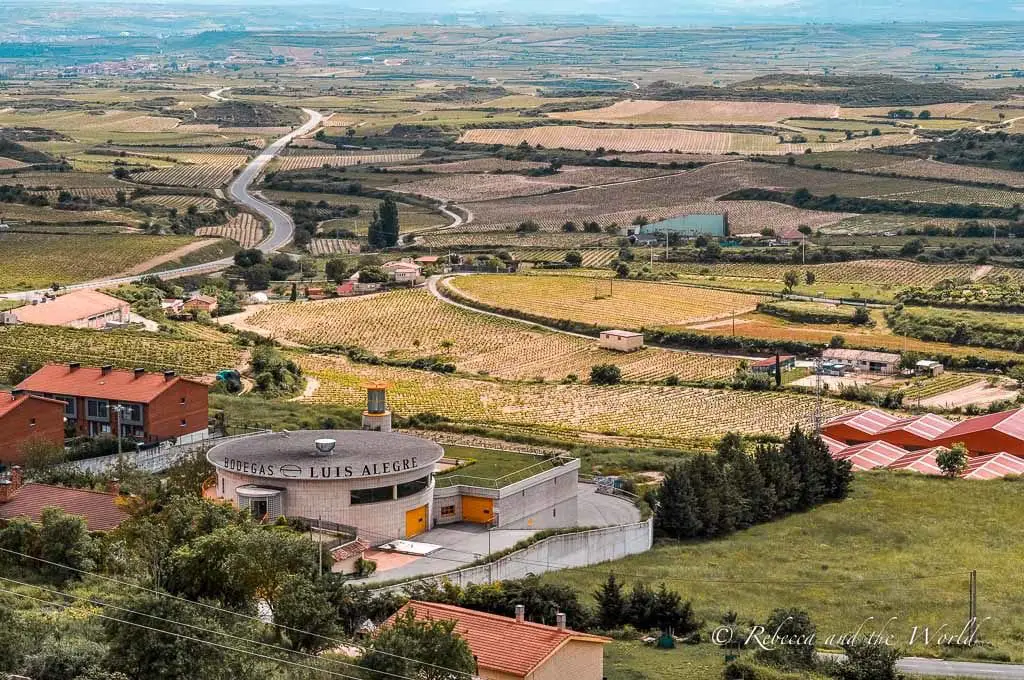 This blog post may contain affiliate links, meaning if you book or buy something through one of these links, I may earn a small commission (at no extra cost to you!).
Where is La Rioja?
The smallest province in Spain, La Rioja hugs Basque Country and Navarra, squeezed into the east of Castile y León province. Driving through La Rioja is a picturesque mix of stunning landscapes, gorgeous Spanish architecture, and vineyards as far as the eye can see.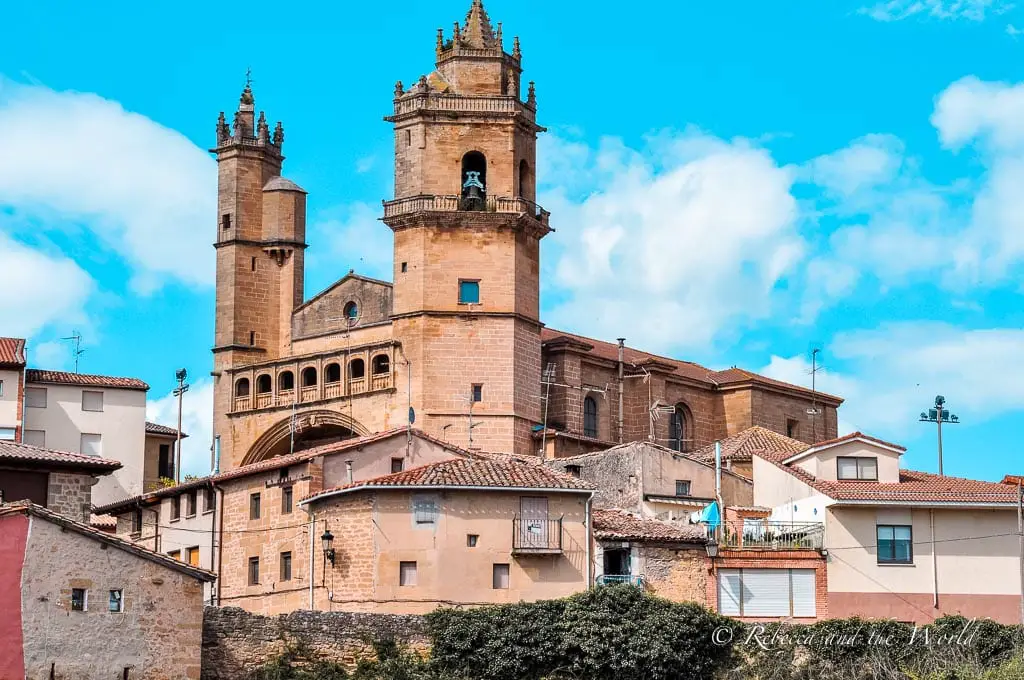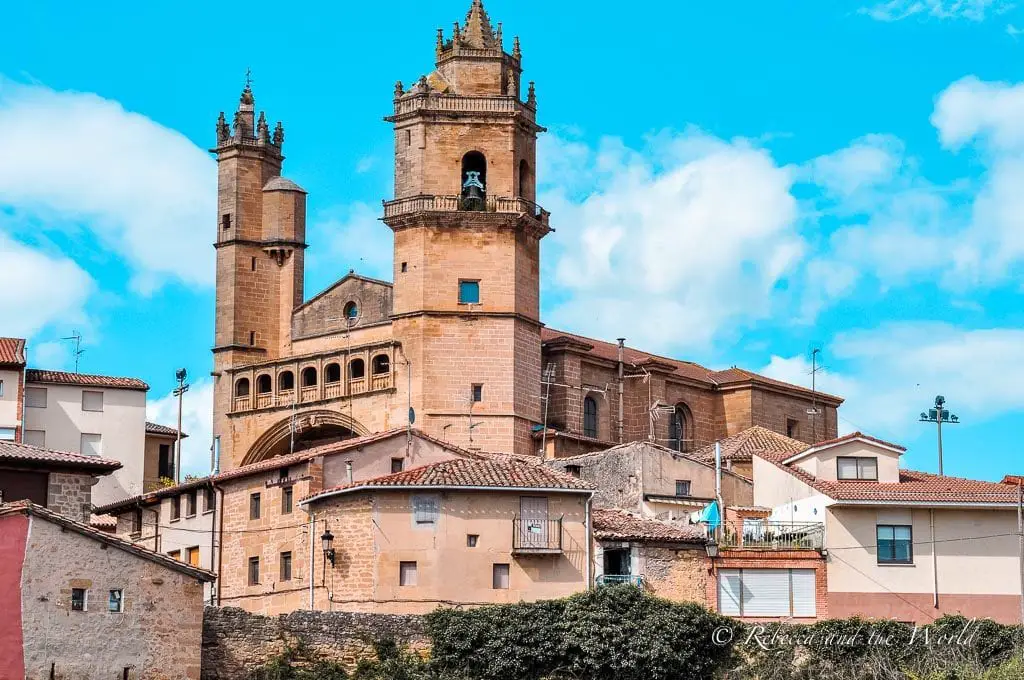 While visitors don't flock to the La Rioja wine region the way they do to Tuscany or Bordeaux, those in the know appreciate the grapes that grow in the region's dry climate: Spain's famous Tempranillo, of course, but Rioja wines also include Graciano, Garnacha, Mazuelo, Malvasia and Viura grape varietals. The region produces mostly red varietals, but has quickly gained acclaim for its whites and rosés.
Rioja wine has been made since the since the times of Phoenicians and the Celtiberians, and many bodegas continue using ancient wine production methods. Rioja has three regions: Rioja Alta, Rioja Baja and Rioja Alavesa.
Wine from Rioja must adhere to strict quality controls, and only wine made with grapes from the region and produced in Rioja can be labeled as Rioja wines. The Denominación de Origen Calificada, the quality control board, must approve all wines.
Should you visit La Rioja alone or on a guided tour?
Visiting La Rioja is a great day trip from San Sebastián (the foodie capital of Spain) or the port city of Bilbao.
Now, while you can visit the La Rioja wine region by yourself (if you have a designated driver, of course!), I think it's far more fun to relax and have the whole trip planned for you.
That way, there's no need to research the best Rioja wineries (especially difficult when there are more than 500 bodegas in Rioja!), or see which ones offer tours or reserve a spot on a tour in advance. Someone else does all of that for you. Plus, a guide will point out things to see and share interesting facts about Rioja wine and the area.
That's why we chose to book a La Rioja wine tour when we visited.
What to expect on a La Rioja wine tour
Following on from the great pintxos tour we did with Mimo Food (formerly San Sebastian Food), we decided to also take their La Rioja wine tour (Rioja Uncovered).
The full-day winery tour included visits to three Rioja wineries that were vastly different, an incredible five-course gourmet lunch and a stroll through a gorgeous village. And a LOT of the best Spanish wines, of course. There were only a handful of people on the tour so it felt very intimate and we had plenty of chances to ask questions of our guide. I know that the tour has changed a bit since we took it, but I'll share our experience of this La Rioja wine tour.
Bodegas Muga
We started our tour at Bodegas Muga in Haro. This traditional winery is over two hundred years old.
The winery is also one of the few that still makes its own oak barrels, a dying tradition. Each different oak used to make the barrels – French, Spanish and American – impacts the flavour, along with the flavours imparted as the cooper fires the inside of the barrels. Bodegas Muga is one of the best bodegas in Rioja; you'll see it on must-visit lists everywhere.
This first stop was where we discovered that wine tasting in Spain is unlike anywhere else I've experienced (except perhaps in Argentina). The tasting pours were enormous. At Muga (and the other wineries we visited later in the day) our tasting glasses were filled up halfway rather than with just a tiny slug. I guess you're supposed to sip and spit, but I hate to waste a good thing!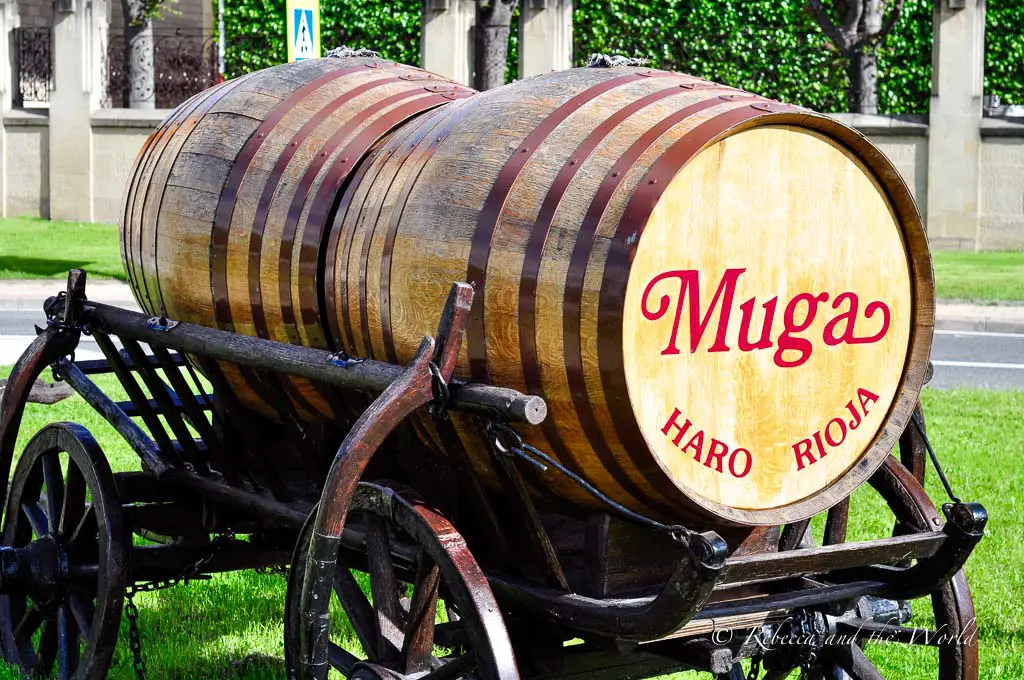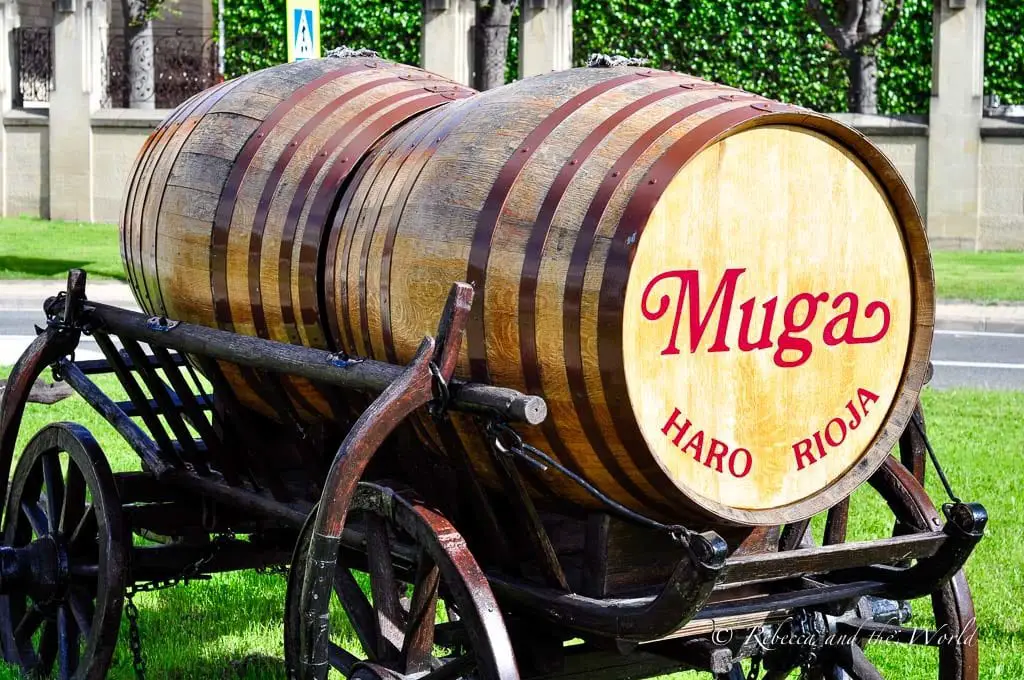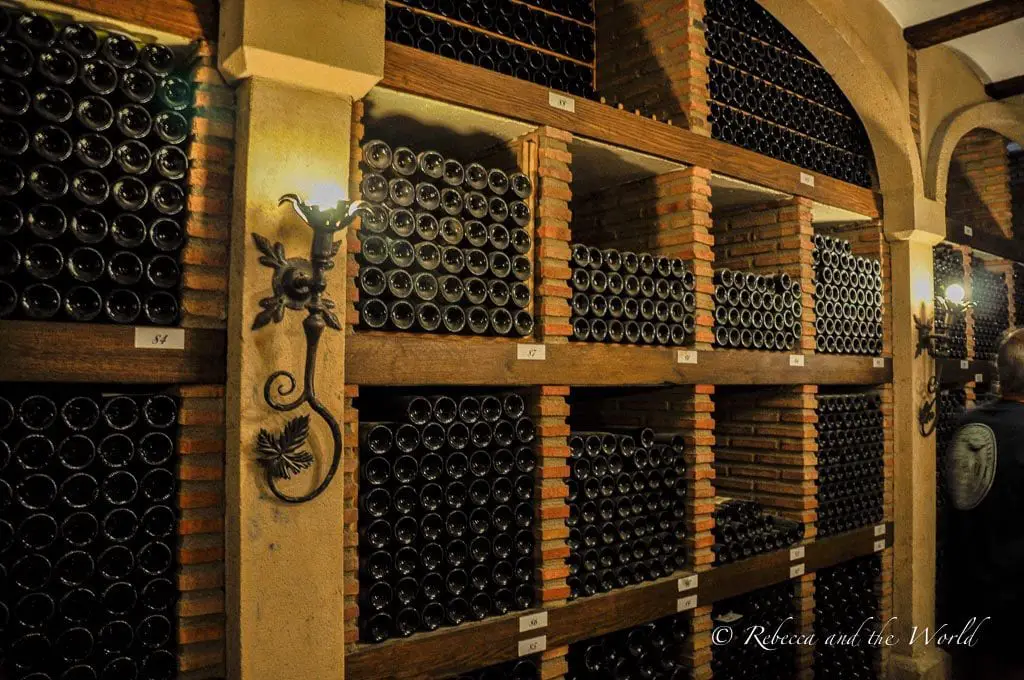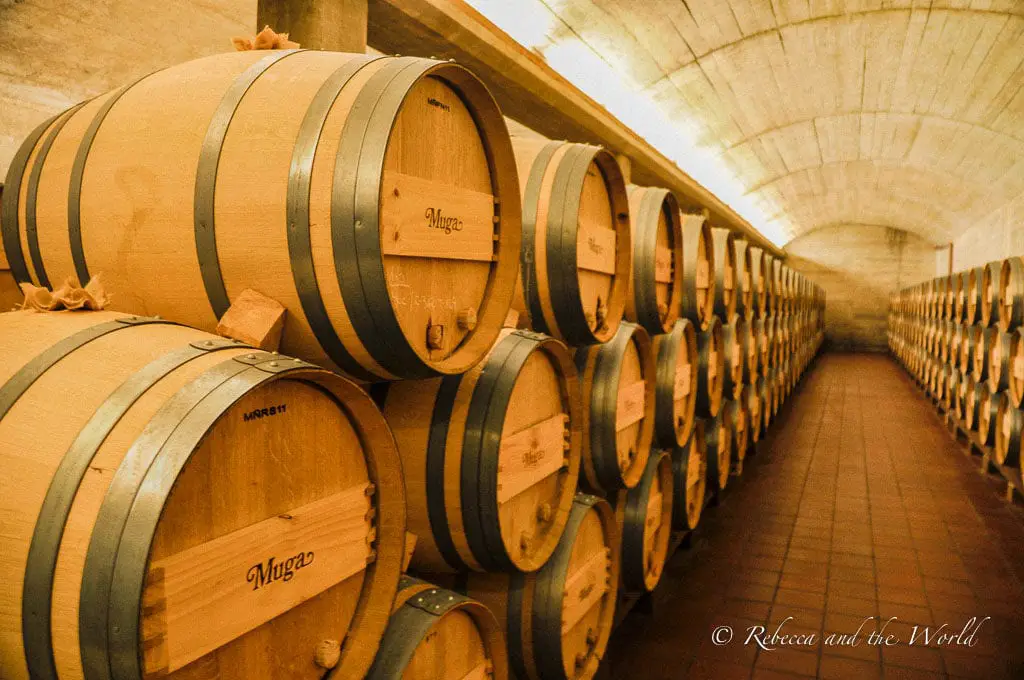 Bodegas Baigorri
Next, we moved on to a more modern winery that used different techniques. Bodegas Baigorri is the product of a wealthy local businessman, a winery that received some criticism when it was being built. The winery is seven floors – but six of these are below ground, built into a mountain. The top floor is the only part visible, a large glass box which some people say blends well into the surrounding countryside, while others think it looks out of place. Whatever your view, it certainly is a unique structure.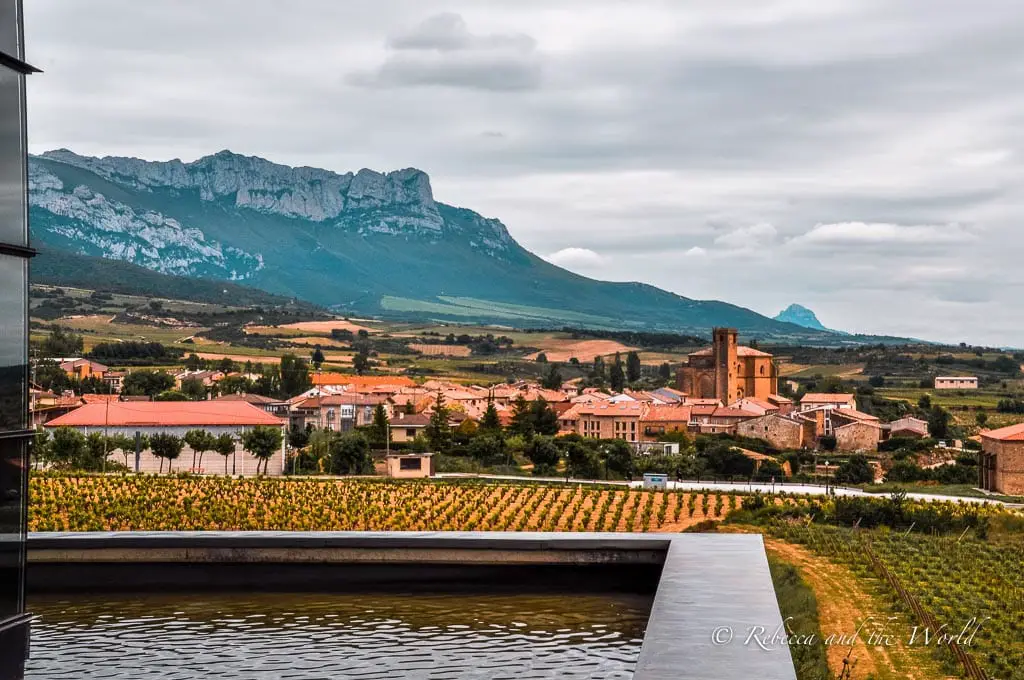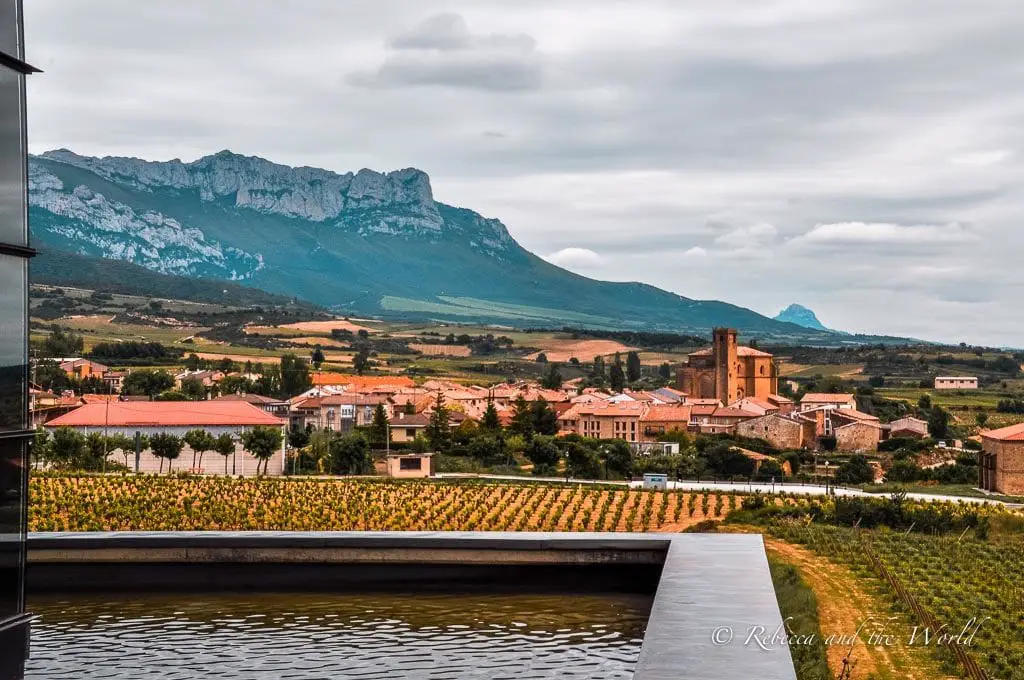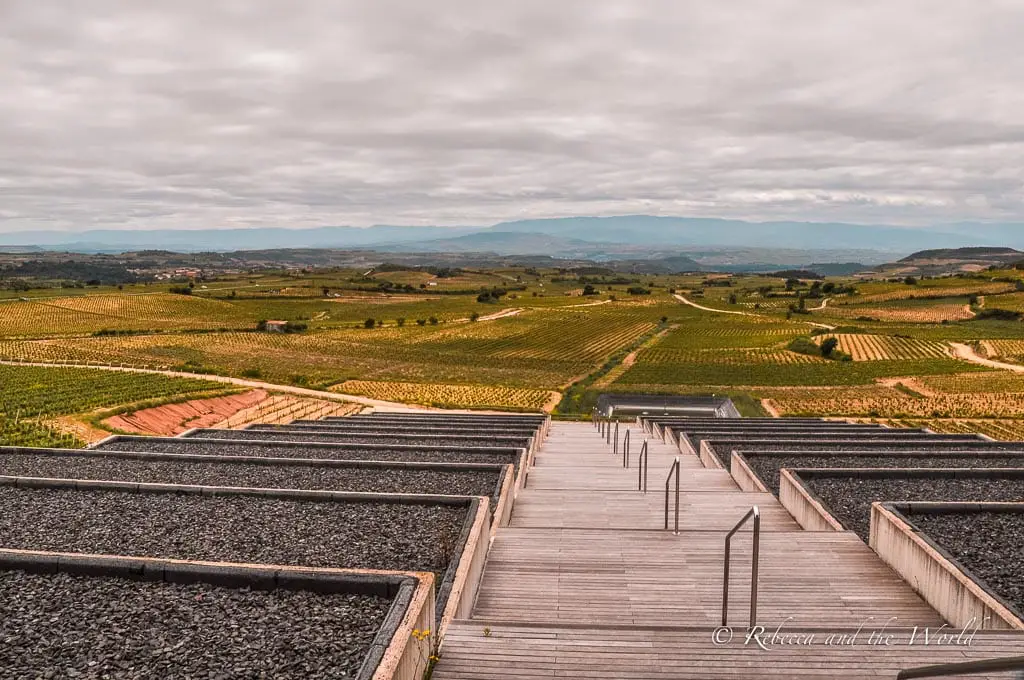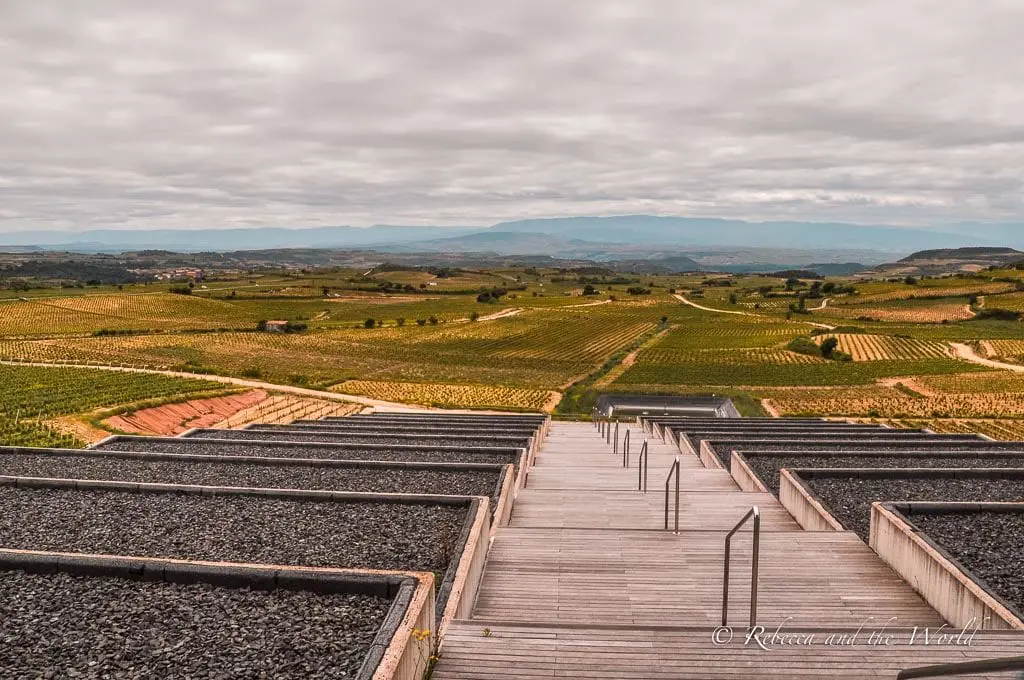 Baigorri uses gravity in its production system; there are no pumps. Descending into the depths of the James Bond-style building, we came across silver metal tanks holding thousands of litres of wine, stark concrete flooring and a clever gantry.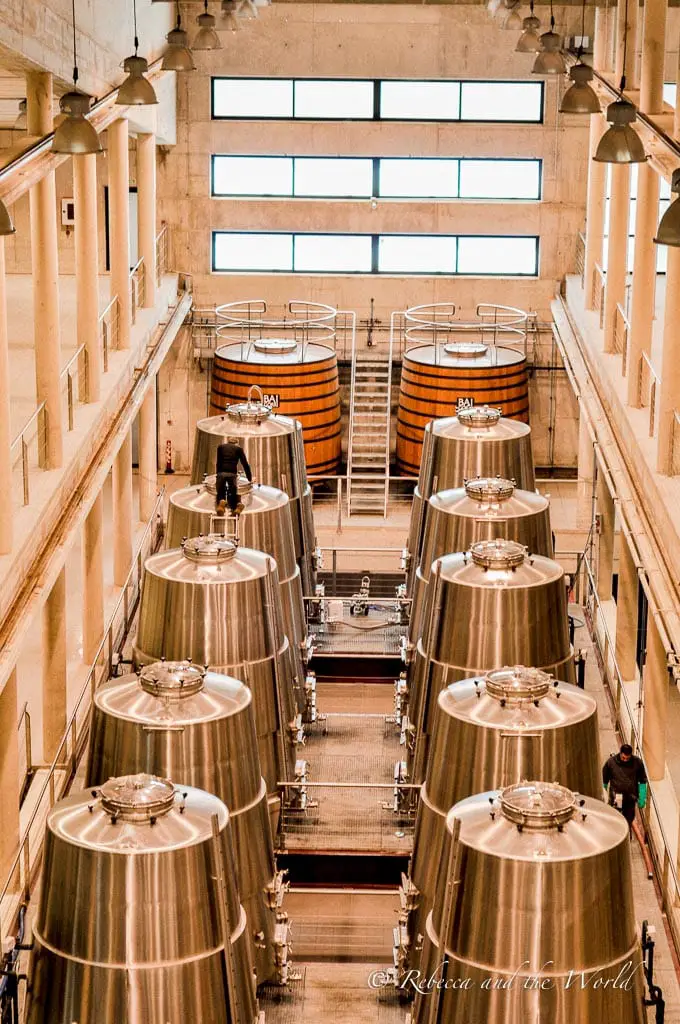 It was here that we had lunch, on the lowest level of the winery. The view from here was stunning – we weren't completely underground as the side that we were sat on peeked out of the mountain and in front of us stretched sun-drenched vineyards bordered by mountains.
Lunch was a five-course gourmet meal that included almond gazpacho and Iberico pork jowl slowly cooked in red wine, finished off with panna cotta with blueberry jelly. And eight different varieties of wine.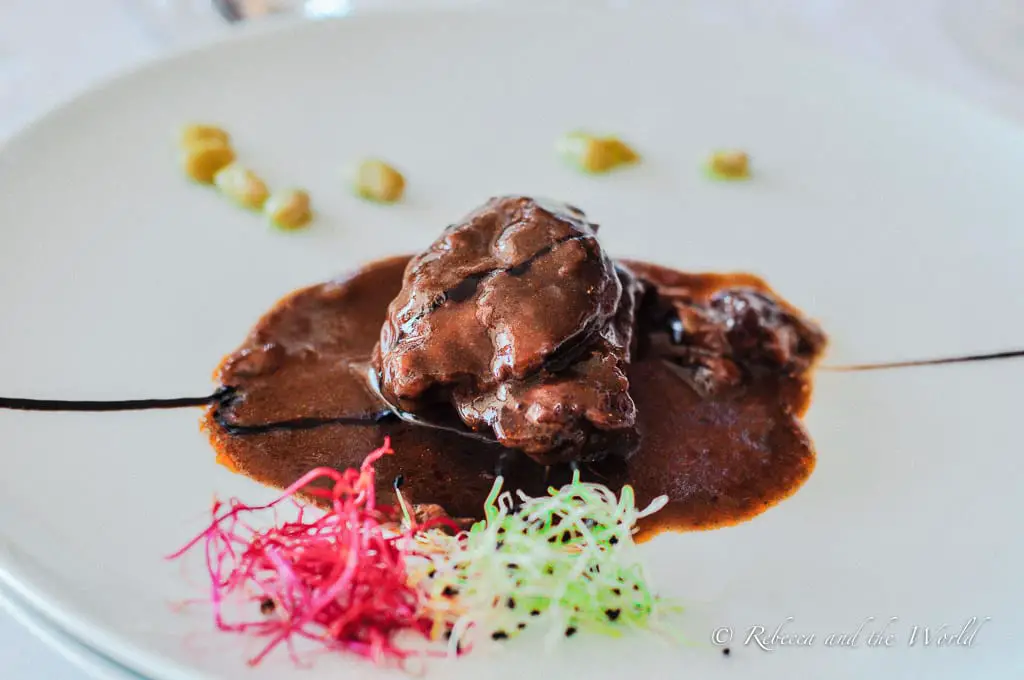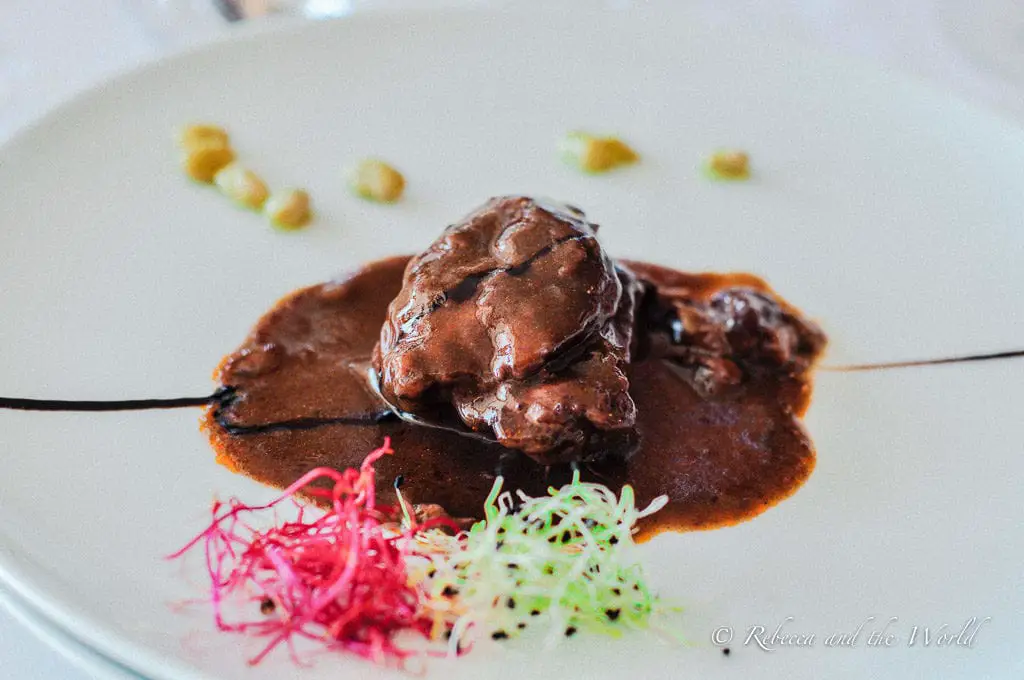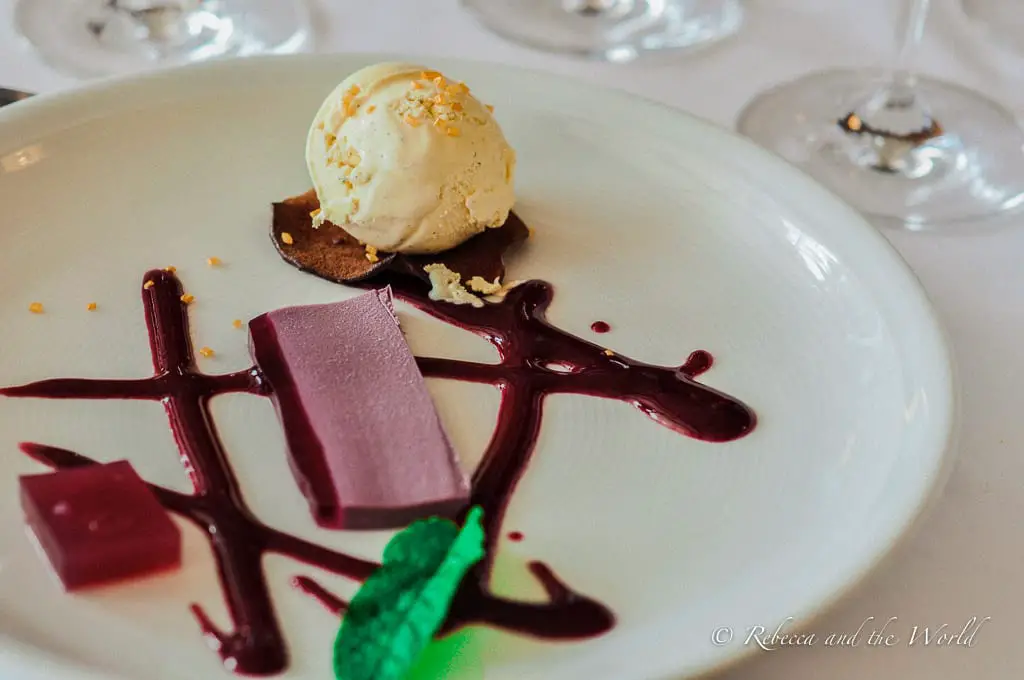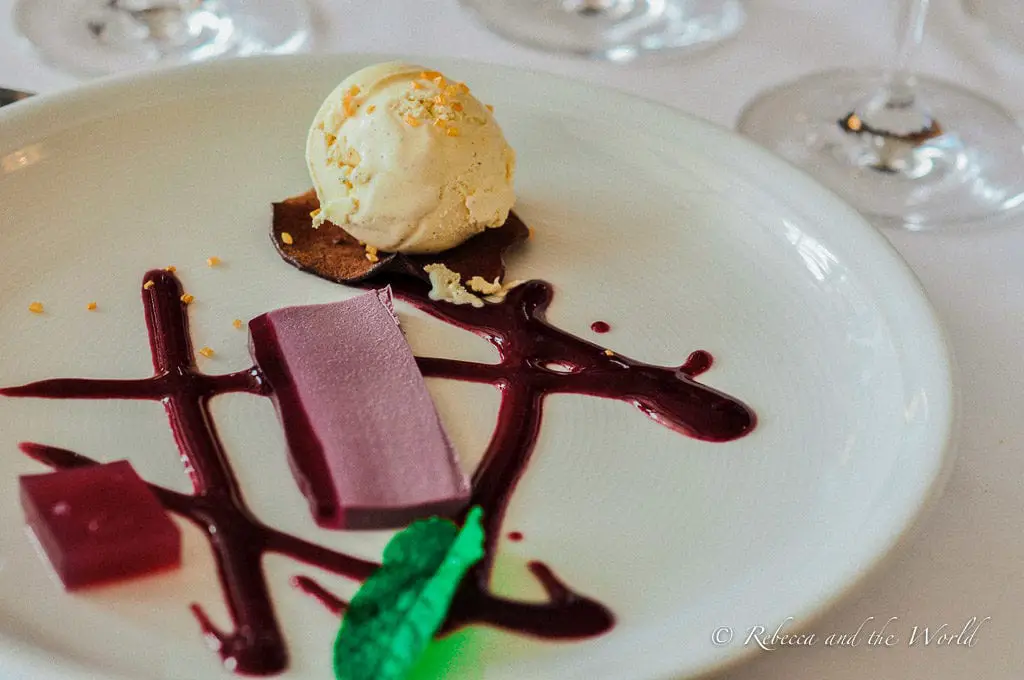 Bodegas Carlos San Pedro
Fully satisfied, we nodded off in the car as we drove to the final winery, located in the gorgeous medieval town of Laguardia. Narrow, winding streets belied the fact that built under these houses are hundreds of caves. Only a few are now in use, including at Bodegas Carlos San Pedro, a 600-year-old cellar. We made our way eight metres underground into a cool cellar and sampled wine straight from the barrel.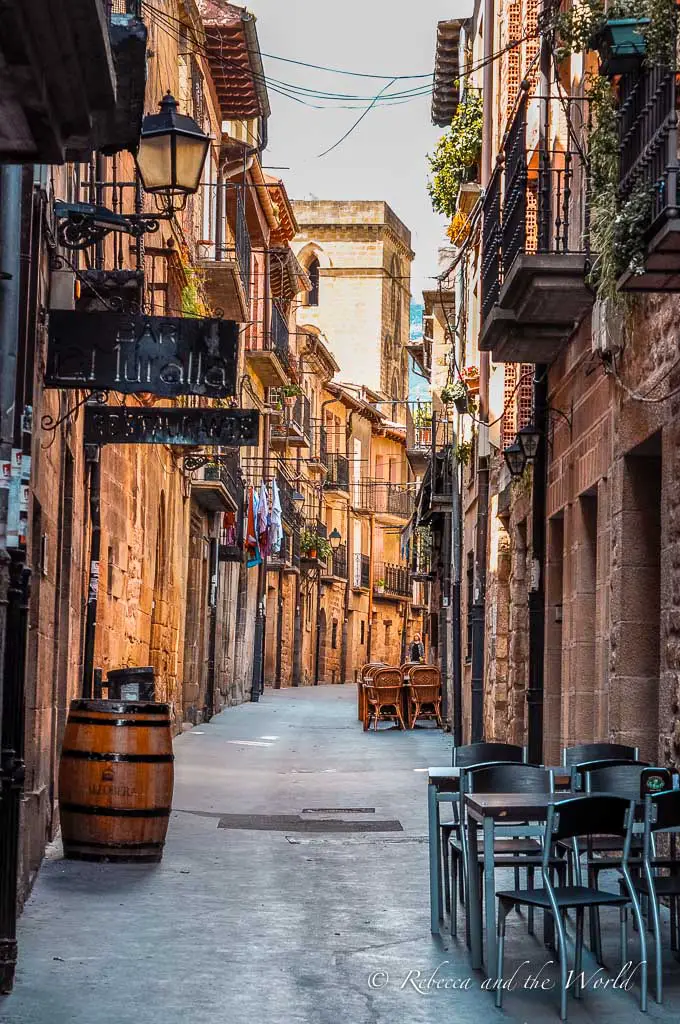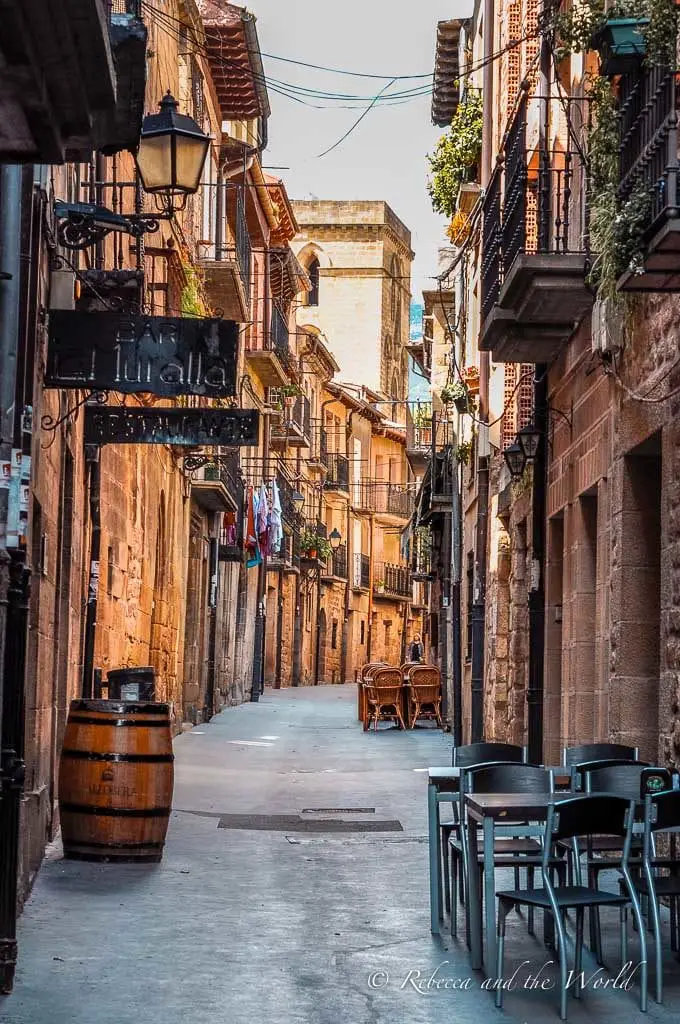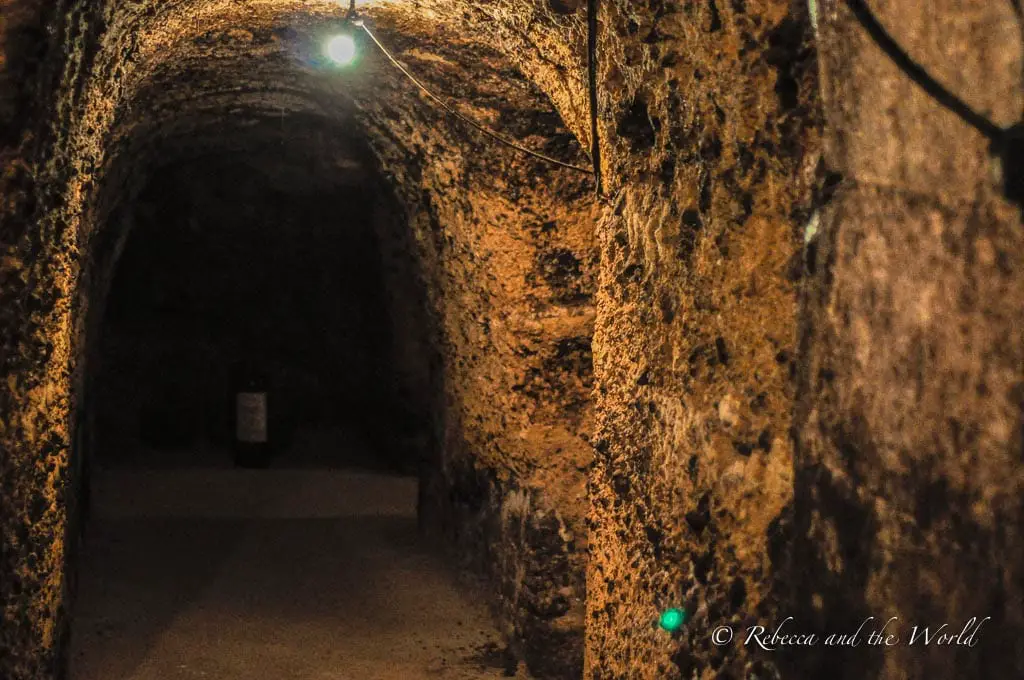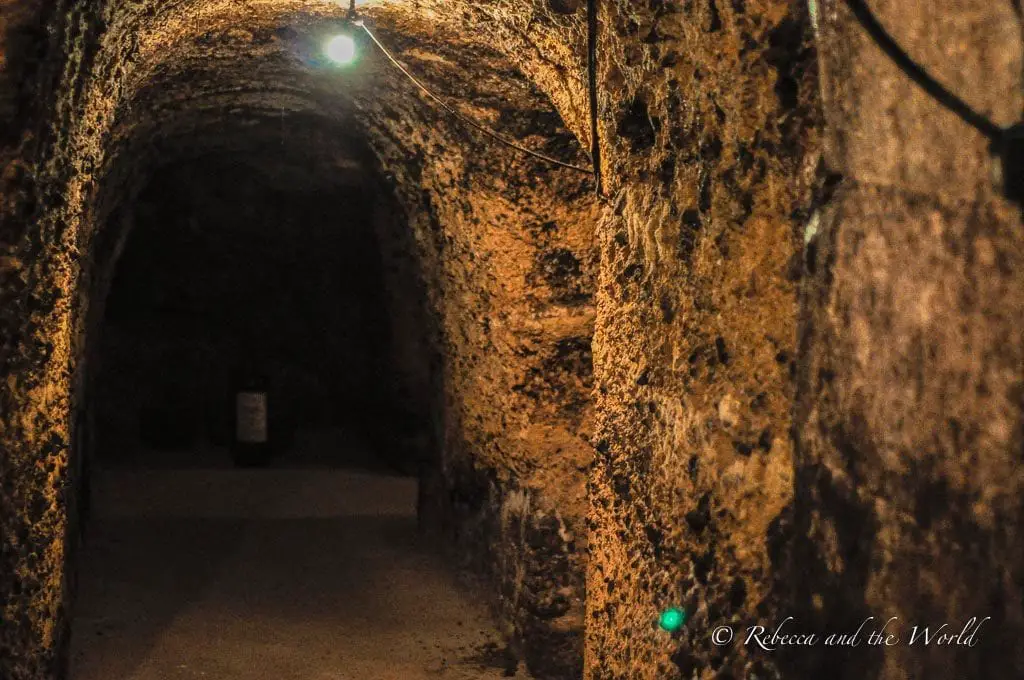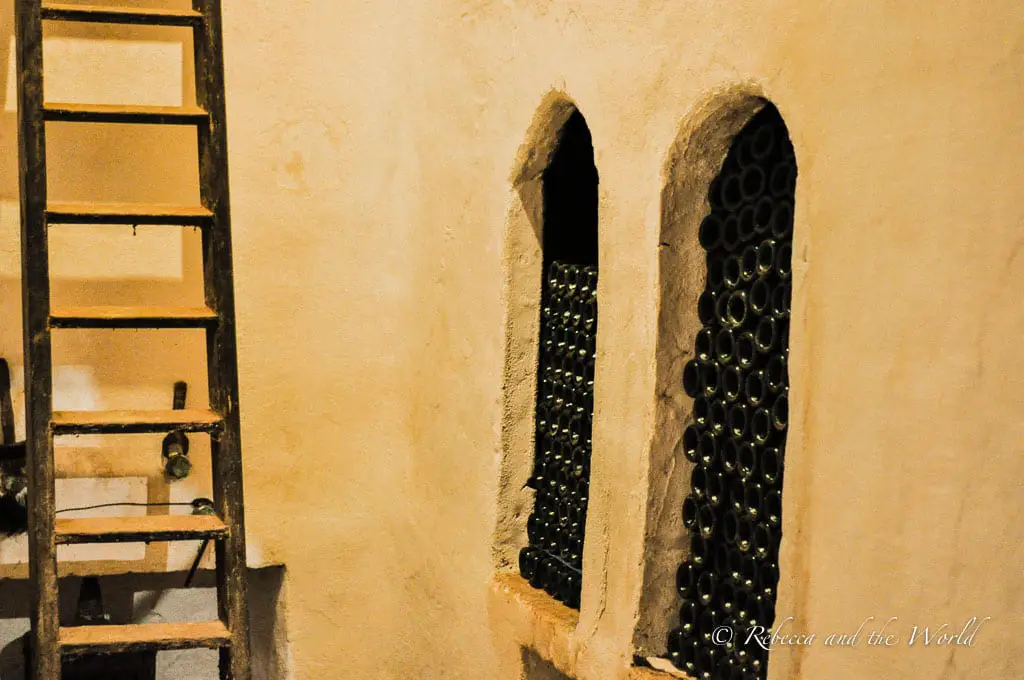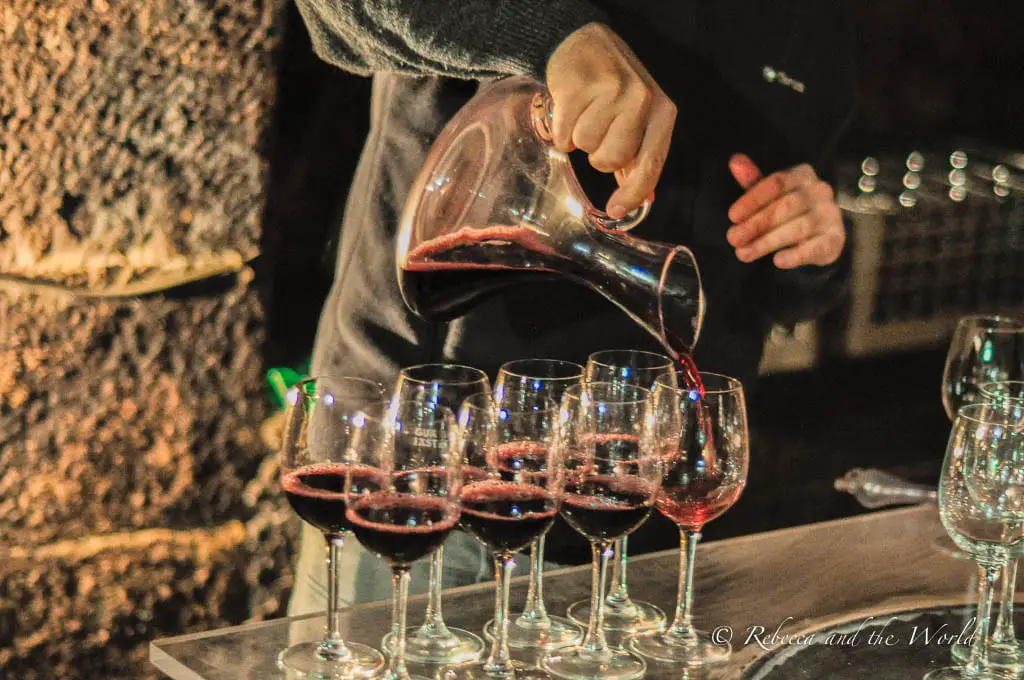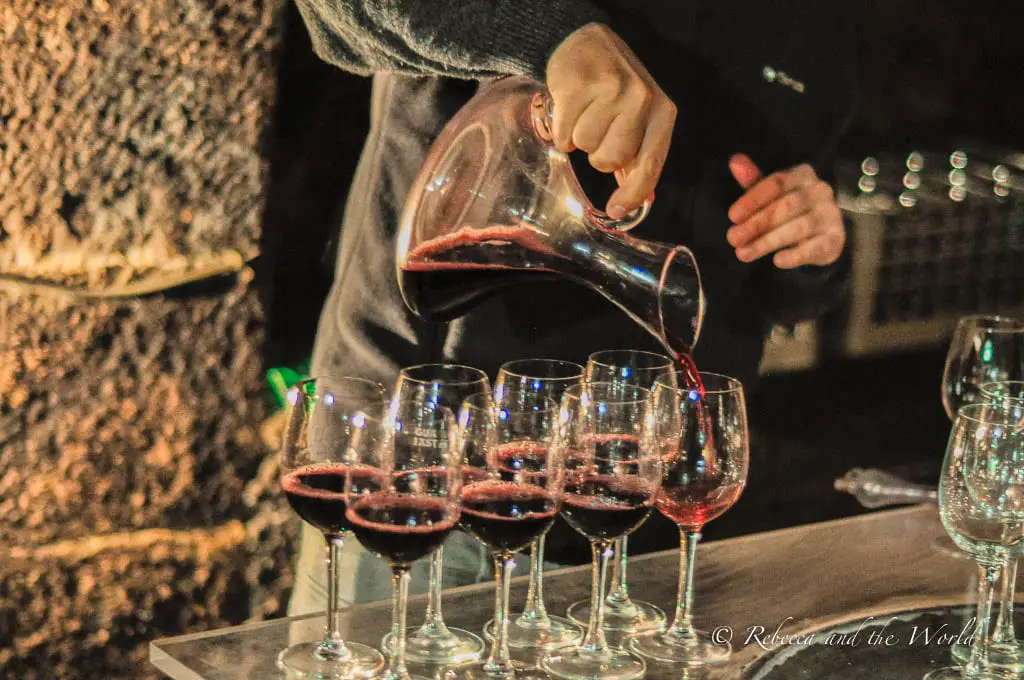 As we drove back into San Sebastián, the persistent rain we'd experienced during the entirety of our visit once again broke through. So, happily tipsy after a day sipping plenty of red wine, we made our way directly to the nearest pintxos bar to continue the indulgence.
La Rioja bodegas
Here are the details of the wineries we visited on our La Rioja wine tour:
Bodegas Muga
Address: Avda. Vizcaya, 2. Barrio de la Estación, 26200 Haro
Phone: +34 941 311 825
Website: https://www.bodegasmuga.com/en/
Bodegas Baigorri
Address: Carretera Vitoria-Logroño, km 53, 01307 Samaniego, Álava
Phone: +34 945 609 420
Website: http://www.bodegasbaigorri.com/
Bodegas Carlos San Pedro
Address: C/ Paganos nº44 01300 Laguardia
Phone: +34 945 621 111
Website: https://www.bodegascarlossanpedro.com/en/home/
More recommended La Rioja wineries
While I recommend doing a La Rioja wine tour, if you'd prefer to do a self-guided tour of La Rioja or hire a driver, here are some other recommended wineries in La Rioja.
Bodegas Marques de Riscal
We drove past this famous La Rioja bodega and hotel on our day trip to La Rioja. Designed by Frank Gehry (who also designed the Guggenheim Bilbao Museum, this futuristic building is like ribbons of titanium piled on the side of the highway. You can tour the facilities and dine at the award-winning restaurant onsite.
Address: Torrea, 1, 01340 Elciego, Álava
Phone: +34 945 180 888
Website: https://www.marquesderiscal.com/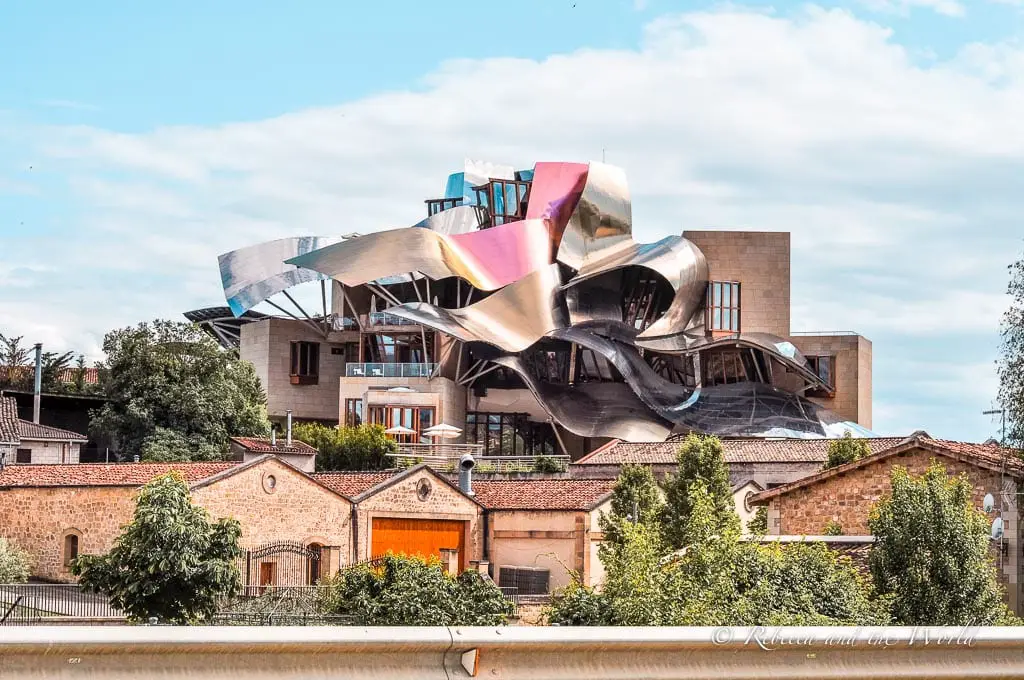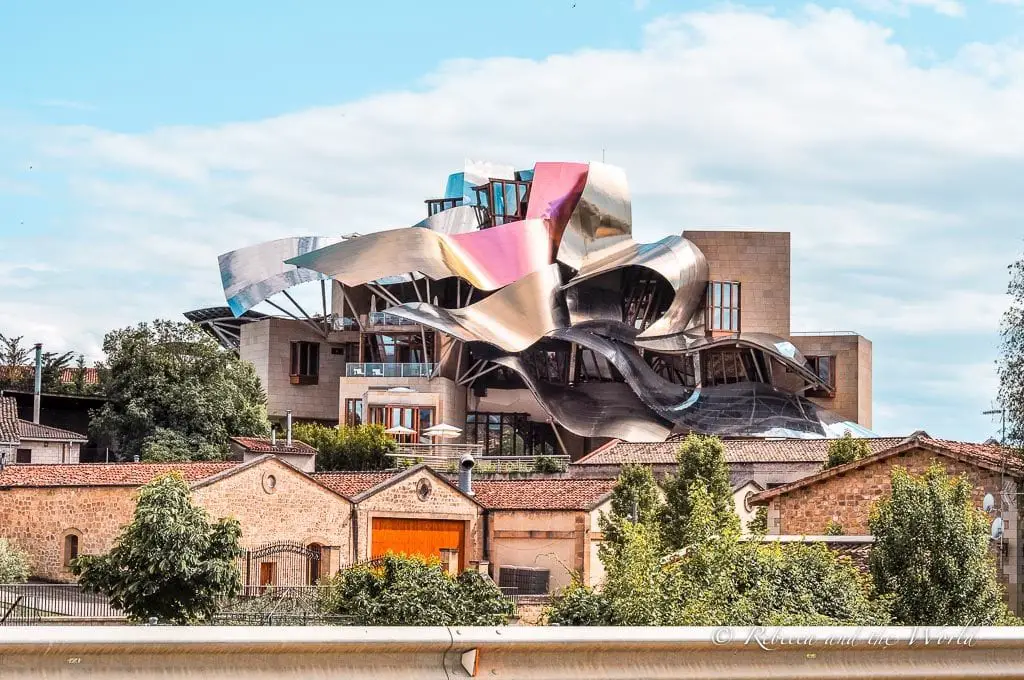 Bodegas Ysios
Located in yet another incredible building, Ysios winery has a variety of tastings including tutored tastings and tastings paired with walks around the vineyard.
Address: Camino de La Hoya s/n 01300 Laguardia, Álava
Phone: +34 945 600 640
Website: http://www.bodegasysios.com/en
López de Heredia
With more than 140 years of wine-making history, López de Heredia is the oldest bodega in Haro and one of the first bodegas in the entire Rioja region. Tours last two hours and can be provided in a number of languages. You must reserve a tour in advance.
Address: Avda. de Vizcaya, 3. 26200 Haro
Phone: +34 941 310 244
Website: http://www.lopezdeheredia.com/
Dinastia Vivanco
Bodega, restaurant and wine museum all in one, Dinastia Vivanco is a great one-stop shop for wine lovers. This family-run bodega is a must on a visit to the La Rioja wine region.
Address: Carretera Nacional 232, 26330
Phone: +34 941 322 323
Website: http://vivancoculturadevino.es/es/
Ostatu
Founded in the 1960s, the family that runs this bodega has links to wine back to the 16th century. The winery is attached to an 18th century mansion which was, until 2009, the family's home. You'll need to book ahead for a tour, but you can enjoy a tasting in the wine bar without a reservation.
Address: Carretera de Vitoria, 1, 01307 Samaniego
Phone: +34 945 609 133
Website: https://www.ostatu.com/en/
Tips for a self-guided wine tour of La Rioja
If you don't want to do a wine tour and prefer to explore the area yourself at your own pace, then here are a few tips to keep in mind.
You can hire a car in Bilbao, San Sebastián or Logroño, the capital of La Rioja. Public transport isn't widely available in the area – at least, not that you can coordinate to put together a wine tour.
Have a designated driver! Be safe!
If you don't want to drive, then consider booking a driver to take you around.
Plan out your wineries in advance and plot them out on Google Maps so that you can determine the best route.
For many Rioja wineries, you'll need to reserve a wine tasting in advance, usually a few days ahead. Check websites for booking information.
Plan to visit 2-3 wineries in a day, no more – you'll struggle to fit anymore into a day.
Wineries charge a fee for tastings, usually between €10 and €25.
Don't forget to eat during the day! The wine pours are pretty big in La Rioja. Bring snacks with you and stop for a delicious lunch in one of the small villages you'll pass through. Many Rioja wineries also serve lunch or have snacks and pintxos for sale.
If you're really into Rioja wine, consider staying in the area for two or three days. We actually stayed in San Sebastián and did a day trip from there, as I've said, but there are plenty of lovely hotels so you can base yourself in La Rioja. Here are a few suggestions for where to stay in the Rioja wine region:

Bodegas Marques de Riscal – this amazing winery is also a hotel. Each of the 43 rooms has gorgeous views of the vineyards. There's an onsite wine therapy spa and award-winning restaurant. Check the latest rates online and book your stay now.
Hotel Finca de los Arandinos – with only 14 rooms, this minimalist hotel just outside of Logroño is a beautiful choice. Compare prices and book a night or two online now.
Hotel Calle Mayor – located right in Logroño is this 4-star hotel. Rooms are modern and minimalist, and there's a rooftop terrace. Check rates online now.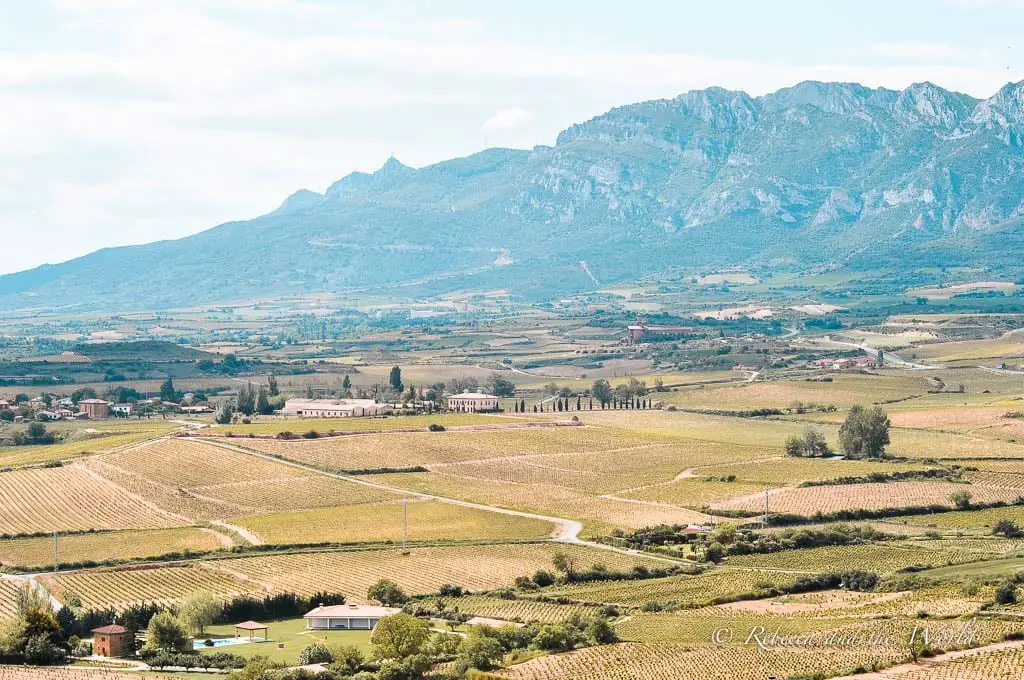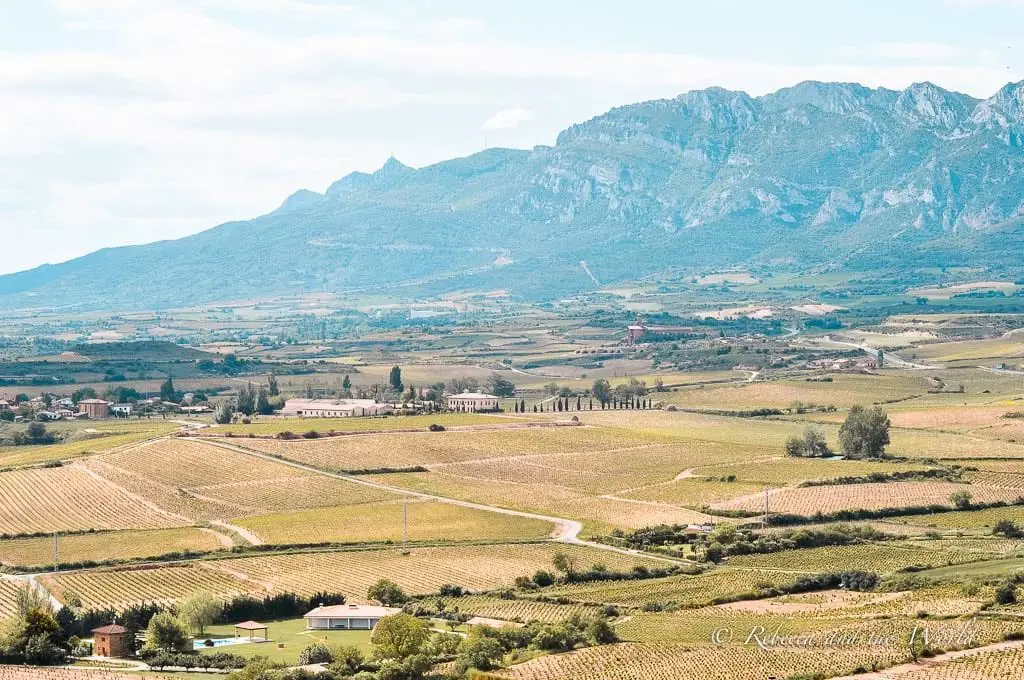 When to visit La Rioja
There's no bad time to visit La Rioja, but the best time to visit is in late spring and early summer when the vines are full and green. Book well in advance if you plan to visit between May and October.
The harvest takes place in September and October. In autumn, the leaves turn to gold so it's a great time to see the leaves changing colour.
If you want to plan a trip around a fun time, then look into booking a visit during the Batalla del Vino, literally "battle of wine". I only just learned about this festival and would love to experience it!
Every June, hundreds of litres of red wine are used to soak attendees. The festival's history stretches back hudnreds of years to wine baptisms! You need to wear all white and tie a red handkerchief around your neck – obviously wear clothes you don't mind getting ruined!
Would you take a La Rioja wine tour or prefer to do it yourself? I'd love to hear about your favourite bodegas in La Rioja, leave them in the comments below!
This post was written in July 2013, and updated in August 2019.
PIN IT FOR LATER: