Oh, Seville. After only two days in this magical city I left with a dream of living here one day, or at the very least coming back again multiple times. It's a city that's so walkable, so relaxed vibe. No one seems to be in a hurry, everyone seems to be enjoying life. We packed in incredible architecture, delicious food, and plenty of the city's rich culture and history into only 2 days in Seville, although I would have loved to spend more time there! Seville was definitely one of the highlights of our Andalucía road trip.
If you're like me and you only have two days in Seville, I'm here to share with you the top 10 things you must see in Seville so that you can plan your visit. And number 11 on the list should be booking a return flight to Seville as soon as you leave!
I've broken this post up into three sections: a Seville travel guide with what you need to know before you visit Seville, a list of the top things to do in Seville and my recommended two-day Seville itinerary. I've even thrown in a few extra places to visit in Seville, just in case you're lucky enough to have longer than two days!
If you want to save this post to read later, click on the below images to pin it to Pinterest!
This blog post may contain affiliate links, meaning if you book or buy something through one of these links, I may earn a small commission (at no extra cost to you).
Seville travel guide
Before you start planning what to do in Seville, here's some important planning information.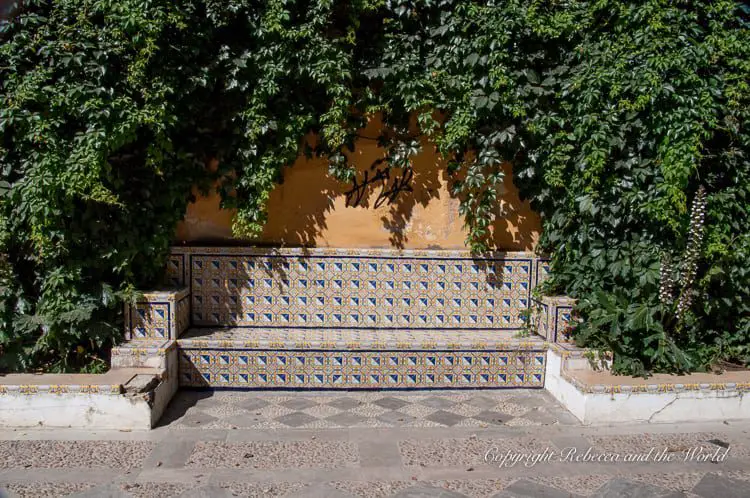 Best time to visit Seville
If you're wondering when to visit Seville, well, like the rest of Andalucía, there's not really a bad time to visit Seville. But of course there is a best time to visit Seville, and I'd say that that's the months on either side of summer. At this time of year – May and June, October – you'll find the weather cooler and there'll be fewer crowds. I visited Seville in June and we had such lovely weather each day, with warm, sunny days and cooler evenings.
In March and April there are two big festivals to be aware of. You'll either want to avoid these or plan in advance to be in Seville so you can join in on the fun. The two festivals are Semana Santa (Easter) and Feria de Abril (carnival) and the city (and most of Spain) is packed during these weeks.
Seville is H-O-T in summer. July and August are also months when many Spaniards pack up the house and head off on their own summer holidays, so you if you visit then, you may actually find yourself in Seville surrounded by foreigners and few people from Spain!
Winter months are relatively mild but there can be quite a bit of rain. If you time your trip in January or February you can avoid most of the rain and take advantage of the shoulder season's lower prices.
How to get around Seville
By far the best way to get around Seville is on your own two feet. It's an easily walkable city and even with only 2 days in Seville you'll clock up some miles as you explore everything the city has to offer.
If you arrive in Seville by car, you'll face challenges finding parking and driving down narrow, one-way streets. It's not a fun way to begin a holiday (trust me). Check with your hotel first to see if they have parking or can tell you the closest public parking options. Public car garages cost between €12 and €24 a day.
Taxis in Seville are plentiful. Make sure to have small change. Most taxis accept credit card as well.
Seville's bus system is extensive and the C1, C2, C3 and C4 lines will take you to the best Seville attractions. Tickets cost €1.40 per trip, but you can purchase a multi-trip card (tarjeta multiviaje) which reduces the costs of each journey. You'll save money by buying this card for your 2 days or weekend in Seville.
You can use this same card on the tram (called the Metro-Centro). The tram has a fairly small network, covering only 1.4 kilometres and four stops. Although nowhere near as extensive as the bus network, you can still use the tram to access many of the best things to do in Seville.
Like many major cities around the world, Seville also has a bike rental system. Visitors can purchase a short-term subscription for €13.33 (€14.33 if you add insurance) and pay between €1.03 and €2.04 per hour after the first 30 minutes. You'll need to pay a deposit of €150 (fully refunded at the end of your subscription).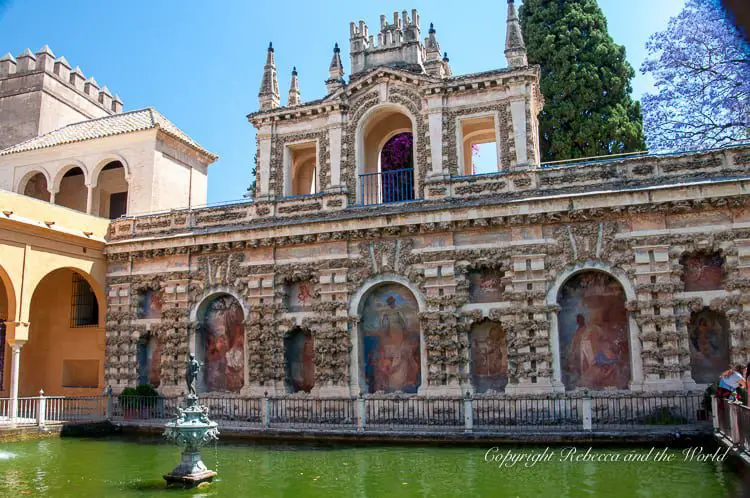 Where to stay in Seville
You won't be at a loss to find somewhere to stay in this city. There are some beautiful hotels in Seville, many of which are in former palaces or mansions. The best area to stay in Seville is Barrio Santa Cruz, where you'll be close to the main sights.
Take a look at Airbnb for Seville accommodation options – you can find some beautiful lofts and unique apartments in lovely old buildings. Our Airbnb in Seville was fine, but unfortunately not worth recommending here. I did find a couple of other Airbnbs which look far better than the place we stayed in! I'm in love with the decor of this bright and airy loft (located right in the heart of Seville), or this typical home has gorgeous tiling, which reminds me of the many beautiful designs you'll see around Seville.
Hotel Alfonso XIII (Calle San Fernando, 2) recently underwent a major renovation and looks gorgeous. It's considered one of the best hotels in Seville.
EME Catedral Hotel (Calle Alemanes, 27) is a five-star hotel with a rooftop terrace and sauna.
An old converted palace on the edge of the old town, Hotel Palacio de Villapanes (Calle Santiago, 31) is a stylish option.
If you're travelling solo or on a budget, check out the best hostels for solo travellers in Seville.
The best things to do in Seville
Map of what to see in Seville in 2 days
Let's start off with a map of the the best Seville attractions so that you can picture where everything is. As you can see, this itinerary sticks within a small area of the city, so it's easy to walk around to visit each site.
Real Alcázar
I'd been blown away by the stunning architecture in Granada, and Seville proved no different. The Real Alcázar – or the royal palace – is a must do, especially if you only have 48 hours in Seville. The oldest royal palace still in use in Europe, it was declared a UNESCO World Heritage site in 1987.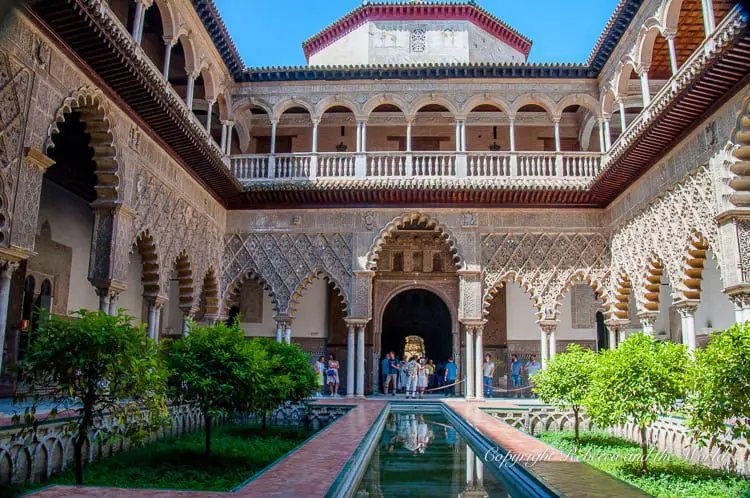 Spend a few hours wandering through the palace grounds, exploring the beautifully manicured gardens and the intricate Islamic and Christian influences in each room.
The Real Alcázar is so stunning that it was chosen as the setting for Dorne, the fictional home of the House of Martell in Game of Thrones.
This is one of the top Seville tourist attractions, so make sure to buy your tickets online in advance as the queue usually snakes all the way around the corner. Go early in the morning to avoid the crowds. Audio guides are available for hire in a number of languages. One thing I wish we'd done when we visited the Real Alcázar is book an actual guide so we got some more information about what we were looking at. This skip-the-line, 90-minute tour looks like a good option (and gets great reviews).
To visit the upper royal apartments – still in use by the royal family today – you'll pay an extra fee and this must be booked in advance as the entrances are timed.
Address
Patio de Banderas
Cost
Tickets for the palaces and gardens cost €11.50 plus €6 for an audio guide. It's €22 for tickets that includes entrance to the upper royal apartments (including audio guide). Online bookings incur an additional €1 booking fee. On Mondays, entrance is free (but again, make sure you book in advance!).
Opening hours
The Real Alcázar is open from Monday to Sunday, 9.30 a.m. to 5 p.m. from October to March, and from 9.30 a.m. to 7 p.m. from April to September. The palace is closed on January 1 and 6, Good Friday and December 25.
Casa de Pilatos
I don't think I would have put the Casa de Pilatos on our Seville itinerary if a friend of mine hadn't recommended it to me. I'm so glad she did. We found it to be far less touristy than other sights in Seville – but no less impressive.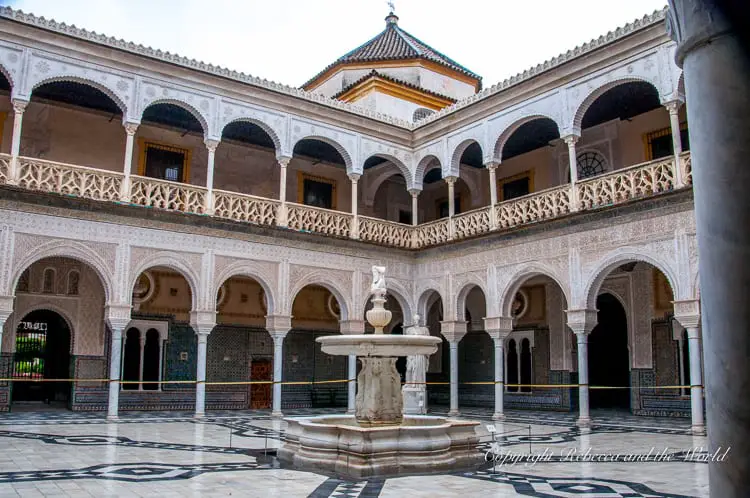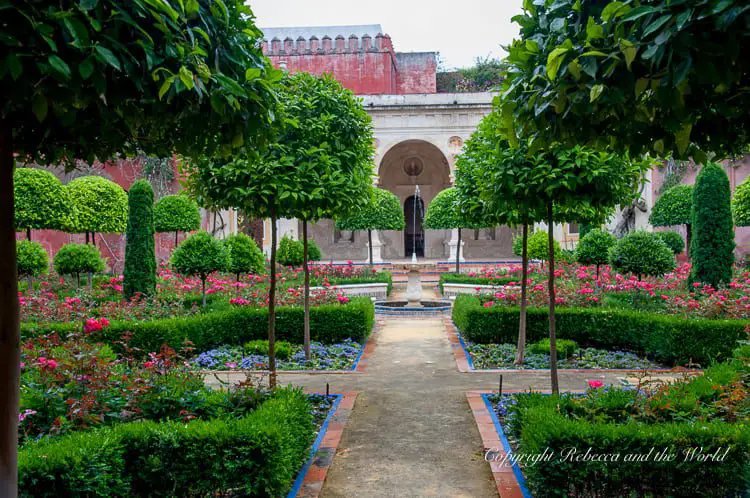 This gorgeous Andalucían palace is adorned with thousands and thousands of beautiful tiles and is a mixture of Italian Renaissance and Spanish Mudéjar styles. It was opened in 1483 and is still occupied by the Dukes of Medinaceli.
Address
Plaza de Pilatos, 1
Cost
For a ticket to view the entire complex (with a guide tour of the upper floor) you'll pay €12. A ticket for the ground floor only is €10. Tickets include an audio guide in multiple languages.
There's usually no need to buy tickets in advance. Morning is the best time to visit to avoid crowds.
Opening hours
The Casa de Pilatos is open daily from 9 a.m. to 6 p.m. November to March. In summer (April to October) there are extended opening hours from 9 a.m. to 7 p.m.
Seville Cathedral and La Giralda
We stayed in Barrio Santa Cruz and we passed by the Seville Cathedral at least two or three times every day as we explored the city. At night, it's imposing in its grandeur, glowing golden in the darkened sky. Inside, the cavernous building is filled with delicate leadlight windows, and ornaments and altars dripping with gold. The cathedral is the final resting place of Christopher Columbus. Even if you're not into churches, the cathedral is one of the highlights of Seville.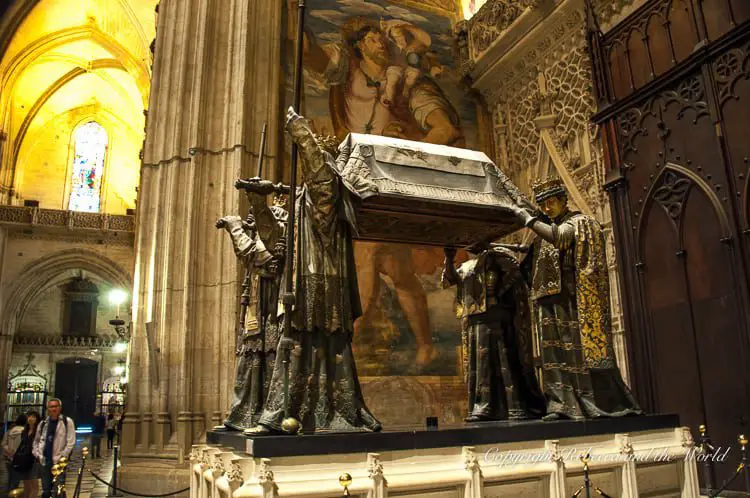 You can climb to the top of La Giralda, once the ancient minaret of the demolished mosque that stood on this site, and now the bell tower. It's almost 100 metres high, but don't stress: the way up to the top is a gently ascending ramp that is far easier than stairs (although there are still "are we there yet?" moments). From the top there are great views out over Seville.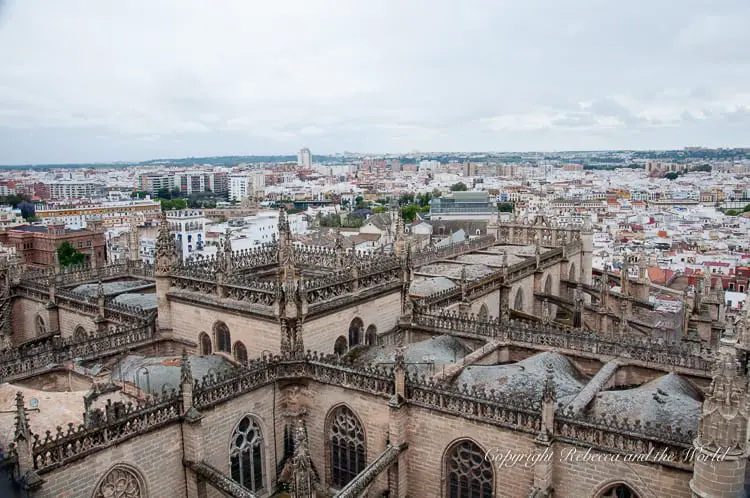 Address
Avenida de la Constitución
Cost
General admission is €9. During peak season, buy your tickets online to avoid the queues.
Opening hours
In July and August (except July 17 and 25), the cathedral is open:
Monday – 10.30 a.m. to 4 p.m.
Tuesday to Saturday – 10.30 a.m. to 6 p.m.
Sunday – 2 p.m. to 7 p.m.
The rest of the year the cathedral's hours change:
Monday – 11 a.m. to 3.30 p.m.
Tuesday to Saturday – 11 a.m. to 5 p.m.
Sunday – 2.30 p.m. to 6 p.m.
Plaza de España
With only 2 days in Seville, make sure to put the Plaza de España on your Seville itinerary. We walked over to Plaza de España one cool evening. Built in the 1920s when Seville hosted the Ibero-American Exposition World's Fair, the huge half moon-shaped building is now home to government offices.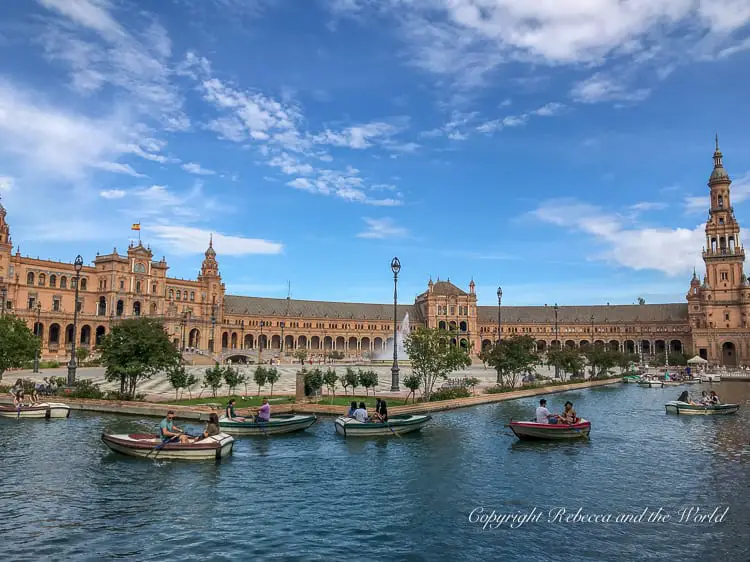 Spend some time exploring the ornate mosaic tiles of the alcoves that represent each of the provinces in Spain. This plaza really is one of the most beautiful things to see in Seville. Or you could hire a rowboat and join the couples and families rowing their way around the moat (some not so successfully wielding the oars).
It's a gorgeous place and, for me, a must-see in Seville.
Address
Avenida de Isabel la Católica
Parque de María Luisa
Just across the road from Plaza de España is Parque de María Luisa. This large park is dotted with orange trees, hidden fountains and tiled benches. It took us more than half an hour to wander from one side to the other.
You can even hire bikes to explore the gardens for an afternoon. It's the ideal spot for a picnic or to rest from the heat of Seville in summer.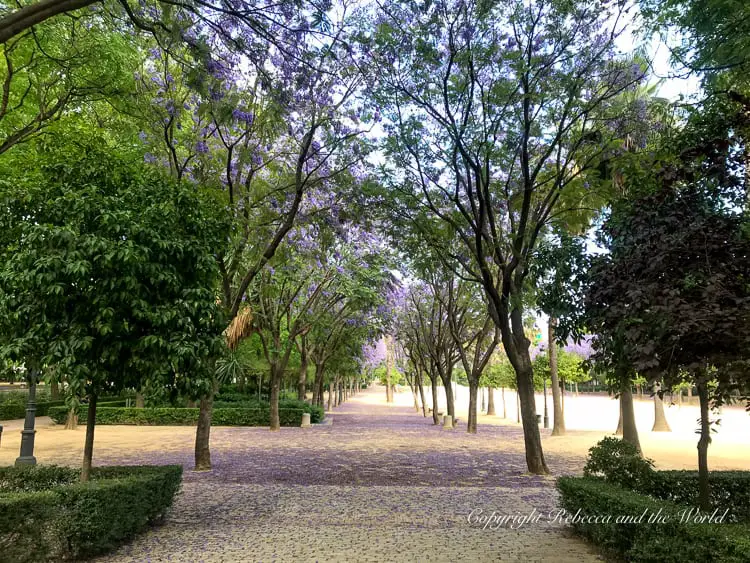 Address
Paseo de las Delicias
Metropol Parasol
Also known as Las Setas because of its resemblance to mushrooms (setas are mushrooms in Spanish), this unique structure is the brainchild of German architect Jürgen Mayer. At 26 metres high, it's one of the largest wooden structures in the world.
It's not without controversy, due to its appearance and the cost to construct it.
At night, it's lit up and during the day offers great views of Seville. You can take the elevator to the top and weave your way across the top of the mushrooms via the walkway. One of the more unique things to do in Seville!
Address
Plaza de la Encarnación
Cost
To get access to the rooftop walkways costs €3. Access to this area is from the basement next to the Antiquarium entrance.
Opening hours
Sunday to Thursday – 10 a.m. to 11 p.m.
Friday – Saturday – 10 a.m. to 11.30 p.m.
Bullring and museum
Whatever your views on bullfighting, it's part of Spain's culture. The bull ring – the Plaza de Toros de la Real Maestranza de Caballería de Sevilla (how's that for a mouthful?) – is worth a visit to understand this controversial sport.
Visits can only be done as part of a guided tour, run every 20 minutes. Visitors receive an audio guide and are led through each section by a bilingual guide (trilingual in our case, she switched between English, Spanish and French without blinking). It does feel rushed because the audio guide's descriptions of each place are quite lengthy and you barely get to finish each one before you're shuffled on to the next part. Still, it's interesting to learn about some of the most famous matadors and to sit in the plaza de toros imagining the crowd going wild and the bull's terror.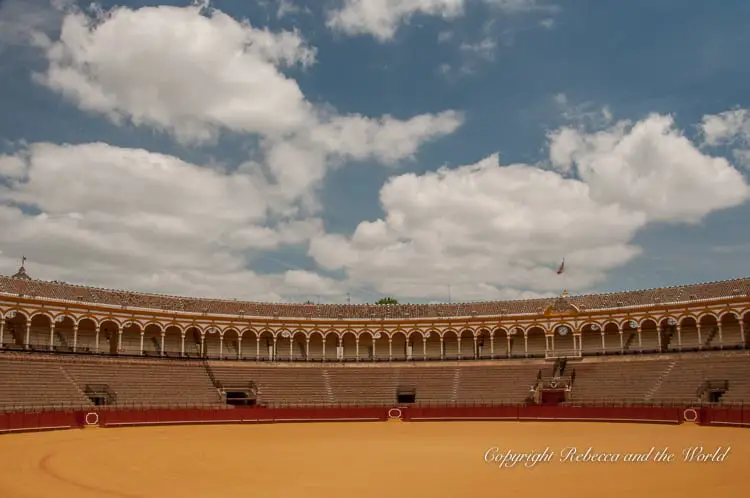 To see a real bullfight (not my thing), the season is from Easter Sunday through to October, with fights held on Sunday evenings.
Address
Paseo de Cristóbal Colón, 12
Cost
€8 for the guided tour (free entry Mondays from 3 p.m. to 7 p.m.). If it's peak season, book a skip-the-line ticket online to reserve your spot.
Opening hours
November to March – 9.30 a.m. to 7 p.m. daily (closed December 25)
April to October – 9.30 a.m. to 9 p.m. daily
Hours change on Good Friday and bullfighting days, so confirm ahead of time.
Tapear in Seville
A list like this wouldn't be complete without mentioning the food in Seville. Food is so important in Spain there's even a verb for the art of enjoying tapas – tapear!
Sevillanos seemingly adore eating, and I loved passing by bars at lunch time when the outside tables were full of people picking at plates of jamón with a caña (small glass of beer) in hand. The Spanish certainly know how to enjoy life!
With only 2 days in Seville, you're not going to get a chance to try everything, but you can certainly do your best!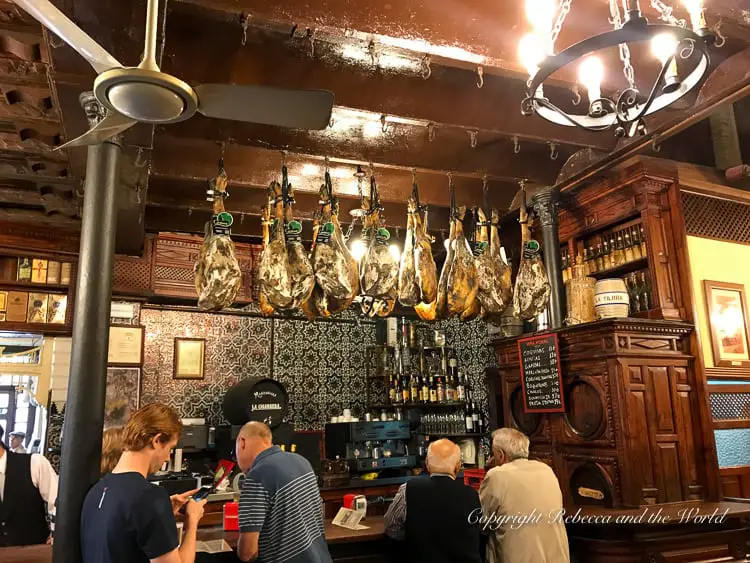 Here are three bars I recommend adding to your itinerary, and I also have a more detailed post about the best tapas bars in Seville.
El Rinconcillo is the oldest bar in Seville. It was opened in the late 1700s and doesn't appear to have changed much since then. Try the jamón bellota – it's pricey but totally worth it. This type of jamón comes from acorn-fed pigs who wander through the forest and it's one of the most expensive (and delicious) hams on the market.
Calle Gerona, 40
Open daily 1 p.m. to 1.30 a.m.
For a fun atmosphere, try Bodeguita Romero, which has been run by the same family for generations. We went several times during our 2 days in Seville, and it was always packed with people no matter the time of day. Have three or four tapas with a glass of tinto de verano or a local beer.
Calle Harinas, 10
Monday – closed
Tuesday to Saturday – noon to 5 p.m. then 8 p.m. to midnight
Sunday – noon to 5 p.m.
La Bartolomea serves modern tapas in a funky spot. They have a great wine menu and wonderful staff.
Calle Pastor y Landero
Monday – closed
Tuesday to Saturday – 1 p.m. to 4 p.m. then 8.30 p.m. to 11.30 p.m.
Sunday – 1 p.m. to 4 p.m.
Catch a flamenco show in Seville
For an authentic experience of flamenco in Seville, grab a seat at one of the huge communal tables at La Carbonería and wait for the passionate performance to start. Sure, the place is filled with tourists, but the shows (which don't seem to follow a set schedule, as far as I can tell) feel more intimate and not flashy. Go around 10 p.m. and attempt to clap in time with the off-beat rhythm.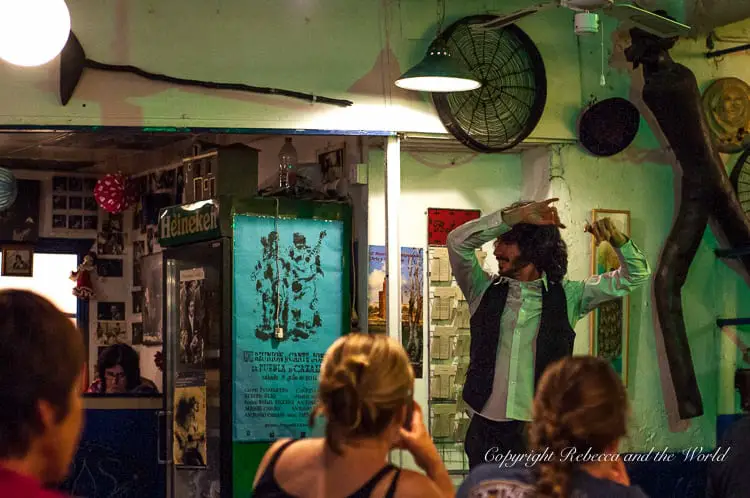 Calle Céspedes, 21
Free entrance
Open daily 7 p.m. to 2 a.m.
If you're interested in both a performance and learning more about flamenco, try this two-hour tour (with wine!). You'll learn about the origins of flamenco before immersing yourself in a performance.
For something more touristy but no less authentic, Casa de la Memoria holds two flamenco shows every night in a small theatre. Sit in the front row and expect to be sprayed with sweat from the no-holds-barred performers.
Calle Cuna, 6
€18
Shows held nightly at 6 p.m. or 7.30 p.m. and 9 p.m.
I would have loved to see more flamenco shows, but with only 2 days in Seville, we just didn't have the time.
Wander Barrio Santa Cruz in the evening
As you're heading from one tapas restaurant to another in the evening, take some time to linger around Barrio Santa Cruz. Near the cathedral you'll see buskers and street performers drawing small crowds. In the summer evenings, the vibe is relaxed and happy and you never know what kind of a show you'll stumble on. We were transfixed for a while by two guys playing The White Stripes' Seven Nation Army on violins.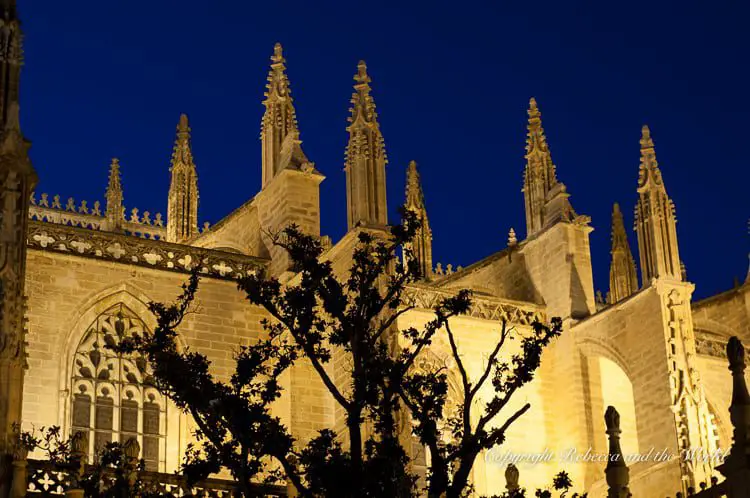 The perfect Seville itinerary
Ok, so now that I've shared what I think are the best things to do in Seville, here's my recommendation for how to turn it into a perfect 2-day Seville itinerary.
Day 1
Start your visit to Seville in the heart of the city. The Real Alcázar is absolutely gorgeous, but as I mentioned earlier, make sure you buy your tickets in advance to avoid a long line!
You could easily spend a whole day at the Real Alcázar but we don't have the time, so scoot off to the Seville Cathedral, followed by a climb to the top of La Giralda for the views over Seville.
If you'd prefer to have someone guide you through all three of these buildings, this 3-hour guided tour is a good option.
Stop for lunch at Bartolomea before taking a tour of the bullfighting ring. While I'm don't encourage the bloody sport, it is an important part of Spanish culture, and a tour gives an overview of the history of bullfighting in Spain.
Plan for a siesta in the afternoon before heading out for tapas for dinner and then seeing a late flamenco show at La Carbonería. The night doesn't need to end when the show does – there are plenty more tapas just waiting to be discovered!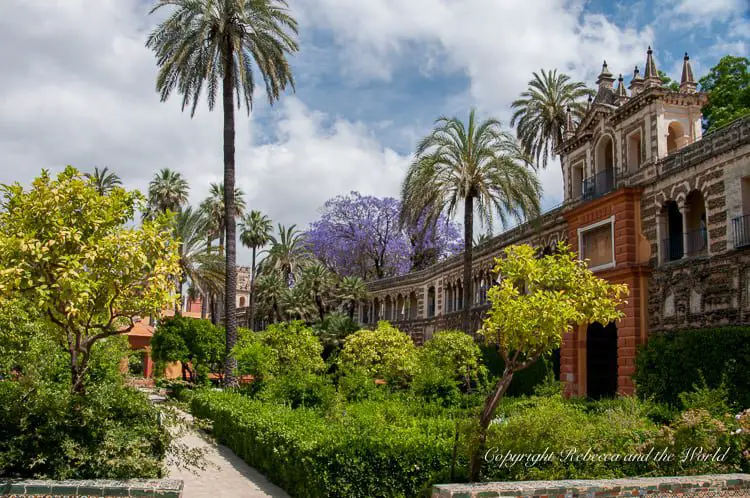 Day 2
After a sleep in, grab a traditional Spanish breakfast of eggs, pan con tomate y jamón, fresh orange juice, coffee and pastries. This will fuel you up for another busy day of sightseeing in Seville. Start the day wandering around the Plaza de España, checking out the alcoves that represent each province. If you're feeling more active (and it's the right time of year), rent a rowboat for a chilled paddle around the moat.
Next, head over to Parque de María Luisa and get lost in amongst the orange trees and fountains. It's especially nice here if the day is particularly hot.
Take a leisurely stroll back through the city to Casa de Pilatos to explore this 15th century home.
In the afternoon, wander the rooftop of Metropol Parasol – or do this at night when the whole place is illuminated.
There's still time for plenty of tapas, so make sure you explore a few more of the best tapas bars in Seville before you have to leave this wonderful city.
If you've got more than 2 days in Seville…
Well, lucky you! Got 3 days in Seville or even a week? Here are some suggestions for even more places to see in Seville:
Take a day trip or two. I've got a separate blog post with ideas for day trips from Seville – you can even take a day trip into Portugal!
Learn about maritime history at the Torre del Oro (Gold Tower). This tower was once a military watchtower and also a prison.
Head over the river to Triana to experience a more local area of Seville. In Triana you can wander through the Mercado de Triana, eat some more tapas (try this guided tour) or shop for beautiful tiles. Triana is also known as the heart of flamenco, so check out a local flamenco show here.
If you're a Game of Thrones fan or a history buff, head out to Italica to see the ancient Roman amphitheatre (aka where Cersei first saw a white walker). You can take public transport or join a bike tour.
Take a Spanish cooking class inside the Triana market where you'll learn how to make typical Spanish dishes.
While you're in the heart of flamenco, why not learn how to dance yourself? Take a 1.5 hour flamenco lesson and go home and impress your friends.
Regardless of how many days in Seville you have, you'll find this city filled with plenty to keep you busy. Hopefully this post helps you plan your own trip to Seville!
VISITING SEVILLE – YOUR TRIP ESSENTIALS
There are many great accommodation options in Seville, from ritzy hotels to funky boutique lodgings. Check prices on Booking.com and HotelsCombined online.
Pack everything you need for your trip to Seville in this suitcase.
Make sure you have comfy shoes for all the walking you'll be doing in Seville! These Keds are my favourite. 
Want to learn more about Seville? Pick up this Lonely Planet guide to Andalucía.
When it comes to travel insurance, World Nomads offers simple and flexible travel insurance. Buy at home or while traveling and claim online from anywhere in the world.
Have you fallen in love with Seville? How would you spend 2 days in Seville? Leave your tips in the comments below!
This post was published in September 2018, and was updated in October 2019.
PIN IT FOR LATER: