Start planning your trip with this guide to the top things to do in Ronda, Spain!
"I have sought everywhere the city of my dreams and I have finally found it in Ronda. There is nothing that is more startling than this wild and mountainous city."
– Rainer María Rilke, Austrian poet and novelist
Andalucía has a lot going for it. There's Seville, with its tiled patios and delectable tapas. Granada with the imposing Alhambra. The pueblos blancos of Zahara de la Sierra and Grazalema. The beautiful coastline.
But if there's one place in Andalucía that really stands out to me, it's Ronda. In a region of ridiculously gorgeous small towns, Ronda is jaw-droppingly stunning – worthy of all the travel writing clichés (you may see the word charming a few times in this post!).
I'd never heard of Ronda before I started doing research for our southern Spain road trip. But I'm so glad that I stumbled upon it and added it to our Spain itinerary.
Set among rolling green countryside, Ronda is one of those cities that immediately enchants. Here, your days will revolve around exploring in awe historical sites dating back centuries, and whiling away hours strolling the city's charming streets.
If you're visiting Ronda – or you're planning a trip to Andalucía and you haven't yet heard of this town – here are the best things to do in Ronda along with some handy travel tips.
Save this guide to the best things to do in Ronda so you can read it later – simply click on the "Save" button on the images below to save it to Pinterest.
This blog post may contain affiliate links, meaning if you book or buy something through one of these links, I may earn a small commission (at no extra cost to you).
History of Ronda
A city of around 35,000 people now, Ronda was first settled by the Celts in the sixth century BC. Julius Caesar later declared it a city in the first century AD. When I said this town is old, I meant it!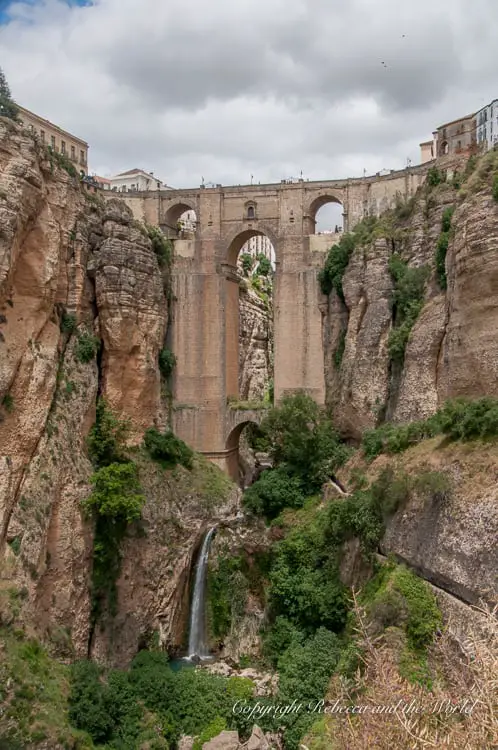 The town was also known as "Eagle's Nest" due to its perch high in the rocky mountains – precisely the reason it was strategically chosen. The original settlers defended the city ferociously, but over the centuries the Iberians, the Romans and the Moors have all laid claim to this pretty city.
Both the Peninsular and Spanish Civil Wars affected Ronda immensely, with huge population decreases due to death and emigration.
Ernest Hemingway and Orson Welles both spent time in Ronda and have been credited (or otherwise) for raising the popularity of the city through their writings.
Ronda travel guide – what to know before you go
Where is Ronda?
Ronda is in the province of Málaga in the southern Spain region of Andalucía. It's about 100 kilometres west of the city of Málaga. As I've mentioned already (and will continue to do so throughout this post!), Ronda is one of the most beautiful towns in all of Andalucía, if not the whole of Spain.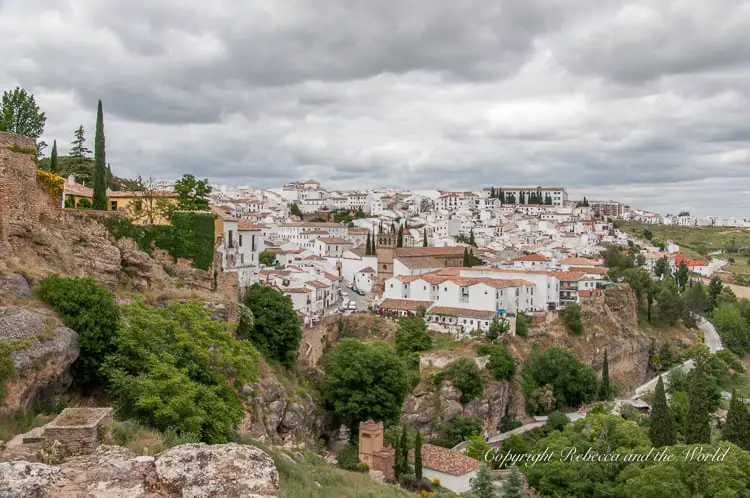 How to get to Ronda
Ronda is easily accessible by car, bus and train. Once there, it's very easy to get around on by foot to tick off the best things to do in Ronda.
Like many other cities in Andalucía, parking can be a challenge. So, if you're driving to Ronda, check with your hotel first to see if they have onsite parking or can recommend where to park in Ronda.
Málaga to Ronda
By car, it's only 1.5 hours from Málaga to Ronda. The quickest route is via the A-357 and A-367. Alternatively, you can drive along the coast via the AP-7 and A-397 (but this route passes through tolls).
By train, the journey from Málaga to Ronda is a little over two hours. There's a direct train that departs each day, while other trains require a brief changeover at Antequera-Santa Ana. Buy tickets online at the Renfe website.
There are between two and four buses that depart daily from Málaga to Ronda. The trip takes around 3 hours and you can buy tickets online at Avanza Grupo.
Seville to Ronda
Seville is around 125 kilometres north west of Ronda. The drive from Seville to Ronda takes around 1.5 hours, down the A-375. The drive between the two cities is stunning, and winds through many gorgeous pueblos blancos. I encourage you stop and explore them – so expect your trip to take longer!
Buses from Seville to Ronda depart from the Estación de Autobuses El Prado de San Sebastián in Seville, near Plaza de España. The trip takes around 2.5 hours. You can buy tickets at the station.
Granada to Ronda
Ronda lies 180 kilometres west of Granada. By car, it's a 2.5-hour trip from Granada to Ronda, via the A-92.
Trains also run regularly every day, with the direct train taking around three hours. There's a service that stops in Antequera-Santa Ana with a brief changeover required. This bus takes around 3 hours as well. Tickets are available online at Renfe.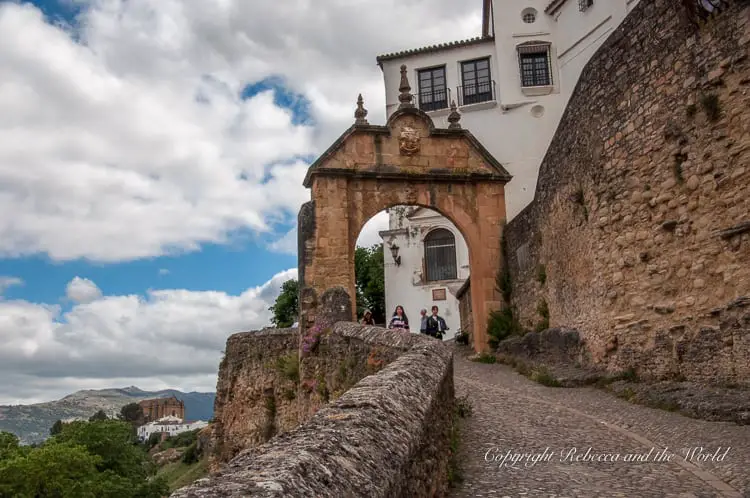 Day trips to Ronda
It's possible to take a day trip to Ronda from Seville, Málaga and Granada. But do I recommend that? Definitely not.
While Ronda is small and you'll easily see most of the city in a day, the joy of Ronda is simply wandering around without a schedule, finding cobblestoned streets to explore. That's just not possible if you only take a day trip to Ronda. I recommend spending at least a night here.
If you just don't have the time to visit Ronda for a night, then here are good options for day trips to Ronda:
From Seville to Ronda, book this full-day tour which also stops at a few pueblos blancos
Take a Málaga to Ronda day trip on this full-day excursion, which includes a guided tour through Ronda
This day tour from Granada to Ronda includes all transportation and is offered in multiple languages
I haven't done these day trips myself, so make sure to read the reviews carefully before you make your decision.
When to visit Ronda
The best time to visit Ronda is the shoulder seasons: March to June and October to November. During this time of year, you'll find Ronda weather is milder and crowds fewer.
July, August and September are the hottest months of the year (June can also get pretty hot), and also the busiest for travellers. November and December bring the heaviest rains of the year.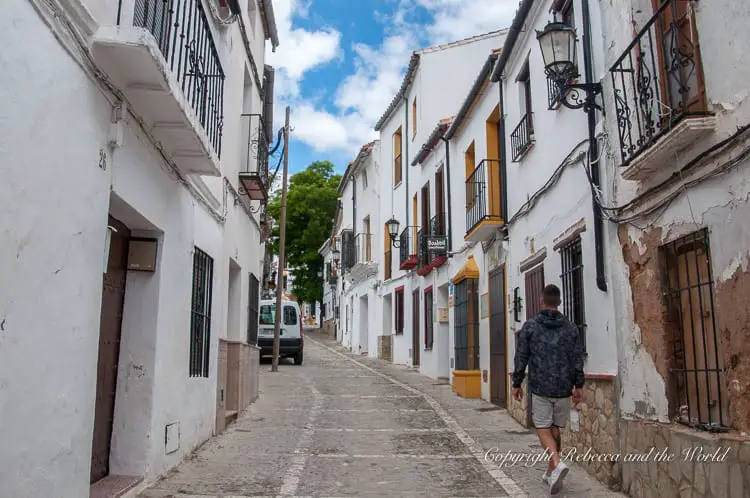 Where to stay in Ronda
There are plenty of hotels in Ronda, many of them quite charming. The best area to stay in is the area around the Puente Nuevo so you're close to the action, but the town is quite small so it's not too far to walk around.
Having said that, we stayed just outside the main tourist area, at the boutique Buena Vista Ronda Club, and we loved it. It's a 15-minute walk to the main sights and most popular things to do in Ronda, and has stylish rooms with floor-to-ceiling windows that look over the surrounding countryside. There's a pool and sauna on site and an honesty bar. With only three rooms, booking ahead is a must. Book a room at the Buena Vista Ronda Club online here | Read reviews of the hotel online here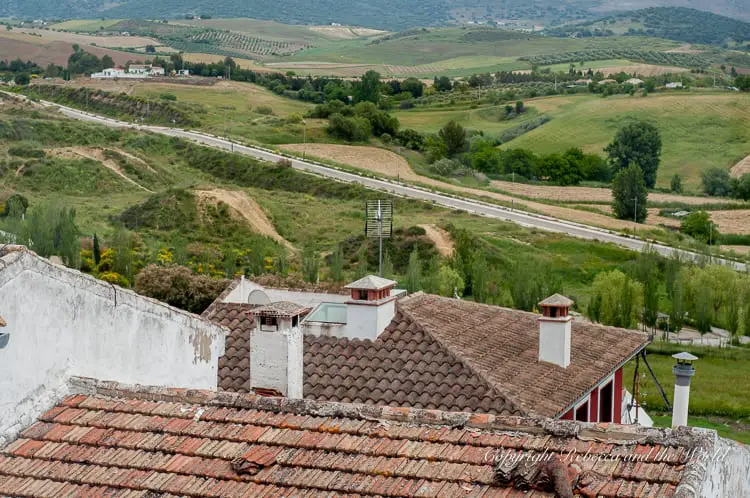 For something really special, book a room at the Parador de Ronda, housed in the former town hall. One of the best hotels in Ronda, it has spectacular views over El Tajo gorge and Puente Nuevo. Book a room at Parador de Ronda online here | Read reviews of the hotel online here
Compare more Ronda hotels online here and make a booking today.
Things to do in Ronda – My personal recommendations
View Puente Nuevo from above
Ronda's bridge is by far the town's most famous landmark, and one of the most iconic images of Ronda.
While it may be called Puente Nuevo (New Bridge), this imposing structure isn't actually so new: it's actually more than 200 years old! Completed in 1793, it took more than 40 years to build.
The first attempt to complete the bridge ended in tragedy, when the entire structure collapsed in 1741, killing 50 people.
Above the centre arch is a room that is now a museum (entry €2.50) but was once used as a prison for criminals during the 19th century. The bridge is said to be the inspiration as the place featured in Ernest Hemingway's For Whom the Bell Tolls, from which people were thrown to their deaths during the Spanish Civil War.
A great place to view the Puente Nuevo is near the former town hall building in Plaza de España, which is now a gorgeous parador you can spend the night in. From here you'll be able to peer across the El Tajo gorge – which splits the city in two – toward the bridge.
Cross the bridge to the other side for a different perspective.
Hike down into the El Tajo gorge
Many people only stop to take photos of the Ronda bridge from above – but you can hike down into the El Tajo gorge for even better views. From down below you can truly get a sense of the height and scale of the bridge.
To get down into the gorge, cross the bridge from the former town hall and pass through Plaza María Auxiliadora. Here you'll see a pathway on the right-hand side, which leads down into the gorge. Follow this down, stopping along the way for different vantage points.
You'll be able to see the entire structure, including waterfalls and the Guadelevín River far below the bridge.
Continue down to the Carretera de los Molinos (the road below) for the full view up to the bridge.
The hike is fairly steep in some parts but manageable for most. There are drop-offs at the best viewpoints, so be careful and don't walk backwards while you're taking your pictures!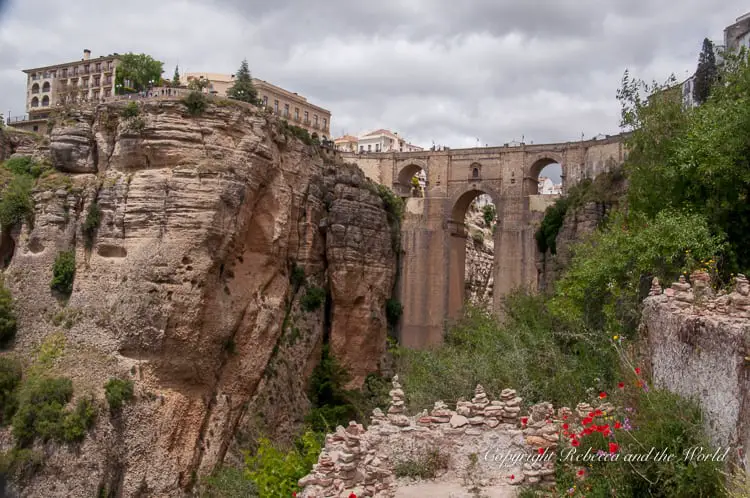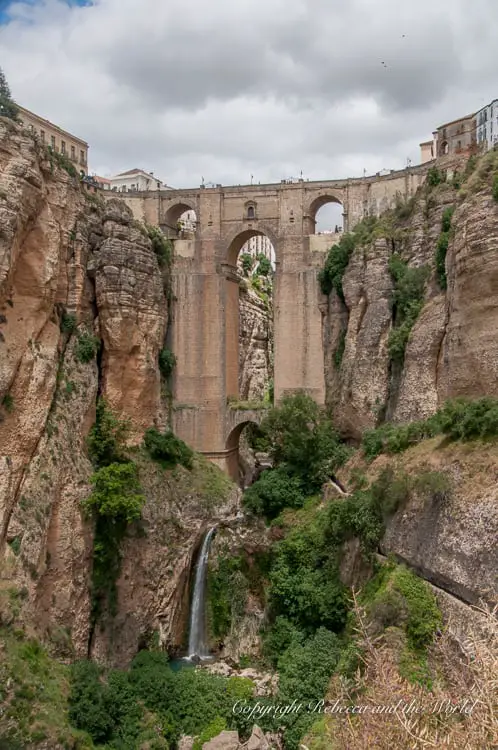 Explore Plaza de España and the New Town
Like all towns in Spain, Ronda has a main plaza that's the perfect place for people-watching. Plaza de España in Ronda has photogenic statues, fountains and churches to capture on camera.
Throughout the New Town you'll find plenty of great restaurants, charming shops and cobblestoned streets to explore.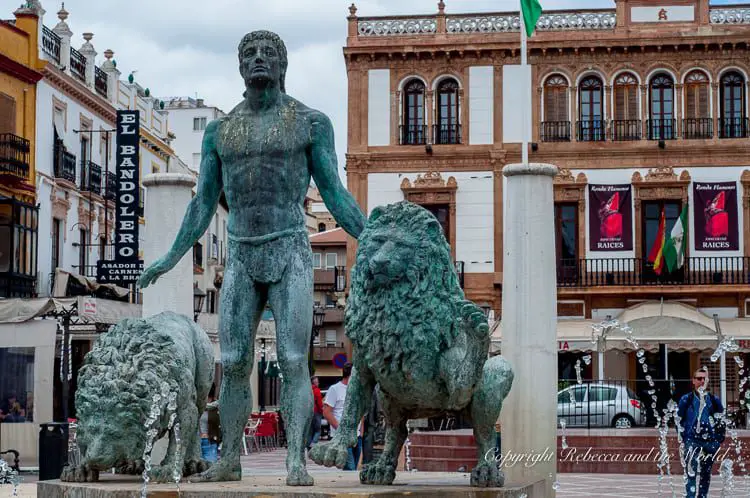 Visit the bullring and museum
Not far from the Plaza de España is the Real Maestranza de Caballería de Ronda, Ronda's bullfighting ring.
Capable of holding 5,000 spectators, it was built in 1785 and has seen some of Spain's most famous matadors, including the Romero family in the 18th century. It was here that bullfighting began on foot, rather than on horseback.
Outside the gleaming white building is a statue of Antonio Ordonez, an important bullfighter from Ronda.
One of the most popular things to do in Ronda is to tour the bullring and museum, which costs €7 (€8.50 with an audio guide). Even if you're not a fan of bullfighting (I don't condone it), it's still interesting to learn about the history and importance of this sport.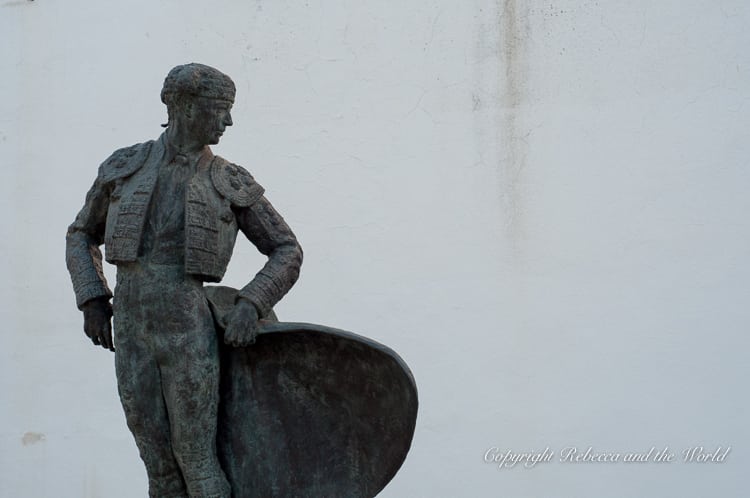 Snack on churros and hot chocolate
What to do in Ronda when you're tired from all that walking? Stop for a sugar fix to keep you going, and there's nothing better in Spain than chocolate caliente and churros!
The best hot chocolate and churros in Ronda can be found at La Chocolaterie (Carrera Espinel 43B). I'd even go so far as to say it was the best hot chocolate I had in the whole of Spain. And trust me, I tried a lot of hot chocolate over our 8-day southern Spain road trip.
La Chocolaterie also does a great breakfast – try the fantastic pan con tomate.
Cross the Puente Viejo
The Puente Viejo (Old Bridge) was built in 1616 and once was the main thoroughfare that joined the two parts of Ronda. Today it is only open to pedestrian traffic.
The bridge itself offers beautiful views and photos of the chasm below and the city's third bridge, the Puente Árabe (Arab Bridge).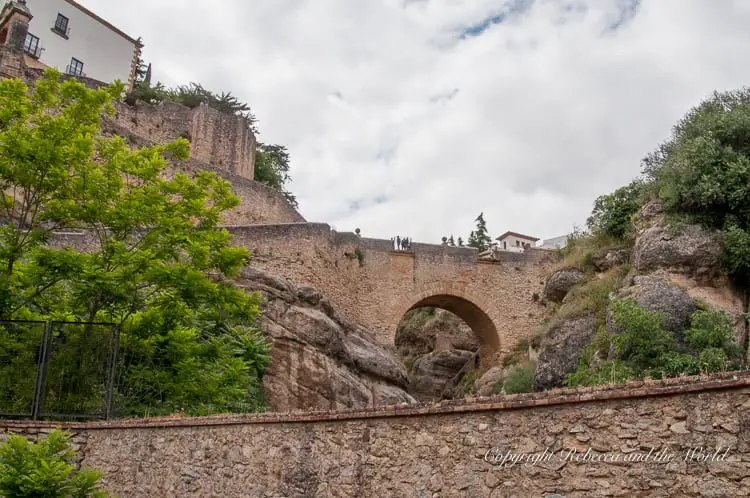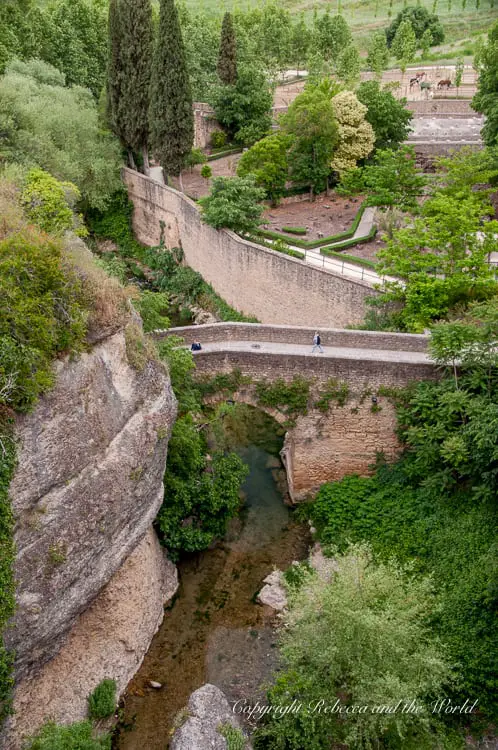 Check out the Baños Árabes (Arab Baths)
No longer in operation, these 13th century baths are some of the best preserved in Spain. Built by the Moors of Spain, the baths were originally used as a place to purify and cleanse the body before entering the mosque.
Go inside where you can watch a video to learn about how the baths were used and imagine these baths filled with the who's of who of society. Inside, the star shaped vents cut into the roof create lovely light patterns that make for interesting photos.
The baths are open daily (hours vary depending on the time of year) and cost €3.50. Entry is free on Tuesdays.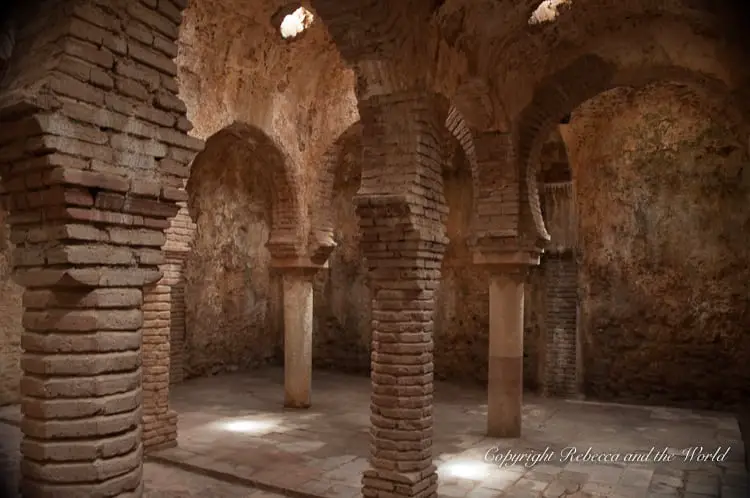 Relax in the Cuenca Gardens
These lovely terraced gardens high above El Tajo gorge are a beautiful spot to rest after walking all over Ronda. Photogenic in its own right, it's also a perfect vantage point for views of Puente Viejo and the Casa del Rey Moro.
You also get to see another angle of Puente Nuevo from this side of the bridge. Come at sunset to see the bridge bathed in a golden glow.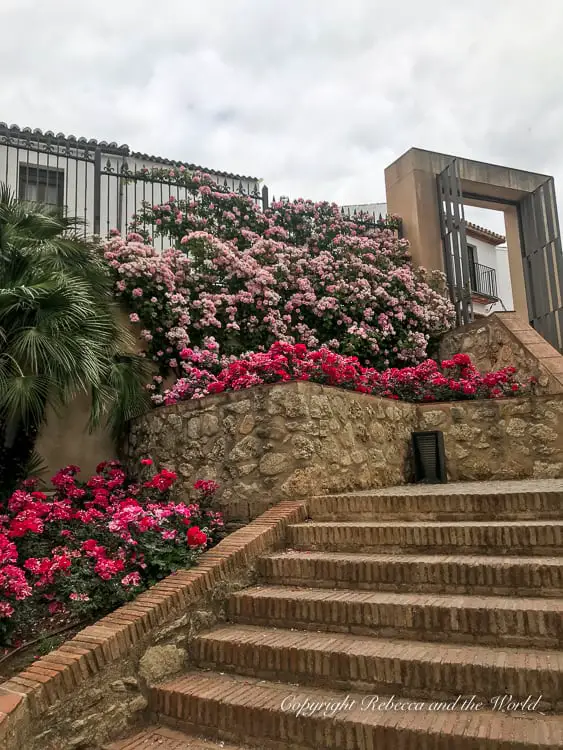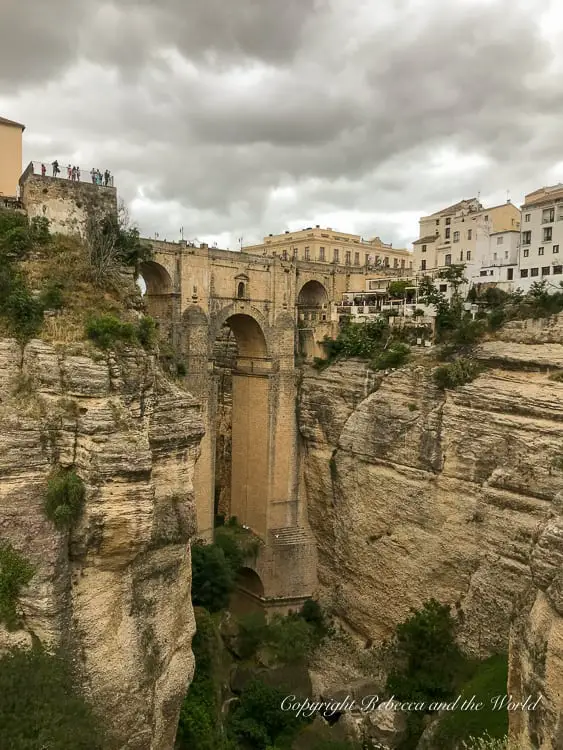 Visit the Casa del Rey Moro
The name is somewhat a lie – this huge building was actually never the home of the Moorish king. It was, in fact, built long after the Moors.
You can visit the ingenious water mine (take note: you need to go down several hundred stairs to get there) or explore the gorgeous gardens. Entry is €7 for adults.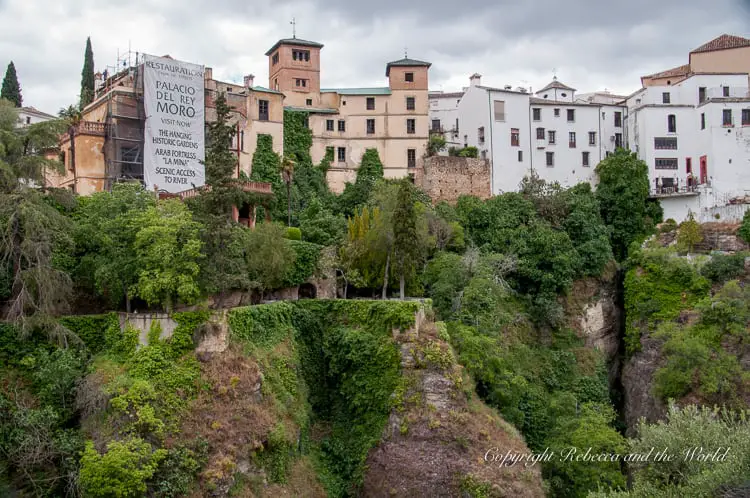 Stroll through the Old Town
The oldest part of Ronda, the Old Town is a great place to spend an afternoon exploring. These streets are exactly how I imagined southern Spain would look like.
Entering via Puerta de Carlos V, you will see sections of the wall still in place. The Moors built these walls, the Murallas del Carmen, to help protect the city from invaders. You can walk along the top of some sections of the walls still today.
Wander the cobblestoned streets and enter the churches. There are plenty of small shops that sell jamón and other local products.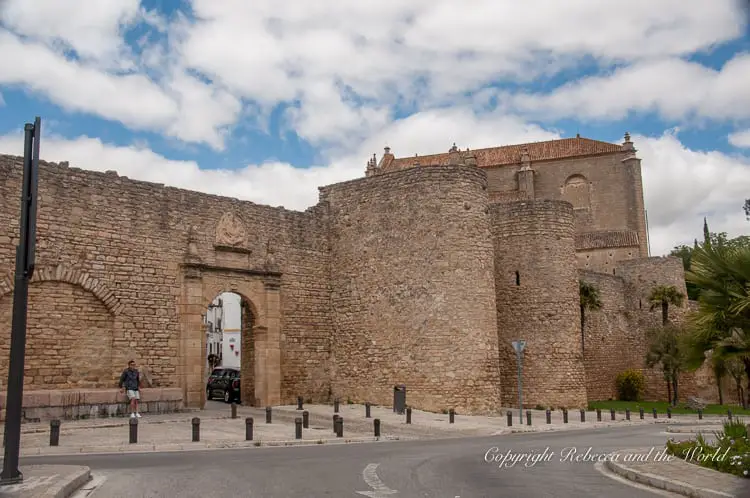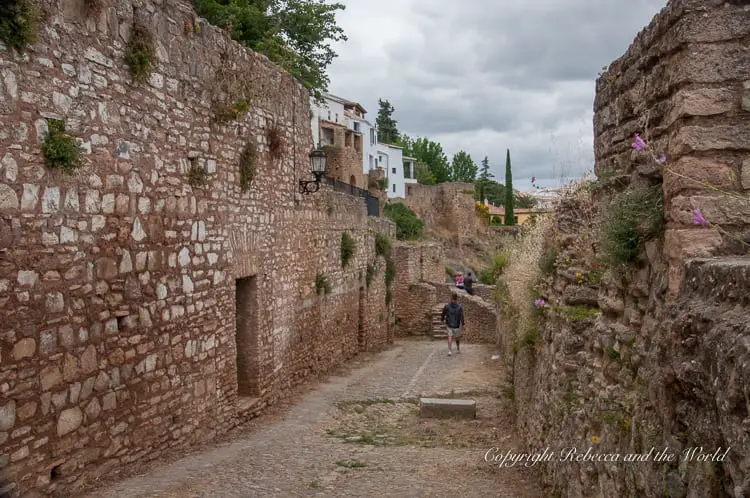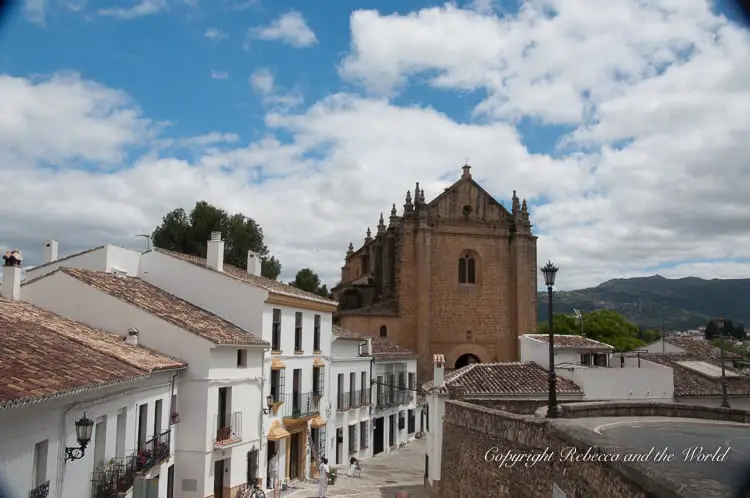 Eat your way through Ronda
For such a small city, there are many great restaurants in Ronda.
Dinner at Tragatá (Calle Nueva 4) is a one of the best restaurants in Ronda. The modern Asian-Andalucían fusion menu features tapas like a delicious crunchy octopus sandwich, patatas bravas, croquettes, and refreshing salmorejo (a cold soup with a tomato base). It's the hottest restaurant in Ronda, so get here right at opening for a chance of getting a table.
Other highly recommended Ronda restaurants include:
De Locos Tapas (Plazuela Arquitecto Francisco Pons Sorolla 7) – a small restaurant, so reserve in advance
Casa María (Plaza Ruedo Alameda 27) – Spanish food with no menu; instead, you rely on the staff to provide recommendations and the specials of the day
Bodega San Francisco (

Calle Comandante Salvador Carrasco

) – serves Andalucían classics like rabo de toro (bull's tail stew)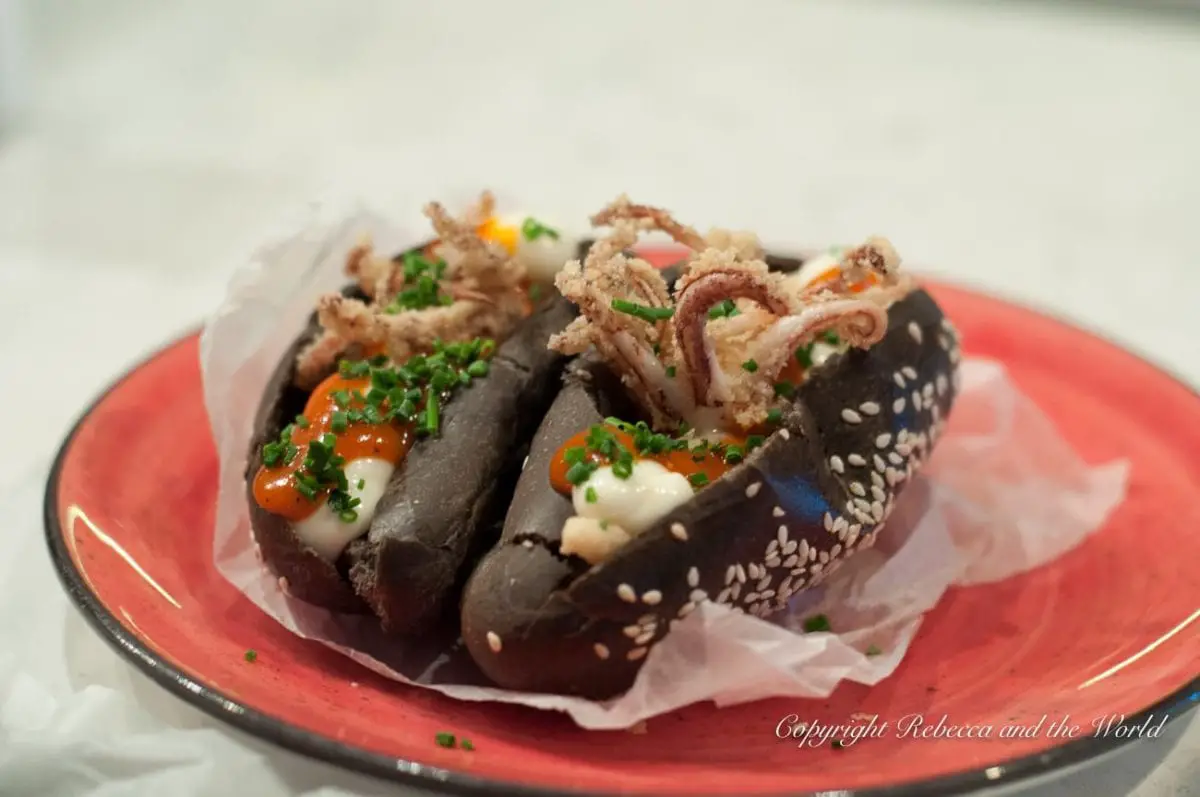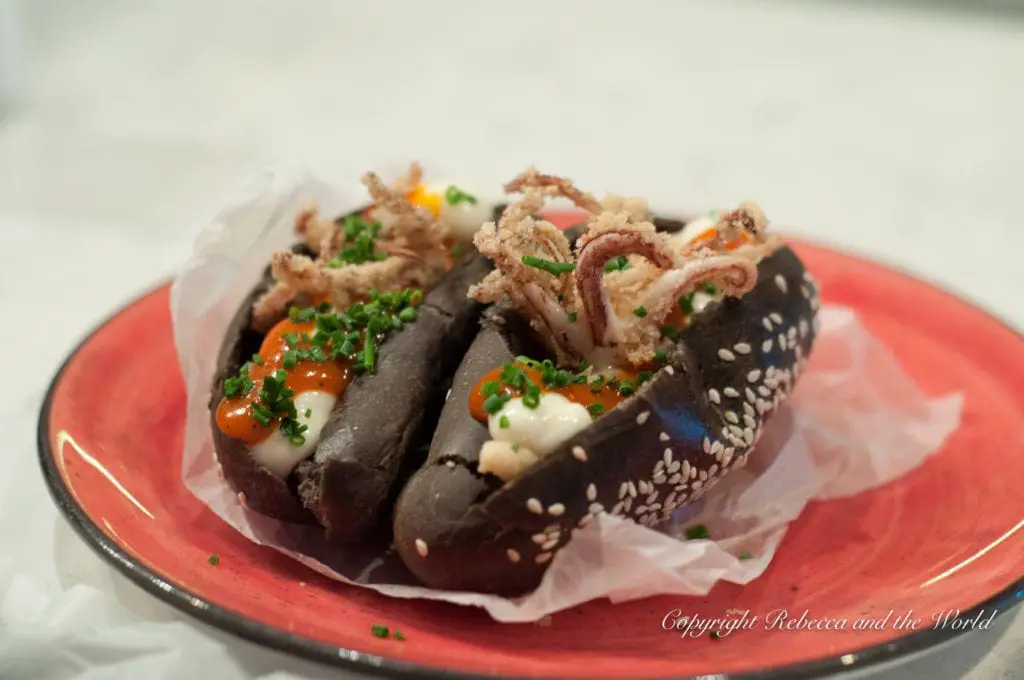 Taste wine
Ronda's location and unique microclimate means it's a great place for growing grapes. In Ronda, you'll find red and white wines, made from Chardonnay, Gewurztraminer, Riesling, Cabernet Sauvignon, Tempranillo and Mourvèdre grapes.
There are almost two dozen wineries in the surrounding countryside, some of which are open for visits and tastings. A couple of recommended wineries to visit are:
Bodega Descalzos Viejos – located in a former convent, this bodega is now one of the most popular to visit, both for its historical value and the quality of the wines made
Doña Felisa Winery – this family wine-making business is located near Acinipo. You can take a guided tour and wine tasting (€25) or add on a meal (€65)
If you can't get out to explore the bodegas, then pay a visit to Entre Vinos (Calle Pozo, 2), a stylish wine bar that has many local wines on the menu. They also serve charcuterie plates featuring local cheeses.
Visit the ancient city of Acinipo
If you have a car, take a trip to Acinipo, a former Roman city about 20 kilometres from Ronda. It has one of the best-preserved Roman theatres in Spain.
It's free to enter, and you're also unlikely to be surrounded by hordes of visitors.
Unfortunately, we didn't have a chance to visit Acinipo, but I'll be adding it to our Ronda itinerary when I return!
What are your favourite things to do in Ronda? Drop your tips or questions in the comments below.
VISITING RONDA – YOUR TRIP ESSENTIALS
This post was written in August 2018, and updated in November 2019.
PIN IT FOR LATER: