Seville has enough attractions, tapas bars and flamenco shows to capture you for days or even weeks. But if you're itching to explore the Andalucía region further, read on for a list of day trips from Seville that will take you everywhere from the famous pueblos blancos to gorgeous beaches to tiny historical towns.
After sharing my tips for how to spend a wonderful 2 days in Seville, I called upon some fellow Spain lovers and experts to share their favourite places to visit in Andalucía – all within a few hours (or less) of Seville. Go and explore the region on your own day trip from Seville!
All the day trips listed below can be reached by car and it's easy to rent a car in Spain. I recommend checking out 
DiscoverCars
to compare pricing and find the right car for your trip. My top tip is to get a small car – many streets in small Spain towns can be very narrow!
But if you're not planning to rent a car, I've also included how to get to each location by public transport as well as options for guided tours. And if a day trip isn't enough, I've recommended some hotels for each location.
Save this guide to day trips from Seville so you can plan your Spain trip later. Simply click the "Save" button on any of the images below to save this article to Pinterest.
This blog post may contain affiliate links, meaning if you book or buy something through one of these links, I may earn a small commission (at no extra cost to you!).
Map of the destinations for a day trip from Seville
Cádiz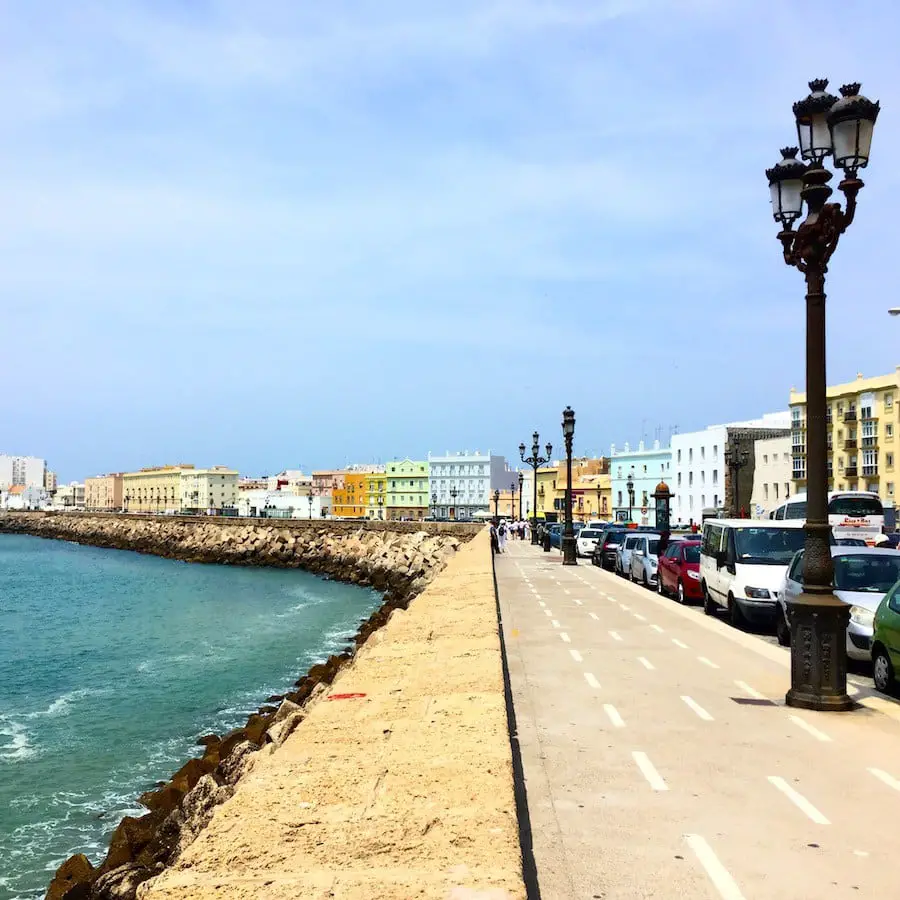 Just a short train ride from Seville takes you to the Mediterranean coast, and one of the loveliest cities to visit on a day trip from Seville is Cádiz. The entire city of Cádiz is fun to explore, but the historic central district is where you should spend some time to see the main attractions and, of course, gorgeous coastal views around the waterfront. If you're not into architecture, there are more than 80 beaches to explore in the area. But you can easily incorporate both with a visit to Playa la Caleta which borders the old town and main harbor of Cádiz.
After a nice soak, check out the Castle of San Sebastián or take a coastal walk along Avenida Campo del Sur where you can see the colourful buildings before heading through the narrow streets into the heart of the old town. You can drop by historic landmarks like the Roman theatre, Park Genoves, the central market, Cathedral Nueva, El Sagrario and Plaza Catedral.
You can read more about the top 10 things to do in Cádiz for inspiration and planning your day trip to this wonderful Mediterranean city.
How to get to Cádiz from Seville
There are several direct trains daily from Seville to Cádiz. The journey takes between 1.5 and two hours each way. Book tickets online with Renfe.
You can also take a bus from Seville to Cádiz, which takes 10 or 15 minutes longer than the train. Book tickets online at ALSA or Transportes Comes.
Seville to Cádiz guided tour
If you prefer to leave the driving in someone else's hands, this day trip from Seville to Cadíz includes transport and a guided tour of the city.
If you decide to stay longer
Book a room at Hotel Boutique Convento Cádiz, a former 17th-century convent. The hotel has maintained its original design but rooms have been updated with modern decor and TVs. The boutique hotel is close to the seafront and plenty of restaurants and tapas bars. Check the latest rates online with Booking.com or HotelsCombined.
Málaga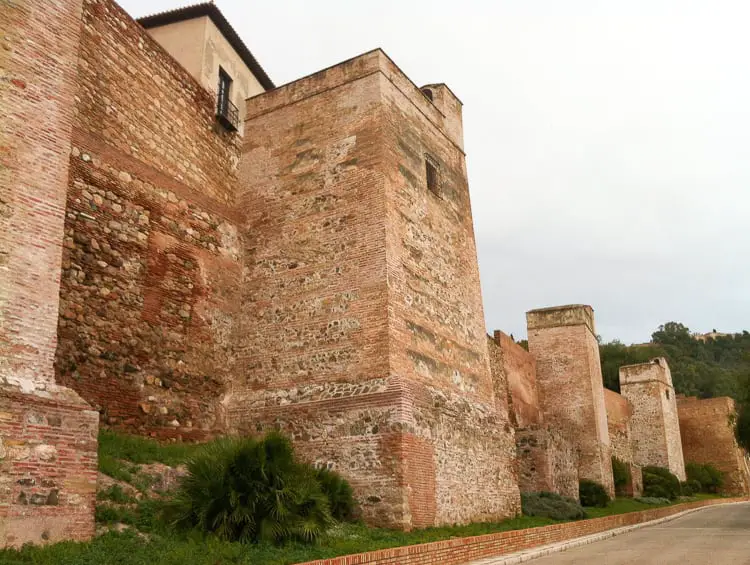 There was a time when the city of Málaga, in southern Spain, was considered just a hub: you'd fly into Málaga and then take off for more exciting destinations in Andalucía.
But not anymore. In recent years, this underrated city has come into its own as a vibrant destination, with fantastic food offerings, great shopping and a revitalised waterfront. And it's not lacking in history, culture, or architecture either. So, if you're considering a city for a day trip from Seville, visit Málaga!
Málaga's palace-fortress, the Alcazaba, while not as ornate as Seville's Alcázar or Granada's Alhambra, is still poetry in rock, stone, brick and tile. It's a beautiful place to visit in the evening, when the rays of the setting sun cast a mellow golden glow that brings the brick and stone to life. Plus, it offers beautiful views of the city of Málaga.
For even better views, head further up the hill to the Gibralfaro, the ancient fortress at the top of the hill. If you don't want to walk, you can take the bus or a taxi to the top, and then walk back down after your exploration of the castle. For great people-watching and shopping, stroll Calle Larios, with its beautiful buildings and marble pavement. In the evening, take a walk along the waterfront and enjoy a meal of tapas or a full-fledged dinner at one of the fine dining restaurants here.
How to get to Málaga from Seville
There are daily highspeed trains from Seville to Málaga. The trip takes between 2 and 2.5 hours each way, and you'll need to change trains in Córdoba. Book tickets online with Renfe.
There's one bus daily and it takes a little over 3 hours, so it's not ideal for a day trip from Seville. You can book tickets online with ALSA.
Seville to Málaga guided tour
To make the most of your time in Málaga, grab a ticket for the hop-on hop-off bus which hits the main sights of the city. Book a seat online here.
If you decide to stay longer
This highly rated hotel is the place to book. Hotel Molina Lario has a rooftop pool from which you'll have amazing views of Málaga Cathedral. The Picasso Museum is less than a kilometre away. The hotel has great staff and can organise anything you need, from transport to restaurants to golfing. Check availability online now with Booking.com and HotelsCombined.
Recommended by Dhara from It's Not About the Miles
Córdoba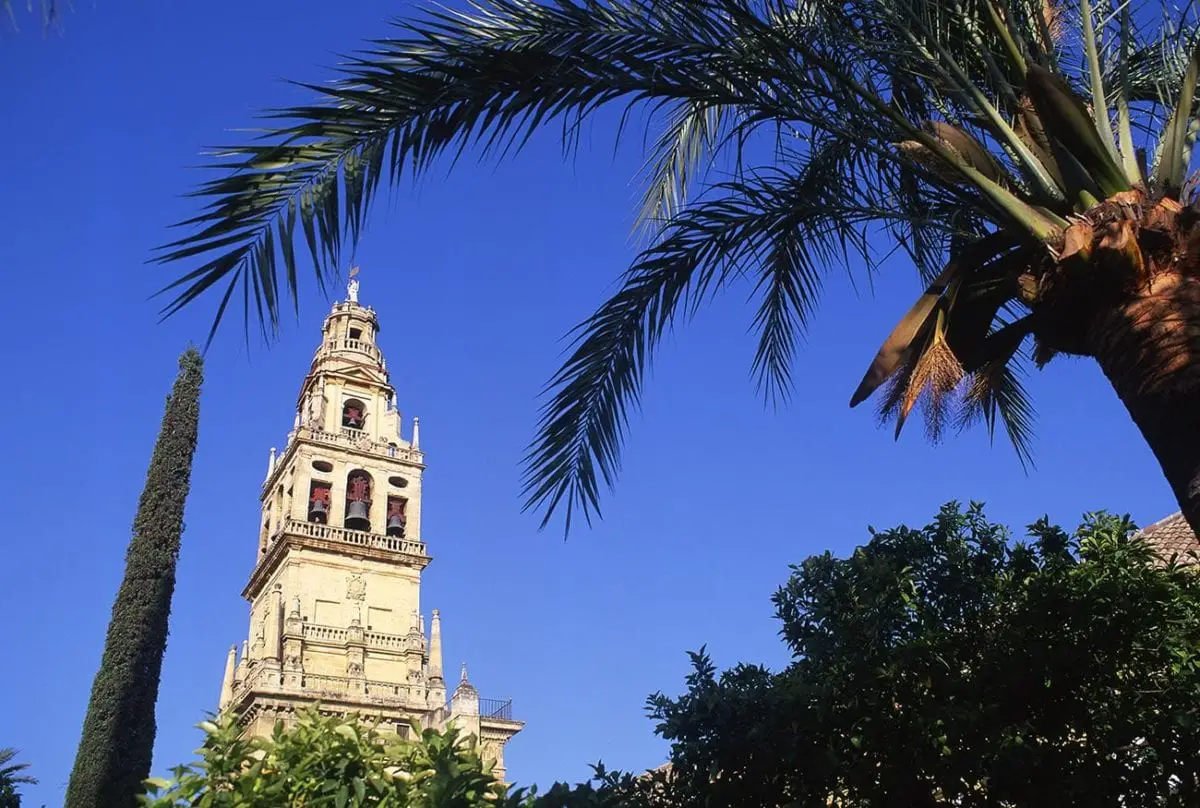 Córdoba is one of the best and easiest day trips from Seville. It's one of the most beautiful cities in Spain, with a stunning old town clustered around the Mezquita, the Great Mosque that was once the headquarters of a Caliphate.
It's hard to imagine now, but around the turn of the first millennium Córdoba was probably the most dynamic and powerful city in the Western world. It had a population of at least 350,000 at a time when Paris and London had around 20,000 each. It was a thriving centre of learning, leading the world in philosophy and mathematics.
The Mezquita is still its crowning glory. Its rows of red and white striped arches in the nave date from the 8th century, and it's one of the most beautiful interior spaces in the world. After the Moors were forced out of the city, a cathedral was built around it. The exterior is just as beautiful. The Patio de los Naranjos garden and the former minaret, now a bell tower, are wonderful places to shelter from the heat.
The best time to visit Córdoba is during spring. In early May the city's patio festival is held, when around 50 of Córdoba's private patios – house courtyards – are decked with flowers and opened to the public. Most of the old town's whitewashed houses are covered in potted plants at this time.
Córdoba has many other sights that could easily tempt you to return there another time. A 2nd century Roman bridge spans the Guadalquivir river. The Alcázar de los Reyes Cristianos has one of the most beautiful gardens in Spain, and there are many lovely Baroque churches – some of them converted from mosques – to explore. One of the most enjoyable things to do in Córdoba is to wander the old town and its maze of alleyways, especially in the cool of the evening.
So, make it a late train back to Seville.
How to get to Córdoba from Seville
Trains depart hourly from Seville to Córdoba, and the journey takes only 45 minutes each way, so it's the perfect destination for a day trip from Seville. Book tickets online with Renfe.
The bus takes slightly longer, around 2 hours. ALSA and Socibus both operate regular routes.
Seville to Córdoba guided tour
On this great full-day tour you'll have a guide who will show you everything you need to see in Córdoba. Transportation is of course included.
If you decide to stay longer
Balcón de Córdoba is in an amazing location: right next door to La Mezquita. With a rooftop terrace, you can spend each evening in this boutique hotel enjoying the panoramic views of the city. Book a night on Booking.com or HotelsCombined.
Recommended by David of Delve into Europe
Jerez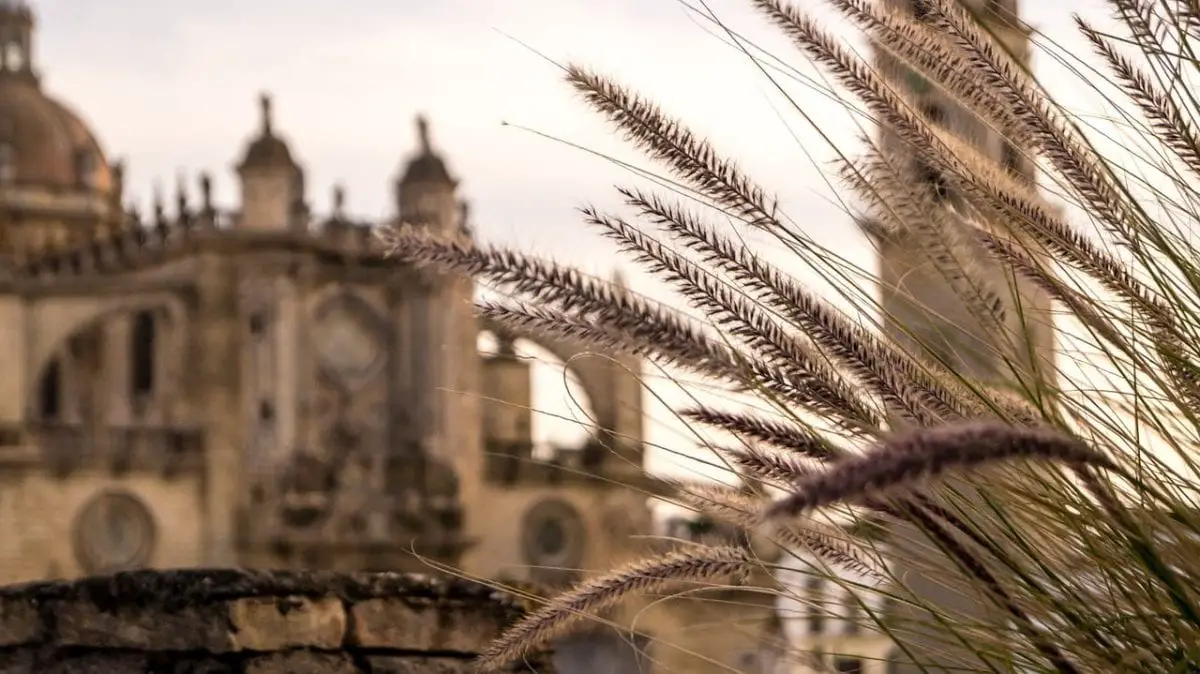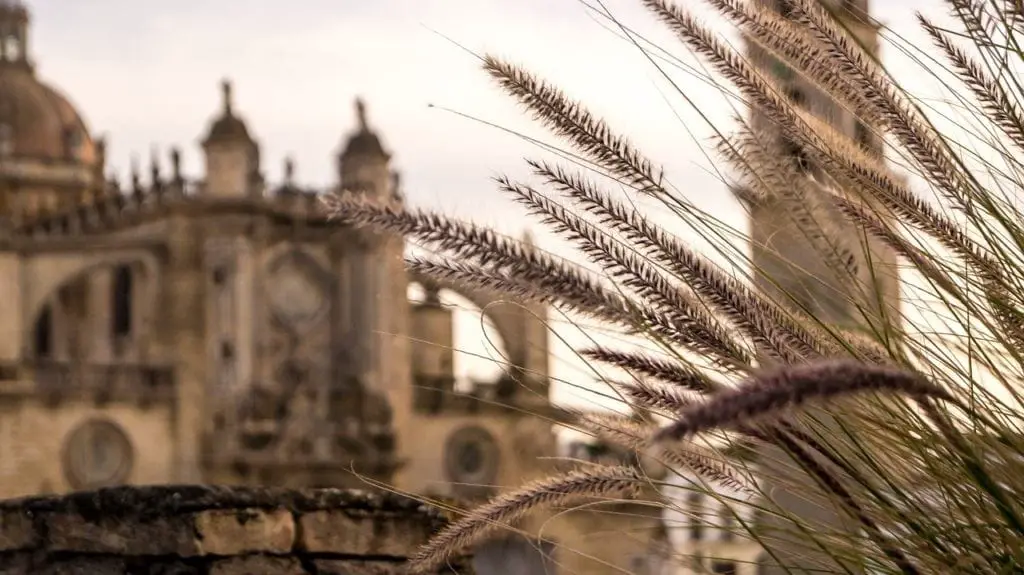 Southern Spain is full of incredible places to roam, with Seville at its epicentre. One of the best ways to escape Seville is to head to nearby Jerez. Located on the west side of Andalucía, just outside Cadíz on the coast, this plucky city dates back centuries. The people of Jerez have a strong pride in everything from their brandy and sherry production to their vibrant flamenco dance traditions.
In the middle of Jerez is the Alcazaba, an 11th century Moorish fort that has been restored to its former glory. A walk through the fort and the surrounding old town feels like a walk back in time. It's a special space to enjoy in February and March when the city hosts a flamenco festival, with shows and spectacles held outside buildings and inside old bars.
Besides the old town, Jerez is also known for its sherry production. The most well-known brand is Tio Pepe, and you can tour the factory. But many other brands have bodegas here, and their spirits form the staple of many Spanish meals. If the taste is too strong, give it a try rebujito-style – a quick short of white sherry mixed with lime soda!
How to get to Jerez from Seville
Renfe runs regular trains between Seville and Jerez. The journey takes around an hour, so you'll be sipping sherry in no time! Book tickets online here.
As for buses, Transporte Comes takes just over an hour to get to Jerez.
Seville to Jerez guided day tour
If you're a sherry lover, you'll enjoy this full-day tour from Seville to Jerez which includes sherry tasting at a winery, as well as stops at Cadiz. Book your spot today.
If you decide to stay longer
La Fonda Barranco is set in a traditional 19th century townhouse, close to restaurants and wineries. Eat breakfast in the lovely AndalucÍan courtyard each morning. It's stylish and comfortable, and with only 10 rooms you'll be guaranteed great service from the staff. Check rates online at Booking.com or HotelsCombined.
Recommended by Eileen from Pure Wander
Italica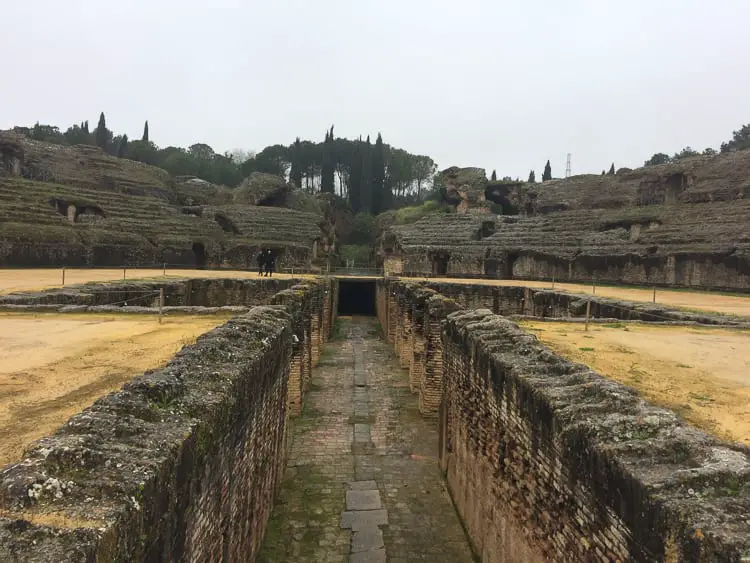 The Roman ruins of Italica are located in Santiponce, just 15 kilometres away from Seville by bus. Italica, founded in 206 BC, was one of the earliest settlements in Spain. In the 1st and 2nd centuries, the city also produced two Roman emperors: Trajan and Hadrian. Italica clearly wasn't just a remote countryside town!
The Roman ruins are a must-visit if you're a Game of Thrones fan. The amphitheatre of Italica was transformed into the dragon pit of King's Landing for season 7. In the large amphitheatre, up to 25,000 visitors could be seated.
However, the amphitheatre isn't the only reason why Italica is worth a day trip from Seville. Although the Roman city is in ruins now, the ruins still manage to give you a good idea of the layout of the city and the grandeur that once could be found in this lively Roman city. The site is very large, so take your time exploring!
The mosaics on this site are particularly special, as many have been preserved in situ. One of the best-preserved mosaics of Italica is one that features Neptune surrounded by aquatic animals.
In the centre of Santiponce, just a kilometre from the archaeological site, you can also visit Cotidiana Vitae. This visitor centre has a reconstruction of a Roman villa dating from the 2nd century.
How to get to Italica from Seville
Buses to Santiponce take only 15 minutes. Both Damas and Consorcio de Transportes de Andalucía make the route twice daily.
You could also take an Uber or taxi to Santiponce and the Italica ruins.
Seville to Italica guided tour
Jump on board this guided tour of Italica, where you'll learn why it played an important role in the political, military and economic life of the Roman Empire. This tour includes entrance fees and a guide, but not transport from Seville.
Recommended by Sanne from Veni Vidi
Carmona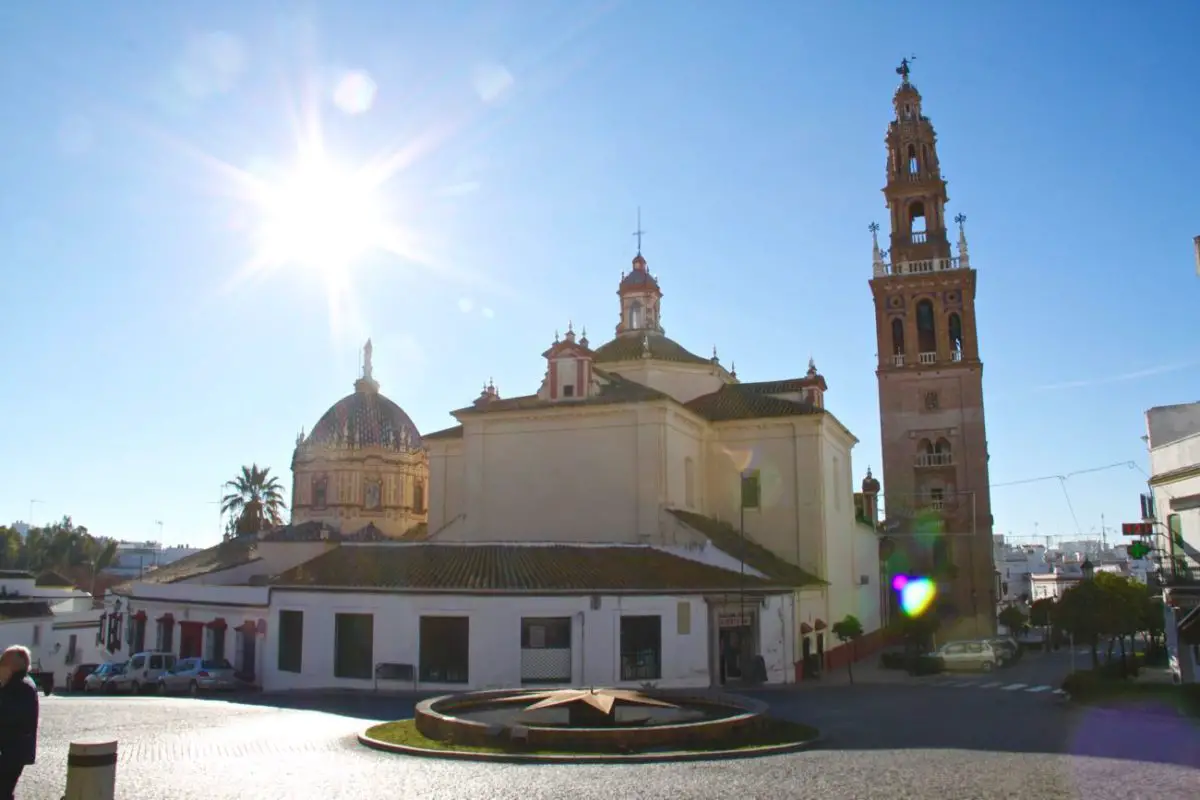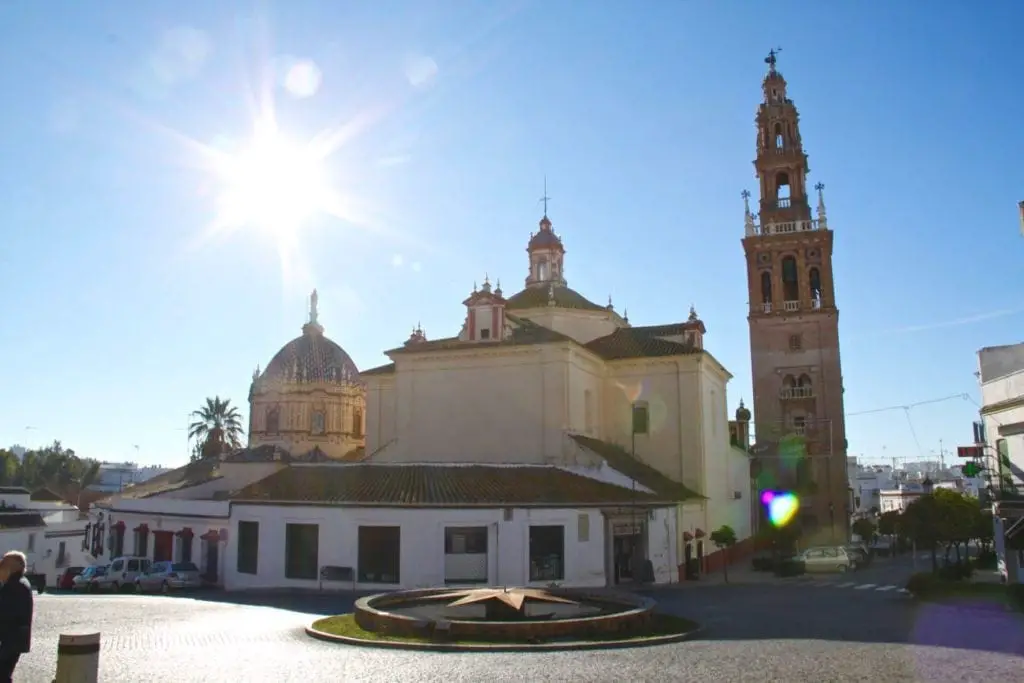 Carmona is a small, ancient town 35 kilometres northeast of Seville. Built on a ridge, it rises above Andalucía and is famous for its olive oil, wine and beef. It's a charming pueblo that captures the essence of Andalucía through its complex history, Moorish and Roman architecture, and traditional gastronomy.
Carmona's most beautiful sight is the Puerta de Sevilla, or Seville Gate. This is the majestic and well-kept fortress, built by the Tartessians and Carthaginians, then the Romans, Moors, and later enhanced by the Christians in the 14th and 15th century. Head up to the Torre del Oro (Tower of Gold) to get a sweeping view of Carmona.  On a very clear day, you can even see Seville.
Carmona also has a Roman Necropolis, an ancient burial ground, which impressively dates back to the second century BC, but was only discovered in 1881. This is where more than 900 family tombs are enclosed and hewn from the rock. Many of the deceased were cremated and are now contained in a series of niches in the wall. Wander the paths, and learn about the funerary practices and Roman burials. And be sure to check out the roof terrace, where you can catch a glimpse of the Roman amphitheatre.
How to get to Carmona from Seville
The best way to get from Seville to Carmona is to catch a bus, which takes a little over an hour. Book tickets online with Autocares Casal.
Seville to Carmona guided tour
Foodies will find this guided tour to Carmona absolutely delicious. The tour stops at an olive oil production farm and facility, where you'll learn about the process and get to taste some olive oils. The food doesn't stop there, with tapas later on in the day. The tour includes a visit to the Roman Necropolis.
If you decide to stay longer
The Hotel Alcázar de la Reina is located inside a Mudéjar building, with spacious rooms. There's an outdoor pool for a dip in summer. Check rates on HotelsCombined and Booking.com.
Recommended by Justine from Latitude 41
Gibraltar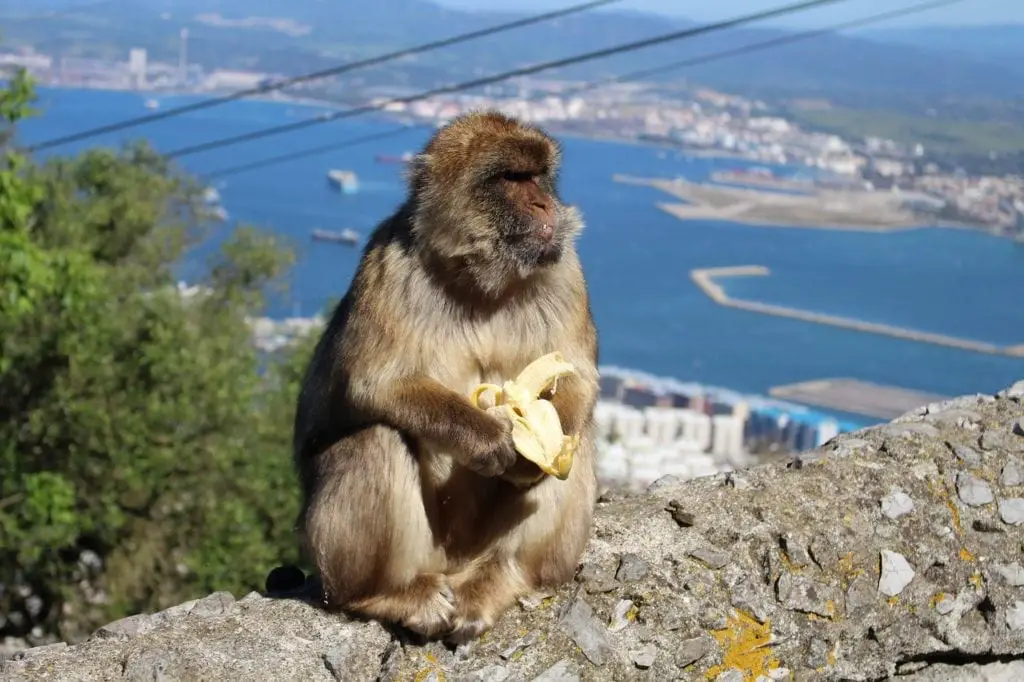 Monkeys and history, what could be better? And where to find the two? Gibraltar.
A colony owned by the United Kingdom, Gibraltar is filled with adorable barbary macaques.
There are plenty of activities available on this giant rock. If it's adventure you seek, try riding the cable car to get a good overhead look at the whole area. You can also go on a diving excursion and see the wreck of a Royal Navy cable-laying vessel.
Beautiful, clean beaches offer something for everyone, whether you would like to simply relax or paddle board.
For history, visit the British War Memorial, American War Memorial or Casemates Square. Once the site of public executions, it is now a place where people gather to eat and shop.
Lastly, you can check out some of the local churches. There are Roman Catholic churches, a mosque, four synagogues and a Methodist church. The King's Chapel serves all Christian denominations.
How to get to Gibraltar from Seville
Transportes Comes runs buses four times a day from Seville to Gibraltar. The trip takes around 4 hours each way, however, so prepare for a long day! Book tickets online here.
It's far quicker to rent your own car and drive to Gibraltar from Seville. The trip takes just under 3 hours along the N-4.
As this is a UK territory, check first to see if you need to take your passport along with you.
Seville to Gibraltar guided tour
Leave the driving to someone else and book a spot on this full-day guided tour from Seville to Gibraltar. Snap some photos from the Rock, explore the limestone caves of San Miguel and see the famous barbary monkeys.
If you decide to stay longer
All 84 rooms of The Rock Hotel look out over the bay, and many have decent-sized balconies as well. There's a bar, great restaurant and pool, and the old town is a short walk. Compare rates online at HotelsCombined and Booking.com.
Recommended by Kaila from Nom List
Estepona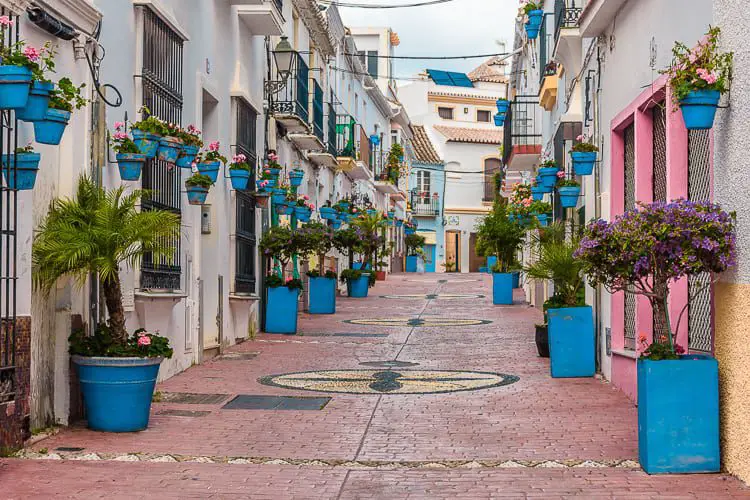 Estepona is one of the hidden gems on the Costa del Sol in southern Spain. In comparison to the more popular tourist towns, Estepona is much more local and genuine, and there are still a lot of Spaniards living here year round.
It's really attractive with street art and beautiful plazas, but especially the pretty alleyways filled with flowerpots, painted in different colors depending on which street you're on.
Estepona also has one of the best beaches in Southern Spain. It's sandy and not too touristy, which is great for a nice day trip from Seville to the beach. There are also a lot of authentic Andalucían restaurants, cafés and bars where you can fill your belly and quench your thirst.
How to get to Estepona from Seville
For a day trip from Seville, the easiest way to get to Estepona is to rent a car, which is more convenient and quicker, but you can also go by public transport. Avanza Grupo has two buses a day; the journey takes just under 4 hours each way.
If you decide to stay longer
Hotel Boutique Casa Veracruz is just minutes from the beach, with gorgeous rooms. Some rooms have a private terrace. All guests can access the Andalucían-style patio. Check availability on HotelsCombined and Booking.com.
Recommended by Alex from Swedish Nomad
Granada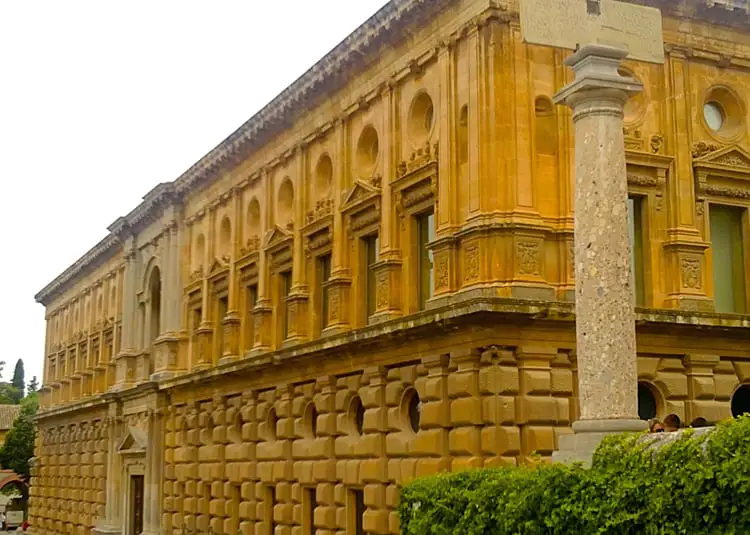 Six hours on the road for a day trip from Seville will seem negligible if you consider that you're heading to the magnum opus of the last Muslim kingdom of Spain: the Alhambra.
This stunning complex survived even after the invasion of all other major Spanish cities during the Reconquista. Granada's Moorish mystique is one of a kind.
The best way to soak in the experience is to start with a relaxing walk through the Generalife. The beautiful terraced "garden of paradise" is true to the meaning of it name. Think arched rose gardens, cypress hedges, delicate fountains, water stairways, fragrant flowers, crunchy paths and tinkling water canals.
The pièce de résistance of the complex is the palace. Possibly one of the most beautiful buildings of the world, it is set on high ground against the snowy peaks of the Sierra Nevada mountains. The mix of Muslim and Christian architectural styles, especially in the Nasrid Palace, will thrill lovers of architecture and all things artistic. The beautiful courtyards are filled with sparkling water, tall chambers decorated with intricate Arabic tiling, elegant stucco-work and peaceful inner courtyards, enough to keep you engaged for hours.
How to get to Granada from Seville
Prepare for a long day if you're planning a day trip from Seville to Granada. Buses take just under 3 hours each way and run every 4 hours or so. You can book tickets online in advance with ALSA or Transportes Comes (the latter of which has only one bus a day).
Trains take a little over 3 hours and are via Córdoba. Book online with Renfe.
Seville to Granada guided tour
It's a long day on a day trip from Seville to Granada, so leave the planning in someone else's hands. This full-day tour includes skip-the-line tickets to the Alhambra and transport to and from Seville.
If you decide to stay longer
Personally, I think Granada is worth more time than just a day trip so plan to stay longer (2 days in Granada should be the minimum)! I'd recommend staying at Hotel Santa Isabel La Real, a boutique that was a former 16th century home. It's been lovingly refurbished and it has incredible views of the Alhambra. Book your stay with Booking.com or HotelsCombined.
Recommended by Punita from 100 Cobbled Roads
Ronda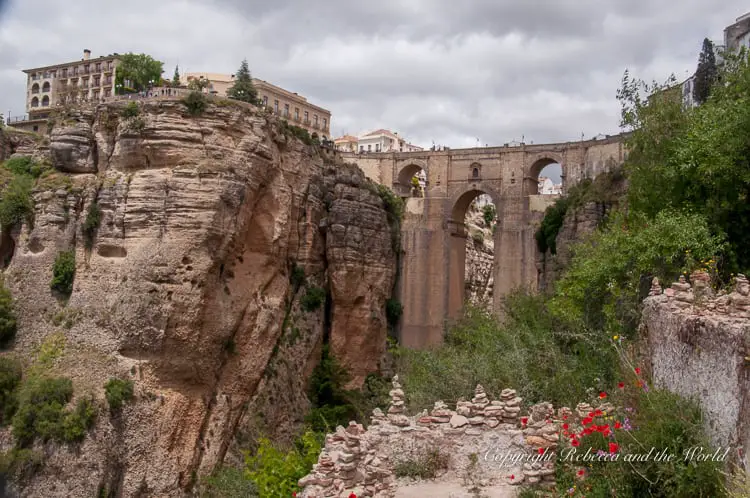 Ronda may be small, but it's not hard to while away a few days here. If you don't have a few days, though, it's a great option for a day trip from Seville.
Start your trip at the Puente Nuevo, Ronda's most famous attraction. This bridge is more than 225 years old. You can admire this feat of engineering from the top, then make your way down into the gorge below for even more magnificent views looking back up.
Wander back up through the Old Town, exploring the churches, plazas and cafés that dot the narrow streets. Make your way to the Baños Arabes, some of the best preserved Arab baths in Spain.
Do as the Spanish do and enjoy a glass of wine and some cheese at Entre Vinos (Calle Pozo, 2), a tiny wine bar.
Head over to the bullfighting ring, which opened in 1785 and has seen some of Spain's most famous matadors. Take a tour of the museum to learn about the history of bullfighting.
Then drag yourself away from this historic town and head back to Seville.
How to get to Ronda from Seville
Just under two hours from Seville, rent a car to make the trip here so you can be flexible with your time.
If you prefer to take public transport, the bus is the next quickest way to get to Ronda from Seville, taking 2.5 hours. Book tickets online with Avanza Grupo.
Trains take 3.5 hours and go via Córdoba, which means about an hour added for the stopover. Book tickets online with Renfe.
Seville to Ronda guided tour
On this full-day tour to Ronda from Seville, you'll actually visit some of the gorgeous pueblos blancos as well. It's a long day (10 hours) but worth it to see this beautiful part of Spain. Book a spot on this tour here.
If you decide to stay longer
The boutique Buena Vista Ronda Club is super small (only three rooms!), so make sure to book well in advance. What this hotel lacks in size it makes up for with a pool, sauna and bar. The rooms are stylish, with floor-to-ceiling windows with amazing views over the surrounding countryside. Check rates online with Booking.com.
Recommended by Rebecca of Rebecca and the World (yours truly!)
Olvera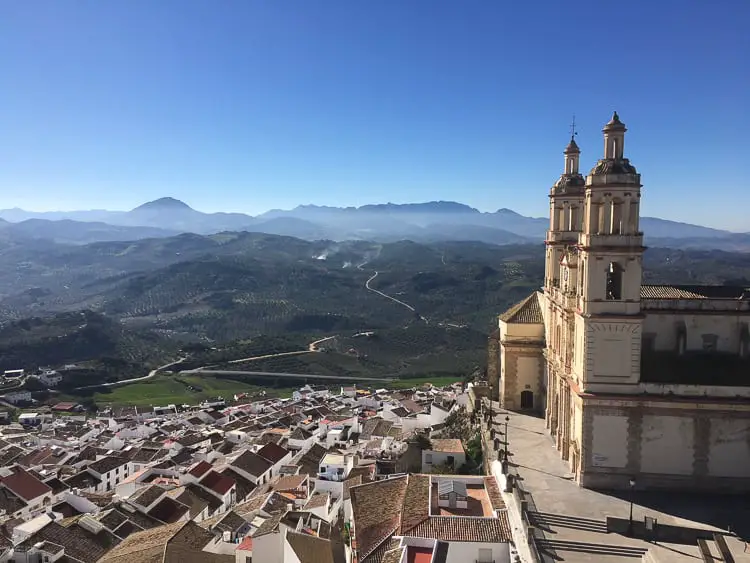 The white towns of Andalucía, or pueblos blancos, are a collection of about 25 small towns and large villages that are nestled in the countryside of the Adalucía area of Spain. Olvera, with its 12th century roots, is one of these towns and it's a beauty. The surrounding countryside is full of hills, farms and olive groves.
When you first see Olvera from the road, the town resembles the train of a wedding gown tumbling down a hill. It's a classic Spanish white town with narrow streets perfect for wandering, family-run shops and steep hills.
At the centre of town (and very top of the hill) is Parroquia de Nuestra Señora de la Encarnación (the Parish of Our Lady of the Incarnation) and the Arabic Castle. Both of these beautiful structures overlook the town below, providing amazing views both from the top and down below looking up.
The main shopping street, Calle Llana, is delightful. Take a small hike past the birds up to the Sagrado Corazón for more lovely views. I highly recommend taking your time and wondering through the charming streets, stopping at the local pastry shops as you stroll.
Another great activity in Olvera is exploring the Via Verde de la Sierra. This green space and trail system is just outside the main town. The main parking area has a cafe and playground. Regardless if you are hiking, biking or scooting, this trail system is a wonderful way to see countryside views and stretch your legs. Olvera is a beautiful town and an excellent addition to any pueblo blanco tour.
How to get to Olvera from Seville
The quickest way by far between Seville and Olvera is by car. Unfortunately, the bus connections between Seville and Olvera don't line up to make it a great day trip to take by bus (it requires a 5-hour stopover), so I'd avoid public transport altogether.
If you decide to stay longer
Book a night at Hotel Estación Vía Verde, a simple but comfortable hotel. It's in a great location, close to the Via Verde de la Sierra. Check rates online here with Booking.com.
Recommended by Lori from Fitz5 on the Go
Algarve, Portugal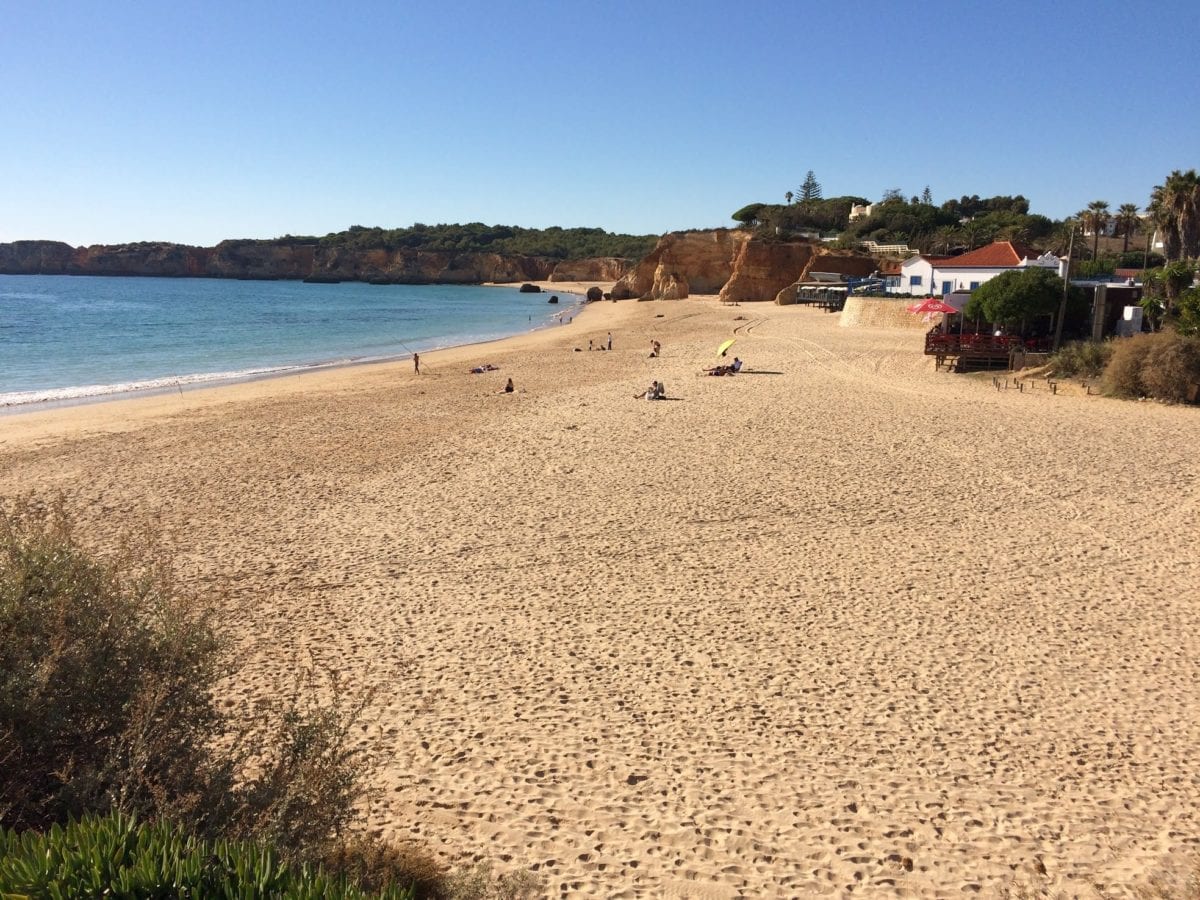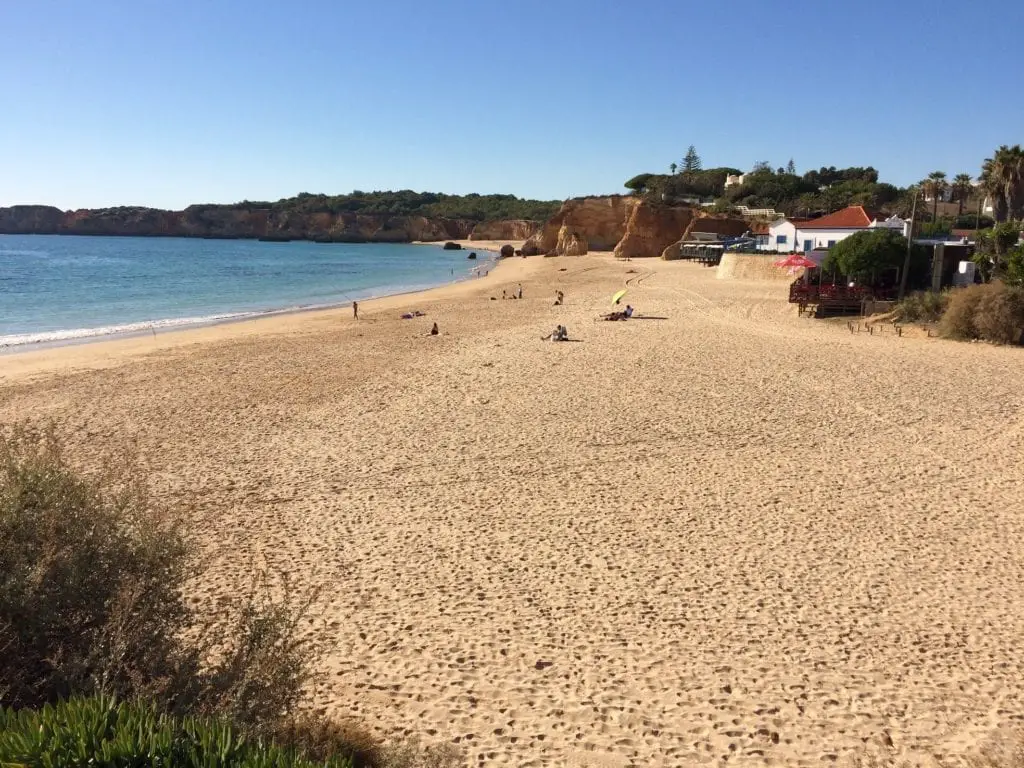 When it comes to day trips, there's nothing more fun than being able to drive over the border into another country.
That's entirely possible on a day trip from Seville: the Portuguese border is just 90 minutes by car and the first major town, Tavira, is just another 20 minutes further. Faro, the capital of the Algarve, is slightly further and in total is just over 2 hours' drive from Seville. The nearest Algarve beach, Praia Verde, is only 90 minutes by car from Seville.
Many Sevillanos regularly cross the border on weekends and holidays to take advantage of the Algarve's beautiful beaches. Several beaches, like Falesia Beach near Albufeira and Praia da Marinha near Carvoeiro, have featured in TripAdvisor's best beaches in the world. These beaches are slightly further along the Algarve coast, but for many people the extra journey time is worthwhile.
A day trip to Portugal also gives you a chance to try some of Portugal's most famous dishes including caldo verde, feijoada, piri-piri chicken and bacalhau-based dishes like bacalhau com natas and bacalhau à brás. Then there are the cakes and pastries, particularly the pastéis de nata, which are so good that they could make the entire trip worthwhile.
How to get to Algarve from Seville
You can quite easily drive across the border into Portugal, but it's easier to take a bus, which takes around 2.5 hours. EVA Transportes, ALSA and Damas all have bus routes which stop in Faro.
If you decide to stay longer
Step into 5-star luxury at Vila Joya, right next to Praia de Galé beach. The rooms are stylishly designed, with ocean views. The hotel boasts a Two Michelin Star restaurant to satisfy any foodie. Check rates and book your stay online at HotelsCombined or Booking.com.
Recommended by James from Portugalist 
VISITING SEVILLE – YOUR TRIP ESSENTIALS
What are your favourite day trips from Seville? Leave your tips and ideas in the comments below!
This blog post was published in October 2018, and was updated in September 2019.
PIN IT FOR LATER: