Looking for Airbnbs in Sedona, Arizona's gorgeous red rocks town? I've rounded up the best Sedona Airbnbs to make your vacation planning just that little easier. From unique and quirky places to stay to luxury digs to homes with a pool, I've got something here for every budget and group size.
An outdoor lover's paradise, Sedona is famed for its red rocks, hikes, and epic sunsets and sunrises. It's one of the most beautiful places to visit in Arizona – if not the entire United States. Visitors seek out vortexes for their energy and healing powers, hit up Slide Rock for a fun day in the sun, or sip prickly pear margaritas while dining out. They base themselves here for a day trip to the Grand Canyon or head out in jeeps to explore the surrounding desert.
If you're planning a weekend in Sedona or longer, an Airbnb is a great way to settle in and explore this stunning town. When we visited Sedona, we stayed in an Airbnb and truly felt like we were at home. We were steps away from a jaw-dropping hike and had our own backyard to laze about in the sun after hitting the trails.
While there are plenty of great hotels in Sedona and other vacation rentals, Airbnbs offer a different level of comfort: your own kitchen, separate bedrooms for privacy and often an outdoor area – particularly important so you can enjoy the amazing Sedona views! And in these times of social distancing, having your own space can make you a little more comfortable about travelling.
Hopefully one of these 16 Sedona Airbnbs I've selected will make the cut for your next trip to Sedona.
Save this guide to Sedona Airbnbs so you can plan your trip later. Simply click the "Save" button on any of the images below to pin it on Pinterest.
This blog post may contain affiliate links, meaning if you book or buy something through one of these links, I may earn a small commission (at no extra cost to you). As an Airbnb Associate, I earn when you book through Airbnb links, again, at no extra cost to you.
Top 5 things to do in Sedona
I have a whole blog post on the best things to do in Sedona, but if you're looking for the highlights, my favourite 5 things to do are:
Hiking – Sedona is riddled with hiking trails, from easy walks to more challenging treks. My favourite two are the Devil's Bridge and Sugarloaf Loop trails
Scenic drive – Drive the Red Rock Scenic Byway, which traverses highway 179 south of Sedona to Village of Oak Creek – you'll want to stop every mile to take photos!
Wineries – Sip Arizonan wine at a handful of wineries around Sedona
Swimming – While the waters are chilly, it's a pretty fun day out at Slide Rock
Eating – You're spoilt for choice with all the great places to eat in Sedona
At the end of this post, you'll also find some unique Sedona Airbnb Experiences to try. From vortexes to meditating, you'll tap into Sedona's energy with one of these short experiences.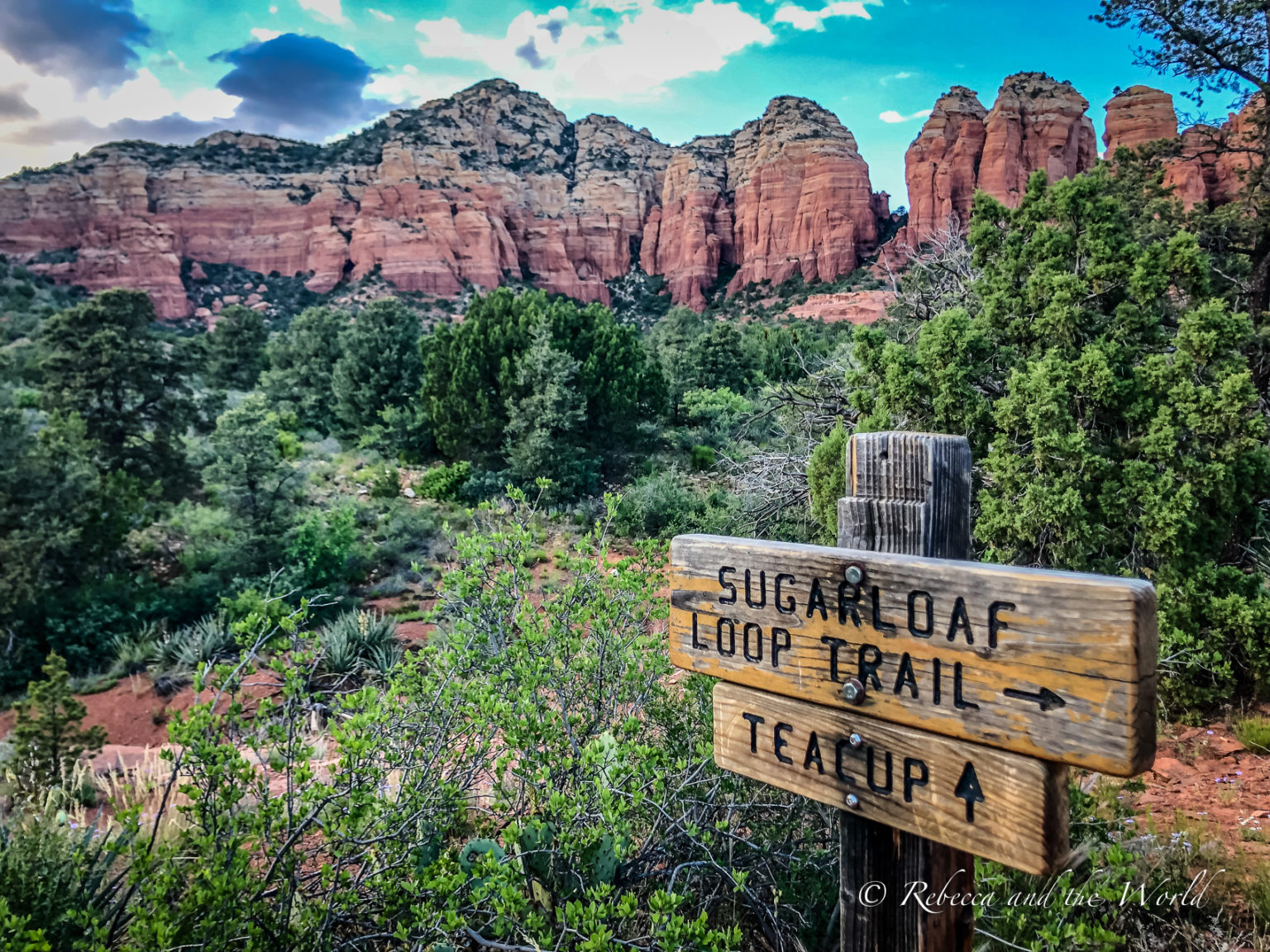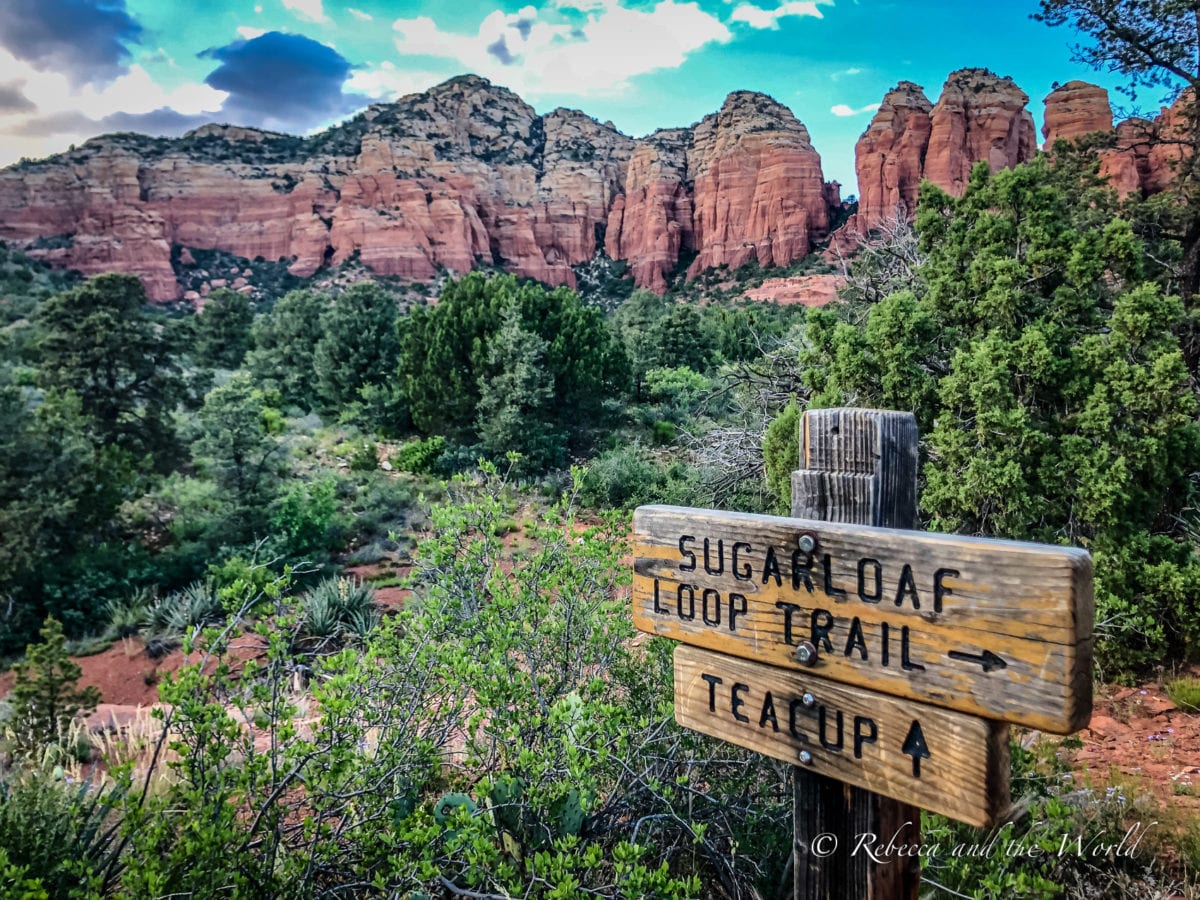 Top Sedona Airbnb vacation rental picks
This is a pretty hefty list of Airbnb recommendations, so I've narrowed it down into a top picks list.
Editor's note: Airbnb recently made changes to their program, so throughout this article, I may include some links so you can book through VRBO or Booking.com instead – which could also save you some money!
WHAT TO PACK FOR SEDONA
A few essentials to pack for your trip to Sedona:
A reusable water bottle (to stay hydrated and avoid throwaway plastic bottles)
Agood hat (to protect your face from the sun)
A great camera (Sedona is stunning!)
Sunglasses
Moisturiser (this one has a funny name but it smells divine)
1. Hikers Zen Bliss + Jacuzzi
Price: From $155 per night
Sleeps: 2 people
Pet friendly: Yes
Check availability here
This is the Airbnb we rented on our second trip to Sedona and it was perfect for the two of us – and our pup! This pet-friendly Airbnb is a downstairs unit with a great backyard that has a bubbling fountain, shaded sitting area, BBQ, daybeds and a jacuzzi. The entire backyard was ours.
There were several great hikes at the end of our street, including the Sugarloaf Loop Trail. Our host was delightful and she made sure we had a great stay, popping by once to check in on us and give us some of her recommendations for things to do and where to eat around town.
There is also an upstairs unit that's on Airbnb (see next listing for description), so if you have a larger group and both are available, you could rent the entire space. Our host warned us that we may hear footsteps from the property above, but we had no issues (even though they had two boys who were no doubt running around). The laundry is shared by both properties.
2. The Pie House @ Coffee Pot Trail
Price: From $212 per night
Sleeps: 6 people
Pet friendly: No
Check availability here
This is the larger home above the unit we stayed at. I actually peeked in while I was talking to the people renting it, and the kitchen and living area is huge and lovely and bright.
There's an outdoor courtyard that's a really decent size, and it has views of red rock country. Which are of course only a short walk away, so you can hit up a couple of the hiking trails in the area. I especially recommend the Sugarloaf Loop trail at sunset, it's stunning!
There are two bedrooms – a master with an ensuite and deck, and a second bedroom with two double beds. There's also a sofa bed in the lounge.
3. Birdsong Casita
Price: From $173 per night
Sleeps: 4 people
Pet friendly: No
Check availability here
This adobe casita immediately attracted my attention – it looks so cute to stay in. The space is modelled after a Mexican villa, with patterned furnishings and expansive ceilings with wooden beams. There are two kiva fireplaces if you're visiting Sedona in the winter.
There's a small kitchenette, perfect for making breakfasts, but I wouldn't expect to be whipping up lavish feasts here. There is, however, an awesome BBQ outside with a firepit and seating area. I can just imagine sitting here of an evening watching the sun go down.
The space is a studio, so while it does sleep 4 people (bed and sofa bed), it's probably best suited for couples or small families.
There's another casita on the property, but each has a private entrance and no shared spaces.
4. Wake Up to the Sedona Mountains in a Cozy Casita
Price: From $137 per night
Sleeps: 4 people
Pet friendly: No
Check availability here
Located in West Sedona is this cute casita with views of Chimney Rock. Take a seat on the Adirondack chairs outside to watch the sun go down each night (or come up if you're so inclined!). This is one of the few Airbnb Plus properties in Sedona – the first one, according to the owners.
There's a bedroom with a queen bed, along with a living area with a sofa that pulls out into another queen-size bed. The kitchen is small, so probably best for light cooking only.
5. Hiker's Haven-Mountain View & Backyard Patio in Chapel Area
Price: From $252 per night
Sleeps: 6 people
Pet friendly: No
Check availability here
This 3-bedroom property is beautifully furnished, with a mid-century modern aesthetic and calming blues. It's a great size for a family, with a spacious kitchen and living area, plus and outdoor dining area with BBQ.
From the front of the home, there are mountain views. There's Netflix and fast wifi – but you won't need that because within walking distance there are some great trails to tackle.
People who stay here remark how clean it is and how helpful the host is.
6. Brand New Remodeled Home with Stunning Views
Price: From $289 per night
Sleeps: 6 people
Pet friendly: No
Check availability on VRBO here
Amazing Sedona views await you from the huge windows in the living room of this stunning home. Wake each morning to red rocks vistas as you sip a coffee.
The 3-bedroom home has been completely remodelled. There are two bedrooms inside the main house, with a 3rd bedroom (and bathroom) in a detached apartment by the front door.
There's a full-size kitchen for cooking family meals (plus a kitchenette in the detached apartment) and plenty of space for shared dinners. There's also a laundry, and previous guests have described the home as sparkling clean.
Surrounded by trees, the property feels secluded and private. I think this is a great choice if you're planning an Arizona vacation with your family.
Book Brand New Remodeled Home here on VRBO
7. Sedona Sweet Serenity
Price: From $400 per night
Sleeps: 6 people
Pet friendly: No
Check availability here on Wotif
Wow – the views from this Sedona vacation rental have to be seen to be believed. Floor-to-ceiling windows open up to panoramic views of the famous red rocks.
Inside the multi-level home you'll find a spacious living area with gas fireplace, fully equipped kitchen and two bedrooms, plus a loft with a queen sofa bed. There's also a telescope for night sky viewing.
Outdoors, there's a hot tub, fire pit, BBQ, and tranquil waterfall and pond.
It's in a perfect location, close to Tlaquepaque with its many boutique stores and restaurants.
Book Sedona Sweet Serenity here on Wotif
8. My Sedona Place – Home Sweet Dome!
Price: From $182 per night
Sleeps: 7 people
Pet friendly: Yes
Check availability here
This fun dome home is a must for a group looking for a quirky Airbnb in Sedona!
There's a fully equipped kitchen, three bedrooms, two bathrooms, and a spacious and bright living area. Outside, there's a patio with – of course – some great Cathedral Rock and Thunder Mountain views.
It's located in West Sedona, close to hiking trails and in a peaceful residential area. The owner (a Superhost) provides a listing of the best restaurants and things to do once you book, so you'll also get some great local recommendations.
If you're into energy vortexes, the patio of the dome home is apparently on a direct line between two vortexes, so you will feel the energy as soon as you arrive on the property.
Book My Sedona Place here on TripAdvisor
9. Sedona Sunset Jewel, Amazing Views, Pool
Price: From $85 per night
Sleeps: 2 people
Pet friendly: No
Check availability here
Looking for a Sedona Airbnb with pool? This has to be one of the cheapest ones! This studio guesthouse has a private deck and saltwater pool. With hikes nearby, there are plenty of opportunities to get outdoors.
There's a kitchenette with a small fridge, microwave and induction cooktop, and the owner provides a tonne of information about the best restaurants nearby.
At night, enjoy Sedona's dark skies in the peaceful neighbourhood.
10. Sundance
Price: From $650 per night
Sleeps: 6 people
Pet friendly: No
Check availability here on VRBO
The crowning jewel of this spectacular 3-bedroom home is the infinity pool with its stunning red rocks views. One of the most exclusive Sedona vacation rentals, it sits on almost two acres and comes with that amazing pool, a hot tub, ponds, a built-in BBQ and outdoor speakers.
You'll find yourself wanting to move in once you experience the huge living area, fully equipped kitchen and plush bedrooms.
The owners also taking steps to make the home as eco-friendly as possible, even providing custom-made stainless steel water bottles as gifts to guests.
11. Casita Good Karma
Price: From $57 per night
Sleeps: 2 people
Pet friendly: No
Check availability here
This colourful casita is a great option for couples on a budget. One of the cheaper Sedona rentals on the market, it's cozy with a small kitchenette with a hotplate, kettle and French press. Wake up to birdsong before you head out to hit some epic trails nearby.
This is a budget Airbnb, so keep that in mind when you book. There's no bathroom inside the casita, but there is a camper toilet inside and an outdoor shower nearby – and guests are welcome to use the bathroom inside the main house at any time.
12. Uptown Cabin Home with Hot Tub
Price: From $349 per night
Sleeps: 9 people
Pet friendly: No
Check availability here
This spacious cabin home is perfect if you're travelling with a large group of family or friends. With four bedrooms, three bathrooms and several indoor and outdoor living areas, there's plenty of space for everyone.
There's a fantastic wraparound deck along with a hot tub and fire pit. There are views galore and hiking and mountain biking trails nearby. It's one of the more modern cabins in Sedona for rent.
13. Unique Cave on The Creek
Price: From $250 per night
Sleeps: 4 people
Pet friendly: No
Check availability on Booking.com here
This comfortable cave has two beds – with electric blankets for the cooler months – and a creek below the cave. The property is next to a wolf sanctuary that can be visited with an appointment.
You'll need the owner to escort you, because the cave is hidden on their property outside of Sedona. They also have bubble accommodation and yurts for something really unique.
Book this cave stay for a truly unique vacation in Sedona!
Book the Cave on the Creek here on Booking.com
14. Sedona Majestic
Price: From $1,200 per night
Sleeps: 8 people
Pet friendly: No
Check availability here on TripAdvisor
If you're looking for a luxury Sedona vacation rental, then I have found the ideal Airbnb for you.
This luxurious two-level, 5,330-square-foot property has four bedrooms and 4.5 bathrooms. It's perfect for entertaining, with a private pool, hot tub, deck and BBQ. The kitchen is ready for the chefs in the group.
On an elevated lot, there are amazing red rock views from almost all corners of the home, along with hiking trails within walking distance.
The owners have just added a 240 volt/50-amp electric car charging outlet if you're driving an electric vehicle.
Without a doubt one of the most spectacular Airbnbs in Sedona for those not on a budget.
Book Sedona Majestic on TripAdvisor here
15. Sedona Oasis Near Slide Rock
Price: From $263 per night
Sleeps: 6 people
Pet friendly: No
Check availability here
Relax in this cabin-style home with huge vaulted ceilings in Oak Creek Canyon. This spacious cabin sits on the edge of forest service land so you'll instantly feel at home in nature.
There's two bedrooms with an additional sleeping area in the loft area. Spacious porches and a balcony bring the outdoors in throughout the home. The kitchen is fully stocked, but you'll need to make sure you grab groceries before you arrive, as the cabin is just under 6 miles from Uptown Sedona.
The owners have stocked board games, puzzles and card decks, so there's plenty of entertainment for the times you're not outdoors.
Book Sedona Oasis Near Slide Rock here
Unique Sedona Airbnb experiences
You'll find there are plenty of things to do in Sedona, including some unique (and often quirky!) Airbnb experiences.
Here are a few of my top picks. While I haven't done any of these myself, they all look so interesting! I'm pretty sure there's no other place in the world where you will have the chance to experience such unique classes.
1. Make Your Own Magic Wand
From: $144 per person
Time commitment: 2 hours
During this one-of-a-kind class, you'll learn how to make your own magic wand using all-natural elements from the Earth.
Led by a local artist, crystals, leather, feathers, beads, sticks and other objects are provided for you to use in making your own creation. You'll also learn how to activate and care for your wand.
Book the Make Your Own Magic Wand experience here
2. Shamanic Journey in Sedona Vortex
From $108 per person
Time commitment: 2 hours
Sedona is famous for its vortexes – areas alive with energy that are helpful for healing and spiritual enlightenment.
Led by Kathleen, a shamanic priestess, reiki master, spiritual growth guide and multidimensional sonic healer, you will be guided through a visualisation meditation where you will meet your Spirit Guide.
This Spirit Guide will help you discover your sacred mission in life, your dormant gifts and how to reclaim them, so that you can create a life that you deserve.
Book the Shamanic Journey experience here
3. Sedona Medicine Makers – Salve Crafting
From: $50 per person
Time commitment: 60 mins
Learn how to make a salve from herb-infused oil and beeswax and take home your own handmade medicine.
Your teacher, Kali, will show you the uses of trees and plants in the area. She will provide the roots, barks, fruits and berries, flowers and needles that you'll need to make your own unique – and useful – Sedona souvenir.
Book the Salve Crafting experience here
4. Plein Air Watercolor Painting
From: $95 per person
Time commitment: 2.5 hours
Learn how to paint with watercolors in the majestic surroundings of Sedona's red rocks. Your teacher, artist Sunshower, will walk you through the basics of composition and color before you draw the scene in front of you in pencil. Later, the painting will begin.
The class includes a picnic lunch.
Book the Watercolor Painting experience here
5. Red Rock Meditation with an Intuitive
From: $75 per person
Time commitment: 1 hour
Relax into and absorb the energy of Sedona with this guided meditation. The experience includes breath-work, energy reading, energy healing, totem animals, past lives, setting intentions and absorbing the healing energy of the red rocks.
Your teacher will adapt the class based on your experience with meditation, so this class is ideal for beginners and experienced meditators alike.
Book the Red Rock Meditation experience here
6. Vision Board on a Rock with a Life Coach
From: $125 per person
Time commitment: 2 hours
This experience is ideal for people who need to slow down and re-focus. During this 2-hour session, you'll create your own personal talisman. You will be guided through a process to get clarity on your values.
All materials are provided (although you're encouraged to bring along any special objects to form part of your talisman) and no artistic experience is needed!
Book the Vision Board on a Rock experience here
All photos from Airbnb
There we have it – 16 gorgeous Airbnbs in Sedona for your next Arizona vacation plus a few unique experiences to try. Let me know which Airbnb in Sedona you end up choosing and how you enjoy your stay in this gorgeous Arizona town.
PIN IT FOR LATER: