Hiking the Kokoda Track is one of the most challenging and rewarding things I have ever done. As an Australian, I grew up learning about the World War II Kokoda Track campaign and how that battle came so close to changing our country's history. My grandfather was stationed in Papua New Guinea – Port Moresby, Wau and Wewak – and while he didn't fight along the Kokoda Track, I've always had an attachment to this place. When I moved to Papua New Guinea in 2011, trekking this historical route was something I had to do.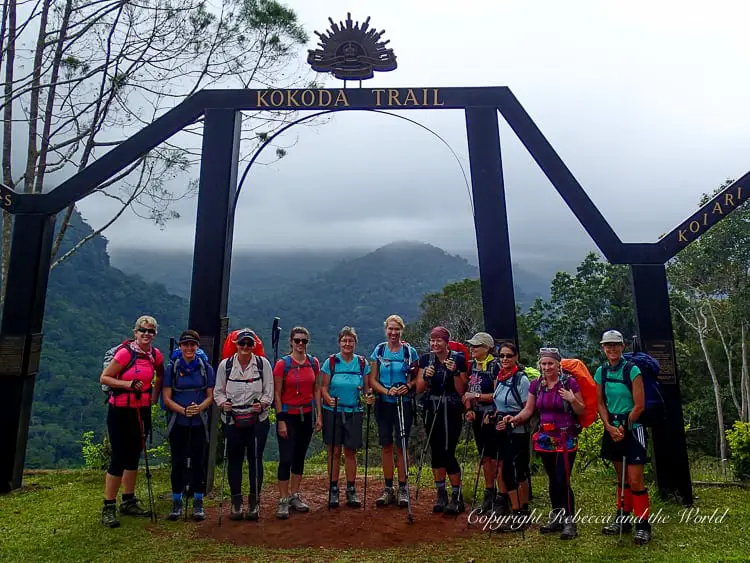 It wasn't until 2013 that I joined 10 other women and hiked the 96-kilometre route. I learned a lot along the way, including some practical tips for how to best tackle the Kokoda Track. Read on for my ultimate Kokoda Track packing list and tips for surviving the hike.
This blog post may contain affiliate links, meaning if you book or buy something through one of these links, I may earn a small commission (at no extra cost to you).
History of the Kokoda Track
Often called the Kokoda Trail, the Kokoda Track was one of Australia's most significant campaigns of World War II and the outcome markedly changed the course of history for the country.
Before the war, the track was barely a dusty trail, used by Papua New Guineans travelling between villages. The trail was not wide enough for vehicles – and to this day can only be passed on foot.
On July 21, 1942, Japanese troops landed in the north of Papua New Guinea (at that time an Australian territory called New Guinea) and began marching south with the intent of capturing Port Moresby as a base for attacking mainland Australia. Two days later, the Japanese first encountered Australian troops, starting seven months of battle in horrific, challenging conditions. Soldiers faced not only the threat of their enemy, but malaria, dysentery, constant rain and mountainous jungle terrain. The isolation of the track made it difficult to replenish supplies, and surgeries were performed on the wounded on rocks and in the mud.
Throughout the battle for Kokoda, the Australians were supported by Papua New Guineans (although often under an indentured labour system), affectionately referred to as Fuzzy Wuzzy Angels. These men would carry the wounded Australian soldiers and care for them.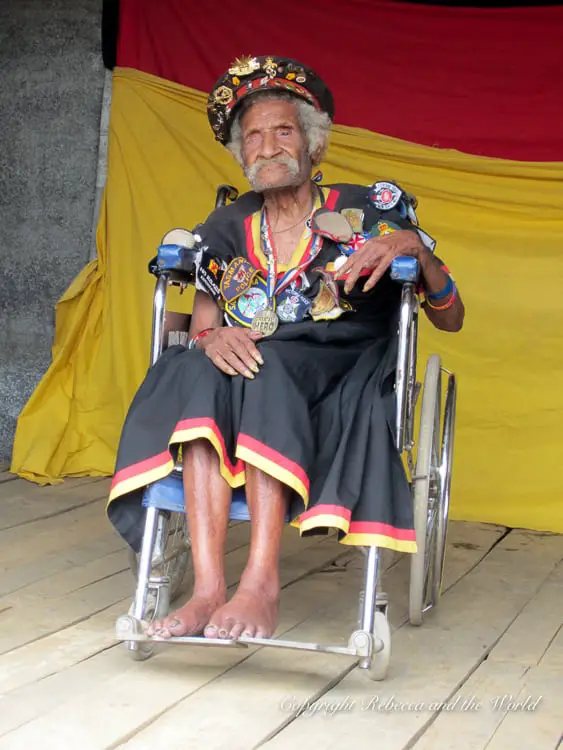 The Australians were outnumbered throughout the entire campaign, at times by an estimated 5 to 1. Despite this, the soldiers – many of them ill-trained and inexperienced – determinedly fought on and ultimately defeated the Japanese in January 1943.
If they had not, Australia – and quite possibly the world – would be a very different country today.
Many of the young Australians who died during the campaign are now buried in Bomana Cemetery just outside of Port Moresby. To wander through the cemetery and see the markings on the graves is a sobering experience – most were only 18 or 19 years old.
Now, the Kokoda Track is a popular hike, although not known to many outside of Australia. Along with scuba diving in Papua New Guinea's pristine waters, the Kokoda Track is one of Papua New Guinea's tourism gems. Like me, many Australians make the trek to recognise the sacrifice that was made.
How to hike the Kokoda Track
To hike the Kokoda Track, you will need a trek permit. All tour operators will arrange this as part of your trek. You can also obtain a permit yourself if you plan to trek on your own – although the Kokoda Track Authority discourages this because of safety concerns.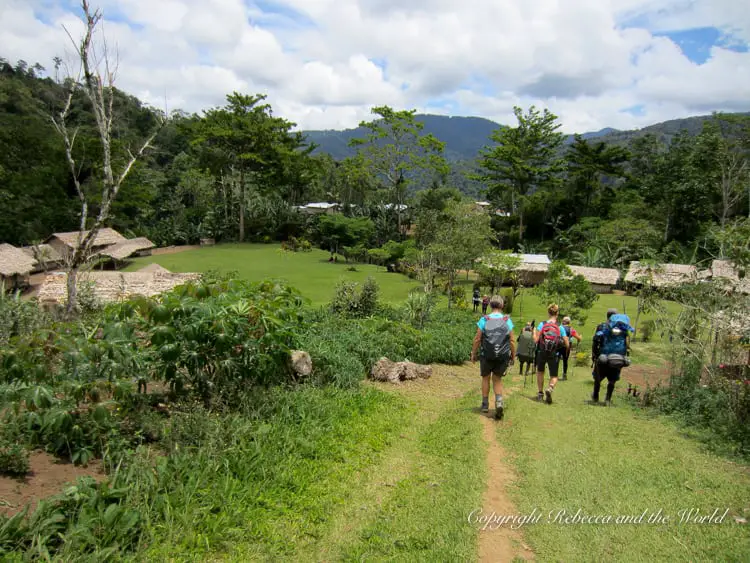 The Kokoda Track Authority website has a comprehensive list of licensed tour operators. Do thorough research on the trekking companies. They are all very different in terms of their focus, understanding of the track and the history, how many porters they have, how they treat their porters, the food you're provided with and the equipment they provide and carry. I travelled with  PNG Trekking Adventures and I would highly recommend them.
Tours are not cheap, and start at around AUD$2,500 but can cost more than AUD$4,000.
You can start the trek from either Owers Corners just outside of Port Moresby or the village of Kokoda in the north of Papua New Guinea. Again, this will depend on the tour operator you choose. I trekked from Port Moresby and we were flown back from Kokoda at the end of the trek. There is some talk about that route being easier because of the downhill gradient as you arrive into Kokoda, but who's kidding – this trek is tough no matter from which point you begin.
You'll need accommodation in Port Moresby before and after the trip. You can check hotels and find the best prices at HotelsCombined or Booking.com.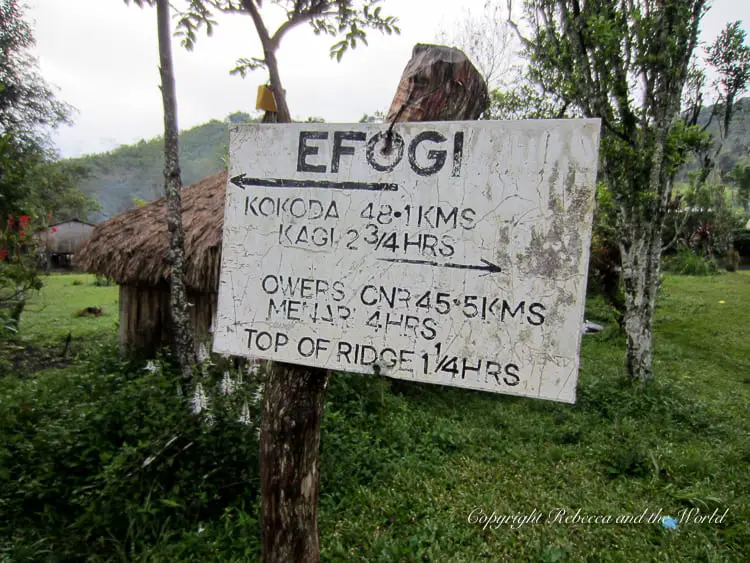 Tour operators usually require a doctor-certified medical check to ensure you're healthy and have a high level of fitness. You will also need to have adequate insurance, particularly to cover medical evacuation (usually by helicopter given the remote location and lack of roads).
Even if the history of the Kokoda Track is not one of the main reasons you're doing the track, do read some of the many books that are written about the track. As you've read above, its importance during World War II cannot be understated, and when you're standing at any point along the track, even some minor understanding of its history will provide a completely different view of your trip. Kokoda by Peter FitzSimons is a great book that weaves stories of the Diggers into an engaging narrative.
What is the Kokoda Track like?
The Kokoda Track is 96 kilometres long, and cuts overland through the Owen Stanley Range (predominately rainforest). Elevation is almost 2,200 metres around the peak of Mount Bellamy.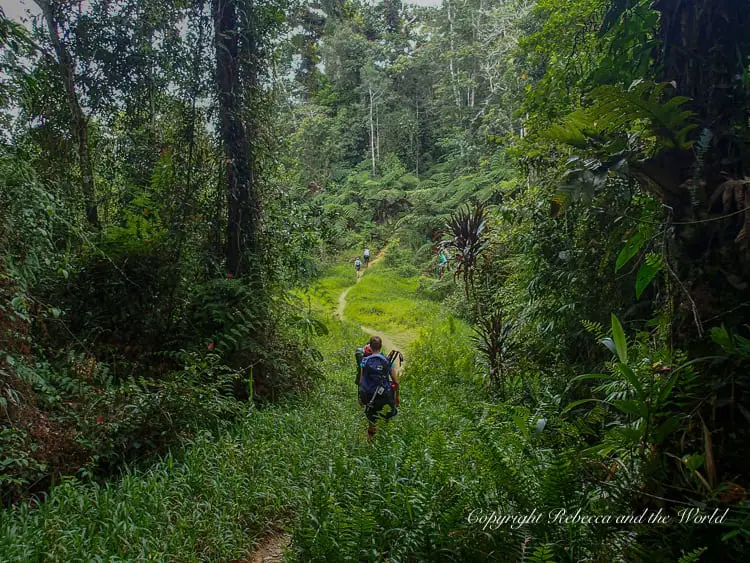 Hiking the trail takes anywhere between four and twelve days depending on your tour. (The fastest recorded time is 16 hours and 34 minutes by Papua New Guinean Brendan Buka in 2008.)
You can read more about my experience walking Kokoda in this blog post.
As for when to trek, the Kokoda Track is open all year, but the best time to hike is during the drier season from April to November. Timing a trip around Anzac Day (April 25) is popular and, with the Papua New Guinea government, the Australian and New Zealand embassies hold a moving ceremony before dawn at Bomana Cemetery.
This is the tropics, so it's hot and humid, and even during the "drier" season, at any time the skies can open up with torrential rainfall. That means only one thing: mud and lots of it.
You may spend five or more hours each day walking, which can quickly become tedious. At all times, you need to be conscious of where you're placing your feet on the uneven ground which in parts are laced with thick tree roots – an easy tripping hazard.
At times you will need to cross rivers and streams. Most have a simple log bridge, others require crossing through the water.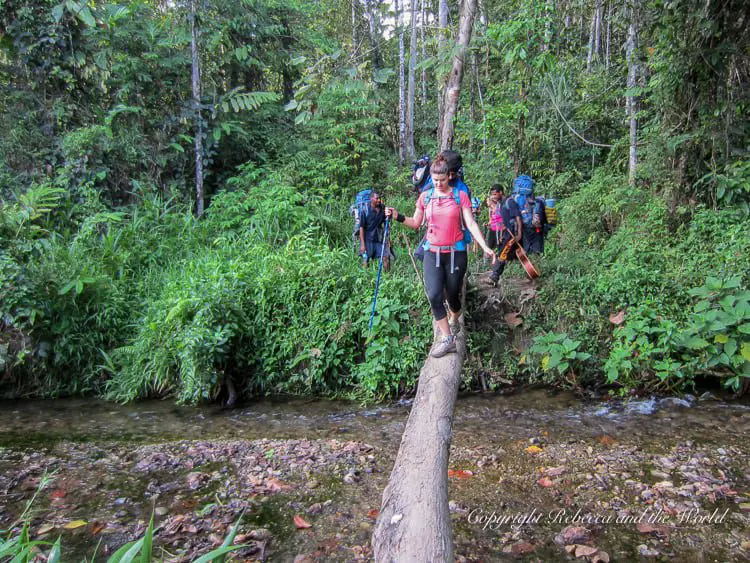 There have been deaths of hikers on the Kokoda Track, so solid training in the months and weeks leading up to the trek is a must.
There are no fancy lodges along the way, so you'll be sleeping in tents. In some villages there are huts in which you can set up your tent – especially nice if it's been raining. These are far and few between though. Bathroom facilities are pit toilets. There were two places we camped at with a "shower" – basically a tarp surrounding a dripping tap.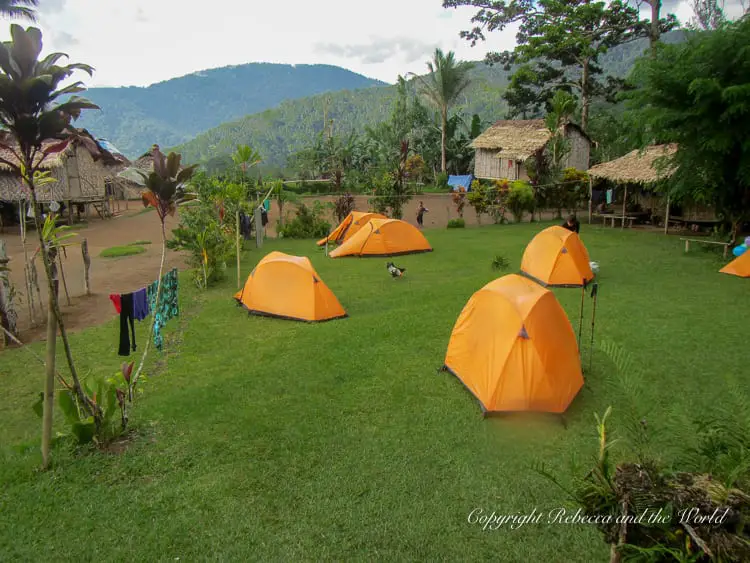 All tour companies will have porters that carry tents, food and cooking equipment for the group. With regards to your own gear, you can choose to carry it yourself or hire a personal porter. These guys are AMAZING! Their strength, skill and resilience is astounding. Check with your tour operator about the options available.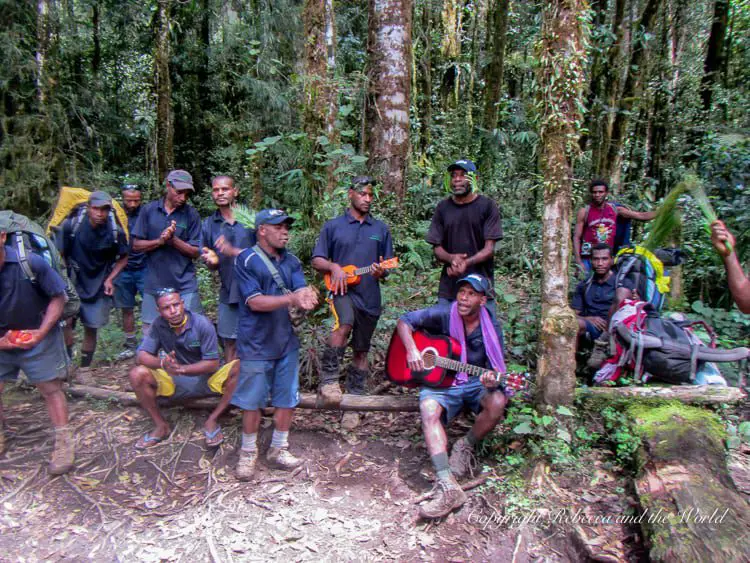 Each tour operator will provide food, but it's likely that you'll be eating dehydrated, packaged food. Surprisingly, it's edible. Most companies will also provide sufficient snacks to support three main meals – I can attest that I never went hungry and often couldn't eat everything in my food package. Along the way you can buy fruit and snacks such as homemade donuts in some villages. Take small Kina notes to make these purchases.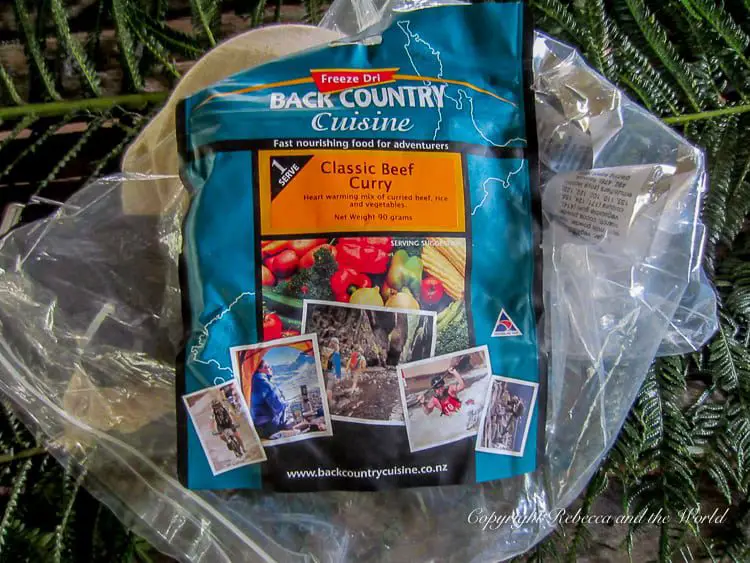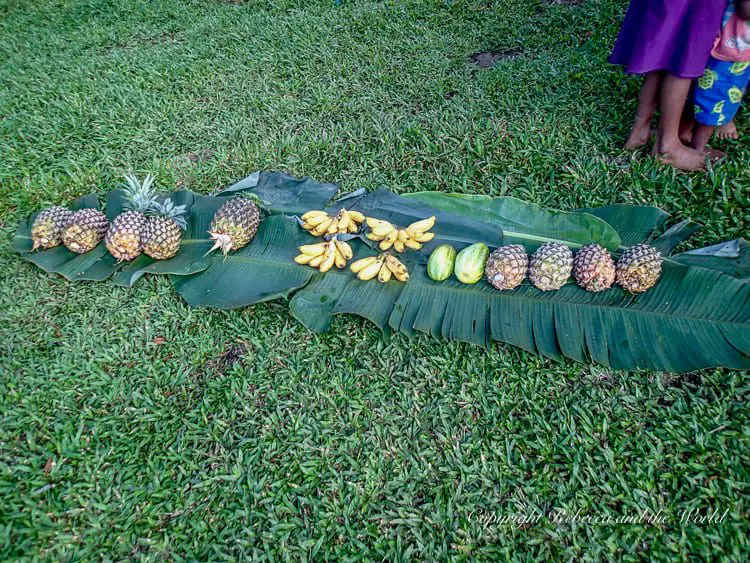 Water is collected along the way from streams and you'll need to carry around four litres of water a day in your day pack. Water purification tablets are required.
Along the Kokoda Track you will find markers recognising key historical battles, trenches used by the soldiers and rusted weapons and ammunition – some still unexploded so take care at all times.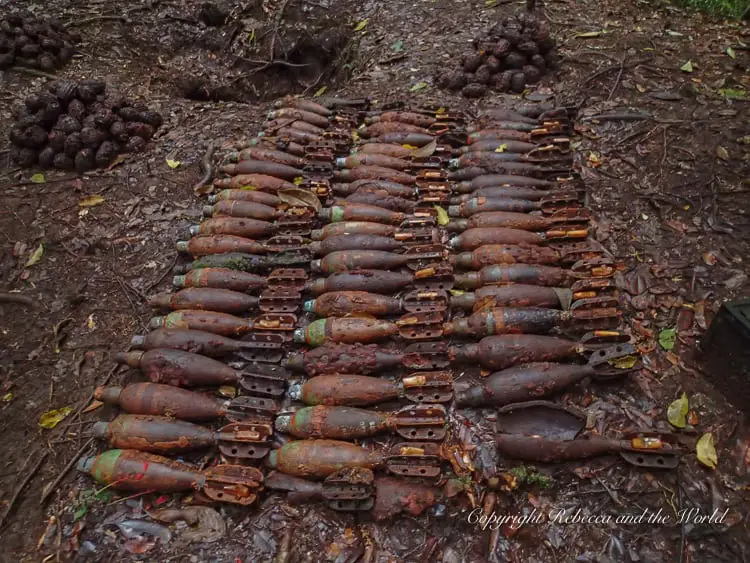 At all times, show respect for the local people. Papua New Guinea is a country with a remarkable number of cultures and you should take the opportunity to learn as much as you can. Most villagers along the track are Seventh Day Adventist and therefore quite conservative.
As with all hikes, follow the "Leave No Trace" principle and carry out all rubbish with you.
Training for the Kokoda Track
It's no joke that hiking the Kokoda Track is tough – both mentally and physically. But with sufficient training in advance, you'll avoid any injuries.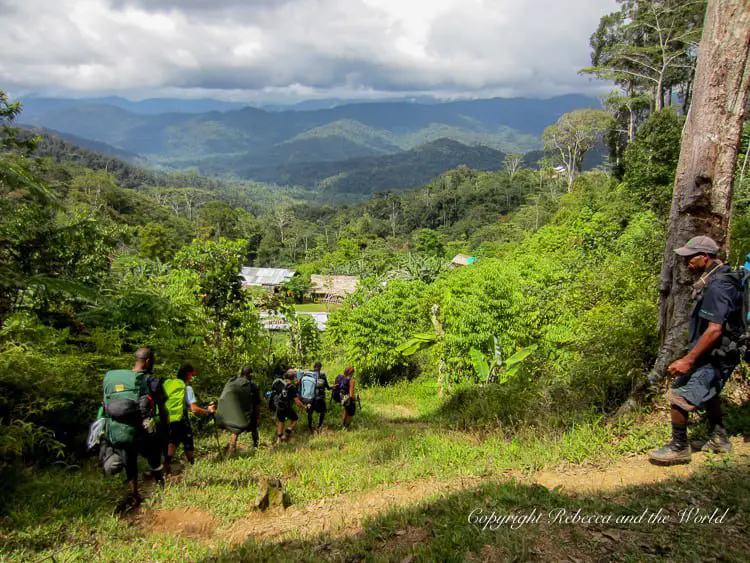 My biggest tip is to start your training early! Six months, three months ahead, get walking. There are plenty of suggested training plans available on the internet, and your tour operator may also provide some guidance. I spent a lot of time walking up steep hills and climbing stairs, taking the stairs two at a time (dull but highly effective!). Do your training in the hiking boots you plan to wear on the Kokoda Track so that you get used to them, and carry a backpack with sufficient weight so you become comfortable with carrying your gear.
To emulate the tropical conditions of PNG, you might consider layering up as you're training, so you get used to being hot.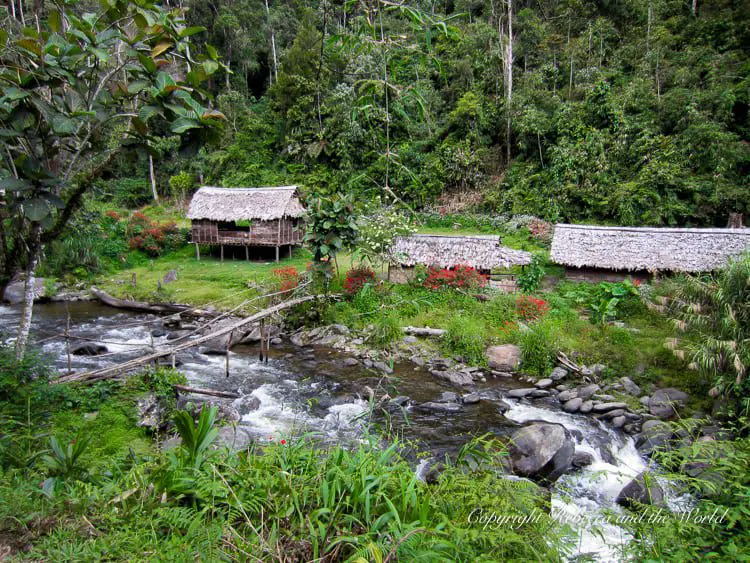 Spend a lot of time walking, and walking without distractions. The Kokoda Track itself can be mind-numbingly boring at times as you hike up and down, up and down, so prepare yourself mentally for this.
Kokoda Track packing list
Here's what I packed – with some thoughts on what I would and wouldn't take if I did the Kokoda Track again. The amount of clothing and equipment you take will depend on how many days your trek is and what your tour operator provides as part of your package.
General Kokoda Track packing list tips
Don't carry too much. You'll be lugging a lot of your stuff yourself, so don't put extra strain on yourself. Similarly, the weight the porters carry is usually capped, so you will need to be economical with what you bring.
If you know other people in your tour group, consider sharing items like medicines that you (hopefully!) won't use. There's no point two people carrying duplicate items if it can be shared across two or three backpacks.
Put all your gear in zip lock plastic bags or dry sacs. Everything gets wet at some stage, and this will help to keep all your stuff dry. This isn't just limited to your clothes – put your medicines, toiletries and other equipment into bags. Separate items and pack them together. For example, put all your underwear in one bag, socks in another, stuff you need for bathing in another bag and so on. This will help you find what you need when you're rifling through your large pack at the end of the day.
Have a few carabiners on hand. I found these useful for attaching items that I used frequently to my backpack so they were easily reachable.
A bumbag (or fanny pack for you Americans out there) is something that I wish I'd included in my Kokoda Track packing list. Or any small bag that could attach to the front of my pack. This would have been handy for things like my camera, tissues or hand sanitiser, items that were used frequently.
There's no electricity along the track, so bring along additional batteries for your electronic gear or a portable re-charger.
Clothing
Hiking boots – you'll need some good hiking boots for the Kokoda Trail. My boots didn't have ankle support and I was fine, but it is recommended to walk in boots that do cover your ankles, as there are a lot of rocks and tree roots along the Kokoda Track. These are great women's hiking shoes (or these boots with ankle support) or these for men
2 x pants – choose pants that are wicking so they dry quickly. You sweat. A lot. You also want to be able to wash them each night and know they'll dry fairly quickly
2 x short sleeved tops – again, quick dry material. I wore the same pants and top for the full eight days, washing them each night with soap. I treated myself with the fresh pair of clothes on the last day and it was a great feeling putting on those clean clothes 🙂
Long-sleeved zip-up jacket or fleece for night
Light pants for night and wearing around camp
Hiking socks x 5 pairs (or more or less depending on the number of days you're trekking)
Underwear x 5-7 pairs
Sports bra x 2 for the ladies
Thongs (flip-flops) to wear around camp. Reef sandals are also a good option to use when crossing rivers
Hat – you're mostly covered under the canopy, but there are a few sunny spots
Sunglasses
Bandana or Buff – great for wiping off sweat and wetting to use around your neck to cool off
Rain poncho – I had one of those thin ponchos that packs up small, but others had proper rain jackets, just depends on what you prefer and how much space you have left in your bag. The poncho was fine for me as when I put it on, it covered all of me and my backpack
2 x t-shirts for sleeping in and wearing around camp
Shorts to wear around camp and sleep in
Bikini or bathing suit/shorts for bathing in streams and enjoying some of the waterfalls along the way
2 x socks for wearing at night and around camp – it can get surprisingly cold and I was very glad to have these extra ones to put on some nights!
Gaiters – I brought the smaller gardening-style ones, but others brought long ones that cover the entire shin area. We never had to use them as protection against snakes, but for some people they were handy to keep mud and dirt out of boots while walking
Sarong – a sarong is great for use after showering or bathing in creeks, also handy as a sheet or picnic blanket
Equipment
Large backpack – carried by my porter (16kg maximum weight including my sleeping bag and tent). Kathmandu makes good bags
Daypack – carried by me (it weighed around 8kg). I use this Kathmandu bag
Tent – usually supplied by your trekking company
Sleeping mat and sleeping bag – you can bring your own, but these are usually supplied by your trekking company. The best sleeping bag for Kokoda is something lightweight.
Small pillow
Pack covers to keep your bags dry when it rains – and it WILL rain, so this is an essential item to put on your Kokoda Track packing list
Mosquito net – this is one thing that I never used
Cutlery, cup and bowl/plate – make sure these are metal, not plastic, to avoid breakage
Water bottle – used for mixing up hydralyte
Dry sac – put all your clothes into the dry sac and then put the dry sac into your backpack to keep everything dry
Trekking poles – I HATE using trekking poles and only used these for downhill sections to take the stress off my knees. I didn't bring any with me, but everyone else on my trek put them on their Kokoda Track packing list
iPhone – for photos (there is little to no network coverage along the track, don't plan on being able to make phone calls; don't worry, though, all tour operators are required to carry a VHF radio or satellite phone)
Portable charger if you're planning to bring small electronics like your phone
Small, lightweight camera
Head torch and spare batteries
GoPro if you want to take video
Pack of Uno or playing cards – great for lazy afternoons
Toiletries
Hair ties and bobby pins
Moisturiser
Lip balm (I use Lucas' Papaw Ointment) – handy also for cuts and chaffing
Deodorant
Small hotel bottles of shampoo, conditioner and shower gel – or, even better for the environment, fill up these reusable silicone travel bottles
Toothpaste and toothbrush (with cover for the head of the toothbrush – everything gets dirty!)
Wet wipes – useful for everything: "showering", the (ahem) toilet, wiping off your muddy feet, cleaning your equipment: in short, a must-have item
Baby powder – for keeping feet dry and to prevent any chafing
Cotton buds
Razor
Pocket mirror – useful for shaving or removing contact lenses
Soap – mostly used to wash my clothes
Hair brush
Medicines
Most of the medicines I didn't end up needing, thankfully, but they're handy to have anyway, just in case. All tour leaders should have a pretty extensive kit with them, but it is expected that you bring your own items.
Cold and flu tablets
Imodium – just in case!
Glucose tablets for a quick pick-me-up if you need some sugar
Eye drops
Bandaids – all sorts of sizes, just make sure they're waterproof ones
Bandage
Sports tape – handy for taping up knees after all the downhill walking
Antihistamine tablets
Foot powder to keep your feet protected from fungal infections
Vaseline – lather your feet every morning to prevent blisters, then put on two pairs of socks (one thin pair, one thicker pair suitable for hiking)
Safety pins
Water purification tablets – these are a necessity as not all the water sources along the way are suitable for drinking
Hand sanitiser to avoid germs and getting sick
Antibiotics
Tea tree oil antiseptic for treating any cuts and bites
Tissues in a travel pack size
Deep Heat lotion to soothe aching muscles at the end of the day
Voltaren gel for inflamed joints
Electrolyte powder or tablets – this is essential to have on your Kokoda packing list: many people have died on the Kokoda Track because they didn't replace their electrolytes
Miscellaneous items
A few extra items for your Kokoda packing list!
Nail brush for scrubbing mud off boots at the end of the day
Book to read in downtime
Journal and pens to record every moment
Toilet paper – very few of the "toilets" have toilet paper!
Spare plastic water bottle which I filled and used to wash my hands or wash mud off me (I found this helpful so I wasn't using my filtered drinking water)
Kina (Papua New Guinean money) – no more than K200 and mostly in small notes so you can buy snacks and small souvenirs along the way
If you've done the Kokoda Track – or another tough hike – do you have any other tips to share? What would you add to this Kokoda Track packing list? Leave your tips in the comments below.
This post was published in December 2013, and updated in November 2018.
PIN IT FOR LATER: