Papua New Guinea isn't known as a foodie's destination, but there's a surprisingly diverse range of good food to be found around Port Moresby. Here are my picks for the best Port Moresby restaurants to try.
Yacht Club
The Yacht Club is the place for an evening drink as the sun goes down. The sunset views here are incredible. The Yachtie, as the locals call it, has a Western menu with chicken parmas, steak, soups and salads on offer. Some nights of the week they have a buffet (including Noodle Night on Tuesdays where you can make your own noodle combinations) and a breakfast buffet on Sunday mornings. They've just released a new lunch menu that has a delicious fish with couscous dish.
Note that you have to be a member of the Yacht Club to gain access. Or just find a friend who is.
Where: Konedobu
Contact: 321 1700 or http://www.rpyc.com.pg/
Airways
There are several eating options at Airways, Port Moresby's ritziest hotel (the hotel has been voted the World Best Airport Hotel a couple of times). If you're after fine dining, Bacchus is the place to go – but be warned, it's not cheap. Start the evening with an aperitif in the Cigar Bar before heading over to dinner.
For something a little more casual, head to the poolside where you can eat at Deli KC's (salads, sandwiches, milkshakes, coffee) or the Poolside Bar (the garlic prawns are delicious) or Vue Restaurant which has a buffet each morning and evening, as well as an a la carte menu. Views from Vue are stunning.
Where: Airways Hotel, 7 Mile
Contact: 324 or http://www.airways.com.pg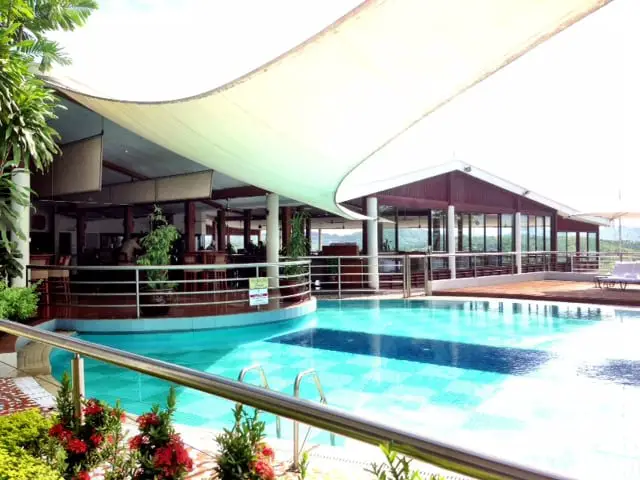 Daikoku
Daikoku has an extensive Japanese menu offering teppanyaki or a large range of sushi and sashimi dishes and donburi bowls. Tucked away above the SVS shopping centre in Harbour City, chefs will whip up your meal right at your table. The teppanyaki menu includes several courses, so come with an empty stomach. Note that smoking is allowed in this restaurant but if you can ignore that, it offers delicious Japanese meals – one of my favourites in Port Moresby.
Where: Harbour City
Contact: 321 0255
Fusion
Fusion is one of the newer restaurants in the city and always seems to be doing great business. It's Asian with a fusion (get it? Well, actually I have no idea why the owners called it Fusion but this is my take on the name!) of flavours from China, Thailand and Vietnam. You must try the Szechuan Beef, which is absolutely delicious. Matt loves the lunchtime claypot chicken and rice. The dinner menu is more extensive than the lunch offerings, but whatever time of day you go, you won't be disappointed. Takeaway available.
Where: Harbour City
Contact: 7196 6666 or https://www.facebook.com/fusionbistropom
Dynasty
Dynasty has got to be the biggest restaurant in Port Moresby. Its chandeliers, gold décor and enormous size make it a favourite location for balls, dinners and parties of all kinds. The menu is pages and pages of all kinds of Asian meals covering seafood, chicken and meat as well as vegetarian options. Don't miss yum cha on Sunday mornings (get there around 10 or 11am to ensure you get to try one of everything).
Where: Second floor, Vision City Mall
Contact: 302 8538

Aviat Club
Like the Yacht Club, the Aviat Club serves up home-style meals such as stir-frys, toasted sandwiches, and salt and pepper prawns with chips. This is a great spot to sit at lunchtime and escape from work. They have lunch specials every day with usually three options available for around K30 each which is good value. Try the lobster which comes in a variety of options including mornay and sambal… delicious and not too badly priced at K60!
Where: Konedobu
Contact: 321 4261 or http://www.aviat.com.pg/
Grand Papuan Brasserie
The Grand Papuan Hotel opened in late 2011 and it's a very funky place. It's bar serves up cocktails and a decent wine list, along with some pretty tasty tapas-style bar food. Grab a seat in one of the huge, black leather chairs and munch away on a few different options, or head to the Brasserie which has a nightly buffet. The a la carte menu is good and the steaks are delicious.
Where: Grand Papuan Hotel, Town
Contact: 304 0000 or http://www.grandpapuahotel.com.pg/
Duffy
Duffy is the creation of a couple of local lads who realised there were no clothes stores in Port Moresby. So they decided to set up one themselves. The boys design the clothes and stock all sorts of shirts, dresses, shoes and accessories. Very cool. Why is this store featured in a post about restaurants? Well, downstairs, their café serves homemade pies, cakes and sandwiches, and does a mean business selling coffee in a city where cafés are few and far between. They've just started Saturday brunch which I haven't tried yet but it looks pretty damn delicious in the Instagram photos I've seen.
Where: Gordons
Contact: https://www.facebook.com/duffypng
Angs Restaurant
Don't come to Angs expecting good service (it doesn't exist). Come here expecting good, cheap Asian meals. Angs is always packed so come here early or it's quite likely they'll have run out of roast pork by 12.30pm. Angs dishes up pork and rice dishes, laksa, Hainanese chicken, kuay teow and other noodles dishes, with the average price for a meal around 25 Kina.
Where: Gordons
Contact: 323 0863
Asia Aromas
I hadn't been to Asia Aromas in months until a few weeks ago. And what I had been missing out on! We scoffed down Thai dried chicken (a must-eat), lemongrass prawns and fried rice, all full of flavour (and MSG, I'm sure…). The menu is extensive and includes both Chinese and Thai dishes. This was the restaurant I spent many a night in after working late when I first moved to Port Moresby. You may see the odd cockroach here but if you can ignore that, the food is delicious, well-priced and quick.
Where: Town (Steamships Plaza)
Contact: 321 4780

Rapala
Rapala is located in the Crowne Plaza Hotel and is another of Port Moresby's fine dining options. There are excellent seafood options here with generous portion sizes. If you so desire, you can even order a few dishes, like Crepes Suzette, to be whipped up right at your table. The only downside is the atmosphere: it's not always full and a bit of music would be a nice addition. Oh, and your credit card will take a little beating as well.
Where: Crowne Plaza Hotel
Contact: 309 3000
Seoul House
Seoul House is (probably obviously) a Korean restaurant where you can either order dishes from the menu or cook your own food at your table. The slightly kitschy surroundings add a nice touch, and the food is full of flavour and very quick. We recently arrived there for lunch just before 2pm, not realising they were about to close. No problems – our meals were served quickly and with a smile.
Where: Four Mile
Contact: 325 2231 
Ten
Ten is another of Port Moresby's Japanese restaurants. It opened last year, making it a relative newcomer to the city. It's located in Vision City and has an extensive menu, including a teppanyaki grill. Personally, I think the food at Daikoku is better, but this restaurant serves up authentic Japanese meals at reasonable prices. Ten has delicious gyoza and a range of bento boxes.
Where: Vision City
Contact: 302 8566
Palazzo
Palazzo is Lamana Hotel's restaurant. The Indian chef cooks authentic, delicious Indian meals that are a favourite of many in POM, along with Mediterranean meals. Most recently I had a delicious seafood dish that was perfectly cooked. At lunchtime, you can choose from a variety of reasonably priced lunch options that include a small buffet of salads and soup. Quite conveniently, if you need to work off your meal you can also pop over to Gold Club, the hotel's nightclub, for a boogie after dinner.
Where: Lamana Hotel
Contact: 312 4410

The Edge
Located near the Yacht Club, underneath the Edge apartment complex, The Edge café serves up sandwiches and tapas with ocean views. It's a great spot for a Friday night drink as the sun is going down. While the food is pretty good, the service is slow so don't come here if you need to get in and out quickly.
Where: The Edge apartments, Harbour City
Contact: TBC
These are just a few of my recommended Port Moresby restaurants. POM residents, any other recommendations?