Visiting a new city can be overwhelming. Sometimes it's hard to know where to start, which area to stay in, which restaurants to test out. Which is why it's great to join a tour or two to get your bearings. And if you're heading to Dallas, there are plenty of great Dallas tours to show you an insider's view of this city.
I used to be against taking tours. I hated the idea of being hustled around with a group of strangers to touristy sites. But in the past few years, I've changed my mind: tours give you a totally different view of a city, from where to eat and historical facts you may have never figured out on your own.
After I moved to Dallas, I joined a few different tours to learn more about the city. Read on for a few of the Dallas tours I recommend. These tours cover history, food and architecture, so there's something for everyone!
And don't forget to check out my guide to a weekend in Dallas so you can plan other things while you're here.
Dallas Margaritas and Tacos Tour
If you like margaritas and you like tacos, then you're going to love this Dallas food tour that combines the two.
Run by Dallas Bites! Food tours, the 3-hour Dallas Margaritas and Tacos Tour takes you on a dangerously delicious tour of the city's best tacos and margaritas.
I won't spoil the surprise, but you'll head to around four very different taco stops. At the first restaurant, you'll sample the house specialty: a unique taco in a deep-fried, puffy taco shell. These are irresistibly delicious. The margaritas start flying on the first stop and if you're lucky you'll even get a voucher for a complimentary margarita if you go back.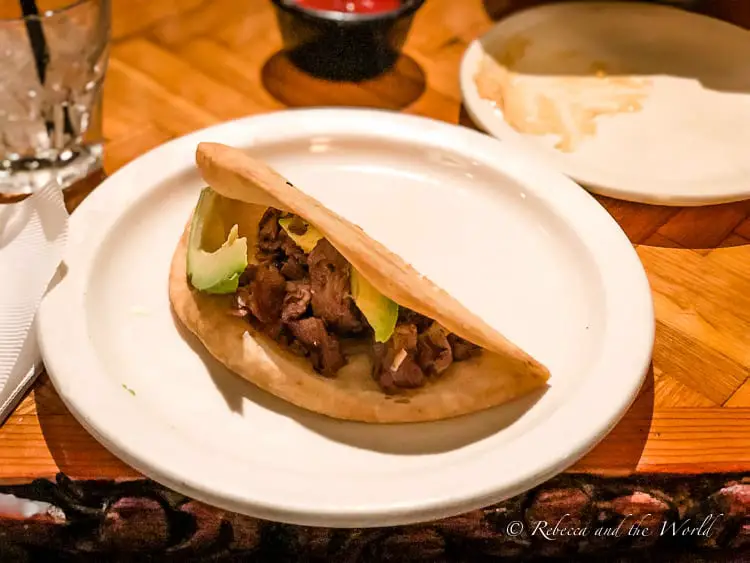 The next two taco joints are truly local so you better brush up on your Spanish. There's no sitting down here. Instead, you'll be jamming the delicious tacos in your mouth while standing around making "mmmm, delicious" sounds with your new friends.
The final stop on this Dallas food tour is a more modern taco restaurant that's usually filled up with happy customers every hour they're open. Here you can choose from less traditional taco toppings such as spicy tikka chicken and fish n' chips. It's also time for your final margarita, a punchy blend that will leave you happily buzzed.
The Tacos and Margaritas Tour zig zags across restaurants around the city, so you'll be taken around in a coach (thank you, designated driver!). It's led by the gregarious Rhonda who'll guarantee you a good time.
Good for: Foodies, groups, couples, girls' or guys' weekends away
When: Select Saturdays throughout the year, 3-4 hours in length
How to book: Book the Dallas Margaritas and Tacos Tour online here
Cost: $79
Insider tip: Bring some drinks along with you if you want to keep the buzz going all day – there's a cooler on the coach
Architecture walk
If Dallas doesn't strike you as a city that's known for its architecture, then you're not alone.
Sure, it has a recognisable skyline, but as a fairly new city (it was settled in 1841 as a trading post), in my mind, it doesn't have the historical buildings of other U.S. cities. It wasn't until I joined an architecture walking tour with AD EX that I discovered how wrong I was.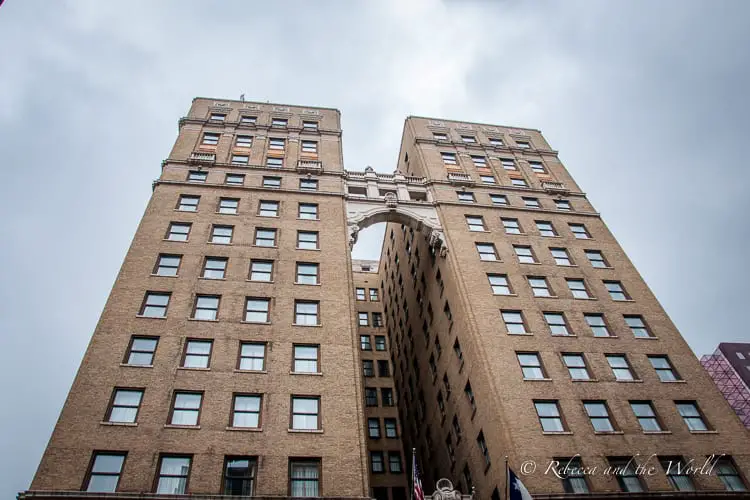 On a rainy Saturday morning, tour guide Jim Ruff showed us the highlights of the downtown area on the Main Street District Walking Tour. With architecture degrees and a career in commercial construction, Jim knows his stuff and has been involved in preservation activities in the city.
He pointed out various architecture styles, from art deco to renaissance revival to Victorian, and other details that I would never have noticed without him, such as the cartouches on the Titche building that represent Texas industry.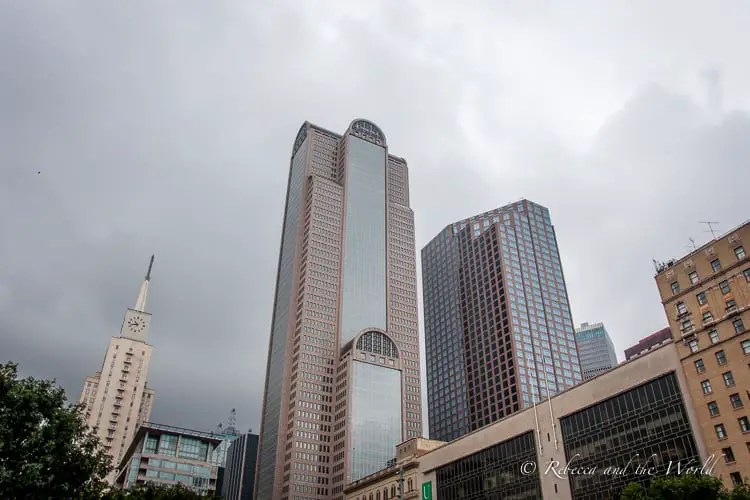 For two hours we weaved our way in and out of the streets as Jim pointed out various buildings and interesting facts about each. Did you know that the first Hilton with the brand name on it was in Dallas?
We saw the building where Lee Harvey Oswald was shot in the underground parking garage by Jack Ruby.
Downtown Dallas has undergone a revival in the last decade and it's evident in the extensive renovations that hotels like the Statler (built in the 1950s) and the Adolphus.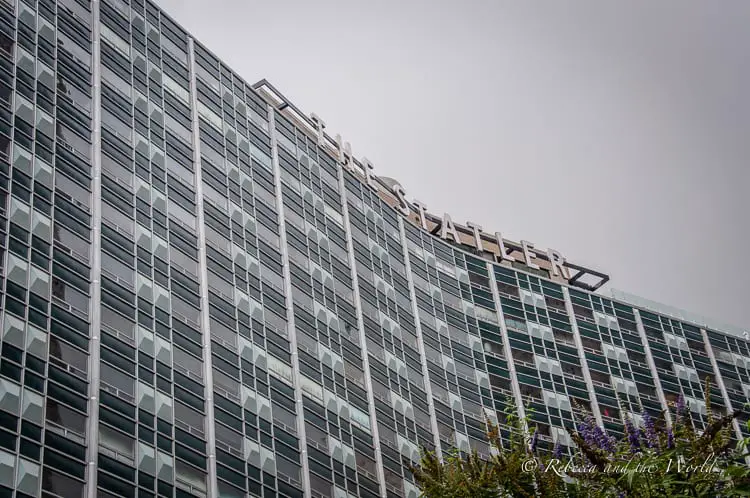 If you're interested in architecture and history, this tour should definitely be on your list when you visit Dallas.
Good for: Architecture and history buffs, lovers of walking tours
When: Tours run Saturday mornings, starting at 10 a.m. There are three different tours on offer, and they run on scheduled Saturdays throughout the month. AD EX also runs special tours every now and then – check their website for more information.
How to book: Book online at AD EX's website here
Cost: A bargain at $15
Insider tip: The tour involves a lot of walking, but it's easy walking on flat pavements
Dallas Cowboys Stadium tour
The largest dome structure in the world, even non-sport lovers can't help but be in awe of AT&T Stadium, more commonly known as the Dallas Cowboys Stadium.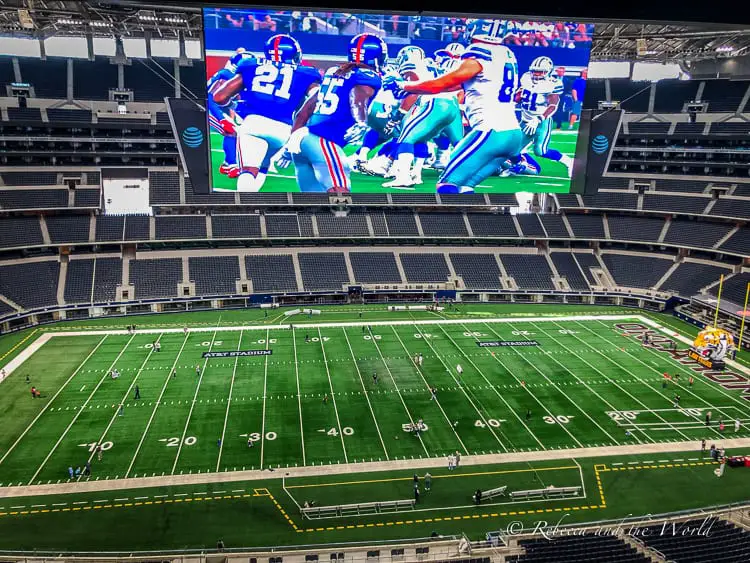 You can do a self-guided Dallas Cowboys Stadium tour, but I recommend choosing the VIP tour.
This two-hour tour takes you all over the stadium – and I mean all over. You'll be checking yourself out in the mirror in the Dallas Cowboys cheerleaders' locker room and posing in front of Dak Prescott's locker before you head out on the field itself.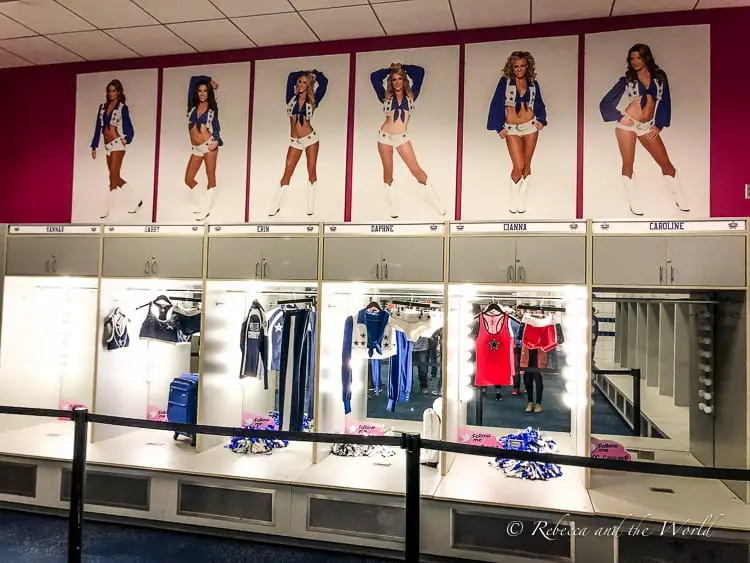 We were lucky to have Mr West lead our tour, a man who knows every inch of the 3 million square feet of the stadium.
This stadium isn't just for football. It's also been transformed for huge concerts (I saw Beyoncé and Jay-Z here) and turned into a boxing ring and basketball stadium. Monster trucks and WWE events have also been held here!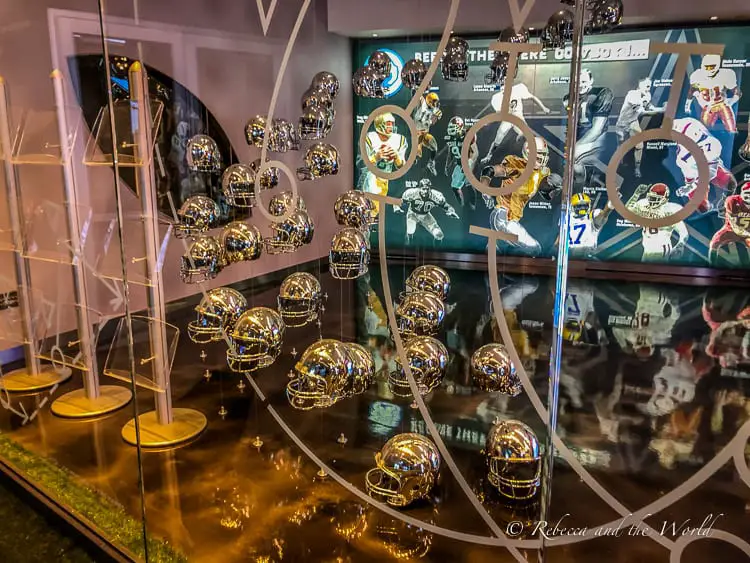 Some interesting facts we learned on the tour:
It took only three years to build
The screen that hangs in the middle of the dome cost $40 million and is heavier than a 747 airplane. It's actually in the Guinness Book of Records
There are more than 3,500 TV screens in the stadium
When tickets went on sale for George Strait's farewell concert tour, 100,000 tickets sold out in 30 minutes
The retractable roof opens in nine minutes
It cost almost $1.3 billion to build
But even though I've just shared those facts, you've still got to go there and check it out for yourself.
Good for: Sports-lovers, families
When: Tours are throughout the week but availability changes; check online for the latest schedule
How to book: Book online here. If you don't have a car in Dallas, you can book this tour which includes transport.
Cost: $22 for the self-guided tour, $40 for the VIP tour (adults)
Insider tip: Before you book, take a look at the blackout days. You want to make sure you can actually get on the field
Dallas JFK tour – for foodies
Like your history but also a self-confessed foodie? Then I have the tour for you.
The JFK Food and Culture Tour takes visitors on a walking tour through Downtown Dallas to learn about how Dallas was founded and to follow the last moments of JFK's life.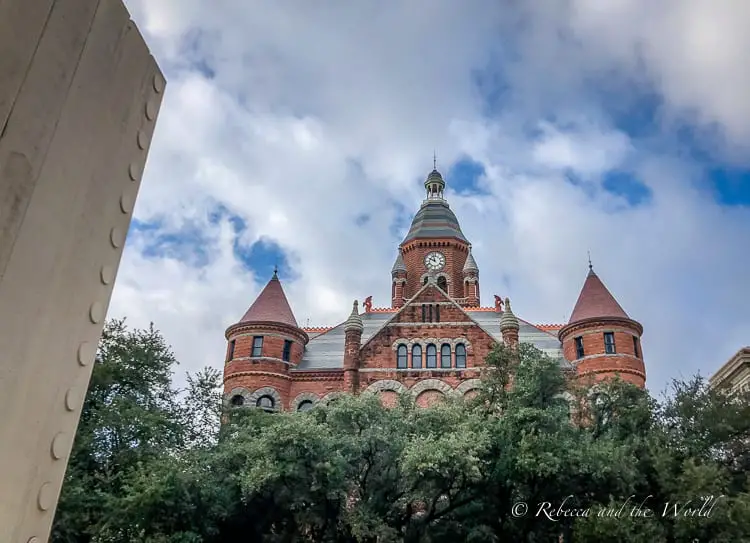 The tour begins at the Old Red Museum. Visitors then pay their respects at the JFK Memorial.
Next, it's over to the Grassy Knoll where you'll see an X on the road marking the spot where he was assassinated. The city constantly tries to remove this cross from the road, but it always reappears. You'll also see plenty of conspiracy theorists who are more than willing to share their thoughts on JFK's assassination, but it's here that you'll hear guide Jim's own theory of what happened.
You'll get on the local public transport system – I'm ashamed to admit it was my first time using it! – to head to Uptown, where it's time to eat. The food tour is actually a separate tour, so you may have some new people join your group.
You'll sample American food, Mediterranean, tacos, burgers and end with a sweet treat.
If you've only got a short amount of time in Dallas, this is a good tour to see Dallas's tourist attractions and make sure you get a feed.
Good for: History buffs, foodies, first-timers to Dallas
When: The tour lasts 4 hours (but often goes longer!) and runs every Friday starting at 9.30 a.m.
How to book: Book the JFK Food and Culture Tour online here
Cost: $89 plus taxes and fees
Insider tip: The tour doesn't include the JFK Museum. So, you will need to come back and visit it separately. I'd schedule this tour for your first day in Dallas so you get your bearings of downtown.
Other Dallas tours
Of course there are plenty of Dallas tours I haven't yet had a chance to check out for myself! Here are some that I've found:
Have you taken any Dallas tours? Leave your tips in the comments below!
PIN IT FOR LATER:
Save these Dallas tours to Pinterest so you can plan your Dallas trip later!