The first time I visited Oaxaca was more than 10 years ago, on a solo trip backpacking through Mexico and Guatemala. My Oaxaca itinerary included exploring the Zócalo filled with families, gazing up in wonder at Hierve El Agua and eating as much delicious food as I could.
Back then, backpackers passed through Oaxaca, exploring the city before heading down to the beaches along the Pacific Coast. But it hasn't taken long for the word to spread about Oaxaca City, and now tourism is booming in the capital city of the state with the same name. Boutique accommodations are booming, markets are filling with visitors wanting to savour traditional Oaxacan food, and mezcal is popping up on the menus of cocktail bars around the world.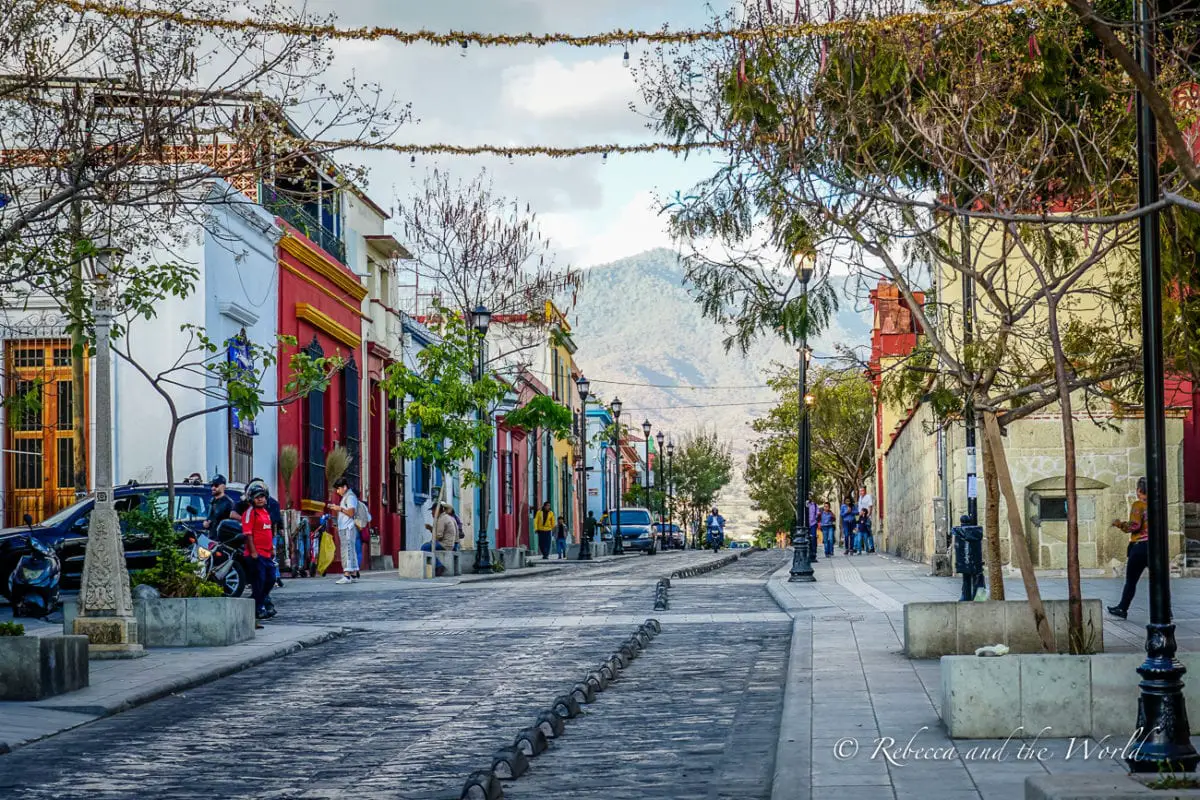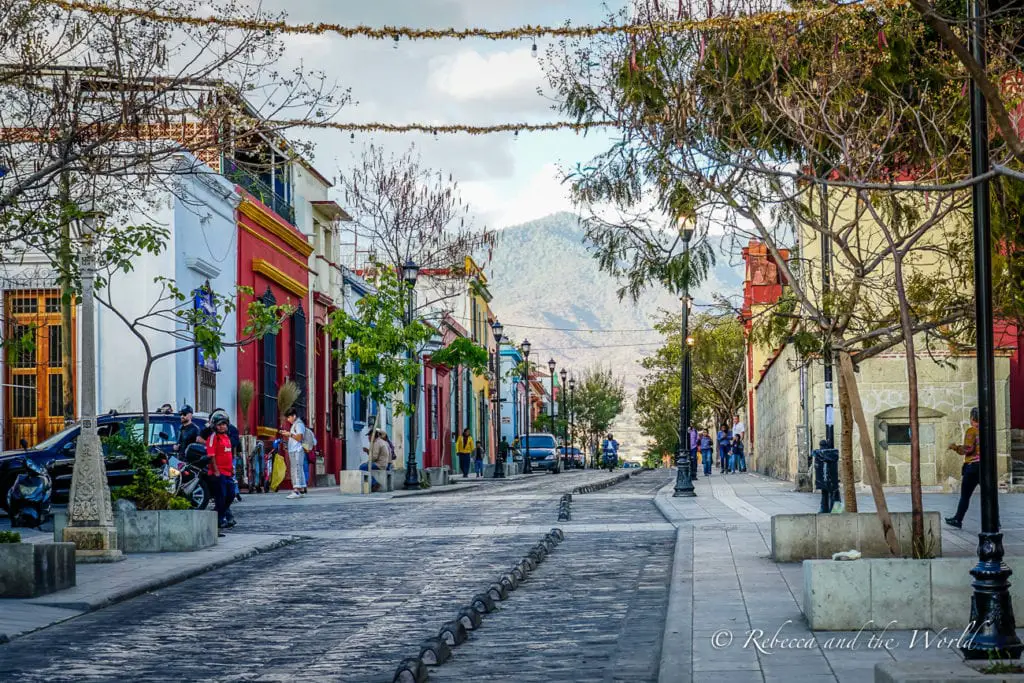 When I saw that Oaxaca City was only a three-hour, direct flight from Dallas, I knew I had to go back and see the city again. Mostly, I wanted to eat delicious Oaxaca food and my husband wanted to sip mezcal – and we packed a lot of both of those in. Read on for my list of the best things to do in Oaxaca with this 4-day Oaxaca itinerary.
This post was updated in August 2022. I've done my best to check that information remains current in light of the pandemic, but please check with individual businesses before booking. If you see any errors, please let me know so that I can keep this article updated.
Oaxaca travel logistics
Before we jump into the 4-day Oaxaca trip itinerary, here are a few things you need to know before your trip to Oaxaca.
This blog post may contain affiliate links, meaning if you book or buy something through one of these links, I may earn a small commission (at no extra cost to you).
How many days do you need in Oaxaca?
In my opinion, 3 days in Oaxaca is the minimum amount of time you need to dedicate to this city that's the ideal destination for culture and food junkies. We had four days in Oaxaca, so that's how I've written this itinerary – you can adapt it to the time you have. Two days in Oaxaca is possible but it's just not enough.
There are plenty of blog posts out there with a one week Oaxaca itinerary, but that only works if you have plenty of time up your sleeve. I've written this 4-day itinerary for those who have just enough time to get away for a long weekend. Either way, I guarantee you'll be booking a return trip before your visit to Oaxaca is even over!
If you do have more time in Mexico, consider creating a Mexico City and Oaxaca itinerary – I have the perfect guide to 3 days in Mexico City that you can couple with this Oaxaca travel guide. It's very easy to travel from Mexico City to Oaxaca (and vice versa).
Is Oaxaca safe?
I think so! I've travelled here as a solo female and as a couple. I never had any issues at all when I've visited and always felt safe, even when we were out walking at night. There were lots of families travelling in Oaxaca, as well as solo females. That being said, it always pays to be aware of your surroundings. Read my tips on the things you need to know before travelling to Oaxaca.
Having said that, I always buy travel insurance. World Nomads offers simple and flexible travel insurance. Buy at home or while traveling and claim online from anywhere in the world.
How to get to Oaxaca
There's an international airport in Oaxaca, Xoxocotlán International Airport (OAX). Many international flights transit through Mexico City but some cities have direct flights (including from Dallas, Texas). Search for and compare flights to Oaxaca here.
From the airport, it's about a 25-minute drive to downtown. You can hire a car, get a taxi or jump in the shared taxis, which cost around MN$130 per person (as of 2021). You'll see the shared taxi stand as you come out of customs. You'll need to wait until the taxi fills up and as they drop people off to their different hotels, but it usually doesn't take too long. Alternatively, GuateGo offers private transfers direct to your hotel, which will save you a tonne of time.
If you're already in Mexico, there are plenty of buses and domestic flights from Mexico City and other major cities to Oaxaca. Mexican buses are super comfortable, especially the long-distance buses.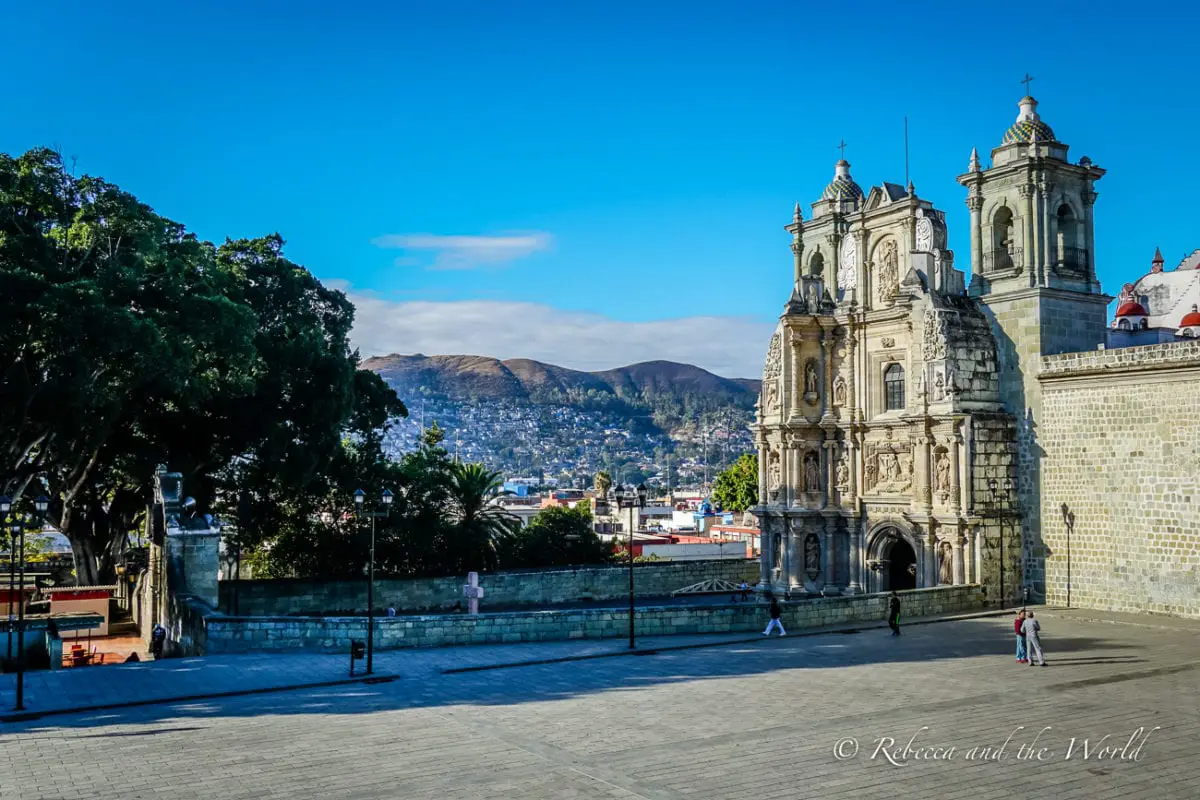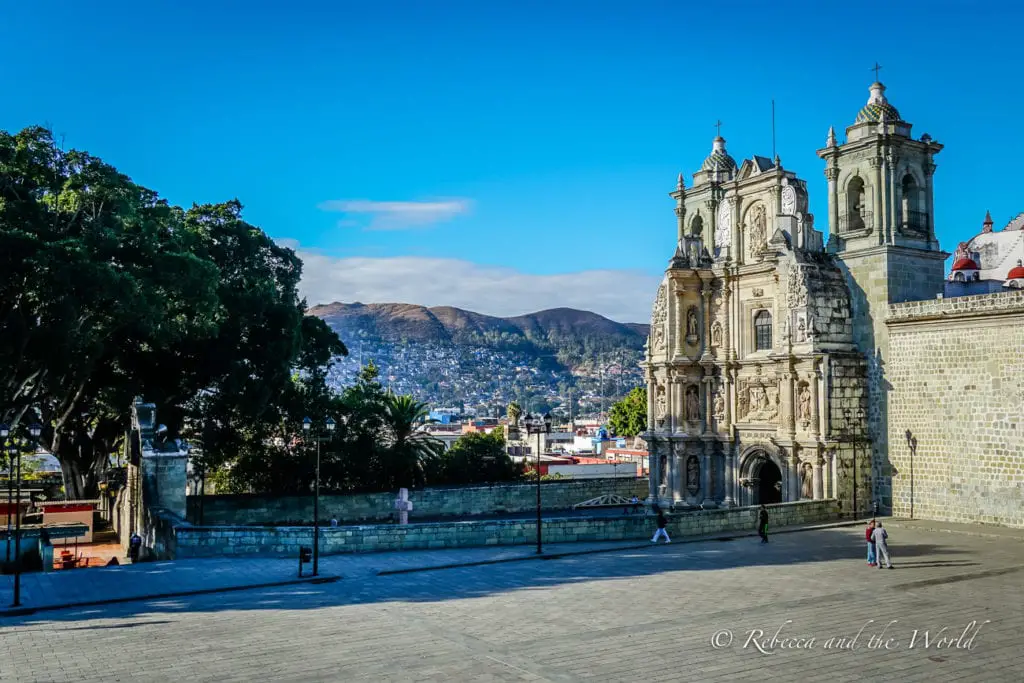 Best time to visit Oaxaca
The best time to visit Oaxaca is October to February for mild weather. The hottest months are April and May, and you can expect a fair amount of rain between May and September.
We visited Oaxaca in mid-January and the daytime temperatures were lovely – not hot but not cold, either. It got only a little chilly at night and we saw little rain.
Visitor numbers swell during major festivals and celebrations. This includes around Easter, the Guelaguetza festival, a traditional dance festival held in July, Día de los Muertos, the Day of the Dead festival which is becoming more popular with foreign tourists (late October/early November), and Noche de Rabanos, the "Night of the Radishes" (!!) in December.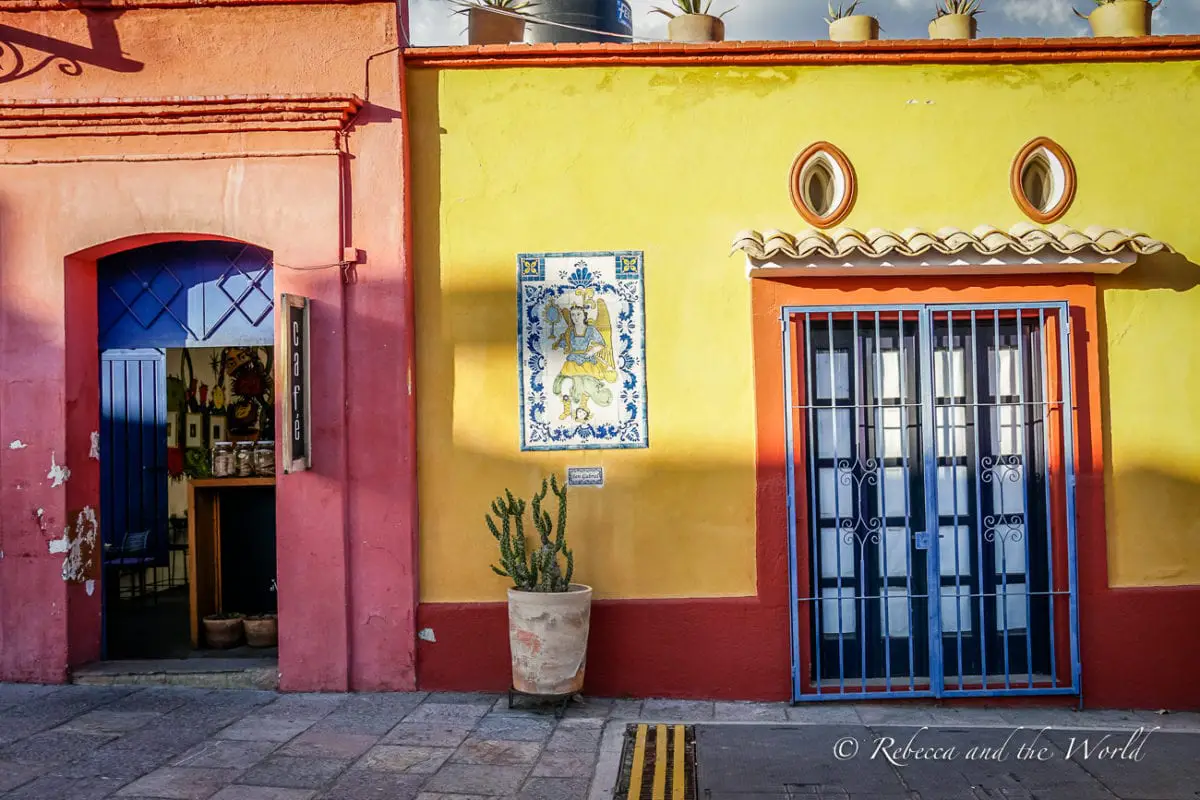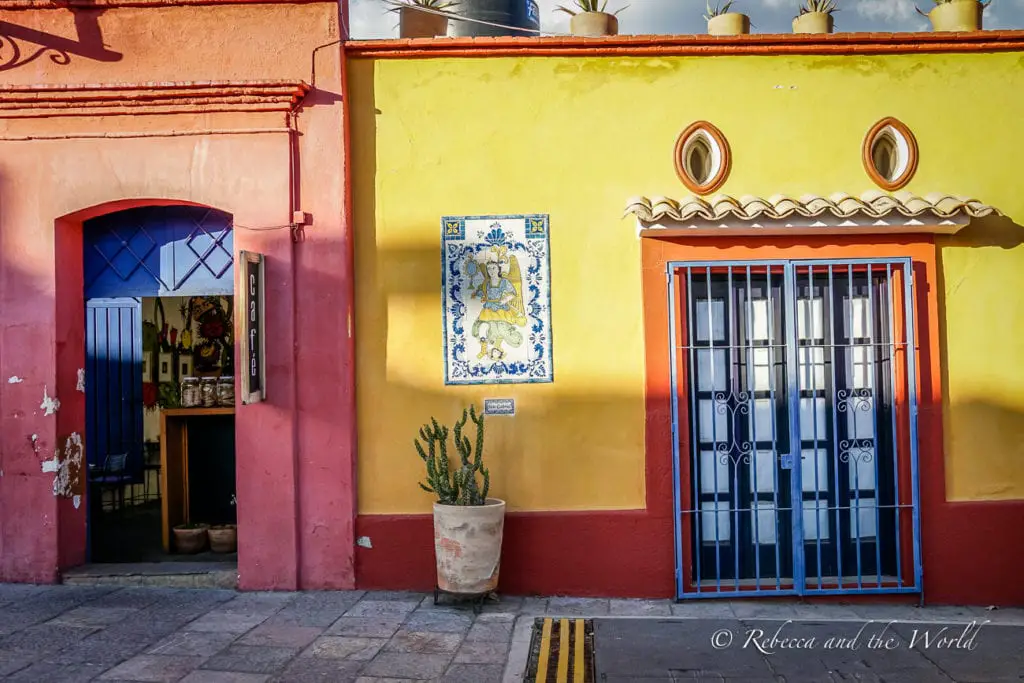 Where to stay in Oaxaca
Oaxaca tourism is rapidly increasing, so there are plenty of hostels and hotels in Oaxaca.
We stayed at Hotel Siglo XVII which was in the centre of the city and within walking distance of both the zocalo and the Templo de Santo Domingo. Rooms are built around a lovely courtyard and the staff are very friendly. While we went out for breakfast most days (to try to eat at as many different places as possible!) a breakfast of fruit and eggs cooked to order is included. Check the latest rates and book your stay with Booking.com | Read reviews on TripAdvisor
Other recommended hotels in Oaxaca include:
There are also some gorgeous Airbnbs in Oaxaca. My picks would be:
What to pack
Pack good walking shoes to deal with the cobblestoned streets, a hat and sunscreen.
Oaxaca is pretty safe, but if I'm travelling internationally, I always arrange travel insurance. World Nomads offers simple and flexible travel insurance. Buy at home or while traveling and claim online from anywhere in the world.
Oaxaca itinerary 
Now for the good stuff! Here's how to spend 4 days in Oaxaca.
Map of what to do in Oaxaca
Everything I've recommended in this itinerary can be found on the map of Oaxaca below.
Day 1: Eat the best food in Oaxaca
One of the best reasons to visit Oaxaca is for the food, so start your trip off right by exploring the local markets. If you don't know your memelitas from your mole, then the best way to discover Oaxaca's food scene is with a tour with Omar of Oaxacking.
A native Oaxacan, Omar knows everything there is to know about Oaxacan food. He doesn't take his guests to the touristy markets and restaurants; instead he hits the markets that Mexicans shop and eat at. During our tour we didn't see another tourist. We followed him as he weaved in and out of the stalls in the maze-like Mercado de Abastos, and ate more food in four hours than I usually do in a week.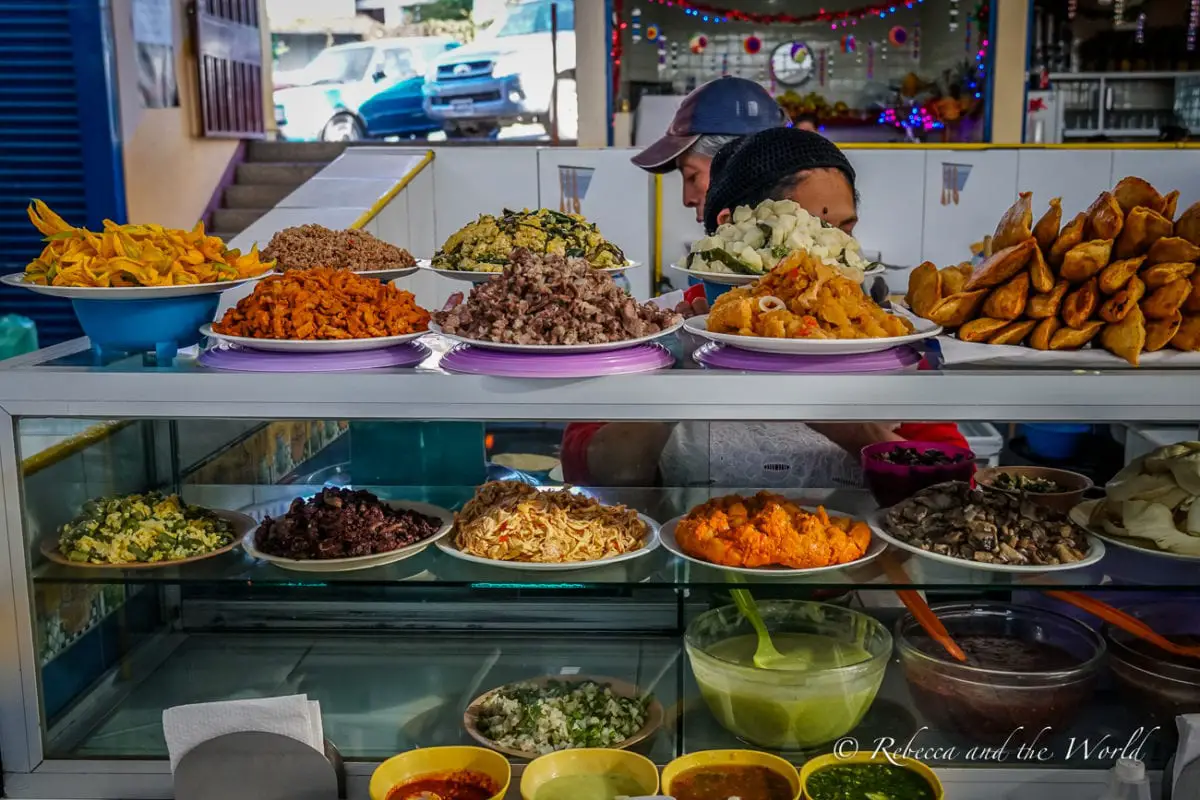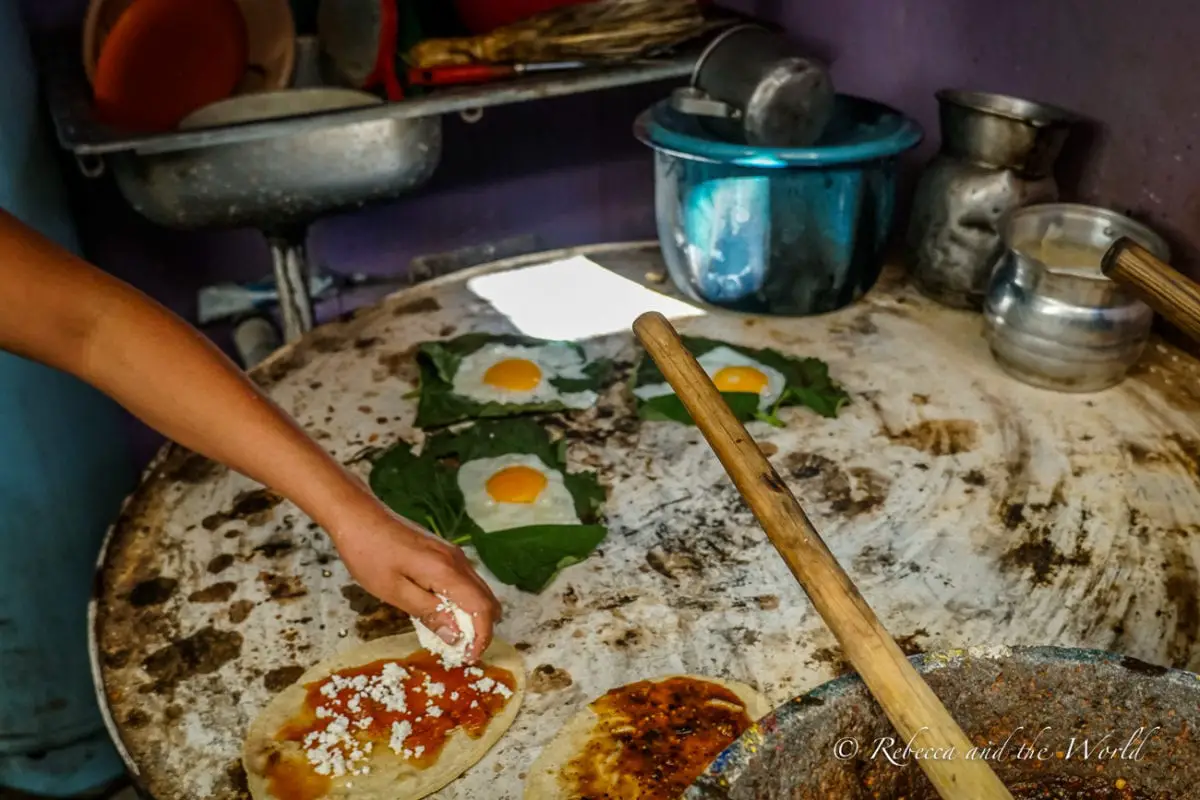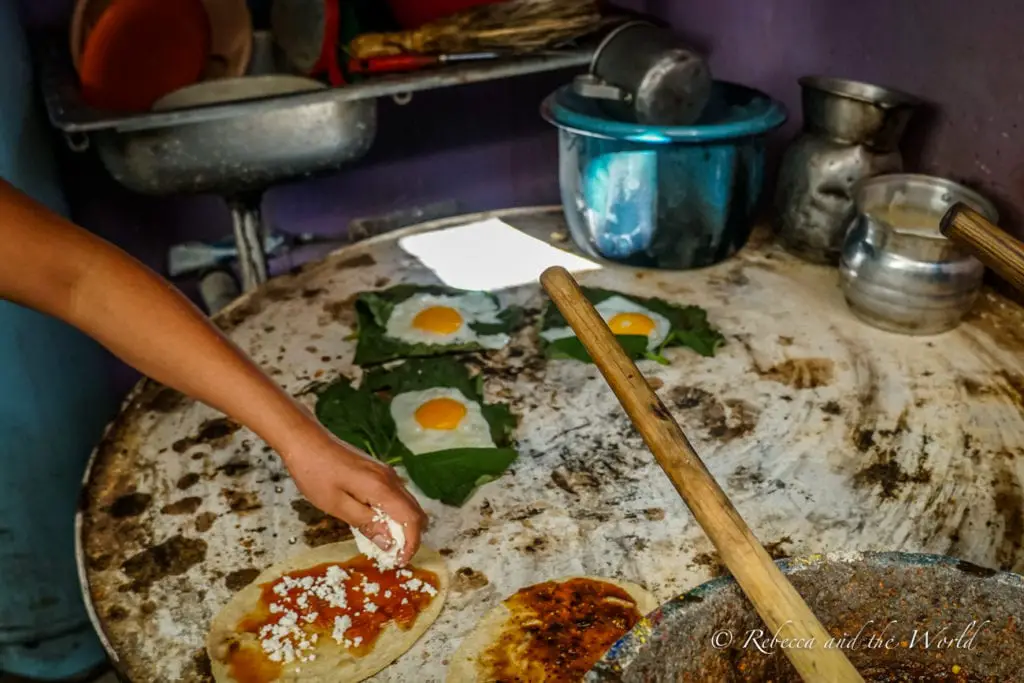 We tried memelitas, fried quesadillas, atole, barbacoa, tlayudas, tostadas, pulque, mezcal, nieves and regional sweets. He shared with us the traditions behind local fruits and vegetables, and tips on how and when to eat particular foods.
It was a tour that we could never have done by ourselves. Even though we can speak Spanish, there was no way an outsider could navigate the intricacies of the market without local help and we wouldn't have known where to begin with ordering.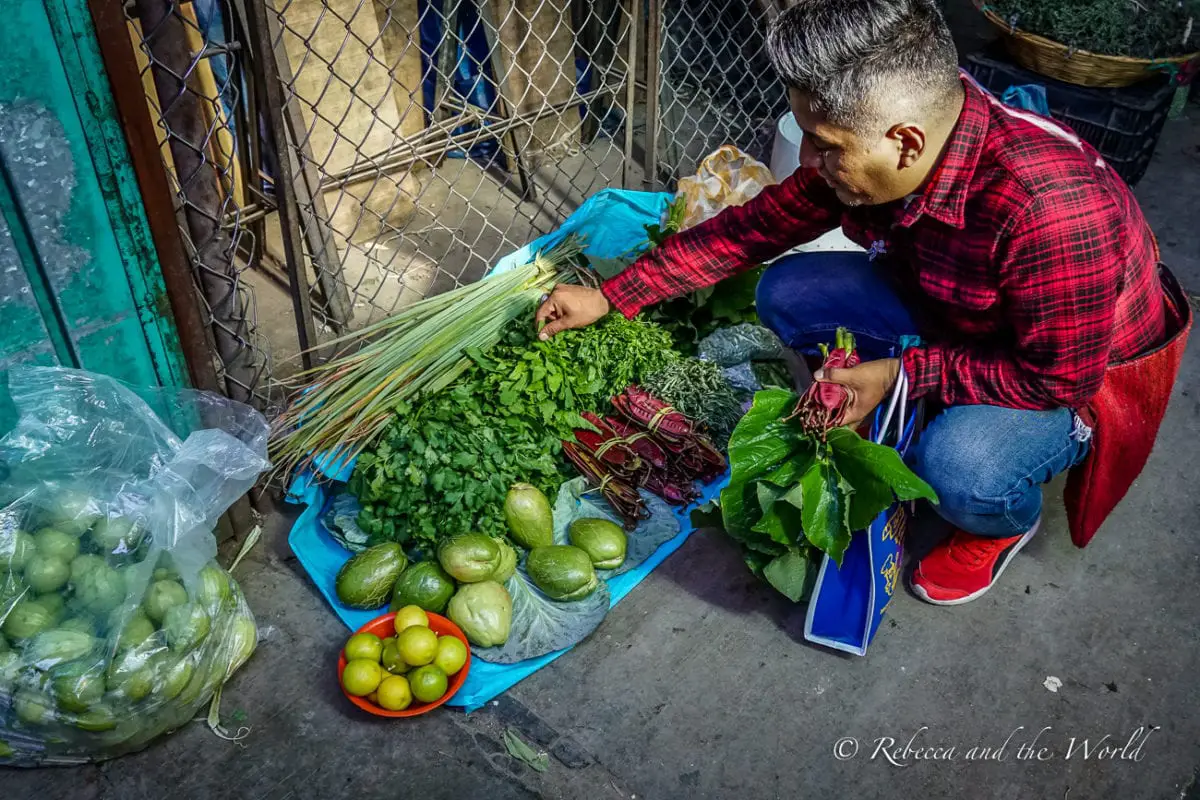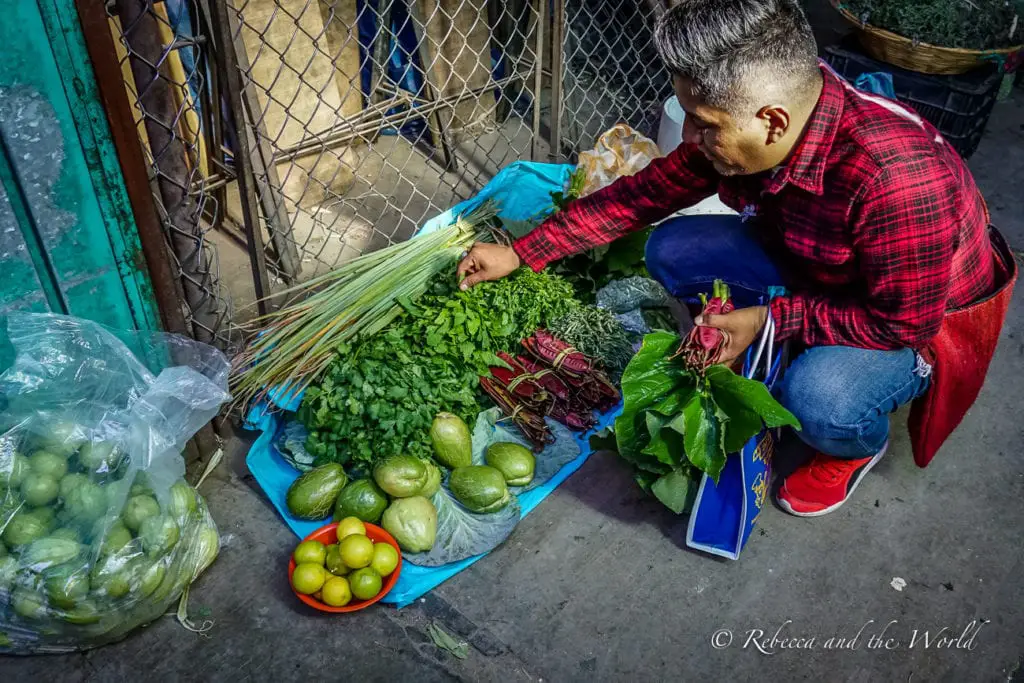 He also knows all the great chefs in the city so he's a resource for finding out about other hidden and not-so-hidden restaurants. He gave us so many suggestions – too many for us to have enough time to eat at! Omar is so well-known now he's done work with Gordon Ramsay and recently appeared on Somebody Feed Phil.
Book your Oaxaca food tour with Omar through his website. He also does private and group trips to markets outside of Oaxaca City and can customise a tour to your needs.
Guided option: Omar's food tour of Oaxaca is on the higher end (but totally worth it!), so this affordable option takes guests to heaps of delicious places to eat in Oaxaca, and this tour focuses on the street food of Oaxaca (but note that food and drinks are extra).
After the food tour, you may need a siesta. Once you're ready to get going again, head over to the zócalo, the square that forms the hub of every Mexican town and city. This part of Oaxaca City is always bustling, full of people selling street food and balloons, families hanging out or school kids skipping class. It's a fun place to visit – and you should come back here throughout your visit to Oaxaca, both during the day and at night to experience it.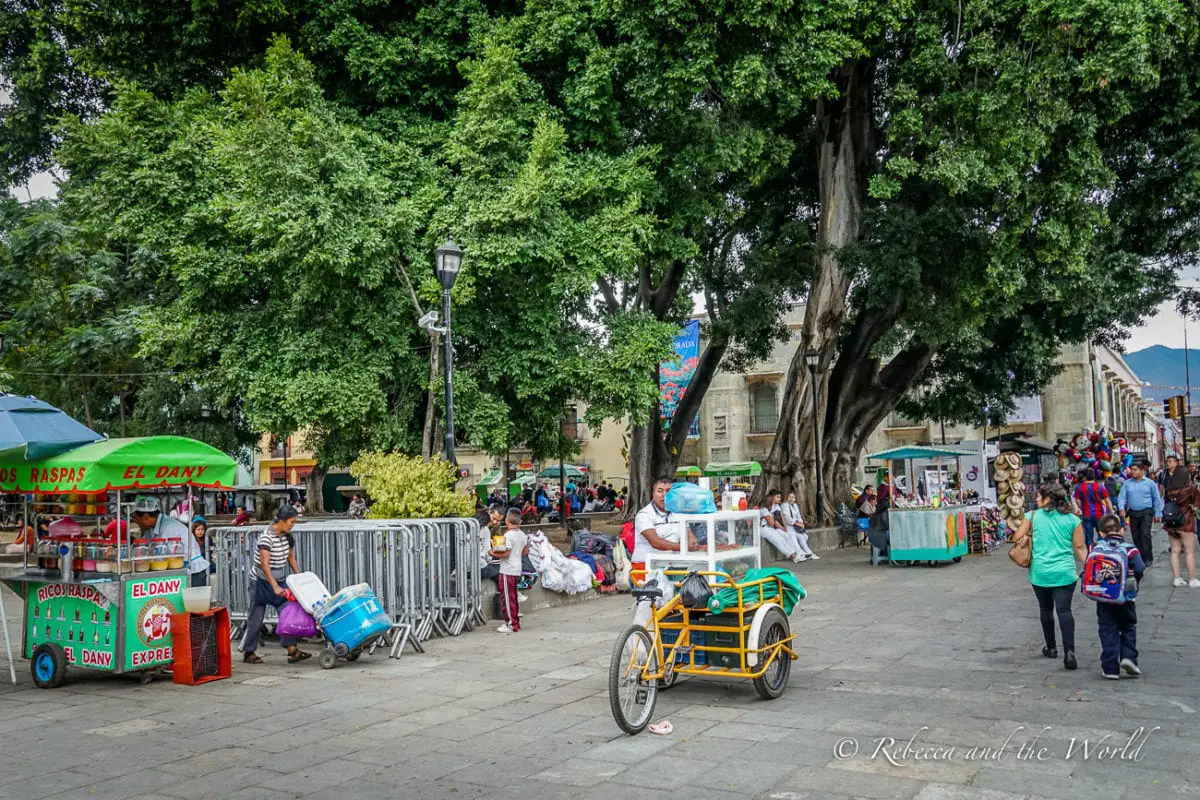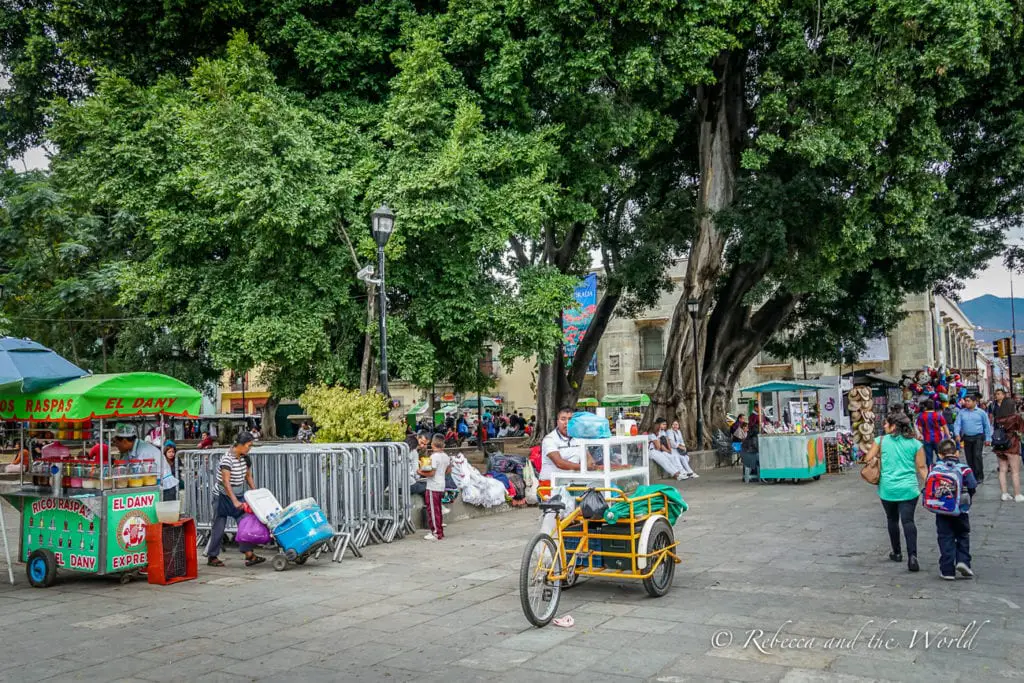 Make your way up Calle Macedonia Alcalá, which becomes a pedestrian street for a few blocks close to the Templo de Santo Domingo. You'll find vendors selling food and all manner of artisanal goods, from straw bags to cushion covers – pick up a few of the usually very well-priced goods.
Head into the Templo de Santo Domingo, a 16th-century Baroque church. Inside, it's a golden wonderland. It's open daily except during mass and there's usually someone inside who can take you on a brief tour (for a fee) if you're interested in learning more about the church. Whether you go inside or just stay outside, the temple is one of the essential things to see in Oaxaca.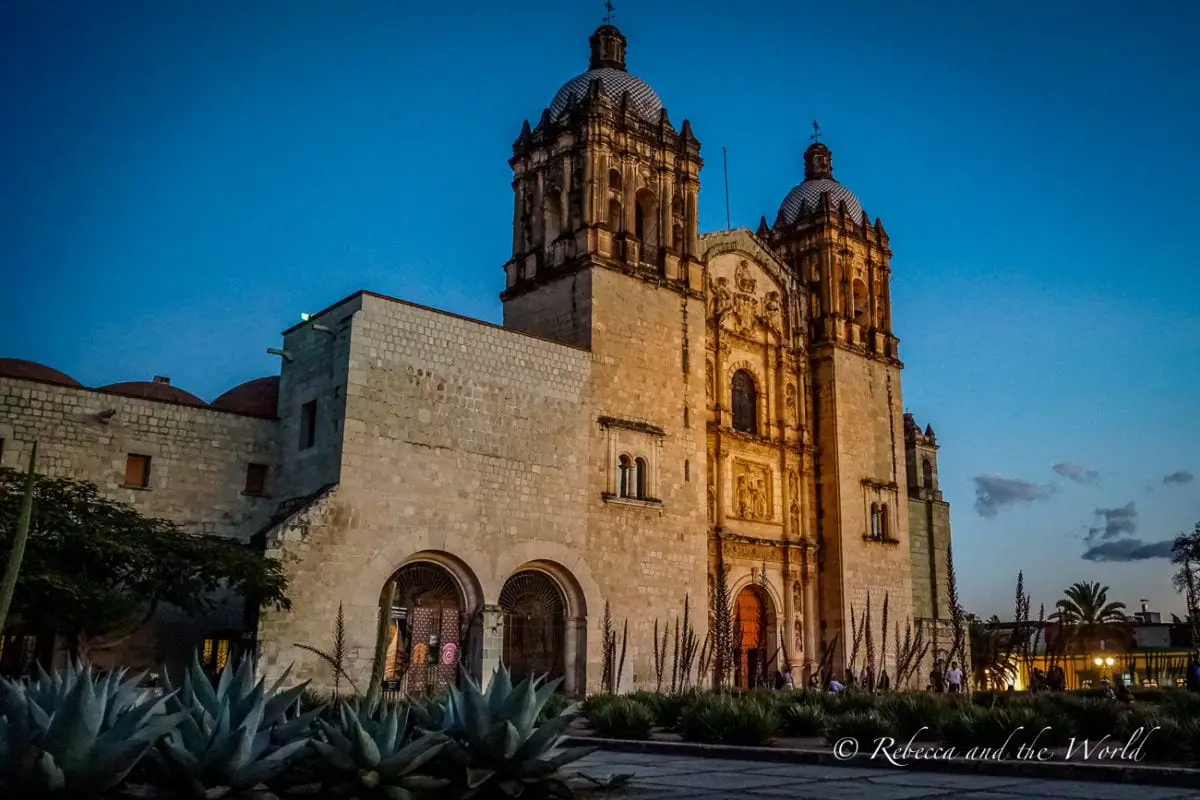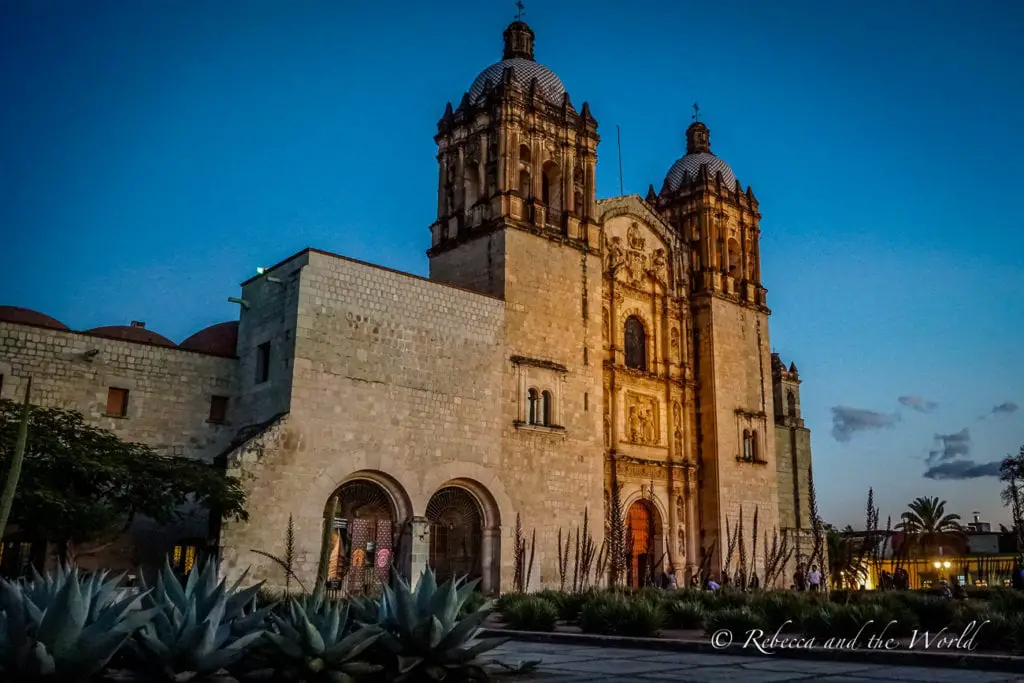 Next door is the Museo de las Culturas de Oaxaca (Oaxaca Culture Museum), housed in a former monastery. Make plans to spend a few hours here as there's a lot to see, from temporary art exhibitions to the permanent exhibitions that follow the history of Oaxacan civilisation all the way to modern times.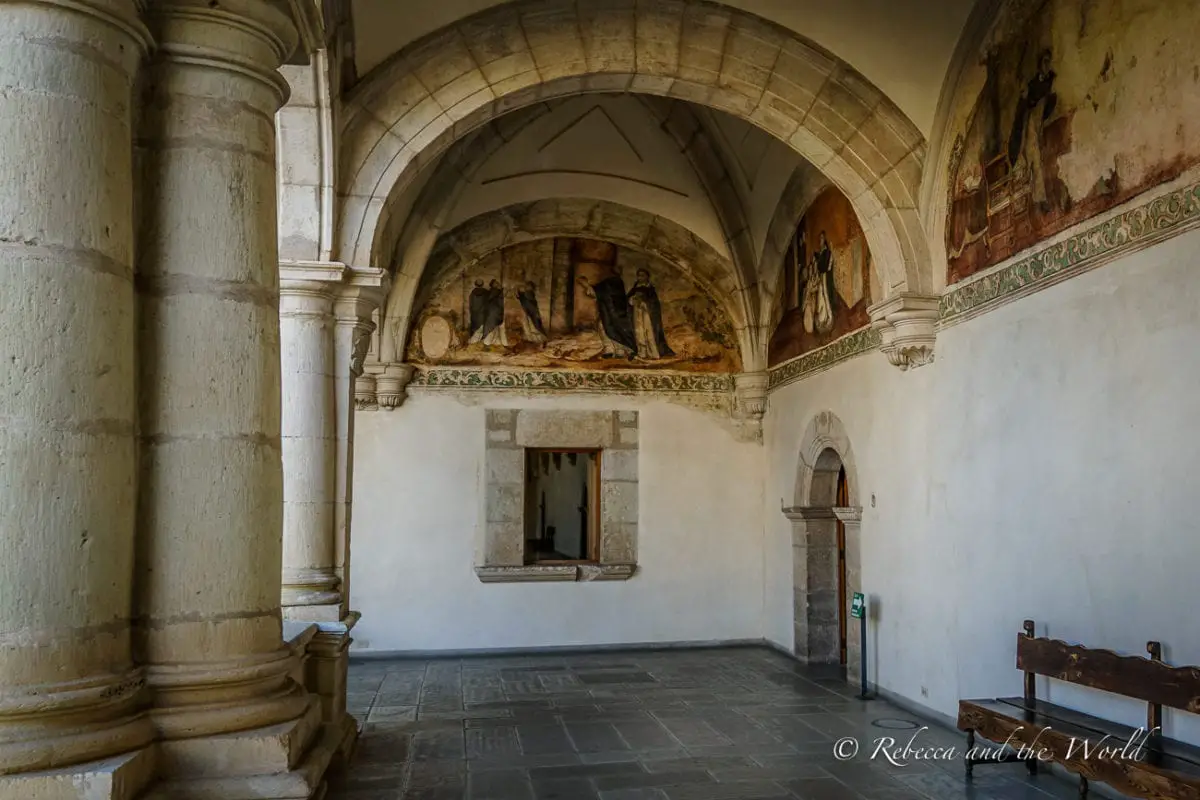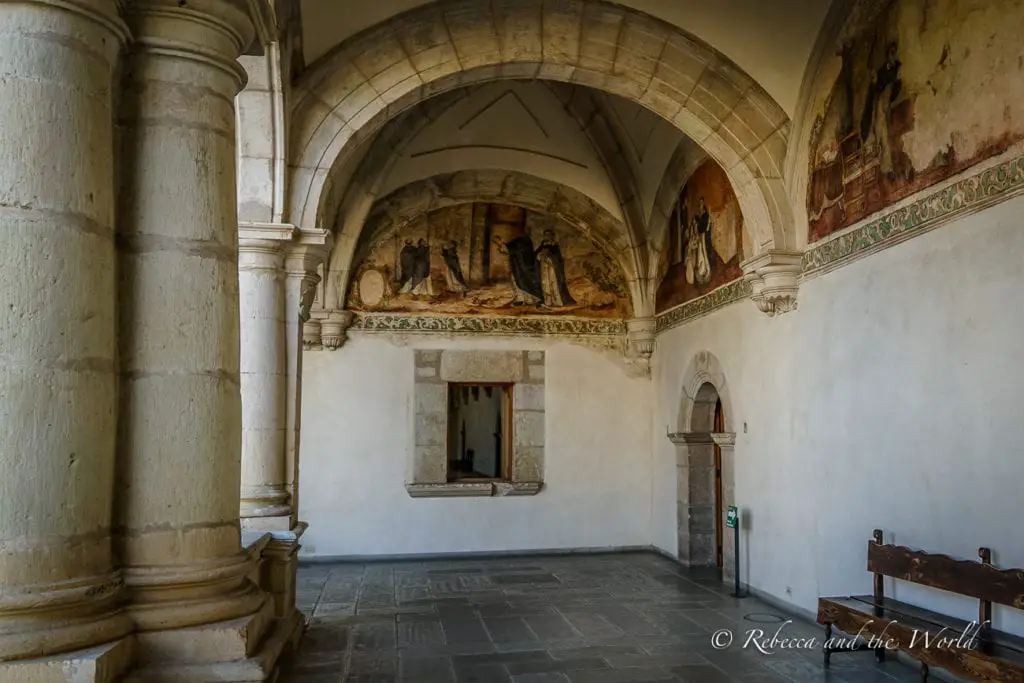 Mexico may be known for tequila, but in Oaxaca you'll be drinking mezcal, another liquor made from agave. It's a surprisingly complex drink that's smoky and strong. It's difficult to know where to start, so make a reservation for a tasting at La Mezcaloteca and let the team guide you through a tasting.
They'll customise a selection of mezcals based on flavours you like, and teach you how to enjoy this alcohol. Make sure to drink plenty of water between tastes – quality mezcals usually start at around 40 percent proof and make their way up to 80 proof! Reservations required.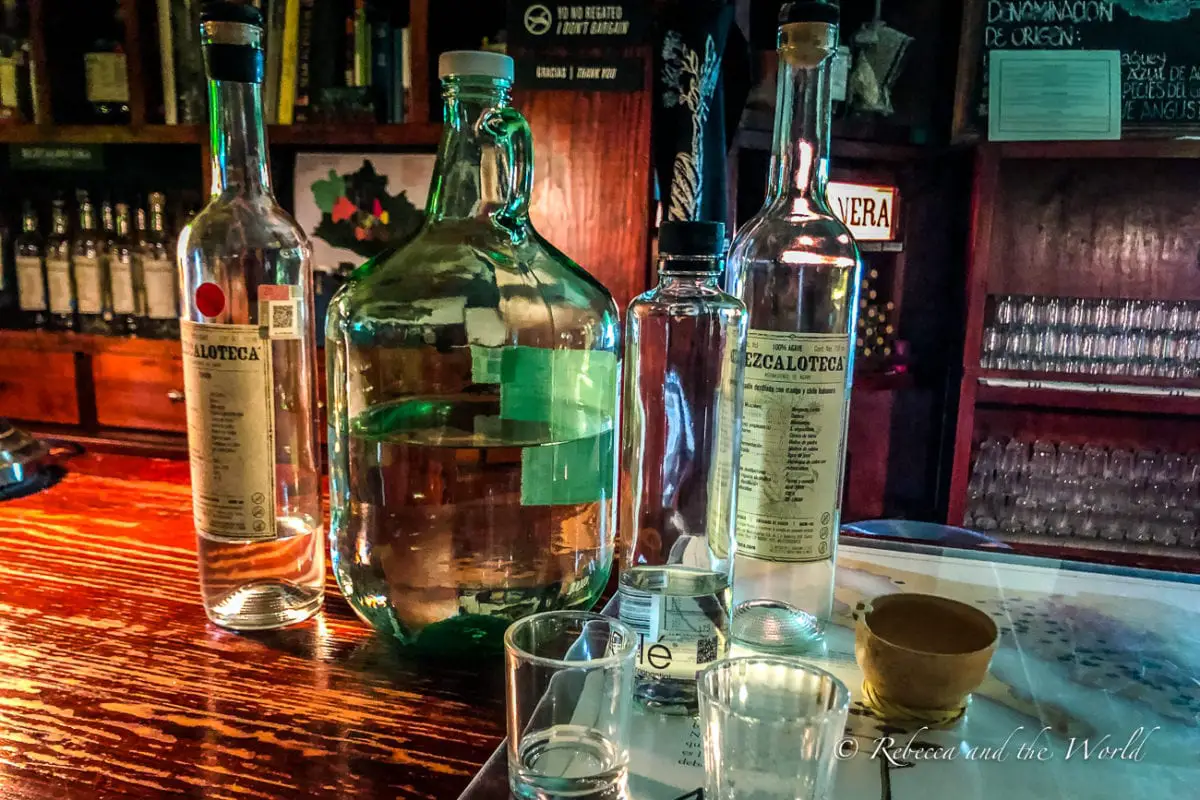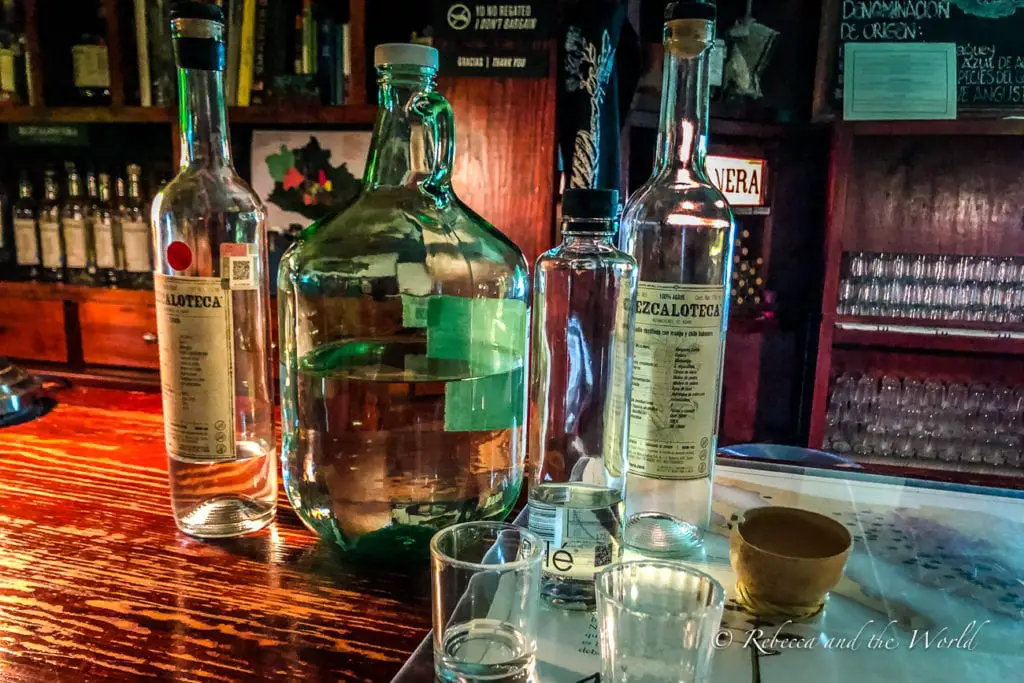 Make (or stumble) your way to Criollo. You'll need a taxi as it's a fair walk from the city centre. Here you'll be delighted by the multi-course tasting menu that celebrates Oaxacan flavours. The kitchen is open so you can watch the staff preparing every course, including the women who knead, flatten and toast every single tortilla. Mexico's most famous chef, Enrique Olvera, the man behind Pujol in Mexico City, is a silent partner in Criollo.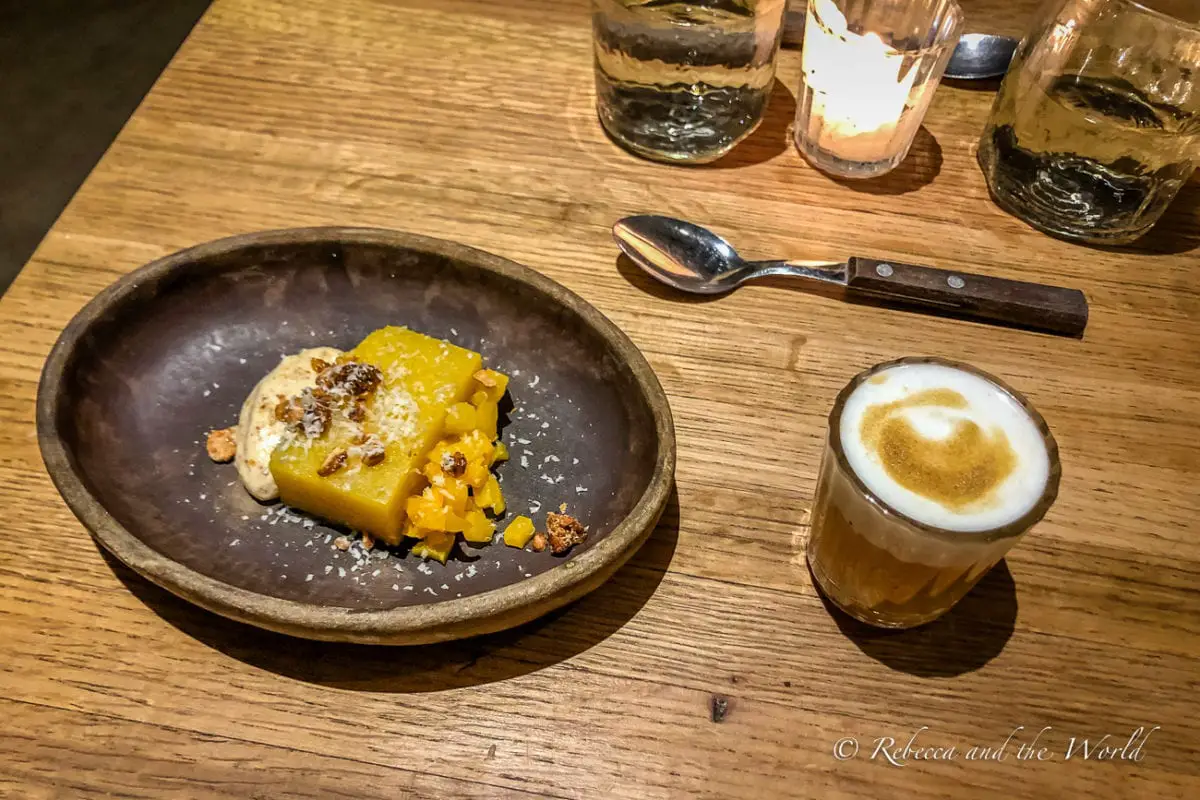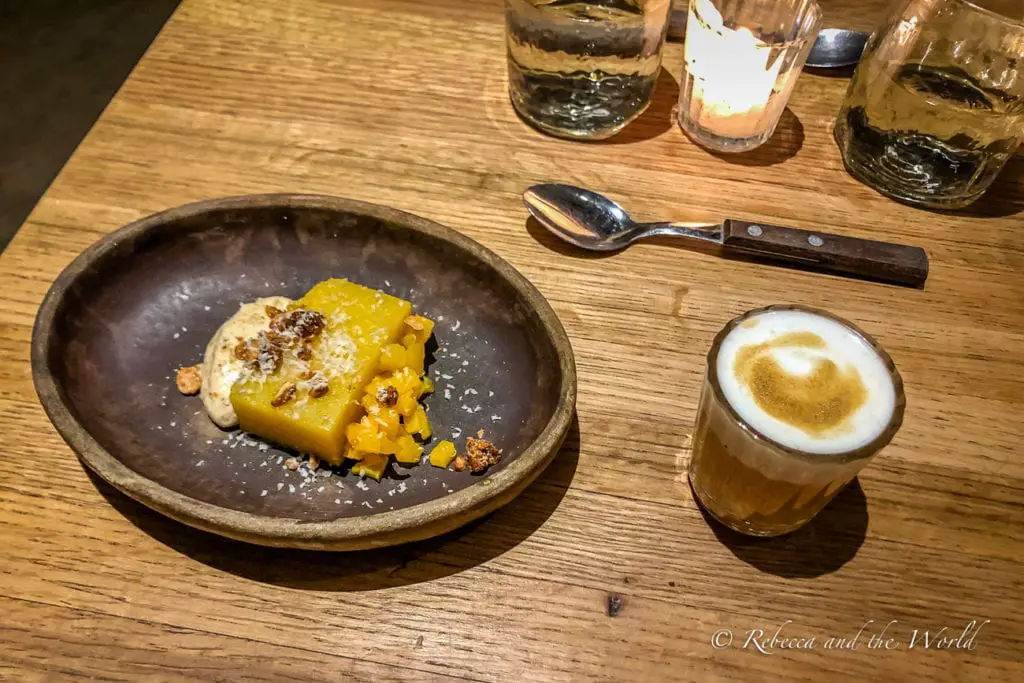 Day 2: Go on a mezcal tour in Oaxaca
If last night gave you a taste for mezcal, today you're going to learn even more about the drink.
But first, breakfast. Head to PAN:AM for the delicious chilaquiles and fresh juices. Don't forget to pick something out of the bread basket that comes around (a pain au chocolat, for instance); everything is freshly made in-house.
There are plenty of mezcal tours around town (Omar from Oaxacking also leads tours to family-owned, small-batch producers) but we chose and recommend Las Bugambilias. I found them through the blog Brooklyn Tropicali, written by an expat living in Oaxaca, and loved that they take their guests to small, family-run palenques (artisanal distilleries).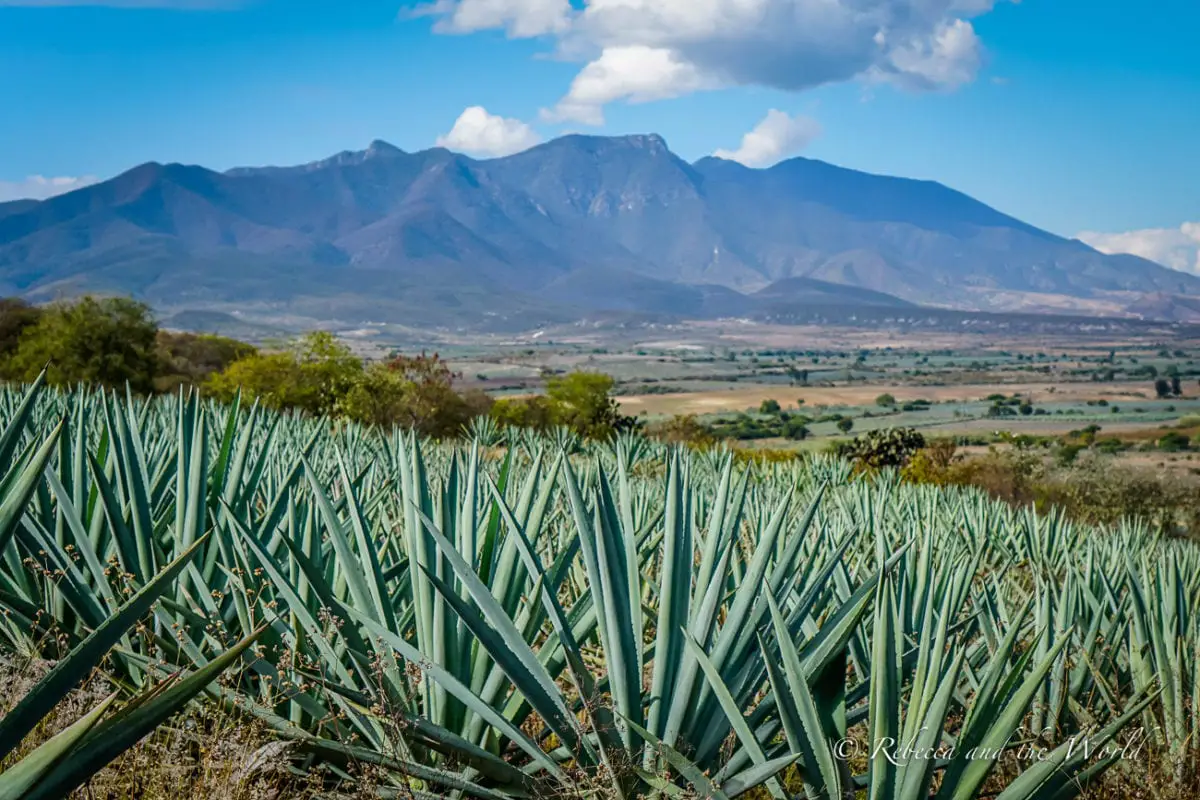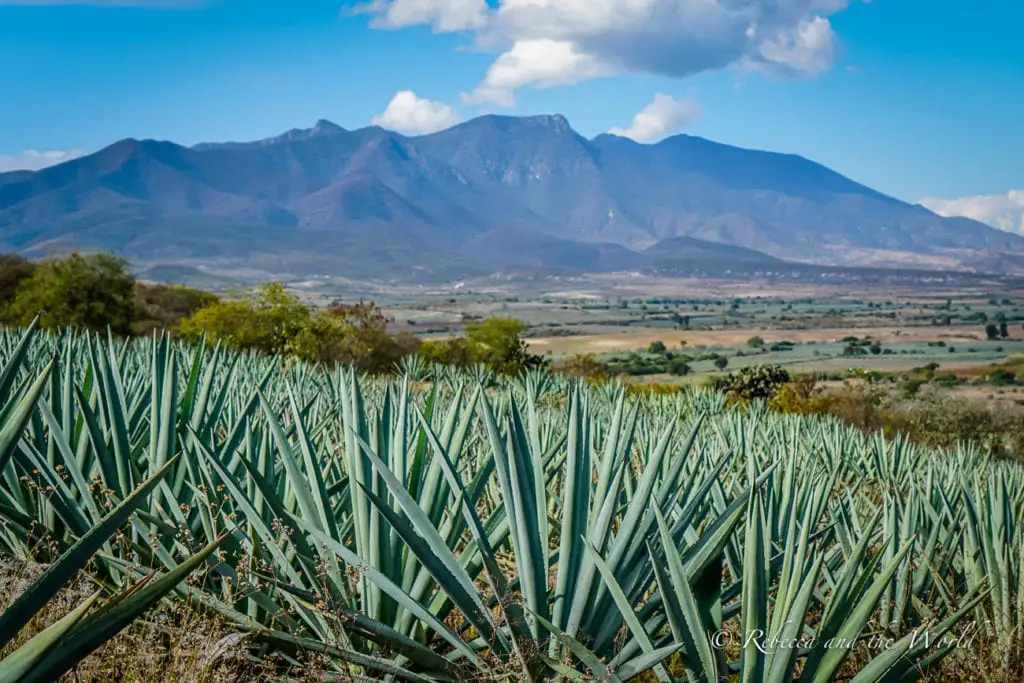 The tour is an all-day affair, with stops at three different producers in Santiago de Matatlán. Eighty-five percent of mezcal is produced in Oaxaca state, and most of that is made in Santiago de Matatlán.
The tour with Las Bugambilias isn't like other tours where it's all about the drinking, instead you'll learn in great detail about the process of making mezcal, and see where it all happens. Staff at each palenque leads the group through a tasting of their best mezcals and you can purchase bottles in each location. Lunch is at a family-owned restaurant.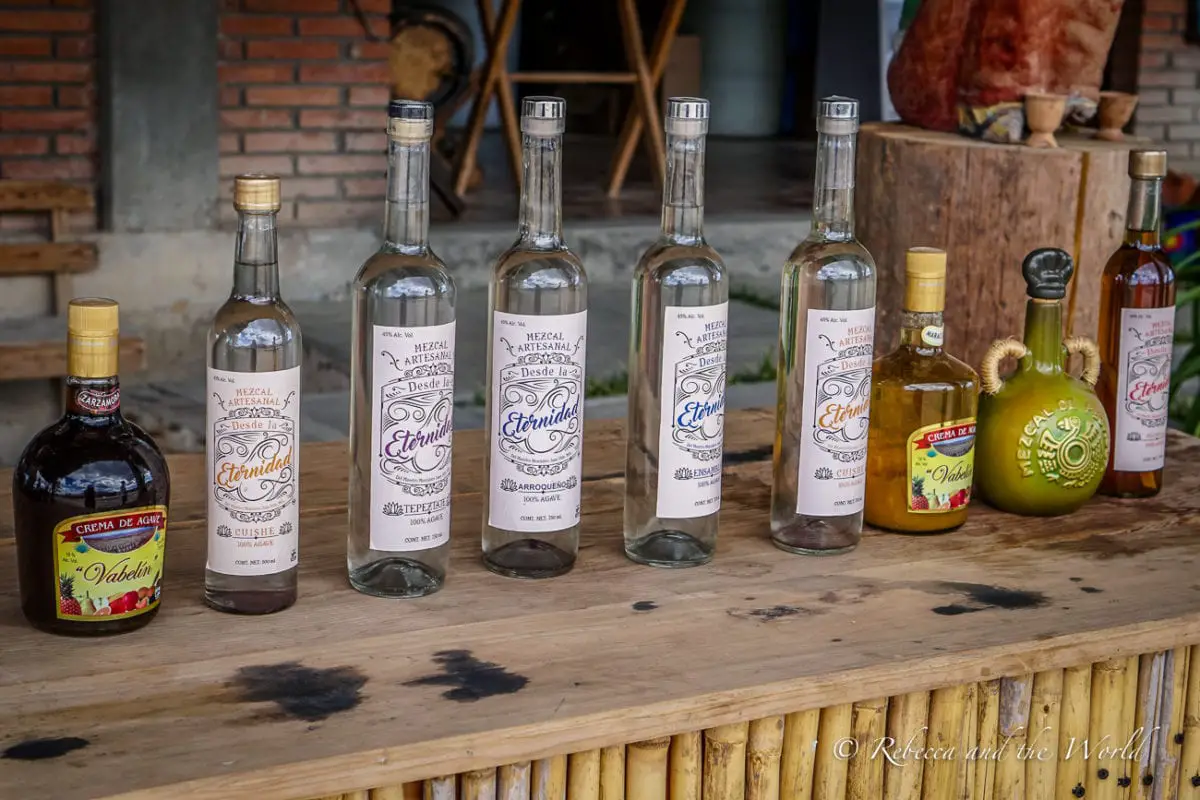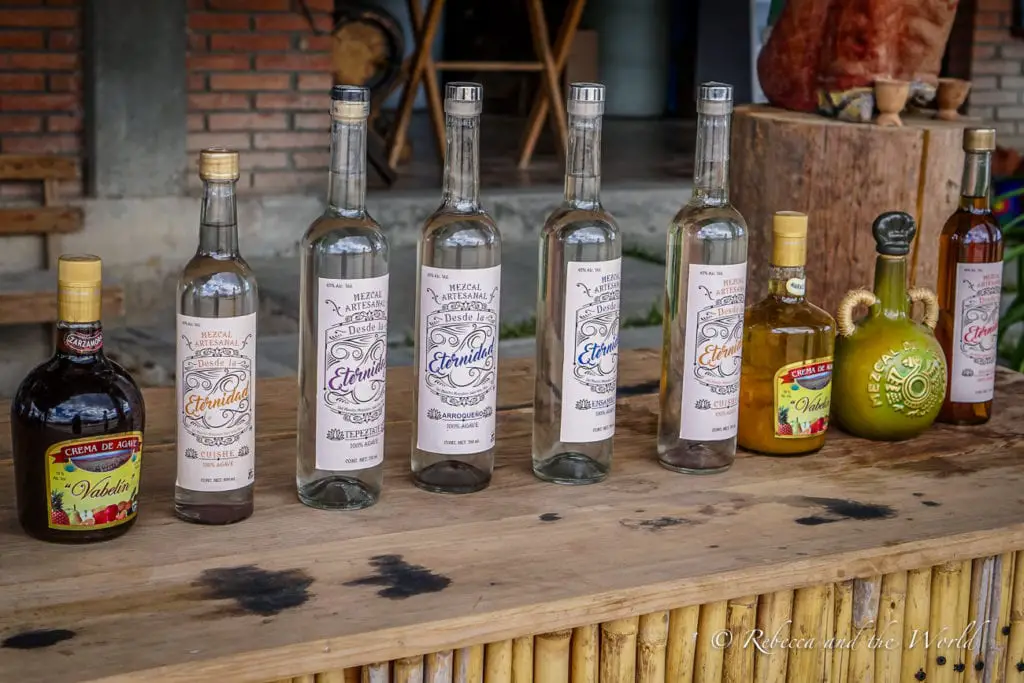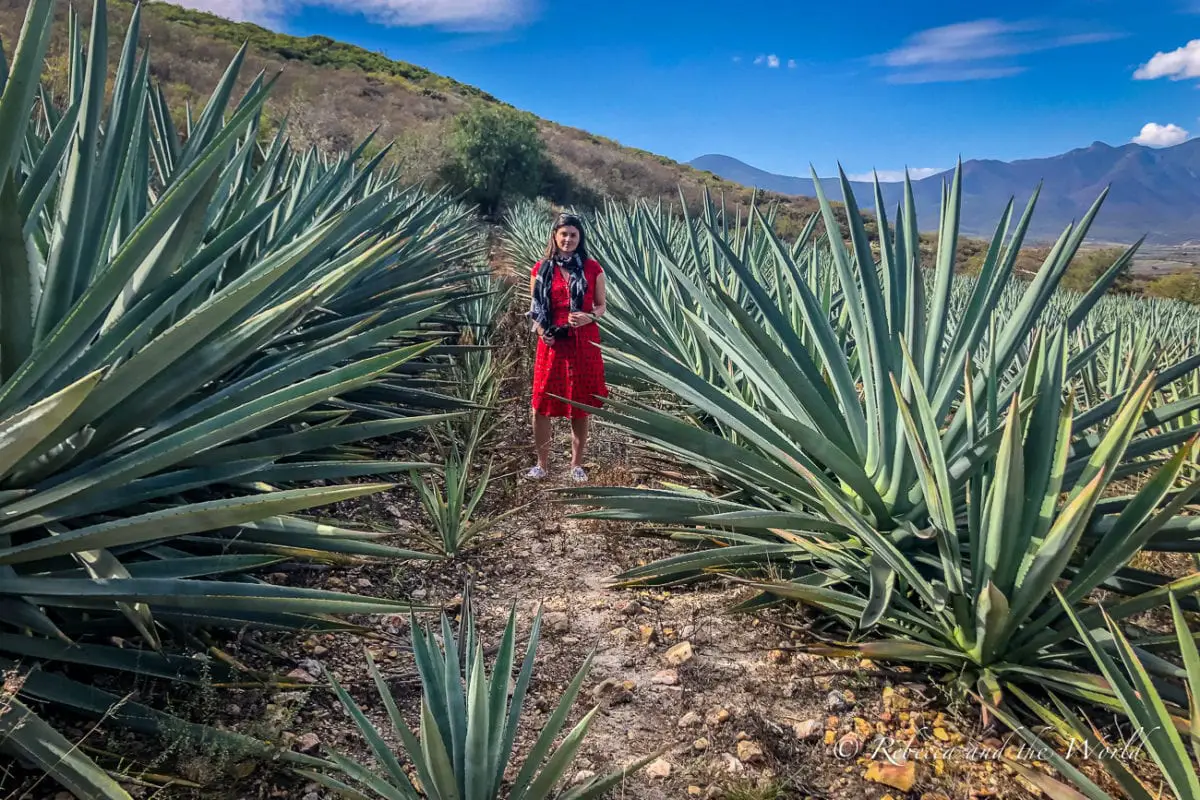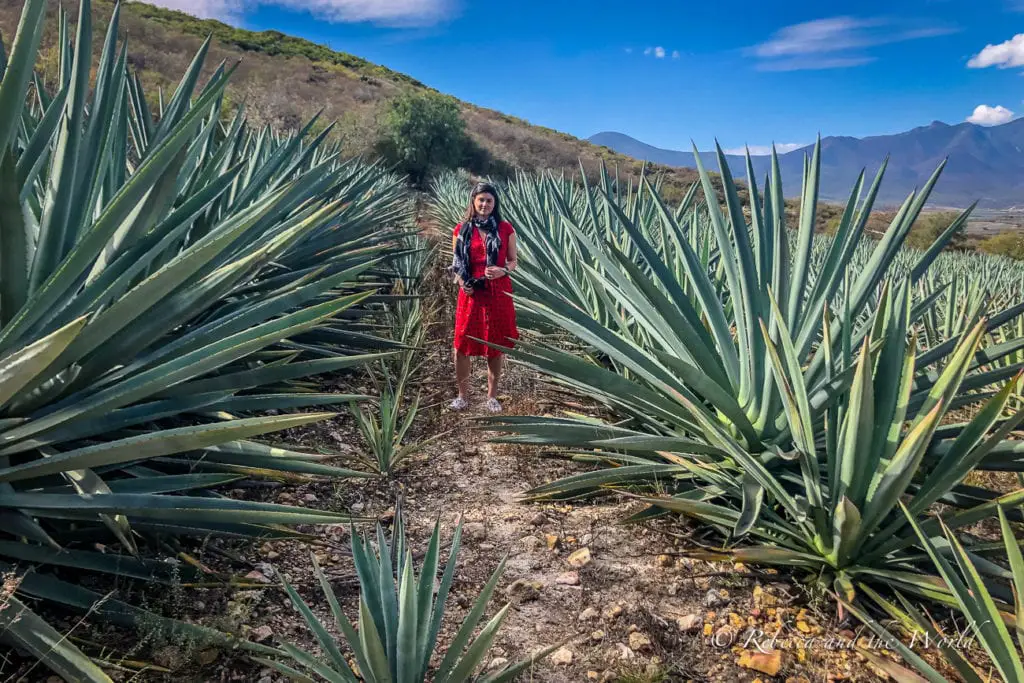 Guided option: An alternative tour is this full-day tour which provides an in-depth look at mezcal production. If you want to get hands-on, on this tour you'll be helping out the production team at one of the local palenques. 
When you return to Oaxaca later in the day, have a rest before heading out for dinner at Cabuche. The enmoladas, tortillas rolled in a rich mole sauce, are a must, and the tostadas are all delicious (toppings change regularly). It's a small, family-run restaurant. Service can be slow, but it's made up for by the tasty, affordable food.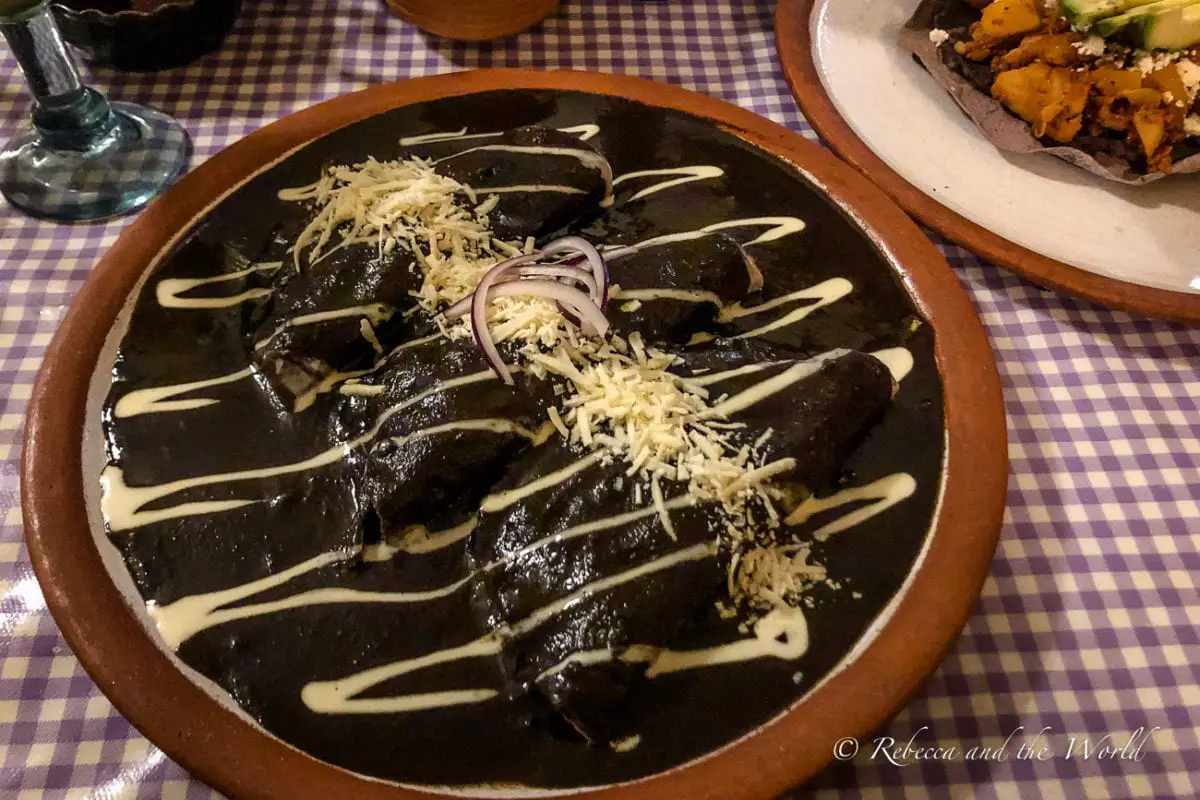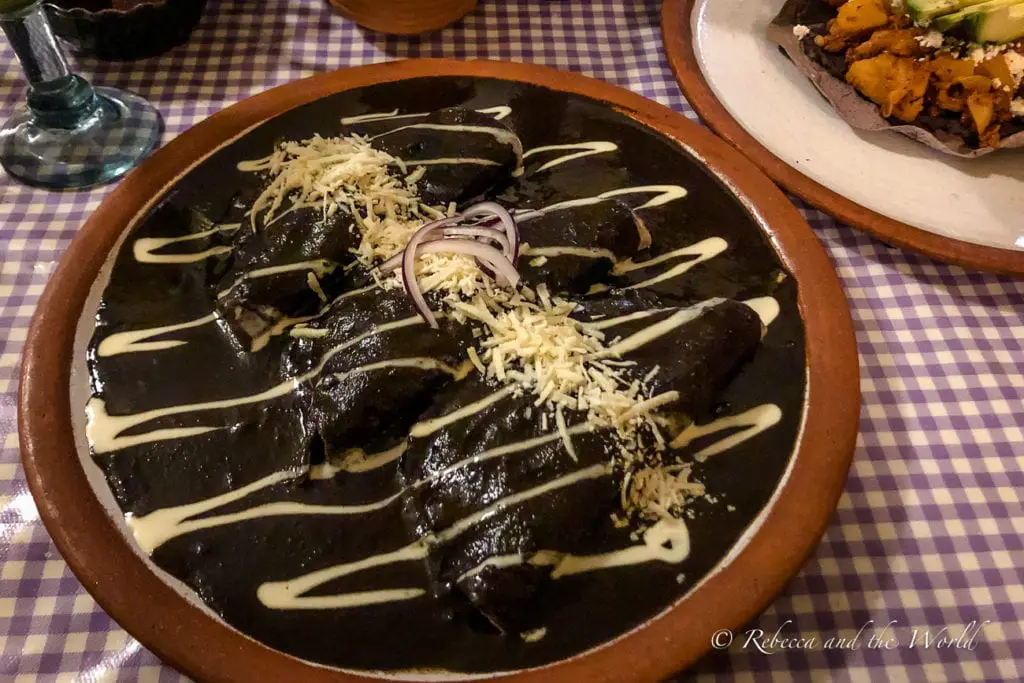 Head back to the zócalo, especially if it's a Friday or Saturday night – you'll find the area will be buzzing with families and groups of friends out enjoying the evening. Pick up a crispy, hand-rolled crepe from one of the street food vendors for dessert while you wander around.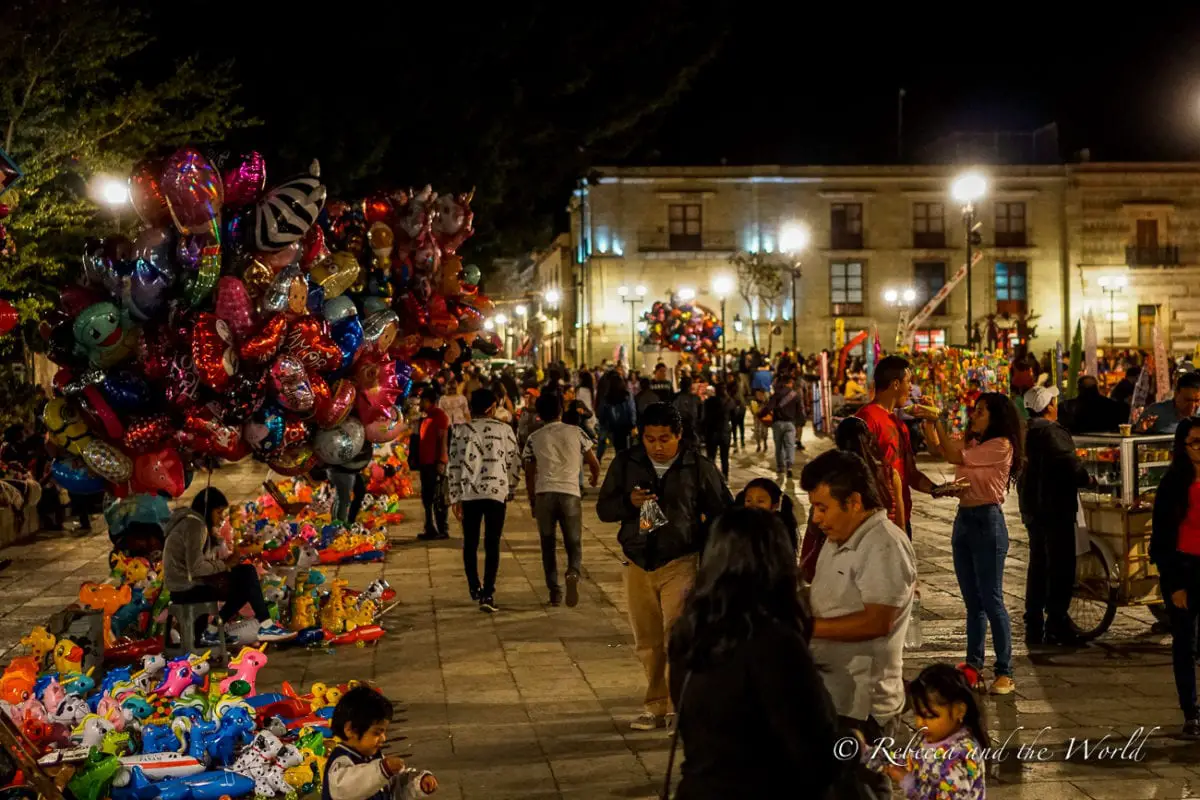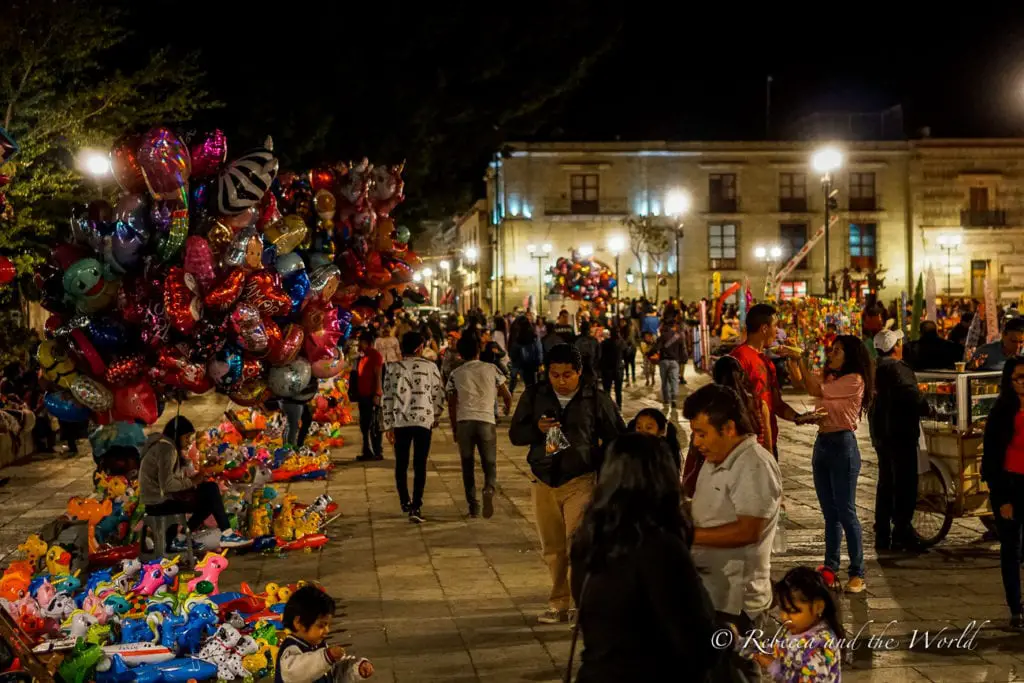 If you've still got energy, try one of the mezcal cocktails at Sabina Sabe, a trendy bar on Calle 5 de Mayo, or grab a table at Txalaparta, a dark bar with a relaxed pub vibe.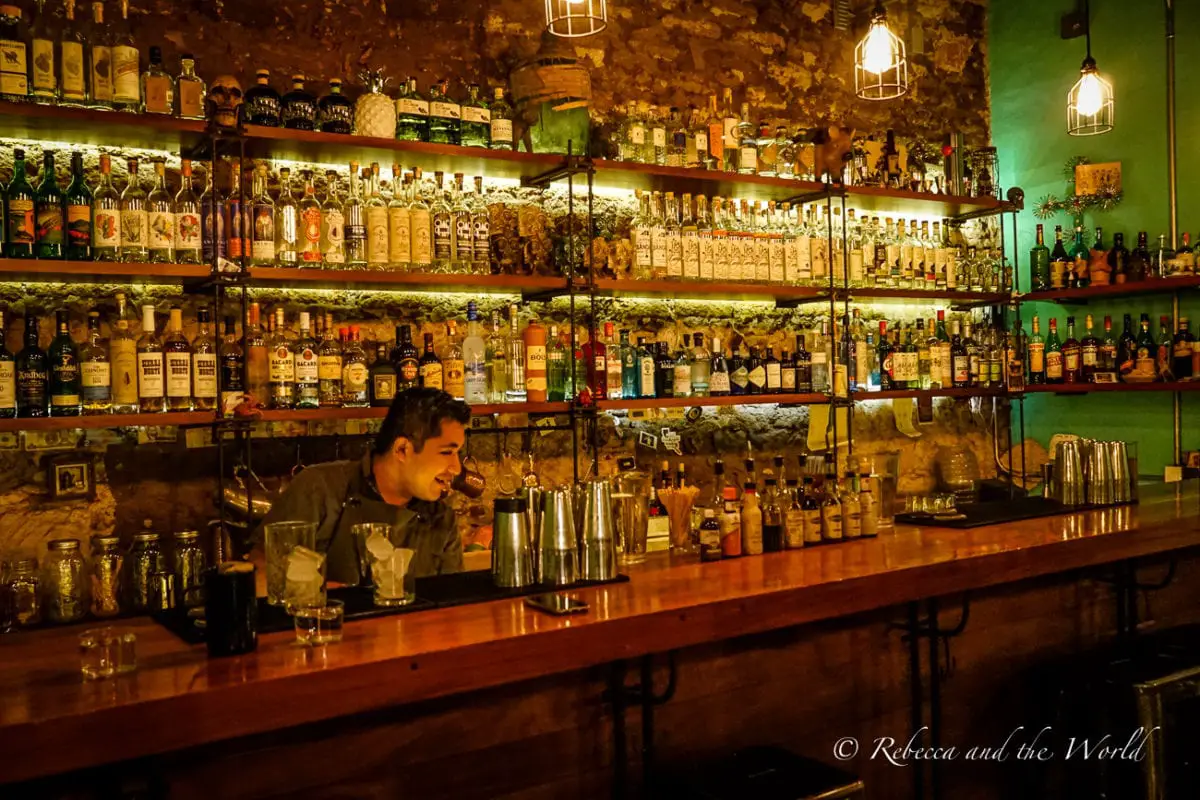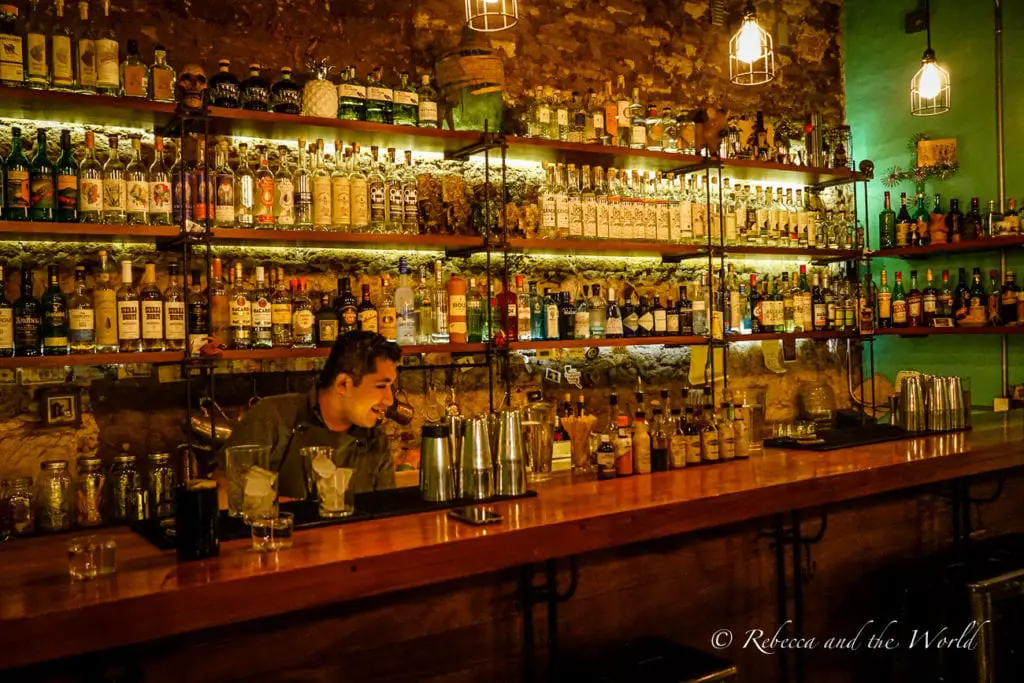 Day 3: Take a day trip from Oaxaca
You can take plenty of day trips from Oaxaca (you could easily spend a week in Oaxaca) and one of the most popular and beautiful is to Hierve El Agua. We didn't visit here on this particular trip, but I did go there when I first visited Oaxaca a decade ago and the petrified waterfalls are rather spectacular.
There are plenty of tours that organise a day trip to the falls, but choose wisely. Most rush through a few stops and it can be a long, exhausting day. Having done the mezcal tour with Las Bugambilias, I imagine they'd organise a great day trip to Hierve El Agua. Both this tour and this tour include a visit to Hierve el Agua as well as other ruins including Mitla. GuateGo also has a tour which includes hotel pick-up and drop-off, mezcal tasting, a visit to see stunning weavings, and – of course! – the chance to wander the pools of Hierve el Agua.
If you want to visit Hierve El Agua alone, it's possible. You'll need to take the local bus or organise a driver.
For dinner that night, enjoy another world-class menu at an affordable price at Casa Oaxaca, a restaurant that focuses on Oaxacan ingredients.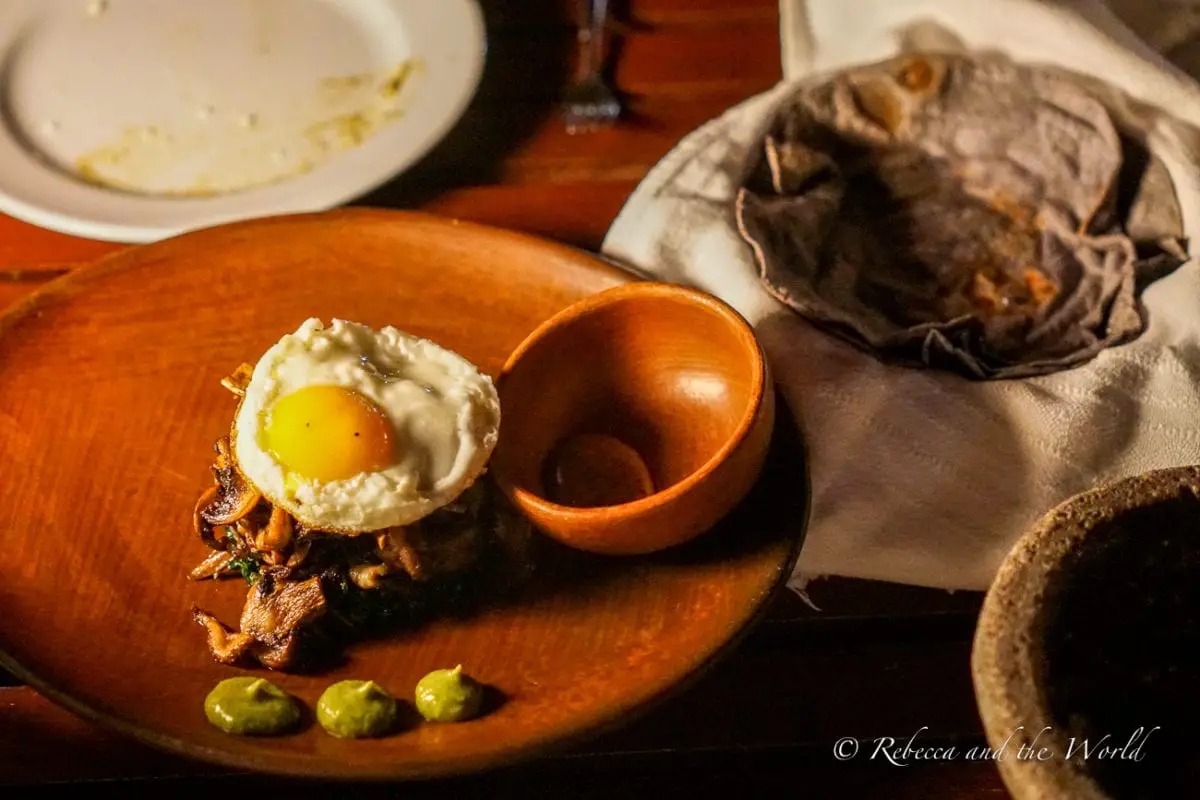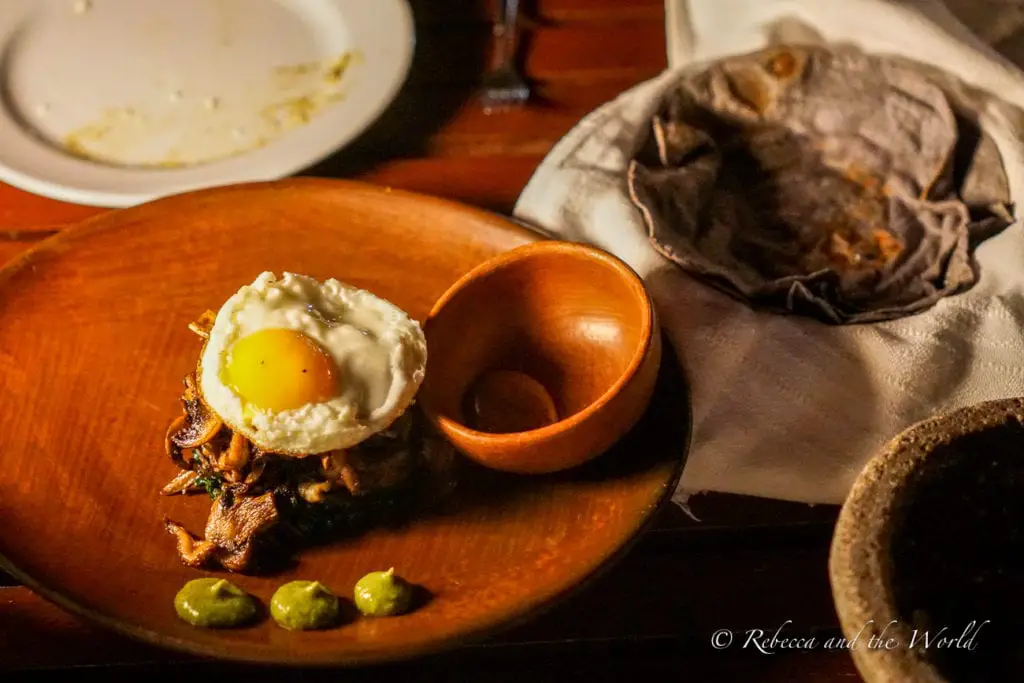 End the evening at In Situ, one of the city's mezcal bars that was recently featured on Vice's Munchies program. They only have mezcal on the menu, though, so if you've had enough of this potent drink, this may not be the bar for you! The owner, Ulises Torrentera, is a fantastic guy and is often at the bar so stop and say hello to him.
Day 4: Explore historic Monte Albán
Mexico is famous for corn and Itanoni is the place to go to imbibe this grain in many forms. Every dish on the menu of this gorgeous little restaurant is made from maíz, and it's popular with tourists and locals alike. You must, must try the tascalate, a delicious corn and chocolate drink (get it con leche), and the tamales, tetelas and… ok, just get one of everything. It's all SO. GOOD.
As soon as you've finished breakfast, head out to Monte Albán so you can be out there before the crowds descend and the sun rises too high. This pre-Columbian site will have you scratching your head in wonder as you ponder how it was built centuries ago when people didn't have modern-day tools.
You can catch the local bus or jump on the tour bus from the zócalo (buy a ticket inside the store marked "Tours Lani"), which costs around MN$70 per person. GuateGo has a shuttle that departs regularly each day and can be booked online.
Bring plenty of water and a hat and sunscreen as there's not a lot of shade.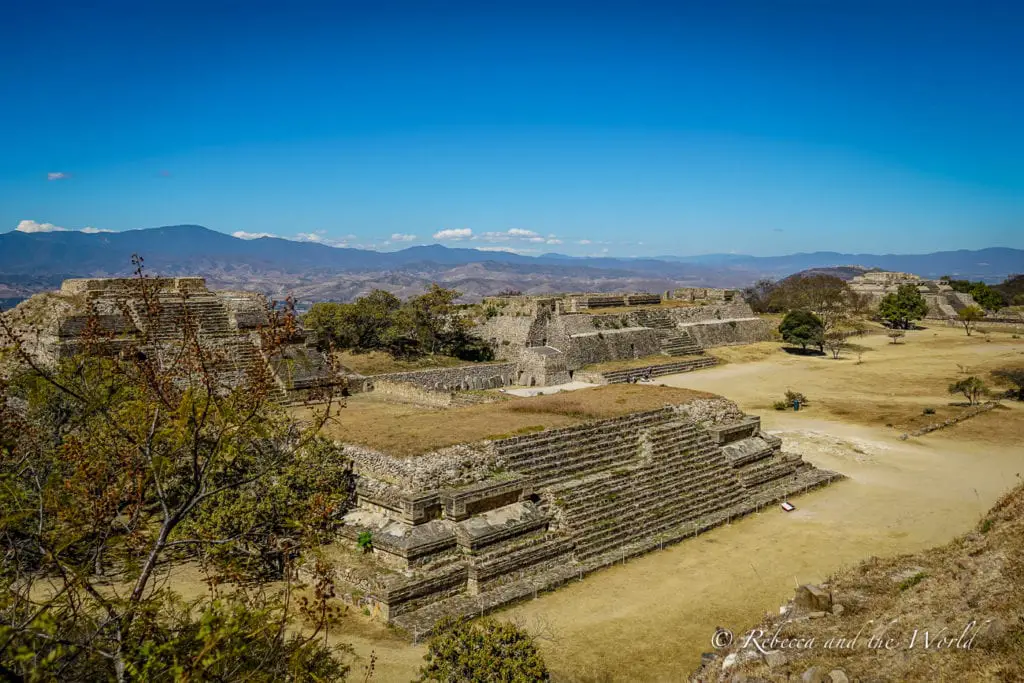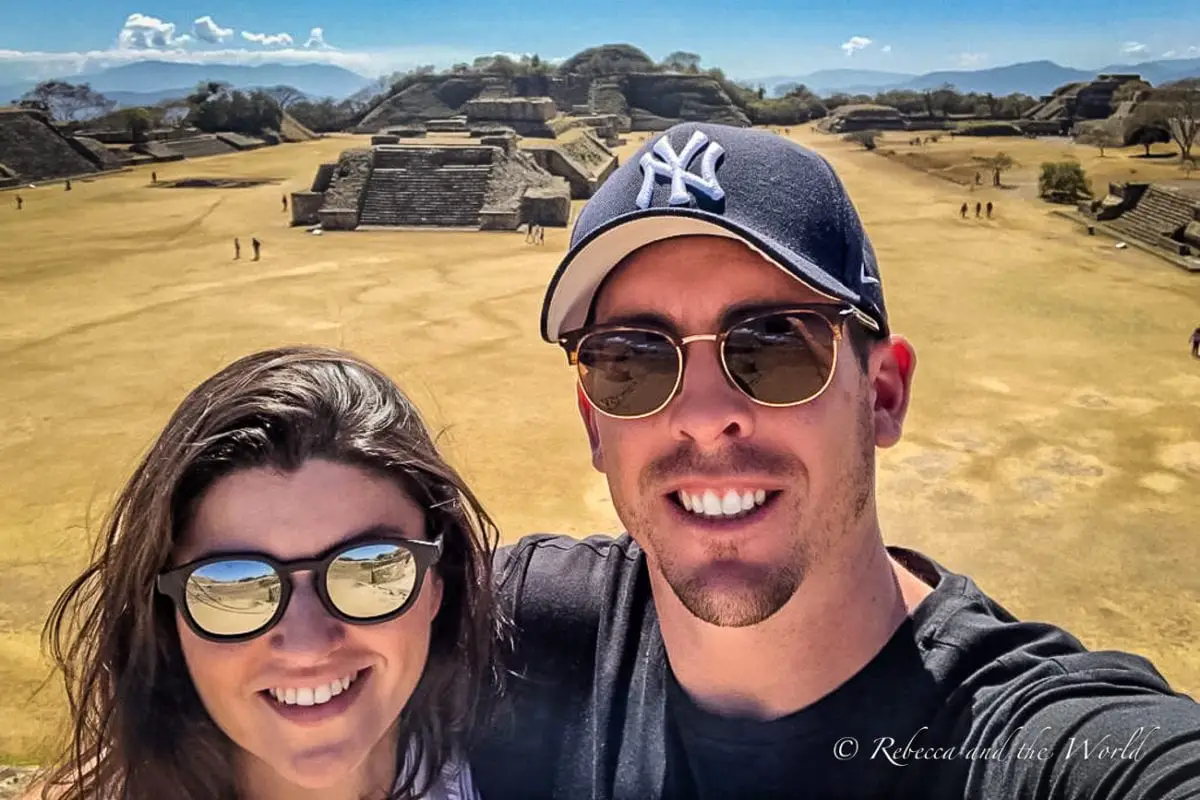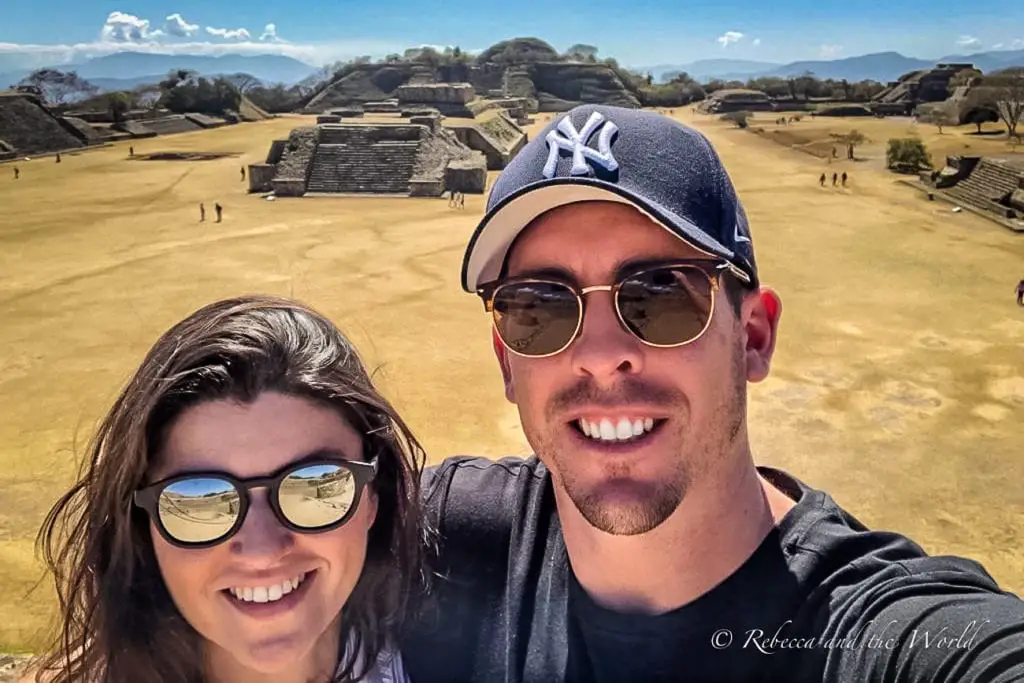 Guided option: If you want to learn about the site, join a tour from Oaxaca City, as there are no guides for hire at the entrance to Monte Albán, as I had expected. This 3-hour tour comes recommended. You don't need a tour guide, though, unless you're very interested in the history of the site. I kind of wish we'd had someone to tell us more about what we were seeing.
When you return to Oaxaca City after exploring the historic site of Monte Albán, grab a table at Boulenc for lunch. They have delicious sandwiches on bread all baked in-house, and plenty of sweet treats at the bakery next door to finish up with. They also sell homemade honey, jams and pickled vegetables. It's one of the best places to visit in Oaxaca for fresh, homemade food.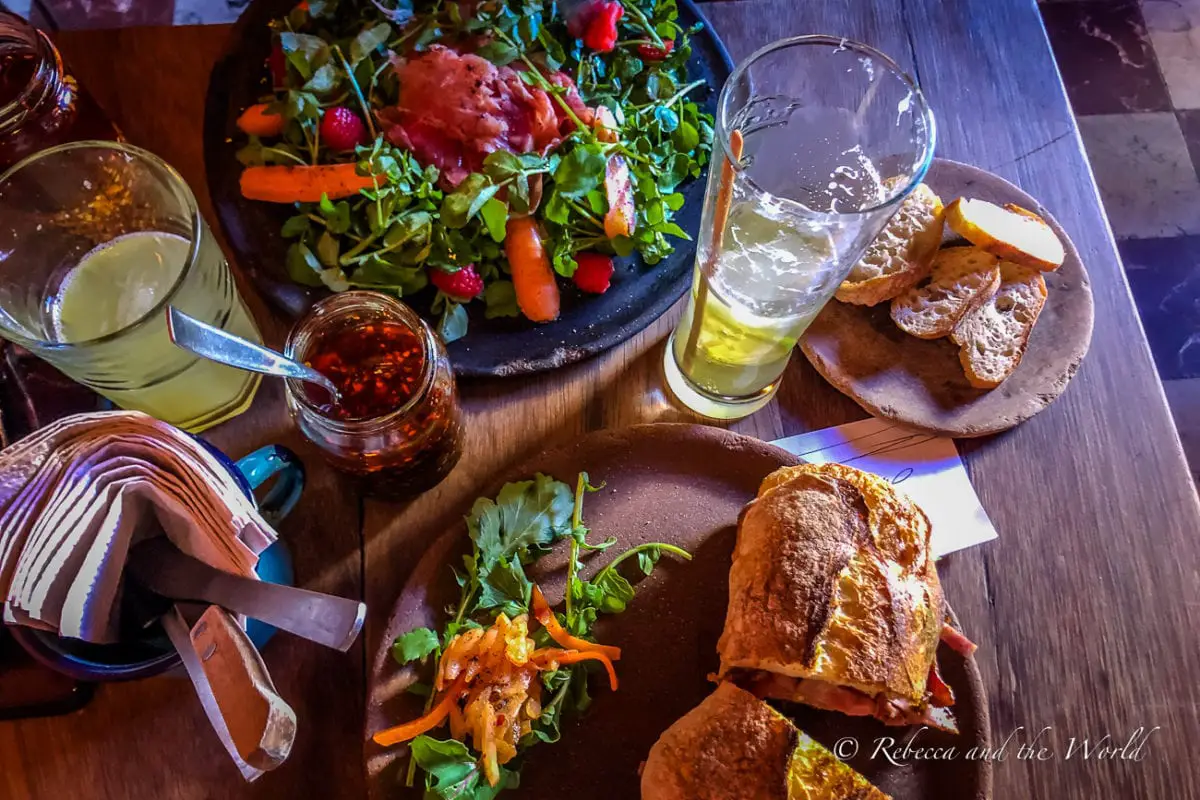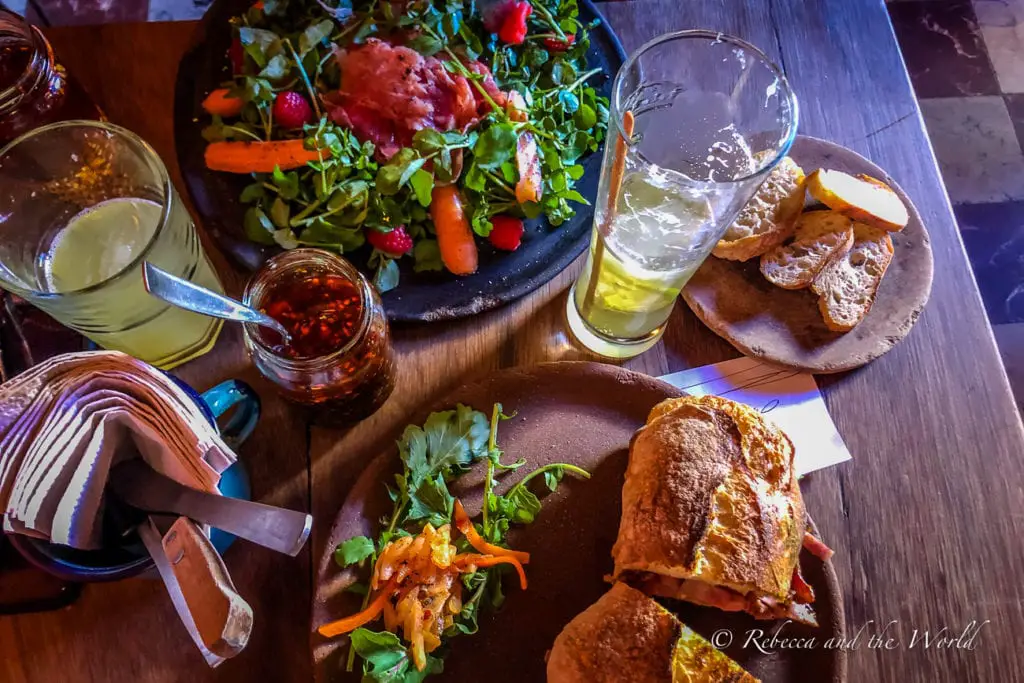 Hit up the markets in the afternoon for souvenirs. There are so many beautiful things to take home with you, from hand-stitched tunics, rugs, pottery and handbags. I hate shopping but I just couldn't say no to all the lovely things I saw.
Start in the two markets in the centre of town, Mercado 20 de Noviembre and Mercado Benito Juárez. These two markets are now quite touristy but are interesting to wander through. The Mercado de Artesanías, Huizache and La Casa de las Artesanías each also have plenty of products to choose from.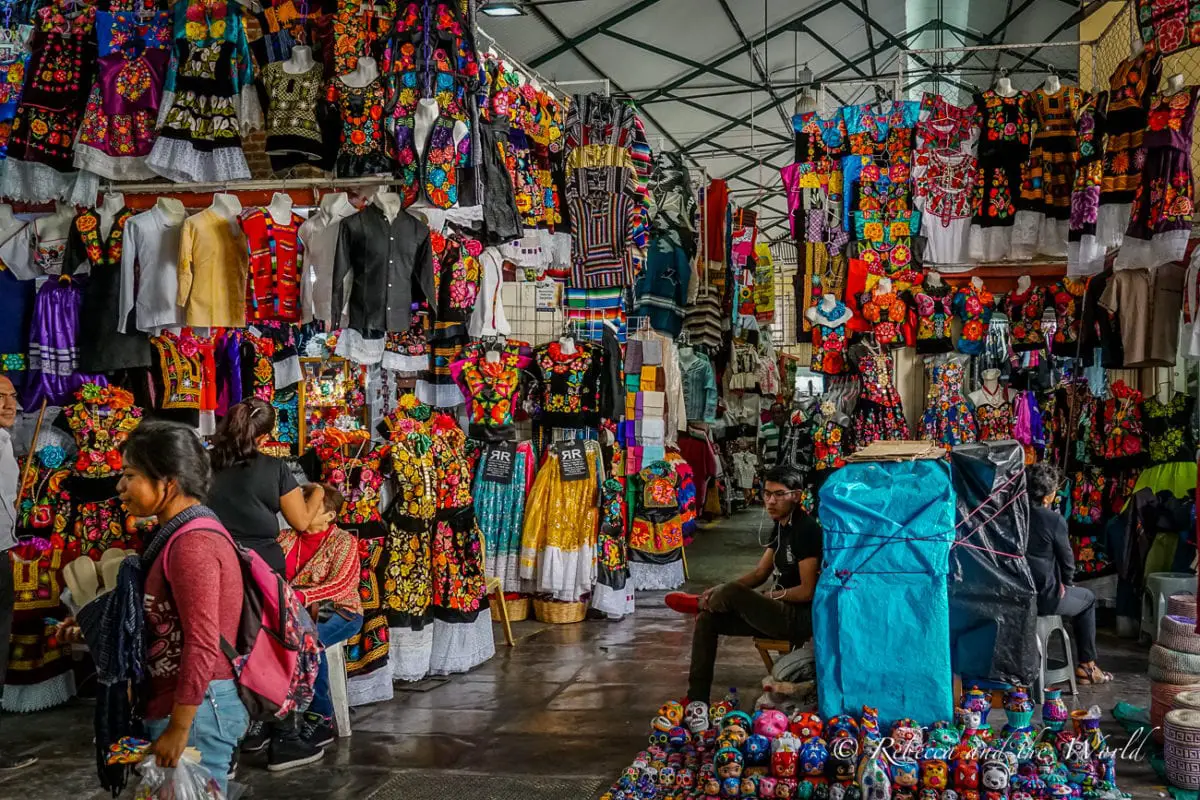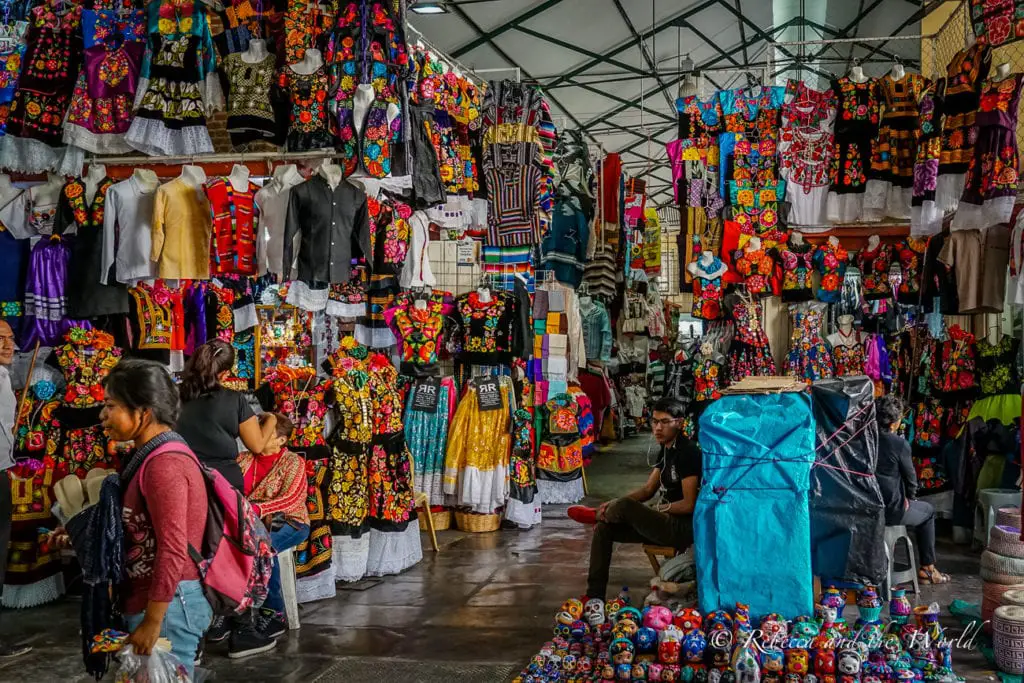 End your eating experience at El Destilado. This restaurant is owned by three American guys who fell in love with Oaxacan cuisine. There's an a la carte menu or tasting menus to choose from.
---
More things to do in Oaxaca
If you have more time for your Oaxaca itinerary, here are a few more things to do:
Check out the Jardín Etnobotánico de Oaxaca, the botanical gardens. One of the most beautiful Oaxaca attractions, you can only visit on a guided tour (to protect the plants). Tours are offered in English at 11 a.m. on Tuesday and Thursday for a small fee. You can see the gardens from above from the windows of the Museo de las Culturas de Oaxaca. We had other things planned and couldn't make it to one of the tours, but I hear it's one of the best things to do in Oaxaca.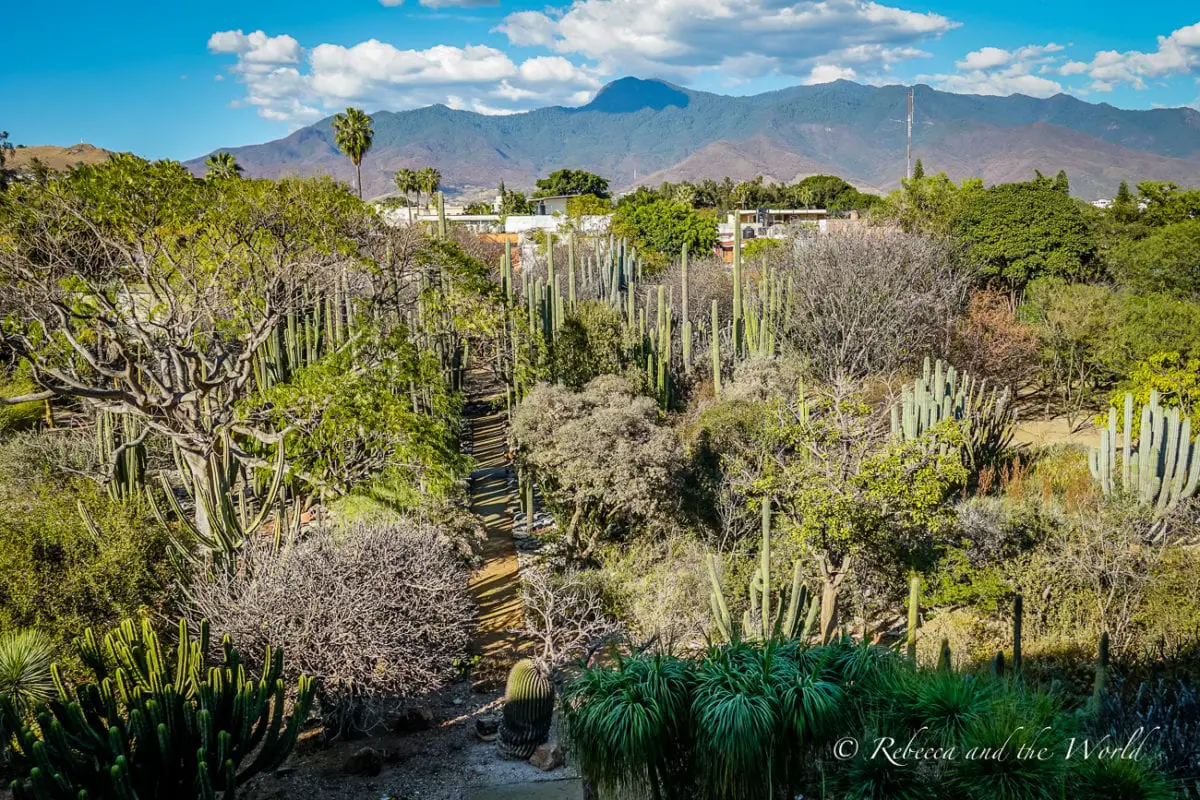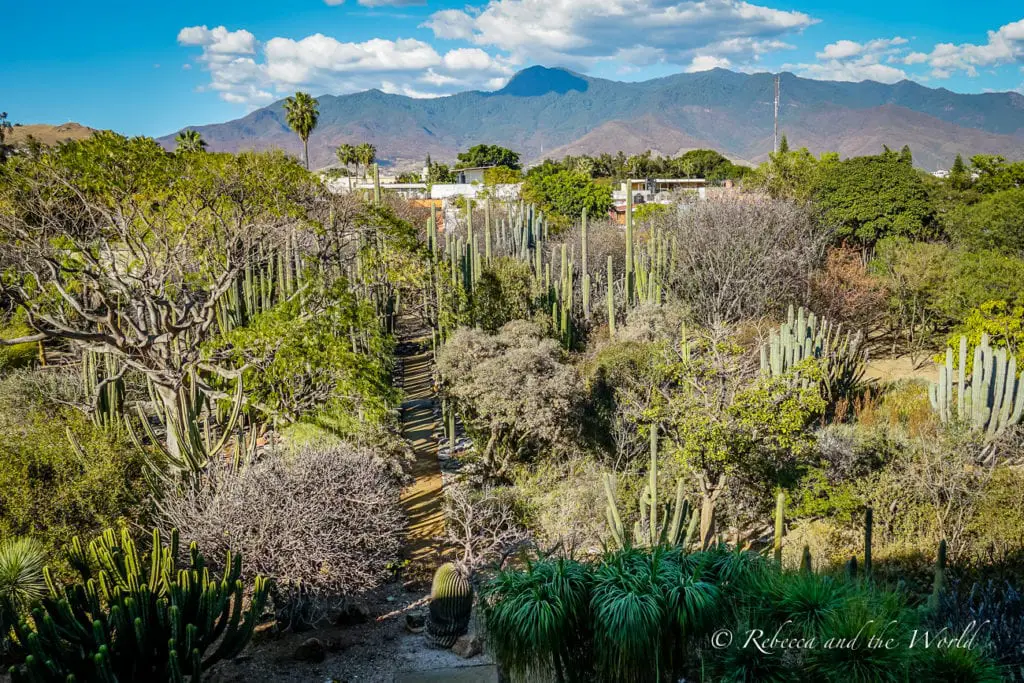 Take a cooking class. Highly recommended are the classes at El Sabor Zapoteco. A woman we met in Oaxaca absolutely loved the class she took at Cocina Prehispanica, held in a commune for young women from villages around Oaxaca that wanted to continue their education. This street food tour also looks tasty.
Detox at a temazcal, a sweat lodge. You'll clear out toxins as shamans slap you with bunches of basil. Ceviarem Temazcal is a popular option.
Learn about textiles at the Museo Textil, housed in an old colonial mansion.
Head out to see other ruins at Mitla and Yagul. These are just a couple of the many options for day trips from Oaxaca.
Explore the local street art scene on a bike tour with Coyote Aventuras.
If you've wandered through the markets in Oaxaca's downtown, visit another local market outside of town. In nearby Tlacolula, vendors from different villages bring their goods to sell on Sundays. Omar from Oaxacking can arrange transport for this Oaxaca day trip and show you the best spots to eat.
---
So, when are you booking your trip to Oaxaca??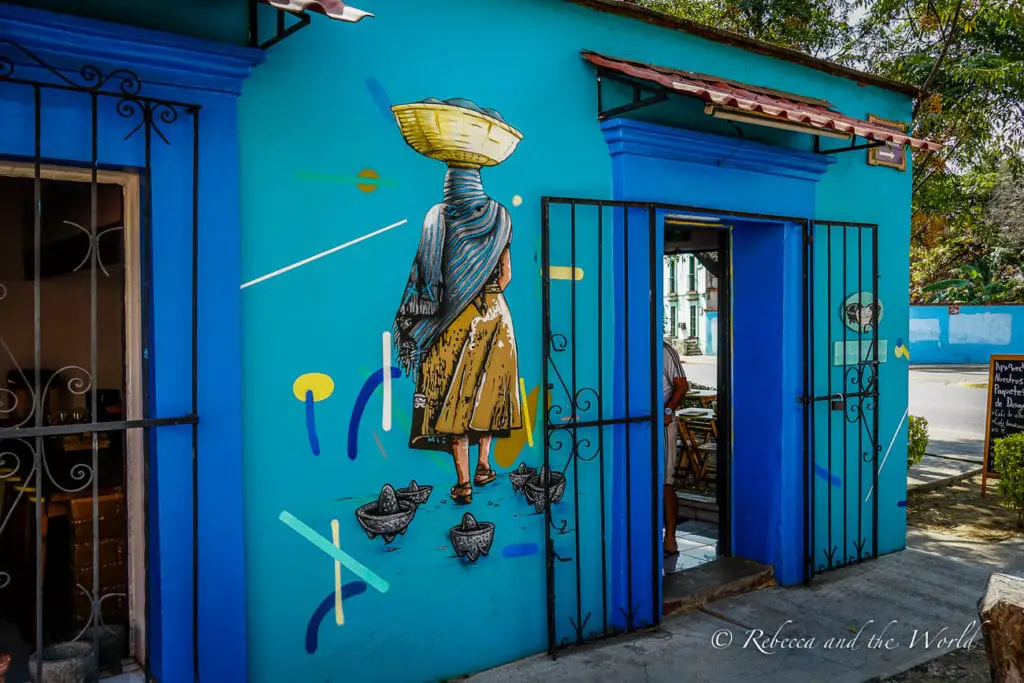 Has this Oaxaca itinerary inspired you to plan a trip? What are your favourite things to do in Oaxaca?
BOOKING A TRIP SOON? HERE ARE SOME HELPFUL LINKS
Book your flight online with Skyscanner or Kayak. I usually compare flights on both sites to find the best deals and schedules.
Find a great hotel on Booking.com.
Need a rental car? Compare prices and vehicles on Discover Cars and RentalCars.
Omio is a great site for booking buses, trains and ferries.
Check out the huge range of day tours throughout major cities and countries on GetYourGuide, Klook or Viator. There's something for everyone.
One thing I always purchase is travel insurance. World Nomads offers simple and flexible travel insurance. Buy at home or while traveling and claim online from anywhere in the world.
Stuff I always pack? A reusable water bottle, packing cubes and a handy electronics organiser.
PIN IT FOR LATER:
Save this Oaxaca itinerary to Pinterest so you can plan your visit. Just click on one of the images below.