If there's one city that can always make me smile, it's Mexico City. I've been there twice now and just thinking about this energetic city brings back memories of amazing architecture, surprising art, centuries-old history, an incredible culture, warm people and – most importantly for me – to-die-for food. It's a city where you can be in awe of thousand-year-old ruins and then wander through cosmopolitan neighbourhoods, all within a few minutes' taxi ride.
While 3 days in Mexico City isn't enough to fit all of this in, you can certainly try. Which is where this Mexico City travel guide comes in.
Here, I've included everything I've learned from my visits so I can help you figure out what to do in Mexico City and plan the ultimate visit. I've listed out the very best things to do in Mexico City (ie. everything you need to do on your first visit), outlined a suggested 3-day itinerary, and rounded the guide out with my Mexico City travel tips.
Let's get into it!
If you want to save this 3 days in Mexico City guide so that you can plan your itinerary later, simply click on the "Save" button on one of the images below.
This blog post may contain affiliate links, meaning if you book or buy something through one of these links, I may earn a small commission (at no extra cost to you).
The best things to do in Mexico City
Check out Diego Rivera's murals
You can see Diego Rivera's famous murals in the Palacio Nacional (National Palace) – for free! During peak hours, there's usually a long line at the entrance – it's one of the most popular Mexico City attractions. These paintings tell the history of Mexico and you'll be spellbound for hours as you ponder the intricate details of each image.
Make sure to bring some form of ID. A driver's license will usually suffice, but a passport is better; the security guards will take this and store it securely until you exit.
Palacio Nacional, Av. Pino Suárez, facing the zócalo, open daily, free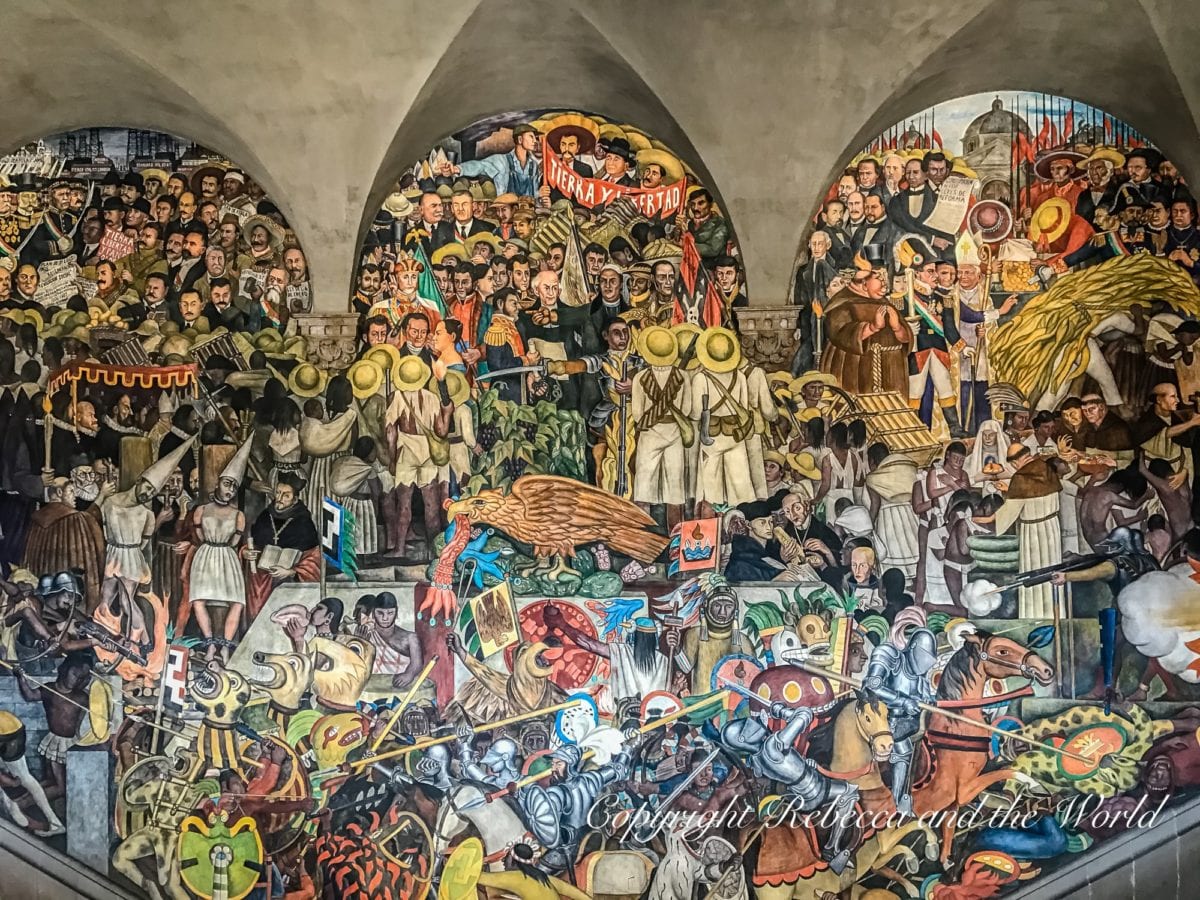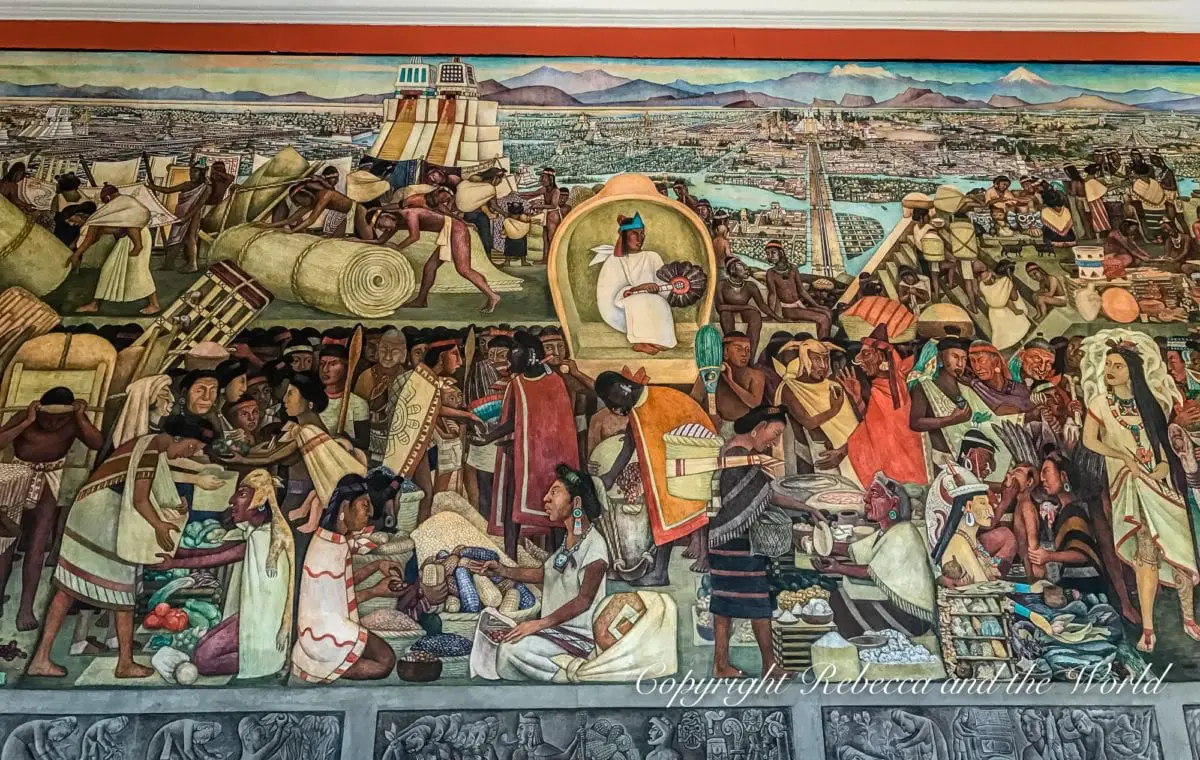 Take in the Palacio de Bellas Artes at sunset
This beautiful building houses many great works of art, but you don't even need to enter to be blown away. It's a pretty spot to take in as the sun is going down, and always seems to be buzzing with students and families.
Av. Juárez, Centro Histórico, museum closed Mondays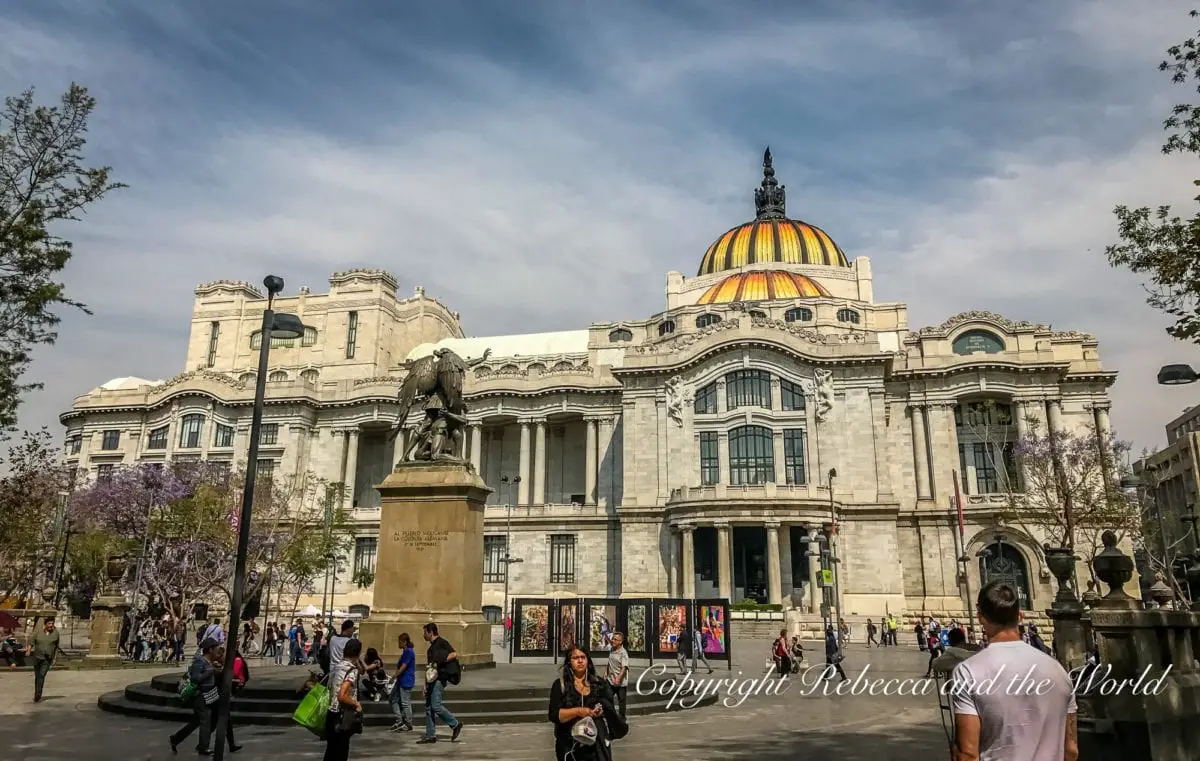 Or admire the Palacio de Bellas Artes from above
One thing I've never done in Mexico City (yet!) is seek out the incredible view of Palacio de Bellas Artes from above. You can get an amazing photo from Cafe Don Porfirio in the Sears store in Mexico City. Head to the 8th floor for an incredible view (and you can grab a margarita while you're at it).
Dine at two of the World's 50 Best Restaurants
Mexico City is home to not one, but TWO of the World's 50 Best Restaurants and on my last visit to the city, my husband and I dined at both. Book well in advance to snag a table. With 3 days in Mexico City, you could even eat at both if you're lucky.
Housed in a bright, open space Quintonil's menu is full of fresh food with a focus on farm-to-table dining. I recommend the seasonal tasting menu – be ready for some unexpectedly delicious surprises. You'll never guess what's on the plate in the picture below 😉 We went here for lunch.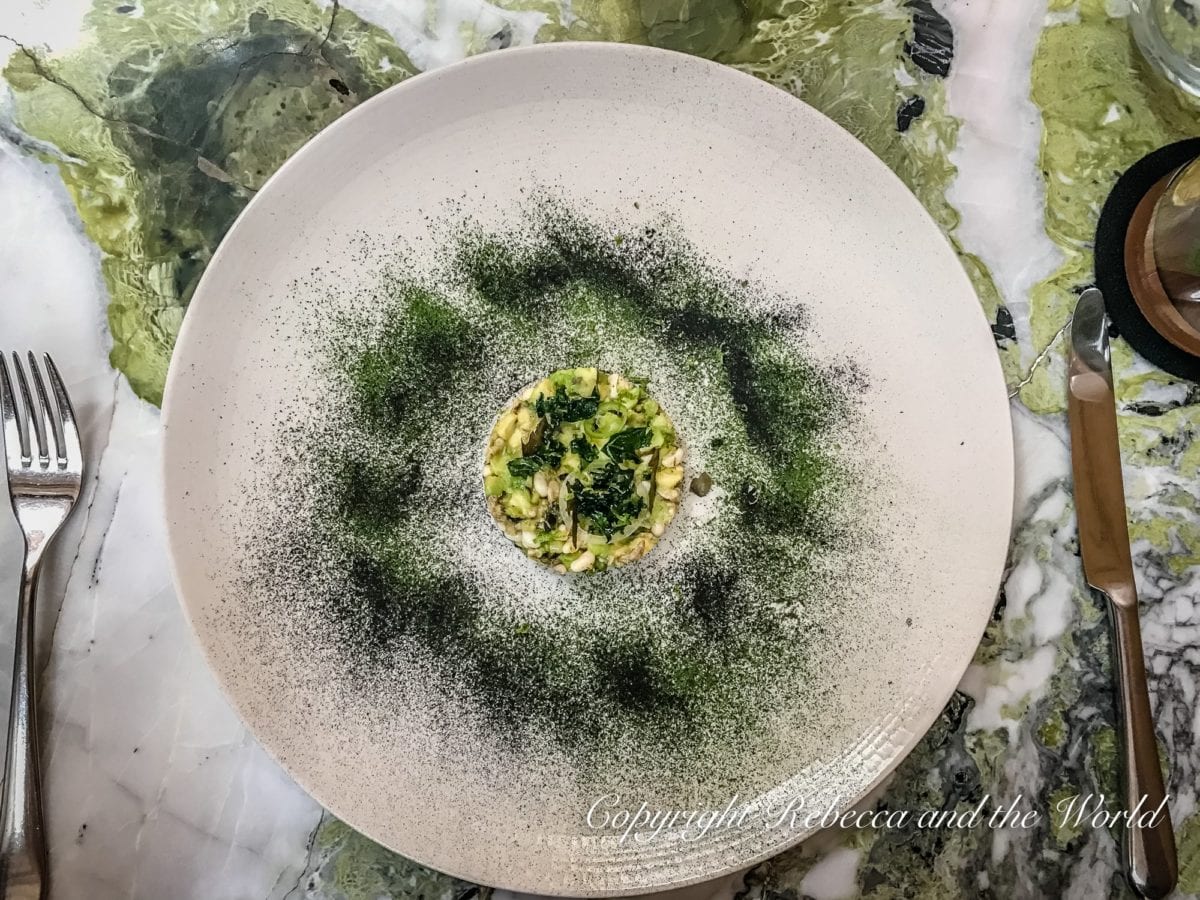 At Pujol, the standout dish is the Mole Madre, Mole Nuevo: two kinds of mole, one of which has been aged for 1,000 days.
Quintonil: Av. Isaac Newton 55, Polanco, closed Sundays
Pujol: Tennyson 133, Polanco, closed Sundays
Take a tour of one of Mexico City's markets…
Narrow walkways, squeezed in by produce spilling off tables, leaping out of the way as men pushing laden carts barrel towards you… you've got to be on guard in the markets in Mexico City but they're certainly worth a visit.
On our last visit, we took a tour of Mercado de la Merced with Eat Mexico. These trips aren't cheap but get you straight to the best food stands with a knowledgeable guide. My husband and I speak Spanish but there's no way that we would have found the best food to eat or been able to navigate the confusing corridors of the market without the help of our guide.
Mercado de la Merced: Calle Rosario s/n, Merced Balbuena, Zona Centro, open daily
Eat Mexico: I highly recommend doing a tour with Eat Mexico. Their tours take you into various markets and neighbourhoods across Mexico City and allow you to experience the culinary delights of this city.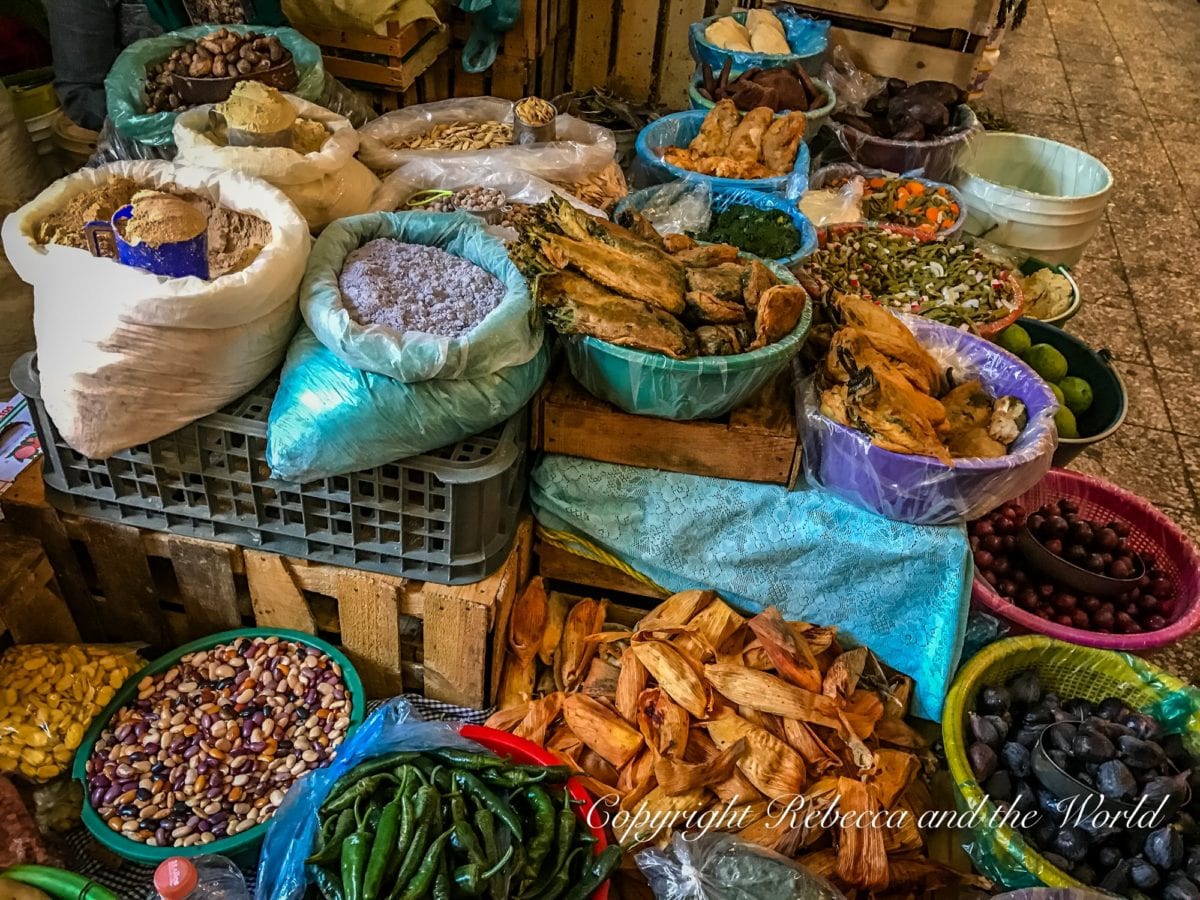 … and eat insects
Surely you've heard of people eating grasshoppers in Mexico? But that's not all that's consumed. Pop these crunchy little morsels in your mouth along with baby shrimp, ants' eggs and mosquito larvae. Not for the faint of heart. You can also eat cow's head tacos (which are actually quite delicious).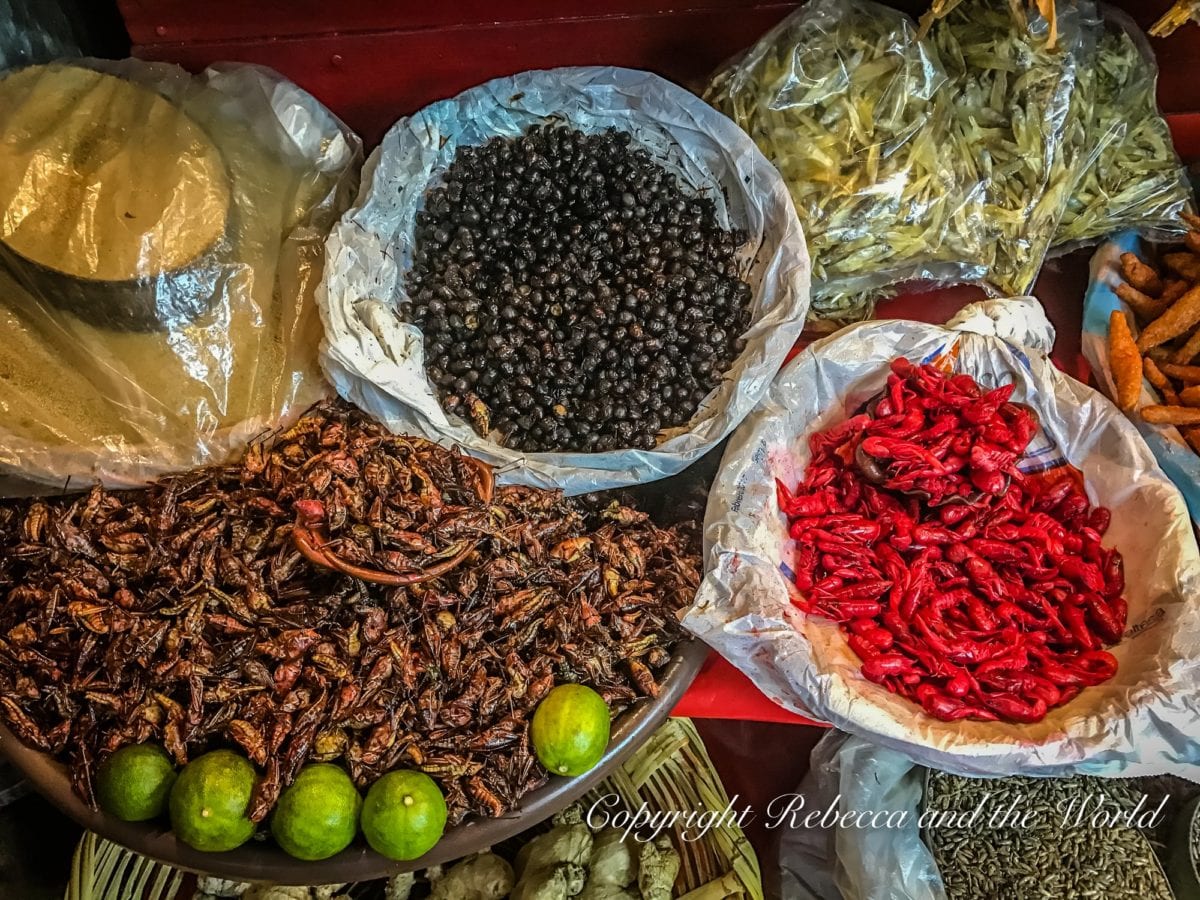 Visit Frida Kahlo's house
Almost synonymous with Mexican art, Frida has left her mark on the art world globally. The Blue House was her home and is now a museum, and allows an intimate look into her life.
Tip: Buy tickets online in advance to avoid a lengthy queue (it's without a doubt one of the most popular places to visit in Mexico City). Tickets are timed, so plan your day around this Mexico City activity.
Londres 247, Del Carmen, Coyoacán, closed Monday, MXN$246 for foreigners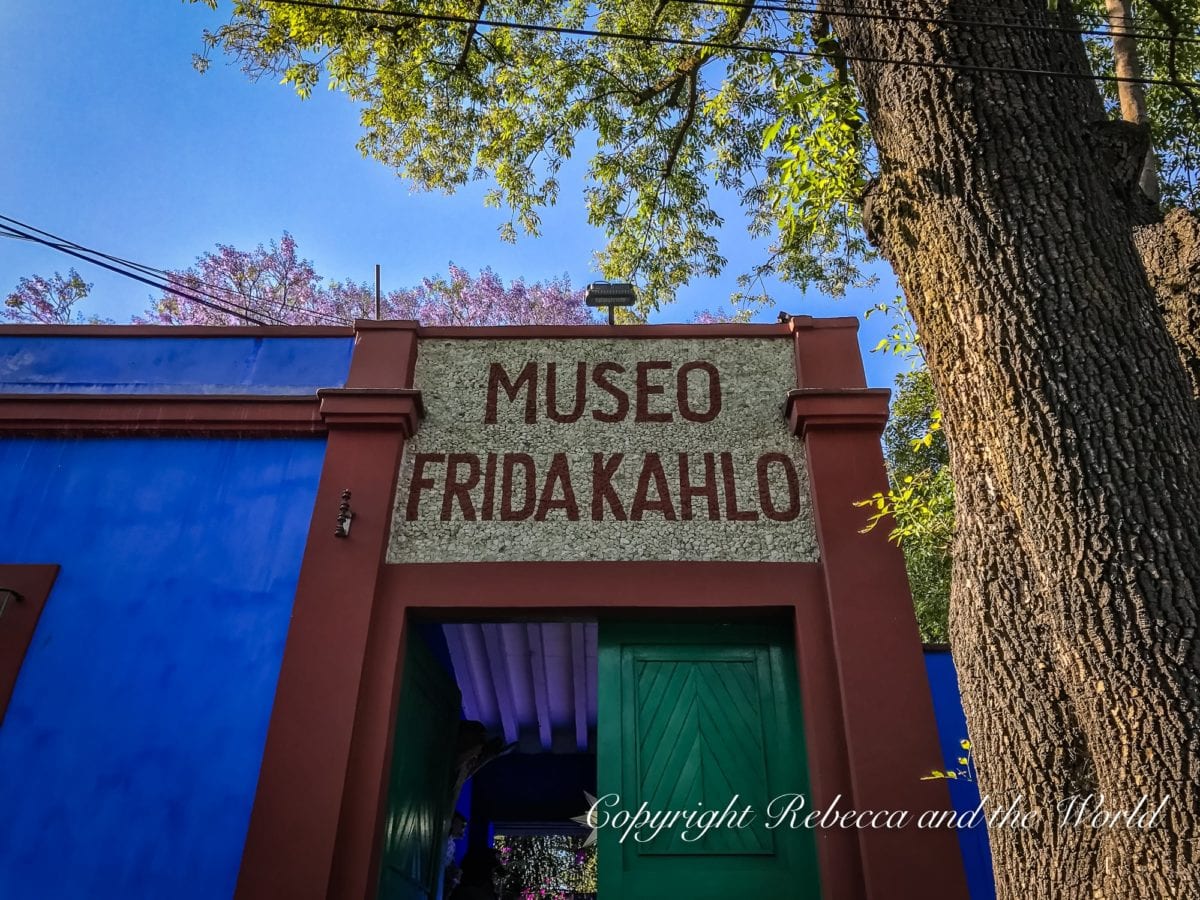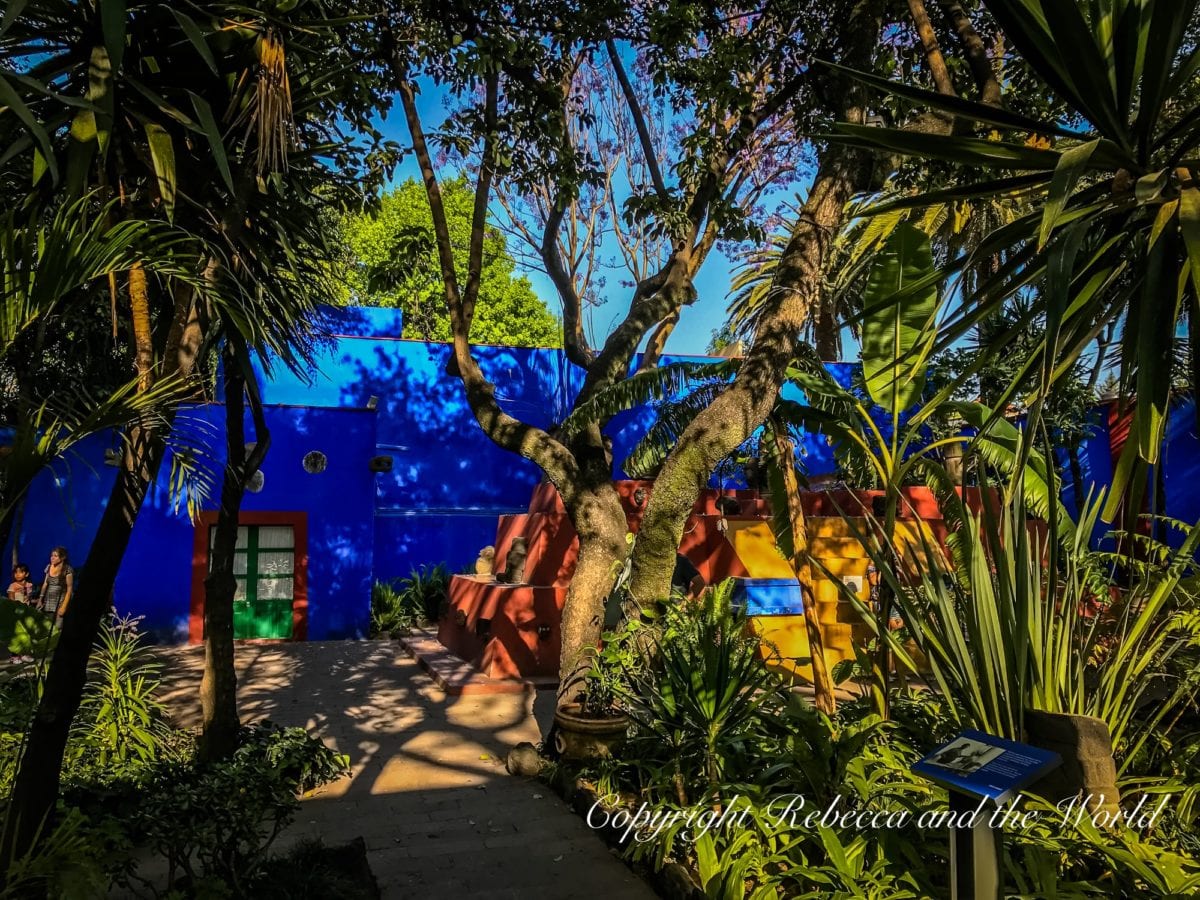 Brush up on history at the National Anthropology Museum
Plan to spend hours here – this is one huge museum. The permanent collections are a little dusty but they're comprehensive (brush up on your Spanish) and it's a great spot to escape the heat.
Paseo de la Reforma and Calzada Gandhi s/n, closed Mondays, MXN$70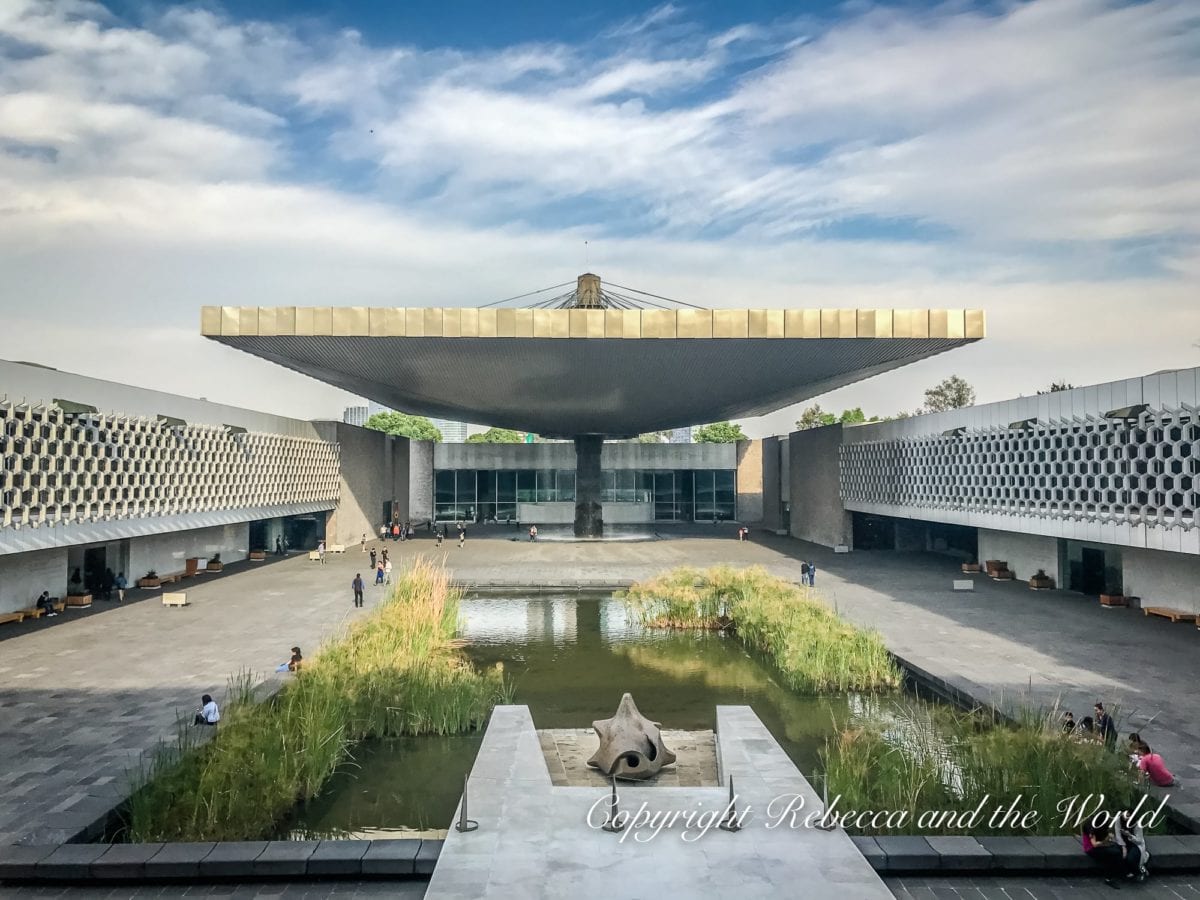 Eat all the amazing food
Think you know Mexican food because you've had Tex Mex? Think again. Come with an open mind and try everything you can. From street tacos to cochinita pibil to the hangover cure that is pozole, your tastebuds will love you. Eating in Mexico City is worth the trip alone.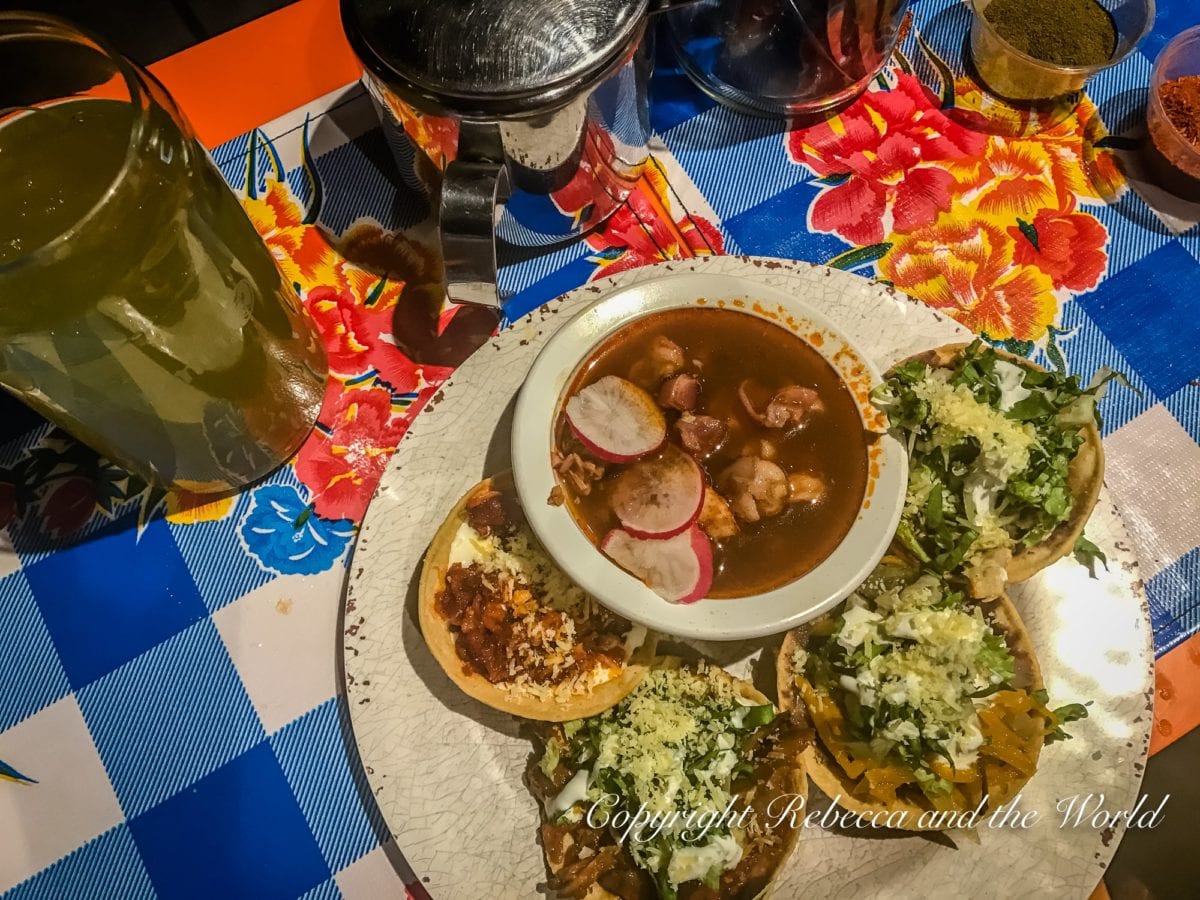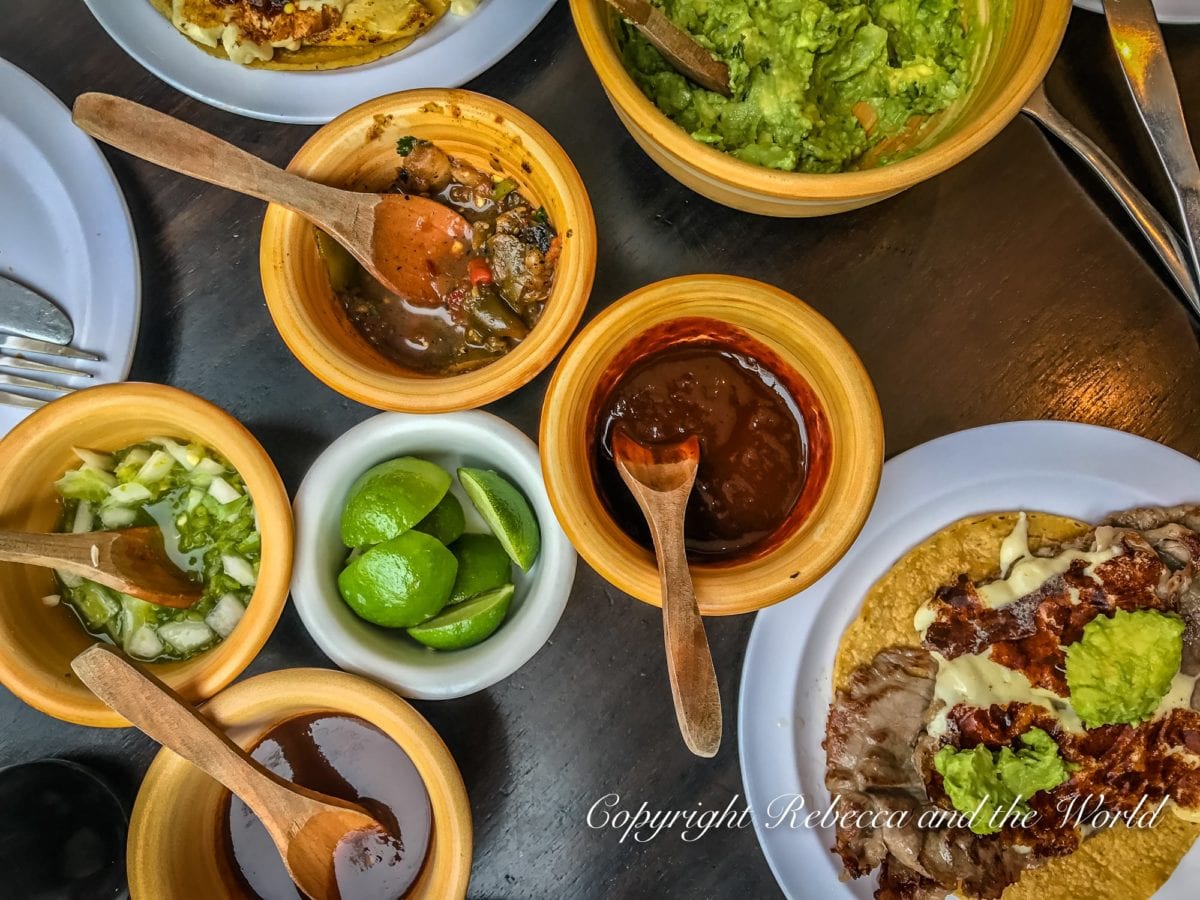 Wander the streets in search of art
You don't need to enter art galleries and museums here – you'll find art decorating the streets of Mexico City, such as these Dali sculptures that were on display while we visited.
Indulge in churros and decadent hot chocolate
It's late in the afternoon. Your feet are screaming from walking all day. You're in need of a sugar hit – and the best place is El Moro. Order the thick Spanish hot chocolate and dip those sugar-coated churros right in. Took me back to my days wandering Andalucía in Spain, eating as many churros as I could!
We visited El Moro in the centre, but there are other restaurants in Mexico City, including a rebranded one in Roma which is very Instagrammable.
Av Moliere 222, Polanco, open daily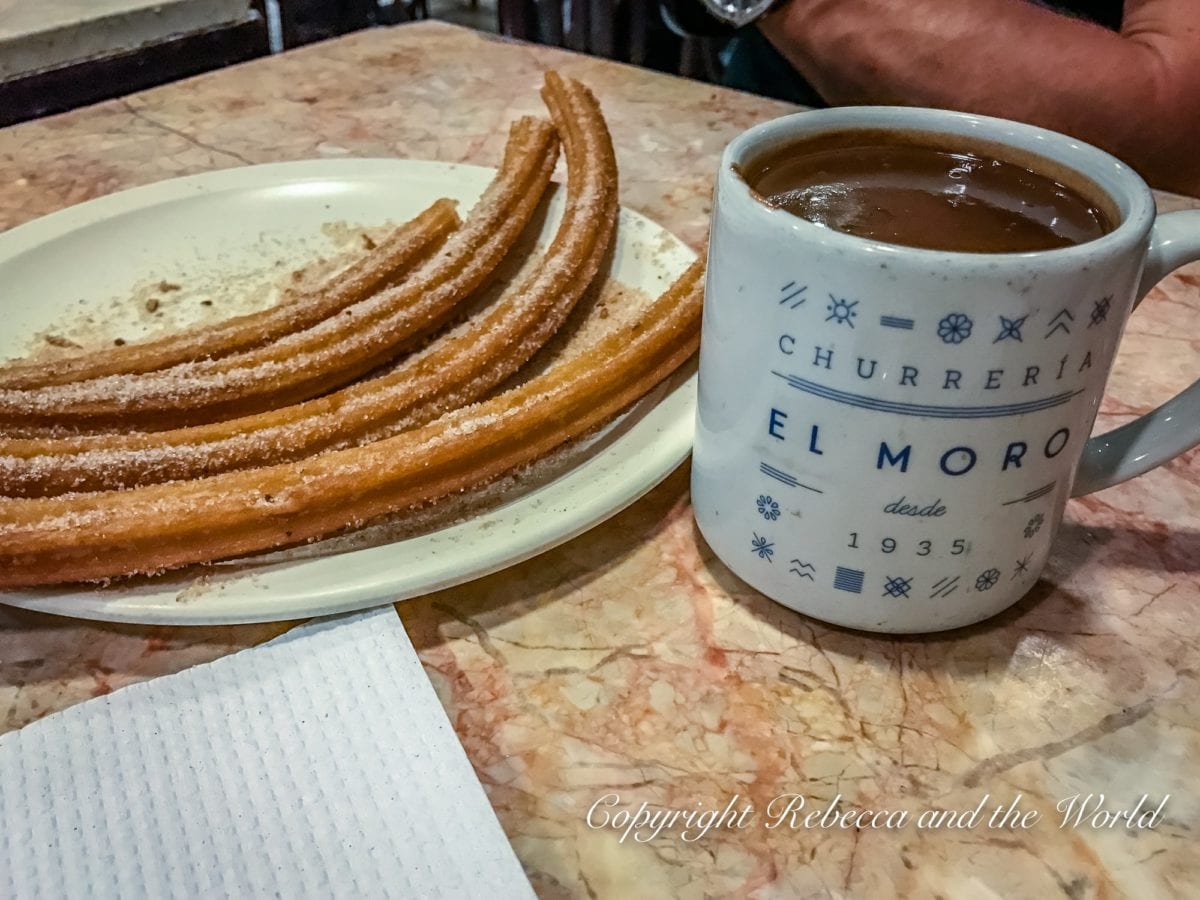 Hang out in the Zócalo
The Zócalo – Mexico City's main square – is always buzzing with people and musicians, so it's great for people watching. It's also where the Palacio Nacional and the cathedral are located.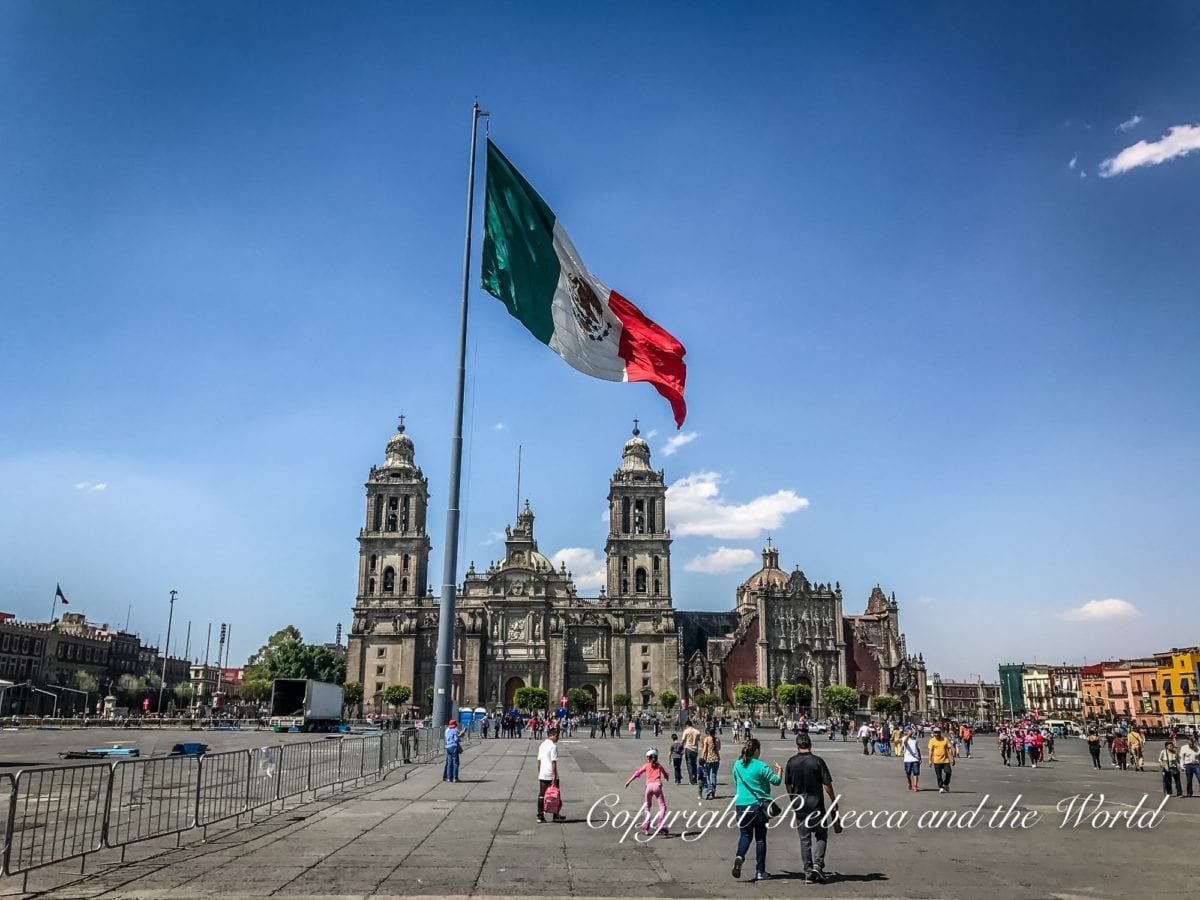 Walk over ruins in Mexico City
Mexico City is built on the ancient city of Tenochtitlan and you can see some of the ruins at Templo Mayor, right in the heart of the city. The site is a fairly "new" discovery (as far as centuries-old ruins go), and excavations continue to this day.
Seminario 8, Centro Histórico, closed Mondays, MXN$70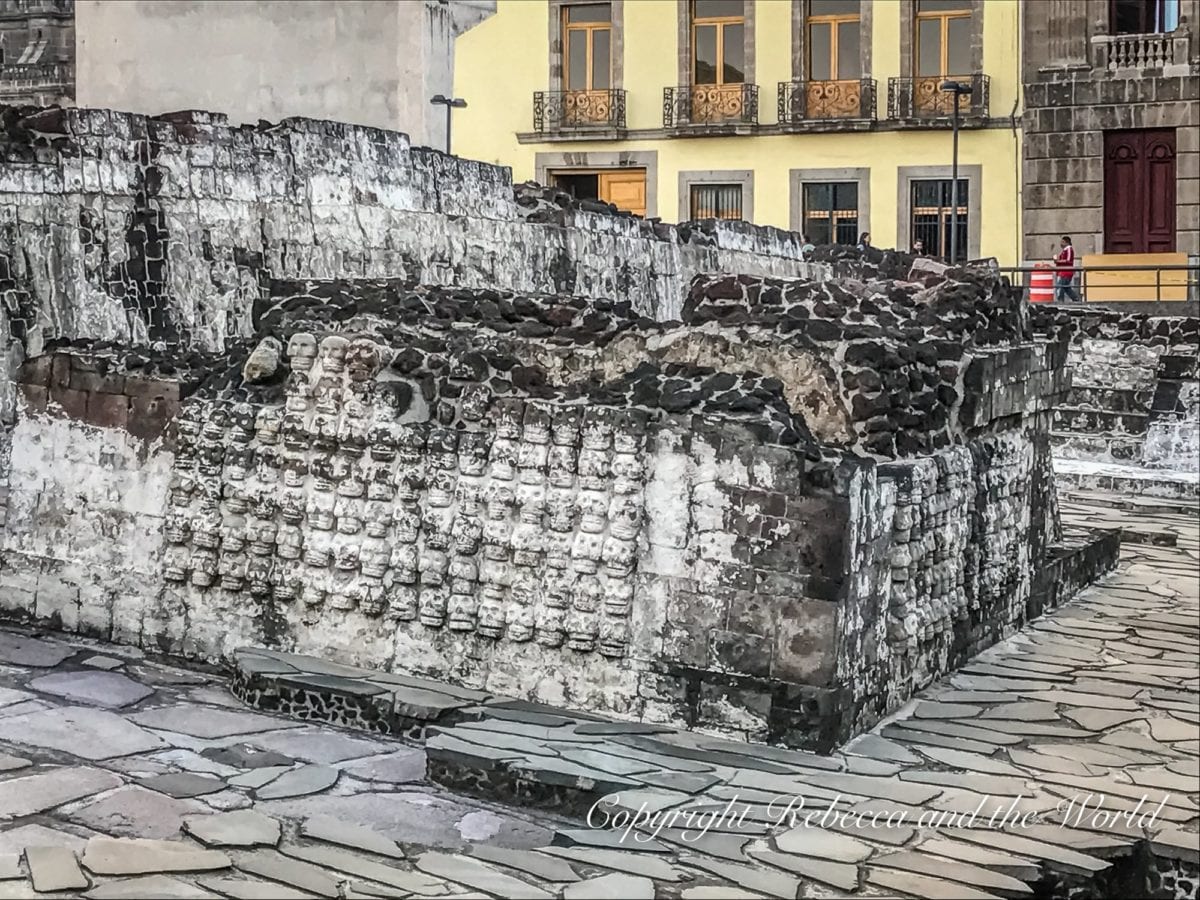 Take some time out in Bosque Chapultepec
One of the largest city parks in the Western Hemisphere, Bosque Chapultepec was a surprise to me when I first visited Mexico City a decade ago. I wasn't expecting to find such a large, green space in a city with a terrible reputation for pollution. It's one of the best places to visit in Mexico City when you're in need of some downtime. Sitting by one of the park's lakes with a snack and a cold drink is the perfect antidote to a day of walking.
Wander the gorgeous streets of Polanco, La Condesa and Roma
You'll find stunning boutiques full of local designs, cute cafes and gorgeous women in sky-high heels walking tiny dogs in the neighbourhoods of Polanco, La Condesa and Roma. I also recommend staying in one of these barrios during your time in Mexico City.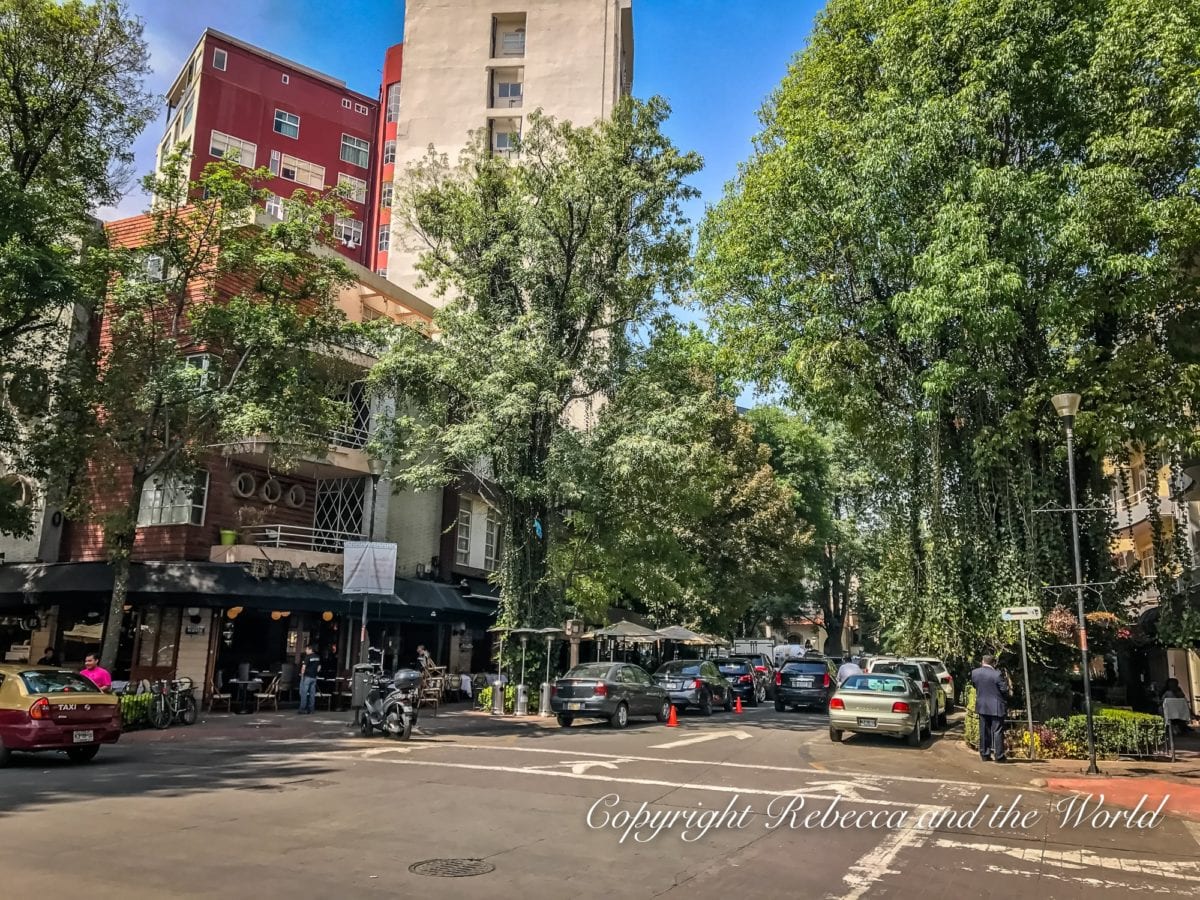 Go souvenir shopping at the Coyoacán market
Head to Coyoacán to pick up all your souvenirs – colourful hand-woven blankets, tequila glasses and handmade jewelry will fit perfectly in your suitcase.
Ignacio Allende s/n, Coyoacán, open daily
Cover the New York Times' recommended spots in a day
If you're a fan of the New York Times' 36 Hours In… series, then this tour is for you. In just a day you'll cover many of the Mexico City highlights in the New York Times' 36 Hours in Mexico City. On the tour, you'll learn about Mexican culture and discover local designers and great food.
Go to a lucha libre match
Even if you're not a fan of WWF or WWE (or whatever acronym), a night out at a lucha libre match will have you screaming and jumping up and down with the rest of the hollering crowd. The wrestling match is highly staged and highly comical, and actually may just be the most fun you have in your 3 days in Mexico City.
A few tips:
Don't bring a camera – it WILL be confiscated. Cameras on mobile phones are fine.
Buy tickets online in advance at Ticketmaster.
BUT, if you want a true experience of one of the most fun things to do in Mexico City, then take the metro or an Uber to Arena México (Dr. Lavista 189) and line up with everyone else to buy your tickets in the chaos. This is what I did on my first trip to Mexico City.
Explore ancient Teotihuacan
Regardless whether you're a history or archaeology buff or not, Teotihuacan will blow your mind. This ancient Mesoamerican site has many significant pyramids, some of which you can even climb. From the top, there are great views out across the whole complex. Teotihuacan is just outside of Mexico City and can be visited on a day trip.
You can either take public transport to Teotihuacan, or join a tour to have transport taken care of. I don't remember which tour company I used when I visited Teotihuacan, but this one is an early morning tour with an archaeologist who can explain the history of the complex. This one also has great reviews and includes a visit to the Basilica of Guadelupe. You can even take a hot air balloon over the site!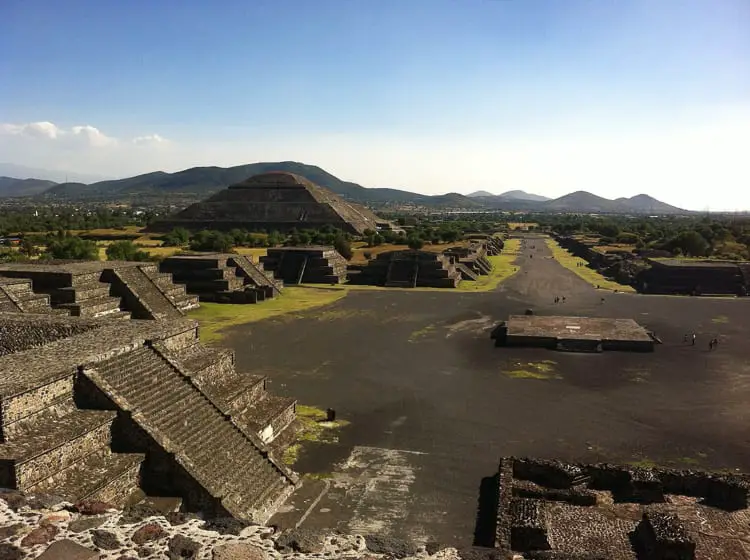 Cruise around Xochimilco
Does spending the afternoon on a colourful boat, surrounded by Mexican families, mariachi music and food cooked on boats that pass you by sound like a great idea? Head over to Xochimilco to join the party on the canals. It's easy to rent a trajinera (one of the colourful boats) when you get there. Aim to pay around MN$500 for an hour. I recommended doing this on a weekend in Mexico City, when everyone is out having fun (it's quieter on the canals during the week).
When I first visited Xochimilco I did it by myself (sad face) but this is an experience that's waaayyy better to do with a group. If you're solo in Mexico City, then consider joining a group tour like this one for more fun! Most tours include a visit to the Frida Kahlo museum as well.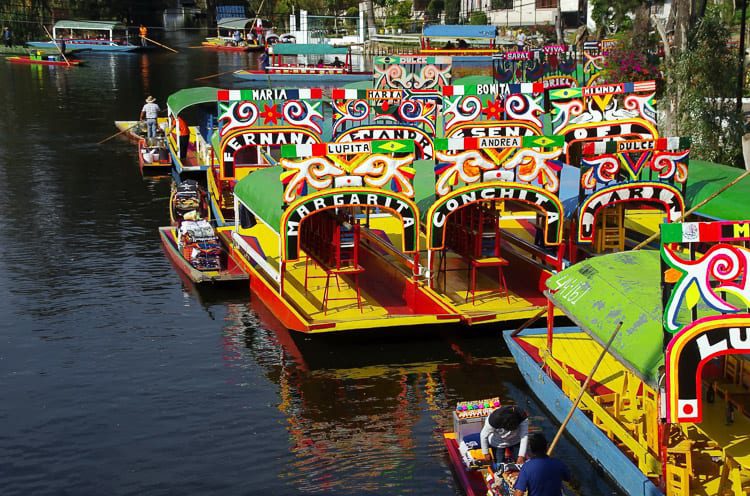 Planning out 3 days in Mexico City: A suggested itinerary
So, now that you know the best things to do in Mexico City, how should you schedule out your 3 days in Mexico City so that you see and do (and eat!) everything? (And why stop at just three days – you can easily add Mexico City to a longer, 2-week Mexico itinerary).
First up, I DO recommend having a plan. Mexico City has 21 million people (holy moly!) so you can just imagine how big this city is. Traffic jams are frequent, so getting around can take longer than expected. This means you need to really plan out what you're doing each day.
The best way to visit Mexico City is to plan the days out by neighbourhood so that you're not spending hours in a car or navigating public transport.
My second tip is to prioritise what you want to do. There's so many things to do in Mexico City, but you can't do it all with only three days. So make a list, plot out where everything is on Google Maps, and then figure out what you can actually do in three days.
Finally, plan your activities around certain days. On Mondays, most museums are closed, so make sure you know this in advance!
Now, having said all that, here's my recommended Mexico City itinerary. This is just a suggestion, so feel free to mix and match depending on your priorities and the area in which you're staying.
Map of the best Mexico City attractions
Day 1
Take it easy on your first day. Mexico City sits at more than 7,000 feet, so you may feel the effects of the altitude. Spend the day exploring the trendy neighbourhoods of Polanco, La Condesa and Roma, stopping for a breakfast of chilaquiles or browsing the hip shops.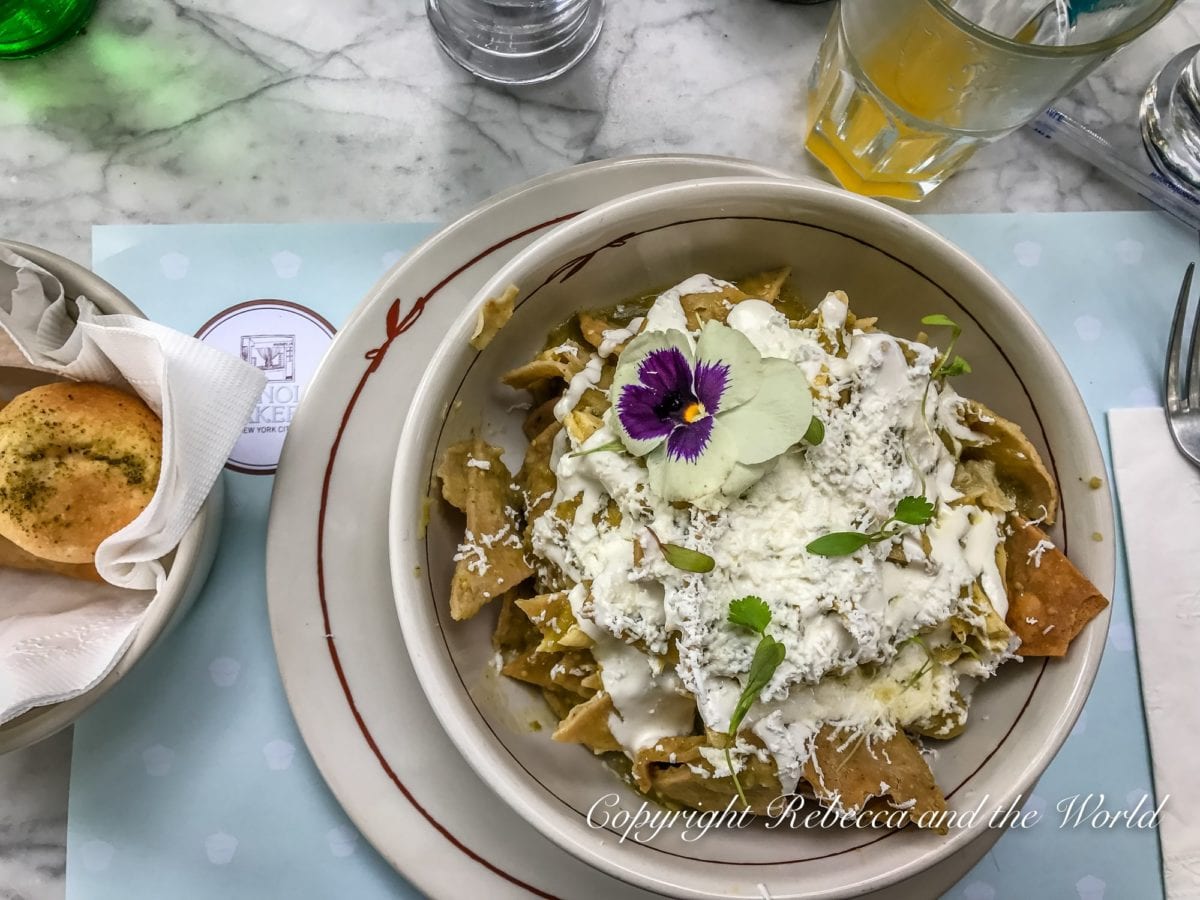 Wander through Bosque de Chapultepec, visiting the Castillo de Chapultepec (Chapultepec Castle). Don't forget to try some of the street food you'll see everywhere throughout the park, it's delicious!
The Museo Nacional de Antropología is near the park. After you've absorbed all the information this museum has, jump in a taxi to the Palacio de Bellas Artes. Spend the rest of the afternoon wandering around the Zócalo, Templo Mayor and the Palacio Nacional.
End day 1 of the itinerary with a meal at one of the world's best restaurants. Choose from either Pujol or Quintonil, but remember that you'll need to have booked well in advance! You're unlikely to get a table just by turning up.
Day 2
Start your day in the bustling markets of Mexico City on a food tour. Don't say no to trying the more exotic (ahem, insects) products on offer.
Head over to the Frida Kahlo Museum (book a timed ticket online in advance). Once you're done exploring Frida's costumes, home and artworks, pick up a few souvenirs at the nearby Coyoacán Market.
Grab a group of friends and book a trajinera at Xochimilco. This is most fun on a weekend day, when Mexican families are out enjoying time with friends and relatives!
Day 3
Today's the earliest you'll be getting up on your 3 days in Mexico City, because you'll be heading out to Teotihuacan. Plan to spend most of the day doing this.
Tonight, get rowdy with the crowds at a Lucha Libre match! Being in amongst the sweating, heaving, hollering crowds is something you'll never forget.
Finish the night off by finding some street food and enjoying a taco (or three!).
Mexico City travel tips: Everything you need to know before you visit
When to visit Mexico City
In my opinion, there's no really bad time to visit Mexico City. I've been there in November and April and had great weather both times.
The average temperature in Mexico City fluctuates: May is the hottest month of the year, averaging around 26°C (88°F), while January is the coolest month with an average high of 21°C (71°F). The rainy season is June to September, but that doesn't mean that it rains all day: there tends to be bursts of rain in the evenings and at night. Bring an umbrella.
Spring brings the blooming of jacaranda trees, and if you're lucky enough to visit in early November, you may be able to participate in the country's Dia de los Muertos (Day of the Dead) celebrations (it's on my bucket list!!).
Easter and Christmas are the busiest – and, of course, most expensive – times to visit Mexico City.
Visa requirements for Mexico
Australians, New Zealanders, most Europeans and North Americans do not require a visa for Mexico. Visas are also not a requirement for most countries of Central and South America. Always check with your local embassy or consulate for the latest information.
Where to stay in Mexico City
Because this city is huge, it can be confusing figuring out where to stay in Mexico City. There are tonnes of hotels across the city or you can rent an Airbnb in Mexico City.
Centro Histórico
When I first visited Mexico City over a decade ago, I stayed in a hostel in the Centro Histórico. It's a great place to get a feel for the city, and is close to all the main tourist attractions – the Zócalo, the Palacio Nacionál, Templo Mayor. It's always buzzing with street vendors and performances.
Hotel Zocalo Central – this centrally located hotel is highly rated for its great customer service. Plus, some rooms even overlook the Zócalo!
Hotel Historico Central – another hotel in a great central location. Guests rate the comfy beds, and there's a gym if you need to work off all those tacos!
Polanco
This is the fancy area of Mexico City. Here you'll find Louis Vuitton and other luxury brands. But, you can still order a breakfast taco from a street vendor on the corner. We stayed in Polanco on our most recent visit to Mexico City and loved the area.
W Hotel – on our most recent visit, we splurged on a room at the W Hotel (it was my birthday!). It's everything you expect of a W Hotel: hip staff, funky rooms and fun bars.
Las Alcobas DF – from this hotel, you can easily walk to the National Anthropology Museum and Chapultepec Park. This hotel is 5-star so expect top-notch service and mouth-watering meals from the hotel's two restaurants.
Roma
This area has so much going with bars, restaurants and markets. It's got a total hipster vibe and is safe. A great neighbourhood to stay in for your first visit to Mexico City.
La Valise Mexico City – on the upper end of the price range, the rooms at this sophisticated, stylish boutique hotel are to die for. Seriously, go check out the balconies that seem to just flow straight from the bedroom.
Hotel Villa Condesa – this small boutique hotel has just 14 rooms, so you can count on wonderful attention from the hotel staff. The hotel also has bikes for guests, so you can pedal your way around Mexico City.
Condesa
Most tourists find their way here and for good reason. Wide avenues, lots of green spaces, cute boutique shops and classy cafés and restaurants make it a great place to stay in Mexico City.
Casa Mali by Dominion – step into the luxurious interiors of this small hotel and you'll feel relaxed immediately. This is an affordable option in a great location.
Red Tree House – the motto of this lovely B&B is "staying with friends" and that's certainly how you'll feel. Staff are attentive but there's none of the distant formality of the big hotels. The Treehouse room looks incredible! Prices are ridiculously affordable.
Coyoacán
If you're looking for something a little different and off the beaten path, Coyoacán is a great choice. It's a little further from the city centre, but you'll be close to great markets, amazing street food and popular Mexico City tourist attractions like the Frida Kahlo Museum.
Maria del Alma Guest House – all the rooms at this friendly guest house have private terraces and spacious bathrooms. A great breakfast is included.
Pug Seal B&B Coyoacan – strange name, great location. From this 8-room B&B you can walk to the Frida Kahlo Museum and the Coyoacán Market.
Airbnbs in Mexico City
The next time I go back to Mexico City, I'll be booking an Airbnb. There are so many beautiful options, it'll be hard to choose. Here are some that I have my eye on:
How to get around Mexico City
Traffic in Mexico City is terrible, due to the city's huge population (more than 21 million people in the metropolitan area!) and the fact that drivers are CRAZY! Unless you have a death wish, I wouldn't recommend hiring a car in Mexico City, especially if you're only there for three days.
The absolute easiest way to get around is by Uber. There are always plenty of drivers around and it's super affordable. Handy too if you don't speak much or any Spanish.
Taxis are also plentiful. Make sure the driver turns on the meter when you get in and speak as much Spanish as you can.
The metro is fantastic and super cheap. It's very easy to use and also entertaining when on board – all sorts of performers and sellers get on trying to make a buck.
Is Mexico City safe?
Mexico City gets a bad rap, and not always deservedly so. Yes, there's crime and yes, you need to be alert at all times.
It's important to remember that a lot of the crime that draws international media attention – narco crime – happens outside of Mexico City, so don't let that influence your decision to visit Mexico City.
Some helpful tips to stay safe during your 3 days in Mexico City:
Learn some basic Spanish, enough to get by in taxis and on public transport, so no one takes advantage of you
While public transport is economical and extensive, it's often better to travel by private transport at night. Uber is a great option
Be careful with your cash and only carry with you what you need. Also, put money in different spots – some could go in your wallet, some in another pocket, some (for the ladies) inside your bra
Don't flash around your expensive camera and phones
Try to blend in: don't walk around with a map in your hand and camera slung around your neck, don't speak loudly in English
Don't carry your passport around with you, take a copy instead
If something does happen, don't fight back! Valuables can be replaced, your life cannot
THREE DAYS IN MEXICO CITY – YOUR TRIP ESSENTIALS
Have I left anything off this 3 days in Mexico City itinerary? Drop your favourite things to do and travel tips in the comments below.
This blog post was written in July 2017, and was updated in July 2019.
PIN IT FOR LATER: