It's no secret that I have a huge crush on Oaxaca, Mexico. This city has stolen my heart twice, for its history, beauty, friendliness and deliciousness (the food in Oaxaca is the BEST!). After two trips to this wonderful city, I've put together this guide on a few things I wish I'd known before travelling to Oaxaca. I'm hoping this helps you get ready to visit Oaxaca or even inspires you to put the city on your bucket list.
And if you need help planning your visit to Oaxaca, check out my Oaxaca itinerary. It's an overview of the best things to do in Oaxaca in four days, and can be adapted if you have more or less time in Oaxaca.
So, without further ado, here's my Oaxaca travel guide with some handy travel tips!
This post was updated in June 2021. I've done my best to check that information remains current in light of the pandemic, but please check with individual businesses before booking. If you see any errors, please let me know so that I can keep this article updated.
This blog post may contain affiliate links, meaning if you book or buy something through one of these links, I may earn a small commission (at no extra cost to you).
The pronunciation can be tricky
You've probably seen the word "Oaxaca" on paper or a computer screen and gone, "huh?". Why so many vowels?! And what's with that "x"?!
To help alleviate your confusion, it's pronounced wa-HAH-kah. Rolls off the tongue once you know how to say it.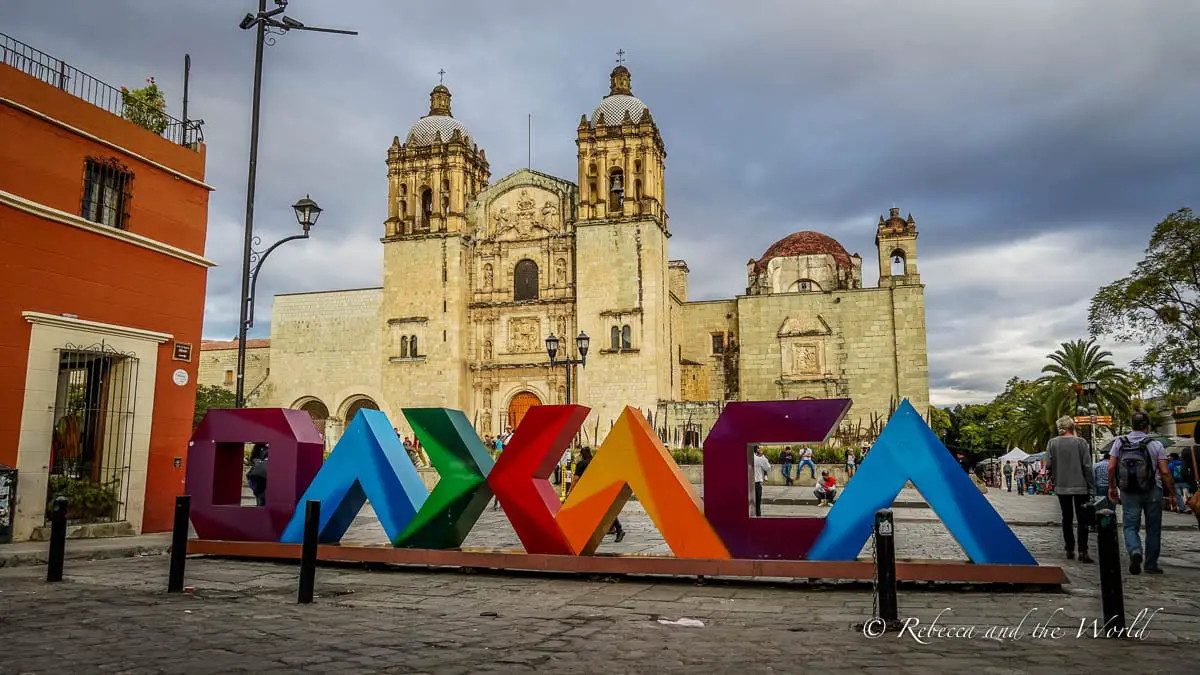 Oaxaca is both a state and a city
While Oaxaca is both a state and city, in this article I'm talking specifically about Oaxaca city, or Oaxaca de Juárez if you want to get formal.
Oaxaca state is the 10th largest in Mexico, with a population of almost 4 million. It's in the southwest of the country. While the state's mountainous and rugged terrain does make journeys through Oaxaca a little longer and more challenging, it's also been a contributing factor to the survival of many indigenous peoples and cultures (although of course the picture's not all rosy). Traditions remain strong in Oaxaca, something that you'll see throughout Oaxaca city.
Oaxaca city is the capital of the state and has a population of just over 250,000 people. Despite its size, it's got a wonderful small-town vibe.
Plan on travelling to Oaxaca for 3 days at a minimum
To truly experience everything that Oaxaca City and the surrounding region has to offer, plan to visit Oaxaca for at least three days – but you could easily spend a week here. Any less than that and you won't get to enjoy the food and culture that make this city one of my favourites. There really is an incredible amount of things to do in Oaxaca, and I don't want you to miss out on any of it!
We spent 4 days in Oaxaca and it was perfect – enough time to see everything we needed to see (and eat!) but also plenty of time for relaxing in the zocalo and people-watching. But, to be honest, I could easily spend a month in this city. (It's on my cities-to-live-in-one-day list.)
Come hungry
If you've heard anything at all about Oaxaca, I bet it's about the food scene. Plan to visit with an empty stomach and an open mind because you need to try everything.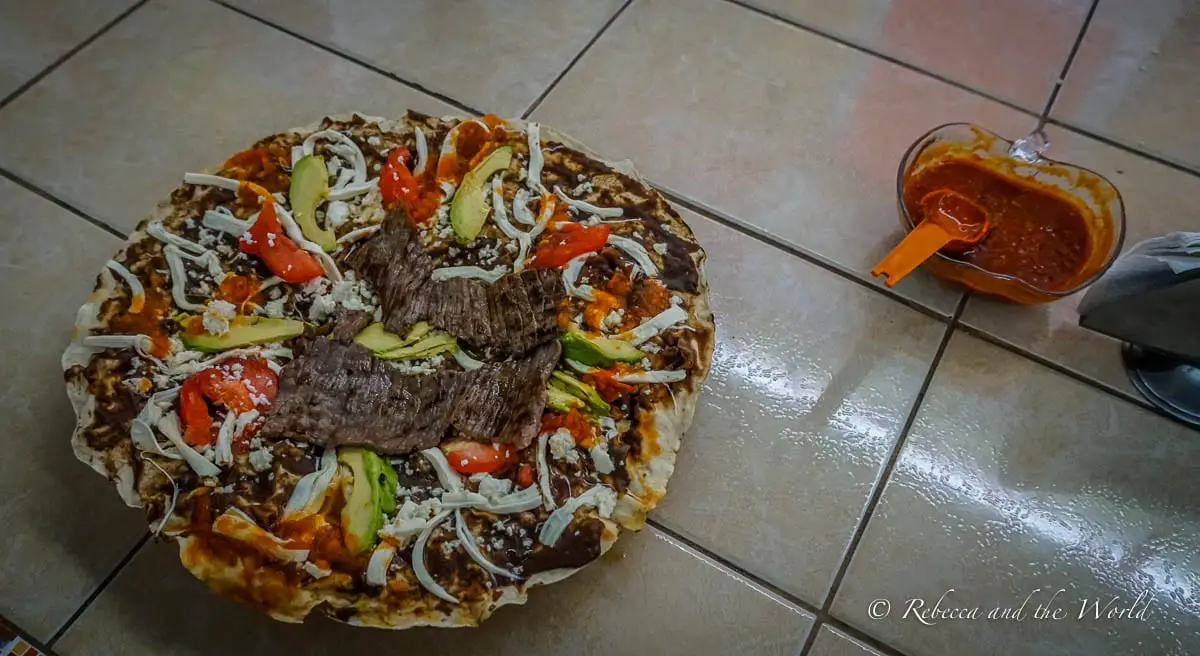 You can't visit Oaxaca without trying ALL the food, so to start you off drooling, here are a few recommendations for what to eat in Oaxaca:
Tlayudas – often called Oaxacan pizza, these crispy tortillas are topped with beans, tomato, lettuce, meat (usually pork or thin beef) and stringy quesillo. They're best shared with someone as they're pretty big and messy to eat!
Mole – Oaxaca is known as the land of seven moles and you should try them all. If you've never heard of mole (pronounced MOH-lay) then you're in for a treat. Mole is a traditional sauce that's earthy and rich. In some moles, chocolate is a key ingredient, but not all. Mole is labour-intensive and some varieties can contain more than 30 or 40 individual ingredients. Make sure to try a Oaxaca mole when you visit (and you can even buy the paste to take home with you).
Memelitas – the perfect snack, these are fried or toasted rounds of masa (corn dough) topped with beans, cotija cheese and some kind of protein.
Atole – this hot, thick drink is made from masa mixed with water, cinnamon (and often other spices), vanilla and sugar and is great at breakfast.
Tostadas – another great snack, these are tortillas that are toasted until crunchy and then topped with other ingredients.
Pan de yema – light bread that you dip into hot chocolate (sounds strange but it's so, so good!).
Tascalate – another drink that's made from roasted corn, chocolate, nuts, vanilla, sugar and achiote. You can drink it hot or cold, or with milk or water (I like it cold with milk if you're wondering!).
This list barely touches the surface of all the amazing Oaxaca food – there are so many more delicious things that you should try (including chapulines – fried grasshoppers – for the brave!).
Exploring the markets and street food carts are a good place to start trying Oaxacan food. Just follow the crowds and order what everyone else is eating and you'll end up with something that makes your taste buds dance.
But, if it's all too overwhelming and you'd like a local to show you what, where and how to eat, then book a food tour with Omar of Oaxacking. We spent four hours eating with him and it was just like hanging out with a mate who wants to show you around their home city. I've seriously never eaten so much food in four hours (a siesta was needed afterwards) but it was a great introduction to the tastes of Oaxaca.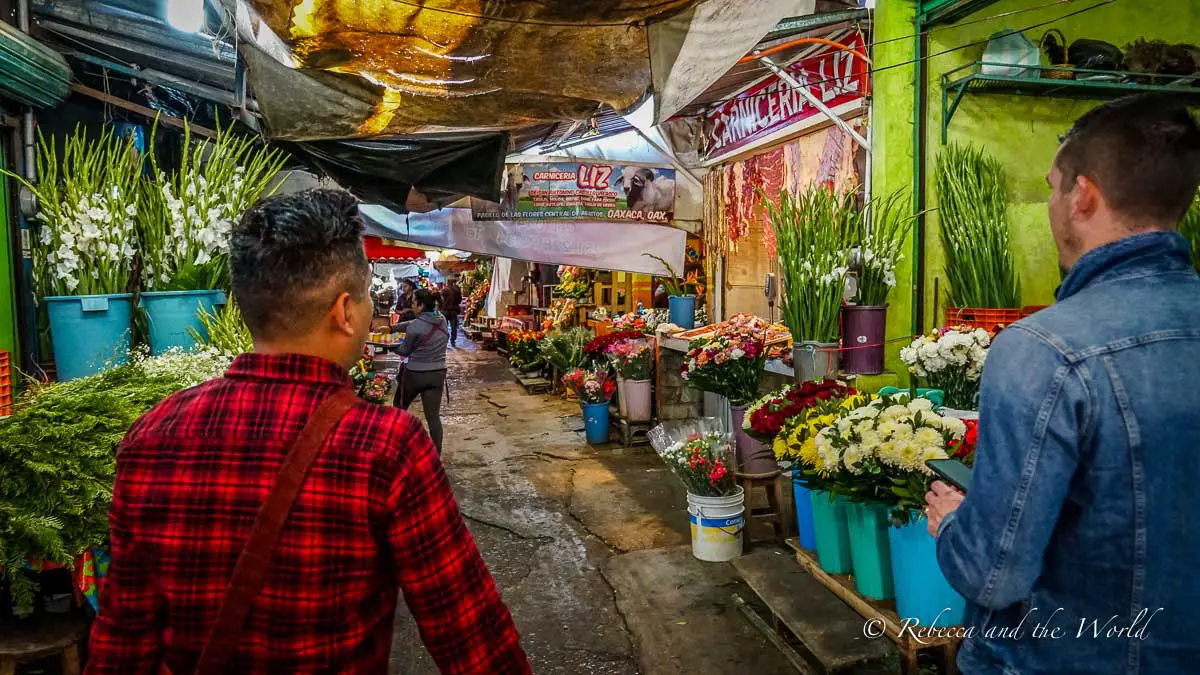 I'm putting together a post on where to eat in Oaxaca, but in the meantime here are some restaurant recommendations.
Where to eat breakfast in Oaxaca
The most important meal of the day! We loved starting the day off at these cafés:
PAN:AM – order the chilaquiles and a fresh juice, and don't forget to get a pain au chocolat from the bread basket that the staff bring around. Several locations around Oaxaca
Itanoni – famed for its focus on corn, everything in this family-run restaurant is made from the grain. The tascalate is delicious (I bought some to take home with me), as are the tamales and tetelas. Go with a group and order one of everything so you can try it all! This was my favourite Oaxaca restaurant. Av Belisario Domínguez 513
Fonda Florecita – a little further away from the Centro, this stall is inside the Mercado de la Merced. There's no handwritten menu so ask the staff to speak slowly and tell you what they're serving up that day. The pan de yema is particularly good.
Casual restaurants in Oaxaca
There are so many great restaurants in Oaxaca for lunch or dinner it can be hard to decide – believe me, I had a lot of FOMO during our time in Oaxaca. Here are a few recommendations to help you narrow down your choices:
Cabuche – the enmoladas (tortillas rolled up in mole) are mouthwatering. The tostadas change regularly so check the board for the day's offering. Miguel Hidalgo 1017
Boulenc – this bakery slash café sells sandwiches on bread baked in-house. If you can, take some of the homemade jams and pickled vegetables home with you. Calle Porfirio Díaz 207
Coronita – go here for a sampler of 7 moles. Díaz Ordaz 208
Fine dining restaurants in Oaxaca
One of the great things about a Oaxaca vacation is its affordability, so you can eat out at award-winning restaurants for a fraction of the price that you'd pay in other cities. Here are a few that we visited on our trip, all of which celebrate Oaxacan flavours and ingredients. I'd go back to any of these in a heartbeat:
Criollo – part-owned by Enrique Olvera, the man behind Pujol in Mexico City (currently number 12 of the 50 best restaurants in the world), the multi-course tasting menu will introduce you to quality Oaxacan ingredients and flavours. Make a reservation in advance. Francisco I. Madero 129
Casa Oaxaca – overlooking the Templo de Santo Domingo, sitting out on the patio on an evening just adds to the delicious food. Reserve a table well ahead. Calle de La Constitución 104A
El Destilado – owned by three Americans who fell in love with Oaxacan cuisine. Great vibe and service. 5 de Mayo 409
Days start slow
There's really no need to get up early in Oaxaca, as there's not a whole lot going on in the city before 9 or 10 a.m. Some coffee shops and cafes don't even open until 8 a.m.
So, unless you're starting out early on a long day trip, enjoy that sleep-in!
Oaxaca is affordable
When I visited Oaxaca, I constantly had to check my currency converter app to make sure I wasn't miscalculating the price of food, drinks and goods. Depending on your exchange rate, many foreigners will find Oaxaca to be very affordable.
Vendors in markets are usually willing to negotiate, but just because you can doesn't mean you should. Pay the price that's asked and what's fair, as people are usually just trying to make a living.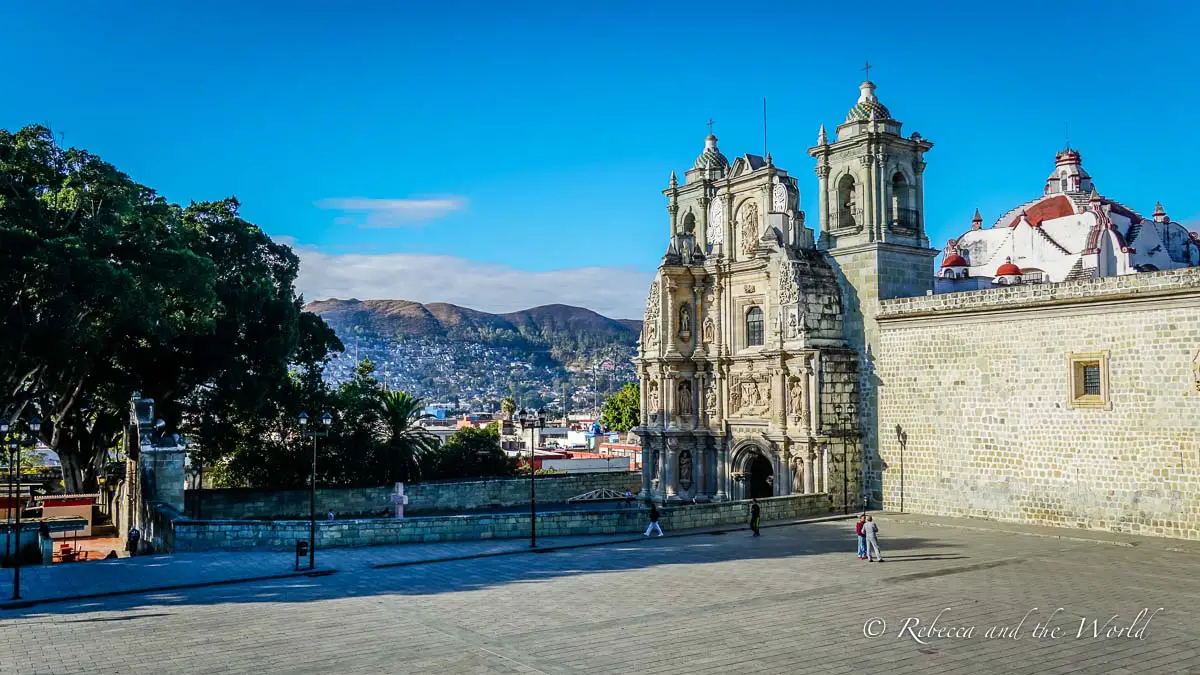 Oaxaca is safe – even for solo female travellers
Mexico gets such a bad rap when it comes to safety, and it's not always warranted. So it's no surprise that a lot of people thinking about visiting Oaxaca ask an obvious question: is Oaxaca safe to visit?
The answer: yes, I felt very safe in Oaxaca.
On my first visit to Oaxaca I travelled solo, and my second time was with my husband. Both times I never had any issues and I always felt safe, even when we walked around the city at nighttime (granted, we were only walking in the main touristy neighbourhoods).
Of course there's crime in Oaxaca like in every part of the world. So, as always, it pays to be aware of your surroundings and follow basic safety measures when travelling to Oaxaca:
Come armed with some basic Spanish
Don't wander around alone at night
Only bring what you need – leave the valuables in your hotel room
Don't flash around your expensive camera and phones
If something does happen, don't fight back! Valuables can be replaced, your life cannot
Oaxaca is high up!
Oaxaca sits at 1,555 metres (5,102 feet) above sea level, so don't be surprised to find yourself out of breath every so often (at least, that was my excuse!). Some people who are prone to altitude sickness do have issues in Oaxaca, but for most people it won't be an issue.
To avoid altitude sickness, take it easy and don't go rushing around the city. Drink plenty of water and avoid alcohol.
The city is so clean
I found the streets of Oaxaca to be so clean and well-maintained – more so than big cities around the world (here's looking at you, New York City!). Do your part and keep it clean, too.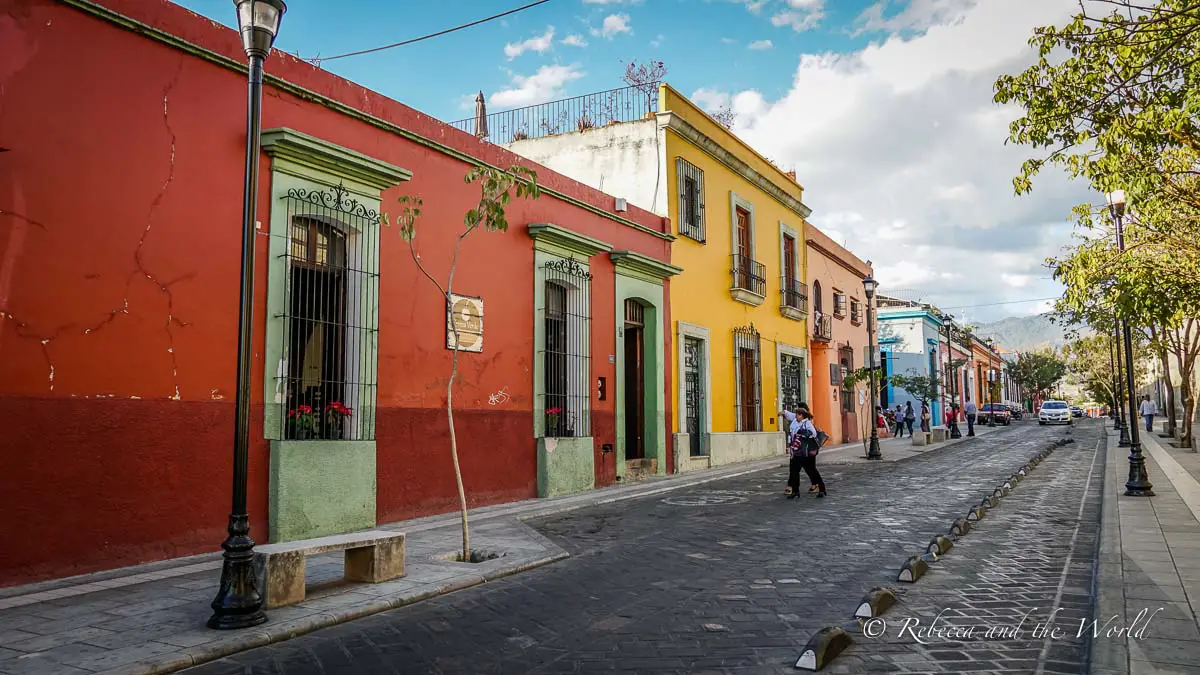 Mezcal is the drink of choice
While Mexico may be known for tequila, in Oaxaca, it's mezcal that's the drink of choice. This liquor is also made of agave but it's far more complex, with a smoky flavour (read more in this article about what is mezcal). Most mezcal is made in Oaxaca state.
Mezcal seems to be the trendy drink of choice, and I've seen mezcal bars popping up in cities around the world. If you don't know much about mezcal, then I recommend starting out at La Mezcaloteca (Reforma 506) for a tasting. We let the staff know what flavours we liked and they customised the tasting to our preferences. You'll need to make a reservation in advance.
There are also plenty of mezcal tours where you can visit a palenque (mezcal distillery) and learn about the production process. Omar of Oaxacking has tours that visit small-batch, family-owned palenques, as does Las Bugambilias, the tour company we signed up with. We did a full-day tour and visited three different producers on the outskirts of the city.
You'll find that the cheaper tours are more focused on larger production facilities and are more about the drinking rather than the learning process, so choosing a tour really depends on your budget and what you're looking to get out of the experience.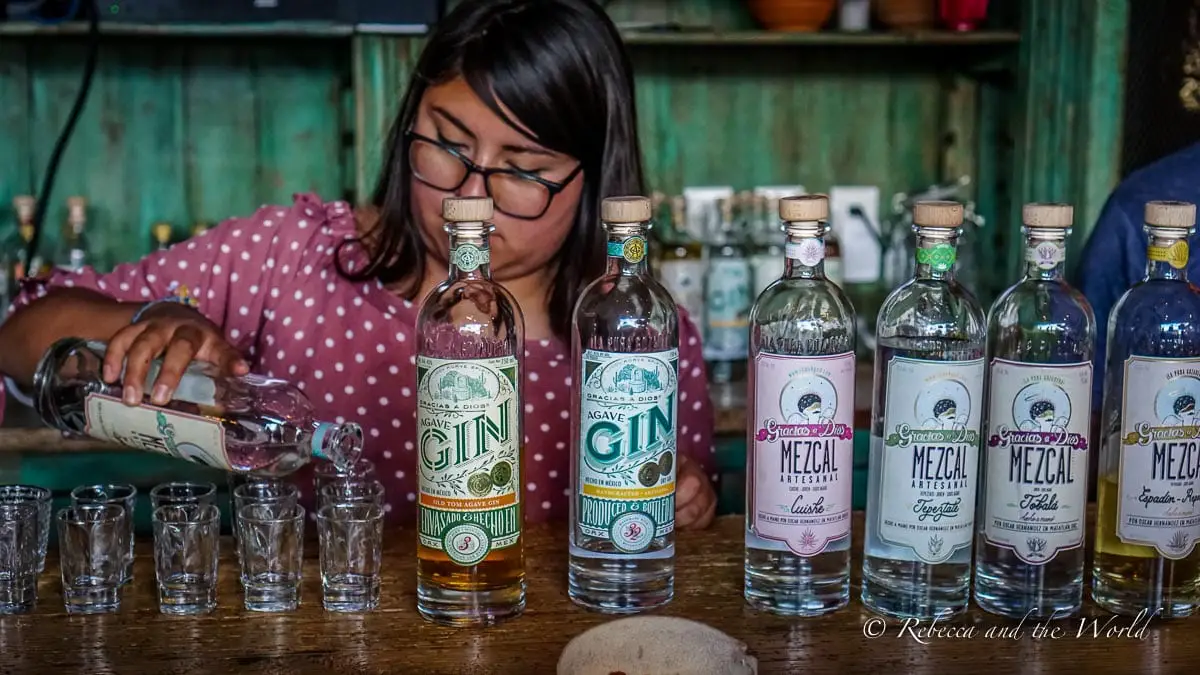 Oaxaca is centuries old
Like all of Mexico, Oaxaca's fascinating and tumultuous history stretches back thousands and thousands of years.
While you're in Oaxaca, make sure to learn more about this history. A good place to start is the Museo de las Culturas de Oaxaca (Oaxaca Culture Museum). Housed in a former monastery, the corridors are filled with exhibits that trace the beginnings of Oaxaca through to modern times.
Spend half a day at Monte Albán, which dates back to 500BC. This was the most important Zapotec site for more than a thousand years. There's little signage throughout the site, unfortunately, so see if you can download some information to your phone, find a good guidebook or even hire a guide to show you around. In my opinion, you can't miss this site on your Oaxaca trip.
Another interesting ruins site nearby Oaxaca is Mitla. Around 45 kilometres from Oaxaca, it's another easy day trip from Oaxaca.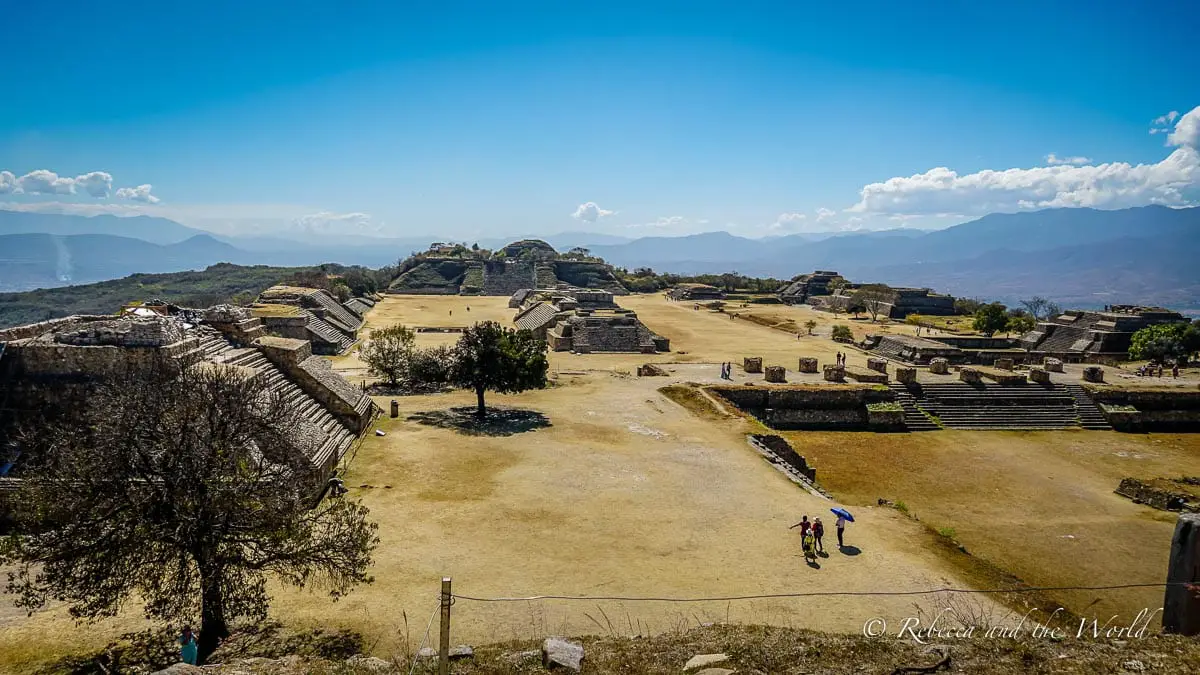 Do your research to find the best Oaxaca tours
There are plenty of tours to surrounding areas of Oaxaca, but make sure to do your research as many of them are rushed.
On my first trip to Oaxaca I did a day trip to Hierve el Agua, the incredible petrified waterfalls surrounded by mineral pools that you can swim in. It's one of the prettiest places to visit in Oaxaca, but when I went, I made the mistake of booking a cheap day trip and was rewarded with some low-quality mezcal tastings and only a short time at the actual waterfalls.
Find tours that are run by Oaxacans and that support local Oaxacan businesses and people. Tours that actually want to teach you about the area, culture and customs rather than rushing you through a tight itinerary. GuateGo has a tour that includes hotel pick-up and drop-off, mezcal tasting, a visit to see stunning weavings, and – of course! – the chance to wander the pools of Hierve el Agua.
Oaxacans love to celebrate
Like all Mexican cities and towns, Oaxacan celebrations are wild and a time when the whole community comes together.
Some of the best festivals in Oaxaca to plan your Oaxaca travel plans around are:
Guelaguetza – people from all across Oaxaca province swarm on Oaxaca City in a huge celebration of Oaxacan culture. There's dancing, there's music, there's food (of course!) all in a huge spectacle over two consecutive Mondays at the end of July.
Día de los Muertos – despite what you've heard, this isn't Mexican Halloween. During Día de los Muertos (Day of the Dead), people come together to celebrate their deceased loved ones and make offerings. Día de los Muertos is late October/early November each year and the celebration goes over two days.
Noche de Rábanos – if you have any idea what rábanos means in English then you may be a little confused right now… a celebration of radishes? Yep, why not! This unusual festival has its origins in colonial times, and today you'll see hundreds of displays of intricately carved radishes. An interesting one to add to your Mexico bucket list!
A dream of mine is to visit Oaxaca during Día de los Muertos. It's been on my bucket list for a long time but I'm yet to make it a reality!
Pack a spare bag
Even if you're not a fan of shopping, I dare you not to buy anything in Oaxaca.
I rarely buy souvenirs when I travel, but I just couldn't help myself in Oaxaca, and ended up stuffing hand-stitched tops, a small rug, pottery, a straw handbag, books, cushion covers, too many bottles of mezcal and powdered hot chocolate into my suitcase.
The markets are a great place to check out for a huge range of items:
Mercado 20 de Noviembre and Mercado Benito Juárez are in the centre of town. While quite touristy, there's also a huge variety on offer. Talk to the stallholders to find out which goods are made locally.
The Mercado de Artesanías, Huizache and La Casa de las Artesanías are three good craft markets to explore. These complexes are good because you can do all your shopping in one place. Most also have information on where goods have come from and even who made it.
Sometimes you don't even need to step into a shop to make a purchase – there are vendors right on the street waiting to sell you beautifully hand-stitched cushion covers and clothing.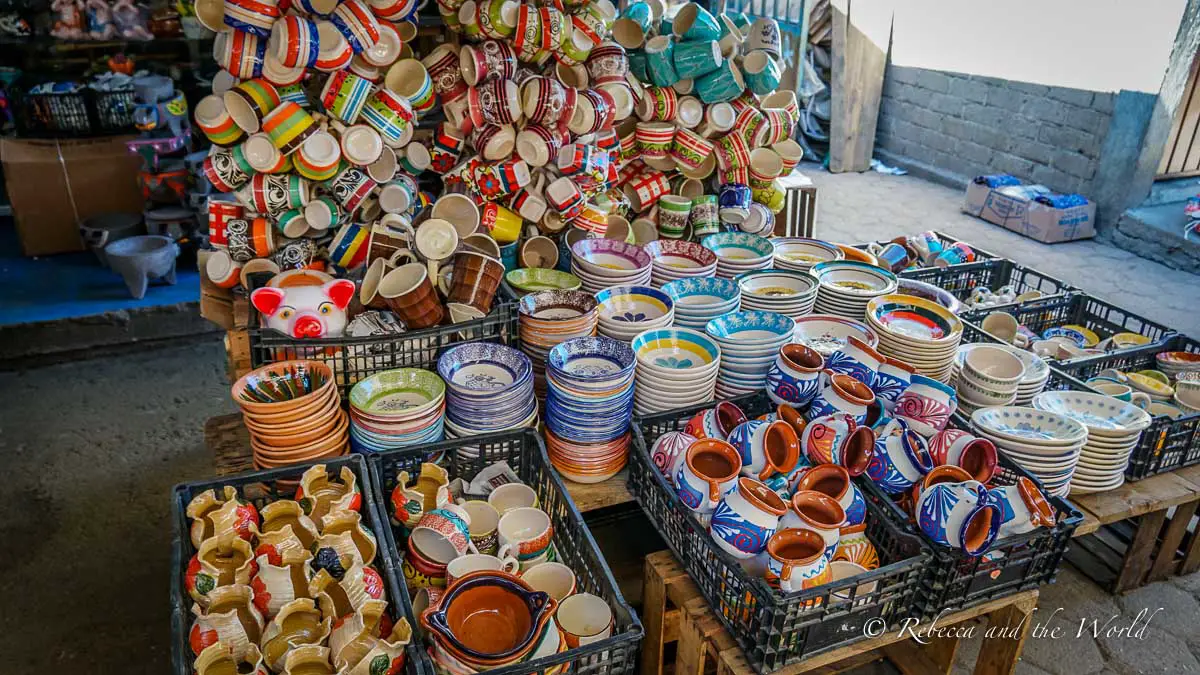 The beaches are far away
The only downside to travelling to Oaxaca is that if you're planning to combine a beach holiday with your city trip, think again. The beaches are far, far away. They look deceptively close on a map, but in reality, because of the winding roads through the mountains, it's a 5- to 7-hour journey by car or bus.
Having said that, if you've got the time, tack on a few days at the beach to your Oaxaca itinerary. I've spent quite a bit of time at Puerto Escondido, and you should also consider Huatulco, Puerto Ángel, Zipolite, Bahia de Tembo or Mazunte for some beach time. Check GuateGo for transfer options from Oaxaca to these beach towns.
There's no bad time for travelling to Oaxaca
I don't think there's any bad time to visit, but the best time to visit Oaxaca is October to February when the weather is milder. April and May are the hottest months of the year.
The summer months (June to September) bring lots of rain, but it also means lush, green landscapes.
The busiest times of year are around the festivals and celebrations I've mentioned above, and the week of Easter. If you do plan a trip around one of these festivals, make sure to book well in advance as Oaxaca hotels do fill up quickly!
It's easy to get to Oaxaca
Depending where you're coming from, it's fairly easy to get to Oaxaca. Oaxaca has an international airport, Xoxocotlán International Airport (OAX). Direct flights land here from the U.S. and countries in Central and South America.
For most international visitors planning Oaxaca travel, you'll need to transit through Mexico City first. You could even stop in Mexico City for a few days (check out my guide to Mexico City here).
From the airport, it's only a 25-minute drive to downtown. Book a shared taxi (van) at the airport. These drop passengers off at their hotels around the area (which means it can take a little longer than 25 minutes). Alternatively, GuateGo offers private transfers direct to your hotel, which will save you a tonne of time.
There are plenty of buses and domestic flights to Oaxaca from Mexico City and other major cities around Mexico.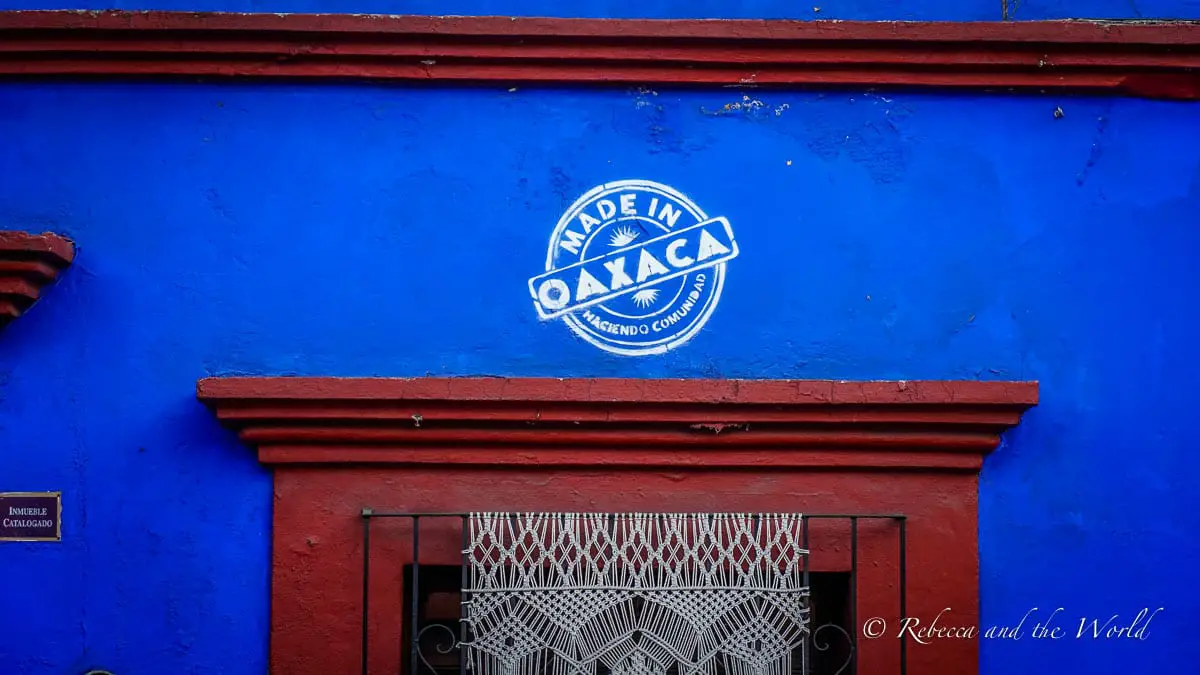 Where to stay in Oaxaca
Oaxaca has a booming tourism industry, so there are plenty of hotels in the city. Here are a few recommendations for visiting Oaxaca:
Pack travel insurance
Oaxaca is pretty safe, but if I'm travelling internationally, I always arrange travel insurance. World Nomads offers simple and flexible travel insurance. Buy at home or while traveling and claim online from anywhere in the world.
Are you planning on traveling to Oaxaca? Is there anything else you need to know before you visit? Drop your questions in the comments section below.
PIN IT FOR LATER:
Save this guide to visiting Oaxaca so you can plan your trip. Simply click on one of the images below to save this post to Pinterest.