Looking for weekend adventures in Colorado to satisfy your craving for adventure? Here, we've rounded up 7 of the best weekend getaways in the state.
Colorado offers endless opportunities for adventure, from short hikes to long backpacking trips. Whether you prefer an urban setting, large cities, quaint mountain towns or you simply want to get away from everyone, you'll find plenty to do in this state that's known for its beautiful landscapes.
Travel writer and adventurer Dom has been exploring the state for over 15 years and he still finds new things to do every weekend. Even with so many options, there are a few that stand out. In this article, he's covering the top weekend adventures that showcase why Colorado is one of the best places to visit in the USA.
This blog post may contain affiliate links, meaning if you book or buy something through one of these links, I may earn a small commission (at no extra cost to you).
1. Explore Denver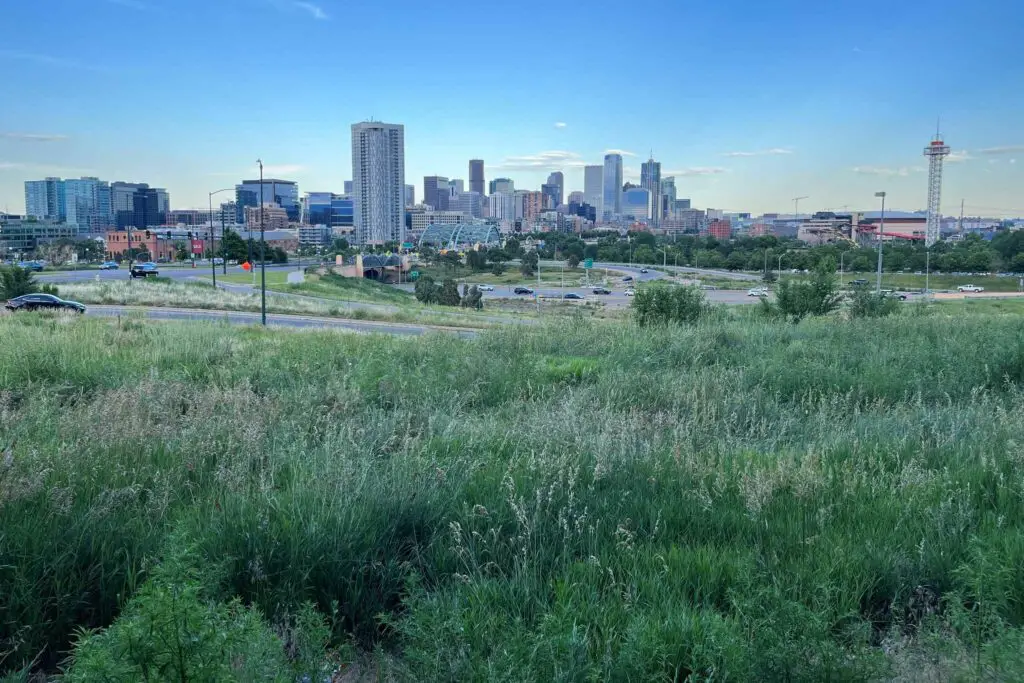 As the capital of Colorado and its largest city, Denver is the logical place to start any trip to Colorado. I love the wide variety of activities that are available to try both in the city and the surrounding area.
Foodies will find plenty of high-quality restaurants, from casual local joints to high-class establishments. When the sun sets, downtown Denver comes alive with people flocking to bars, dance clubs, and music venues to enjoy the nightlife.
Lower Downtown (LoDo), Lower Highland (LoHi), and River Art North District (RiNo) are some of the most popular neighborhoods to check out. Each one has a unique ambiance, so you could try a different one each day of the weekend to mix things up.
One of the best parts about visiting Denver is that the mountains are easily accessible. It is common to do a hike in the morning, then return to the city for an afternoon filled with urban adventure. It's also a great city visit year round – Denver in winter is particularly beautiful.
The Jefferson County Open Space system oversees a tonne of local parks within a 30-minute drive of Denver, where you'll find plenty of opportunities for outdoor action such as hiking, mountain biking, rock climbing and horseback riding. Located just off I-70, Matthews/Winters Park is a straight shot from Denver. Nearly 14 miles of trails wind through the park, so it's a great place for a day hike.
Where to stay in Denver
Limelight Hotel Denver (1600 Wewatta St) – stylish hotel close to the main sights; terrace has mountain views. Book your stay at the Limelight Hotel Denver on Booking.com | Read reviews online
Hotel Indigo Denver Downtown (1801 Wewatta St) – right in the heart of Denver, this hotel gets great reviews for its location. Check prices and book a room at Hotel Indigo online on Booking.com | Read reviews online
2. Hike a 14er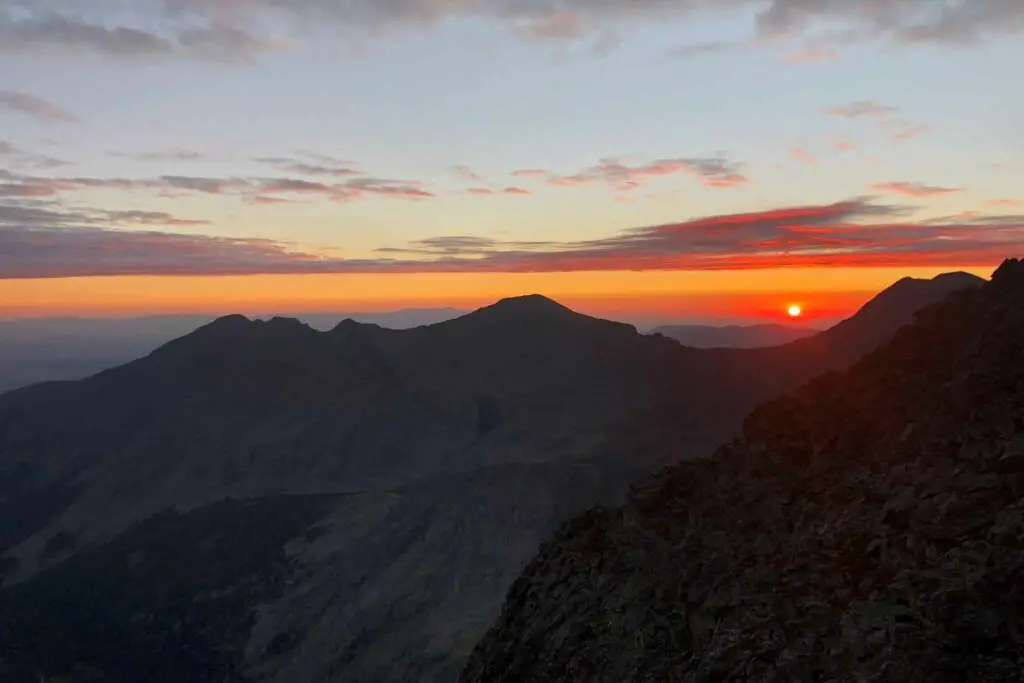 Peaks that rise about 14,000 feet are dubbed "14ers" and they are on the bucket list of many locals and visitors alike. Although challenging, hiking to the top of a 14er is a rewarding experience and the views at the top are breathtaking.
The difficulty of the 14ers ranges significantly, with some considered a strenuous hike and others requiring technical experience and special gear to climb. For your first 14er, stick with one of the easier options and work your way up once you get a feel for how your body responds.
Note that "easier" is relative — even the class 1 peaks are a serious challenge if you aren't accustomed to high elevations or long hikes. Be sure to prepare and do your research beforehand!
Two of the best 14ers for beginners are San Luis Peak and Quandry Peak. They don't require scrambling, so the summit can be reached via hiking only.
3. Visit Red Rocks and Morrison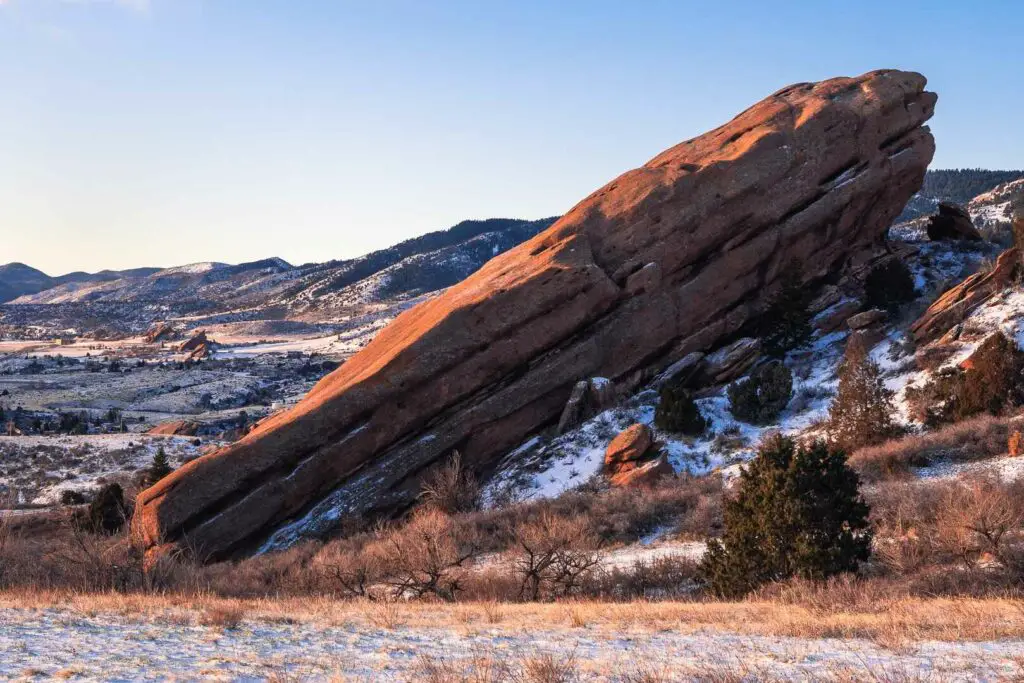 Known as an iconic music venue, Red Rocks attracts some of the biggest artists in the world. They come to perform under the stars at the stunning natural amphitheatre. Steps are cut into the sandstone, meaning that every concert-goer has a clear view of the stage.
Behind the stage, the landscape stretches as far as the eye can see with the city lights of Denver clearly visible.
Concerts are held most weekends over the summer. As one of the most unique venues in the country, Red Rocks is a can't-miss destination in Colorado.
Not only does it host fantastic concerts, but Red Rocks is also home to plenty of opportunities for outdoor recreation. Several hiking trails run through Red Rocks Park where you can get active and explore the beautiful area surrounding the amphitheatre, where stunning rock formations dot the land.
To extend your time in the area, make your way to the nearby town of Morrison. This small mountain town has a rich story that is closely intertwined with the long history of mining in Colorado.
There are plenty of things to keep you busy during a visit to Morrison. A variety of stores and boutiques are the perfect places to do some shopping for some neat local finds. When you are ready for a break, check out one of the many restaurants for a bite to eat or one of the breweries for a refreshing drink.
Another stop to add to your list is the Morrison Natural History Museum, where you can learn about the geological and paleontological history of the area. Be sure to stop by Dinosaur Ridge if you're interested in geology or paleontology. As the location of the number one tracksite in the world, Dinosaur Ridge is a fascinating spot where you can see real physical evidence of ancient dinosaurs.
Where to stay in Morrison
Cliff House Lodge and Hot Tub Cottages is a gorgeous bed and breakfast that's just a few minutes drive from Red Rocks.
4. Go to Rocky Mountain National Park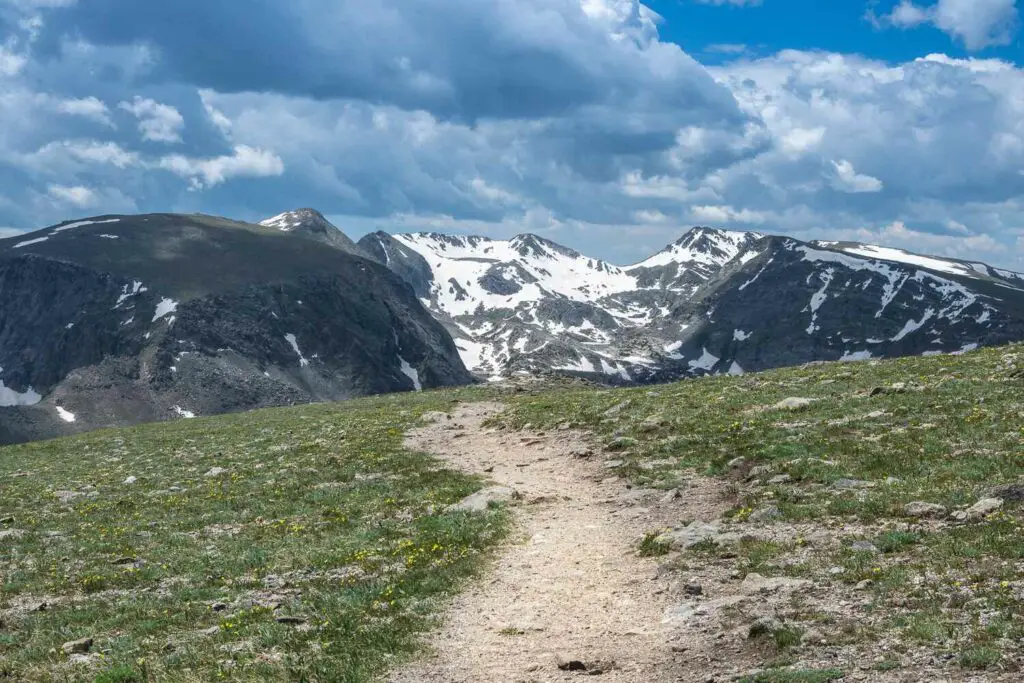 Rocky Mountain National Park is a gem of Colorado, and it's the reason many people visit the state. It's accessible from nearby cities, making it a fantastic choice for a weekend adventure.
There are more than 300 miles of trails in the park, so there is no shortage of options for hiking ranging from short trips to long treks. Many of the trails are open to horseback riding as well for a different way to experience the park.
To tour the park by car, make your way to Trail Ridge Road, which is the highest continuous paved road in the United States. It takes you to 12,183 feet where there are panoramic views of the stark mountain peaks, deep valleys and lush forest in all directions.
Elk frequent the park, so you have a good chance of seeing them during your visit. Catching a glimpse of these majestic animals is a memorable experience, and it's one of the best parts about going to Rocky Mountain National Park. Just remember to keep your distance!
5. Go boating at Ridgway State Park
Nestled among the San Juan Mountains, Ridgway State Park is a beautiful enclave in southwestern Colorado. The main attraction is the reservoir, which spans 100 acres.
Boating is one of the most popular activities at the park, with several options for entering the water. The large boat ramp at the Dutch Charlie Marina is the best place to start, and you can explore the rest of the reservoir from there.
If you don't have your own boat, you can rent one at the marina. The thrill of watersports combined with the impressive backdrop make for an epic day on the water.
For a more laid-back experience, try kayaking or paddleboarding. The beach in the Dallas Creek area is the best place to put in a motorless boat. You can also rent one here by the hour — they're offered at a trailer right by the water.
There is a large wakeless zone near the beach, so you don't have to worry about being disturbed by motorboats.
Anglers will enjoy fishing in the reservoir, in one of the ponds or in the Uncompahgre River. Throughout the summer, the reservoir is stocked with rainbow trout, brown trout and kokanee salmon.
Hikers head to Enchanted Mesa Trail, which is the longest hike in the park. It's a little over 7 miles long round trip and passes from the Dutch Charlie area to the Pa-Co-Chu-Puk area. Along the way, it provides a vantage point to the vibrant blue reservoir and the peaks of the San Juan Mountains in the distance.
When you work up an appetite, settle in at one of the 87 picnic sites in the park. Dallas Creek and Dutch Charlie are the best locations for a picnic, where you'll find plenty of covered shelters near the water.
6. Explore Ouray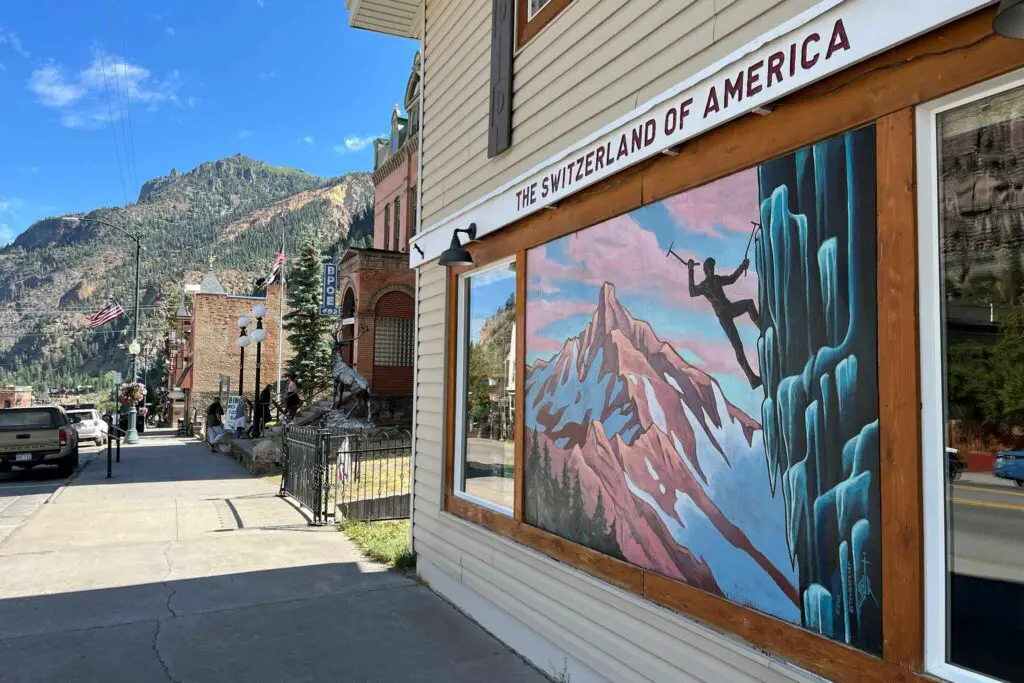 The town of Ouray is nicknamed the "Switzerland of America" due to its idyllic location between vast mountains. Walking through the town, you'll quickly be struck by its charm and the impressive scenery all around.
Main Street has a tonne of neat shops to explore, so it's worth spending some time walking along it. Cafes and restaurants line the street, offering a wide range of options to choose from.
Box Cañon Falls is a spectacular 285-foot waterfall that crashes through a steep canyon. It's one of the main natural attractions in Ouray and it's really easy to get to. The Falls Trail is only 500 feet long, so it is doable for most people.
After a full day of exploring, the hot springs in Ouray are the perfect place to unwind and relax. Box Canyon Lodge and Ouray Hot Springs Pool are two of the best places to take a dip.
Adrenaline junkies won't want to miss one of the three Via Ferratas in Ouray. These routes allow you to scale rock faces and traverse deep gorges while supported by study steel cables and a harness. The Ouray Via Ferrata is free to public use while the Gold Mountain Via Ferrata is only available with a guide.
Where to stay in Ouray
7. Visit Black Canyon National Park
Although not as well known as Rocky Mountain National Park, Black Canyon of the Gunnison National Park is one of the most desirable destinations in Colorado. The Gunnison River carves a deep path through the canyon. Many layers of rock tell the story of a long geological history that dates back millions of years.
Hike along the rim of the canyon to access the best viewpoints in the park along trails like Rim Rock Nature Trail and Chasm View Nature Trail. Alternatively, you can drive along South Rim Road or North Rim Road to hit the major vistas in only a few hours.
To spend a night under the stars, head to one of the campgrounds in the park. The South Rim Campground is the largest option, with 88 sites available and some with electric hookups. For a more isolated experience, check out North Rim Campground, which features 13 dispersed camping sites.
Tips for your weekend adventure in Colorado
It's important to be prepared when travelling in Colorado, especially when you go to the mountains. First off, be sure to bring plenty of water since you need to pay special attention to staying hydrated at high elevations. Bring a reusable water bottle or water bladder that you can refill throughout the day.
Also, keep in mind that the UV rays are strong in Colorado, so adequate sun protection is a must. Apply sunscreen consistently and wear a hat and sunglasses when you are outside.
If you plan on hiking, start slow and work your way up. Take note of the distance of a hike as well as the elevation gain when choosing a route. Consider your fitness level when deciding on which hike to do and choose one that you know is manageable.
Colorado offers practically endless opportunities for weekend trips that are sure to satisfy any type of traveler. Whether you're a foodie who loves exploring cities or an outdoor enthusiast who loves the mountains, there's something for everyone to enjoy.
With so many options to choose from, you will never run out of things to do. With each season comes a transformed landscape and new activities to try.
About the author
Dom is an avid hiker, camper, and backpacker who has been exploring Colorado for 15 years. He believes that nature has the power to heal and inspire, so he helps people get outside through his blog, Colorado Quests.
Are you ready to start planning your own weekend adventures in Colorado?
USA TRIP ESSENTIALS
Book flights to and around the USA online with Skyscanner or Kayak. I usually compare flights on the two sites to find the best deals.
Find a great hotel in the USA. Check prices on Booking.com and HotelsCombined online.
Check out the huge range of day tours throughout the USA on GetYourGuide or Viator. There's something for everyone.
A copy of the Lonely Planet guide to the USA will be handy.
One thing I always purchase is travel insurance. World Nomads offers simple and flexible travel insurance. Buy at home or while traveling and claim online from anywhere in the world.
PIN IT FOR LATER
Save this guide to the top weekend adventures in Colorado so you can start planning your own getaway!