Machu Picchu is one of those places that I imagine is on most people's bucket lists. It's certainly always been on mine, and the sense of awe and amazement I felt when I finally made it there exceeded all my expectations.
While there are many ways to get to Peru's famous Machu Picchu – including almost a dozen different hikes – we chose to hike the Salkantay Trek. This 5-day, 4-night hike has fewer trekkers than the popular Inca Trail, and it's no walk in the park, so you'll really feel rewarded when you arrive at the majestic site that is Machu Picchu.
When we planned our trip, one of the biggest dilemmas was what to pack. If you're feeling the same, never fear. I've come up with the ultimate Salkantay Trek packing list so you know exactly what you need to bring with you and, most importantly, what you should leave behind. It's all based on my personal experience hiking Salkantay, and it's a list I've shared with friends so I figured I might as well share it with a wider audience on this blog.
For any men here, don't be put off that this list was written by a woman. Keep reading as I've also covered off any items guys should bring along, based on what my husband packed for Salkantay (TBH it doesn't really differ much for guys or gals).
This Salkantay Trek packing list could also be used for a packing list for the Inca Trail or the Lares Trek, or any of the other hikes that lead to Machu Picchu.
If you want to know what it's actually like to hike the Salkantay Trek, then read my story here.
Let's get packing!
If you want to save this Salkantay Trek packing list blog post to read later, click on the below images to pin it to Pinterest!
This blog post may contain affiliate links, meaning if you book or buy something through one of these links, I may earn a small commission (at no extra cost to you!).
Salkantay Trek packing list #1 tip: Pack light!
The ultimate tip is to pack light. Most companies actually have weight limits so you'll be forced to pack light. We trekked with Alpaca Expeditions (the Salkantay trekking company I recommend) and they provided us with a duffel bag with a weight restriction of 7 kilograms – and 3 kilos of that was for our sleeping bag and sleeping pad.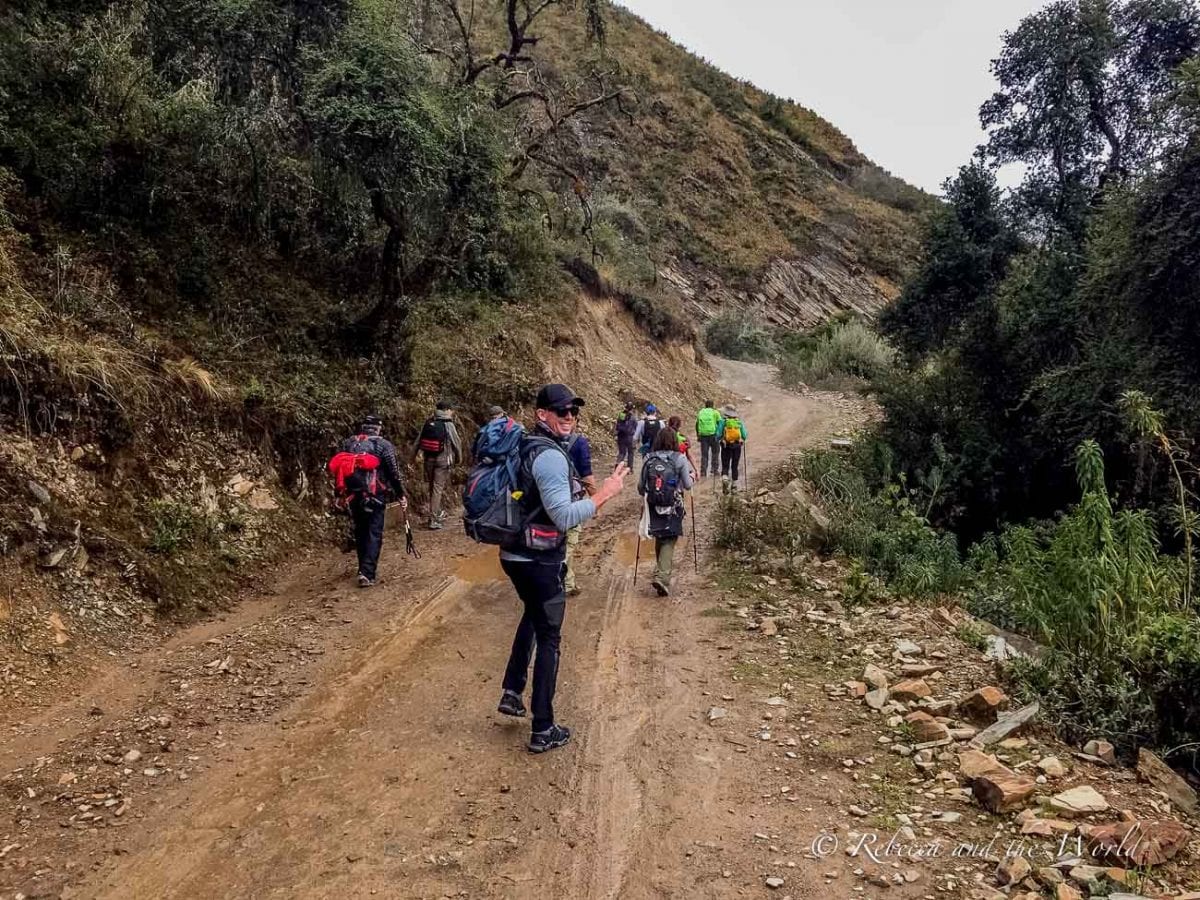 Salkantay Trek packing list: What to bring along
Where I've suggested specific items below, I've linked to items that I actually have used or owned. If I couldn't find it online or it's not made anymore, I've linked to something else that's highly recommended by other hikers.
If you'd prefer to have this Salkantay Trek packing list in a PDF document you can download and print for your travels, enter your details below!
Bags
Duffel bag – most companies will provide a duffel bag with a weight limit. This bag is for your clothing and any items you're not carrying on the trek yourself. Mules carry these duffel bags to the next campsite as you trek to Machu Picchu. Most companies will allow you to leave any other baggage at their office while you're hiking Salkantay
Day pack – this is the bag that you'll carry yourself for the duration of the hike. A 30-litre pack is a good size | Men's Osprey Talon 33 | Osprey Tempest Women's Backpack
Pack cover – to cover your day pack if it's expected to be rainy (and it will inevitably rain!)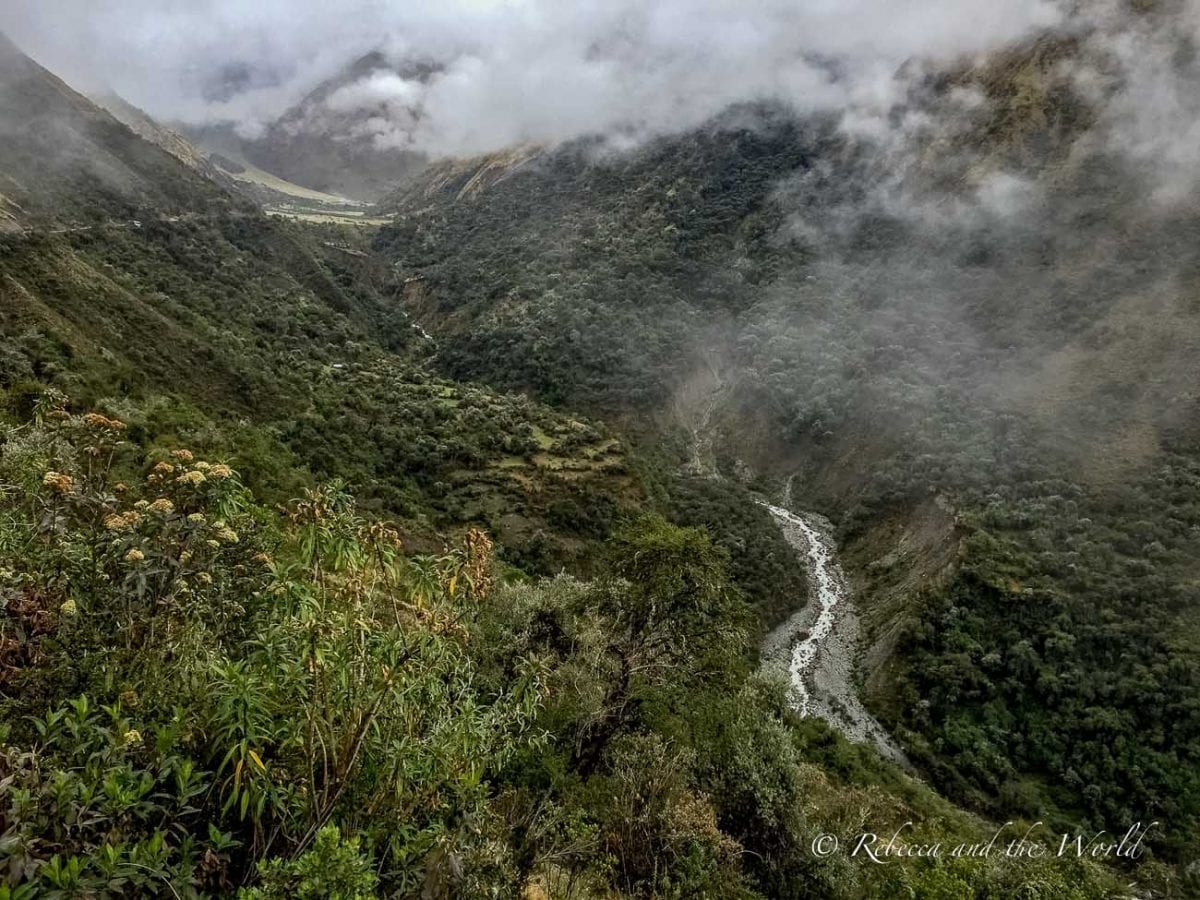 Clothing
You don't need to pack multiple outfits for the Salkantay Trail, but you do need to pick the right clothing. You want to bring clothes that dry quickly and that are odour-reducing if possible (you won't be showering for a few days! (Although, having said that, I've noticed that Alpaca Expeditions has changed their itinerary since we trekked Salkantay, and there's a camp with a shower now, fancy!)
This is a really light packing list for clothing. If you're prone to feeling the cold, then pack a few base layers or some thermals which will keep you toasty on the first two days of the trek when you go through the Salkantay Pass
2 x pants – I wore cropped sports leggings and I do not recommend this. On day 3 of the hike, I was bitten madly by these tiny bugs that left welts all over my legs, and I also got a killer tan line halfway up my calf, which is surprisingly not a cool look. If I did the Salkantay Trek again, I'd pack long hiking pants or long leggings instead | Columbia Men's Hiking Pants | Women's prAna Halle Straight Leg Pants
1 x shorts – I didn't take shorts, but they are handy for the third day where the hike winds through the steamy jungle
2 x t-shirts – look for wicking material to repel sweat and odour
1 x vest – for layering (I tend to get hot easily, but appreciated the extra light layer) | North Face Men's Apex Canyonwall Vest | Women's Water-Resistant Packable Vest
1 x long-sleeve – again, wicking or quick-dry material is the key here. A long sleeve is good for layering, but if you want to save space, you can layer up with your t-shirts and fleece instead
1 x fleece – it gets cold at night, and there are a couple of surprisingly bitter mornings | Columbia Men's Fuller Ridge Fleece Jacket | North Face Women's Agave Fleece
Down jacket – this is especially necessary for layering during the colder months (I didn't pack one and relied on layering up with everything else I had packed)
1 x casual / sleeping outfit – pyjamas or some tracksuit pants and t-shirt to both sleep in and wear around camp in the evening (get out of those other sweaty clothes!)
1 x outfit for Machu Picchu – wondering what to wear to Machu Picchu when you finally make it there? Some people bring along a special outfit to wear at Machu Picchu (gotta look good in those photos!) but I just wore one of the pants/t-shirts I mentioned above. I wore one outfit the whole hike (washing it at night time) so that I had a fresh pair of pants and a top for Machu Picchu. You definitely want something clean to put on after the glorious shower in Aguas Calientes on your final night
2 x sports bras
1 x gloves – to keep your fingers warm on those chilly mornings | Men's | Women's (you can also buy locally made, woolen gloves in Cusco)
Hiking boots – make sure you've broken these in beforehand, the Salkantay Trail is not the place to do that!
Light sneakers or flip flops – to wear around camp in the evening. Trust me, you'll be happy to take your hiking boots off each night! We both took our trusty Havaianas | Men's | Women's
Socks x 6 pairs – I've found that layering socks can help to prevent blisters when you trek Salkantay. I put on a thin pair of socks, then a thicker pair over the top. Make sure you also factor in a pair of socks to wear at night so you're not putting on sweaty socks | Men's lightweight socks | Men's hiking socks | Women's lightweight socks | Women's cushioned hiking socks
Underwear x 2 pairs for each day – who else loves slipping into a fresh pair of undies after a long day of hiking? I bring along two pairs for each day of hiking. I know some people get fancy wicking undies (like these for the ladies and these for gents), but unless you're a serious hiker who's regularly going on multi-day hikes, just take your usual underwear
Bathers / swimming shorts – there are hot springs in Aguas Calientes, so if you plan to take a dip (we didn't) bring along something to swim in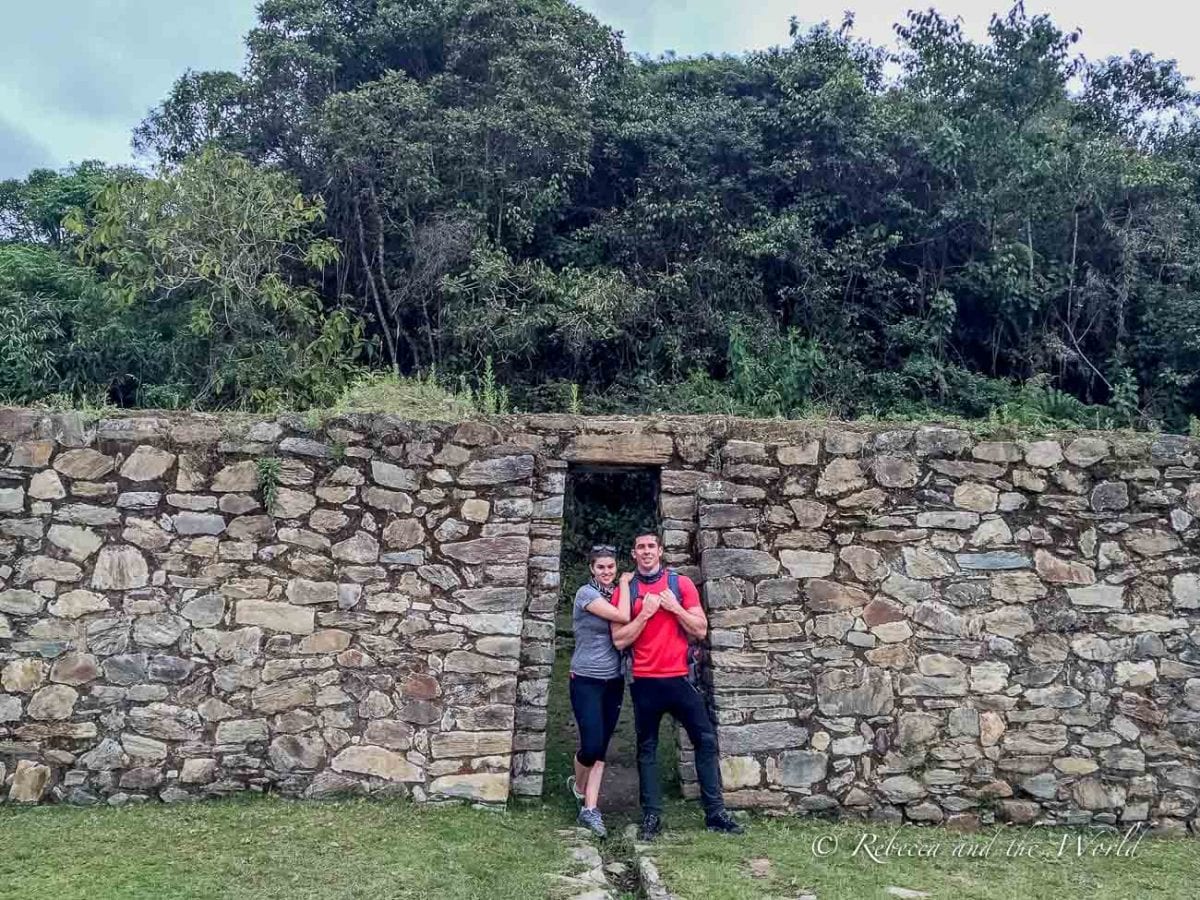 Gear and equipment
Much of the key equipment you'll need can be rented from your trekking company or purchased around Cusco.
Tent – usually supplied by your trekking company
Sleeping back and liner – we rented ours from Alpaca Expeditions
Blow up sleeping pad – we also rented this from Alpaca Expeditions
Water bladder – find one that fits into your day pack. Alternatively, you could just bring along a water bottle (like this collapsible, refillable one I have), but I prefer the easy access of a water bladder and the fact that you can fill them with a couple of litres of water – and you'll need plenty of water on the trip because of the altitude. By the way, Alpaca Expeditions boiled water for us each night so we always had fresh drinking water, so don't bother with water purification tablets | Platypus Hoser 3-Litre Water Reservoir
Rain jacket – find one that's windproof and packable as well to save space. Alpaca Expeditions did have ponchos for us (neon green!) for our final day when the rain was heavy; they were great because they covered us and our backpacks
Trekking poles – you can hire these from your trekking company
Head lamp and spare batteries – I like a head lamp over a handheld torch / flashlight so you always have your hands free | GearLight Head Lamp
Dry sack – it will rain while you're doing the Salkantay Trek, so protect any electronics and valuables in a small dry sack | Sea to Summit Dry Sack
Hat – consider bringing along two: one cap for sun protection, and one beanie for warmth. You can buy llama-patterned beanies in many shops around Cusco, which is what I took
Sunglasses
Bandana or Buff – great for keeping your neck warm during cold days, or wet it on hot days and keep your neck cool
Sarong or quick-dry travel towel – I brought a sarong along for each of us. But given that we never showered during the hike, we never actually never used them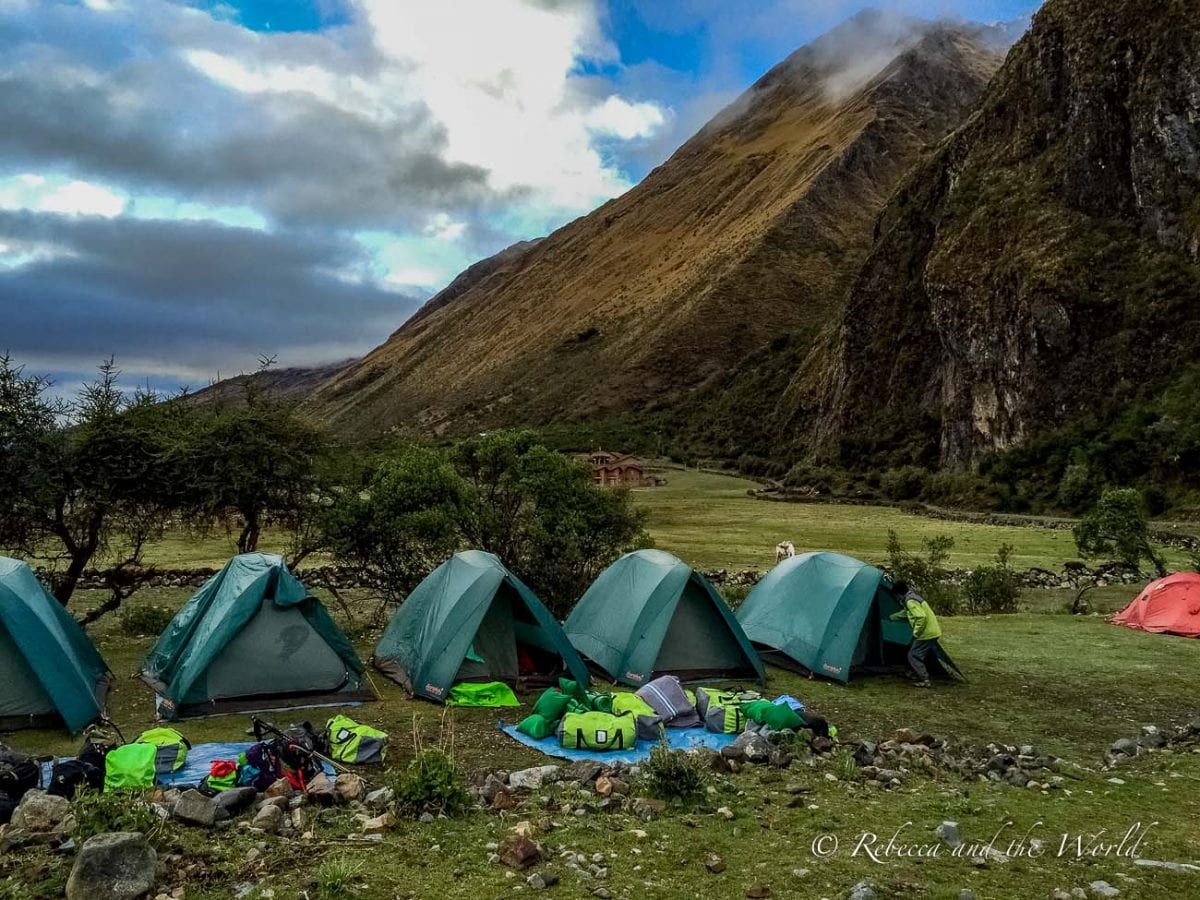 Technology
Only bring the necessary tech stuff – leave your laptop behind.
Camera or phone – when your head's not down, you'll be snapping a tonne of pics, so make sure to bring something to capture the amazing memories. I only brought along my phone and in hindsight I do regret not bringing my DSLR, but I left it behind to save weight (and a phone's way easier to pull out for photos) | Our current camera is the Sony A6300
Spare camera batteries – if you do bring a camera, take 2-3 fully charged spare batteries so that you don't also need to pack a battery charger (every gram of weight saved counts!). Keep in mind that batteries drain quicker in cold climates!
Extra memory cards – you don't want to run out of space for your photos!
Portable charger – this was great for charging our phones at night (by the way, there's no service along the Salkantay Trek, so you won't be making phone calls – some companies, like Alpaca Expeditions, do carry satellite phones for emergencies, though) | Anker PowerCore 10000
Headphones – if you like to listen to music while you're hiking, bring along some small headphones. I didn't bring any, but my husband really enjoyed listening to a few podcasts while we were walking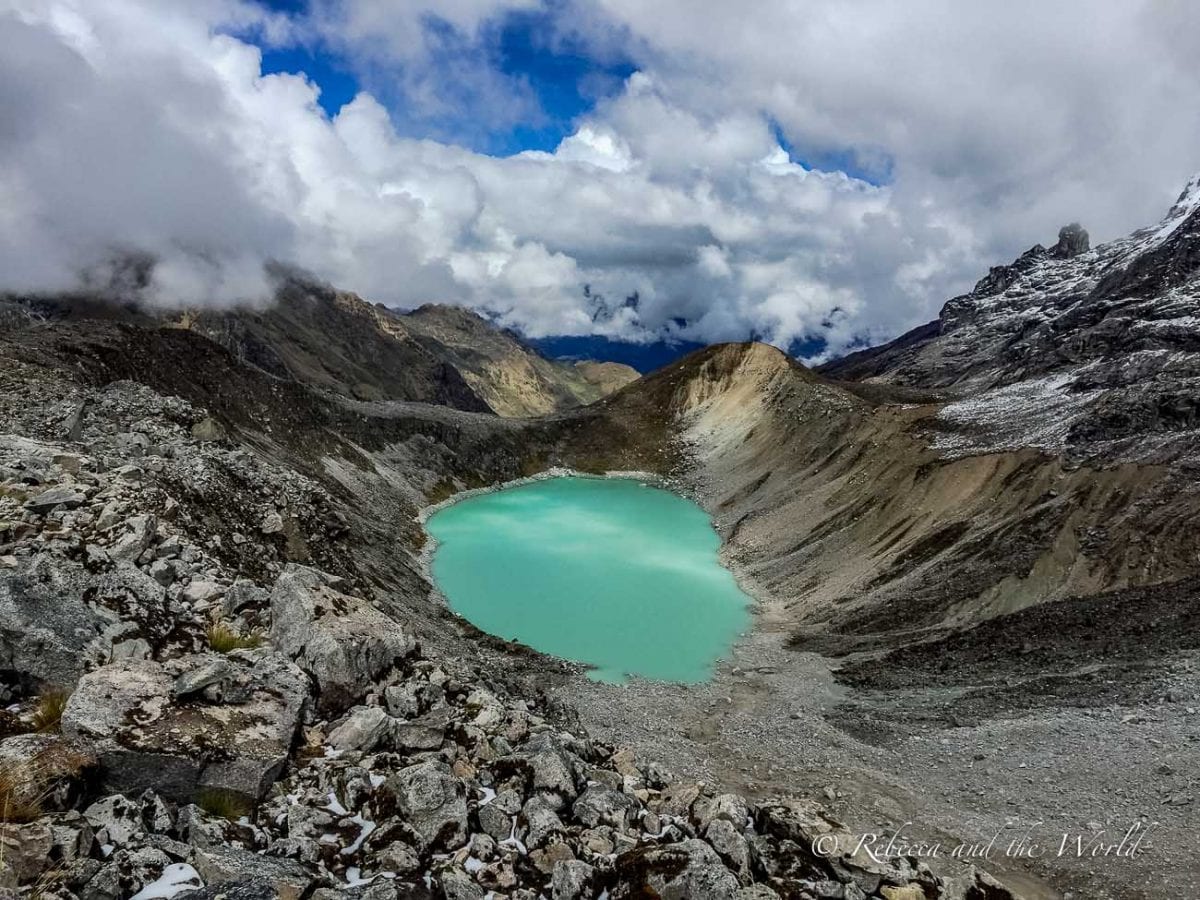 Toiletries
I know everyone's different when it comes to toiletries, so use this as a guide. Still, try to keep it to a minimum!
Vaseline – this is actually my secret to protecting my feet from blisters when I hike. I smear my tootsies in Vaseline before I put on my two pairs of socks – never got a blister! | Vaseline
Wet wipes – these will be your "shower" on the hike! | Surviveware Biodegradable Wet Wipes
Face wipes | Neutrogena face wipes
Hair ties and bobby pins
Deodorant | Even thought I'm female, I'm a huge fan of Old Spice Fresh and wear it every day!
Sunscreen – always choose SPF50 or higher, especially for high-altitude trekking | Sun Bum SPF50
Face moisturiser – to keep your skin hydrated at high altitude | Neutrogena Healthy Defense with SPF50
Bar of soap – just in case you can sneak a quick bush shower, and for scrubbing your clothes
Toothbrush (with a cover) and toothpaste – bamboo toothbrushes are more sustainable than plastic ones | Bamboo toothbrush
Lip balm – for sun protection and moisturisation | Burt's Bees
Dry shampoo – you won't be washing your hair for a few days! | Klorane dry shampoo
Hair brush or comb – find something small so it doesn't take up too much space | Tangle Teezer | Comb
Razor – for the more hirsute of us
Toilet paper
Travel-sized tissues or handkerchief – your nose will run – a lot! – in the cold air as you climb higher and higher
Pocket mirror – great for shaving or removing contact lenses
Make up – seriously, I wouldn't bother! If you must, keep it to a minimum for your Salkantay packing list
Feminine products – if it's that time of the month, bring along tampons or a Diva Cup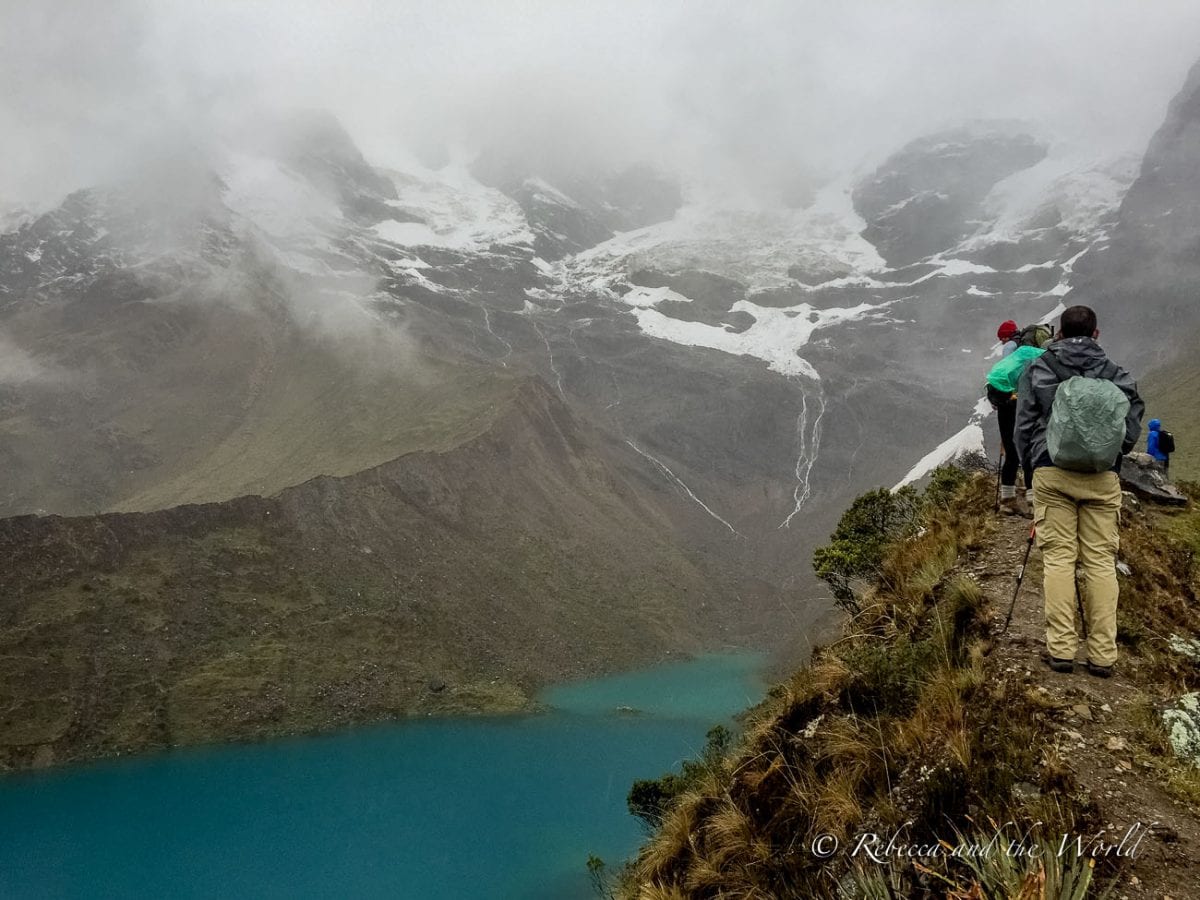 Medical and health
Your trekking company will probably have a well-stocked medicine kit – check with them first what they bring along. Also see what qualifications your guide has, such as basic CPR skills.
We brought along the below items in our first aid kit, but rarely had to use any of the medications.
Nurofen or Ibuprofen – whatever your preferred pain reliever / headache tablets are
Pepto-Bismol or Peptosyl – this is great to take before every meal to protect against any tummy bugs
Imodium – for diarrhea
Diamox or acetazolamide – for altitude sickness. We took these before the trek but found that other than finding it harder to breathe as we climbed higher, we didn't suffer any other altitude sickness symptoms. Your guide will also have plenty of coca leaves for tea on your breaks
Other medications – pack any medicines you take on a regular basis
Antiseptic cream – for cuts, scratches or bug bites (the bugs on day three are brutal!)
Rehydration sachets – handy for replacing your electrolytes, and for a bit of flavour for your water (bring along a separate water bottle to mix this in – don't put it into your water bladder)
Voltaren gel or Tiger Balm – to soothe your joints and muscles at the end of a long day of hiking
Band Aids – you want waterproof ones, in assorted sizes
Insect repellent – this was one thing I didn't pack and I wish I had when, on day three of the hike, thousands of bugs went crazy on my legs! | Repel Insect Repellent
Antibacterial hand gel – keep germs at bay by regularly washing your hands | Hand sanitiser
Eye drops – great in dusty areas | Blink Tears
Documentation and other miscellaneous items
Passport – did you know that you get a passport stamp at Machu Picchu? This is something you don't want to miss, so don't leave this item off your Machu Picchu packing list!
Money – bring along small notes (Peruvian soles) if you want to buy anything along the way. My husband enjoyed a beer or two on our third night. And don't forget to tip your guide and porters!
Travel insurance – I always buy travel insurance. World Nomads offers simple and flexible travel insurance
Snacks – we didn't bring along any snacks and we were fine. In fact, Alpaca Expeditions fed us so much that I put on a few kilos! But other people brought along protein bars, bags of nuts, chocolate bars and other small energy snacks
Plastic bags – to protect your clothing from rain or dampness, I recommend packing everything in plastic bags or Ziploc bags and then putting them into your duffel bag. Plastic bags are also great for dirty clothes
Ear plugs – if you don't sleep well at night, you might need these for your nights camping while trekking Salkantay
Book or cards to play at night – check first if your company brings along some games. We had such a fun guide and a fantastic group, so our evenings were spent chatting and telling stories
Journal and pen – for those writers among us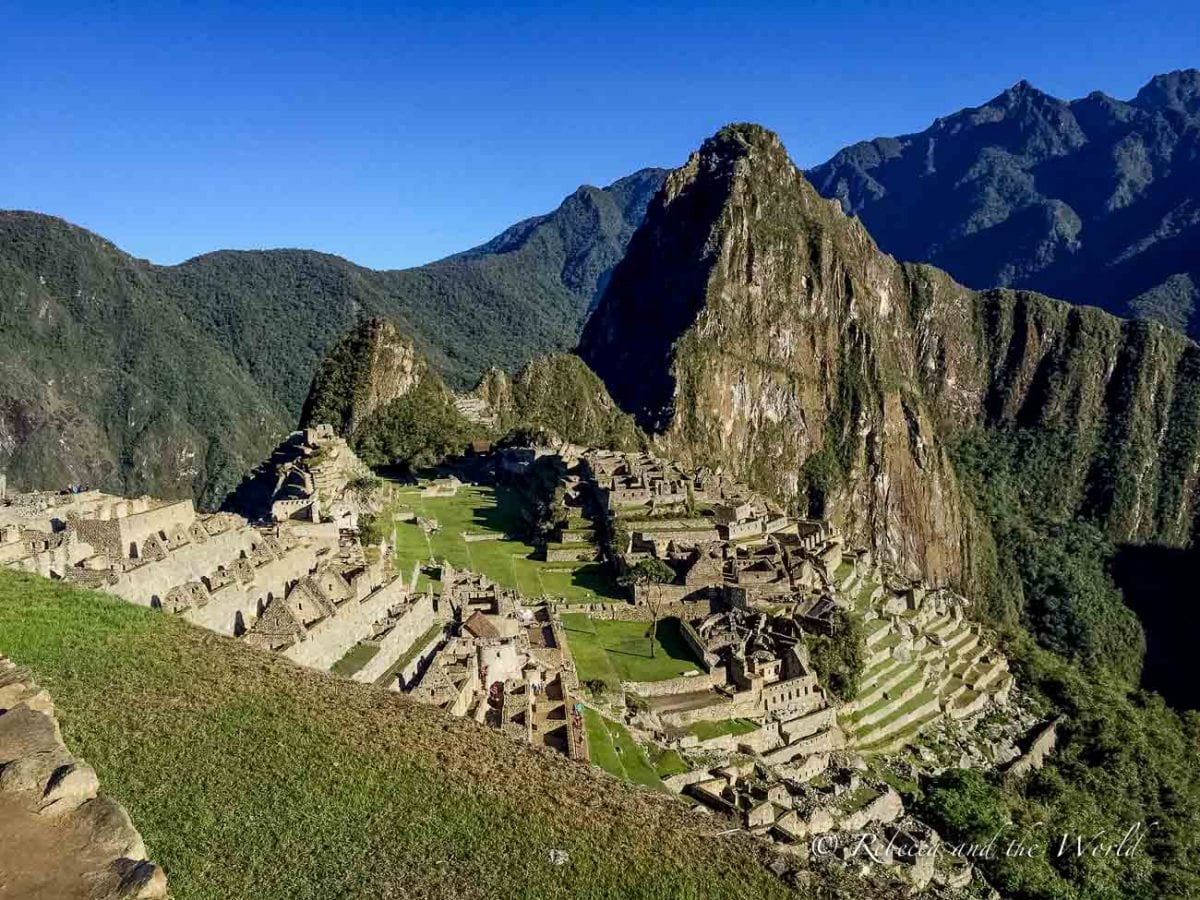 Have you ever done the Salkantay Trek? Is there anything else you would add to this Salkantay Trek packing list?
TREKKING SALKANTAY – A FEW MORE ESSENTIALS