If you're running a blog on the side of a full time job, you know it when I say that juggling the two is hard work. For the ten years I've had this travel blog, I've gotten caught up in my day job, lost motivation and inspiration, had days where I just could not look at a computer screen any longer and, sometimes, even thought about giving up the whole blogging thing altogether. But, with the right focus and systems, it is possible to do both. Here, some super successful travel bloggers – who also hold down full time jobs – share how they balance the two. They don't sugarcoat the challenges, but they provide some great blogging tips and tricks!
Save this travel blogging tips and tricks guide to Pinterest so you can read it later. Simply click the "Save" button on any of the images below.
This blog post may contain affiliate links, meaning if you book or buy something through one of these links, I may earn a small commission (at no extra cost to you).
Corinne of Reverberations
As a systems engineer by day and a travel blogger by night and weekends, I've had to get creative in order to make time for my own endeavours.
Luckily, my employer, like many these days, allows for flexible work schedules. For me, that means I work ten hours a day Monday through Thursday. Getting up at 4 a.m. each morning isn't fun. But for me it's a sacrifice I'm willing to make for a little extra time off all at once. This leaves Friday for day trips from my home in the suburbs of Philadelphia. Add in holidays or using a day of vacation here or there and you can get some pretty decent long weekend trips in. I have upcoming long weekend trips to Ireland and Iceland. Although they will be short trips, they'll only use a few days of vacation.
I also find planning ahead with an editorial calendar to be an essential part of staying sane. This includes having standard monthly features. My travel blog includes a focus on tips for learning the German language. I leverage this by publishing two regular features each month: learning German with film and learning German with music. By taking the guesswork out of things, it becomes predictable for me. It means that I can also write these posts well in advance whenever I have the time.
I also still rely a lot on good old-fashioned pen and paper. I outline, I jot notes, I brainstorm topics for posts, and I even draft posts to be typed up later. It's all about utilising the time you have whenever, wherever.
Find Corinne at Reverberations
Noemi of Pinay Flying High
Hi, I'm Noemi the blogger behind Pinay Flying High, a travel blog based in London. I work as a full-time travel agent five days a week. I publish at least one to two blog posts per week depending on my schedule.
How do I maintain a work, blog and life balance? Understand that being a full time blogger isn't for me. I tried it for two years and wasn't very fond of it. I missed the corporate structure and having a steady income. Now that I have tried it myself and know for sure that I don't like it, I am able to focus on my work and treat my blog as a hobby.
I get two days off each week. I make sure that I am exploring something new during one of those days. Luckily for me I live in London and there's an abundance of activity and places to visit here to write on my blog. The second day off (which is normally a Sunday) is dedicated to writing so I just stay at home and keep up to date with all of my pending blog posts. I also get to travel for work at least twice a year so that's also content for my blog.
I use Google calendar to keep me on track with all the posts that I'm supposed to write about. After finishing a business trip or a local exploration, I'll put a reminder for myself on the next available Sunday to write about it. I try my best to finish at least two blog posts every Sunday that are published every Wednesday and Sunday.
It's not at all hard for me to juggle both the blog and work at the moment. I just know that my priority is my corporate job and my blog is a hobby where I can share my adventures with families, friends and followers.
Find Noemi at Pinay Flying High
Corinne of Have Baby Will Travel
When I started my website I fully intended for it to be my full-time job one day. I was just coming off of my first maternity leave, and the idea was born while I was planning a trip with our then-infant daughter. There was very limited baby travel information online at the time. Going back to work after having a child proved to me just how much work I was capable of doing, and how much time I wasted – both at work and at home – before becoming a parent.
A couple of years later, my so-called wish came true. I was pregnant with our son and opted to accept a severance package during a major restructuring at work. No one was more surprised than I was to discover just how much I hated working from home. Having total flexibility meant nothing seemed to get done. When I was working, I felt ineffective and inefficient, because I was constantly distracted by my kids. And the same goes for when I was supposed to be focusing on my family; my mind was on work and not them. I felt like I was falling short in both of my roles.
We live in an expensive city, and my website's income combined with the freelance writing I picked up was not enough to sustain our lifestyle. So I went back to work. Returning to a structured routine, with strict deadlines to meet and co-workers who depended on me kick started my productivity at work. Because there was no longer the illusion of so much time to accomplish tasks around the house, my chaotic household returned to order. And the best part was, when I was present for my kids, I was actually there in body and in mind. The steady pay cheque helped alleviate the financial stress of always feeling the need to work.
The kicker is: my website is doing better than ever. I returned to the workforce in a new role, thanks to my entrepreneurial ventures. And now I'm able to apply what I'm learning at work to my side hustle, which is making this truly a win-win situation. The pressure is off. So even when I neglect it, I'm happy to go back in with fresh inspiration and renewed enthusiasm. And the irony is: my content is better. My audience consists of parents looking to travel with their children, and most people in the world have both limited budgets and limited vacation time. Because I'm in the same boat, I feel better equipped to address what's important to them.
Find Corrine at Have Baby Will Travel 
Emma of Explore Shaw
Running a blog with a full time job can be so hard. Sometimes I feel like I'm looking at computer screens for 18+ hours a day!
I work in infrastructure in Melbourne, working with some of the biggest building projects happening around the city. There's always something new happening, new projects coming up, everything is go go go.
On the side, I run the travel blog Explore Shaw, where my husband and I share our travels, tips and tricks, destination advice, amazing experiences and photography from around the world. It can be difficult to juggle a full time job and a blog at the same time, especially when your passion lies more with your side hustle than your actual job!
I try to work on my blog whenever I get a free moment. During lunch breaks at work, when I get home, after dinner: any time I get the chance.
I think it's important when time is an issue to do things straight away so you don't end up with massive lists of things to do later on. While we're travelling, I'll edit our photos at the end of each day or on flights, so that I don't have to worry about them when we're back. If I'm on a roll writing posts about a particular destination, I will keep going and try and write a couple in a row. I'll try and return emails as soon as I receive them.
You just have to always remember why you do it and what your goals are, to always keep pushing yourself through the hard times, when you feel like you don't have a spare minute to yourself. If you love it, it will be worth it in the end!
Find Emma at Explore Shaw
Christina of Our Sweet Adventures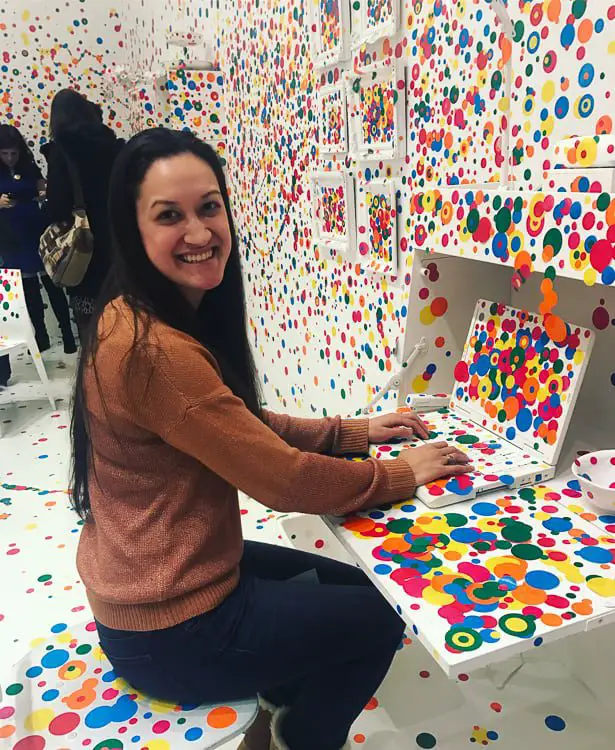 Working a full time job as a pastry sous chef while maintaining a blog is not easy, but nothing in life is ever easy. I love my job and I love blogging, so I do my best to make a balanced work-blogging lifestyle.
Typically I work at least 10 hours a day and then try to work at home for at least 1-2 hours. Even then, there is never enough time for everything. Luckily, I have help. My husband is not only my partner in life, but he is a big part of our blog. I also have my little sister, who helps edit every post. Together, we work as a team to make the blog as successful as possible in the little time we have. However, having a team is not always possible. So, outsourcing to a virtual assistant is another great way to receive help.
Staying organised is a big factor in keeping a balanced work-blogging lifestyle. To stay organised we create Excel documents! We use Excel documents to keep track of our blog posts and engagement threads on Facebook. For engagement threads, we try to participate in the ones we know we have time for. With SO MANY engagement threads on several groups, it can get overwhelming. So a color-coded excel document is essential. It organizes us by day, thread, group, due date and more. As we go through the week, we check off the ones we complete.
Of course, we have to write new content. I do all the writing and then will outsource editing photos to my husband. To manage my time, I try to create an outline and do keyword research on one day and then make a deadline of when I believe I can complete my blog post. I try to aim for no more than four days of writing and finalising a blog post. However, a busy day in the hospitality industry is almost inevitable, so I always make sure to give myself some slack. Because at the end of the day, I blog because I love it, not because it is a chore. I think that is very important when maintaining a work-blogging lifestyle.
Find Christina at Our Sweet Adventures 
Menorca of Europe Diaries
Working full-time alongside blogging can honestly be quite taxing. My blog, Europe Diaries, is all about exploring and experiencing Europe while also showcasing personal travel stories from travellers around the world.
For my day job, I work in research as a biomedical data analyst and work eight hours or more per day, five days a week. That combined with the stress of writing academic papers and theses, and involvement in other non-work related projects makes it pretty difficult to stay on track with my blog and implement everything that I wish I could.
I think having some sort of schedule or a system to prioritise tasks is important when juggling so many things. For me personally, I love using Asana for managing my blog tasks, setting deadlines and getting reminders via email about upcoming tasks. While planning out tasks, it is important to set a realistic time frame. For instance, I realise that I do not have the time or resources to post multiple times a week, because SEO, marketing, etc take up a long time for each post. So I focus on having one weekly post out, but doing it well. After all, quality is better than quantity.
With regards to all the tasks other than the actual writing, it is easy to get overwhelmed – which is why it is important again to evaluate your own blog and see which areas need more focus than the others. I identified my top two channels bringing in traffic and decided to focus on those two aspects the most this year. This also helps while planning out weekly tasks or monthly goals.
For writing articles, I need to be in a certain frame of mind and mood. So, on days when I'm having trouble creating new content, going back to an old post and updating it for SEO also helps the blog.
Besides this, I realised that it is OK to step back when it seems too much or to ask for help. Having someone help out, even if virtually, to do some weekly tasks that would help your blog and help you save time is a good option to consider, of course depending on your situation.
Find Menorca at Europe Diaries
Paroma of Year of the Monkey
I am Paroma Chakravarty, the blogger behind Year of the Monkey, which kind of sounds like an oriental astrology blog but in reality is a travel, food, pets and lifestyle blog based out of San Francisco.
Travel blogging serves as a creative outlet to an otherwise predictable 9-5 corporate job-filled life, which is that of a material scientist for a biotech company in San Francisco Bay Area. Although "digital nomad" is the buzz word nowadays, and something a lot of travel bloggers aspire to become eventually, I am happy with the balance of hobby blogging and a well-paying day job for which I worked really hard.
However, what with trying to drive more traffic to my blog (it has been 1.5 years of blogging seriously), search engine optimising the heck out of posts, figuring out the witchcraft that is Pinterest and promoting posts on social media, blogging can get intense and can easily take large chunks of time from life outside of work. Plus, once I come home, the idea of staring at another monitor for hours is not something that I want to do when there are so many other ways to relax and unwind, such as cooking a fun meal, reading, watching Netflix (and chilling, for real) and so on.
The demands of running a successful travel blog are endless because this is an über competitive niche in the blogging world. I try to stay clear of my burning desire to devote every waking moment outside of work to blogging by reminding myself about my number one priority, which is to be happy and stress-free and blog for the love of travel alone. Blogging constantly was making me miss things that I really like doing, such as hiking on weekends and reading, and ended up with me resenting my blog since it felt like a chore.
So, to avoid burnout, I try to tackle one new post every two weeks and devote 30-60 minutes at most per day during the week on optimising old posts, creating pins and participating in social media threads. I only focus on SEO and Pinterest since they are most effective traffic pullers.
I do not earn anything from my blog and so I do not try too hard to commercialise it except for the occasional affiliate link. My focus is on having fun, improving my photography and writing the best content with an eye on SEO. Ever since I have become smart with allocating my time properly for the blog, I am much happier and content.
Find Paroma at Year of the Monkey
Roxanna of Gypsy With a Day Job
Working and running a blog simultaneously can be quite a challenge. I am a senior distribution manager, so essentially I run a small factory, with responsibility for about 200 employees. Although I have cut back, I average about 55 hours a week. My website, Gypsy With a Day Job, is meant to encourage other full-time workers to take a break and get away when they can. We feature monthly weekend getaways, in-depth information on full vacation destinations and an occasional work-life balance story.
Early on I realised that I would need help, and took on a partner. She also has a demanding work life, but she embraced Gypsy as her own. Her background and strengths are different, so we each have our own focus and related tasks. Even with two of us, our experiences are limited, so guest posts have been an integral aspect of our site since the beginning.
We had to accept that our progress could not be at the same rate as full-time bloggers and create our own definition of growth and success. In the beginning, we tried to do everything: two articles a week, a bi-monthly newsletter, multiple social media posts a day, follow-up marketing, and participating in every social media share and comment strings. It was overwhelming. Ultimately we cut back to what was essential to our audience and set up a calendar and checklist system to get those specific things done.
What cannot be sacrificed is the quality of our content. Every article is chock full of information, but sometimes that means we have to publish less frequently than we would like. Equally as important for our own peace of mind, was learning to trust each other and recognise our small victories.
Find Roxanna at Gypsy With a Day Job
Jamie of The Daily Adventures of Me
I started writing The Daily Adventures of Me three years ago amid running my dental practice and raising three boys. I wanted to share how one could work and parent while still make the most of exploring this incredible world. My blog is about savouring the adventures, places and tastes near my home in New England and abroad.
In the beginning, it took more work because I didn't understand where to focus my energy. It is still a lot of work, but much less so because I put most of my time into the two things that bring me the best results (traffic): SEO and Pinterest. I have also learned to automate anything that is easy to do, using tools like Revive Old Post, Hootsuite and Tailwind.
Facebook groups are great too for making friends and learning more about the craft of blogging. Going to the Women in Travel Summit was game-changing for me as well. It gave me much more confidence and focus. I also accept my limits and I post only once a week. That's what works for me. I don't berate myself if that isn't able to happen, but it almost always does, and I am proud of what I put out.
Find your passion and do what feels right for you to focus on.
Find Jamie at The Daily Adventures of Me
Shivani of The Wandering Core
Travel blogging is a passion for me, putting my creativity and travel stories to the best use. I work at an IT firm and have a regular itch to travel.
When not working, I am busy planning my travels. But then comes then hard part: finding the time to maintain my blog while working full time.
I joined WordPress and gained followers slowly, which gave me initial traffic. The tension of growing the blog was tremendous. I joined various Facebook threads which also brought me some traffic. Halfway through my blogging debut year, I took SEO seriously and updated all of my blog posts, old and new.
All of this work exhausted me, leaving me no time for myself. I decided to reduce the number of Facebook threads, participating in only the important ones.
Time management is tricky for me, so I block my calendar with a dedicated and limited number of threads. I keep weekends for writing to help my creativity flow in peace without the overhead of threads on my mind. Slowly and steadily I finally saw how SEO reaped results.
Those hard-working days brought me fruitful results and ultimately helped me to manage my travels and my blog simultaneously.
Find Shivani at The Wandering Core
MY BLOGGING ESSENTIALS – THE TOOLS I USE TO KEEP ME SANE!
Now that you've got some blogging tips and tricks from a few experts, here are my tips on the best blogging tools to use to help you manage your time:
Google Analytics for tracking my blog stats
I use Hostgator to host my website – they're great and they have 24-hour helpful service
Keysearch for researching keywords for my blog posts
Tailwind for scheduling all my Pinterest pins
SmarterQueue to plan out and schedule posts on Facebook and Twitter
MailerLite to send out emails to my readers
To keep on top of all my upcoming blog posts, I use Trello – it's such a life-changing tool and in fact I use it to organise all aspects of my life
Evernote is the tool I use to keep all my thoughts and ideas organised
Are you a travel blogger working full time? How do you juggle both? Leave your blogging tips and tricks in the comments below!
PIN IT FOR LATER: