Welcome to another edition of Expat Tales, where you meet some of the many interesting expats living around the world, and hear their top tips for life as an expat.
This edition I'm chatting with Tanya and Andy Korteling, a British couple now living in Siem Reap, Cambodia. Swapping an expensive lifestyle and dreary weather for the affordability and warmth of Cambodia, they've created new opportunities for themselves. This is also one of the most detailed expat tales interviews I've published, so if you're considering moving to Cambodia, you'll find a tonne of helpful information.
Name: Tanya and Andy Korteling
Originally from: Norwich, United Kingdom
Now living in: Siem Reap, Cambodia
If you want to save this guide to becoming an expat in Cambodia so you can read it later, click on the below images to pin it to Pinterest!
This blog post may contain affiliate links, meaning if you book or buy something through one of these links, I may earn a small commission (at no extra cost to you!).
What brought you to Siem Reap/Cambodia?
We first visited Cambodia with a big group of friends back in 2008. A friend from back home had moved here and opened a guest house about 3 years previously so we came to visit him. Andy had already been out to see him the previous year before we became a couple. We fell in love with the country and its people and visited another 3 or 4 times over the next 8 years. At that point we'd decided we no longer wanted to live in the UK, and Cambodia seemed to be the natural choice for our first time living abroad.
Is this your first expat experience?
This time round in Cambodia is our second expat experience. However, our first expat experience was also in Cambodia. After 4 months trying out the digital nomad life in Mexico (stints of 1 to 6 weeks in each place), a year living back in the UK and 4 months travelling around Central America, we just couldn't stay away. So once again we've found ourselves back living in Siem Reap.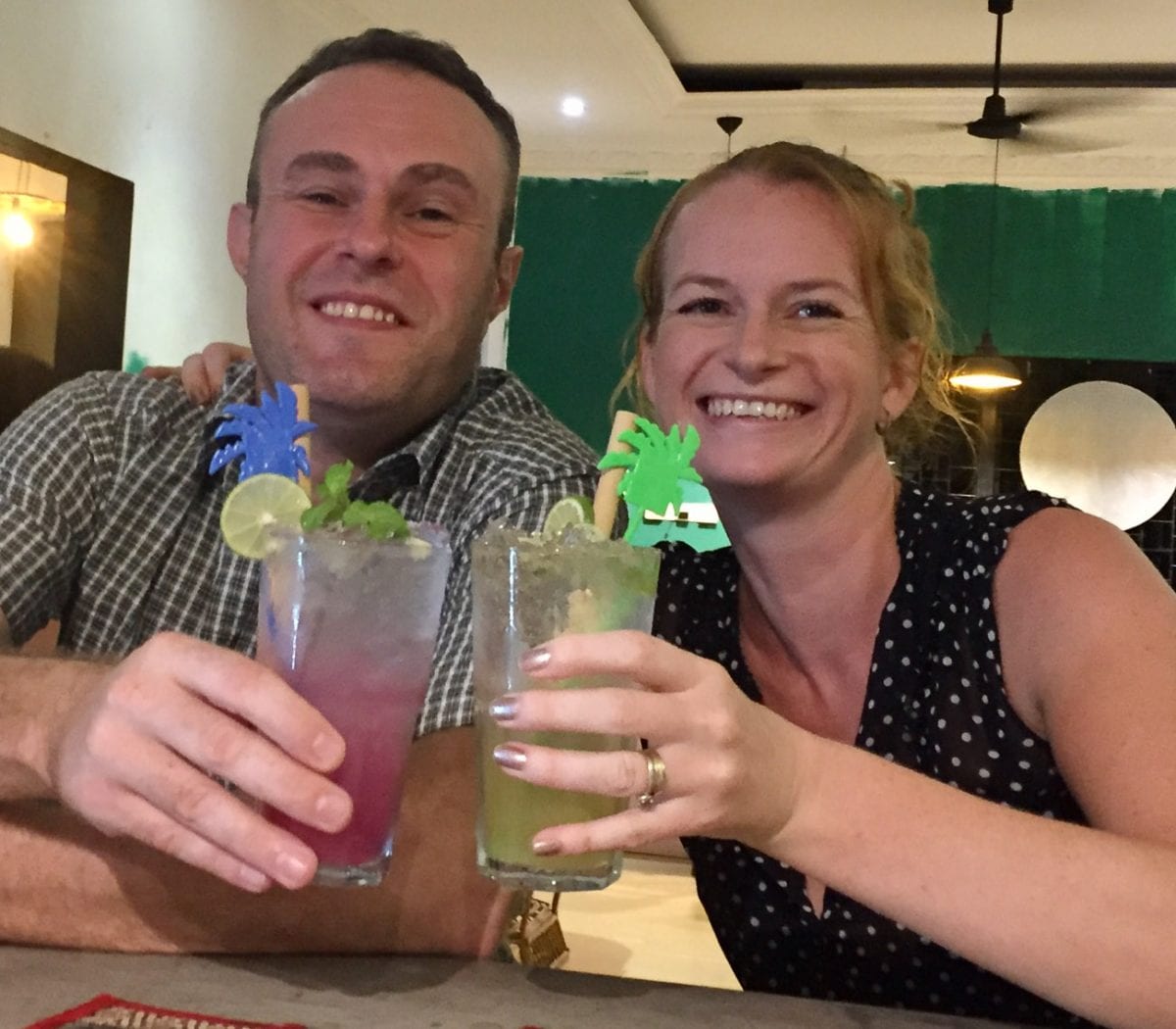 What do you do for a living?
For the last two years I've worked remotely online as a freelance SEO, Marketing and Data Consultant. The majority of the time I work for clients I find on the Freeeup and Upwork platforms, and from networking in Facebook groups and on LinkedIn. Then occasionally I pick up freelance projects here on the ground in Cambodia. I'm also working on my travel blog which is growing and slowly starting to bring in a little income.
Prior to all that I worked as a Digital Marketing Strategist for a luxury tour agency in Siem Reap and before that I spent 12 years working in and managing various Data Planning and CRM teams in insurance and publishing in the UK.
Up until recently, Andy worked as an English teacher in a school in Siem Reap. However, he's just transitioned into teaching adults online through platforms such as Verbling and Italki. It's early days but he's quickly building up a good client base doing this which means between us we'll once again be completely location independent. Andy also has a YouTube channel Going Nomad Aka Pigs on Bikes.
Teaching was a complete career change for Andy as prior to that he worked as an Oil Spill Remediation Project Manager and a Geo-environmental Control Engineer back in the UK.
How easy is it to live in Siem Reap? Is it easy to get a visa to live in Cambodia?
It's pretty easy to live in Cambodia, and obtaining our initial visas for Cambodia was one of the most straightforward immigration processes we've experienced. UK citizens and many other nationalities can get a 30-day Visa on Arrival for Cambodia.
There are two types of Visa on Arrival for Cambodia: the Tourist Visa (T-Visa) and the Ordinary Visa (E-Visa). The Tourist Visa can be renewed once for a further 30 days. If you know you want to stay longer than 60 days you need to get an Ordinary Visa which can be extended by 1, 3, 6, or 12 months. The 1 and 3-month are single-entry and the 6 and 12-month are multi-entry.
To extend for 12 months you need a work permit, which means having an employer in Cambodia. And this, is where it can get tricky for freelancers like Andy and I because we have no employer so can't get a work permit.
The current workaround is to extend your Ordinary Visa by 6 months on the basis of "looking for work", leave the country and after 6 months repeat the process. However, there's talk of restrictions on how often you can repeat this process. I'm due to test it out this year so watch this space!
We love the lifestyle in Cambodia, especially in Siem Reap. Yes, it's a very touristy town, but once you've been here a while you soon get to know how to avoid the tourist hoards and find the less touristy hidden gems. There's so much to do in and around the city, it's very difficult to get bored, you just need to know where to look. If you need a break from city life, you only have to pop out on a bicycle or moto and within minutes you find yourself out in rural Cambodia with lots of local villages, lakes and lotus fields.
There's also a fantastic expat community here in Siem Reap, so it's easy to make friends with other expats and socialise should you want to. We've also made some good Cambodian friends here.
Culturally, the main thing to remember is that this is a Buddhist country and the people are generally gentle and modest. You should dress modestly in public, especially when visiting temples. Locals should be greeted with a sampeah (joining both hands together in front of you), at the appropriate height for their superiority compared to you.
Another important cultural difference is that Cambodians never lose face. Cambodians smile at everything, even if they aren't happy or don't understand, which can be frustrating. They also very rarely get angry, which in turn means losing your cool or getting angry here will get you nowhere, it only causes embarrassment to the person you're directing it at. It's best to stay calm and try to reiterate your point and explain further.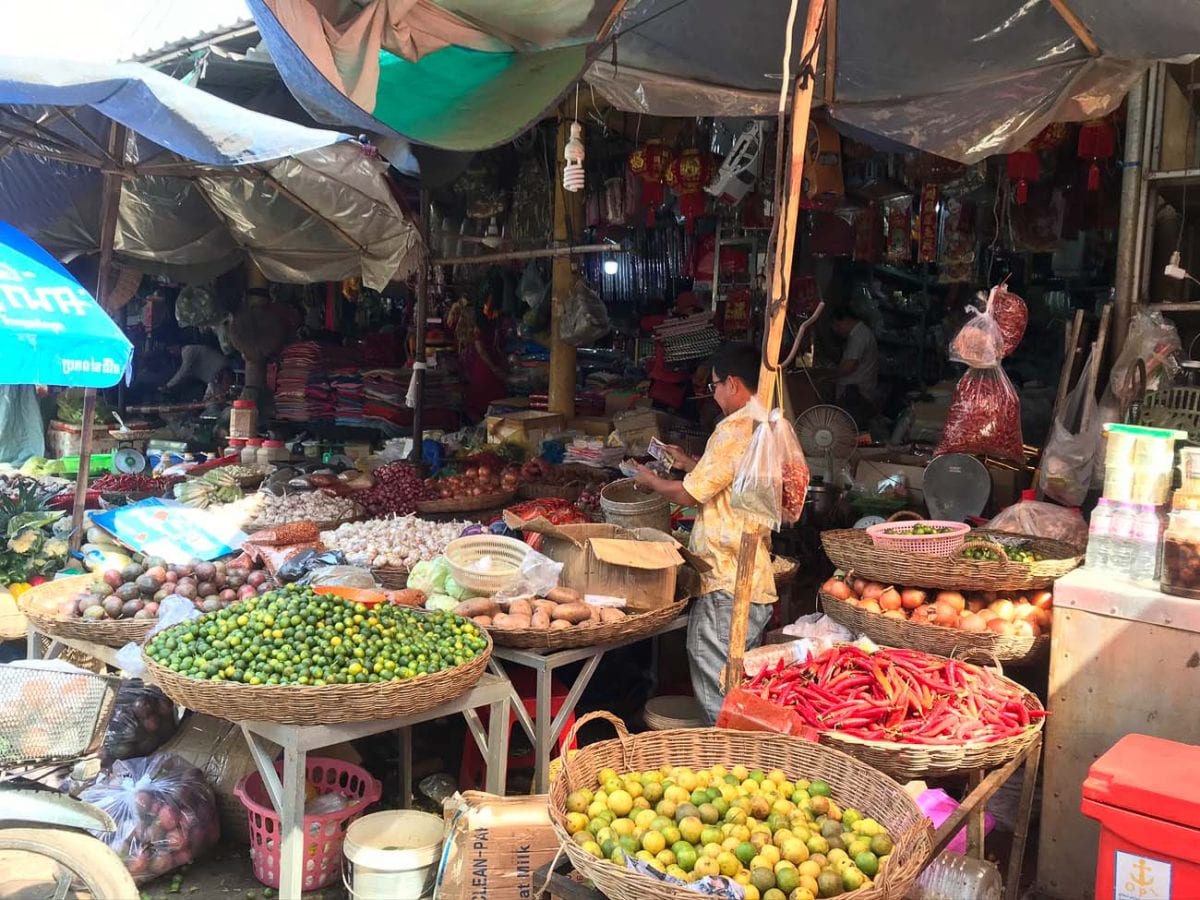 What's the cost of living like in Siem Reap?
The cost of living in Cambodia is as cheap or expensive as you make it, really, it all depends on your lifestyle and budget. It's possible to live on an extremely low budget or you could easily spend a fortune and live like kings.
Andy and I probably spend around $450-$550 each per month, which covers rent, bills, my gym membership, food, plus lunch or dinner and/or a decent night out once or twice a week. This doesn't include any travel insurance, visa costs or things like having WiFi installed (a non-negotiable for us as we both work from our laptops).
As a Westerner here you can rent an apartment or house from as little as $150 per month all the way up to $1,000. It all depends on number of rooms, location, length of rental agreement and if it's a western style place or a traditional wooden Khmer style house. Currently we have a very centrally located 3-bedroom, 3-bathroom second floor apartment with a huge balcony and huge living area and kitchen which costs us $370 per month, plus about $60 for bills. Bills would be quite a lot more if we used air-con like many people do in the hot season here, but we just make do with fans.
You could end up spending quite a lot on food if you do all your grocery shopping in the supermarkets because many products are imported. However, we usually buy our fruit, vegetables, eggs and some meat at the local markets. We can buy a huge bag of veg for around US$8.
Eating out can be very cheap in Cambodia if you stick to the local restaurants and street food. For example, one of our favourite weekend breakfasts is grilled pork and rice (bai sach chrouk) which we get from a little local corner restaurant and costs just 5,000 riels (US$1.25).
Most local restaurants charge around US$3-$6 for a typical Cambodian/Asian-style meal. However, of course being a tourist town there are plenty of much more expensive restaurants around serving all types of cuisine. There are some fantastic places to eat around town and we love trying them out.
A good example of the variation in price is on sushi. We both love sushi and can get a US$10 set menu at Shin X Sushi (starter and sushi/sashimi platter plus a beer or soft drink) OR we can splash out at Hashi and get a huge platter between us for US$50).
There are also many, many bars for all tastes. Alcohol costs as little as US$0.50 for a draft beer on Pub Street (not recommended, as draft beer in Cambodia results in the worst hangovers), all the way up to US$6+ for a cocktail in the swankier establishments. Generally, a glass of wine is between US$2.50 and $5.
Many long-term expats in Cambodia buy scooters or motos to get around town. You can pick up an old Honda Scoopy for US$300 or a new Honda Dream for about US$2000. We don't ride scooters or motos, though, so we rely on our trusty secondhand town bicycles. They only cost us about US$50 and are in pretty good condition. There are many places in town you can pick up a bargain like that.
In terms of public transportation, traditional tuk tuks, or PassApps or Grab tuk tuks which are more popular nowadays, are the way to get around when you don't want to ride yourself. A PassApp or Grab (like Uber) costs about US$1 to get from A to B around town and the traditional tuk tuks about US$2. The price obviously increases the further out of town you go.
To travel to other cities in Cambodia, your options are minibus or van, buses and taxis. A minibus or bus from Siem Reap to Phnom Penh costs from US$8 to US$15 depending on which company you take.
What are your favourite spots in Siem Reap and Cambodia? Where do you always take visitors?
Everyone that comes to Siem Reap visits the temples at some point, but usually just the main ones like Angkor Wat. I'd highly recommend taking some time and exploring some of the lesser visited temples such as Banteay Srei, Kbal Spean, Beng Melea, Koh Cher and Preah Vihear.
There are also lots of less touristy places to visit in Cambodia, once you've seen the main sites. I write an 'off the beaten track in Cambodia' series on my blog highlighting some of these places. I have lots more to add to it this year.
One of our favourite things to do in Siem Reap when we have some spare time is to cycle out into the countryside. A lovely ride is out past the lotus fields towards Tonle Sap Lake. There are several roadside hammock bars where you can stop to rest and get a refreshing drink or some local food. We also like visiting a local pool sometimes in the afternoon to relax and cool off. There are many hotels in Siem Reap with swimming pools that non-guests can use for a small fee or in exchange for a minimum food or drink purchase.
Siem Reap is a very sociable place so it's almost inevitable to spend a lot of time (especially on weekends) out and about in the bars and restaurants in town. Generally if you live here you tend to steer clear of Pub Street, although that's a must-visit for tourists. There are also often events going on and regular happy hours in a lot of places.
There's a plethora (over 600) of restaurants and bars in town with new spots opening and places closing every day. You could eat and drink somewhere different every day of the year if you wanted to. Restaurant-wise, Andy's favourites are Mr Grill and Tevy's for good, reasonably priced local dishes, and my favourites are The Hashi for sushi and Mammashop for pizza. We're also both partial to a steak at Tell or curry at Bombay Kitchen.
If you're looking for something more local to do in the evening that's a change of scenery and good fun, head out to Route 60 Night Market and join the locals. Virtually unknown to tourists, it's by far the most local night market in Siem Reap and is revered by Cambodians as far as Phnom Penh for its excellent street food.
For something a bit different in the evening to do other than dinner and drinks, go watch a performance at Phare Circus (no animals involved) or Bambuu Stage.
Is there anything you don't like about living in Siem Reap?
There's really not much we don't like about Cambodia. I think the only negatives for us are: the traffic, which is chaotic – there are no rules; the constant red dust everywhere; and the sporadic power cuts. Many people may find these to be showstoppers, but for us they are only minor annoyances now and we just laugh it off. Only in Cambodia!
Something else to be aware of is that because of Cambodia's relentless heat (which we love) and humidity, the day begins early in Cambodia. Most locals get up at dawn… this also means the noise starts at dawn, first with cockerels, then with music and monks chanting from the pagodas. Cambodians are also very fond of playing music at full volume from huge sound systems and speakers at any time of the day or night. During weddings and funerals, the volume and duration of the music increases ten-fold.
Some expats here hate the noise and rant about it continuously, but for us it's part of Cambodia's charm. It's just something you have to get used to – or use ear plugs.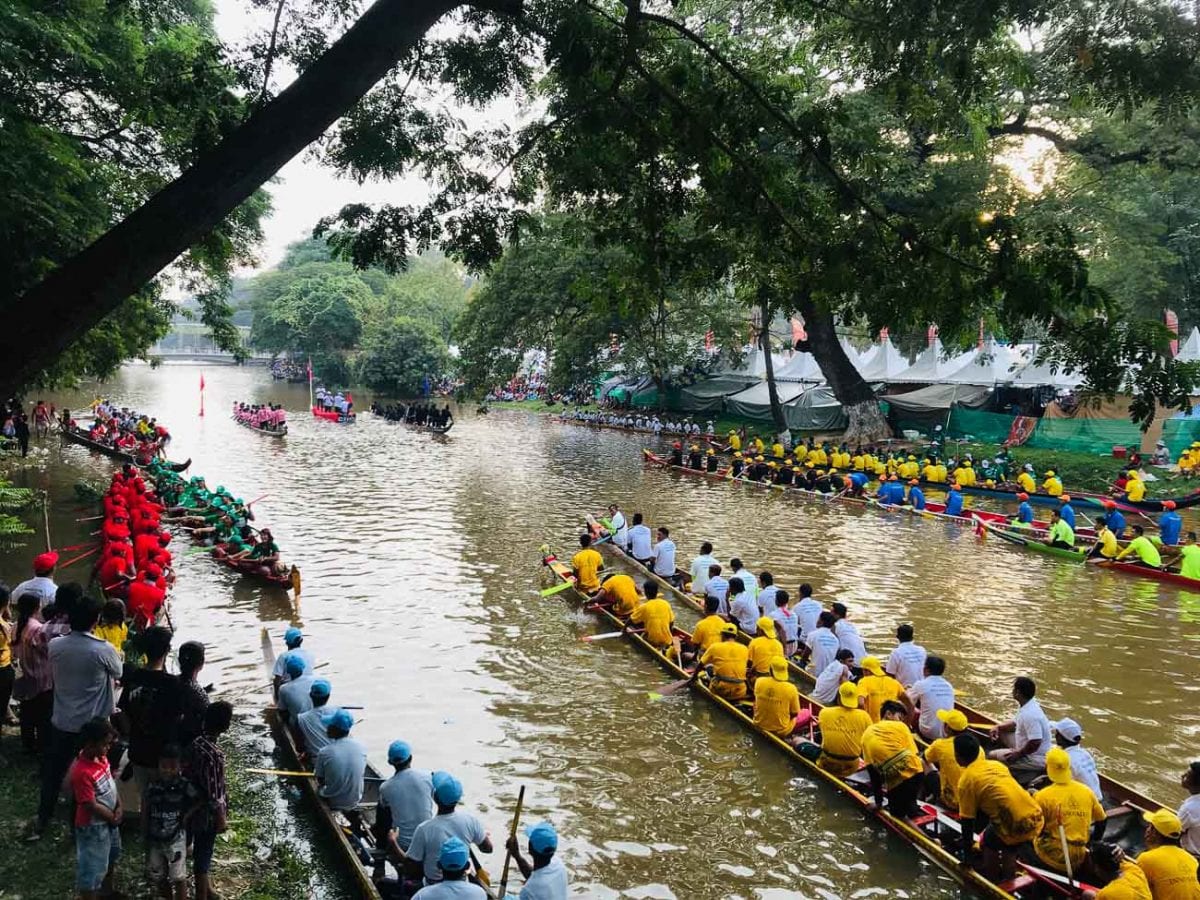 Any advice for anyone considering living in Siem Reap/Cambodia?
Lots. But here are the main points.
Come here on holiday first. Spend some time checking out other places in Cambodia and make sure that Siem Reap is really for you. Every city or town has its own feel and characteristics. Siem Reap is a little bit like marmite, you can love it or hate it. Most people love it, but some don't like it due to the busy tourist "tinsel town" feel of the town centre. Personally, I enjoy the diversity and added amenity the tourist industry brings with it.
Visit at different times of year. Cool season, hot season and rainy season are obviously all very different climates (varying degrees of humidity with hot, hot or hotter temperatures. In cool season temperatures are still 30 degrees Celsius during the day but can drop to 18 degrees at night. Come and check out the hot season (temperatures regularly hit 40 degrees Celsius) and the rainy season which can get extremely wet with occasional flooding!
While you're visiting, network with real estate agents, locals and expats to build a social network. Facebook is a great place to start. Meet people and look at the cost of different houses etc.
Sort out your medical insurance and finances at home before moving here. It will be a lot easier in your native speaking country. Make sure you have enough money to set yourself up for the first three months (around US$2500). Also have a reserve fund stashed that will set you back up in your home country should you decide eventually (and this can happen 3 months or 30 years later) that Cambodia is just too loud/dusty/touristy/hot/wet/dry/busy for you.
Move here in the last quarter of the year, when it's the beginning of cool dry season and high season for tourists. This is the time of year when there are lots of jobs, the daytime temperature is nice and there are festivals and tourist things going on in town. This way you can easily acclimatise to the hot weather, find some work and have some fun.
Be open minded! You will live, work, socialise in a very diverse society. Be prepared to be culturally challenged by everyday things. I take a cycle ride through town every day and everyday something makes me smile or laugh. This rarely happens back in the UK. Also keep in mind that the expat community is full of exceptional people. All these people have at some point decided that they didn't want to live a normal life back home. They are not normal people (in a good way).
What are some of the lessons you've learned as an expat?
The food won't kill you. Try it, try it all, some of it is surprisingly good, some is terrible. You will find your favourites (green mango with salt, sugar, dried chilli and crushed dried shrimps for me).
The biggest risk is getting run over. Snakes, scorpions, violent robbery, weird diseases, exotic parasites that lay eggs in your scalp and so on really present no risk at all. Despite the preconceptions of dangers associated with moving to this part of the world, the main dangers to your wellbeing are road traffic collisions, dengue fever and house fires.
We know several people who have been injured in traffic incidents. Andy has been hit three times, luckily not seriously, while riding his bicycle.
We also know lots of people who have caught dengue fever. While its rarely fatal, it can land you in hospital and incapacitate you for up to a month or more. It is carried by the daytime mosquito and is also known as Breakbone disease due to the pain experienced in the large bones of the body. There is a vaccine against it, but it is new, expensive, hard to find and does not offer full immunity.
I think the next highest risk in this part of the world is likely to be house or apartment block fire. We know a few places that have burnt down (including a water park!). Two of our friends were caught in an apartment block fire and had to jump out of the window to escape. With no real fire regulations and no electrical safety requirements, the risk of fire is somewhat higher than in the west.
Don't let this put you off however, we still have a great life here and have learnt to deal with these risks.
Learn the language. It goes a long way to making friends and paying the correct price for things if you learn even a few everyday phrases. The language is difficult for us, but we try to keep learning new phrases and vocabulary each week.
It's not all roses. As with living anywhere, you have good time and bad times. Back home you have friends and family to help you through the rough bits, here you must manage it yourselves unless you make good friends in the community.
What's the best thing about being an expat?
Coming from England, the obvious two are a reduced cost of living and much warmer weather. Let's be honest, it hasn't rained here for two months (it's now the middle of February) and the beers cost less than a dollar. Compare that to the UK where it rains every week and beer is US$7 a pint.
But putting all that aside, one of the biggest bonuses of being an expat is enjoying a diverse life in a transient, active, exciting multicultural society. You meet extraordinary people and get offered opportunities that you would never get at home.
Some of our favourites have included gold prospecting in Australia (maybe next year), rock climbing in the south of Cambodia, riding an old bicycle to Thailand for a cheese sandwich, and managing a busy guesthouse bar and restaurant. Also, I must include the fact that you are fully immersed in a South East Asian culture full of oddities and surprises.
What do you miss most about home?
We massively miss our family. Although Facebook and WhatsApp video calls are great, its just not the same a nipping over to mum's for a spot of lunch and a cuppa in the garden with the dads. You can't climb trees with the nephews or go to the park with the nieces or take the god kids for ice creams. Yes, missing family is the biggest thing here.
After family it has to be missing friends. We have a great social crew back in the UK, many whom we've known for over 20 years. We try to keep in touch by social media but again its just not the same an it can be difficult as everyone is busy both us here and everyone at home.
Tea, cheese and button mushrooms. Good English-style tea is sooooo expensive here it hurts. And forget about finding strong English cheddar or proper Colmans mustard. Andy also strangely misses cheap packet ham with cheap potato salad – he's weird like that.
I really miss the regular catchups and short trips away I used to have with my group of girlfriends. Andy really misses going climbing with his climbing buddies. There is very little interest here for climbing and finding a good gang to climb with is nigh on impossible.
Cold, rainy miserable weather. Sometimes in hot season we wake up and think it would be nice to step out into a nice cold (sort of -5 degrees C) brisk morning. This thought generally lasts for about 15 seconds.
Where can people find you?
We blog at Can Travel Will Travel and you can follow us on Facebook, Instagram, Twitter and Pinterest.
EXPAT LIFE ESSENTIALS
Considering moving to Cambodia and want to learn more about the country before you make your decision? Pick up the Lonely Planet guide to Cambodia for inspiration
Read about other expats' experiences around the world in my Expat Tales series
Want to share your expat experience like Tanya and Andy have? Get in touch to be featured in the Expat Tales series.
PIN IT FOR LATER: