There's a strange noise coming from the clutch of trees below us. There's the roar of a lion, followed by the trumpet of an elephant. Then there's the sound of tree branches breaking. The bushes shuffle and shake. We hold our breaths in anticipation.
We crane our necks to see, pushing our heads as far out of the car window as we feel is safe. But everything is hidden behind the trees and we see nothing. There are just the noises that increase our curiosity as every second passes. We whisper to each other, describing what we think is happening below.
Then, nothing. No sounds. No movement. Whatever was happening down there between a lion and an elephant is over, and we'll never know what it was all about.
This is Hluhluwe-iMfolozi Park in South Africa. This was one of the most amazing moments of nature that I'd ever experienced, and we had it all to ourselves. There were no other vehicles around us, no trucks filled with khaki-clad tourists busily snapping away.
And that's the beauty of this national park. In the two days we spent there, brushes with other people were few and far between. We could creep up behind rhinos and follow them as they lumbered along without being just one of many cars doing the same thing. We sat for an hour watching giraffes munch on leaves without any other distractions.
Hluhluwe-iMfolozi (pronounced shloo-shloo-way) is a few hours' drive from Durban on the eastern coast of South Africa. It sees far fewer visitors than other more parks such as Kruger. It's a 96,000 hectare national park with an estimated 200 lions, 40 cheetahs and 80 leopards (at the time of our visit) along with elephant, buffalo, rhinos, giraffes and birdlife.
In our first two hours in the park we see kites, herds of zebra, impala bounding across the road, wildebeest, a mother warthog followed by three tiny babies, white rhino, giraffes and buffalos. It's overwhelming.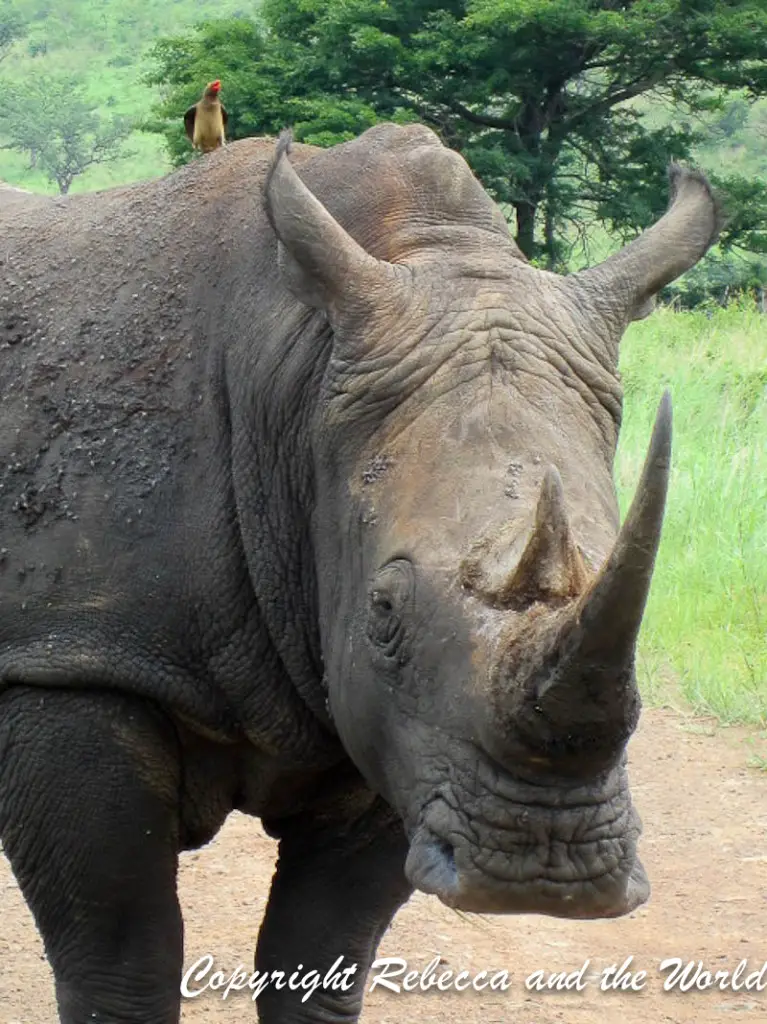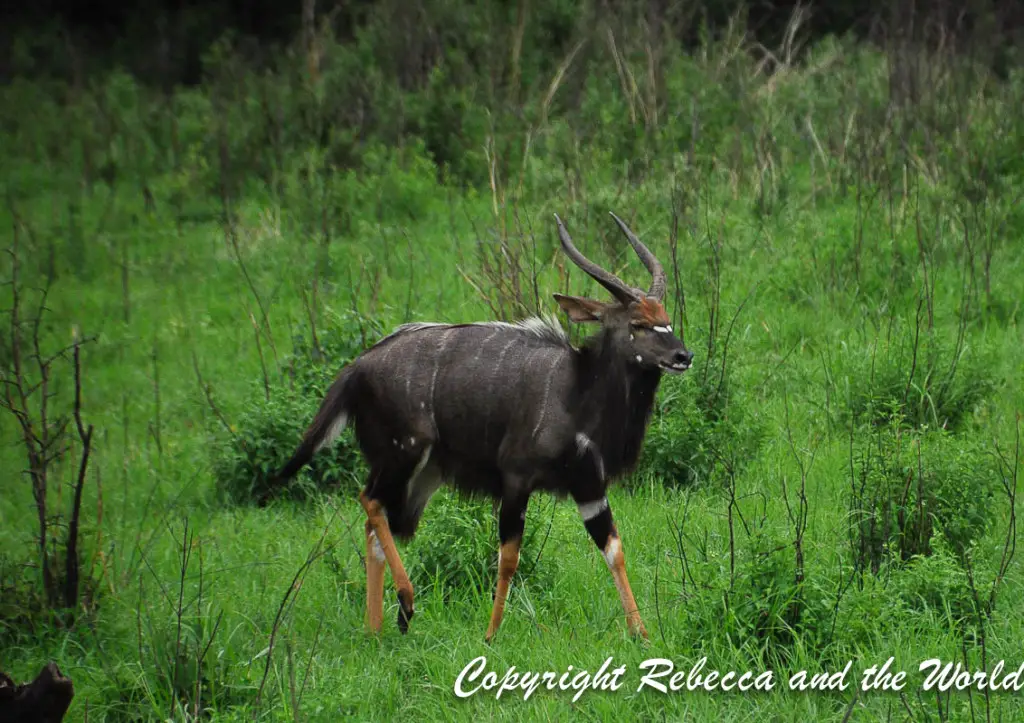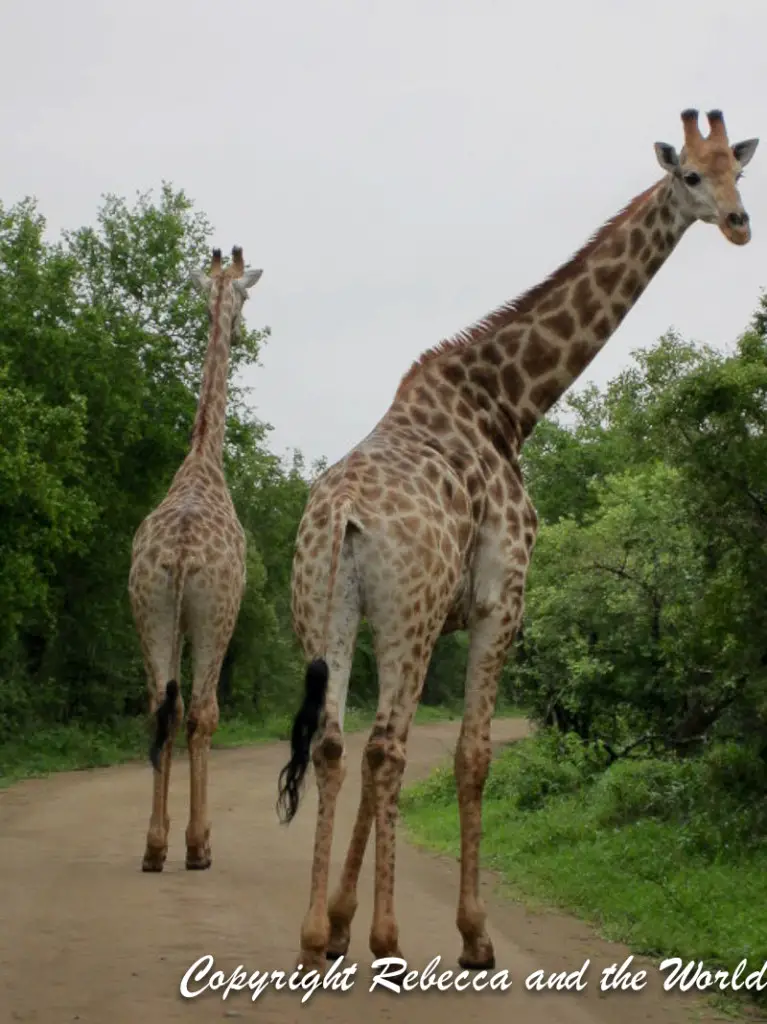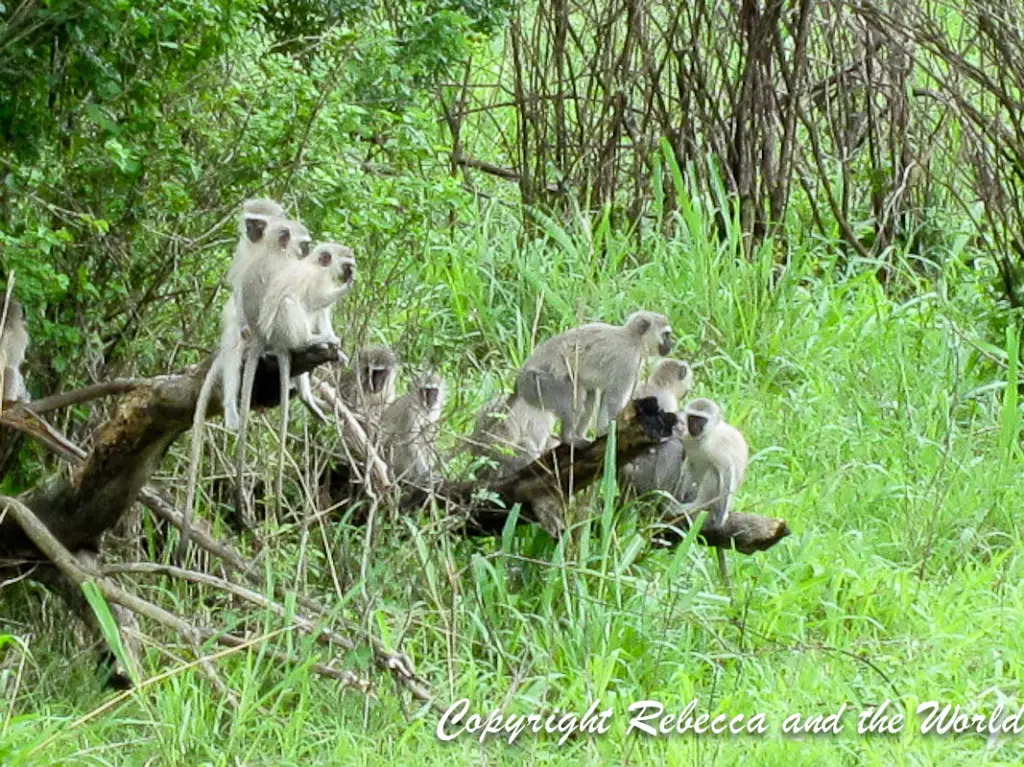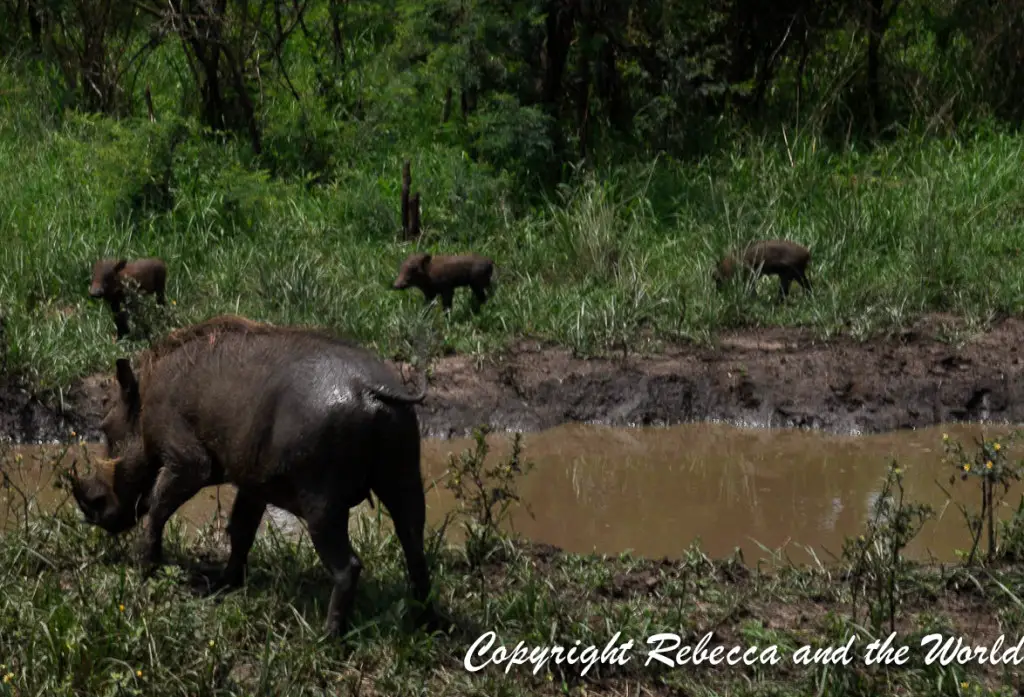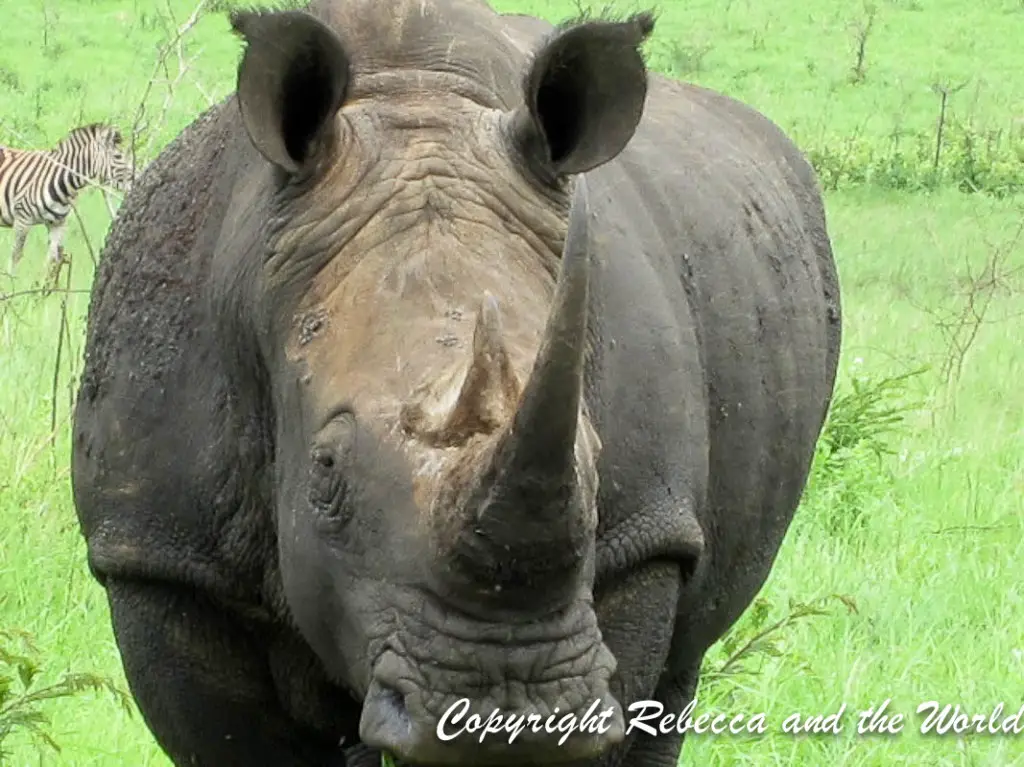 Our guide, Tim, is amazing – his eagle eyes search out rhinos that look like rocks and giraffe that look like trees. He is an encyclopedia of animal knowledge and reels facts off. Did you know that zebra have a 375-day gestation period? How awful!
A night drive that evening reveals a couple of hyenas. I shiver in the cool night air and am thankful to be in the safety of the vehicle, after hearing stories from Tim earlier that day about a hyena that broke into a tent and, with its incredibly strong jaws, killed a sleeping schoolboy.
On day two, following our early morning encounter with the lion and the elephant, we see three giraffe in a group, eating (which is all they seem to do!), and a mongoose. After we cross a flooded road we chance upon two wild dogs. Tim is excited because apparently they aren't often seen and we have been very lucky today.
In the afternoon, we spot a lion paw print in the dirt. The hunt is on. Tim slows the car down and with the door open he tracks the lion. It rained last night so it appears this lion and his pride moved locations. The wet earth leaves a series of perfectly formed prints in the road but eventually these trickle out and we stare off into the bush in the direction that they went, disappointed not to have spotted him.
Despite not being able to tick off all of the Big Five, the safari was an incredible experience and a must-do when visiting South Africa.