Taipei doesn't often pop up on the lists of the must-visit places in Asia, but if you're looking for a modern, safe city in Asia that's filled with delicious street food and night markets, then Taipei – the capital city of Taiwan – is one to consider. I've asked writer and expat Nick Kembel to give us the down-low on what to do in Taipei so you (and I!) can start planning your trip there.
Over to you, Nick!
Want to save this guide to what to do in Taipei, Taiwan, so that you can plan your trip later? Simply click the "Save" button on the images below to save this article to Pinterest.
This blog post may contain affiliate links, meaning if you book or buy something through one of these links, I may earn a small commission (at no extra cost to you).
Why you should visit Taipei
If you haven't been to Taipei yet, you're seriously missing out. This bustling Northeast Asian metropolis has something for everyone, from geothermal springs and terraced tea fields, to art villages and cat cafés.
As if that weren't enough, Taipei is one of the safest cities in the world. It has a phenomenal transportation system. Last but certainly not least, the Taiwanese capital boasts one of the best street food scenes in Asia.
With so many things to do in Taipei, it can be hard to know where to begin. Below I'll walk you through Taipei's top attractions, including the most famous tourist sights, best neighbourhoods to explore, ideas for getting off the beaten track and best areas to stay.
I can guarantee that by the end of the article, you'll have added Taipei somewhere near the top of your list of places to visit next!
What to do in Taipei on your first visit
For first-time visitors to Taipei, here are my absolute must-do, top attractions in Taipei.
Taipei 101
Once the tallest building in the world, 509-metre Taipei 101 is Taipei's most iconic landmark. Since there's no real "downtown" in Taipei, the skyscraper stands out like a lonely stalk of bamboo, though recently it has a new shorter sibling beside it.
The Observation Deck on the 89th to 91st floors is a must for first-time visitors to Taipei. Ride the world's fastest elevator up to enjoy bird's eye views in every direction (but note that the line can take up to an hour). Book Taipei 101 entrance tickets online here.
For a great view of Taipei that includes Taipei 101, climb 30 minutes up Elephant Mountain, one MRT station past Taipei 101.
Maokong Gondola
In the southeastern corner of the city near the Taipei Zoo, the Maokong Gondola whisks passengers into the foothills surrounding Taipei. The line indicating "Crystal Cabins" is for glass-bottom cable cars. Try if you dare! You can book tickets for the Maokong Gondola online.
Get off at the third stop to see an impressive temple with a view. Alighting at Maokong Station (the fourth and final stop), you can walk in any direction to find dozens of teahouses overlooking fields of oolong tea. The area's specialty is baozhong oolong tea, a light oolong that has a mild honeydew scent.
If you're visiting in summer, you may want to grab an oolong or green tea soft serve ice cream instead!
Chiang Kai Shek Memorial Hall
CKS Memorial Hall is the city's most well-known historic landmark. It was constructed to honour the former leader (some would say dictator). Still, the visually striking blue-and-white-domed edifice occupies a magnificent square.
For the best view, head to Liberty Arch on the northwestern side. You'll be able to see CKS Hall through the gate, with the imposing, classical Chinese-style National Theater and National Concert Hall on either side.
National Palace Museum
Another top attraction in Taipei that few visitors miss is the National Palace Museum in Shilin District. The museum is generally regarded as the most important repository of ancient Chinese artifacts in the world. Why is that? Well, over half a million artifacts were carried from their original location, the Palace Museum in Beijing, across China and then over to Taiwan during the Chinese Civil War.
Only a tiny fraction of the total artifacts are on display at any given point. The museum is large but not unmanageable. I would personally recommend the Chinese scroll exhibits, and when I last visited, there was a temporary animated scroll exhibit. The ancient scrolls were brought to life on long digital screen, with all the little characters shuffling around. It was truly mesmerising!
Beitou Hot Spring
Last on the list but my personal favorite, Beitou Hot Spring is the only thermal spring village right in Taipei City. It sits at the base of Yangming Mountain, a dormant volcano on the northeast side of Taipei.
Beitou Hot Spring was first developed by the Japanese during the Japanese colonial occupation of Taiwan (1895-1945). Therefore, you can see numerous Japanese-style buildings there, including the Beitou Hot Spring Museum (formerly the main Japanese bathhouse in Beitou).
Millenium Hot Spring is the main public hot spring in Beitou, and entrance is only NT40 (US$1.30). For a more private experience, you can use a private hot spring room in the area's many hot spring hotels (NT400-3000). Also, don't miss massive, steaming Hell Valley, a huge hot spring at the top of the village.
Lesser-known spots in Taipei: Explore Taipei like a local
Once you've ticked off all those things to do in Taipei, consider some of these local attractions. Many of these you won't find in the guidebook!
Treasure Hill Artists Village
Once a settlement for Chinese war veterans, this fascinating community is now a living arts village, although some of the original families still remain.
Local and international artists are housed here and regularly host exhibits. You can wander through the narrow lanes and staircases, and many small galleries are open and unmanned.
Wistaria Tea House
If you'd like to enjoy a traditional Taiwanese tea experience in Taipei, Wistaria Tea House is the best place to do it. Here tea is served in the traditional kung-fu manner in a beautiful old home. Do be warned that it takes some time, and it's not cheap.
Wistaria Tea House also has historical significance. The teashop was once the meeting place of academics and political dissidents during the White Terror period of martial law in Taiwan.
Café Cats & Dog
If you're more into cats than Chinese tea and political history, you might prefer Café Cats & Dog. Why no 's' on the dog? Because they've only got one dog and many cats, of course!
Cat lovers may even consider this a pilgrimage of sorts, as the café is considered to be the world's first cat café. There's a minimum charge of NT100, and be prepared to pet lots of fuzzy felines.
Where to stay in Taipei: Top neighbourhoods to explore
If you're figuring out where to stay in Taipei, here are the areas I recommend for visitors.
Wanhua District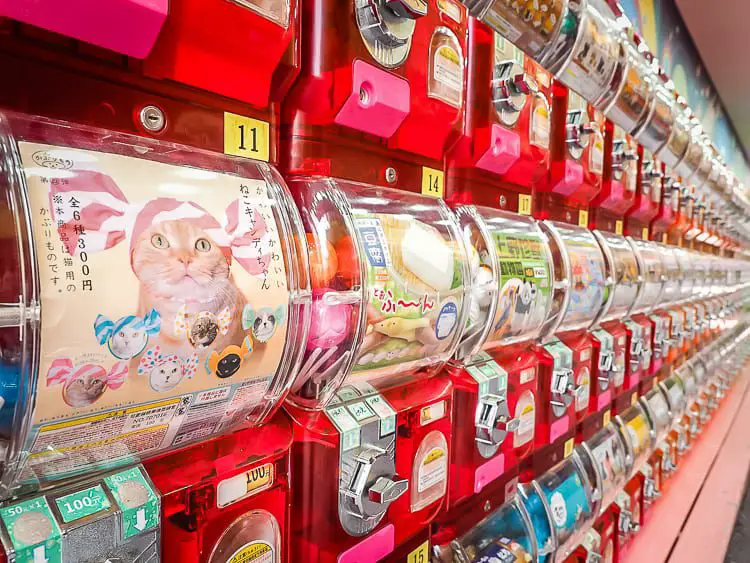 Wanhua is the Old City of Taipei. Here's you'll find Longshan Temple, the most important temple in the city. Parts of Wanhua are the most run-down in Taipei, but it's still extremely safe, and street photographers will love exploring the area.
By contrast, Xinmending is the city's funkiest neighborhood, sometimes even called the "Harajuku of Taiwan". This pedestrian-only shopping district is where youths and tourists go to shop and dine in quirky cafés and restaurants, include poop-themed Modern Toilet restaurant. Here you'll also find some of the best street art in Taipei.
Dadaocheng and Dihua Street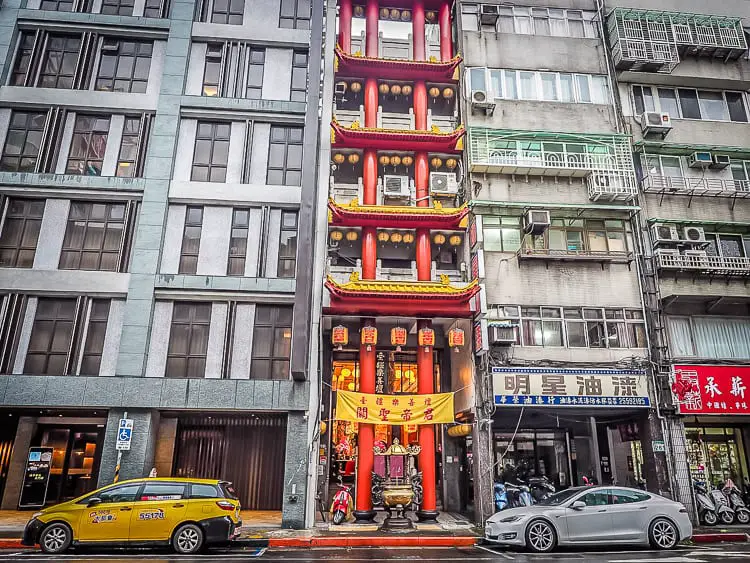 History lovers should head straight to Dihua Street in Dadaocheng area. The neighbourhood lies just north of Wanhua in Datong District. The riverside wharf in Dadaocheng was once the city's main port. Dihua Street, which runs for many blocks parallel to the river, thrived as a trading place of tea, Chinese herbs, and other dried goods.
The architecture along the street features everything from Qing Dynasty Chinese-style homes to baroque revival architecture favoured by the Japanese during the colonial era. Many original goods and tea shops remain, while beside them countless cute cafés and restaurants occupy 100+ year old edifices.
Eastern District
Dong Qu or "Eastern District" is Taipei's newest and most fashionable area. Take the blue MRT line east from Taipei Main Station. The area between Zhongxiao Fuxing and Taipei City Hall MRT stations, all on Zhongxiao East Road, are the liveliest.
Stick to the main road for upscale shopping, while the myriad small lanes leading away from it are filled with more restaurants and bars than you could try in a lifetime.
Taipei 101 is located in the southern part of Eastern District, among several department stores.
Da An District
Home to several major national universities, including NTU (the top university in Taiwan), Da An is of course where students hang out. The neighbourhoods and small lanes around Guting, Taipower and Gongguan MRT stations are filled with hipster cafés, restaurants and bars.
Shida Night Market, once the most popular in Taipei, was semi-closed several years ago, but remains a low-key spot to shop and dine. Meanwhile, sprawling Da An Park is Taipei's equivalent to Central Park in New York.
Don't forget to book a hotel in Taipei! You can check out and compare hotels on Booking.com and HotelsCombined.
Where to eat in Taipei
You simply cannot visit Taipei without trying the street food. The city's night markets are famous throughout Asia, and in terms of visitor numbers, they're the most popular attraction in Taiwan.
The five big ones are Shilin, Raohe, Ningxia, Tonghua and Huaxi. All of them are great and many locals frequent them, but if you want to visit a truly local night market, check out Nanjichang or Jingmei.
Seafood lovers must include Addiction Aquatic on their Taipei itinerary. This seafood institution boasts live seafood for sale (including huge spider crabs), an upscale grocery with great take-away sushi trays, standing sushi bars, a hot pot restaurant and an outdoor seafood BBQ.
For fashionable, upscale dining, don't miss RAW, opened by Taiwanese chef André Chiang, whose eponymous restaurant in Singapore has been voted second best in all of Asia.
Looking for more food ideas? Check out this post for what to eat in Taipei.
Best places for a drink in Taipei
For craft beer lovers, there seem to be great new options popping up every week. Driftwood, a Taihu Beer taproom in Ximending, is my personal favourite.
Cocktail fans will also be happy to know that Taipei has no shortage of selection when it comes to creative, high-end cocktails. Alchemy and Once are two popular hidden speakeasy-style bars, while Hankou 60 is a newer movie theatre-themed bar tucked away on Movie Theater Street in Ximending.
Outdoor patios are hard to come by in Taipei, but if that's what you're after, head to the best collection of bar patios in the city, beside historic Red Theater in Ximending. The bars make up Taipei's largest LGBT district, and of course everyone is welcome.
How to get around Taipei
From Taoyuan International Airport, hop on the new Taipei Airport MRT line to get directly to Taipei Main Station (NT160, 35-38 minutes). A taxi from the airport to the city will cost NT800-1200, depending on where you're going. Or you can book a private transfer from the airport.
The MRT is the lifeline of Taipei, and you will probably use it to get just about everywhere you go in Taipei. Purchase an EasyCard before you board the airport MRT or from any MRT station. The NT100 deposit will be refunded when you return it at the end of your trip.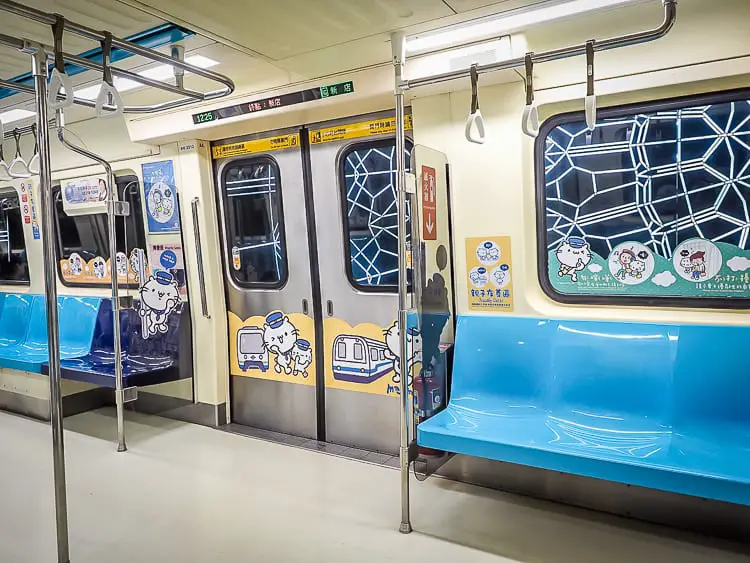 About the author
Nick Kembel is a full-time educational and travel writer. Originally from Edmonton, Canada, he has been living in Taiwan since 2008, with his wife Emily and kids Sage (born in 2014) and Lavender (2015).
Nick published his first book, Taiwan from the Eyes of a Foreigner, in 2011. His website, Spiritual Travels, focuses on spiritual destinations and comprehensive travel guides to destinations in East Asia and beyond.
Nick's work has appeared on CNN, Vogue, Google's Touring Bird and National Geographic Traveller Food.
VISITING TAIPEI – YOUR TRIP ESSENTIALS
Has this guide on what to do in Taipei got you dreaming about a trip there? Let me know in the comments below what you'll be doing when you visit Taiwan.
This post was originally published in June 2019, and was updated in October 2020.
PIN IT FOR LATER: