Welcome to another edition of Expat Tales, where you meet some of the many interesting expats living around the world, and hear their top tips for life as an expat.
This edition, we're talking with Kirsty Footloose-Ferrett, a British expat in Kuala Lumpur, Malaysia with her young family. Moving a family to another country is completely different to expat life for individuals or couples, and Kirsty shares some great tips for settling in kids and making the most of an expat experience. She also shares plenty of tips for things to do in Kuala Lumpur and Malaysia.
Name: Kirsty Footloose-Ferrett
Originally from: London, UK
Now living in: Kuala Lumpur, Malaysia
What brought you to Kuala Lumpur/Malaysia?
My partner and I decided we wanted to live overseas with our young kids. We've travelled a lot and Asia seemed like a good option. My partner asked for a transfer through his job in London. An opportunity in Malaysia came up and we settled in Kuala Lumpur in June 2018.
Is this your first expat experience?
Before kids, I lived overseas in South Korea and Spain. This is our first experience of being an expat family. Relocating a family is a completely different experience to moving somewhere by yourself. We had to consider schools, playgroups, safety and healthcare in a lot more depth.
What do you do for a living?
Back in the UK, I was a teacher. In Malaysia, I'm technically not allowed to work as my visa is attached to my partner's work visa. My partner works in insurance. There are lots of opportunities for expats to work in international schools and oil and gas out here.
How easy is it to live in Kuala Lumpur? Is it easy to get a visa to live in Malaysia?
Kuala Lumpur is a really easy city to settle down in. Whilst it is not as shiny and well-organised as its neighbour Singapore, it has everything expats could want. There are good international schools, sociable expat groups, fantastic affordable condos and everything you could need to keep kids entertained and happy.
As the city is so multicultural, fitting in as an expat in Kuala Lumpur is easy. English is spoken everywhere. Living in KL with kids is really easy too. There are so many events, museums and restaurants geared towards families with children. If you're seriously considering moving to Kuala Lumpur with kids, check out our in-depth guide of things to do in Kuala Lumpur with kids.
Our visas are connected to my partner's job and are valid for two years at a time. However, Malaysia offers 90-day tourist visas (renewable up to three times with visa runs) so it's a great option for European and North American digital nomads.
What's the cost of living like in Kuala Lumpur?
We live in a really big 4-bedroom apartment with multiple shared pools and gyms. It costs us around £950 a month plus bills.
Malaysians eat out all the time, as local Asian food is really cheap. Of course, Western food costs more. A typical lunch deal is RM15 in a local restaurant (about £3). Wi-Fi costs about RM250 (£50) a month for an unlimited data, high speed connection
International school fees are incredibly expensive so if your company isn't covering them it can put families off moving here. You can easily be talking £18,000 a year per child!
What are your favourite spots in KL and Malaysia more broadly? Where do you always take visitors?
There are so many great places that we love showing visitors!
Desa Park City is a family-friendly area on the outskirts of Kuala Lumpur. There are bars and restaurants. It's a great place for alfresco dining.
Batu Caves is one of KL's most iconic spots after the Petronas Towers. The rainbow steps have become an Instagram sensation and visitors love the monkeys.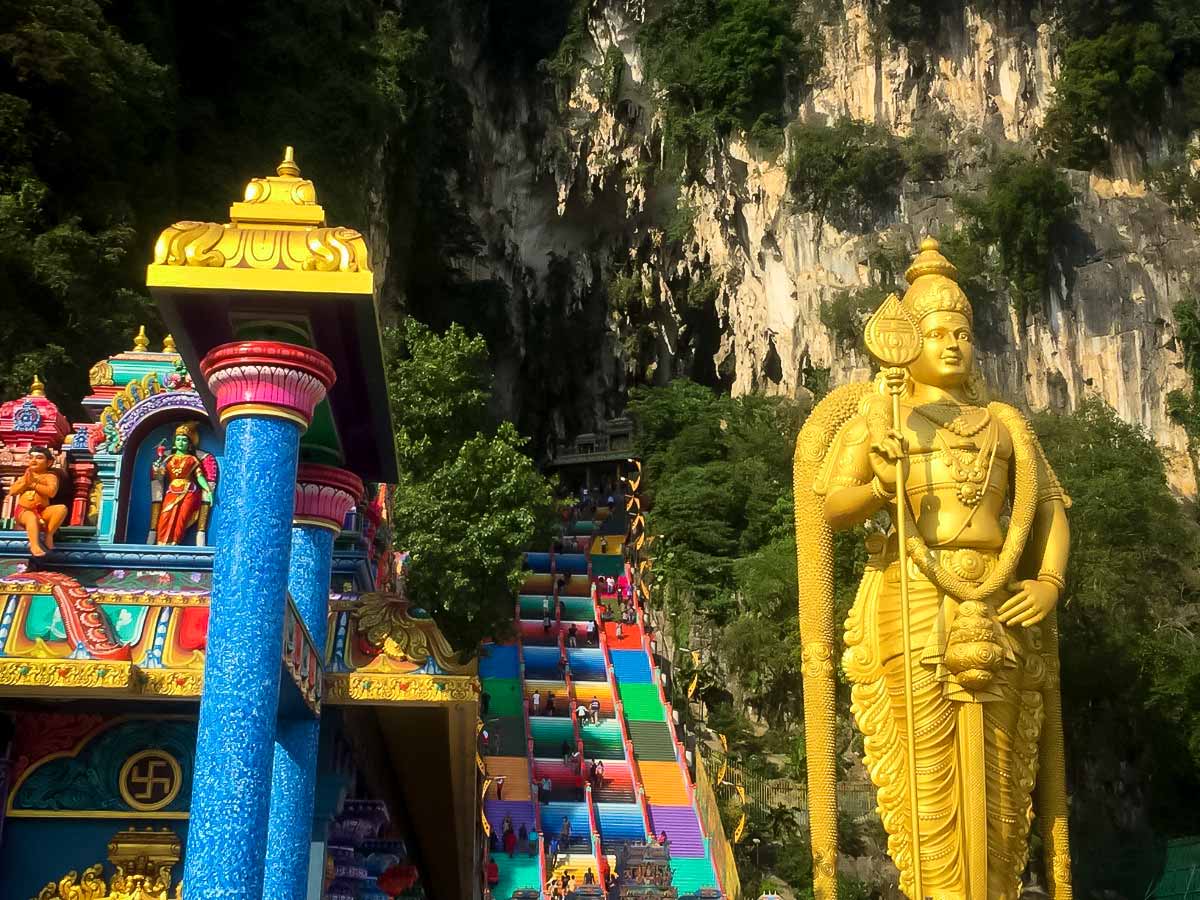 Don't visit Malaysia without an island getaway. Take your pick from historic Penang, touristy Langkawi or the quieter East Coast Islands on the East Coast.
Rooftop bars are what nightlife in Kuala Lumpur is all about. We love taking visitors for a few cocktails somewhere with incredible views of the Petronas Towers and cityscape lit up at night.
While KL is on Peninsular Malaysia, if you like wildlife, rainforests and diving, then Malaysian Borneo is where you must go. You can climb Mount Kinabalu, visit orangutan sanctuaries and cruise through rainforests.
Is there anything you don't like about living in KL?
Right now, Malaysia (and Singapore) are covered in a dense haze caused by forest fires in Borneo. It has reached a level deemed so unhealthy that all schools are closed. The haze is predicted to last around four weeks in total. It's definitely making us rethink our plans to live here long-term.
On the same page as pollution is the heavy traffic and the insane road layouts and driving. Traffic is not as bad as some countries but rapid development has meant confusing spaghetti junctions throughout the city.
One of the biggest concerns that we have living in KL with our young children is dengue fever. The risk fluctuates seasonally but I know several families who have been affected and it can have serious consequences. The constant humidity also makes it easy for minor cuts and grazes to turn nasty.
Any advice for anyone considering living in Kuala Lumpur or elsewhere in Malaysia?
Before you arrive, join some of the expat groups on Facebook. I used the great resources in the Happy Go KL group. The groups are great places to ask questions before you become an expat in Kuala Lumpur.
Look outside the big expat centres of KLCC, Bangsar and Mont Kiara for cheaper accommodation deals but the same great amenities.
What are some of the lessons you've learned as an expat?
When we arrived in Kuala Lumpur, it took at least three months before we felt like we were more or less sorted. Give yourself time to adjust, time to deal with red tape and new ways of doing things.
Be ridiculously friendly at first even if you are an introvert. Talk to anyone and everyone you can. Invite people out.  Swap numbers. In the UK, I'd chat to other mums for months before we swap numbers. Here it's an hour after we meet.
If you're moving your family, try and see it from the kids' perspective as well. As grown-ups, it's easy to be overwhelmed by opening bank accounts or slow wifi connections but it's so important to make time as a family.
What's the best thing about being an expat?
The weather. Definitely. Although it rains a lot in Kuala Lumpur, it's never cold. You never need a coat. We also like how easy it is to make friends, although it's also easy to lose them when people move away!
You can really make the most of living in the tropics. Kuala Lumpur is the hub of one of Asia's most extensive budget airlines, AirAsia. We love how easy it is to book a short holiday to Penang, Singapore, Cambodia, Bali and more.
Another highlight is experiencing new cultures every time you leave the house. I love trying new restaurants and cuisines. It's great that my kids are learning in English, Bahasa and Mandarin and have friends from every corner of the world. That they eat bao as much as they eat sandwiches.
I asked my five-year-old the best thing about living in Malaysia and he replied, "all the indoor playgrounds"!!
What do you miss most about home?
Aside from friends and family, I mostly miss being able to do things outdoors like walk around on good pavements, cross roads safely and not worry about snakes, monkeys or mosquitoes when having a picnic!
Many people miss the changing seasons but as someone who hates the cold I'll never miss winter. Spring and autumn maybe, but definitely not winter.
Where can people find you?
Find me at World for a Girl where I blog about our travels around Asia and women's issues around the world. You can also check out the World for a Girl Facebook page or join us on Twitter or Pinterest.
Want to share your expat experience like Kirsty has? Get in touch to be featured in the Expat Tales series.
PIN IT FOR LATER: