Welcome to Expat Tales where you get to meet some of the many interesting expats living around the world, and hear their top tips for life as an expat. This edition you'll meet Zoe Elliott. Originally from the UK, love took her to the Netherlands and seven years later she's still there.
Name: Zoe Elliott
Originally from: Isle of Wight, UK
Now living in: Rotterdam, Netherlands
What brought you to the Netherlands?
It started with a love story, I met a guy. A tall, handsome Dutchie! I moved to the Netherlands at 18 first as an au pair and then ended up staying to complete my Bachelor degree. Seven years later and I'm still with the same Dutchie in Rotterdam.
Is this your first expat experience?
Yes, unless I count living as a baby in Germany. My seven years now in the Netherlands doesn't feel like seven though, as I have really kept myself busy with studying and now working full time.
What do you do for a living?
I work full time for an international company in the human resources department. I really enjoy it and have been given a great opportunity to stay longer and grow.
How easy is it to live in the Netherlands? Is it easy to get a visa?
For me as a Brit, I packed a suitcase, got on a one-way flight and only had to register at the city hall within a week. Once registered at the city hall I could open a bank account and start working as an au pair.
It's also mandatory to get health insurance in the Netherlands too. Since I was working a specific amount of hours and earning a certain amount as an au pair when I first arrived, I could also receive financial help from the government to pay my Dutch health insurance.
As a British person I had no worries regarding visas which is definitely a privilege! There are of course current discussions and I can imagine this may change when Brexit has been finalised.
Furthermore, I did not need to complete the mandatory Inburgering exams, where you have to complete the reading, writing and speaking modules. This is something many must do within the few years of being in the Netherlands. This is because I am British and it is not mandatory for us; this again may change following Brexit. I did however take intense Dutch lessons for two years, as I knew I would be living here on a long-term basis. So, if I had to do the test, I think I could pass easily as I am pretty fluent after seven years of practice!
Regarding culture, I think it's pretty awesome and comparable to the UK. I don't think I had any problems except for missing some typical British food that can't be bought here. As for the rest, it's usually the same weather, same shops and of course the same work attitude. Though I do think Dutchies enjoy their vacation time more, are friendlier in general and spend more time enjoying life. They attend more social events, are willing to try new things and love being active. This could be since the country is so flat and everyone cycles from birth!
What's the cost of living like in the Netherlands?
I live in the city centre of Rotterdam and with every city you can expect higher costs. You can easily be looking at rent from €1000 per month upwards, not including water, gas and electricity. As for buying a house, in the last few years prices have only been increasing, with a small place in the city centre costing more than €300,000.
I'd say a meal out is the same price as if you were in the UK. As a couple, you can easily eat cheap for only €25 with drinks, or around €95-€125 for two at a decent place. So it really depends on your tastes and budget!
What are your favourite spots in the Netherlands? Where do you always take visitors?
Some of the best things to do are to get out and be active! I always recommend visitors in the Netherlands rent a bike and explore the city or area they are in. I have become a big fan of cycling in the Netherlands.
For my favourite spots in the Netherlands, I'm guilty to say that love staying in Rotterdam. It's such a unique and international city with plenty of events and things to do throughout the year. However, you may find me occasionally in another city for exploring some new restaurant or event.
Local spots that I always take my visitors to are the Euromast observation tower, the Cubic Houses, Markthal (the market hall) and a city walk over the famous Erasmusbrug bridge.  Finishing off with a bite to eat and drinks at the cosy Oude Haven, a place that has a lively but calm atmosphere.
Is there anything you don't like about living in the Netherlands?
One thing I don't like of course is missing my family and friends back in the UK. As for the rest, I am pretty content with living in Rotterdam so it would be pretty hard to leave if I had to!
Any advice for anyone considering living in the Netherlands?
Go for it! All the expats I have met in the Netherlands love living here, whether in a city or in the countryside. I feel it's a very welcoming country but you should definitely do your research regarding visas depending on where you are from.
What are some of the lessons you've learned as an expat?
Push yourself to go to those friendly expat meet-ups and local social events. As an introvert I didn't do this in the beginning. Now that many of the students I befriended when I first moved here have moved back to their own countries it has been harder to make friends. These days I push myself to meet new people and join more events.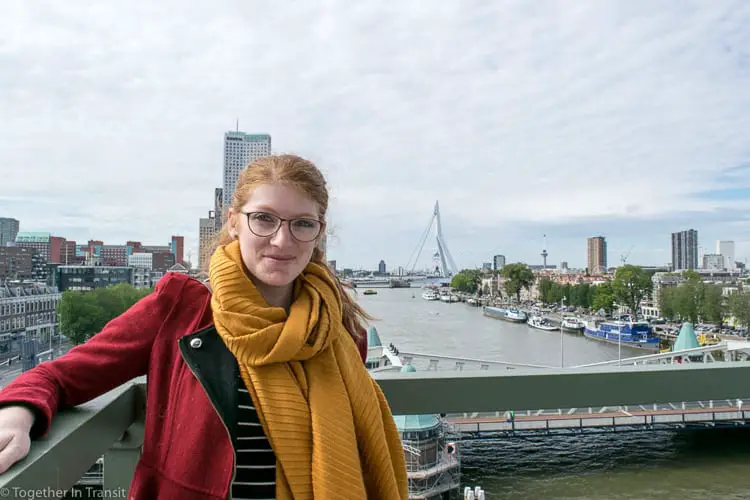 What's the best thing about being an expat?
Trying new things, exploring new places and meeting new people! Why stay in one place you love, when you can find more places you love?
What do you miss most about home?
Firstly, being able to see family on a regular basis. Secondly, the food. Thirdly, the hills. The Isle of Wight has some fantastic walking routes that are not as flat as the Netherlands.
Where can people find you?
I blog at Together in Transit and am on Twitter, Instagram, Facebook and Pinterest.
EXPAT LIFE ESSENTIALS
Want to learn more about the Netherlands? Pick up this Lonely Planet guide to the Netherlands to find out more about the country.
Pack everything you need for your new life in this suitcase.
Read more about what life's like as an expat in other countries around the world in other Expat Tales.