Welcome to Expat Tales where you get to meet some of the many interesting expats living around the world, and hear their top tips for life as an expat. This edition you'll meet Cassie Pearse. Originally from the UK, she's now a freelance writer who's found a far better work-life balance living as an expat in Mexico.
Name: Cassie Pearse
Originally from: United Kingdom
Now living in: Mexico
What brought you to Mexico?
Neither my husband nor I was ever going to be content with living our whole lives in the UK. We met in Rwanda when I worked there and he was visiting his sister who was also working there.
Fast forward a number of years and we found ourselves living in London with two small kids, a mortgage and two stressful jobs. This just wasn't the life we wanted for our family. Every now and again we'd throw out the idea of saying "fuck it all" and just leaving, but one of us would always be in a sweet spot at work and want to stay… until one day when neither of us was. We decided to take six months out and see what happened. Well, what happened is that we fell in love with Mexico and decided to make it a long-term move. We have a much better quality of life here and we get to spend far more time together as a family.
Is this your first expat experience?
No. I have also lived in Rwanda and Ethiopia (both in my 20s) and travelled and worked extensively around the world.
What do you do for a living?
I am a freelance writer, proof-reader and editor. I also have my own website all about exploring Mexico. It has an emphasis on exploring as a family but everything is specifically written so as to be useful for everyone.
Previously I worked in international development.
How easy is it to live in Mexico? Is it easy to get a visa?
Mexico is an incredibly welcoming country. Many view it through the eyes of its detractors but they're being fed a specific (and incorrect) view. People are so kind here and the lifestyle is truly family friendly. We couldn't be happier here.
We live in the Yucatán Peninsula, which is a very family-orientated place. It makes it harder to make properly local friends but there are lots of other foreigners and "mexpats" here all looking for friendship, too. We have a good support network now and our kids are doing well at school, which is the main thing.
It's easy to get a tourist visa for six months but if you want to live here then I highly recommend doing it "properly". Yes, there are financial restrictions on being able to get a residency visa and yes, the bureaucracy is annoying but actually, the process isn't that hard and the immigration staff are very kind. My husband and I wrote an article about the process of acquiring temporary residency in Mexico.
What's the cost of living like in Mexico?
I'd say the cost of living in Mexico is pretty much whatever you need it to be. You can live extremely frugally if you want to, or you can live like royalty. We are living somewhere in between, spending far less than we ever did in London. We have a much bigger house than we could have in London. We have a pool, both kids are in private school (because we aren't allowed to use the public system) and we have a car (that keeps falling apart). We live in a hot part of the country so fans and air con are important, but we are sensible with their use and keep our electricity bills down.
We spend US$600 a month on rent for our large house with pool. I went out for breakfast tacos the other day with a friend and it cost $100 pesos (US$6) for us to both eat our fill. But conversely, if we go for sushi it can cost $1000 pesos (US$51) for the family to eat.
What are your favourite spots in Mexico? Where do you always take visitors?
Hmmm, favourite spots? Well, Chihuahua City is my new favourite "off the beaten path" city. We just spent a few days there as part of our summer exploration. We found a beautiful colonial city just brimming with history. People were kind, the kids loved playing in the water fountains at dusk and we loved the atmosphere.
Closer to home? Mérida is a fabulous city with plenty to do and see. We tend to take people to explore the beaches and archaeological sites (my favourite is Mayapan) or to Izamal, the famous "yellow city". The Mérida cemetery is a fascinating place.
Is there anything you don't like about living in Mexico?
I sort of miss the turning of the seasons in the UK. I miss the crisp autumn mornings. Mexican bureaucracy can be frustrating but, no, I wouldn't swap it for anything. I'm so grateful to Mexico for letting us live here and, quite frankly, giving us an escape from the Brexit nonsense in our own country.
Any advice for anyone considering living in Mexico?
Talk to people who have made the move. Don't do it on a whim. Visit, spend time here, find the right place for you. Don't just visit a holiday town and think life will always be like that.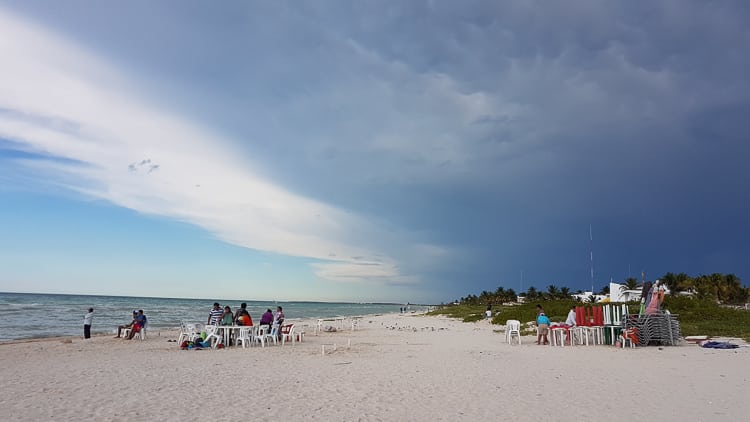 What are some of the lessons you've learned as an expat?
My expectations don't always meet reality but that's my problem. I changed country and I need to adapt to my new home. Things won't be the same but that's what we were looking for. So, yes, schools like to have meetings to discuss everything, and yes, school starts horrendously early here but it's my problem to adapt. I choose to be here. I'm fortunate to have had a choice. I shouldn't grumble about differences when I actively chose to leave my home.
Many of my friends in the UK were expats and it drove me nuts hearing them whinge about how things weren't as good as "back home". I get that we all need to complain sometimes but I just think if you're fortunate enough to be able to actively choose your country, quit whining.
What's the best thing about being an expat?
Freedom. And finding truly like-minded people. Our friends here are all people who wanted to find a different path, who weren't OK with the work-life balance in our home countries and wanted to take a chance that there was something better out there. And we're finding it, together. We are all actively being the example we wish for our kids. That's pretty special.
What do you miss most about home?
My family and friends, obviously.
It's always easier in your home country because you just know how things work. Here we have to figure every new step out, and all in a foreign language that we're doing our very best to master.
Good cheese. I miss good cheese with a tonne of flavour. Mexican cheese is fine but if we want good, stinky cheese, the options seem to all be from the USA and that just isn't what I want. I want European cheese (and a European passport too but that's another story).
Where can people find you?
I blog at Mexico Cassie and I'm on Facebook, Pinterest and Instagram.
EXPAT LIFE ESSENTIALS
Want to learn more about Mexico? Pick up the Lonely Planet guide to Mexico to find out more about the country's culture and history.
Pack everything you need for your new life in this suitcase.
Read more about what life's like as an expat in other countries around the world in other Expat Tales.