Ah, Melbourne. There's a reason why my home city has been crowned the world's most livable city multiple years in a row. Amazing museums, an array of international cuisine that would make any foodie's eyes pop, laneways filled with super-cool street art, a coffee culture that beats the rest of the world. If you've only got 3 days in Melbourne it'll be hard to see and experience all of this. So, what's the best way to make the most of your time?
Here, I'm sharing a few ideas for crafting a Melbourne itinerary that captures the best the city has to offer – sights, food, drinks and culture. Day-by-day, I've got recommendations for what to see, do and eat. This is a great itinerary for first-time visitors to Melbourne. If you've been to Melbourne before, then check some more things off this Melbourne bucket list.
Got longer than 3 days in Melbourne? No problem – at the end of this post I have some additional ideas for how to spend a few more days in this city.
Alright, let's get into it! (Oh, and if you'd like to have this as a downloadable cheat sheet that you can print and take with you on your trip to Melbourne, just click here.)
If you want to save this Melbourne itinerary for later, just click on the "Save" button on one of the images below to save it to Pinterest.
This blog post may contain affiliate links, meaning if you book or buy something through one of these links, I may earn a small commission (at no extra cost to you).
3 days in Melbourne at a glance
Day 1 – CBD: Street art, strolling and architecture
Day 2 – Collingwood and Fitzroy: Hipster neighbourhoods
Day 3 – St Kilda: The beach and penguins!
Melbourne itinerary mapped out
Everything listed in this Melbourne travel guide is also plotted out on the map below – and conveniently colour coded so you can see where you'll be hanging out each day! Of course, you can mix up the days depending on where you're staying in Melbourne and to coincide with any activities that only operate on certain days of the week.
Also, while I have a guide to the best restaurants in Melbourne, I've also included some suggestions throughout this post so you're not scrambling to figure out where to go when the hunger hits.
Day 1 – Check out the CBD
Melbourne's CBD – that's the central business district – is conveniently organised in a grid system, so it's very easy to find your way around and very walkable. In the CBD, you'll find many of the major Melbourne tourist attractions, along with tonnes of great places to eat and drink.
This is a fairly packed day, so put on some good walking shoes!
Federation Square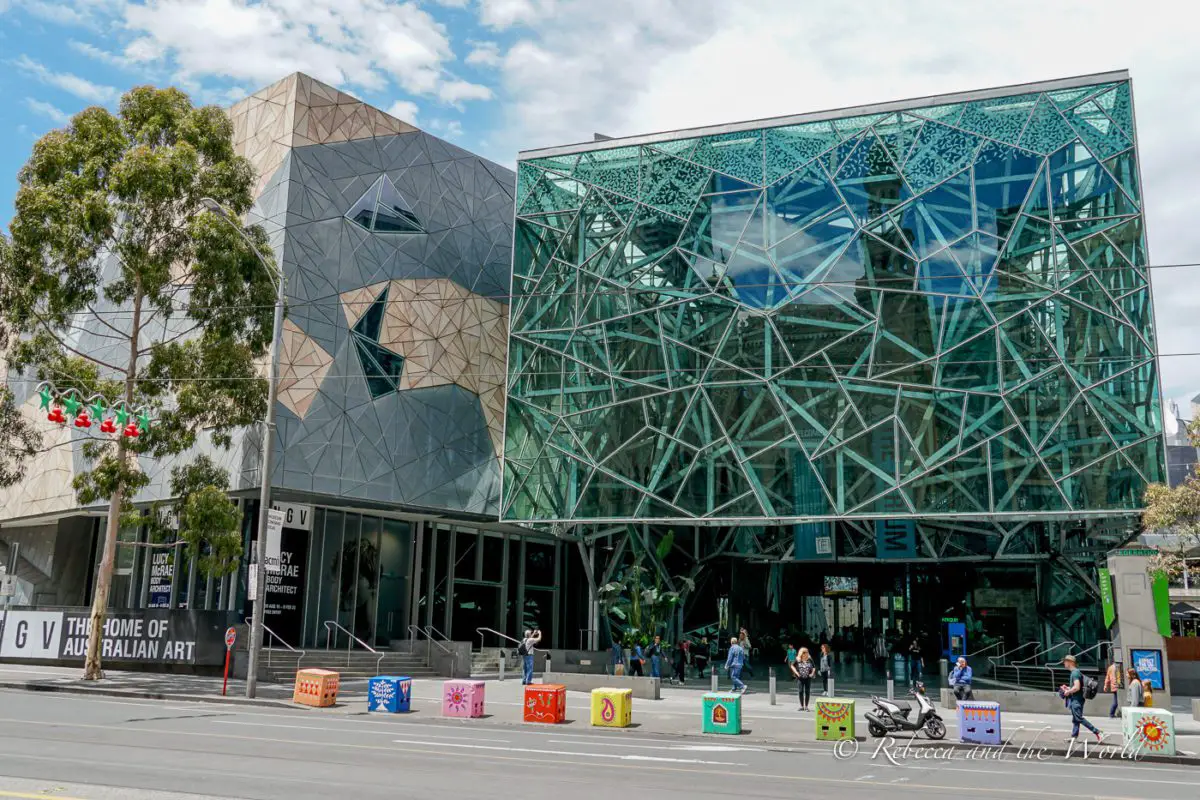 Federation Square (or Fed Square, in our typical Aussie way of shortening absolutely everything) is a great place to start your 3 days in Melbourne. This open-air venue has art galleries, museums, shops, cafés and bars. On weekends (in summer especially), it's usually packed with people watching a free concert or show.
There's a visitor information centre here, so grab a free city map to orient yourself.
At Fed Square, visit ACMI, the Australian Centre for the Moving Image, where you can experience video and sound art and interactive spaces.
The Koorie Heritage Trust is the place to go to learn more about First Nations culture – the oldest continuous living culture in the world. The Trust has a huge Koorie art collection and you can buy handcrafted goods (and know that they've actually been made by Indigenous people). The Trust also runs regular walking tours nearby, and I can recommend it as an opportunity to really delve into the culture.
Also at Fed Square is the Ian Potter Centre. This gallery features only Australian and Aboriginal art.
You can also get a good look at Flinders Street Station from here. This station is the main hub for Melbourne's public transport system, and an iconic and historic building itself.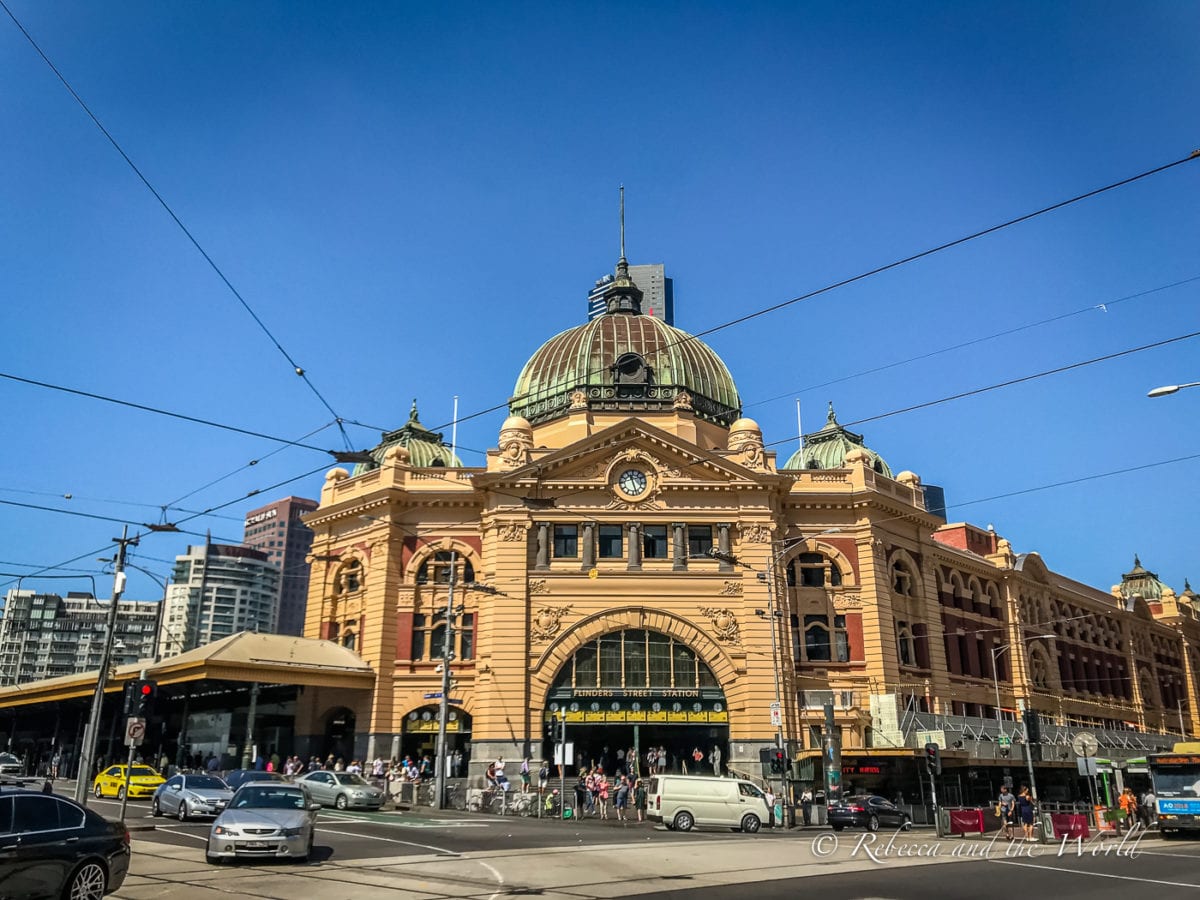 Tips for visiting Federation Square
Stroll the streets
After wandering through Fed Square, spend some time exploring the rectangle of the CBD that is bordered by Flinders, Swanston, Lonsdale and Elizabeth Streets. In this easily walkable area, there's plenty to see.
At the top of Swanston Street, you'll pass St Paul's Cathedral. Entry is via Flinders Street, and there are information guides available so that you can do a self-guided tour. If you visit outside of the regular services, you'll be able to explore more of the cathedral.
Keep walking until you hit Bourke Street. The Bourke Street Mall is a pedestrian-only block with plenty of shopping options, including Australia's iconic department stores, Myer and David Jones. From here you can also check out the beautiful Royal Arcade and Block Arcade. These arcades were designed with the spoils of Melbourne's huge wealth during the Gold Rush of the 1800s.
Check out street art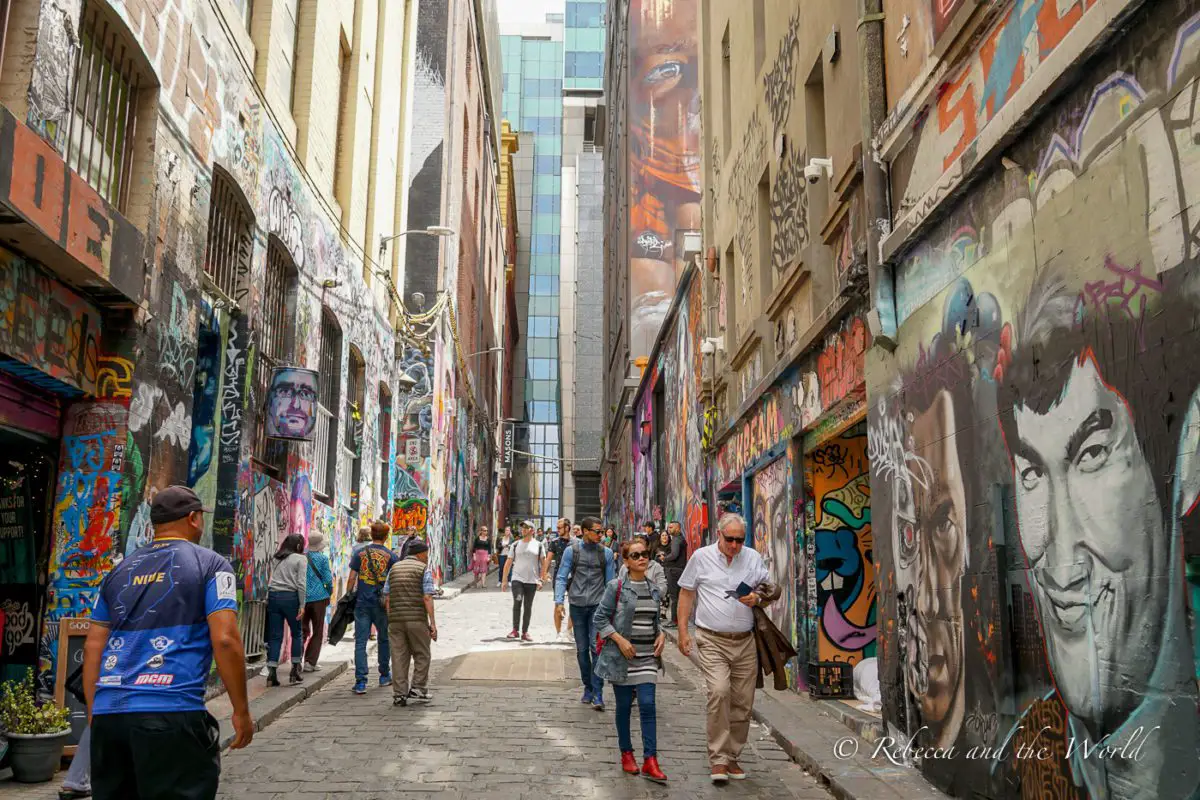 In the CBD, there's also a labyrinth of laneways to discover. Originally used for horse and cart access, these alleyways are now bursting with cafés, bars and boutiques – as well as an outdoor gallery for some of Melbourne's best street artists.
Melbourne's street art scene is world famous, so make sure to pop into a few of the popular laneways to check out the work of local and international artists. Some of the best are Hosier Lane, ACDC Lane and Centre Place.
You can either explore these alleyways by yourself, or join a street art tour to get a bit more background on the art that you're seeing. Melbourne Street Tours runs a great street art tour, led by actual artists who can point out their own handiwork. The tours start at 1 p.m., however, so plan your day so that you can grab some lunch first. (P.S. I have a whole guide on the best Melbourne tours if you want to explore more options for day tours.)
Chinatown
Continue wandering down Swanston Street to Chinatown. While not as large as some other cities' Chinatowns, here you'll find the Museum of Chinese Australian History, along with plenty of food options. Grab a table at Shanghai Dumpling House, HuTong or ShanDong Mama.
Tips for visiting Chinatown
Chinatown runs along Little Bourke Street, between Swanston and Spring Streets.
The Chinese Museum is located at 22 Cohen Place. Adult tickets cost $11.
State Library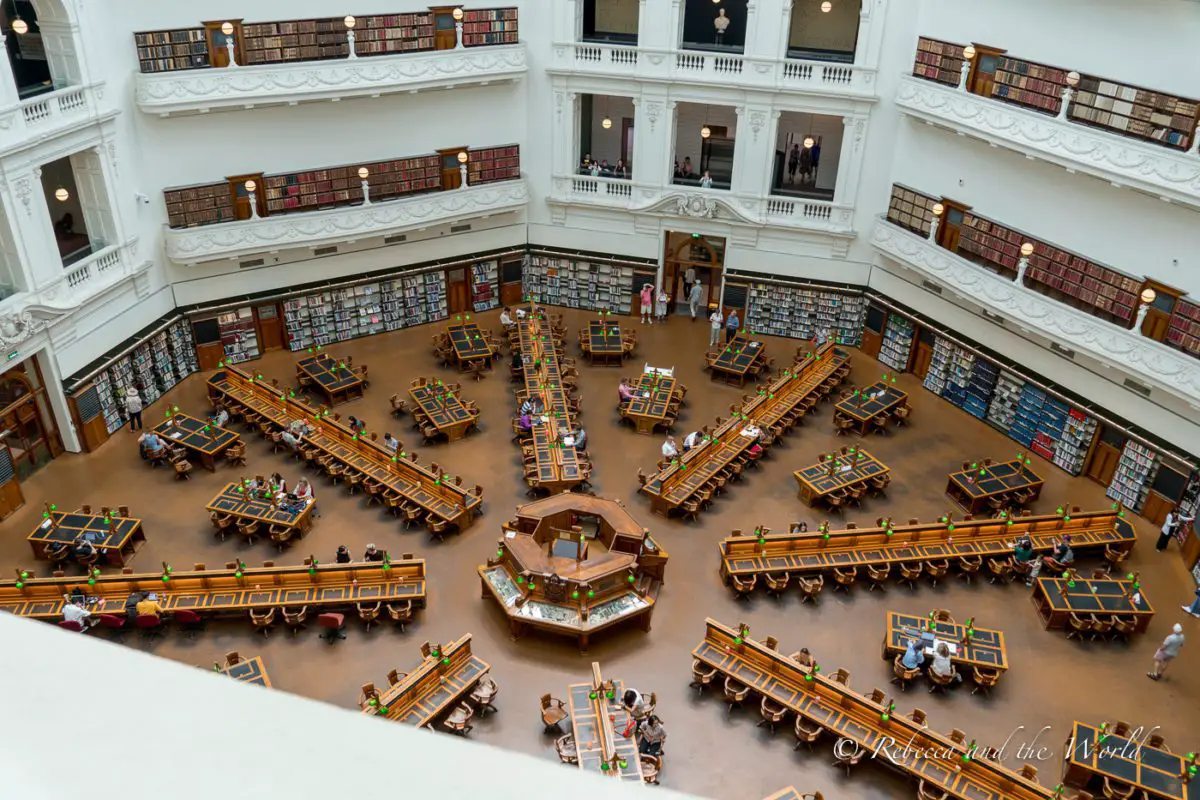 Now stuffed with dumplings, slowly wander down Swanston Street to the State Library. Even if you're not that into books, you'll be blown away the grandeur of one of Melbourne's most beautiful buildings.
Inside, check out the La Trobe Reading Room – probably the most photographed room in the whole library – the newly reopened Queen's Hall and Ned Kelly's armour, which is on display in the Victoria Gallery. (Funnily enough, the judge that sentenced Kelly to death by hanging was a key player in the founding of the library. I wonder how he'd feel today knowing that his armour now takes pride of place here!) There are also regular special exhibitions.
Tips for visiting the State Library Victoria
The library is at 328 Swanston Street. It's open daily. Visit their website for details of special exhibits.
The library runs free tours every day which are a great way to learn more about the history of the library.
No food or drink is allowed in the library. If you're carrying a big bag, there are self-service lockers at both entrances. There are public toilets at the library.
Beer at a rooftop bar
After all that walking and exploring, you've definitely deserved a beer! And one of the best things to do in Melbourne as the sun goes down is to enjoy that beer on a rooftop. Rooftop Bar is, unsurprisingly, a bar on the rooftop of Curtin House. Brave the creaking lift or take the stairs to the top.
For dinner tonight, there are several options nearby:
Mid-range:

Simply wander downstairs from Rooftop Bar to either Cookie (Asian) or Mesa Verde (Mexican).

Mid-range:

Or, take the tram just a few blocks back down toward Fed Square for dinner at iconic Melbourne restaurants MoVida (Spanish) or Supernormal (Japanese).
I've got a whole lot more Melbourne CBD restaurant recommendations so you can plan your dinner.
Day 2 – Hit up the hipster hoods
Now that you've ticked off some of Melbourne's tourist attractions, spend day two "doing as the locals do" and visit some of our coolest neighbourhoods. The hip neighbourhoods of Fitzroy and Collingwood are on the city's northern fringes, and are perfect for chilling out, grabbing a local beer, browsing a local boutique and tasting great food.
Queen Vic Market
First up, though, let's visit the Queen Victoria Market. Established in 1878, the market sits on 7 hectares and is one of the largest in the southern hemisphere. I love visiting markets in foreign cities and countries to get a glimpse of local life, and Melbourne's Queen Vic Market is no different.
Spend some time wandering the shops along String Bean Alley (no prizes for guessing what was originally sold in this section!), grab a coffee and check out the locally made goods. Continue along the outdoor sheds and explore the undercover specialty shops and fruit and veg stands.
At the end of I Shed, join the queue to purchase some fresh, piping-hot jam doughnuts from the American Doughnut Kitchen van. This van has been operating here since the 1950s – and is still in the hands of the original family. Just be careful – wait for the doughnut to cool before biting in, you don't want to spend the rest of the day with a burnt tongue! (Every Aussie kid has experienced this at some stage!)
Head inside to the Dairy and Produce Hall to be overwhelmed by the cheeses, deli meats, fresh breads, and herbs and spices for sale.
If it's a Tuesday, Thursday or Saturday when you visit Melbourne, then consider joining the Ultimate Foodie Tour, a 2-hour tour that explores the market's food and history. There are plenty of samples on the tour, so come with an empty stomach!
Tips for visiting the Queen Vic Market
The Queen Vic Market is at the corner of Elizabeth and Victoria Streets, and is within the free tram zone. Tram routes 19, 57, 58 and 59 stop out the front or nearby, or it's a short walk from Melbourne Central or Flagstaff train stations.
The market is open Tuesday, Thursday and Friday from 6 a.m. to 3 p.m., Saturday 6 a.m. to 4 p.m. and Sunday 9 a.m. to 4 p.m. Specialty shops open at 9 a.m.
There are seasonal night markets on Wednesday evenings, take a look at the website to see what's going on when you visit Melbourne.
The Queen Vic Market is plastic bag and straw free, so pack a reusable bag if you're planning to make some purchases.
If your 3 days in Melbourne includes a Tuesday, Thursday or Saturday, then book a spot on the Ultimate Foodie Tour. It's held Tuesday and Thursday at 11 a.m. and Saturday at 9 a.m. and 11 a.m., and takes 2 hours. The price is $69 for adults and $49 for children and includes tonnes of samples, a branded shopping bag and a $5 voucher for the market. Tours depart from 65 Victoria Street, just near the corner of Elizabeth Street. Book a ticket online.
Collingwood and Fitzroy
Now, head over to Collingwood and Fitzroy. If you're still hungry – even after the sampling extravaganza at the market – grab a burger inside an old train carriage on a rooftop (I told you Collingwood was super hipster) at Easey's. Or the Vegie Bar serves up delicious vegetarian food that even carnivores will love.
Spend the afternoon exploring the area. If it's a Saturday or Sunday, the Rose Street Market will be taking up several blocks. More than 100 vendors sell handmade earrings, clothing, handbags and artworks.
If you feel like walking a bit (or grab an Uber), head over to the Abbotsford Convent. This former convent and orphanage is now an artsy community hub located on lush grounds. You can wander through the studios and galleries.
In the afternoon, stop for a pint at Stomping Ground Brewery or Fixation.
In the evening, there are plenty of options for dinner:
Budget:

Grab a $5 pizza from Bimbo

Mid-range:

A pub meal from the Marquis of Lorne (try their potato cakes, they're so good!) or some vegetarian food from Smith and Daughters or Transformer will tide you over

Fancy:

Cutler & Co and Charcoal Lane are both known for their great food that focuses on Australian ingredients – the latter is a social enterprise that helps Aboriginal and Torres Strait Island youth learn hospitality skills. (I got married here!)
Getting to Collingwood/Fitzroy
After you leave the Queen Vic Market, walk about 7 minutes to the corner of Elizabeth and La Trobe Streets. From here you can take the number 12 tram to Smith Street. You'll get off at the bottom of Smith Street and need to walk (don't miss the Smith Street stop otherwise you'll end up heading toward Richmond).
For less walking, from Queen Vic Market, take tram number 19 from Elizabeth Street (out the front of the market), go two stops and get off at the Bourke Street Mall. Then take the number 86 tram from Bourke Street/Elizabeth Street all the way to Smith Street.
Day 3 – Head to the beach
The final day of your 3 days in Melbourne is a super relaxed and gets you out of the CBD – including a visit to the beach.
To start the day, visit either the Royal Botanic Gardens or the National Gallery of Victoria. Both are great spaces to explore, so you can make your decision based on whether you're up for an indoor or outdoor kind of morning.
Royal Botanic Gardens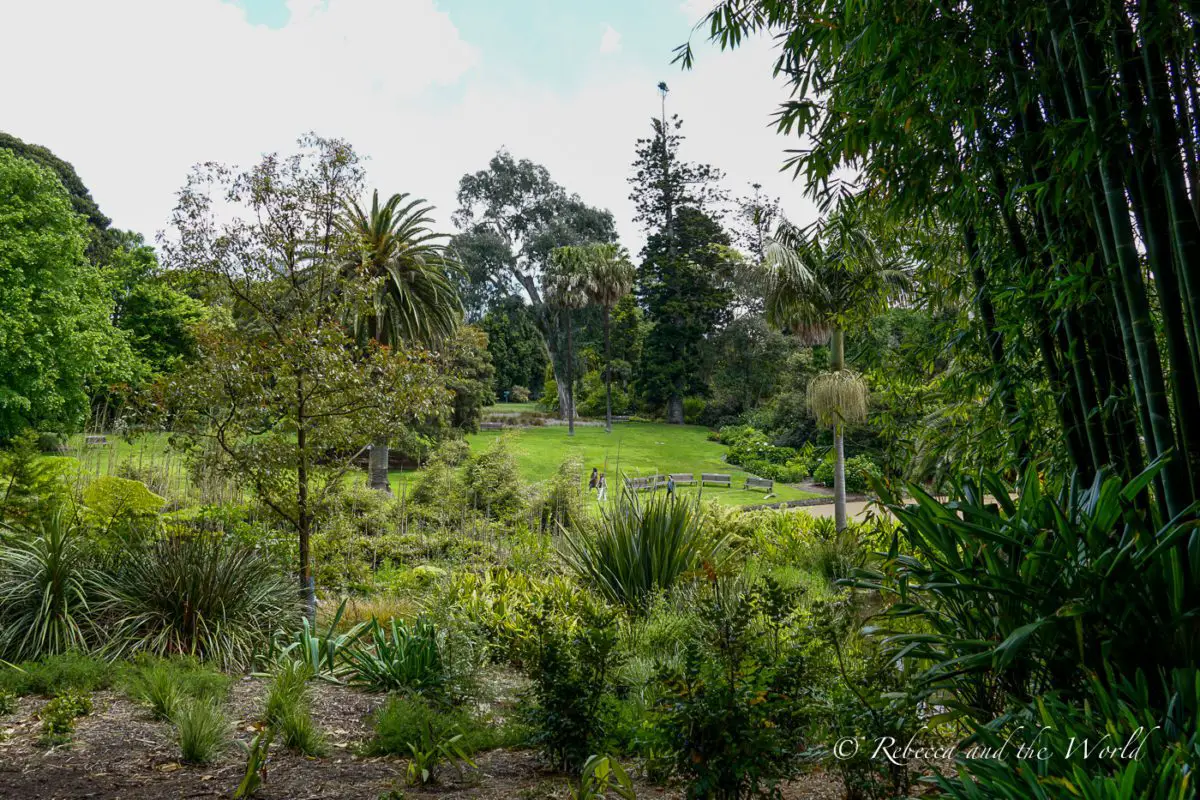 Before you hit the beach, start at the Royal Botanic Gardens. Over 36 hectares of gardens make up this lovely relaxing spot in the middle of the noisy city.
You could easily spend a few hours wandering through the gardens yourself, but I highly recommend booking a spot on the Aboriginal Heritage Walk. This interactive tour is led by an Indigenous guide who begins the experience with a welcoming ceremony, followed by a walk through the gardens and a discussion over cups of lemon myrtle tea. This is one of the best ways to learn about First Nations history and traditions.
Tips for visiting the Royal Botanic Gardens
The Royal Botanic Gardens is located at Birdwood Avenue. It's open daily from 7.30 a.m. to 5 p.m. Entry is free.
To get here, take a tram to stop 19 (Shrine of Remembrance/St Kilda Road). Tram routes 3/3a, 5, 6, 16, 64, 67 and 72 go past the gardens. Otherwise, it's a nice and easy walk from the CBD, directly down Swanston Street (which turns into St Kilda Road over the Yarra River).
The Aboriginal Heritage Walk can be booked online here. The tour is held daily and costs $35. It starts at 11 a.m. and goes for 1.5 hours.
National Gallery of Victoria
If you'd prefer to stay indoors – especially it's one of those days where Melbourne hasn't quite made up her mind about what's she's doing with the weather! – head to the National Gallery of Victoria instead.
The NGV is free to enter, although special exhibitions have an entry fee. This museum is Australia's oldest, largest and most visited gallery. It's one of the best places to visit in Melbourne for art lovers.
You'll probably need around 1-2 hours to wander through the museum's free exhibits, and longer if you are visiting a paid exhibition as well.
Tips for visiting NGV
The NGV is located at 180 St Kilda Road. The gallery is open daily from 10 a.m. to 5 p.m. and is free to enter.
Tram routes 3/3a, 5, 6, 16, 64, 67 and 72 stop out the front of the NGV.
There's a secondary site, the Ian Potter Centre: NGV Australia, at Federation Square. This gallery features only Australian art, including a large collection of Aboriginal art and artefacts.
There are regular free tours (check the website for details).
St Kilda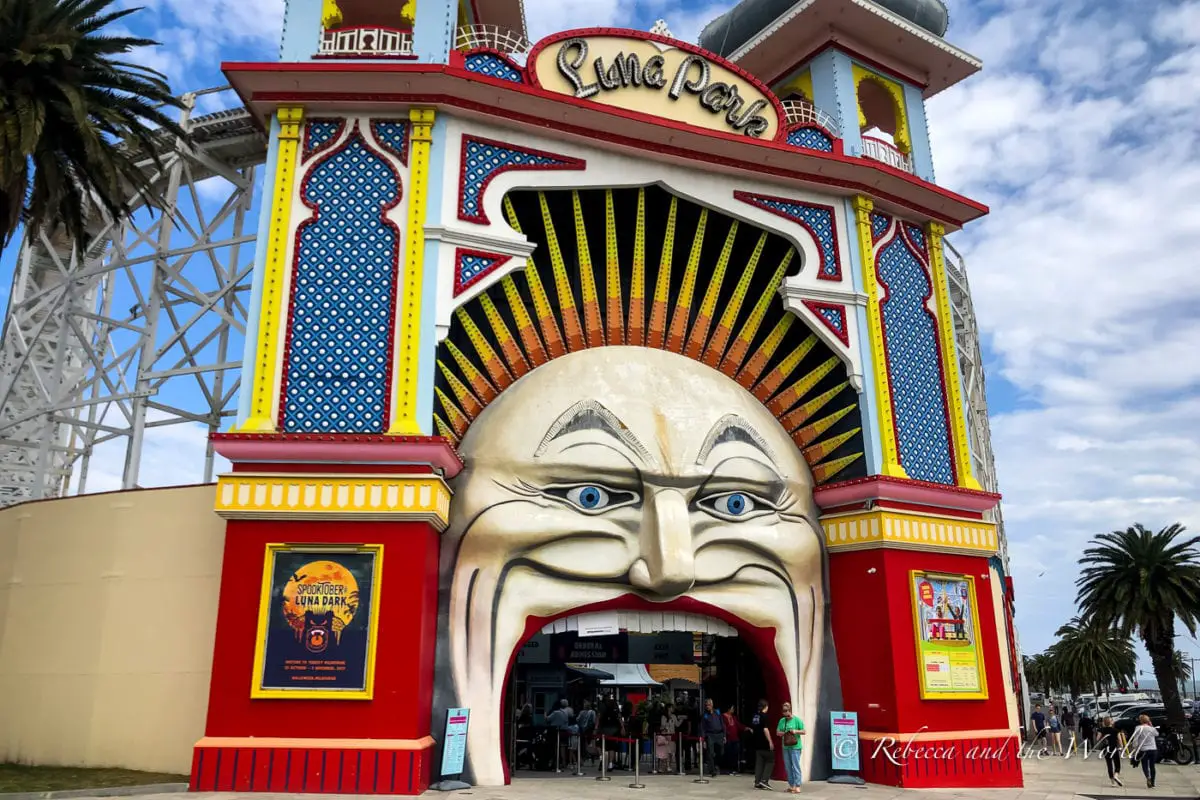 Jump on a tram to St Kilda. By the time you arrive in St Kilda, you'll probably be starving, so grab lunch.
Mid-range:

Fitzrovia is great for brunch or lunch.

Mid-range:

Try Babu Ji, known for its delicious Indian food.
After lunch, stroll around St Kilda. If it's a Sunday, the St Kilda Esplanade Market will be on. So you can spend some time wandering through the arts and crafts stalls.
Wander along the St Kilda Foreshore, sunbathe on St Kilda beach or watch the kitesurfers on the water, and walk out along the St Kilda Pier. This area is one of the most popular Melbourne attractions for locals and visitors alike, so it'll be packed on a sunny day.
If you want to have some old-time fun, head to Luna Park and brave the rickety rollercoaster which is more than 100 years old! Luna Park is free to enter and there are some fun rides and games inside. It's one of the best things to do in Melbourne with kids – but adults will have just as much fun.
As the sun goes down, head back to the St Kilda Pier to watch the cute little penguins waddle out of the water at dusk. There's a viewing area above the breakwater at the end of the St Kilda Pier. No flash photography is allowed.
For dinner, St Kilda has plenty of options:
Mid-range:

Lona Pintxos Bar or Supernormal Canteen for Spanish tapas and Japanese food respectively.

Fancy:

If you've got some cash to burn, try the multi-course tasting menu at Attica, one of the world's best restaurants multiple years in a row – it's incredible (but expensive)!
After dinner, if you've still got some energy, head to The Espy for another drink or to catch a gig. Or see if there's a show on at the Palais Theatre. This iconic Melbourne venue has hosted huge international acts like The Rolling Stones, but also has great Aussie acts regularly.
Getting to St Kilda
You're heading out of the free tram zone when you go to St Kilda, so you will need to have a Myki card. I've got information about those and how to purchase one at the end of this article.
From the CBD, take the #16 tram from Swanston Street, the #96 from Bourke Street or the #12 from Collins Street.
Got 5 days in Melbourne?
Got more than just 3 days in Melbourne? Here are some more things to add to your Melbourne itinerary.
You could either relax this 3 days in Melbourne itinerary and stretch it out to 5 days by taking it slower with your Melbourne sightseeing. Spend a couple of days around the CBD and add on a few more things to do in Melbourne:
PS. If you want to save money while you're in Melbourne, consider buying an iVenture Card which can nab you up to 40% off major Melbourne attractions!
I've got more ideas in this guide to the top 25 things to do in Melbourne.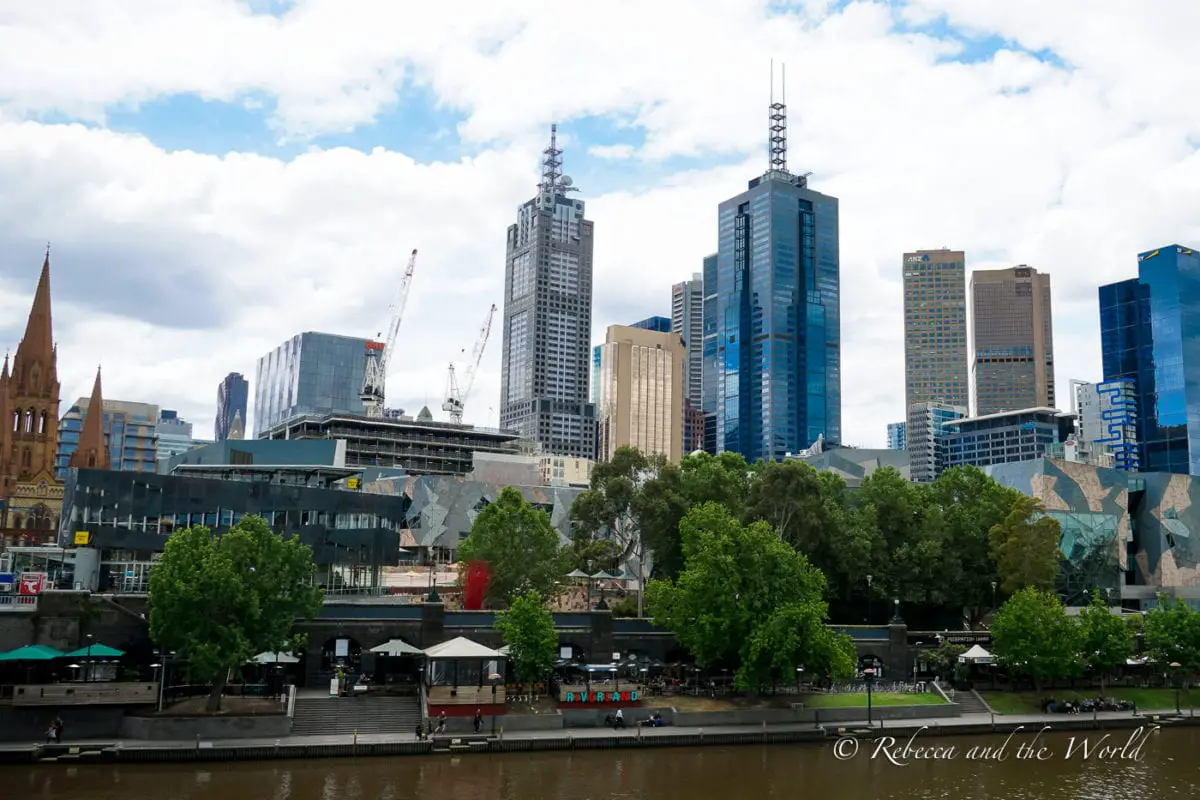 Or, you can follow this Melbourne 3-day itinerary as it is and add on a couple of day trips. You can rent a car to do these day trips, or below I've linked some day tours you can book.
If a day trip just wasn't long enough, plan a few days away with my guide to the best Airbnbs in Victoria. They're all within 1-4 hours' drive of Melbourne.
Melbourne travel tips
To help you plan your Melbourne itinerary, here's some handy logistics info about getting here and getting around.
Getting to Melbourne
One important thing to know when you're thinking through your Melbourne itinerary is that Melbourne has two airports: Tullamarine and Avalon.
Tullamarine (also known as Melbourne Airport, code: MEL) is the largest airport and it's where most international flights arrive. This is the closest airport to the city, although it's still a 30-minute drive into the CBD.
The second airport is Avalon (code: AVV), which is further from the city, near Geelong. This is the airport where most budget airlines fly into, including a small number of international flights from Asia.
How to get to the city from Tullamarine Airport
Unfortunately, Melbourne is still without a train to and from the airport, so to get from Melbourne airport to the city, your options are Uber/taxi, renting a car or taking the SkyBus.
An Uber or taxi will cost you around $45-$60. The taxi rank is clearly marked when you leave the terminal, and there's a special pick up area for shared vehicles.
Rental cars are easily accessible from the airport. All the rental companies are located outside Terminal 2. During the busy times, it can be really slow to pick up a car. I use Rentalcars.com to compare the major car rental brands to get the best price.
The Skybus is a bus transfer that operates 7 days a week. It goes from Melbourne Airport to the CBD, St Kilda and Southbank. One-way fares cost from $19.75. You can buy tickets online here.
Another transfer option are the smaller vans operated by StarBus. You can book online here from $20 per person.
How to get to the city from Avalon Airport
If you decide to book a flight into Avalon because it's super cheap, remember that you need to also factor in the cost of then getting from the airport to Melbourne.
As the airport is around 50 kilometres from Melbourne, an Uber or taxi will set you back $100-$120.
A far more affordable option is the SkyBus, which costs $24 one way and takes around an hour to get to Southern Cross Station.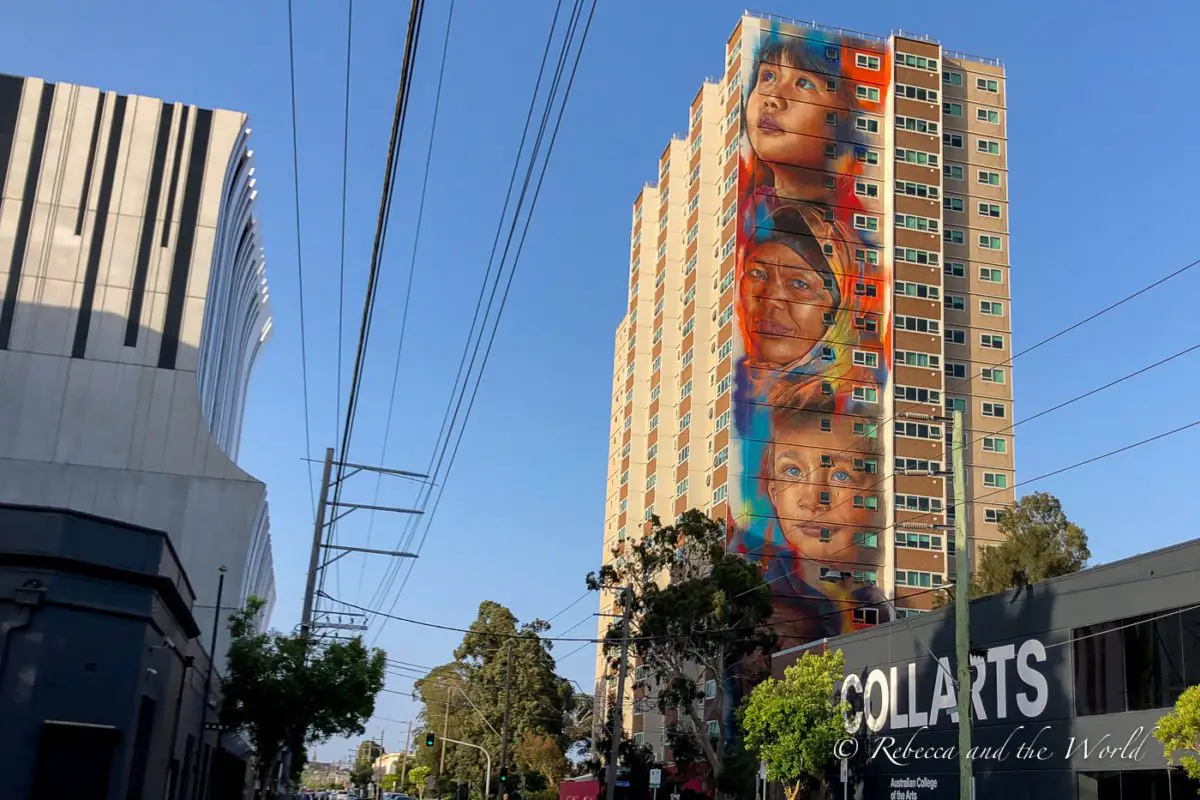 How to get around Melbourne
So, now you've arrived in Melbourne, you've made it to the city and you've figured out what to do in Melbourne. Now, how do you get around?
Public transport
While all Melburnians will complain at some point or another about our public transport system, it's actually pretty good, especially if you're sticking to the inner city like this Melbourne itinerary outlines.
Trams are great – and can be fun for first-time visitors! They're also free around the CBD. The Free Tram Zone conveniently passes by the top Melbourne city attractions, including everything listed on day 1 of this itinerary. The Free Tram Zone map online shows you what's covered.
If you're heading outside this free zone on the trams – or taking a train or a bus (but trains and trams are far more popular than buses) – you'll need to get a myki travel card. You can pick up a myki Explorer Pack at the SkyBus ticket booth or at a major train station like Southern Cross Station. Some hotels also have them available. As well as a myki card, it comes with a map and some discount coupons. Recharge the card at 7-Eleven stores, ticket offices at train stations or the myki machines at some tram stops.
If you can't find a myki Explorer Pack, you can easily buy just the travel card at one of the major train stations (pick one up from Flinders Street Station on the first day of your visit to Melbourne).
You simply tap your myki on the readers when you get on and off the tram, or tap it to enter the train station. It'll then deduct the fare for your trip. You can check your myki balance at the top-up machines.
When you leave Melbourne, gift your myki card to someone else or leave it at your hotel, as it's reusable. Or keep it if you're planning to return to Melbourne.
There is a myki app but it's only available on Android phones (come on Melbourne, where's the option for iPhones?!).
Ride sharing and taxis
Beyond public transport, Ubers are everywhere. Taxi ranks can be found in front of hotels usually and out the front of major train stations. Although I don't find them to be as clean as Ubers.
Renting a car
A car really isn't necessary in Melbourne if you're just sticking to the inner city. Parking can be tricky in some areas, not to mention expensive if you're in the city. Plus we have these weird things called hook turns in the CBD that will confuse the hell out of you!! And you need to remember to stop for trams!
But if you do have more than 3 days in Melbourne and want to do some day trips, renting a car can be an affordable way to do it. Check out Rentalcars.com for rental options that you can pick up from the airport or at other locations in the CBD.
Bike
If you want to burn some energy, it's easy to get around Melbourne by bike. There are several marked bike lanes around the city. But do keep an eye out as some Melbourne drivers are aggressive when it comes to cyclists.
Unfortunately, our bike-sharing system was scrapped some time ago, but you can rent a bike from a private company like Rentabike.
When to visit Melbourne
Melbourne has a temperate climate and can be visited year-round, but there are some pros and cons to each season – I have an article dedicated to the best time to visit Melbourne, including a list of the best events to plan a trip around.
In summary, I'd say spring and autumn are the best months to visit Melbourne. The weather is mild and it's really pretty (in autumn the leaves are changing colour, in spring flowers are blooming). Depending on what events are going on, you might also be able to get some good shoulder season bargains.
Summer can get pretty hot, but the vibe in the city is fantastic! Bars pop up everywhere, people are out walking and there's always an event going on. But, it's also peak season which means crowds and higher prices.
Winters can be downright miserable and rainy – but not always! It's winter as I write this article and the past week has been sunny with temperatures of 16 degrees each day. Prices are far cheaper during this time of the year, and there are still some good events scheduled.
Regardless of the time of year, Melbourne has a "four seasons in one day" adage that applies year-round. Come prepared for unexpected weather: maybe a heat wave followed by rain and then a drop of 10 degrees. Who knows what kind of weather you'll get!
Where to stay in Melbourne
I've got a whole guide on where to stay in Melbourne, but for this itinerary, the CBD is probably the best place to stay.
In the CBD, there are plenty of hotel options. Here are some recommended ones:
Budget
ibis Melbourne Central – This budget hotel is just behind Melbourne Central, so you know you're staying in a great spot. The rooms may be on the small side, but they've got a minimalist design and are clean. Book a stay online | Read reviews of ibis Melbourne Central online
Mid-range
Novotel Melbourne on Collins – The rooms at the Novotel are spacious and the beds get top marks for comfort. Each room has a view over the hotel's glass atrium or down onto Collins Street below. Book a stay online | Read reviews of Novotel Melbourne on Collins online
Luxury
Adelphi Hotel – Because this hotel has only 34 rooms, you can be sure you'll get first-class attention at one of the funkiest hotels in Melbourne. The rooftop pool has a see-through bottom so you can spy on the people walking in Flinders Lane below. Book a stay online | Read reviews of Adelphi Hotel online
Check out more Melbourne hotels in the CBD | Read reviews of Melbourne CBD hotels
There are plenty of Airbnb properties in Melbourne, including in the CBD. This apartment in the CBD is stylish and has amazing views, while this apartment is just incredible – it would be like staying in a magical forest! To find more properties, use the search box below to find the perfect place to stay.
Don't forget travel insurance!
Melbourne's a pretty safe city, but if you're travelling internationally, you always, always need travel insurance! It covers you if your bags go missing or if you get sick and need to go to a hospital. I use World Nomads whenever I'm travelling internationally. They respond to claims quickly and offer great prices and coverage for tonnes of activities.
So, that's everything you need to know to plan an awesome fun, food and culture-filled 3 days in Melbourne itinerary. Enjoy your visit!
Is there anything else you'd add to this Melbourne itinerary? Let others know your recommendations in the comments below!
3 DAYS IN MELBOURNE – YOUR TRIP ESSENTIALS