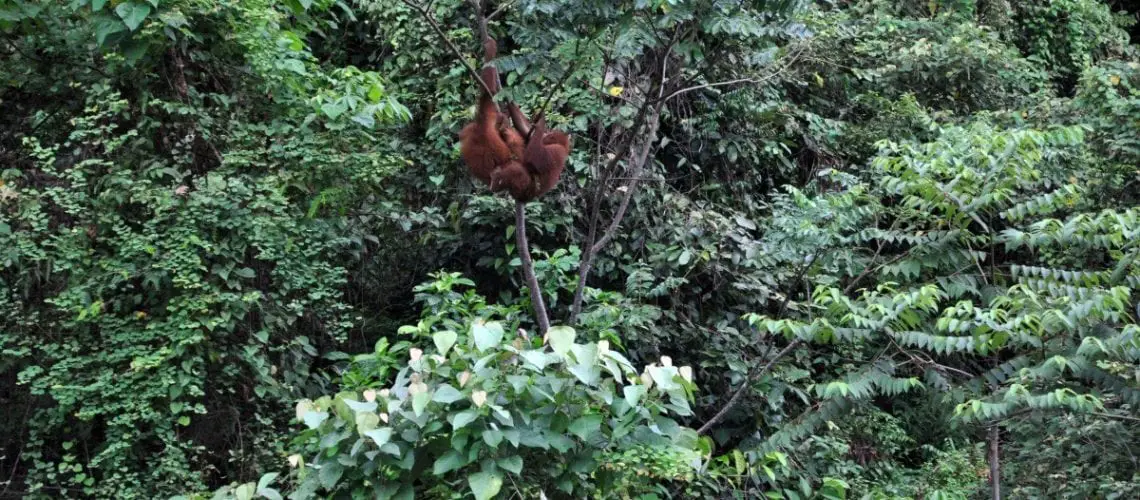 This is part four of my jungle adventure in Bukit Lawang, Sumatra. Read parts one, two and three for previous tales.
Sitting at the Jungle Inn late morning of my last day in Bukit Lawang, I was talking to Andy and Alex about their travels.
The English couple has taken a year-long sabbatical to travel through Asia and South America with a loose itinerary, and had already been on the road for three months.
All of a sudden, in the middle of a story about an interesting guy they'd met in Malaysia, Alex stops and excitedly points. "Look!" she says.
Across the river, a mother orangutan and her baby amble along the rocky bank, heading towards the trees. We watch her progress as she climbs up, up, up to the top of some trees, a seemingly impossible height. Her baby clings firmly to her back.
Wow. What a truly special moment.
But barely 10 minutes pass and another smaller orangutan makes its way out of the trees. Followed by another.
The two scamper alongside the river, then playfully tumble with each other in a way that you can imagine two human brothers play-fighting.
And that is the magic of Bukit Lawang.