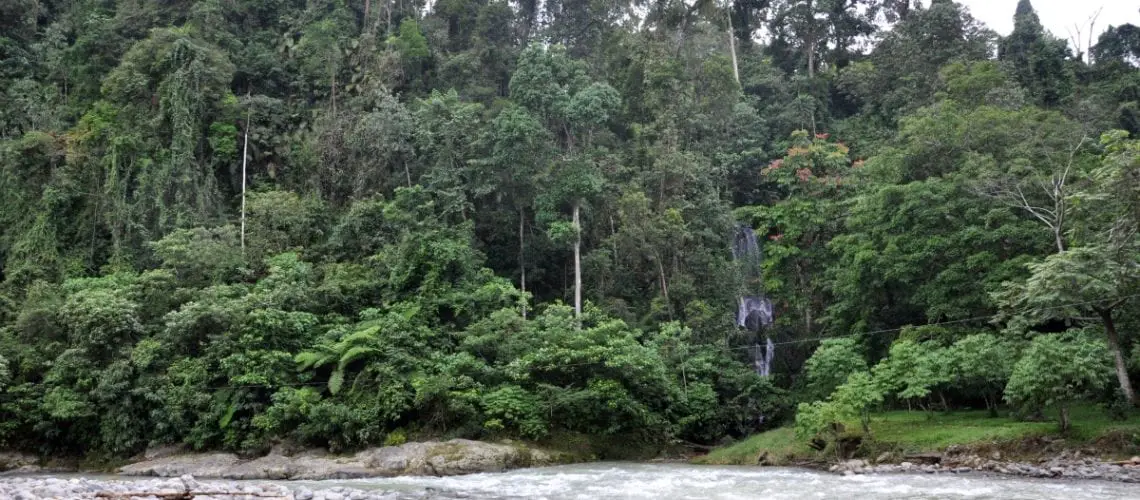 There's something to be said about the calming effects of being surrounded by jungle. Huge walls of greenery stretching up the face of mountains, the sound of a waterfall rushing into a fast-flowing stream, the smell of earth and impending rain.
And that was exactly where I found myself for a weekend, a side trip while in Indonesia for work. I'd wanted to spend some time somewhere and the options were Bali or Phuket, but on the recommendation of a friend living in Indonesia, I couldn't resist the chance to see orangutans in the wild, so Bukit Lawang it was.
Bukit Lawang is most famous for being a gateway to Gunung Leuser National Park – a great place to see orangutans, monkeys and birdlife.
A tranquil village set on a river, it's a place to relax and amble around the village, and, if you're up for some hard work, trek through the jungle to see orangutans.
After arriving in town via a hair-raising trip – the usual Asian car ride: speeding up behind trucks then slowing down abruptly, dodging chickens and dogs and children, swerving around motorbikes – I settled myself in my room. Picture (or just look at the pictures below) a large, airy room with a huge four-poster bed and an outdoor bathroom downstairs with a view looking up the jungle above. Heaven. And all for $A38.
Grabbing my book, I sat in the hammock on my balcony overlooking the river, barely able to read because of the distracting view.
For an afternoon snack, I munched on the most decadent fruit salad ever prepared in history – an enormous plate of papaya, pineapple, banana, oranges and passionfruit, set pretty much in its own flower bed. For $A5.
After wandering for a bit through the main street (a pathway) of lower Bukit Lawang, I ate dinner and decided to hit the sack early in preparation for my trek into the jungle the following day.
Stay tuned for part two of my adventure in the Sumatran jungle – where I put my body through trauma trekking for hours in the jungle, and come face to face with orangutans.

The lowdown

How to get there: Some of the losmen in Bukit Lawang can arrange pick ups from Medan in 4WD vehicles – the trip takes about 2.5 hours and can be a little expensive (around $65 for up to four people). Buses go to Bukit Lawang from Medan for a few bucks and take anywhere from two to four hours.
To get to Medan, buses are the mode of transport from other areas of Sumatra. Medan has an airport, and flights are available with Silk Air from Singapore for around $A200 (return).
Where to stay: There are plenty of accommodation options, but do book ahead during peak season, as the village does get full. Rooms can be found for under $10. On the recommendation of a friend, I stayed at the Jungle Inn, a beautifully set up place complete with its own honeymoon suite.
What to do: Go trekking with orangutans (a guide is necessary – day tours last about 6 hours and most tour guides charge $US35. There are overnight options too where you can sleep in the jungle), take cooking lessons, take woodcarving lessons, raft down the river in tubes, eat delicious Indonesian food, RELAX!
Is it safe? Bukit Lawang has a really nice, laidback vibe. I travelled there by myself and as a solo female traveller I got a bit of attention but not once did I feel unsafe. There have been reports (in Lonely Planet) about sexual assaults on female travellers by trekking guides, but I had no trouble at all. Take the usual precautions with your belongings, but the most trouble you're going to get into is choosing which place to eat at for dinner.
Of course, being in the jungle, there are issues with animals (monkeys in particular who may get into your room) and weather – the area is known for landslides, and in 2003 a flash flood swept through the village, killing over 200 people.