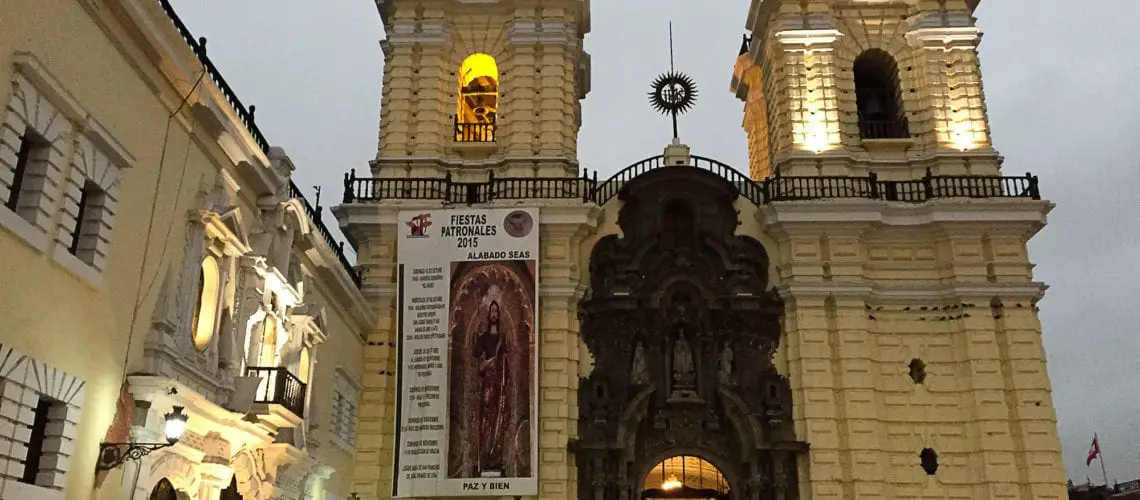 Lima wasn't a city on the top of my must-visit list. We'd listened to and read a lot of negative things about the city and we ummed and ahhed about whether we should spend any time there at all after our Salkantay Trek to Machu Picchu, or just get straight out of there and back home to Buenos Aires.
But that all changed when we actually arrived in the city and jumped straight into a Lima City Walking Tour with Jhony. Our plan had been to stay in Miraflores and explore that area, but when I found Jhony's website I thought, what the hell, let's give it a go. He showed us a side of the city that I know we wouldn't have found ourselves – and perhaps, given what we'd read about Lima, we wouldn't have even ventured out to discover it at all.
Central Lima is usually described as a pretty unsafe place to walk. With Jhony, though, we felt fine and, honestly, the descriptions of the city as risky seemed a little over the top to me.
We started out in Plaza San Martin, the ubiquitous statue of General San Martin dominating the square. Here we saw groups of people engaged in political discussions, apparently the only place people are legally allowed to do so. It was fascinating to watch people debating so intently.
Next up, it was time for a pisco sour, and what better place to enjoy the cocktail than its alleged birthplace, Hotel Maury.
A little unsteady on our feet after only one of the potent cocktails, we weaved through the peak-hour crowds, admiring the beautiful buildings and understanding exactly why the historic centre of Lima is listed as a UNESCO World Heritage Site.
We continued by foot through Chinatown and into the market, where we were at times overwhelmed by some of the more confronting foods on offer. I haven't published any of the more interesting items on sale (think brains and bulls' testicles) to avoid squeamishness!
Sprinting before it closed, we explored what was probably my favourite part of the tour: the Monasterio de San Francisco. I wish I could have taken more photos in here but it wasn't allowed. The inside of the monastery is incredibly beautiful, and it also houses hundreds (possibly thousands) of ancient religious texts in a gorgeous library lined with bookshelves. The most interesting part, though, are the catacombs that house more than 75,000 bodies. Many of the remains are exposed and you can walk past them through small tunnels.
We ended the tour in the Plaza de Armas, where the cathedral and other buildings were beautifully lit up in the dying evening light.
It was a reminder to me never to judge a city based on other peoples' reviews, and to get out and explore it – often best done with a local expert.
Save