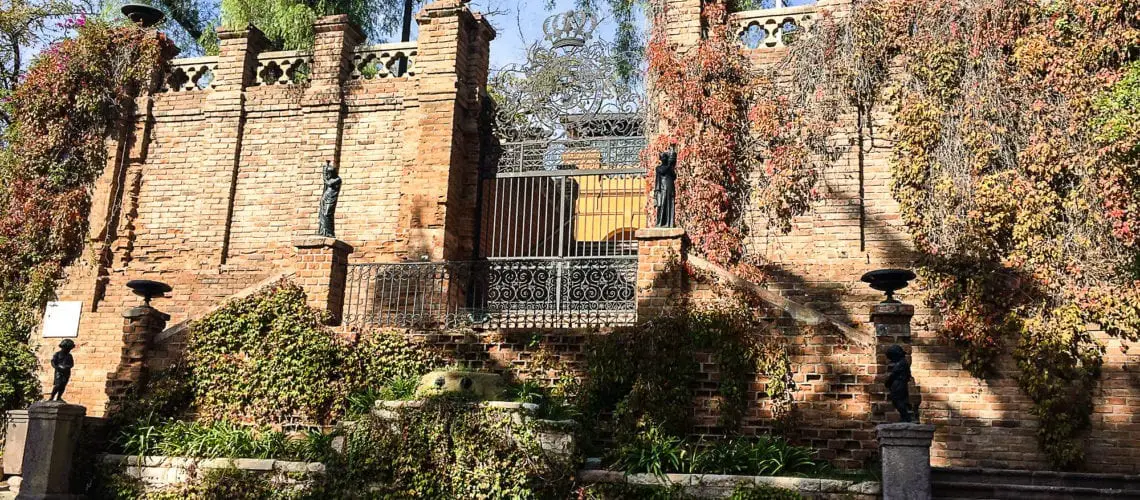 Living in Buenos Aires, I love that it's possible to hop on a plane and be in another city in a few hours. Rio de Janeiro, Santiago, Lima, are all close enough to justify a long weekend.
And when you find a bargain flight, well, there's really just no excuse not to pack a suitcase and go.
The destination for our most recent weekend getaway was Santiago, Chile – our first time in the country. After coughing up a ridiculous sum of money for a visa (thank you Australian Government for the reciprocity fee…) we headed into the city. Here are some highlights from the weekend.
La Chascona
Pablo Neruda's house is fascinating for its quirky creativity and links to the sea. It was built in the 50s for his secret mistress and contains a number of remarkable artworks, photos and knick-knacks. My favourite room was the "summer bar", and I am now of the belief that every house should have a summer bar.
Wandering through Bellavista barrio
Most famous for its nightlife, we actually wandered through here during the day and saw lots of cute little shops, restaurants, bars and street art. La Chascona is located in this barrio.
Cerro Santa Lucia
You can escape the hustle and bustle of big city life in Cerro Santa Lucia, a small hill surrounded by lovely gardens. The area also houses a fortress from the 19th century. There is a great view of the city and the peaks of the Andes in the distance (mind the smog hanging over the city).
Museo de la Memoria y los Derechos Humanos
This carefully put-together museum recognises the thousands of people who were killed or disappeared during the brutal rule of General Augusto Pinochet. It is located in a contemporary building in Barrio Brasil. It's a heart-wrenching place but crucial for anyone trying to understand that period in Chile's history.
Centro Cultural Palacio de la Moneda
This underground cultural centre hosts a variety of exhibitions and art displays and apparently mixes them up quite regularly. We saw an Ancient Egypt exhibition. Bonus: it's free between 9am and 12pm Monday to Friday.
Museo Nacional de Bellas Artes
Visiting this museum wasn't on my original plan, but on our way to somewhere else we walked past it and couldn't help but go inside to see more of the beautiful building. There was an intriguing display in the main foyer of the museum that was very popular with the selfie-takers.
Pisco Sour and wine tasting
I know there are arguments between Peru and Chile about which country invented the Pisco Sour. I'm certainly not going to insert myself into that discussion, but I am going to drink the cocktail, which has become a firm favourite of mine since moving to South America. A great place to try them is at Republica Independente del Pisco, but do be prepared to be overwhelmed by the choices on offer.
Local wines were also on the cards, and my husband and I each had a tasting flight (three glasses each) at Bocanariz. Delish.
Chilean cooking class
Learning to cook the food of whichever country you're in is always an interesting way to understand the culture and people. Chile apparently doesn't have the most amazing reputation for food, but we ate a lot of great dishes over the weekend, and also learned how to prepare a few classics including empanadas, sopapillas con pebre, ceviche, leche asada and, of course, pisco sours, with Uncorked (which also runs wine tours).
Have you ever been to Santiago? What are your favourite things to do there?
Save