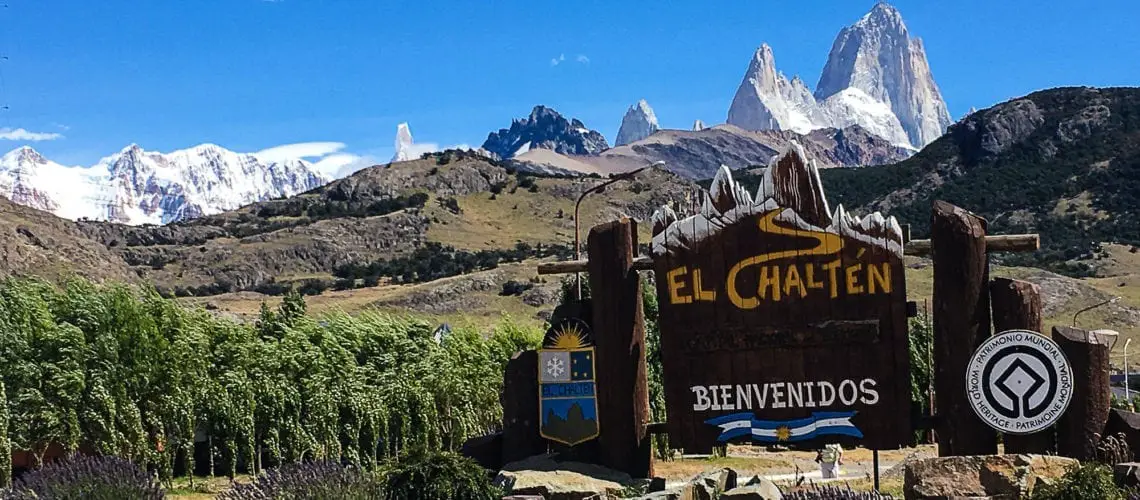 Known as the trekking capital of Patagonia, El Chaltén draws trekkers from around the globe. From world-class mountaineers to travellers simply wanting to take in the beauty of the area, El Chaltén offers hiking options for all levels of experience. It didn't take my husband and I long to discover that we were clearly on the lower end of that spectrum…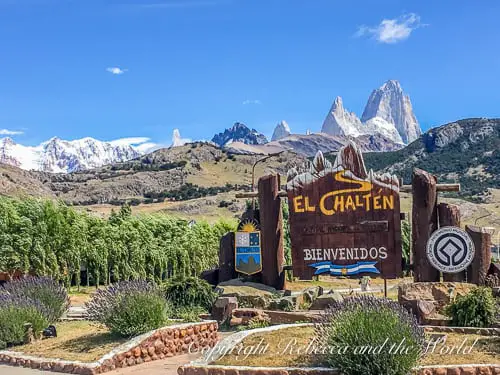 We arrived in El Chaltén via a two-hour bus from El Calafate, after our glacier-trekking adventure. The drive was stunning, with glimpses of turquoise lakes dotted among the flat, barren and windblown landscape. Small groups of guanacos (brown, llama-like animals) huddled beside the road here and there, and a fox darted out across the tarmac, causing us to be thrown forward in our seats as the bus driver quickly braked.
Our first stop was the park ranger's office, where we were given a briefing and a map and encouraged to report any rare animal sightings. El Chaltén is located inside the Parque Nacional Los Glaciares and, despite (or perhaps, because of) the increasing number of hikers, care is taken to ensure the ecological value of the area.
Checking into our hostel, we eagerly looked up to see if we could spot the peaks of Fitz Roy looming behind the town, but the gloomy sky veiled the famous jagged ridges.
"Better luck tomorrow…" We crossed our fingers.
The next morning we awoke to a clear, blue sky. Not all trekkers to El Chaltén are so lucky, so we quickly dressed, picked up our prepared lunches, and took a minivan to Hostel El Pillar.
There are two ways to get to Laguna de los Tres: a short drive to Hostel El Pillar to make the walk to Monte Fitz Roy and then a four hour walk back to El Chaltén, or an 8-10 hour round trip walking directly from El Chaltén. The first option means that you won't double back on the same path, and you have a different approach to the mountain.
We walked through a tranquil forest for hours, seeing only a handful of other people. Coming to a clearing, we had our first view of Monte Fitz Roy and the Piedras Blancas Glacier.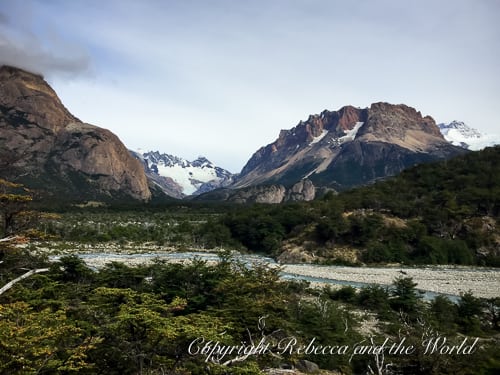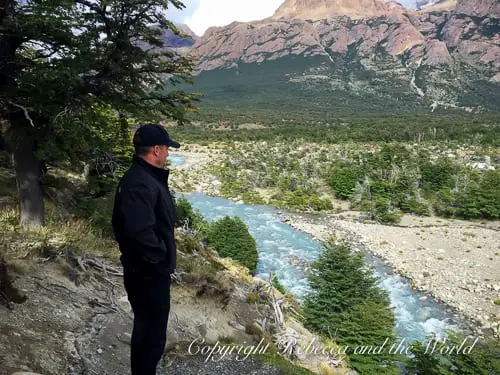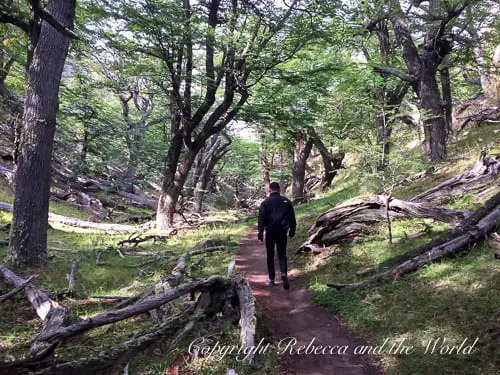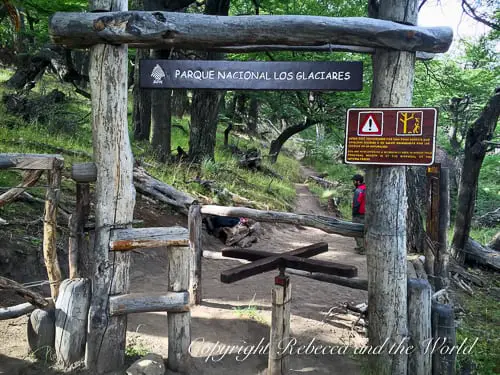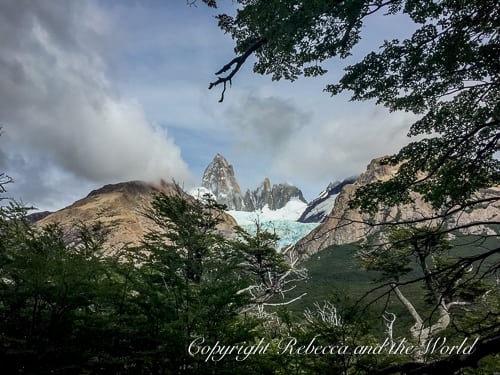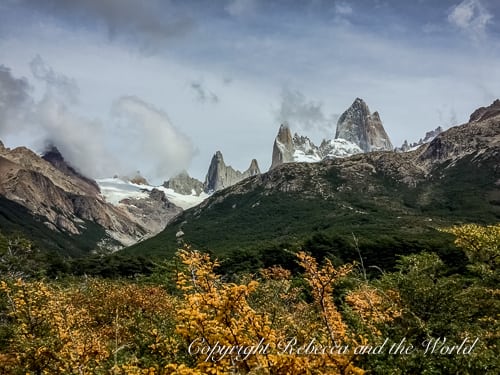 We continued on and reached the main camp site at the base of the mountain. We stopped for lunch, then kept on going to the laguna. This was the tough part: a steep climb on a rocky path. There are warnings not to climb this part if it's windy or raining, but we couldn't have picked a better day.
Our legs burning, we reached the lagoon and had a clear view of the rocky peaks of Fitz Roy above the deep green-blue water.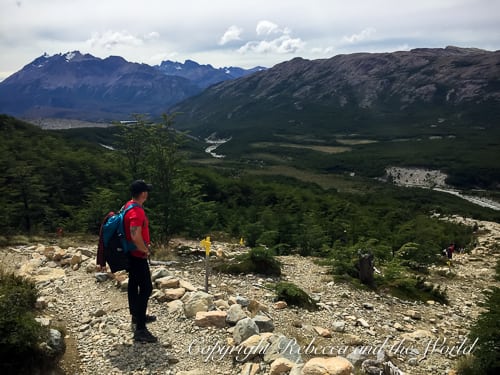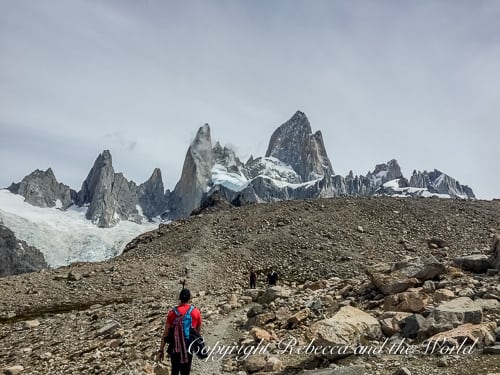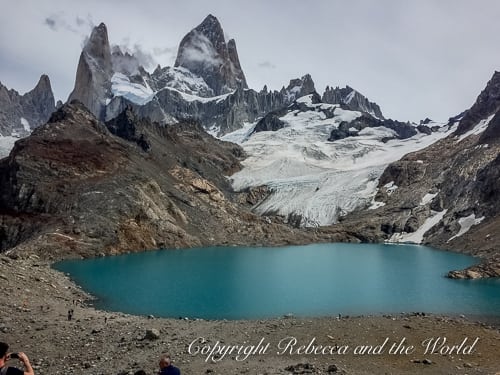 We rested on the rocks for a while, and then made the descent back down, following the sign back to El Chaltén.
Walking along, we marvelled at the scenery around us, and how perfect the day had been.
Suddenly I had a thought.
"I thought that we'd see more people along this way, given this is the route from town?" I said to my husband, puzzled.
We pulled out the map again.
"Yeah, we've now been walking for a while…"
I looked around and then back at the map.
"The lake is there, to our right, but on the map it's there…"
It didn't take us long to realise that we were not on the path back to town. Instead, we were heading to the other main hiking path in El Chaltén, which takes trekkers to Laguna Torre.
We consulted the map and saw that we were too far along to turn around. A group of walkers, a man and two women, approached us heading towards Laguna de los Tres. We pointed to our map and asked them if we really were heading away from town. Confirming our fears, we realised that we still had another 18 kilometres of walking – on top of the 16 kilometres we'd already walked that day.
We continued on the path, and for the next few hours we alternated between laughing at our stupidity, feeling frustrated, and then downright tired anger. Every kilometre marker point reminded us of our mistake.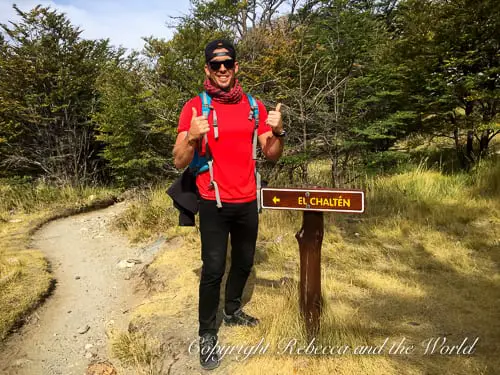 But then, we stopped and turned around. To our surprise, we had the clearest view of both Cerro Torre and Monte Fitz Roy.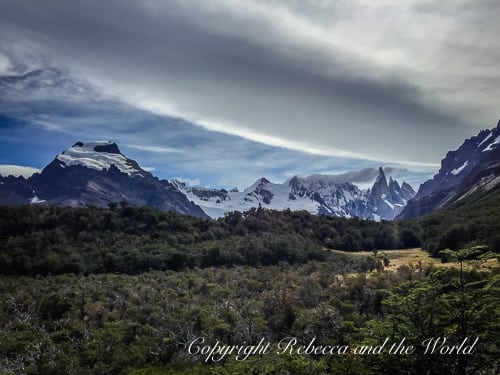 We kept along the path and eventually arrived back in El Chaltén, flopping on to some stools at a bar to eat fresh cherries with friends.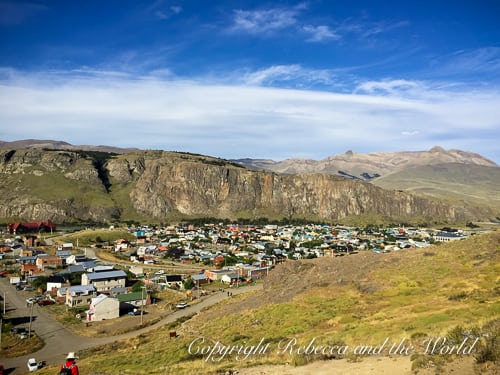 The next day, clouds obscured the sky and the rain started early. In our original plan, we'd decided that this would be the day to do the Laguna Torre trek to see Cerro Torre, but in that weather, it would have been pointless.
Instead, we'd already managed to fit both peaks into one long, exhausting day. Our accidental detour had actually turned out for the best.
Have you ever gotten lost while hiking? Have you been to Patagonia?
Cover photo courtesy of B. King